Dali will always remain one of my favourite places in China. In the Southern Yunnan province, its beauty draws in travellers aching for an experience away from the standard tourist track. Before arriving, I'd heard rumours that with this secret being out, it was now overrun with tourists and had lost its unique and untouched vibe from back in the day when travellers would spend months at a time living here. But I couldn't have been more wrong.
My second stop on the Lijiang down to Kunming trail, Dali was a relaxing and picturesque antithesis to the sometimes bland and chaotic North – retaining its ancient charm and without hoards of Chinese tourists in sight. I had finally hit the beauty and slow relaxing pace of the countryside and the weather was glorious.
Biking in Dali
There is one thing you should do in Dali, and that's hire a bike from one of the vendors in the Old Town. With prices ranging between 30 – 45 yuan for the whole day (you need to take your passport in order to secure the booking) it's a bargain for the views you are afforded. Riding through the cobbled streets of the Old Town and out of its East Gate, followed by a short journey through the outskirts of town and across the main road, you will arrive at a rural paradise.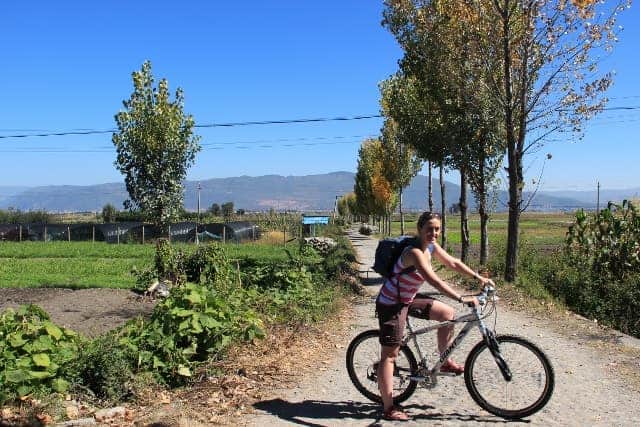 With no map, myself and two friends took the first path we saw – our aim was to get to the lake – and we ended up striking it lucky and stumbling upon a narrow track that cut through an endless row of rice paddy fields and farm plots. Riding a bike on bumpy ground while your head is constantly turning to both sides in complete awe is a challenge, and we soon found ourselves stopping every few minutes to stop and take everything in.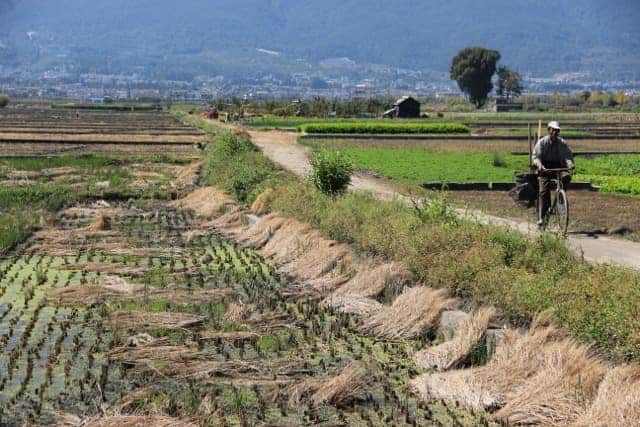 With hardly a car in sight we got lost in endless rows of green vegetation, yellow grain and cones of hay, silently observing farmers hard at work or carrying their basket of goods on their backs to the nearest village and where we secretly wished we could join the groups of female farmers stopping to rest and gossiping under the shade of giant umbrellas.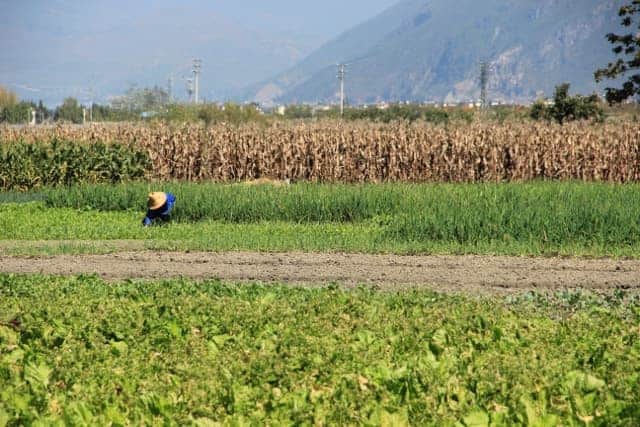 Eventually making it to the end of the road we saw the lake in sight, but unlike other lakes in China, which are easy enough to stroll around in ample time, this one is so huge that you have to pass through a village or two in order to get to a viewing spot. Cycling through the local villages was just as serene, where the local people would wait in their doorways to watch you pass and say hello and where we would stop and admire their daily seafood catch drying in the sun. There was hardly another tourist in sight.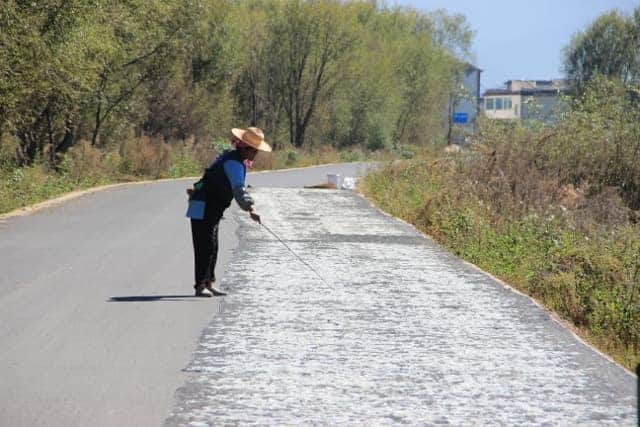 It's impossible to get around the entire lake – we were told it would take two days – but we biked for nearly six hours from the Old Town and back and saw more than we thought existed in the area. Choosing to bypass the tours of the lake on offer, where we would be hoarded around set spots with other tourists, we got to see rural China at its best and biking without a plan meant that we were able to get right to the heart of this beautiful town.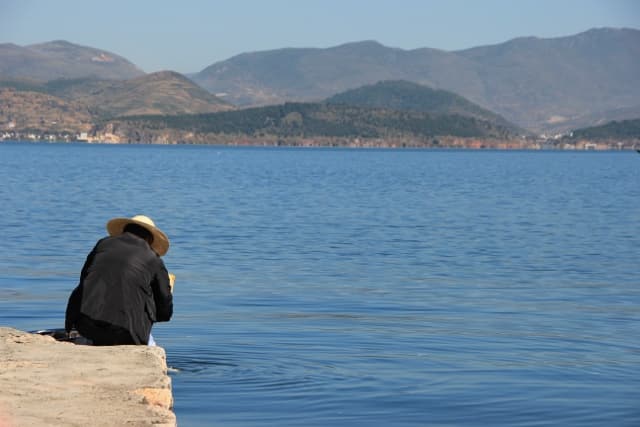 Hiking Cangshan Mountain
The seven of us had no clear plan of action when it came to climbing Cangshan Mountain, which made it all the more exciting, and our initial judgement was to take the cable car up to the temple on top and then hike around to other major spots up there.
We soon learnt that the cable car was closed and had previously bypassed locals with horses trying to sell a ride up the mountain, wondering why people were quick to get on them. Our decision there and then was not to turn back, but to make our own way up since it would be an easy enough route.
Or so we assumed. After 15 minutes of aimless wandering through what looked like gates to secret gardens and through a random village, we stumbled upon a slightly trodden path as we made our way through the overgrowth, battling with shrubbery, loose rocks and muddy paths. It was a trekkers dream but we did at times wonder what we were doing.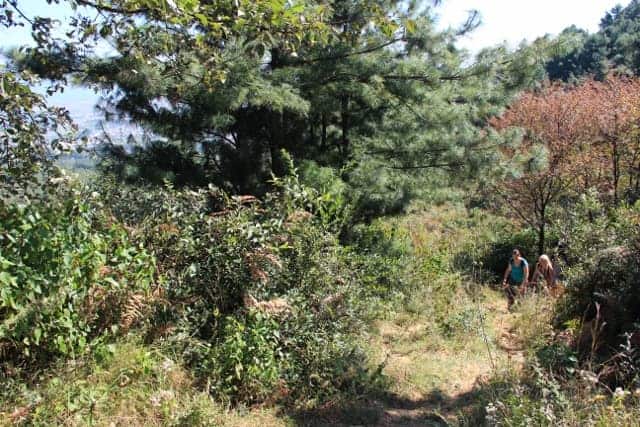 Off the beaten track, we were the only ones in the forest and had obviously taken the path less travelled. At times we would glimpse the cable car wire over the top of the trees, but every time the end seemed so far away. It was scary but exhilarating at the same time; we were making our own decisions about which path to take; we were guessing and hoping for the best, and we realised we hadn't told anyone exactly where we were going and what we were doing.
… And Ghosts?
Most of our surroundings started to look the same but we loved the sense of adventure that was brewing… until we got slightly freaked out. Nearly an hour into the trek we realised that we were, in fact, walking through a cemetery. Tombs and headstones, grey and imposing, would spring into view sporadically.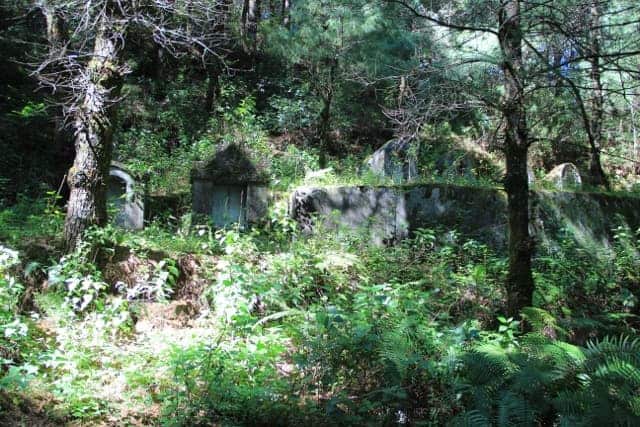 That's when we decided to take a closer look.
I had noticed that right next to one of the tombs was a table and four benches created from the same kind of stone. Was this where the visiting family would sit or was this simple for the purpose of providing offerings to the deceased? Upon closer inspection, we saw empty food wrappers and assumed the former to be correct and decided to use this space to take a short break.
That's when I thought it would be a great idea to crack out a self-timer shot of the group, as a reminder of our grand adventure and what we had stumbled upon. Sitting in the shade, under the gage of the greenery, there was no glare of streaks of sunlight to get in the way, so what is the misty addition to the bottom of our photo, right by me – the photographer, the instigator?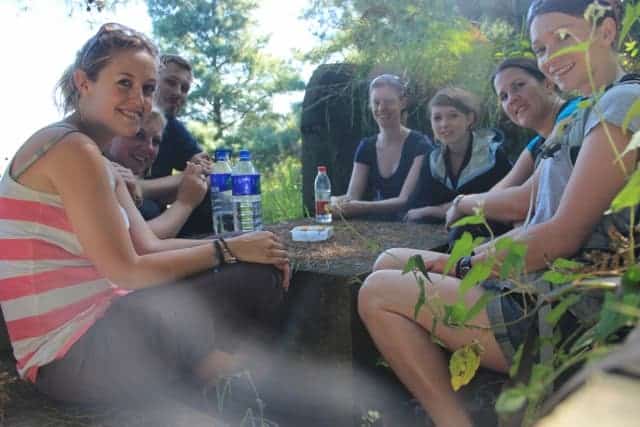 A bit spooked, we quickly jumped up and continued on our way, making sure not to stop when we came across further tombs. When we first heard the sounds of bells coming from nowhere, we were quick to assume that we were potentially trespassing on some local gathering or bein. However, it turned out to be the sound of the horse bells, which we used to help us find our way on the final leg of the ascent.
Never Underestimate Random Adventure
In total, our grand adventure up Cangshan Mountain lasted two and a half hours, after which we decided to make our way down, since there were no clear markings for the other sights and many had been closed off. We had, after all, completed a grand adventure. On the way down we decided to follow the mounds of horse poo that marked a clear path. This being THE main path; the path that winds slowly past a water pipe connected to the city; the path with trodden narrow walk ways and steps; the path that led straight down to where the guys with the horses were waiting…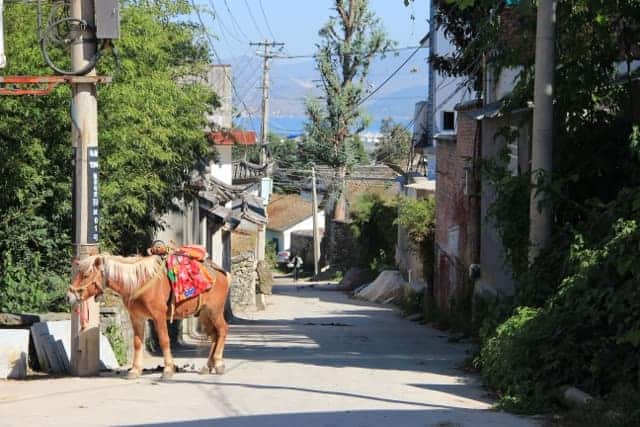 Typical, but it does go to show that getting off the beaten track (even if by accident) results in great adventure!