Disclaimer: This post contains affiliate links to handpicked partners, including tours, gear and booking sites. If you click through or buy something via one of them, I may receive a small commission. This is at no extra cost to you and allows this site to keep running.
Where the Roman past is layered with the medieval and the modern, a visit to Tarragona, Spain, means losing yourself in centuries of living history, preserved in its stratum of golden structures and hidden levels.
The coastal city of Tarragona in northeastern Spain is known for its scattering of ancient Roman ruins from its days as a colony known as Tarraco, founded in 218 BC. While not the only Roman city of Spain, this was one of the first Roman cities beyond the Western Empire stronghold on the Italian peninsula.
A new city built on top of an ancient city, the fun of exploration in the UNESCO assemble of sites in Tarragona is to piece together the old and new, the latter of which has either replaced the former or has yet to be uncovered and preserved.
Here's what to see and where to find all the relics of Tarragona city's beginnings.
Where to Find the Monuments of Roman Tarragona
How many days do you need in Tarragona to see everything? For leisurely sightseeing, and the chance to enjoy the sun clad avenues, local markets, and laidback restaurants and bars that this Mediterranean coastal city exudes, two days in Tarragona would be ideal.
However, if you are short on time or day-tripping from Barcelona, Tarragona's major Roman sites can be seen in a day since it is a compact city and easily accessible on foot.
Tarragona Amphitheatre
The first stop was the Tarragona Amphitheatre – one of only seven in Spain country preserved and opened to the public. You can wander freely around the majority of this 2nd-century structure on the coast of the Mediterranean Sea, where you can stand in the grounds and imagine how it once accommodated 12,000 eager spectators.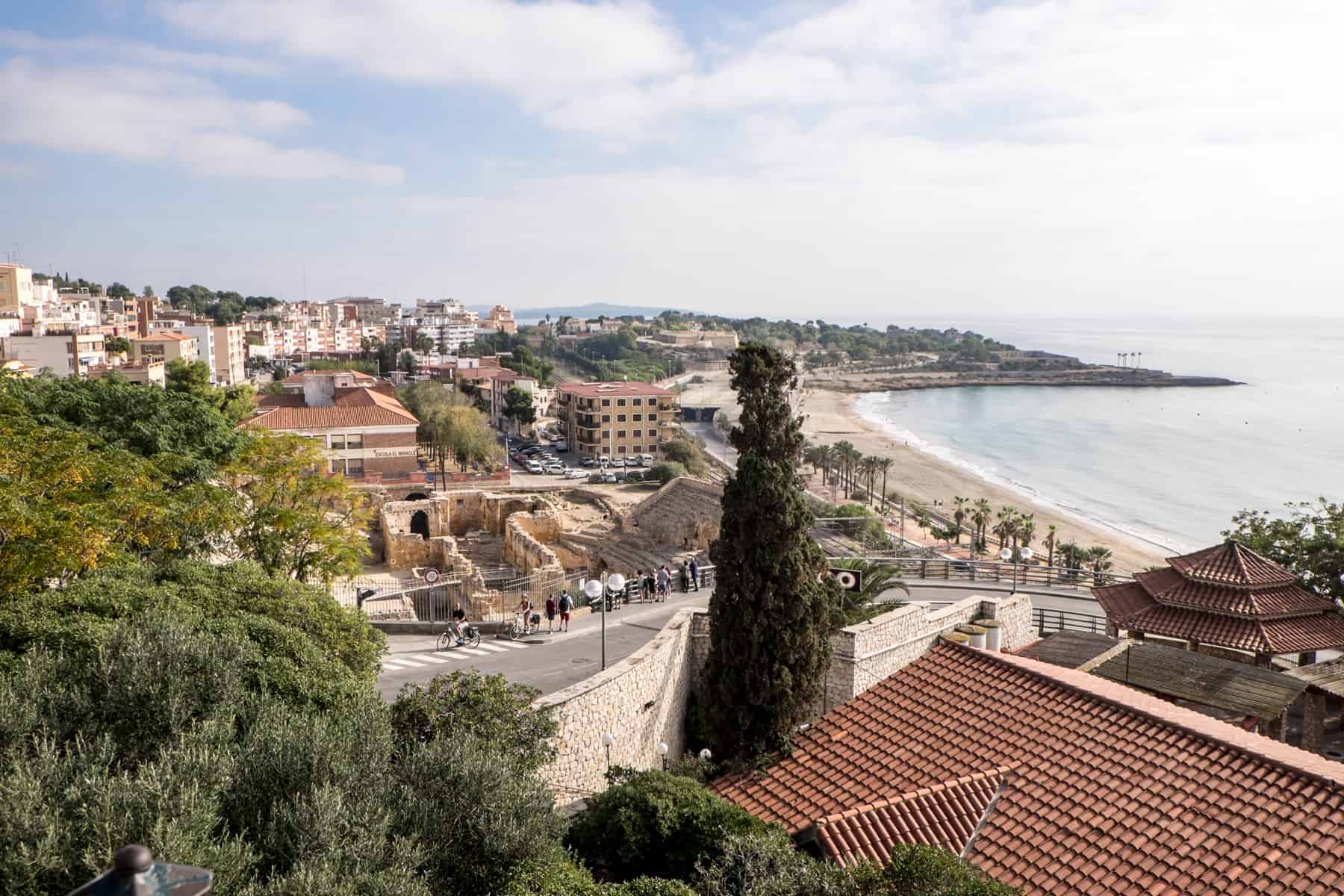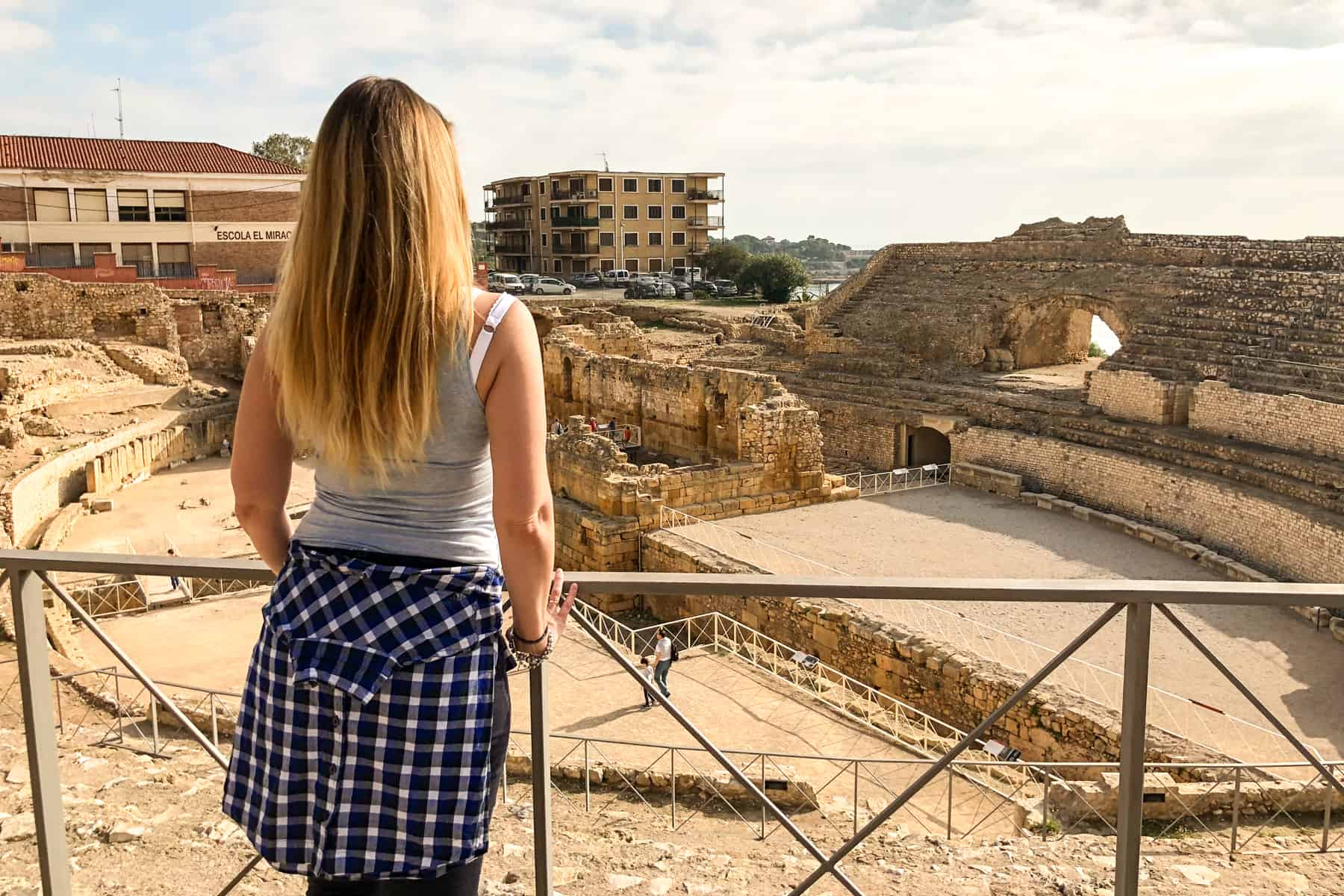 Historically layered itself, the amphitheatre was built upon during the 6th and 7th centuries, when the Church built a basilica in memory of the martyrs who perished during the days of Christian persecution. Various temples and other structures were built over the top, including a prison and holiday apartments, before it was finally uncovered for its original foundations as a Roman city to be laid bare.
Roman Circus and Praetorian Tower
A short walk from the amphitheatre is the Roman Circus and Praetorian Tower (Circ Romà), once used to hold grand horse and chariot races. You can climb to the top for a 360 view of the city, and parts of the lower spectator archways remain.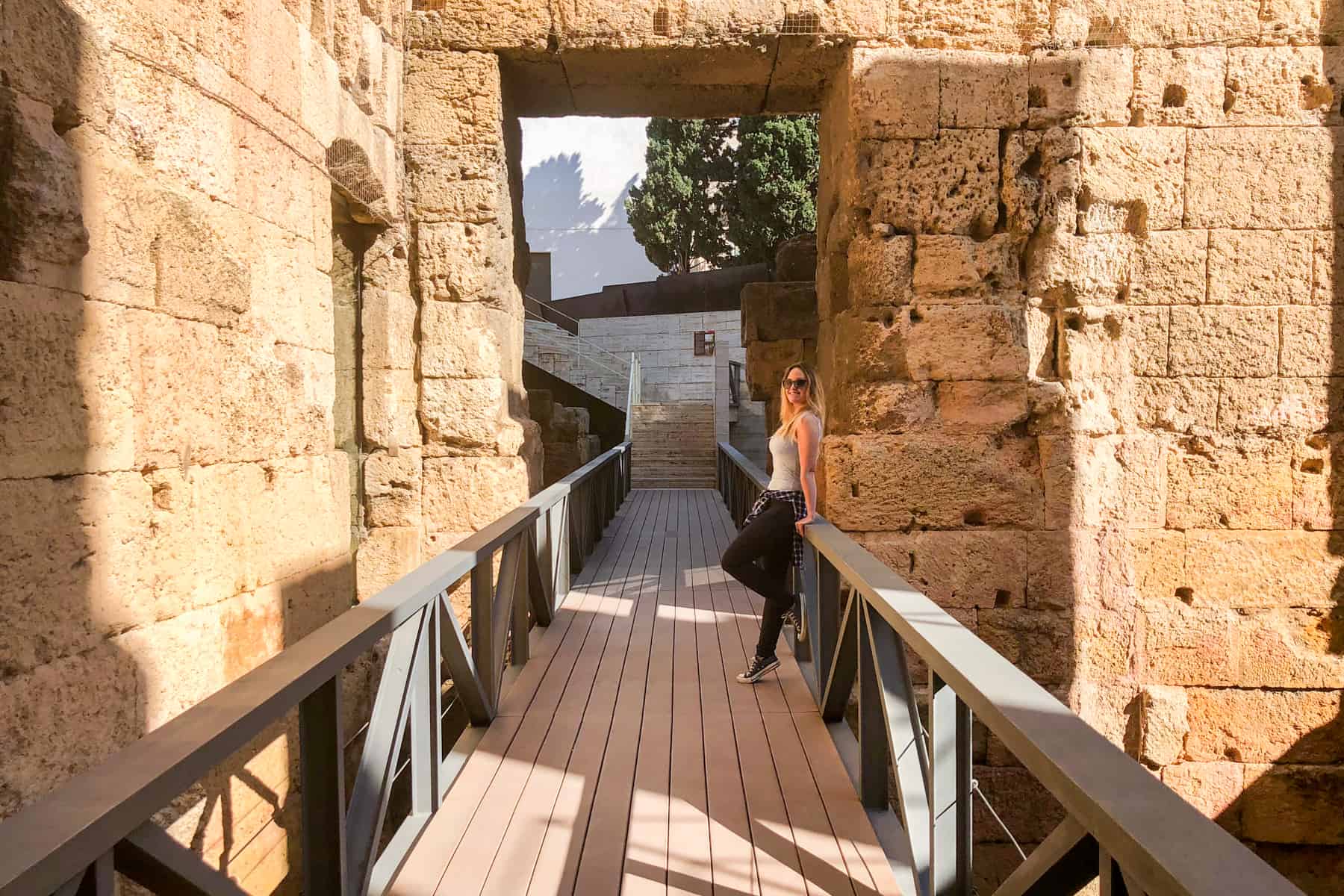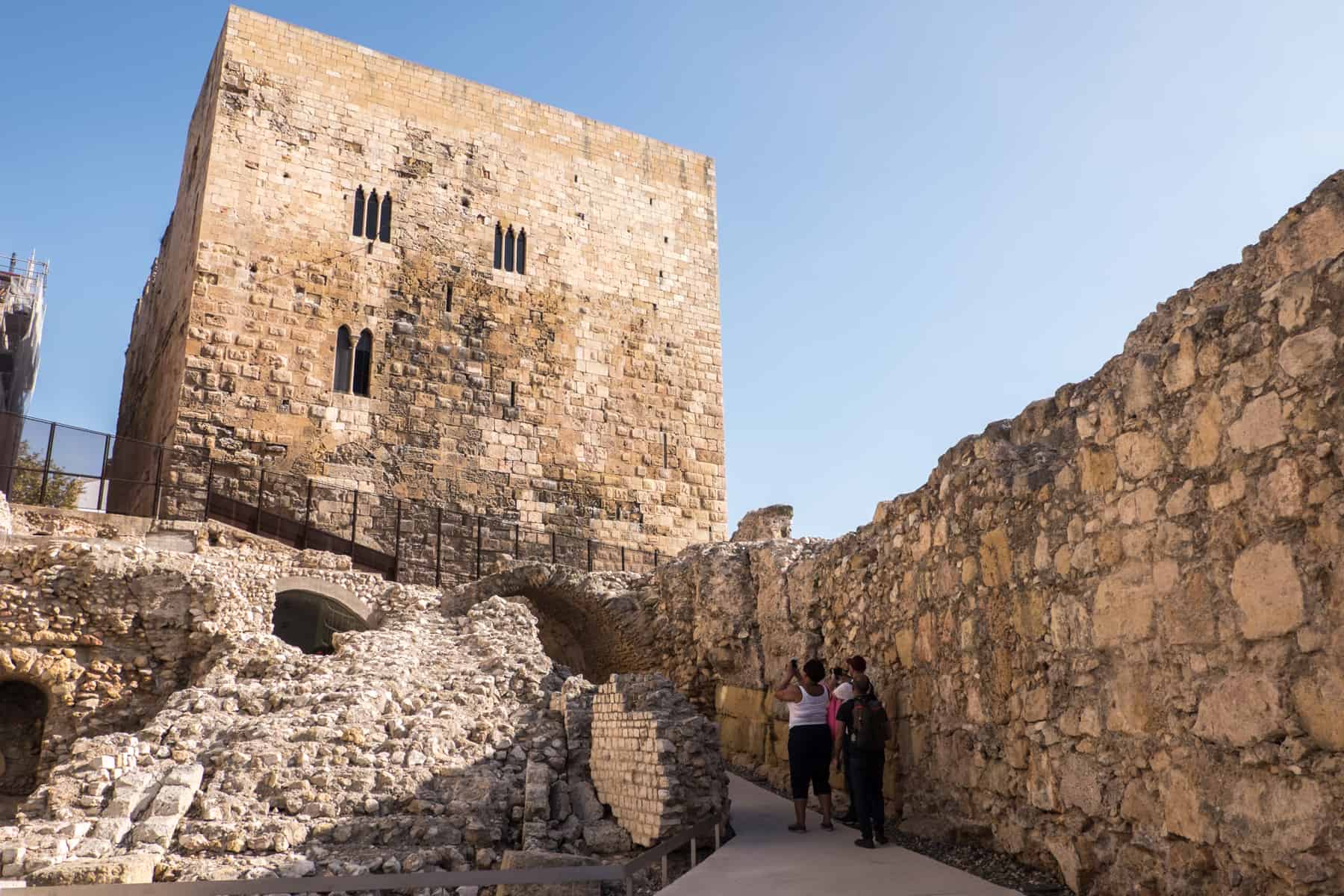 The Tarragona of today was built on top of what was once the racing circuit, and if you look closely enough at the shop fronts and some structural detail, you may see the archway resemblance where stores have been built on top on roman vaults.
Find Roman Ruins in Tarragona
A walk around the town centre unveils the narrow alleyways and historic streets of the medieval days, but not without the Roman keeping gaze. While sampling some vermouth in the specialist store, Bodega Enric, we only had to walk out into the open square to find a chunk of the old Roman city walls of Tarraco dominating the open square.
We wandered the sandy and ochre orange shaded streets in the most elevated part of the city known as Part Alta – once the site of Tarraco's ancient provincial forum, also known as the Colonial Forum. This area was once the centre of social and political life in Tarraco, and you'll notice old Roman stone and parts of the old wall incorporated into today's structures.
We lunched in the modern Xamfrà del Fòrum that sits next to the Colonial Forum, marked by the ruins of a big square and a temple.
Close by, the modern-day architectural examples by Catalan artist, Josep Maria Jujol can be found. The Theatre Metropole (designed in 1908 with a cruise ship style interior in antithesis to traditional theatre design) and the Mercado Central de Tarragona (opened in 1915 with arched windows and naves, in contrast to standard rectangular market buildings) shouldn't be missed in a retro juxtaposition to the city's ancient foundations.
Roman Temple in Tarragona Cathedral
Saving one of the best until last, we found ourselves back in the very heart of the old city, looking up at the Cathedral that dominates the centre of town that stands on the former Roman temple site.
We climbed the spiral staircases for a panoramic view of the city from the bell tower, before climbing back down and peering down into the remains of the old Roman temple wall that is now an integrated foundation to this more modern structure.
No matter what stands before you, beneath you or around you, the wonder of Tarragona is in knowing that you are surrounded by 2,000 years of history. A living history of one of the most important Roman Empire cities that is still accessible to this very day.
Getting to Tarragona City
By Air and Bus Connections
Reus International Airport (REU) is a short 20-minute, 7km drive to Tarragona's centre. You can hire a private transfer or take one of several Hispano Igualadina public buses between Reus airport and Tarragona.
Barcelona Airport is over 80km away, and again this is where the bus routes, or shared transfer, are the best connections onward to Tarragona.
AVE Train to Tarragona – Booking a Renfe Train Ticket in Spain
Often, people visit Tarragona on a day trip from Barcelona or combine destinations, as I did for a city-hopping adventure travelling around
Spain by AVE train.
There are two train stations in Tarragona:
Estación de Tarragona Adif is the train station in the city centre for the regional train connections to Reus, Barcelona, Tortosa and Lleida, and long-distance Renfe trains to Valencia, Andalucia and Madrid.
Camp de Tarragona is the High-Speed AVE Train Station, located10 minutes from the city centre.
You can book tickets via the Renfe website in English and specific high-speed network tickets. All tickets have to be pre-booked since you can't turn up on the day and book at the station. You can pay by Visa, Mastercard and Paypal.
The AVE trains have nine classes if you count the overnight trains with sleeper/bed options, but there are two main ones to consider – Turista (a second class option with 2 x 2 seating rows) and Turista Plus which is a little more spacious (with 2 x 1 seating rows). I travelled on each of my journeys with a Turista ticket, which was comfortable enough and great value for money.
If you are looking to book a multi-stop trip, consider getting a 'Spain Pass'. This means you can travel using just one ticket for the AVE and other long-distance trains. You must reserve a seat before every trip, as limited space is assigned for Spain Pass holders.
Things to Know About Tarragona
Visiting the Roman Sites of Tarragona
The cost for visiting the core roman sites of Tarragona is €3.30 per site which falls under The Tarragona History Museum (MHT) list. This includes the Model of Roman Tarraco, Casa Castellarnau Museum, the Walls (Archaeological Promenade), the Praetorium and Roman Circus, the Roman Amphitheatre, the Local or Colony Forum and Casa Canals.
If you are planning on visiting many of the sites, it is worth investing in a pass which you can purchase directly from the Tarragona Municipal Tourist Office.
Tarragona Augmented Reality App
The 'Imageen' smartphone app (available on the AppStore and Google Play) is a super cool 'enhanced reality' app that brings old Tarragona to life. At designated points at local sites, you can interactively learn about history. Holding our phone screen over the Cathedral, we were able to see how the Roman Temple once looked before it.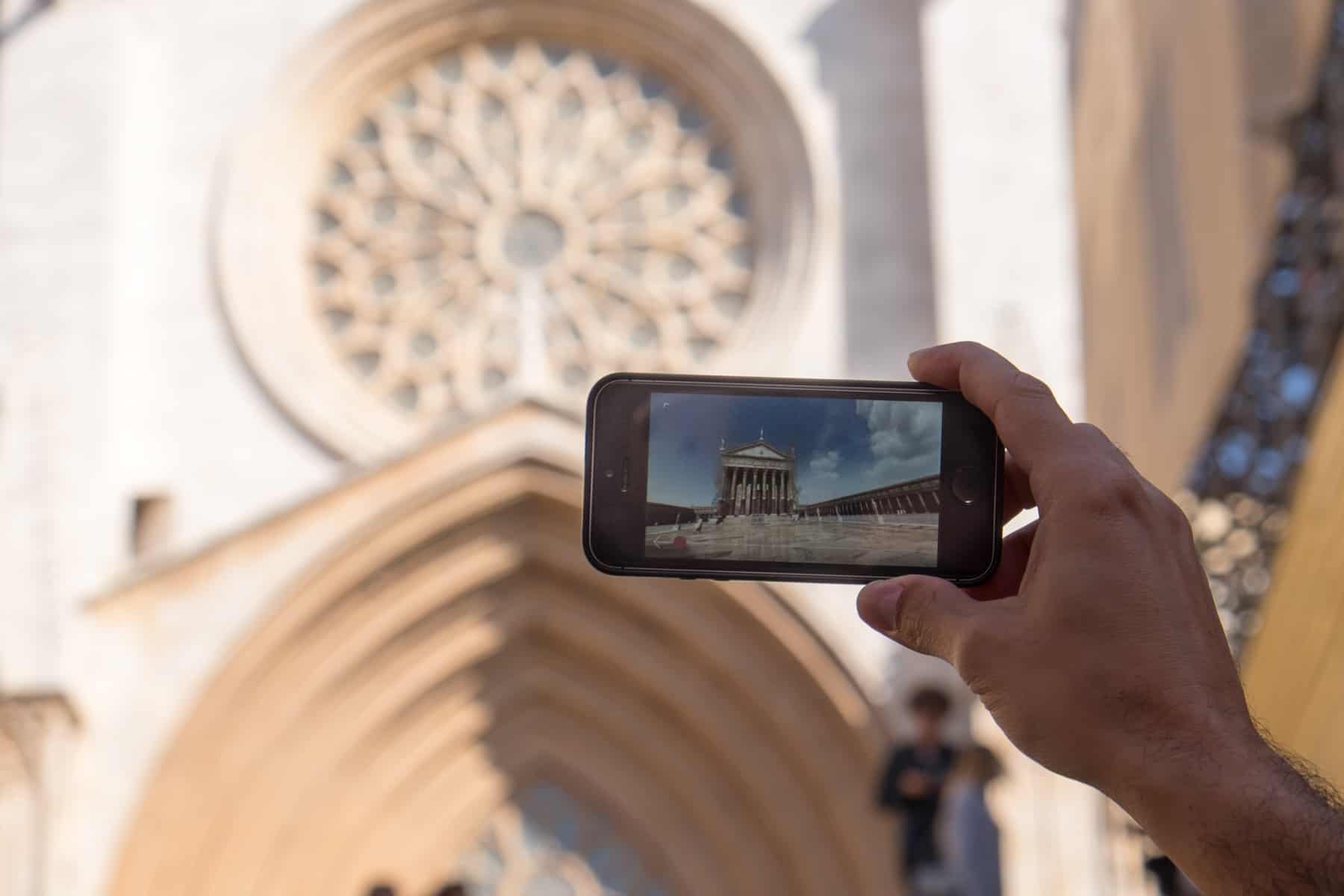 Festivals in Tarragona
Tarragona may have built itself upon Tarraco, but it does not forget. In May, festivals like Tarraco Viva bring to life the Roman era and re-enactments from medieval days to Napoleon, aid the living history of the city. You can find out more about the calendar of events, with downloadable publications, here.
Further planning for Tarragona
For further information on planning your trip in Tarragona, from Roman ruins and beyond, visit the official tourism website.
My trip to Tarragona was in partnership with the Spanish National Tourism Board as part of their #SpainbyTrain campaign and was one of four city stops. However, all excitable historical opinions remain my own.