Disclaimer: This post contains affiliate links to handpicked partners, including tours, gear and booking sites. If you click through or buy something via one of them, I may receive a small commission. This is at no extra cost to you and allows this site to keep running.
A city surrounded by the sea, Athens is the gateway to the surrounding Greek islands, with hundreds of people leaving on ferries from the Southern Piraeus port daily. Little do people know that just 25 minutes away from the heart of the city is one of the capital's best-kept secrets – a 30 mile stretch of scenic coastline along the Saronic Gulf called the 'Athens Riviera'.
Stretching from upbeat Glyfada to historical Cape Sounion, you can live the island life on the coastline of the Athenian Riviera – strolling the many bourgeoning seaside neighbourhoods like Voula and Agia Marina, or relaxing on the scattering of beaches that line this coastline – without even having to board a ferry. Which is great for those with limited time or on a long weekend city break.
But getting off the land is still a part of the city escape, and sailing the Athens Riviera you can relax on a deck of a yacht, cruising the vast open waters while looking at the city from an alternative viewpoint. The well-known hills of Lycabettus and Filopappos, in particular, look incredibly spectacular from afar.
Sailing The Athens Riviera – Where To Start
While on the area that makes up the Athenian Riviera, I was still firmly in Athens – just the greater expanse of it. I found myself less than 10km south of the Acropolis, at the Mikrolimano Marina in Piraeus (a short taxi drive from the Falio metro, which is one stop before Piraeus at the end of Line 1).
Here, I was met by yacht owner and skipper Pantelis Karatzas, alongside my friend, Rania from boating holiday specialists, Nautal (formerly known as Incrediblue) – a rental platform connecting travellers with boat owners – of which Pantelis is one of the 700 verified.
Verified Boat Owner – Master Guide of the Seas
Pantelis was welcoming, friendly and all to eager to show us around his yacht before embarking on our mini adventure. His livelihood and passion, it was clear he loved his job and took pride in where he was from.
He'd stop at all the scenic lookouts so that I could take photos and let me clamber all over the boat to pose for more pictures (you know this is an essential element of the experience and you would all do the same).
He also puts up with women constantly gossiping (which Rania and I did for the entire two and half hours), so if you are after an all-day girly hangout, he comes highly recommended. What's more, to engage that child within you, you can even pretend to drive the boat, even though it's actually in autopilot (these guys are not silly).

The general feeling is that the boat is your very own, except you just have a master navigator at hand. Everything is about your own unique experience and where you want to go.
Athens Riviera Boat Hire: With or Without a Skipper
Hiring a Private yacht charter, motorboat or sailboat on the Athens Riviera through Nautal isn't just about short trips like this. You can set sail for an entire day, a long weekend or even customise a longer route with the help of your potential boat owner, whose knowledge may even include uninhabited islands to stop at or divulging their own, secret hotspots.
If you have the experience, you don't necessarily have to hire the skipper, only their boat, but personally that would detract from the relaxation aspect a little.
By hiring a skipper, not only will you benefit from the experience of being within the haven of a lesser-known spot of the city, but also you'll be aiding the local economy and helping the sailing community in tourism thrive.
What would you do?
The Athens Riviera and beyond is all yours to explore like an open canvas. I felt strange jumping off the boat, leisurely dining at one of the many restaurants lining the marina, before being back within the heart of the city within minutes.
I've already made plans with one of my best friends who has insisted on a Mama Mia themed adventure. I wonder what skipper will be lining up to take that job?
Want to Visit the Athens Riviera? Pin It!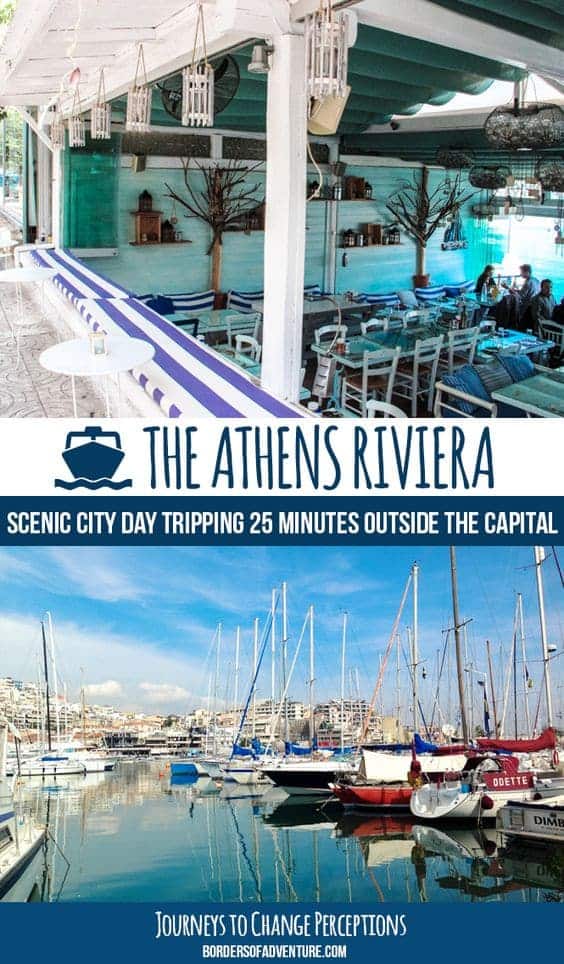 I was invited back to Athens by Marketing Greece who I worked with back in June when learning more about their new comprehensive online resource, Discover Greece. As part of their "I'm An Athenian", I was sent to uncover the best of Athens, from the hidden hotspots to the best kept local secrets, with a little guidance on where to find them.
READ MORE: This Is How to Travel to Athens – A City Explorer's Guide for Greece's Capital