Malta may be a small island, but it's a destination big on stunning landscape, centuries old culture and fascinating history. Nestled between southern Italy and the coast of North Africa, it could be easily overlooked in favour of its popular neighbours, except you'll find more here than you thought possible from such a tiny landmass…
It was once occupied by the Arabs for over 200 years, became a part of the Roman Empire, and was later ceded to the Knights of St John for protection who transformed it over 268 years with baroque architecture, palaces, churches, fortifications and aqueducts. The Knights protected the island from the Ottoman Turks, before it fell briefly to French rule with the arrival of Napoleon in 1798. Malta then called upon the British for assistance, becoming a part of the British Empire, although its strategic location and alliance meant Malta also suffered heavy during World War II – making it one of the most heavily bombed areas of Europe.  Malta gained independence in 1964 and later joined EU in 2004.
In short, Malta once adopted a Semitic language (which is still prevalent today), has elements of Italian culture and cuisine due to it's proximity to Sicily, saw the birth of Christianity with the arrival of the Romans (the island has over 360 churches), changes to legal and education systems with the arrival of the French and vast changes in the way it was administered because of the British, alongside adopting English as the second official language.
Malta is not so insignificant after all. That's a huge melting pot of cultures to unravel.
It's not hard to do so either. Malta is an island that draws you into days of exploration, and luckily its small size of around 316 sq. km makes it all the more accessible to do so. You can get from one side to the other in around one hour, and as there is a lack of vast open spaces, you will likely move from quiet communities and little bays, to beaches and bustling small cities.
With a great bus network and a hop-on-hop-off tourist bus system in place, you can reach all the main points of the island. However, with a car, the more avid of island explorers can uncover MORE of magnificent Malta. You have to be a great driver though – the Maltese roads can be a little tricky to handle. Luckily for me, one of my best travel buddies is from Malta, meaning I had the ultimate tour guide to show me around and to share with you the best spots from ALL over the island.
Central/South of the Island
1. The Fortified City of Valletta – Your Stunning Starting Point
This will either be your main base or the first area you explore. Opulent Valletta is a UNESCO World Heritage Site, and missing this magnificent walled city built by the Knights of St John is impossible. A true cultural and historical hub, Valletta is nothing except absolutely stunning and it's no wonder it is the European Capital of Culture 2018. Its navigable streets are lined with markets and complemented by manicured gardens; all around you are beautiful balconies and grand noble houses; the old city retains its fort, harbor, and historical structures like churches, theatres and the Grandmaster's Palace; and yet it boasts a bustling café culture, al fresco dining options and reinvented boutique bars. One of the most wonderful things about Valletta is that you can experience the one dominant noble excellence of living by staying in a 'Palazzo' such as the Palazzo Prince d'Orange where I stayed and visiting the Casa Rocca Piccola just down the road – one of the last remaining houses still occupied by a noble that is open to the public.
2. The Three Villages  – A Picturesque Pass Through
Balzan, Attard and Lija form "The Three Villages" that sit within the centre of the island. While not overly abundant on sites, this is a quiet and picturesque area to drive through, lined with classical structures and the San Anton Palace and Gardens; which accommodates up to this day, the Presidential Palace.
3. Medieval Mdina or "The Silent City"
You can take a horse and cart ride around the old walled capital of Malta that is full of architectural goodness, but I much preferred to walk and admire it all more closely. Mdina is also home to the best chocolate cake on the island, which can be found at the Fontanella Tea Gardens – be sure to get a good seat to secure a sweeping view of the island.
4. Arab Rabat – The Best Pastizzi on the Island
Another architecturally rich town that was once a suburb of old Mdina. It's also where you can find the Catacombs of St Paul – a slightly spooky but fascinating underground explorers haven. Rabat is also home to the BEST pastizzi (delicious cheese and pea filled pastries) on the island, as recommended by locals. Look out for 'Crystal Palace' next to the car park that sits in between Mdina and Rabat, just across from the Roman Villa.
5. Dingli Cliffs  – Fun Exploration and Hiking Ground
One of my most favourite viewpoints on the whole island, hire a Segway from Segway Malta and roll along the stunning coastline. This is also a top hiking spot for the ramblers on the island.
6. Ghar Lapsi – The Hidden Natural Gem
You'll soon find the spot on your journey along the Dingli Cliffs where you can capture the view of Filfa Island in the distance, stumble upon the temples of Hagar Qim and Mnajdra or, if you are lucky, find the local hideaway and hidden beauty of Ghar Lapsi.
7. Zebbug  – A Very Local Village
I only got to go here since my friend and his family resides here, but if you are keen to see Malta local life at its best, Zebbug is a good insight into a tucked away area of Malta that visitors never frequent.  For a real village atmosphere visit the town in the first week of June; when the feast dedicated to St. Philip is underway and traditional music, food and fireworks are in full flow.
8. Marsaxlokk – Where the Boats Live
This pretty fishing village is great to just come and look at the traditional boats that fill the water. And the coffee is VERY cheap. All in all, a peaceful hangout with a colourful view of the south of the island.
 9. Senglea – A Hidden Window to Valletta
Even if you have little time to wander around quiet Senglea, be sure to head to the Gardjola at the tip of the inlet to get to a gorgeous viewpoint of Valletta and the port. Along with Vittoriosa and Cospicua, these three fortified cities provide insight into Malta's long history with the Knights of St John.
10. Sliema – But ONLY for the View!
I wasn't a fan of Sliema – Malta's modern island addition that somewhat ruins its classic skyline. However, staying away completely means missing out on Tignepoint, – a breathtaking view of Valletta which glistens at sunset.
11. Mosta Dome – The Local Miracle
The fourth largest unsupported dome in the World, Mosta Dome is known for surviving an air raid in 1942, where two bombs bounced off the dome and another went through, hit the statue of Jesus and landed amongst the congregation… and did not explode. A local miracle and much-loved landmark.
North of the Island
12. Paceville – For When the Sun Goes Down
Pumping Paceville with its bars, nightclubs and restaurants, marks out the St Julian's Bay area as the place to be when your day of sightseeing ends. It's young, it's funky, and it's verging on the side of tacky (in parts). But you might just have to admit liking it just a little, especially if you score a restaurant balcony with a harbour view.
13. Bugibba and Qawra – Hidden Gem in a Tourist Hub
Once farmer towns and fisherman's villages, Bugibba and Qawra are now busy tourist hotspots on the island. However, the promenade offers a lovely walk during the summer evenings, where you can capture some beautiful shots of the surrounding vista.
14. Mistra Bay
You need to detour off the main road to reach this bay; once you pass Xemxija and enter the valley, be sure to follow the small signs signaling the winding roads to Mistra Bay, where you will gain access to what is more of a local hangout. For the more adventurous out there, following the coastline northbound by foot gives you the opportunity to peer into a once fortified gun turret, capture close up shots of St. Paul's Island and follow one of the many hiking trails in the area.
15. Gnejna Bay – The Local Beach
It's small, cosy and out of the way, although when I arrived here it was very windy and the waves were choppy. However, catch this area on a good day and you'll soon see it's a secluded spot to escape the crowds and hang out with the locals. Joe, the resident car park attendant has been working at the beach for roughly 20 years and is a great source of insider information about the area!
16. Ghajn Tuffieha – Step Down to Beauty
This beach will lure you in as soon as you see it from up high. Don't be put off by the many steps leading down to its sandy shores because this area is just too gorgeous to miss. Just don't forget the suntan lotion in the car!
17. Golden Bay – Lunch With a View
Head to one of the viewpoint restaurants and enjoy the view. It's that simple in Malta. Golden Bay attracts the younger crowd during the summer months, and out of the four mentioned beaches, it tends to be the busiest!
18. Mellieha Bay – Simple Beach Time
If you are not bored of beaches and bays by this point, add Mellieha Bay to your list.  Perfect to try out water sports and work on the tan, there are a LOT of amazing ice cream vendors here too.
19. The Red Tower Area – Another Secluded Viewpoint
Looking over the entire north end of Malta, the Red Tower provides fantastic 360 views across both land and sea. Set up as part of the defence strategy of the islands, it is open on certain days of the year (check the Heritage Malta website regularly) and access to the Red Tower is as simple as the rest of Malta – once you see it, you can drive straight to it.
20. A Little Chapel With a Difference
Situated on the opposite side of the Red Tower, this area known as L-Ahrax is commonly used for camping on the cliffs, due to the area providing a stunning view over Mellieha Bay to one side and Comino on the other. Following the road to the tip, you'll come across a little chapel – it's this mix of culture and scenic beauty that gives Malta its unique persona.
Thoughts on the Island of Malta
Before I came to Malta, I didn't know much about it beyond the British connections and had longed to visit my friend there for a long time. I was initially invited to come and explore as part of the Blog Island Malta campaign – a huge drive by the Malta Tourism Authority, the iambassador blogger experts and Air Malta (who can get you in and out of the island via a variety of European destinations) – before staying on longer.
I soon saw that Malta is more than its main draw that is Valletta (even though it's incredible), but about a small island of sizable VARIETY – in landscape, architecture, history, culture, and cuisine. One end of the island differs from the next and you can be within a walled city to a tiny tucked away village, and from a bustling beach to a secluded cove within a matter of minutes.It's doesn't get more diverse than that, and that's not even taking into account Malta's sister islands of Gozo and Comino.
Things to Do in Malta
Pin It!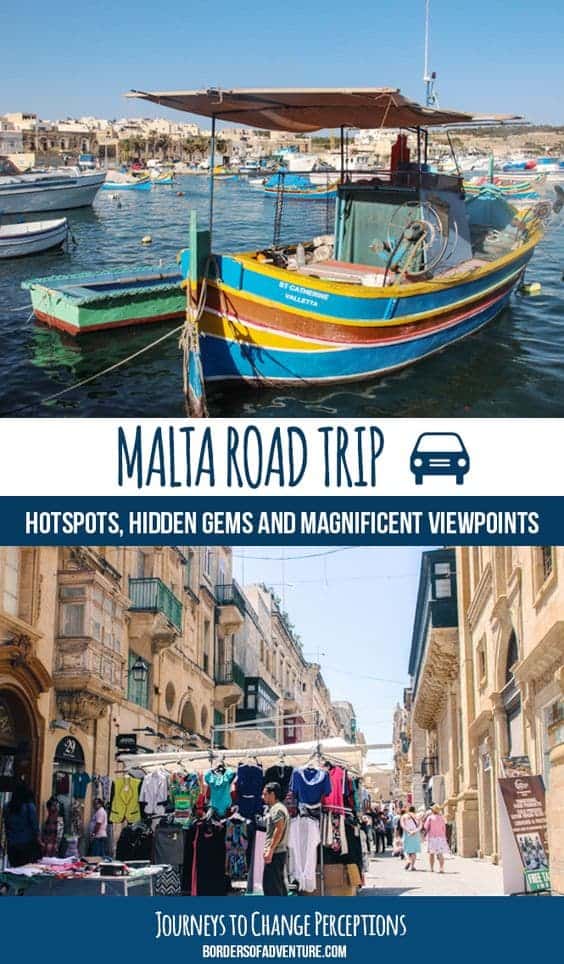 I may have been invited, but all opinions remain my own. I spent extra time living with a local friend and exploring the island in order to gather further information for this article and I make no admissions in highlighting the areas I wasn't too fond of (because I am a history and architecture geek and modern sprawl doesn't make the cut).