Disclaimer: This post contains affiliate links to handpicked partners, including tours, gear and booking sites. If you click through or buy something via one of them, I may receive a small commission. This is at no extra cost to you and allows this site to keep running.
On Friday 1st February 2013 I joined thousands of Cambodians who lined Phnom Penh's streets for the State Funeral of Norodom Sihanouk – a former King of Cambodia.
It was a lavish ceremony for the man affectionately known as the King-Father, who died in October 2012 in Beijing. A spectacle of respect I've never witnessed on this scale.
Following his death, nationwide mourning for 100 days took place before the funeral day itself.
Respecting the Cambodian funeral dress code (white top and black bottoms) and adorning a black and white ribbon bearing a picture of the King-Father, we sat amongst the local people waiting for the ceremony to start. Sunglasses were not to be worn and when the procession began we all had to sit on the ground – the local people were more than happy to help us to follow the correct protocol.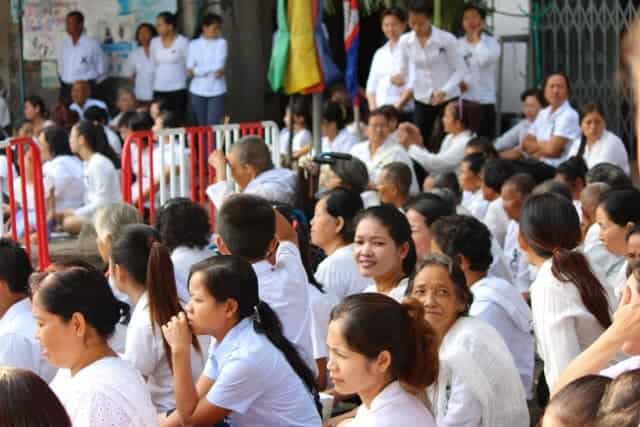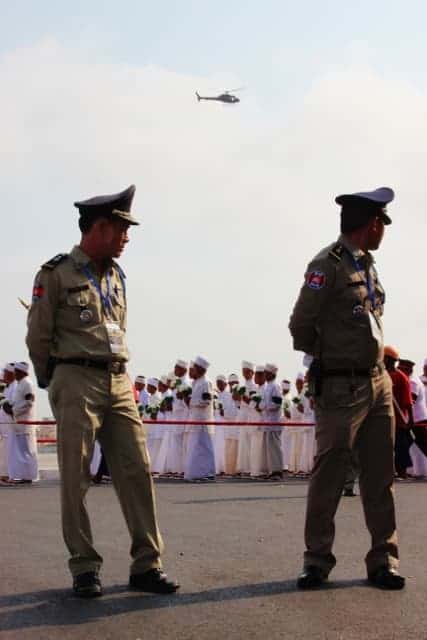 Norodom Sihanouk's exquisite golden coffin first left the Phnom Penh Royal Palace before making its journey around the city. Travelling down the riverside street of Sisowath Quay towards the Wat Phnom temple, it then moved slowly, with the procession, down the parallel main road, Norodom Boulevard, in the direction of the Independence Monument. From there it made its way to the final resting place – a custom-built crematorium near to the Royal Palace.
Luckily we lived on street 110 where we would catch the first part of the procession with the riverfront backdrop. The funeral was scheduled to last for four hours and so the idea of waiting on the larger and more open Norodom Boulevard in the scorching heat for all that time was over-ruled in favour of the less tiring and heat-stroked approach.
The procession participants included hundreds of people from Cambodia's armed forces and religious figures alongside officials and dignitaries who passed the street in a sea of colours and sounds, interspersed by exquisite floats shaped like gold dragons or hilltops populated by all manner of animals.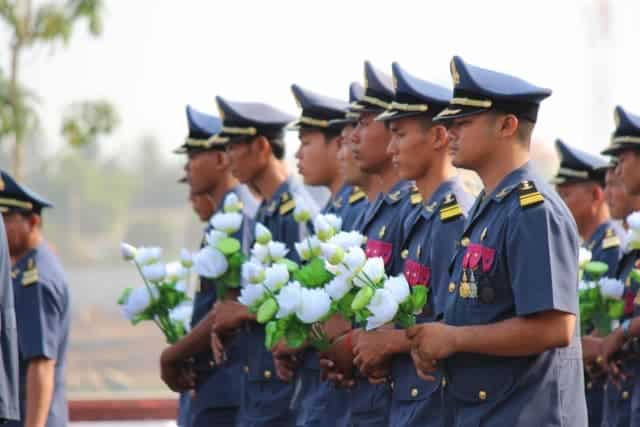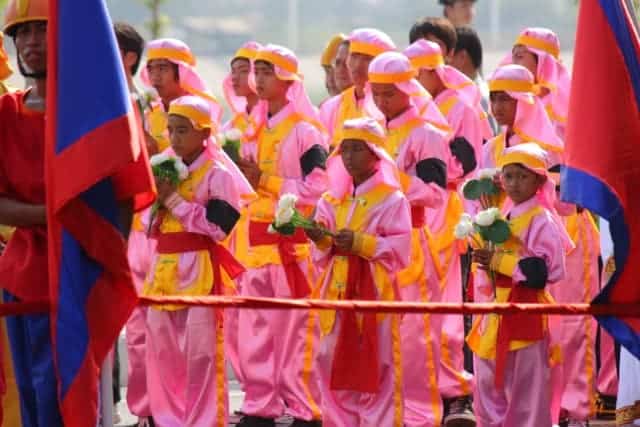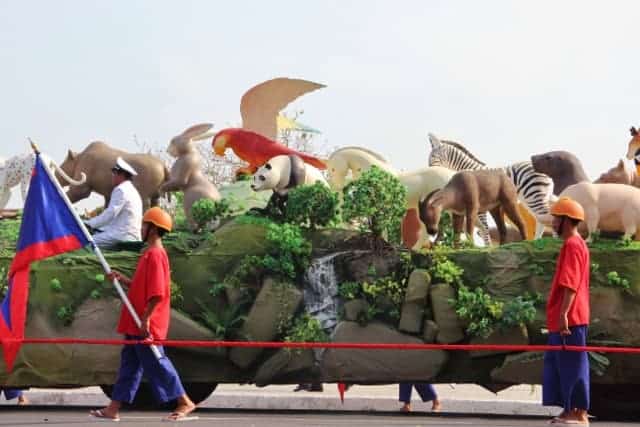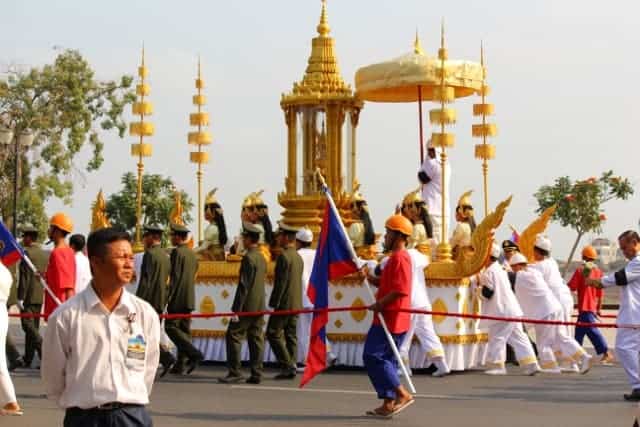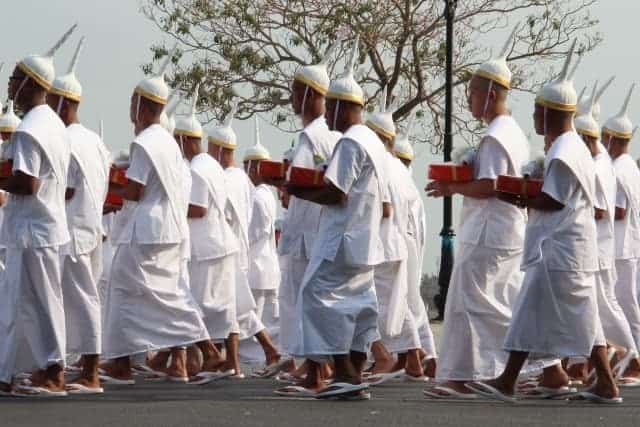 When the coffin passed, the crowd grew silent, all hands were held together in 'sampeah' (like in prayer) and silent sobs could be heard from the older generation – they, after all, remember the days of relative peace during his earlier years of reign in the 1950s and 1960s.
Sihanouk became King of Cambodia in 1941 and over the course of 60 years (up until 2004 when he abdicated for the second time) served many roles including that of President and Prime Minister. His main period of rule was from 1953 after Cambodia gained independence from France, up until 1970 when he was deposed by Cambodia's then US-backed Prime Minister, Lon Nol, and exiled to China.
Controversially he returned in 1975 to support the Khmer Rouge who wanted to overthrow Lon Nol and his support helped to swell the numbers of Khmer Rouge fighters. He later became Head of State while Pol Pot was in power but was forced out of office by the Khmer Rouge a year later and imprisoned, fleeing once again into political exile. He returned to Cambodia in 1991, becoming King for the second time in 1993.
The long procession gave us time to grab a coffee before walking a few blocks down towards the Royal Palace and the crematorium where the huge ceremony was ending. Press and public crowded along the walls to capture moments from this historical event, viewing platforms were loaded with eager eyes and the nearby temple was full of local people crowded around television screens. In true Khmer time, the funeral finished past 1 pm.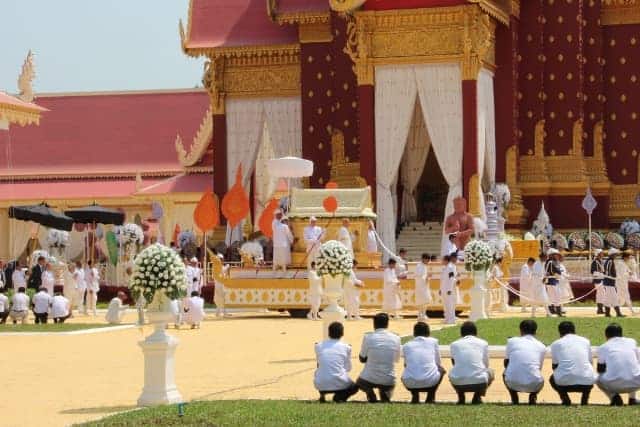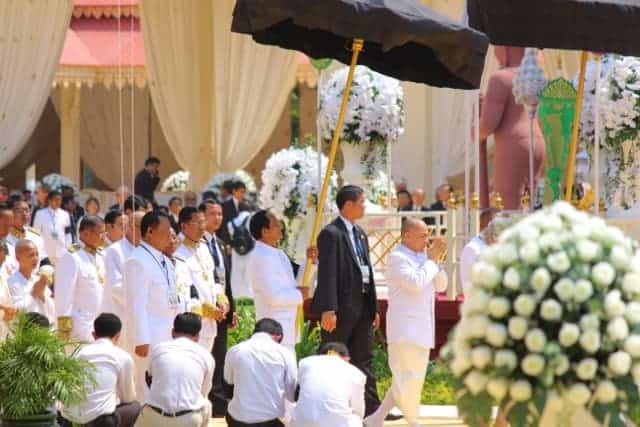 There was no wailing or outcry in Phnom Penh; emotions were reserved. For once the streets of the city were less hectic and crowded, many of them being closed off (some, I think, deliberately and annoyingly so that the police could accept bribes!). Subtle smiles were shared as we passed local people, many of whom were surprised to see foreigners following the dress code and paying respects to the King they loved. That evening no restaurant, bar or club played music, like much of the country. Instead, the whole of Phnom Penh fell silent in mourning – a silence that will continue for over a week.
The State Funeral of King Norodom Sihanouk was one of the more unique things I experienced while living in Cambodia. Whatever your thoughts on the history of Norodom Sihanouk (whose reign is a contentious issue and can spark many a heated debate), his funeral will always be marked as a huge historical moment. And in a country I will forever call my second home, I'm glad I was there to experience it and to pay my respects to a man my Khmer friends love so dearly.
Travelling Cambodia?
For a comprehensive resource of Cambodia travel tips, destination guides and other stories from my time living there, check out my full list of Cambodia Travel Guides.