Disclaimer: This post contains affiliate links to handpicked partners, including tours, gear and booking sites. If you click through or buy something via one of them, I may receive a small commission. This is at no extra cost to you and allows this site to keep running.
Malaysia's capital doesn't require much time for sightseeing, but 24 hours can uncover a lot. Here's what to do in Kuala Lumpur in one day.
Depending on your love for cities, Kuala Lumpur doesn't require a huge amount of your time – its infrastructure is superb and the layout of the city isn't too complicated. So if you are short on time, then one day in Kuala Lumpur is enough to see the main sites of interest.
Exactly what to do in Kuala Lumpur depends on your time there and your preferred pace. Many use Kuala Lumpur as a transit point to far-flung shores like Australia or as a whistle-stop 'city twinning' with Singapore before exploring some of Malaysia's stunning island retreats, leaving themselves with limited time to explore the city properly.
However, a day itinerary in Kuala Lumpur still requires a lot of travelling. Even though the transport systems are great, many of the city's key sights are scattered around the city in the outskirts – there isn't a typical 'central' place where everything is. As much as everything is easy to get to, it can take a lot of time travelling between them all.
I actually spent four days in Kuala Lumpur sightseeing and getting to know it, as part of both Kuala Lumpur airport transfers as well as a rest bite from all the bus travel I'd been doing exploring mainland Malaysia's East coast, so I knew what to pull out as the main highlights.
After a couple of days exploring the central aspects of the city myself, wandering the layered old and new architecture and losing myself in local markets and bustling corners with no touristic value (only a window in daily life), I decided it was time to see the sights that were slightly harder to reach and would take more time to get to.
So what is the best way to go sightseeing on a Kuala Lumpur one day trip to see the best bits without exhausting yourself? I recommend an organised KL city tour or coming prepared with an energetic spirit to speed around all the sites via public transport on your own. Either way, here are the must-see places to visit in Kuala Lumpur that you can comfortably cram into 24 hours.
What to Do in Kuala Lumpur in a Day
Kuala Lumpur Day Tour
My Kuala Lumpur accommodation of choice was the well-known and trendy hostel, Reggae Mansion on Jalan Tun H S Lee, near Jalin Masjid metro. It's a lively hostel that looks like a giant trendy mansion with 'capsule' bunk beds and a vibrant atmosphere. Like most hostels, it caters for its backpacker residents by offering tours, day trips and other activities. However, non-residents can also join their tours.
The Reggae Tours Malaysia full day Seven Wonders of Kuala Lumpur Tour is a small group trip that starts at 10 am, complete with a driver who also acts as a guide and constant information source. The tour costs approximately £20 and lasts until 5 pm, covering all the core sightseeing points of interest as outlined below.
Luckily our driver guide didn't chaperone us around each of the sights (I'm not too much into that) but he did give insight on each of the 'wonders' before we arrived. He also pointed out other aspects of the city as we passed them in our private mini-bus, some of which I went back to on my own the next day for further exploration.
For those looking for shorter trips around four to five hours long, check out this tour list with options that combine sites depending on your interests. The trips are usually inclusive of round-trip transport, guide and lunch.
Thean Hou Temple (Temple of the Goddess of Heaven)
This six-tiered Chinese temple perched up in the green hillside of Robson Heights is dedicated to the goddess, Thean Hou (Goddess of Heaven) and Mazu (Goddess of the Sea). It was constructed in 1987, opened two years later, and continues to stand as a landmark in the city and one of the most popular Kuala Lumpur attractions. Culturally, it remains as one of the largest temples in Southeast Asia.
It has all the ornate décor and carvings you would expect, in hues of red for good fortune, orange and brassy gold, mixing modern and traditional architectural styles in its pillars, roofs and prayer halls where you will find the sculptures of the deity or goddess. I found the lantern ceiling upon entry atmospheric and impressive, as is a walk in the Chinese gardens accompanying the temple.
Address: 65, Persiaran Endah, Taman Persiaran Desa, 50460 Kuala Lumpur
Little India Brickfields
Any Kuala Lumpur itinerary is not complete without the places that represent its harmonious mesh of cultures and religions. It is said that Little India was given its title in 1997 after 95% of the population in the area was of Indian descent, and this neighbourhood in Kuala Lumpur is the biggest Little India in Malaysia. Here you will find a host of restaurants, textile, and spice shops, mainly along the Jalan Tun Sambanthan street marked by a colourful display of archways, lamps, and fountains. My suggestion is to spend time indulging in the culinary scene here.
Address: Jalan Tun Sambanthan (formerly known as Brickfields Road)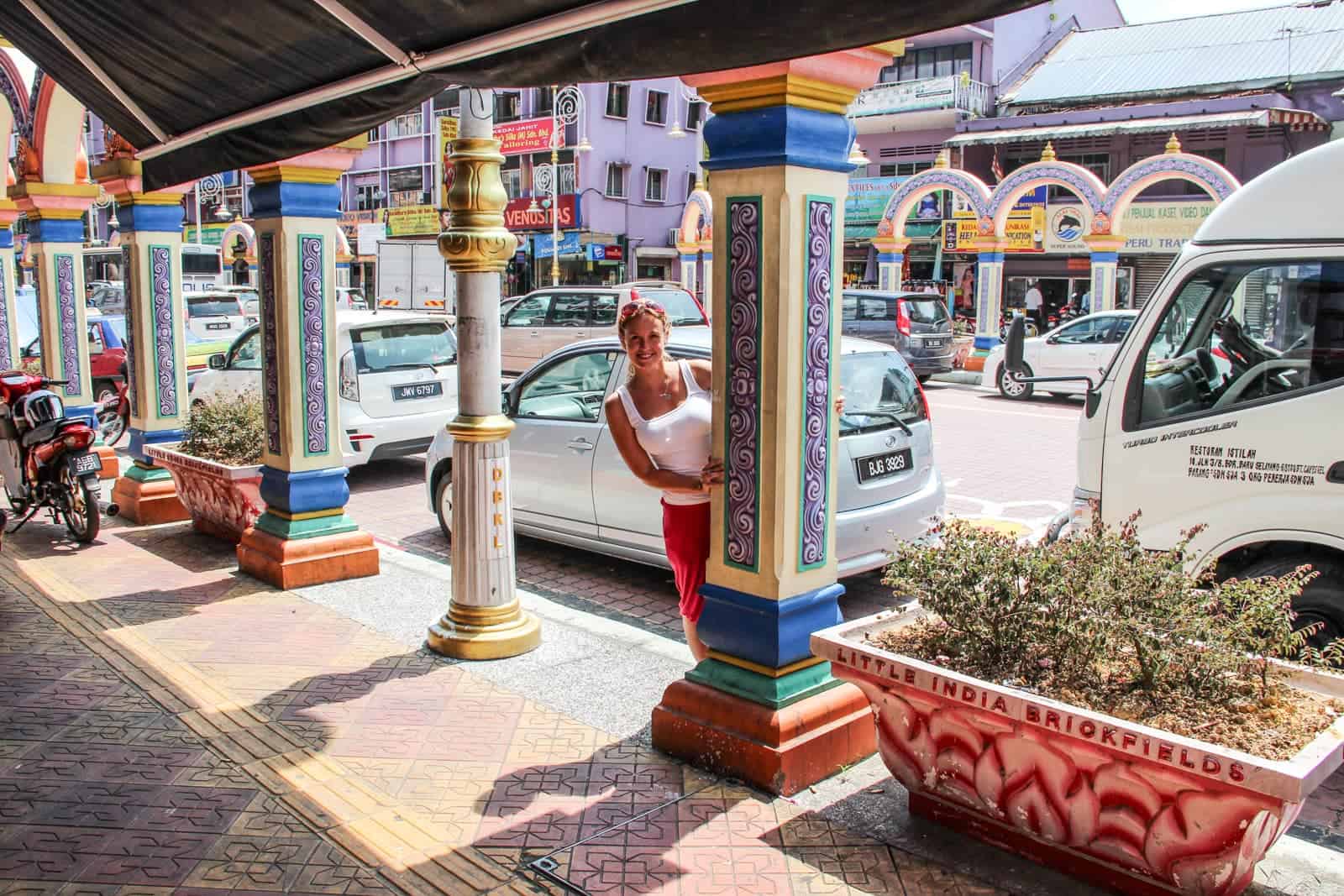 Merdeka Square (Independence Square) and the Sultan Abdul Samad Building
One of the more symbolic things to see in Kuala Lumpur, this square is where Malaysia declared independence from the British at midnight on August 31, 1957, when the British flag was lowered and the Malaysian one, as you see today, hoisted.
The square is surrounded by some of the city's beautiful colonial architecture, most notably the dominant Sultan Abdul Samad Building (the former offices of the British colonial administration) and a large green space that was once used as a cricket ground.
Address: Alan Raja, City Centre, 50050 Kuala Lumpur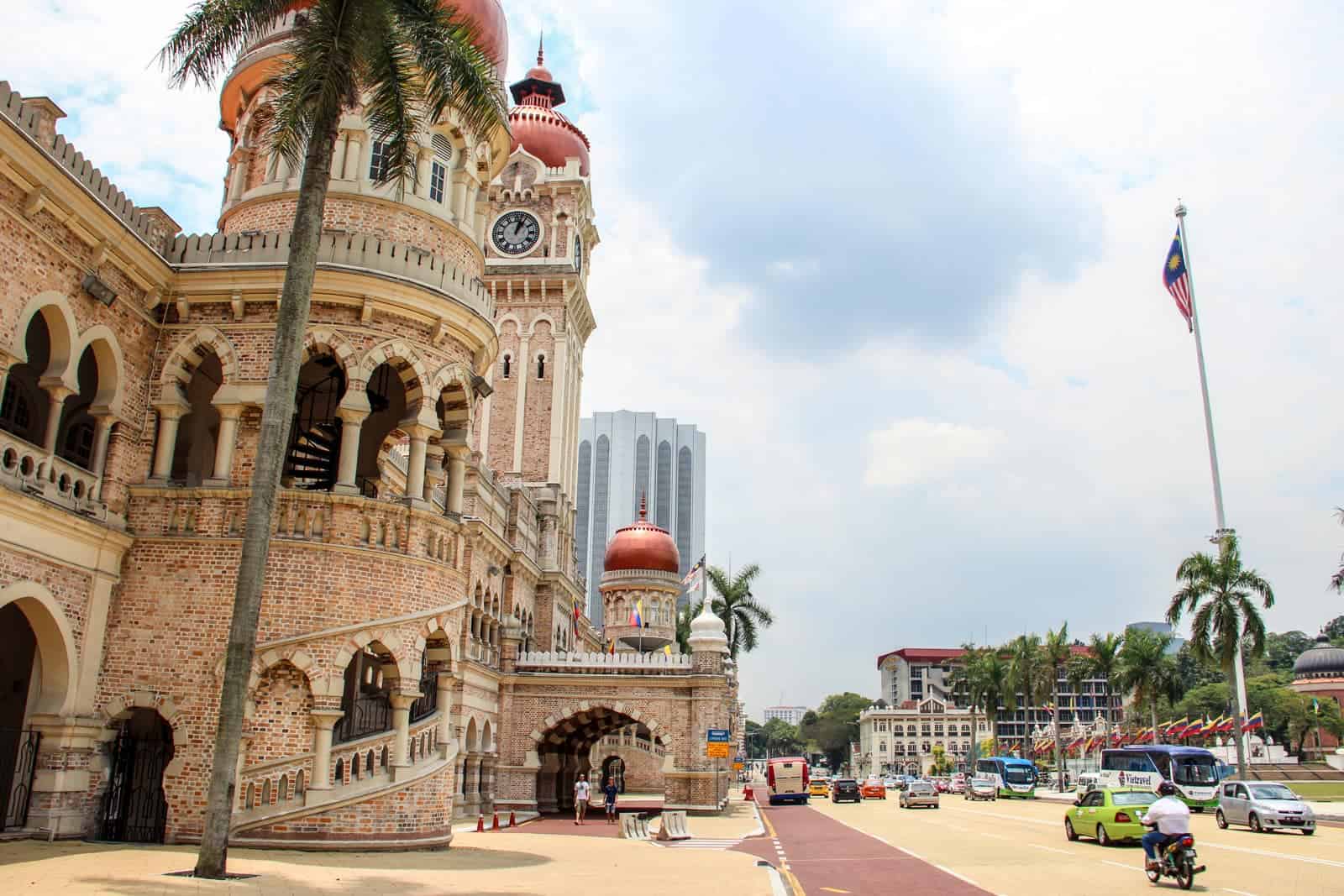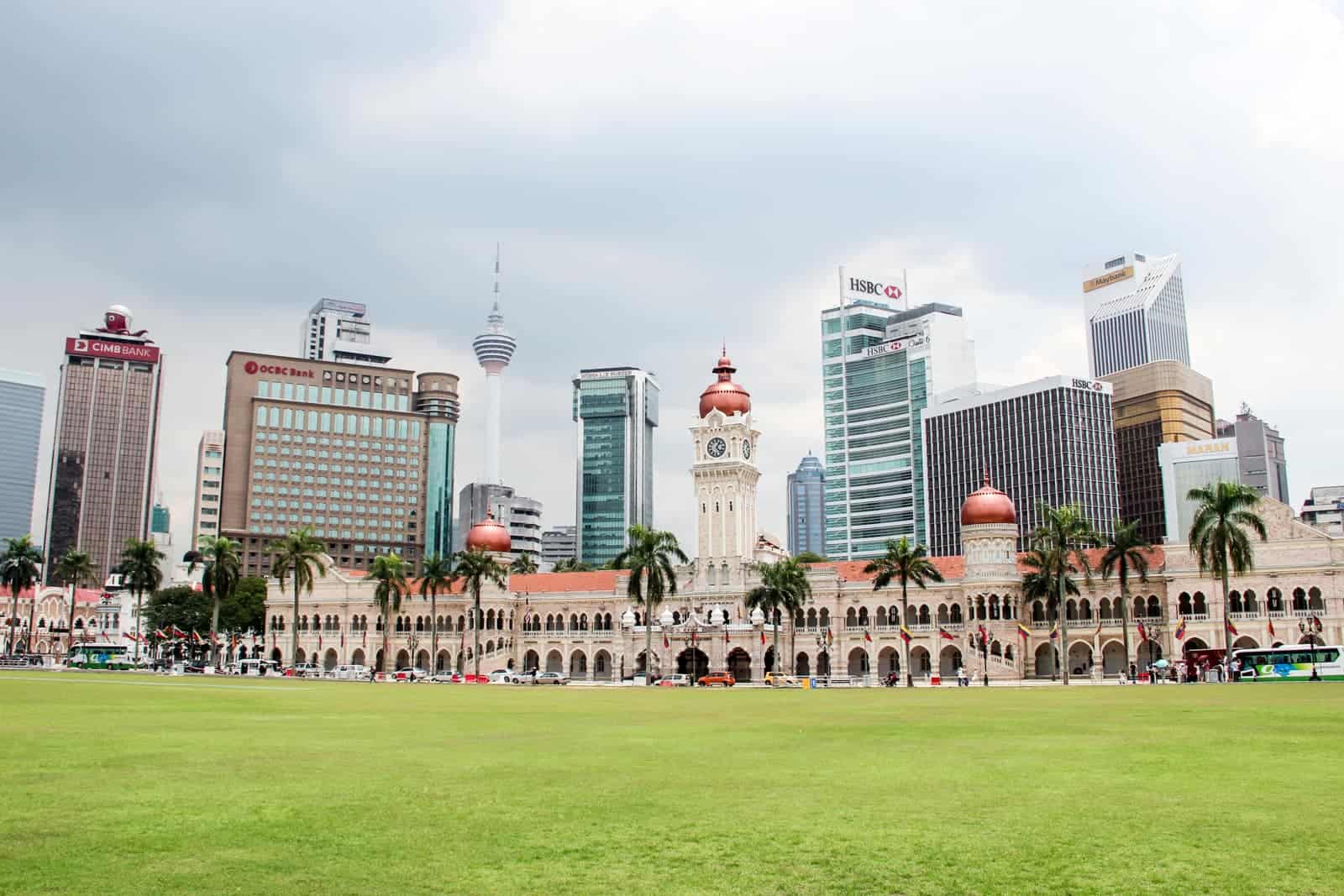 National Palace (Istana Negara)
The official residence of the King of Malaysia (the Yang di-Pertuan Agong monarchy) covers nearly 100 hectares with its long buildings marked by 22 domes. Completed in 2011, it took nearly four years to build.
You are not permitted to enter the grounds so you must admire the dazzling yellow structure from afar, even if that means only being able to peer through the gates for a quick glimpse of the royal structure on the hillside. Just like in London, everyone is fascinated with the horse guards and the small moments of pomp and ceremony.
Address: Jalan Tuanku Abdul Halim, Bukit Damansara, 50480 Kuala Lumpur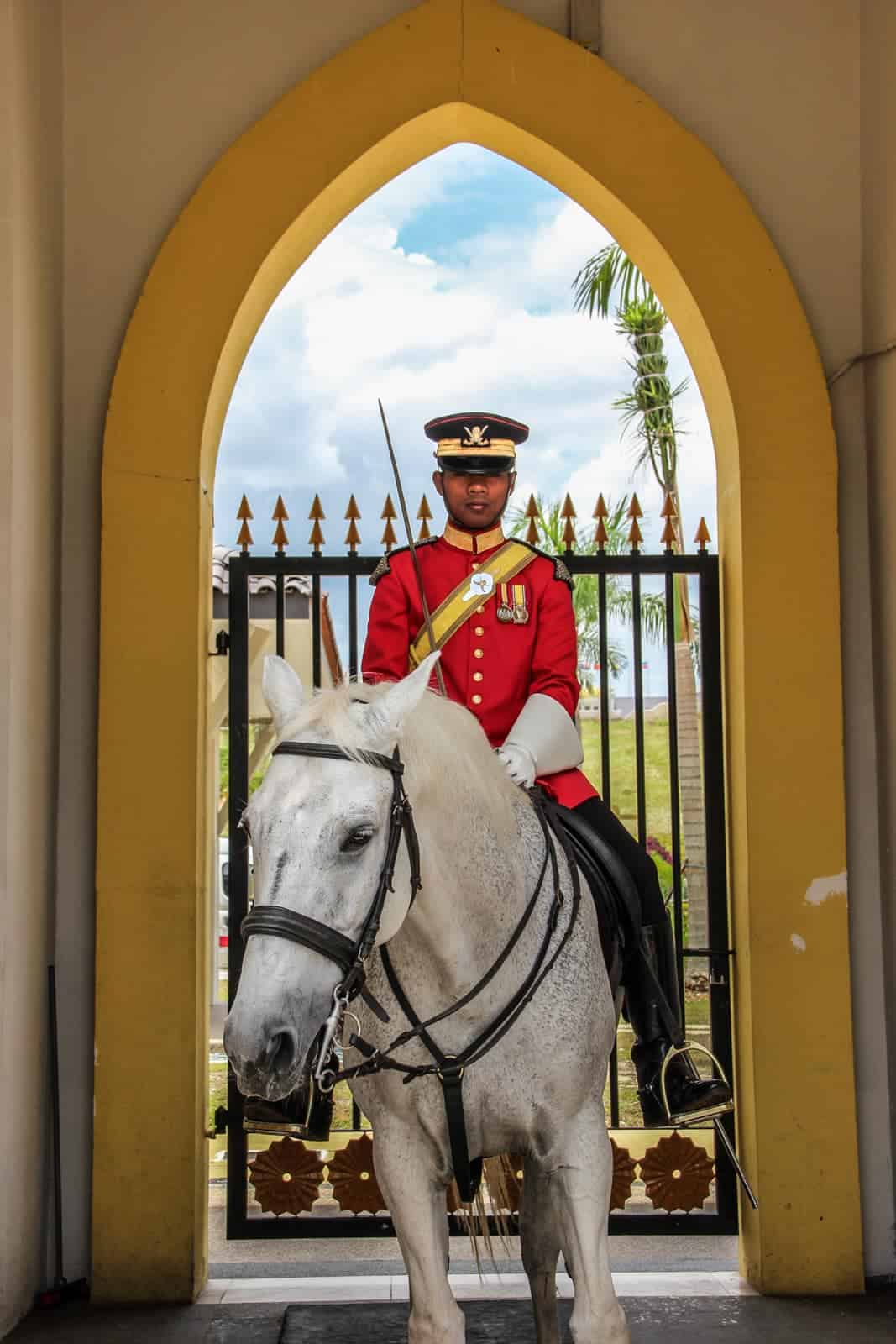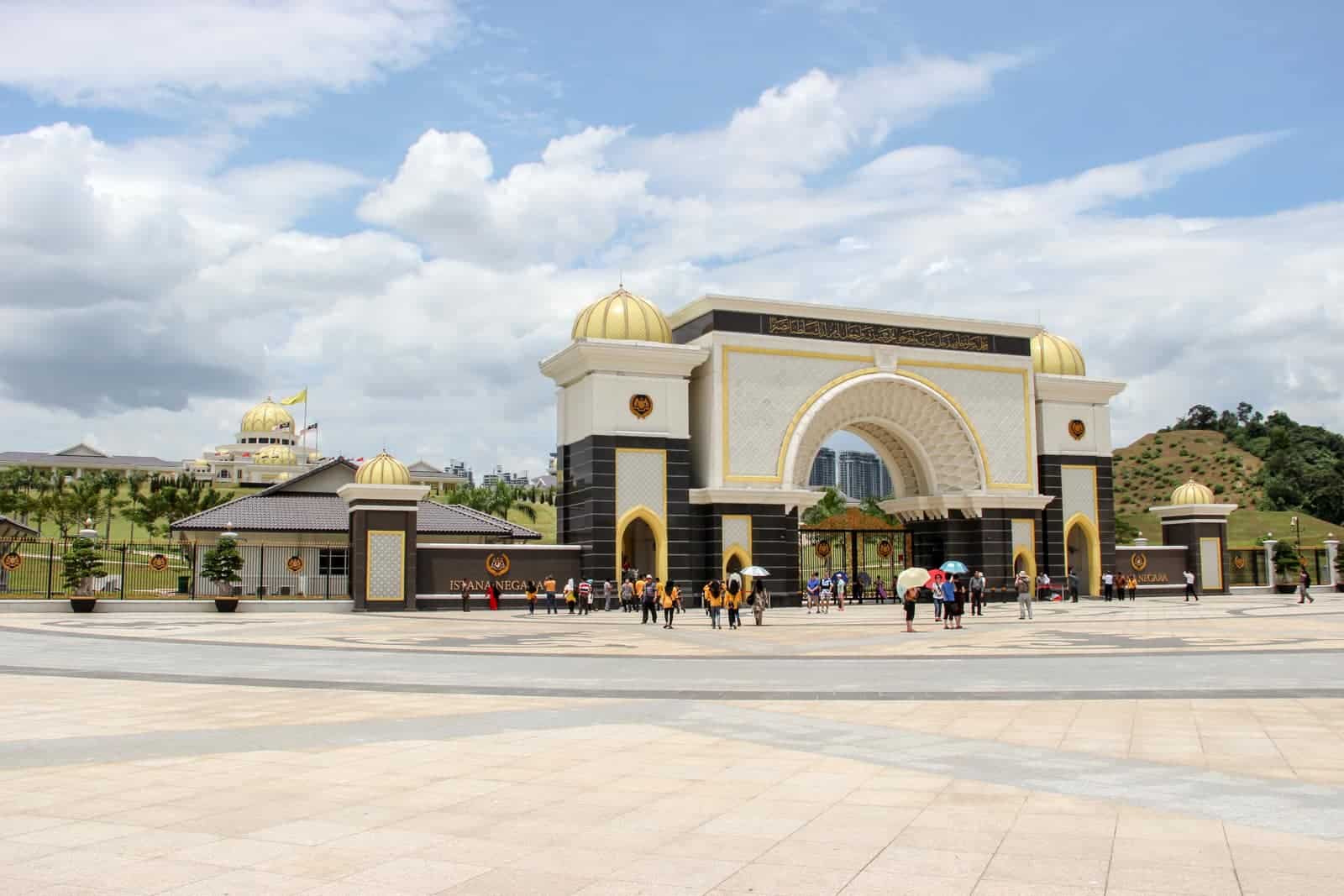 The National Monument
Kuala Lumpur is home to the world's tallest bronze sculpture (so they say), which commemorates those who died for Malaysia's freedom in various wars, most notably against the Japanese occupation during World War II. There is a service every year on the 31st of July, where the King, the Prime Minister, and high-ranking officials from the military and police pay their respects to those who fought for Malaysia's independence.
It's a beautiful freestanding sculpture set amongst water features and within beautiful gardens, including the Lake Gardens and Bird Park. Well worth the relaxing stroll for the amazing backdrop of the city.
Address: Jalan Parlimen, Kuala Lumpur, 50480 Kuala Lumpur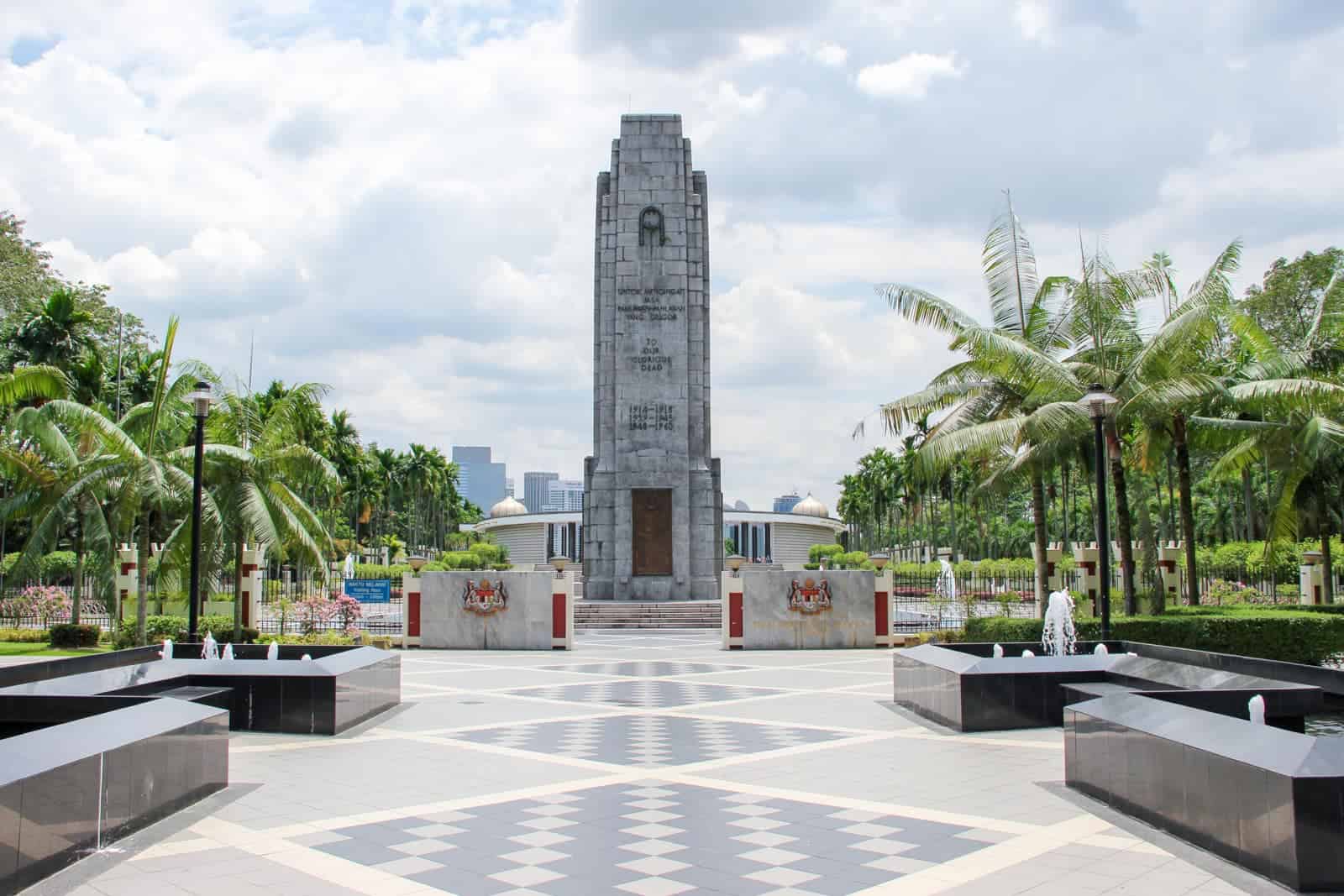 Batu Caves – Hindu Temple Caves
These limestone hill cave temples in the areas of Gombak in Selangor, said to be over 400 million years old, are full of paintings, statues, shrines, and carvings. They are also one of the most popular spots on the Kuala Lumpur tourism trail, and for good reason.
The caves, of which there are three main ones to explore, didn't have the overwhelming wow factor I was expecting but climbing the 272 steps of one of the most popular Hindu shrines outside of India in the Malaysian heat is a feat worth congratulating yourself for. When you turn around on this climb, you'll find quite the magnificent elevated view of the city.
An important religious landmark, the caves are particularly busy during the annual Hindu festival of Thaipusam, which falls in January or February.
Address: Gombak, 68100 Batu Caves, Selangor, Malaysia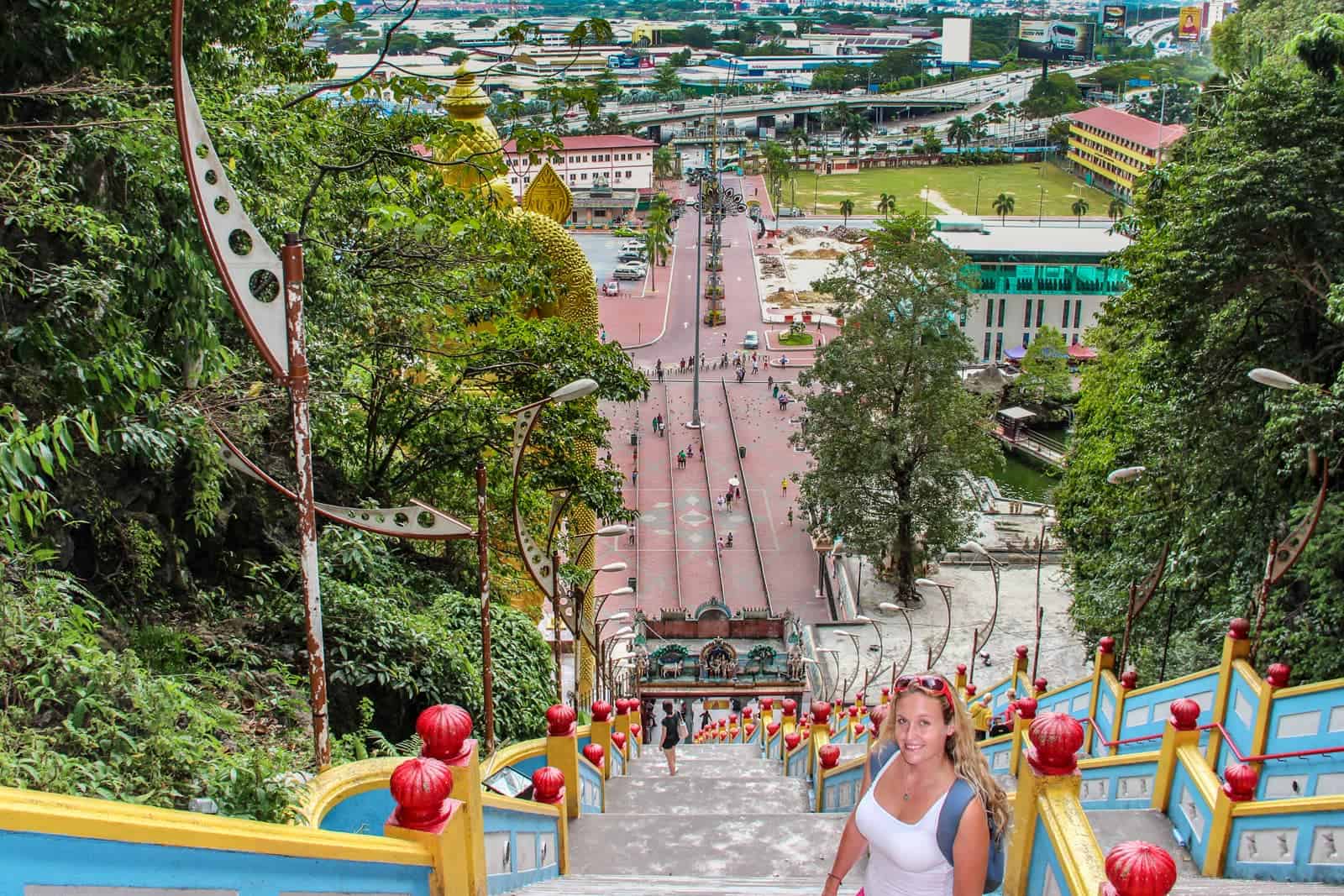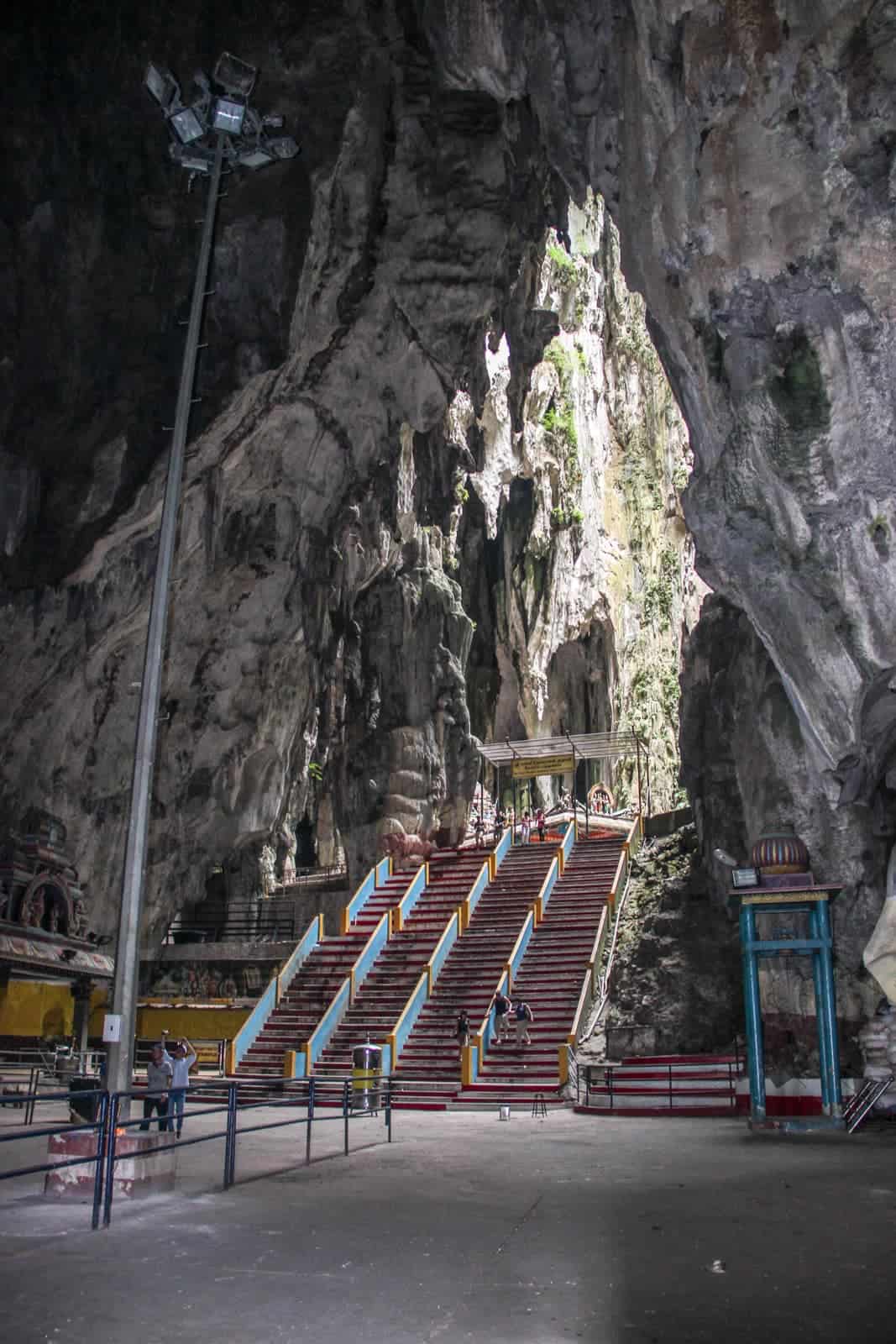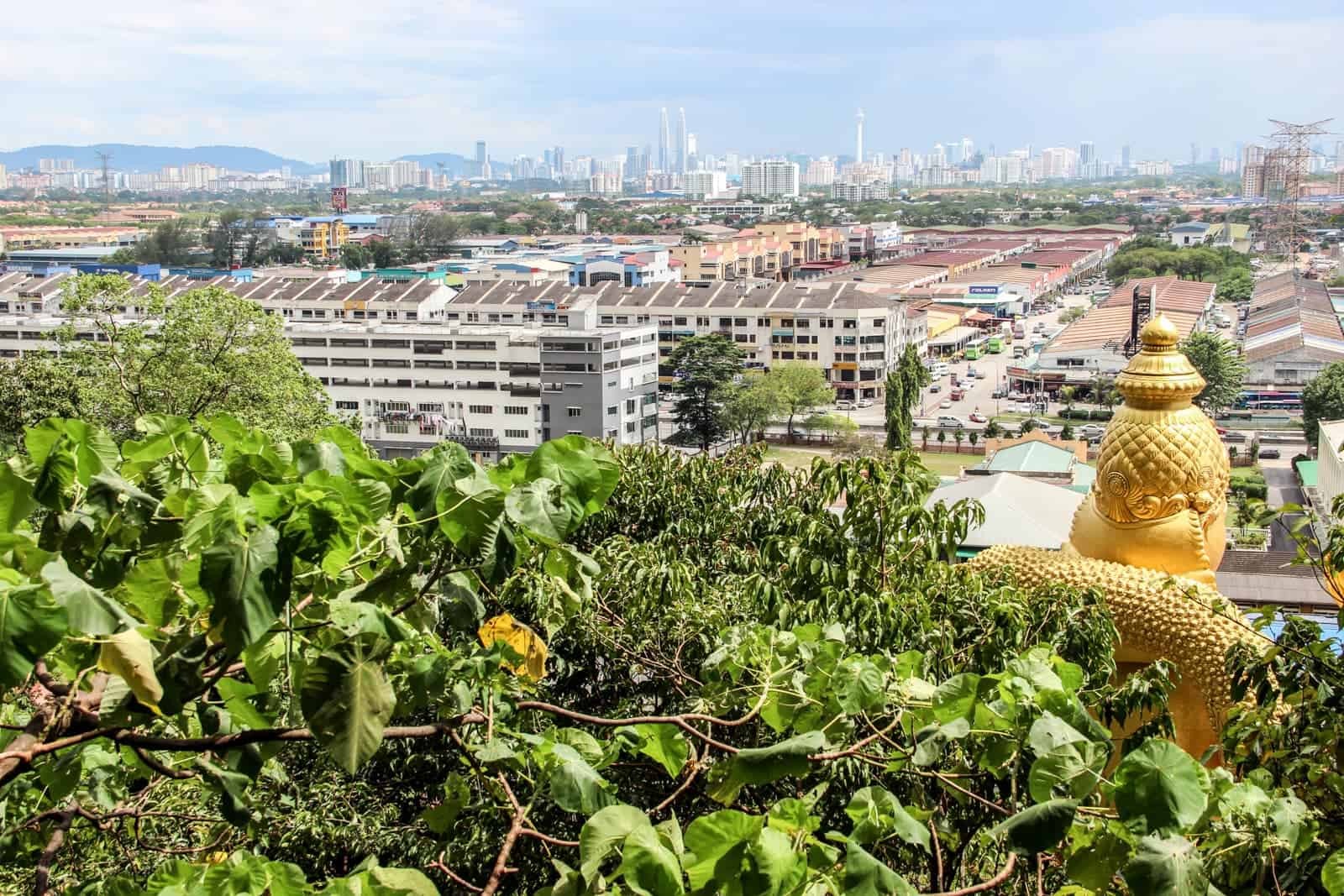 The National Mosque of Kuala Lumpur
Kuala Lumpur is a city where many religions co-exist in harmony and the National Mosque is the main Islamic centrepiece in the city. Constructed in 1965, it has a modern design featuring a 73-meter-high minaret, Islamic art décor, water pools, and a surrounding garden. Astonishingly, it can hold up to 15,000 people.
In respect to religion and its grounds, you have to wear a robe to enter.
Address: Jalan Perdana, Tasik Perdana, 50480 Kuala Lumpur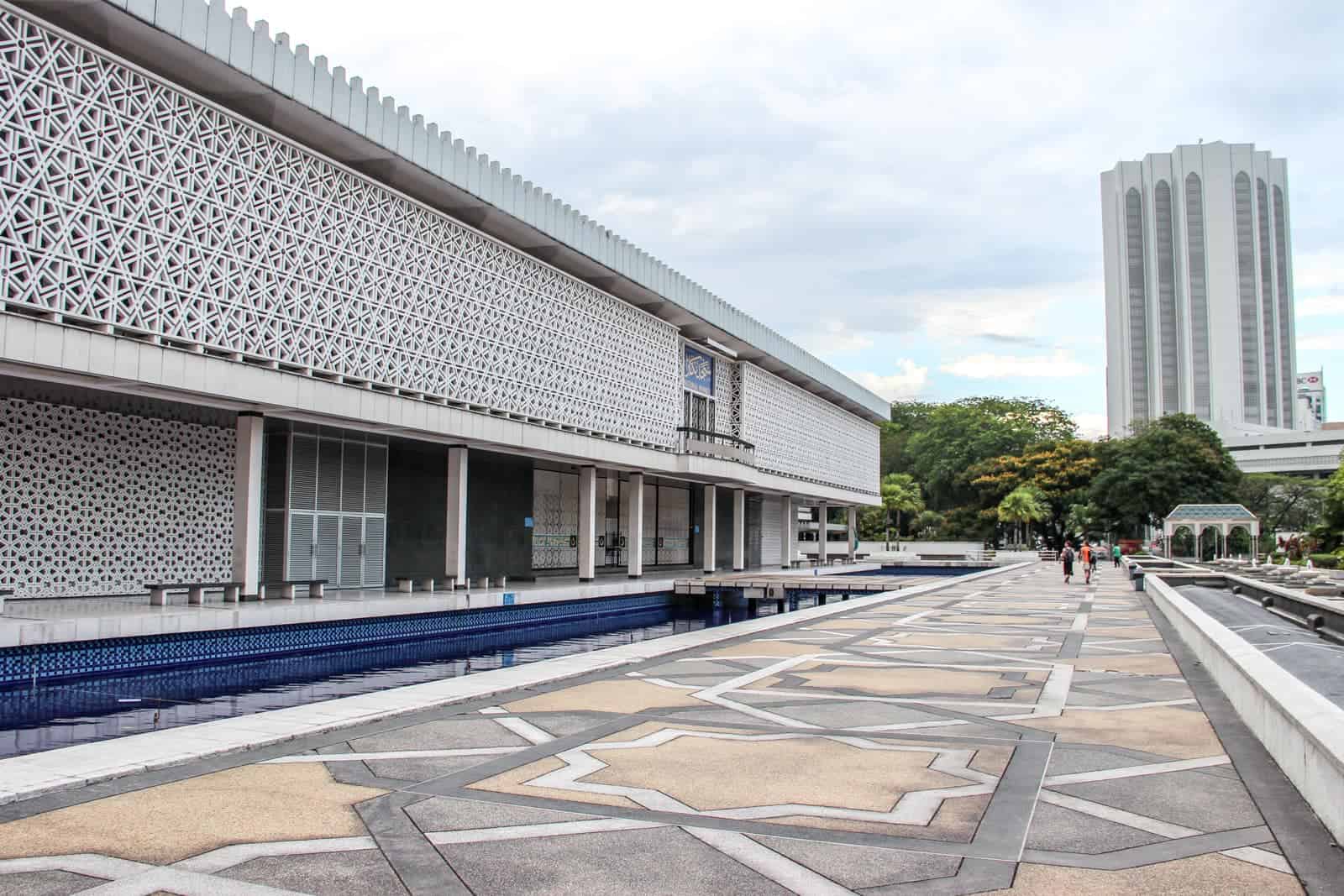 View the Petronas Towers
A symbol of the city that dominates as much as close as it does in the skyline from far away, a visit to the Petronas Towers (also known as the Petronas Twin Towers) is always worthy of a photo opportunity. They were the tallest buildings in the world (up until 2004) but remain the tallest twin towers building in the world. It's also a rite of passage to head to its rooftop bar, Marini's on 57, for an expensive cocktail flanked by an impressive panoramic city view.
Address: Concourse Level, Petronas Twin Tower, Lower Ground, 50088, Wilayah Persekutuan Kuala Lumpur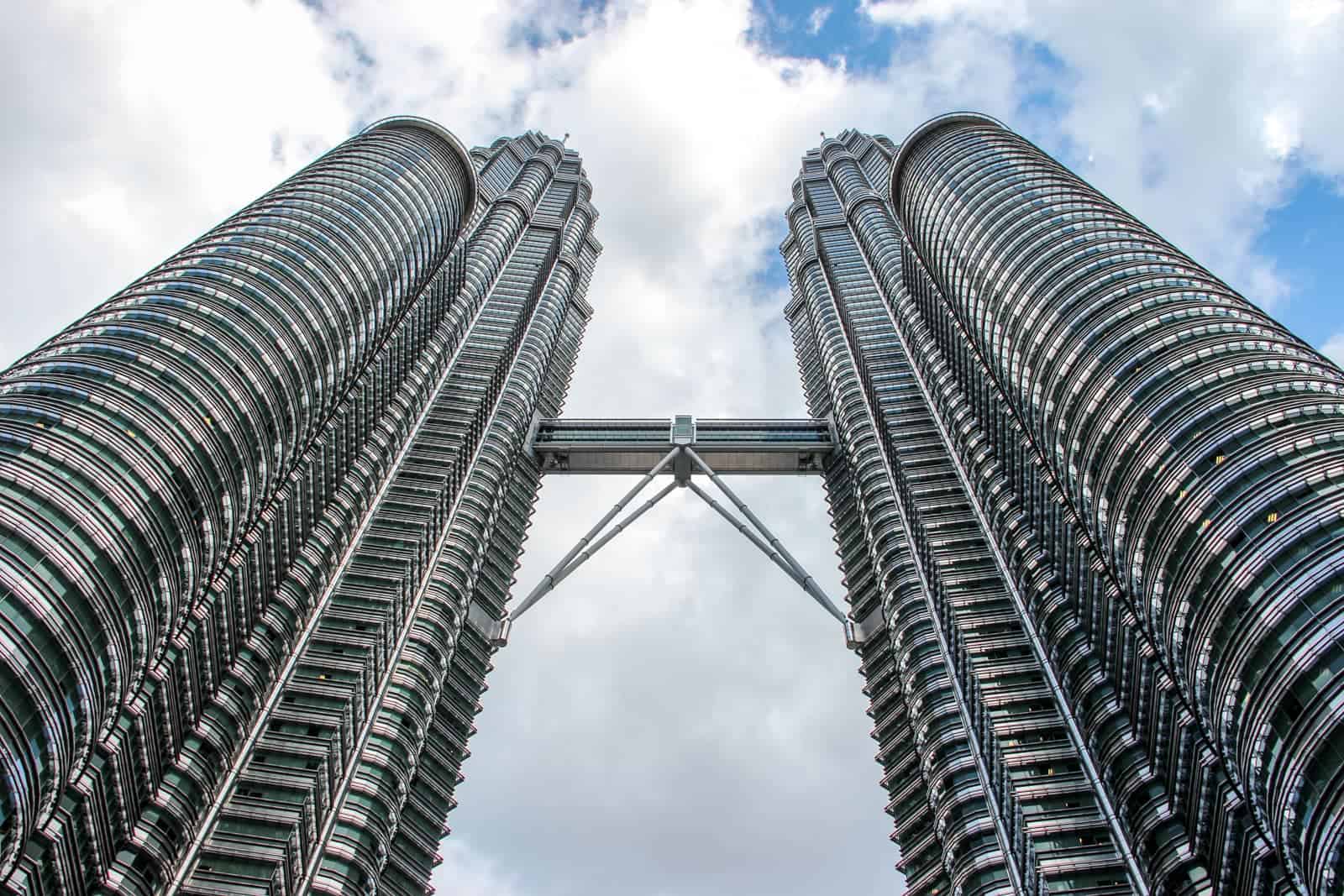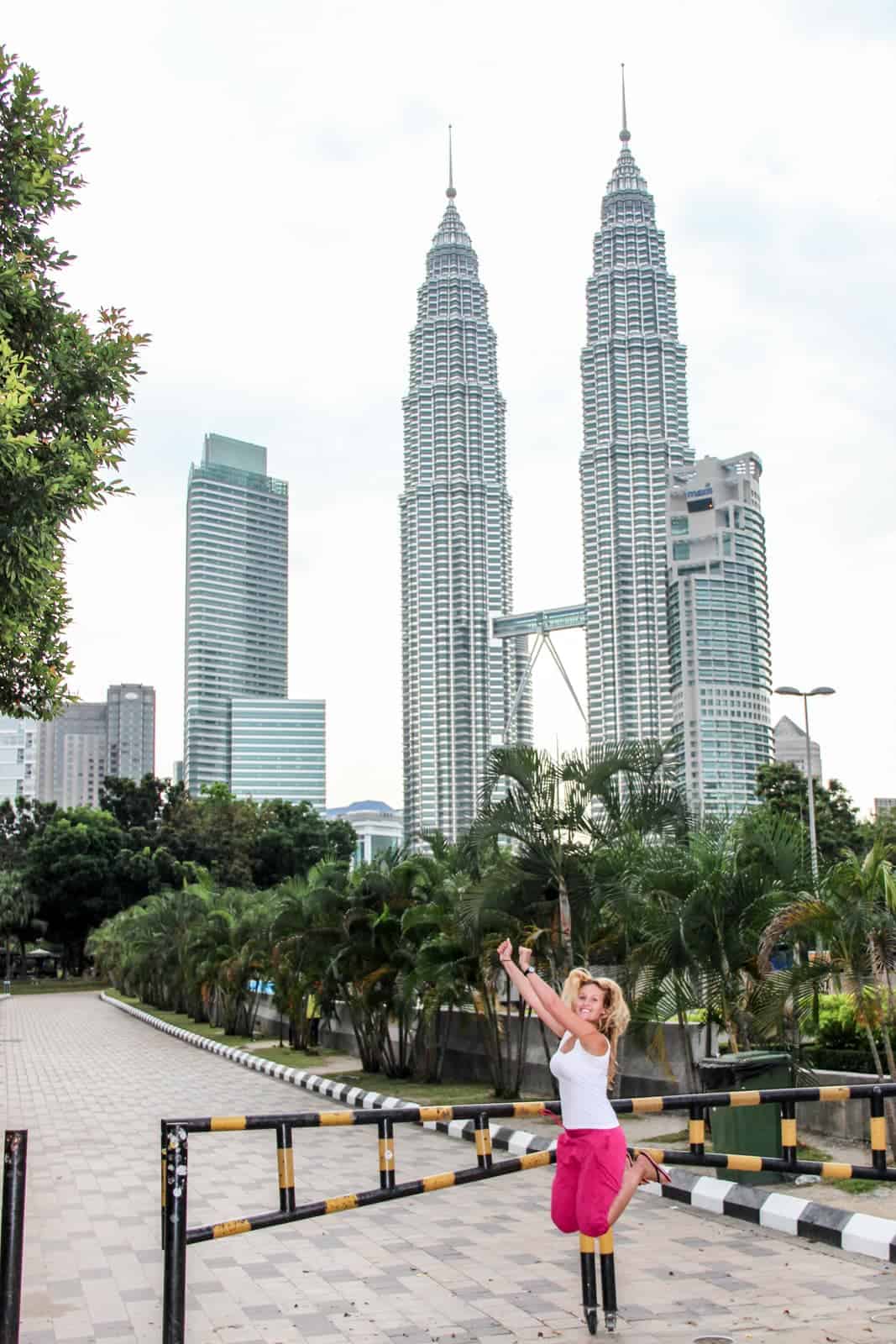 The Observation Sky Deck of the KL Tower
This is a great option if you have a couple of hours to spare or you have an extra day in Kuala Lumpur. Also, most cities have an observation tower now, yet we still climb them for the new view. So the question is if the one here is worth it. I'd say so since Kuala Lumpur's KL Tower has some special accolades.
The KL Tower is the seventh tallest telecommunication tower in the world and the tallest in Southeast Asia at a dizzying 421 metres. It is also located within one of the oldest nature reserves in Malaysia, the Bukit Nanas Forest Reserve.
The indoor Observation Deck is 276 metres above ground and features a sweeping panorama of the city, complete with detailed illustrations of what landmarks you are looking at. The outdoor Sky Deck gets you to 300 metres for those wanted to feel the added force of nature.
Address: Menara Kuala Lumpur No. 2 Jalan Punchak, Off Jalan P.Ramlee 50250, Kuala Lumpur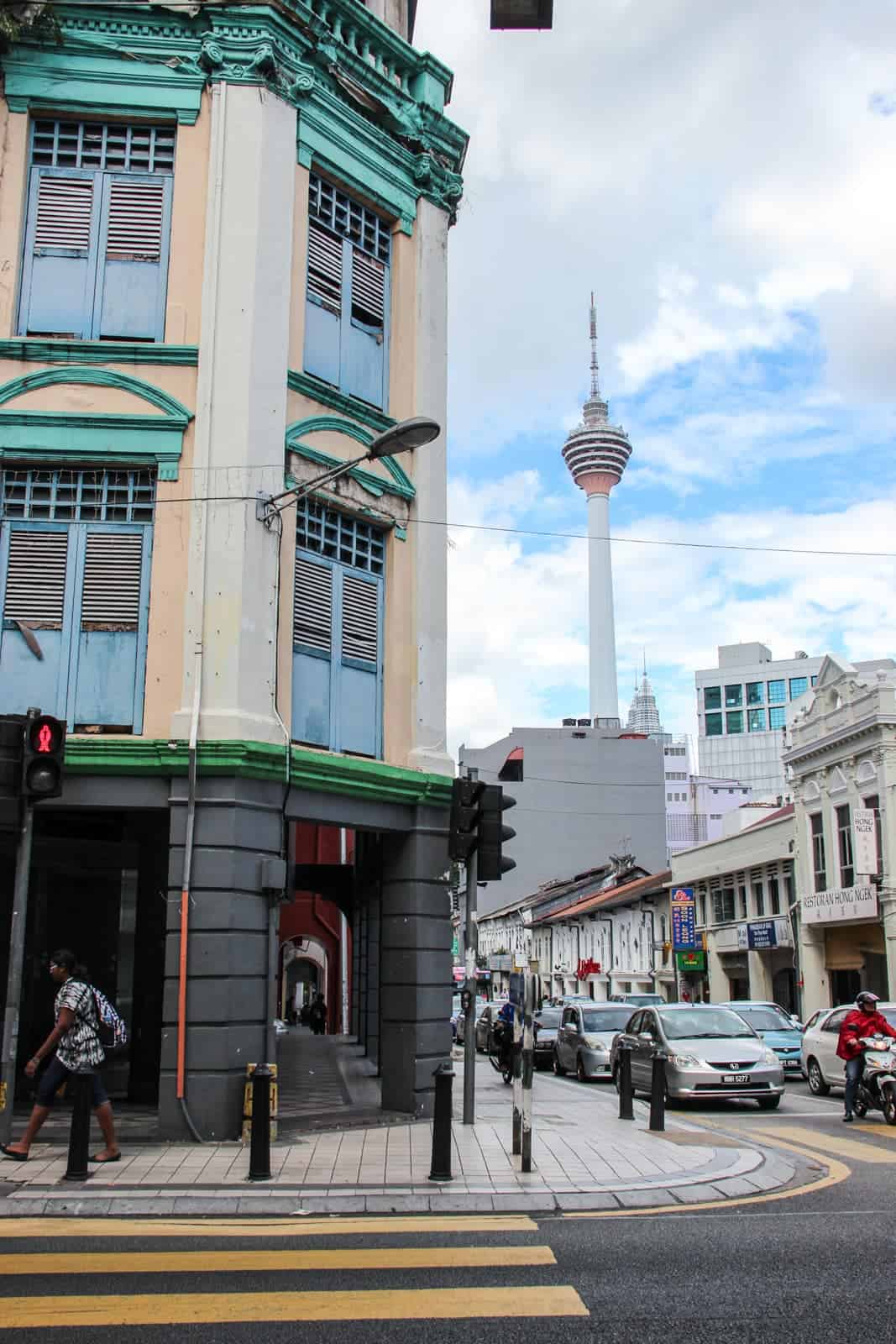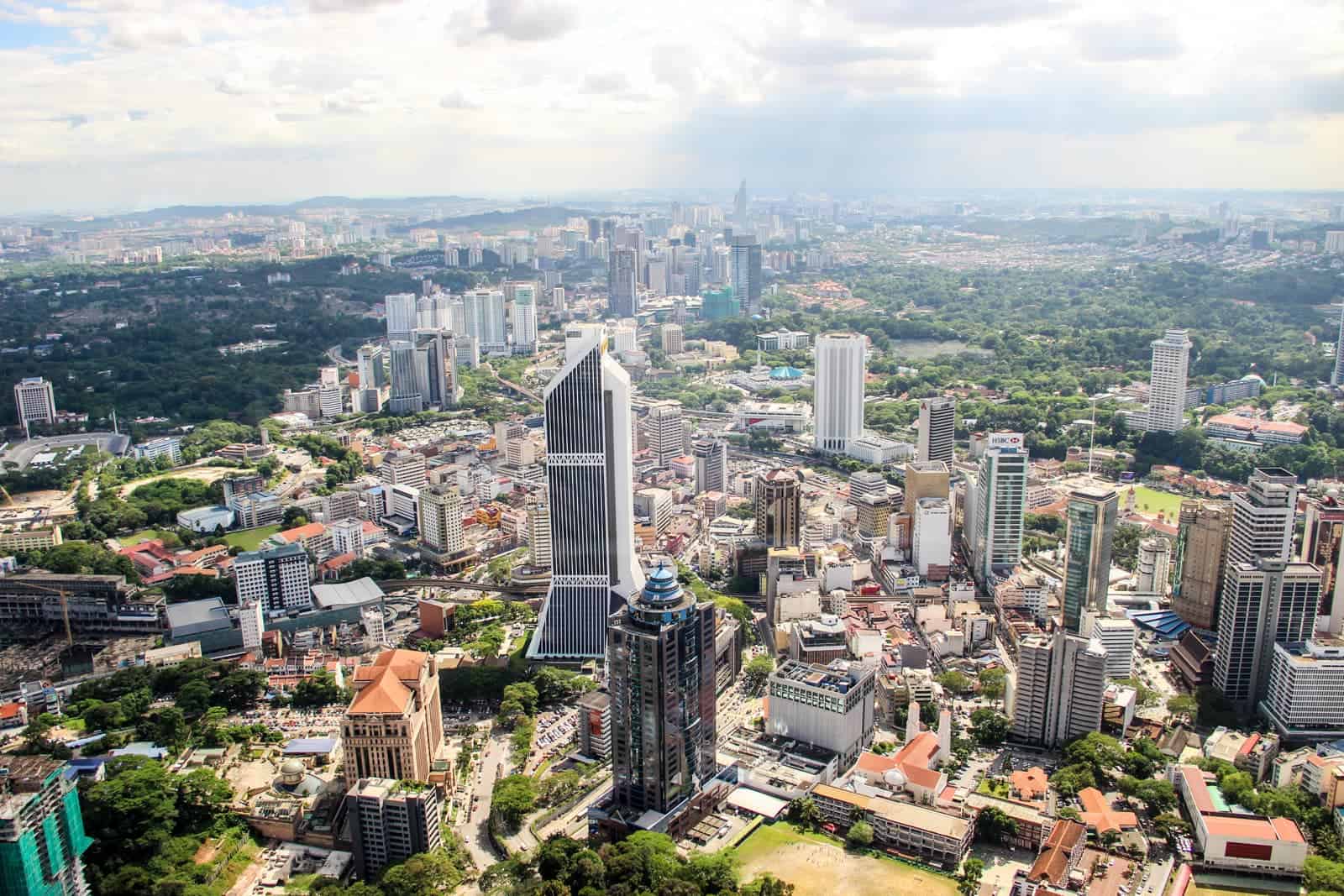 What to do in KL With Extra Time
When it comes to what to see in Kuala Lumpur with extra time, sites like the observation tower for another viewpoint are an inexpensive bonus. In contrast, local market shopping and general wandering give a glimpse into local life and the pockets of energy in the city at no cost.
For those who are night owls, Kuala Lumpur's nightlife is not short on the offering, with various bars and clubs to suit all tastes. However, these can be very expat-dominated.
Petaling Street – Kuala Lumpur's Chinatown
Bustling, crowded, hectic and filled with the sounds of haggling and the smells of food stalls, Petaling Street in Kuala Lumpur's Chinatown is a place to get lost in for a few hours. From morning to evening, you can buy everything from clothing to homeware, accessories, and street food snacks. And imitation/knock-off products. Come prepared to negotiate for a bargain.
The older Chinatown area, specifically Bukit Bintang street, is a less hectic alternative known for its abundance of restaurants.
Address: Jalan Petaling, City Centre, 50000 Kuala Lumpur
Kuala Lumpur Central Market
Not far from Petaling street is the huge expanse of the KL Central Market. It started as a meat market in 1888, but its current art deco style came about in the 1930s when it expanded to selling everything from contemporary art to souvenirs.
Central Market is a Cultural Heritage Site, as listed by the Malaysian Heritage Society, and even if you are not wanting to shop, it is a good place to visit to admire the architecture and enjoy the atmosphere. There's even an outdoor stage for cultural events.
Address: Jalan Hang Kasturi, City Centre, 50050 Kuala Lumpur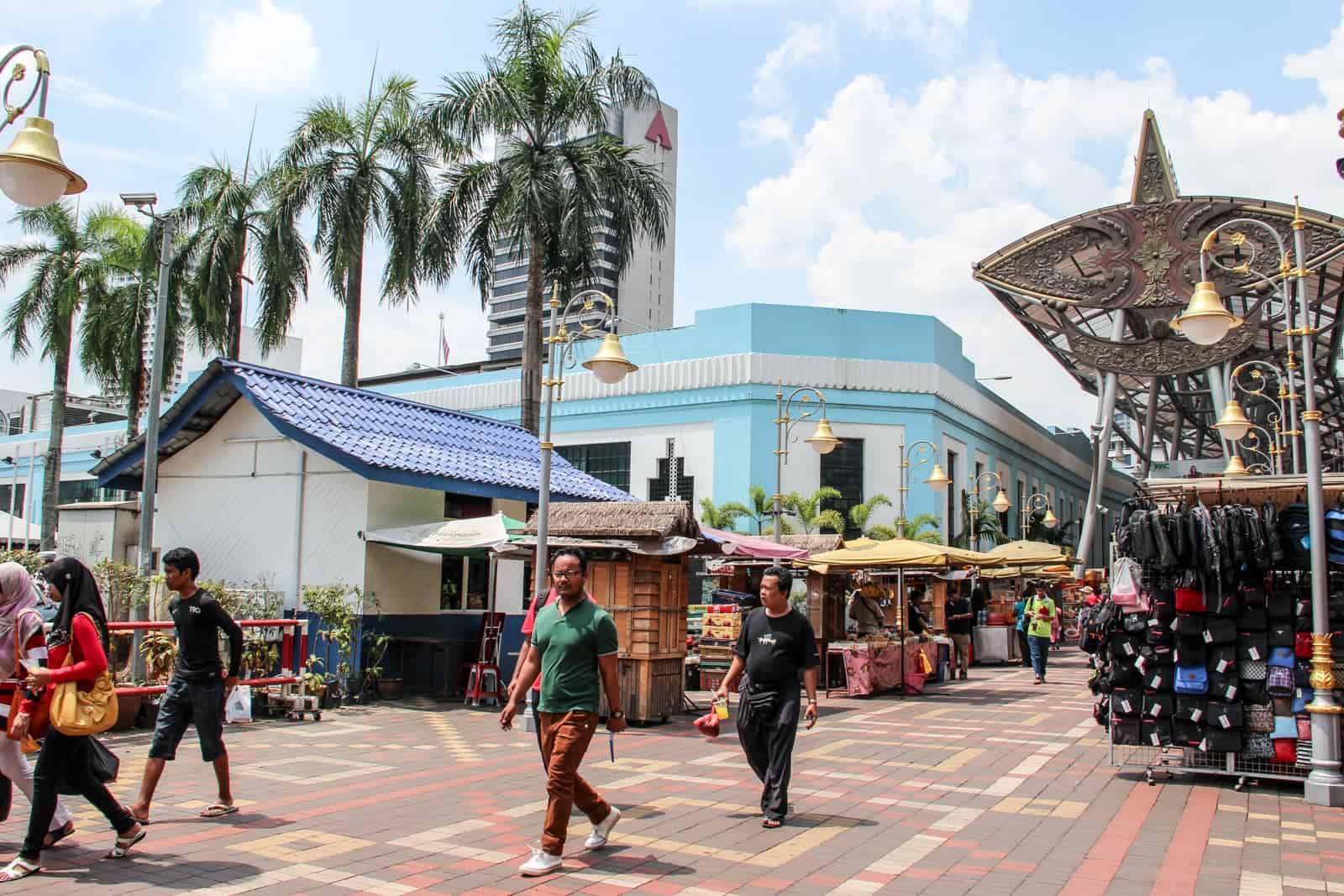 How to See the Best of Kuala Lumpur in 24 Hours
A Kuala Lumpur city tour is a great way to cram a lot of the highlights into one day without feeling like you are rushing through them. Although you may be paying a little more than you would by using public transport, this is a good means of eliminating an exhausting couple of days of fast-paced navigation in the heat and bustle of the city.
Considering purchasing the Lonely Planet Kuala Lumpur travel guide that also includes sections on Melaka and Penang. It includes details and insider tips, including a self-guided street food tour, and has a handy pull-out map to get around Merdeka Square, Chinatown, Brickfields, Kampung Baru, Little India, Masjid India, Bukit Nanas, and beyond.
Keen to understand more about Malay culture, food and language for the short time you are here? Check out these fast facts and insights about Malaysia and even get some wider destination inspiration for your next trip beyond one or two days.
Have More Time?
Combining KL with Singapore?
On a dual country, city-hopping trip, many people combine Kuala Lumpur and Singapore. Read more about planning a Singapore Itinerary, and get the most out of your visit to the neighbouring City-State.
Kuala Lumpur Transport – Getting Around
A city full of buses, trains, monorail and metred taxis, the Kuala Lumpur transport offering is extensive. However, at rush hour times you may be better off exploring by foot and planning a sightseeing route of hotspots that are bundled close together.
RapidKL Bus
The most cost-effective way of travelling in the city is via its huge bus network, RapidKL which has over 170 routes all around the city. You can plan your journey and book tickets on My Rapid KL, which also includes extra city information and promotions.
KL Sentral Train Station
For those travelling to other parts of Malaysia, KL Sentral (Kuala Lumpur's main railway station) will be your main hub for travel. It's also the largest train station in Southeast Asia if you have geeky train tendencies.
KL Monorail
The KL monorail service has 11 stations that cover a route in the central and more touristic areas. It basically fills in the smaller spaces the larger rail routes don't. Its main interchange station is KL Sentral.
You can find a KL transport route map here on My Rapid KL.
Metred Taxis and Tourists
If you use a metred taxi (which are either red and white or yellow and blue in colour), insist that they put on the metre. I was in a situation in KL where our taxi metre was on but he wouldn't let us out of the car until we paid an extra price. This seems to be common practice with tourists, sadly and it was easier and less stressful to use other means of transport in the city.
Getting to and From KL Airport
KL Airport has many transport links to KL Sentral. However, the KLIA Express train service is Kuala Lumpur's fastest airport transfer service that gets you into the city in 28 minutes. You can ore-book your tickets online or at the ticket machines when you arrive.
A single ticket costs RM55 and additional passengers with you get a 10% discount.
A return ticket costs RM100 with the same discount applied to additional travellers with you.
Planning One Day in Kuala Lumpur? Pin It!