Disclaimer: This post contains affiliate links to handpicked partners, including tours, gear and booking sites. If you click through or buy something via one of them, I may receive a small commission. This is at no extra cost to you and allows this site to keep running.
Sri Lanka travel can still raise a controversial debate. Still brushing off the image of conflict, here are the best places to visit in Sri Lanka that make it one of South Asia's top destinations.
There's no shortage of articles in circulation from 2010 onwards detailing a visit to Sri Lanka as one filled with military checkpoints, empty buildings, and a scarred landscape.
This compact island in the Indian Ocean remained off-limits while civil war raged for 26 years from 1983 to 2009 and a devastating Boxing Day tsunami in 2004 halted what there was of momentary peace. Not to mention the religious targeted terrorist attacks in 2019.
Today, over a decade on, the picture couldn't be more different. Travelling to Sri Lanka is now on the radar.
Sri Lanka is rapidly making up for the lost time in its regeneration and conservation efforts to bring back its serendipitous namesake – a small space containing huge variety in its pristine beach lowlands and tea hill highlands, ancient ruins and UNESCO World Heritage sites, wildlife in safari lands and whale watching shores, and an incredible cultural and culinary scene.
It's more than ready to begin stealing the limelight from its favoured neighbours, India, and the Maldives.
War and Post-War Sri Lanka
The big question about travelling to Sri Lanka often rests more on politics and safety than it does on cost or convenience.
The 26 years of the war saw a brutal battle between the Sinhalese military government and a rebel separatist group known as the Tamil Tigers (Liberation Tigers of Tamil Eelan – LTTE). While both committed brutal crimes in the name of nationalism, the world saw the military end the war ruthlessly as they took over the Tamil North in a bloody all-out massacre, that saw thousands of Tamil civilians end up in refugee camps.
Sri Lanka then became a country run by a government accused of war crimes; a destination documented in UN reports and war councils for its corruption and authoritarian stance. Angry protests still erupt against travellers 'supporting it' via tourism drives.
The Tourism Protest & Travelling Present
The reality is that war atrocities do not translate to the old man selling you rice, roti and curry in his street-side eatery, or the family who owns the convenience store.
Nor do they extend to hotels workers and tuk-tuk drivers trying to make a living, or to the new generation of Sri Lankans wanting peace and living within a society trying to find ways to bridge the divide.
By boycotting travel to Sri Lanka, you harm the people innocent to politics and trying to desperately shake off the bad image. The veil of war is off, and while people continue to protest against visiting because of the government's past atrocities, the country's recent election of the new President, Maithripala Sirisena, can only help pave the way more for change, development and a cleaner image.
I first considered travelling here two years ago when the Asia traveller circuit was slowly bringing Sri Lanka into the fold. Now and again you would meet a person who had spent two or three weeks there, and the new, distant and mysterious credentials gave it even more of an appeal.
Where tourism was once concentrated in the centre and south, the more intrepid can access all corners of the country, with the north and east having re-opened for visitors.
The Best Places to Visit in Sri Lanka
Colombo as the Start Point
Sri Lanka's capital of Colombo is the pivotal point from which you will travel around the country. You can forgive the city for its limitations in attraction and grand sites; not only was Colombo the target of terrorist attacks by the LTTE during the war and still mending, but its historical spots and places of significant interest are neither in a compact space or abundantly charming.
Seen more like a commercial hub, this is not your typical bustling, dusty, Asian whirlwind of a city, but it does have a few charms to discover. While the Portuguese Fort from 1505 no longer stands, the Dutch – who was next to colonise – left behind some architectural sites including the 'Dutch Hospital' which is now a hip bar and restaurant area and the Cargills colonial building from the early 1800s that is set to be a Raffles Hotel.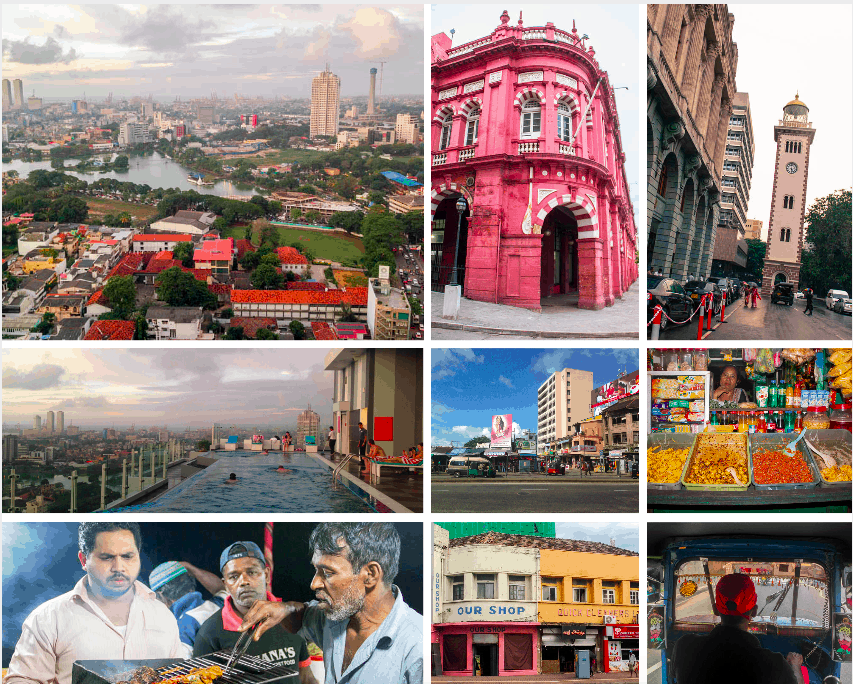 Galle Face Green is a great place to admire local life and indulge in some street food in the evenings, or luxuriously relax at The Galle Face Hotel – Sri Lanka's oldest – constructed in 1864. The rest is for architecture admirers, with the Old Parliament building, the independence monument and the White House style New Parliament building as some of the highlights.
For extra insight into the real Colombo with the help of locals check the departure times of the Cinnamon Hotels local food tour that takes you to street food havens across the city. There's also a photography tour of key historical sites, temples and modern-day architectural favourites, and the Trekurious walking tour which combines hidden historical quirks, untold stories and the 'Dodgy Bar Tour'.
Sri Lanka Coastal Loop – South West to the South East
One stretch of beach hopping is along the coast connecting Colombo to the historical treasure of Galle that sits on the South West corner of the country, with the more tranquil Bentota and the surfer's paradise Hikkaduwa the favourite golden sand hangouts on the way.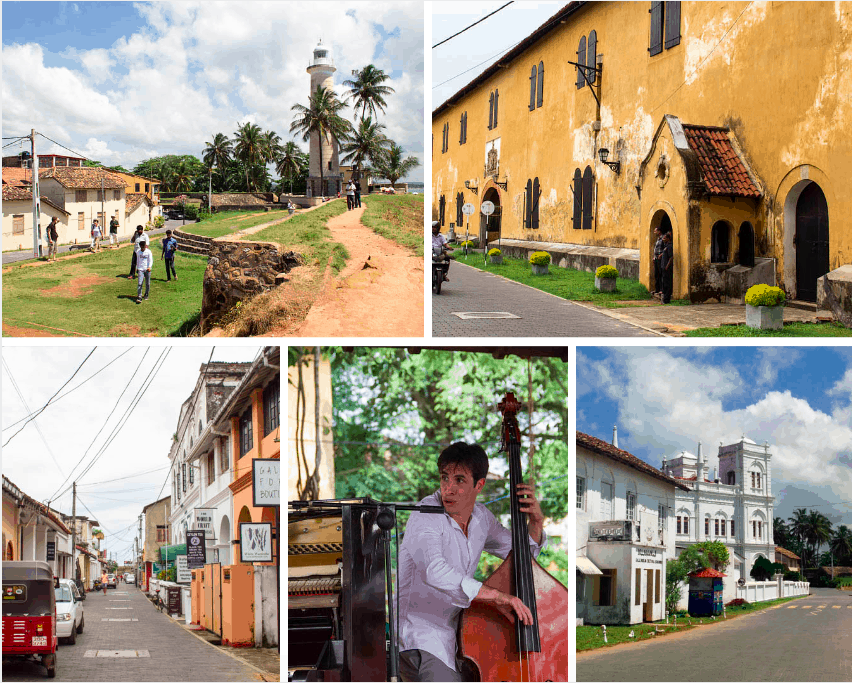 Galle was undoubtedly one of my most favourite places and was like stepping back in time as you wander through the Fort area and amongst the Dutch colonial structure lined streets. It reminded me of a mix of quaint European towns and the artistic atmosphere of Pai in Northern Thailand, perfect for strolling and getting lost within its wall that oozes centuries of history.
The Fort walls luckily protected the Old Town from damage during the tsunami, so it remains preserved. You'll get your fix here admiring the Fort walls and peeking into churches while spending the afternoon lounging in arty cafes and browsing boutique clothing and craft stores.
From here you can continue to indulge in the coastal south coast, stopping at the more popular traveller hub of Unawatuna, more serene Mirissa and luxury getaway of Weligama Bay, before heading to the far South Eastern corner and embarking on a safari adventure and leopard spotting in Yala National Park. Just like in Africa, you can combine beach getaways with wildlife exploration within a matter of hours and Yala's dusty orange landscapes and bumpy tracks are just as comparable in intrigue and excitement.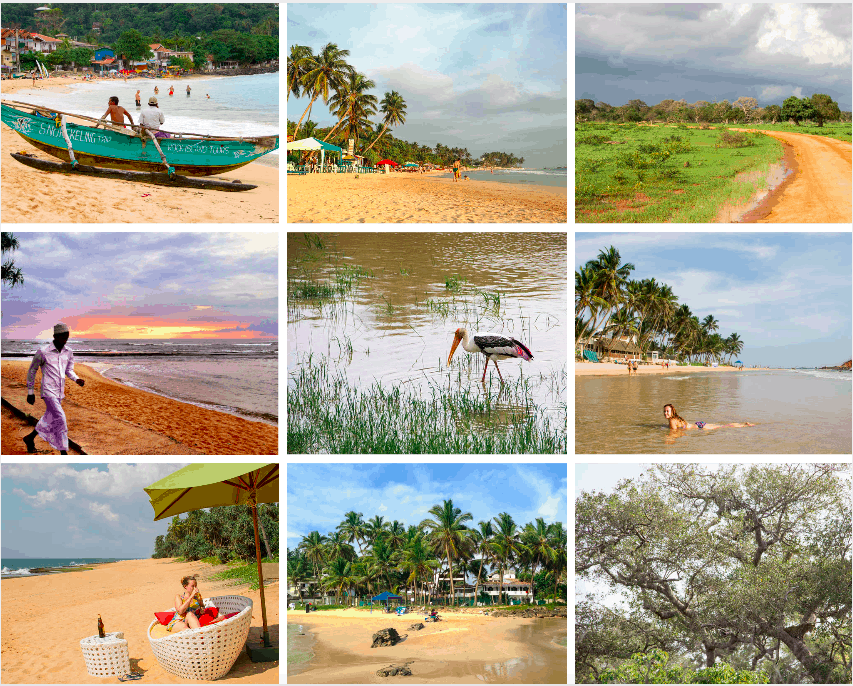 Sri Lanka Central Tea Highlands and Peaks
I won't forget the train ride through the tea hills in Sri Lanka, where you'll spend much of the seven or more hours leaning out of the windows and carriage doors with your camera glued to your hand as various hues of green roll by. So much so, it fast knocked the infamous Burmese rail journeys off the top of my list. A long series of snapshots of endless lush landscape, the laundry hanging out to dry next to the rail tracks and the awe at passing the women, clad in bright colours as they pick the leaves in the tea terraces.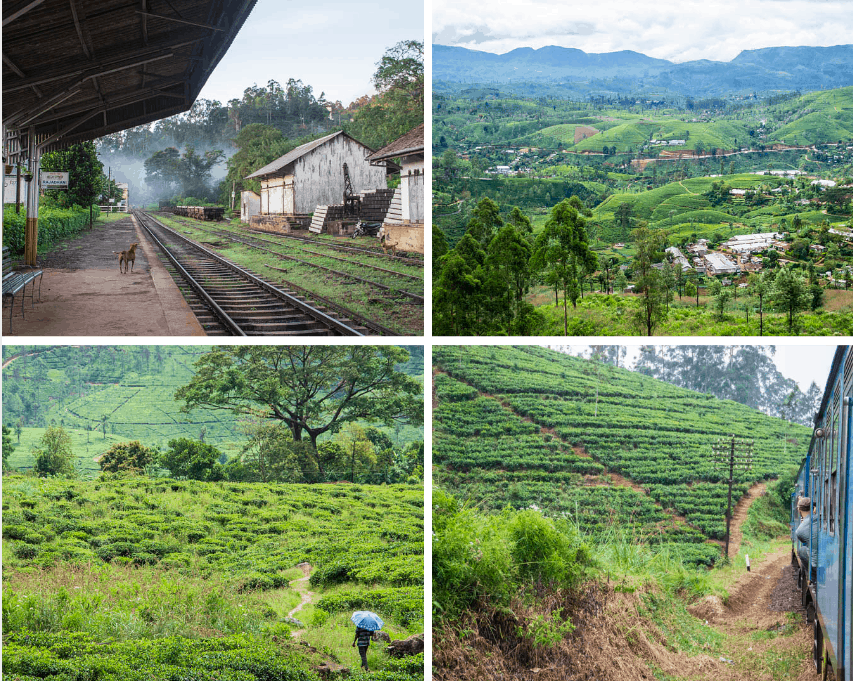 The tea hills are the perfect place to escape the tropical climates of the lowlands and many venture here to pilgrimage to the peaks including World's End in Hatton's Plains and the multi-stepped climb to Adam's Peak, which I have firmly on my list for the next visit.
Nature is quickly contrasted with tea factories visits, whose tucked away plantations produce millions of kilos of tea per year, and where you can easily spend a leisurely afternoon sipping on various grades of Sri Lankan's best export.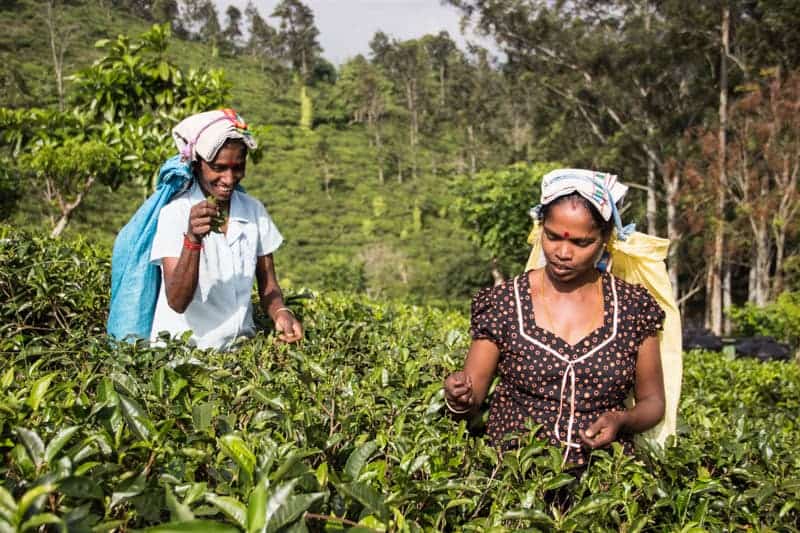 But your journey here is likely to begin in the central city of Kandy, just as busy but more compact than Colombo and home to one of Sri Lanka's most flocked to Buddhist sites – the Temple of the Tooth – and which gives a taster for the lush and green landscape to come. Here it extends far and wide and can best be seen from hilltop hotels offering panoramic views, so it is well worth investing in a little comfort to enjoy this kind of view.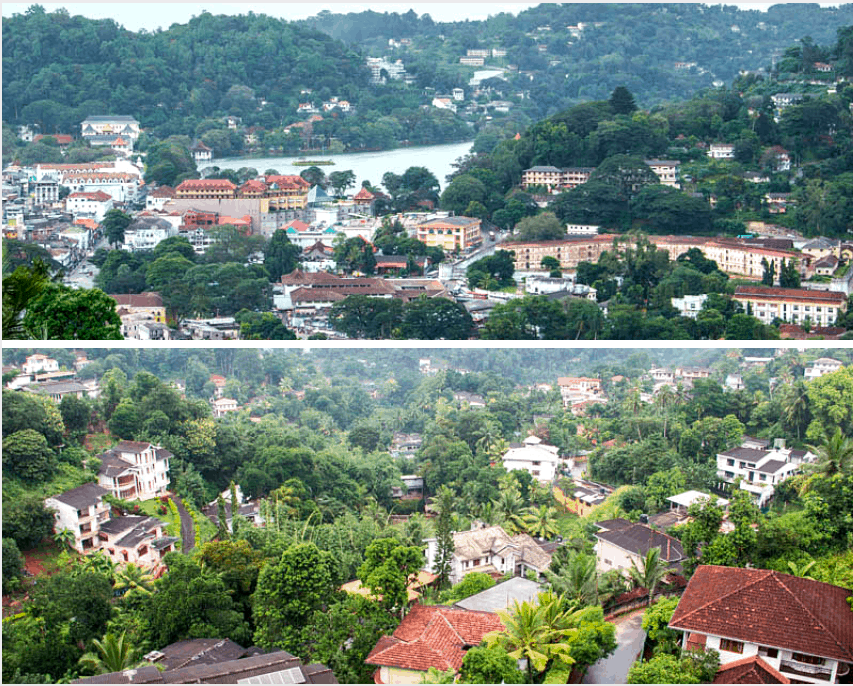 Sri Lanka Cultural Triangle
Ancient Dynastic capitals and a modern archaeology haven, the ancient sites, monuments and sacred relics of that make up the area known as the 'Cultural Triangle'. This triangle on a map would mark the three points out at Kandy, and the ancient cities of Polonnaruwa and Anuradhapura.
In between, you have the glorious Sigiriya Rock, which stands mighty from a distance and is a real experience to climb, alongside the multiple cave temples and golden Buddha of Dambulla as the key heritage sites.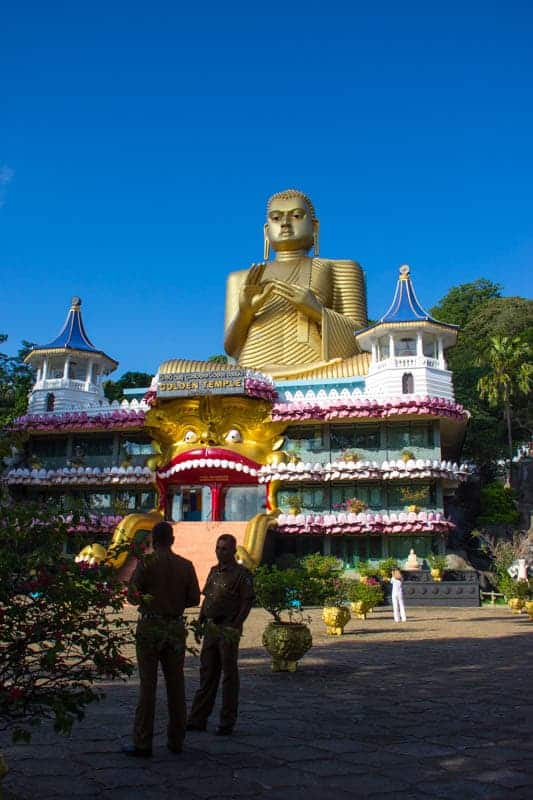 Cycling around ancient cities is the best way to experience these vast grounds. I much preferred the sprawling and more architecturally magnificent Anuradhapura to the more compact Polonnaruwa, although there are a lot of similarities. Think of them as a mixture of Angkor Wat in vast ground size, mixed with the individual delicate ruins of Sukhothai in northern Thailand.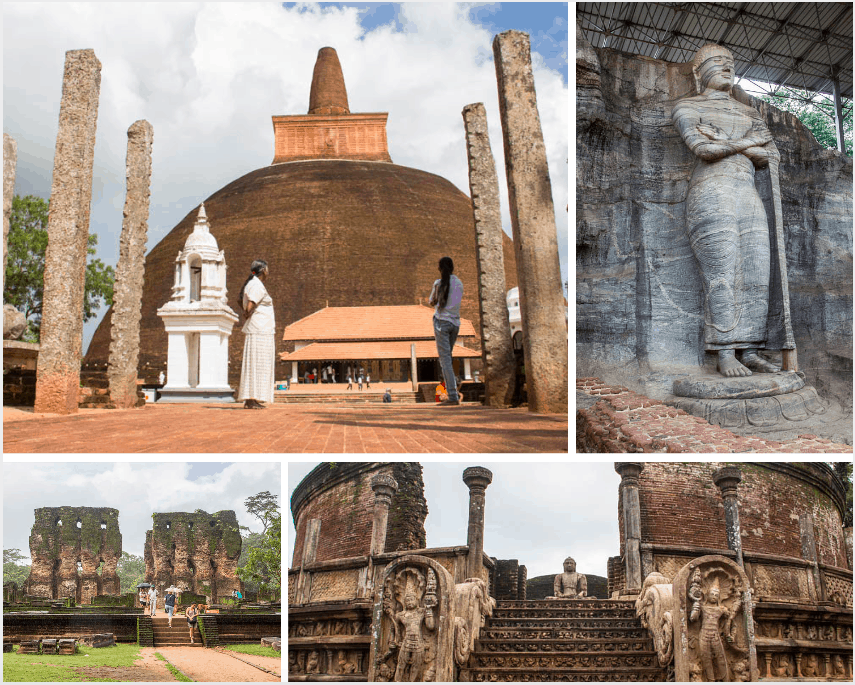 Standing on top of the towering pillar of an extinct and eroded volcanic mass known as Sigiriya is not to be missed if you had to choose one or two of these key sites. A UNESCO World Heritage Site, it is said that this was once the site of a royal palace and later, a monastery. Sri Lanka has a lot of natural beauty, and this is certainly a climb worth the effort and fear of invading hornets.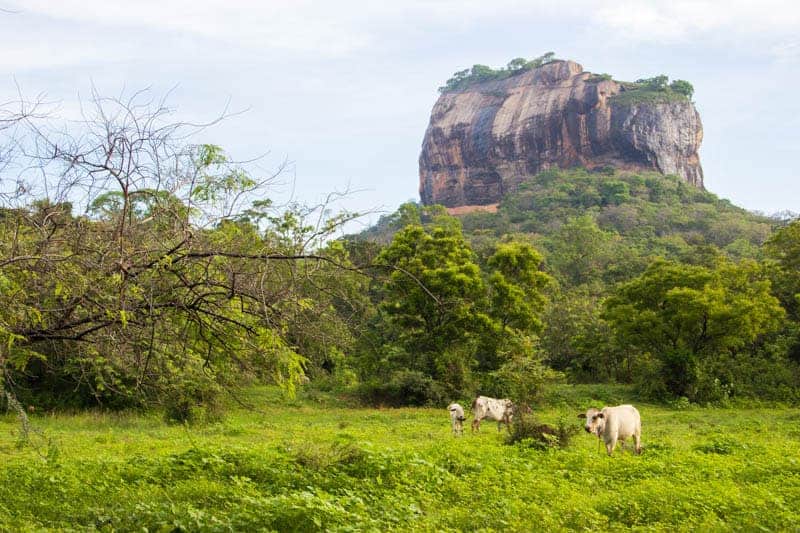 Head North to Jaffna
I got to Jaffna via a six-hour bus from Anuradhapura, which involved a brief checkpoint stop to check for the required permit for entry. I'll be writing more on this later, but visiting the Tamil area of Northern Sri Lanka is pertinent in both understanding the country and seeing both sides of the conflict.
Visitors will be welcomed with open arms, smiles and a delightful curiosity. A nation in a rebuild, it's important not to forget those on the other side of the country.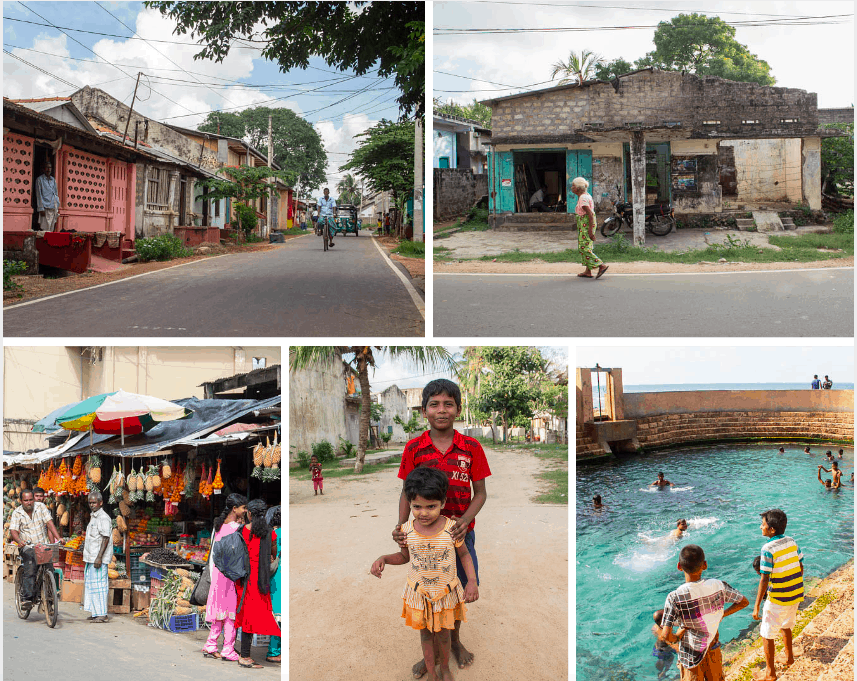 Development & Peace Efforts in Sri Lanka
There is no better time to see Sri Lanka. The entire country is now open for exploration.
Infrastructure in Sri Lanka is rapidly growing. Local buses connect you to every region via newly constructed highways connecting the coastlines, the stunning hours-long train rides into the hill country, and the historical 250-mile Yarl Devi train line from Colombo to Jaffna open for service once again following a complete shut down during the war.
Military checkpoints no longer serve a need. Except for the hassle-free entry into Jaffna.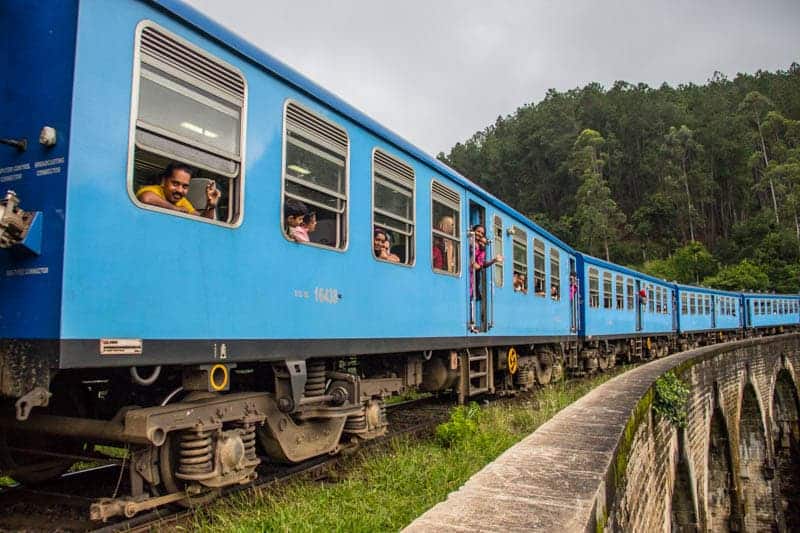 Money is being invested in tourism. Whether the new hotels are from internal and international investors who are stepping up their presence, the locals are not complaining – they welcome the tourism traffic and economic growth this will bring.
However, Sri Lanka is not without the drawbacks of growing tourist traffic, and it is wise to stay cautious and assertive. While I never felt unsafe, I was constantly under the gaze of local men, ripped off immensely by tuk-tuk drivers (although I fought on the grounds of principle), and was witness to pickpocketing and a bag snatching. Rapid growth paves the way for opportunism.
Tourism itself is driving conservation and efforts to drive traffic to local businesses. The Cinnamon Hotels group, (who hosted me in the capital and along some of the coastal routes with SriLankan Airlines), are one of the first hotel chains to run city-based food and photography tours, and nature treks with local ecological experts in national parks and remote villages such as Hiriwaduna.
Ethical and responsible travel in Sri Lanka is growing. An ethical tourism campaign group has put together a list of government-affiliated businesses and accommodations, should you wish to make your own informed decisions.
For further insight into the do's and don'ts of tourism practice, this article full Sri Lanka travel tips is a good guide to get you started.
Why Travel Sri Lanka Now?
Travel to Sri Lanka is safe, accessible as the country is slowly brushing off the image of conflict and governmental corruption. Proud and ready to shout about its diverse offering to the outside world, Sri Lanka is fast becoming one of South Asia's must-see destinations.
Locals thank you for being there, eager to shake off the past and move on; as a visitor you will soon learn how different the country is on the ground to how it is portrayed in the political press.
Thinking of visiting Sri Lanka? The time is now. Come and see it for yourself and mix beaches, wildlife, hill country and ancient history, all in one trip. The question is, will your first visit be the last?