Disclaimer: This post contains affiliate links to handpicked partners, including tours, gear and booking sites. If you click through or buy something via one of them, I may receive a small commission. This is at no extra cost to you and allows this site to keep running.
This Water-to-Go review looks at the benefits of this innovative travel water filter bottle. Sent to me by the company to put to the test, it comes highly recommend and is now part of my staple travel kit. You can purchase this product here, and when using the special code BECKI20, Borders of Adventure readers will SAVE 20% discount on all Water-to-Go purchases.
It's hard enough to remember to drink a lot of water when you are on the go, let alone not being able to rely on tap water abroad – a luxury we all too often take for granted when we are at home.
While bottled water isn't that difficult to find when travelling, overtime it's costly, not to mention damaging to the environment. If using local water sources, it's inconvenient sometimes to wait the 25 minutes plus needed for water purification tablets to take effect (and some taste nasty).
When I met the team behind the new Water-to-Go travel product at the Adventure Travel show in London earlier this year, I knew immediately I wanted to work with them. I've seen many US travel water bottle brands of the same standard and similar technology, but nothing quite like this in Europe.
Why is this filtered travel water bottle different?
Water-to-Go has a unique filtration system – a patented NASA developed technology that is different to the carbon activated filters used in other travel water bottles – that removes up to 99.9% of contaminants. You are probably thinking, "carbon what?" so here's the science bit. While carbon filters take out most sediment and other nasty materials, Water-to-Go's technology goes a little further in removing other dangerous chemicals like chlorine & fluoride, metals such as lead, disease-carrying bacteria like giardia & cryptosporidium and skin inducing viruses like Hep A. For someone with a weak stomach like me, this is a very reassuring component of the product.
What water sources can you use with this filtration system?
A curious (and somewhat dubious) geek, I watched as the team at the show filled the bottles with the murkiest, muddiest water, only for it to trickle out of the bottle clear and clean. I have no fear of doing the same, anywhere. You can pretty much fill your bottle everywhere – from public washrooms and foreign apartment taps, as well as more natural sources like puddles, and streams. Basically everything except salty seawater, because it damages the filter.
How much is the Water-to-Go travel water bottle?
One bottle costs £24.95, and if you use this every day as I do, it means you make your money back within a matter of days. You are also helping to reduce plastic waste, which is priceless. The bottle includes one filter that needs only to be replaced after every 200 litres of water consumed. Should you use your travel water bottle regularly, this is akin to a period of around three months – a VERY cost-effective option when on the road.
Any downsides?
My main gripe is that the filter can be a little noisy when you drink from it, but this has happened with other filter travel water bottles I have tried. Overall, it really isn't a huge deal and you can wobble the bottom of the filter to reduce the sound or get rid of it completely. Also, as much as I love my white bottle, I hope to see a range of funky colour options, which I have heard are currently in development.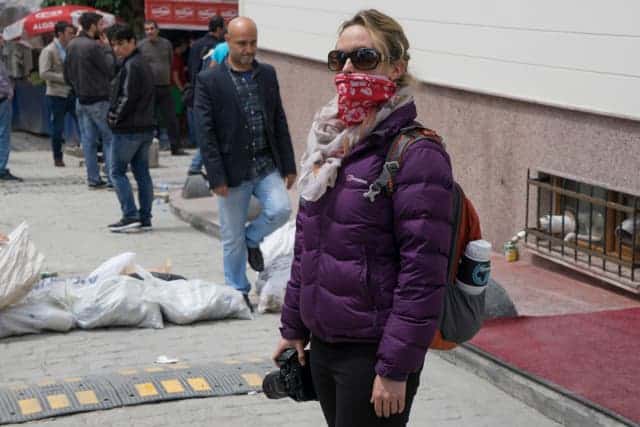 Armed with a water supply while covering the May Day protests in Istanbul, Turkey