Disclaimer: This post contains affiliate links to handpicked partners, including tours, gear and booking sites. If you click through or buy something via one of them, I may receive a small commission. This is at no extra cost to you and allows this site to keep running.
An easy guide to backpacking in France – what to plan, where to go and how to travel on a budget and still see the cultural highlights.
Despite my early memories of the 'rough' side of France that included a school trip to Calais, it's the wonderful history, rich culture, luxurious resorts, pristine beaches, and outstanding landmarks that have continued to make France one of the most popular destinations in the world.
For any traveller to experience the hidden, most exciting, and budget-friendly side of France, the best idea, in my opinion, is to set off for independent travels and ditch the package holidays. Backpacking in France not only allows the traveller to mingle freely with the locals but also to learn the French language and culture in a more 'local' sense, away from luxury resorts.
When to go Backpacking in France
You are ready to take the trip, but when is the best time to go to France? Even though summer might seem like a good time to visit the vibrant country, the stifling temperatures in July and August can be unbearable.
Spring (April to June) remains the perfect visiting time because the temperatures are warm enough to have a great time outdoors. Autumn or Fall (September to December) is also another shoulder season where the cool weather lends itself to more comfortable exploration.
In Spring and Fall, the cities are less congested as locals tend to move to the Riviera to enjoy themselves in the balmy air and sun. This means the visitor gets to move from one place to the other more easily.
Where to Go in France on a Budget
France is a very sizable country, which means the things to do and see can appear overwhelming when it comes to choosing.
Before starting to move around, you should take time to come up with a comprehensive itinerary (if on a time scale) detailing what to do and where to go at different times or days and plan trains and public transport accordingly. You might even want to concentrate on just one region.
Start in Paris
The likely place you will start backpacking in France is Paris, especially if starting from the UK via Eurostar which takes you directly into the capital city of France. Places to visit in Paris include Notre Dame Cathedral, The Louvre and various art galleries scattered around the city, the Eiffel Tower, and the upmarket Galleries Lafayette department store, if only for the views across the city.
Should you find yourself in the city for more than a quick two-day stop, dig deeper for more cultural sights – this multi-day Paris itinerary is a good start on planning according to your interests. From museums to people-watching, Paris doesn't only have to be a short fly-by capital visit.
However, there are plenty of other highlight regions which are easily reached from the capital, like the Loire Valley.
READ MORE: A Loire Valley Bike Tour Through French Châteaux Countryside.
Normandy Region for History and Cheese
Just east of Paris, the Normandy region is more known for its World War II sites of Northern France, alongside enjoying the village life in Rouen and Bayeux and famous Normandy cheese found in Camembert.
Provence Region for Cuisine
From Paris, you can venture into the Provence region and marvel at the picturesque vineyards, villages, and historic towns, each with its own unique culture and cuisine such as Marseille, Avignon and Nice.
Nouvelle-Aquitaine Region for Wine Nature
Using Bordeaux as a base, this area is ideal for those looking to explore the world-renowned wine region and enjoy the nature-filled coastlines alongside the indulgence. Bike trails also connect this region for those wanting to get off track and explore.
Occitanie Region for Roman and Medieval Cities
Head here to explore the Roman city of Nîmes and the old Medieval streets of Montpellier.
READ MORE: When in Nîmes – The Roman Road in the South of France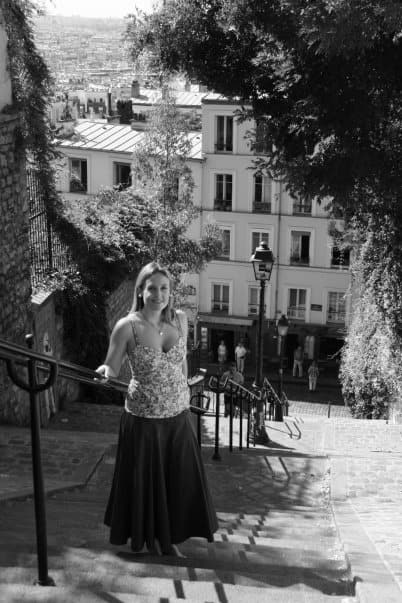 Accommodation in France
France has a lot of comfortable guesthouses, hostels and campsites. It is advisable to book early since many of the main cities and towns book up fast, especially if you want to secure a good rate.
Where to Stay in Paris
Since Paris is likely your first stop before moving on, be sure to book a local guesthouse hostel to maximise your budget in this expensive city. You'll be surprised what value you get for your money in central districts or near famous landmarks, so check out the following guides and overviews to start your accommodation planning.
There are 20 districts (Arrondissements) in the city so planning can seem overwhelming.
A budget seeker should avoid:
1st Arrondissement (The Louvre) – the business area typically filled with trendy, upmarket hotels that will wipe out your budget.
8th Arrondissement (Champs-Élysées) – a more affluent neighbourhood where accommodation prices can be on the pricey side.
Look at options in:
5th Arrondissement (The Latin Quarter) – known as the student hub, where you can find affordable accommodation options.
14th Arrondissement (Montparnasse) and 18th Arrondissement (Montmartre) – districts where you can live locally in affordable accommodation. Montmartre always my preferred option where I can have access to the main sites but enjoy local life, especially in the evenings in the bars and at weekend markets.
→ Browse Paris accommodations for your dates here.
→ Now there are hostels near the Eiffel Tower, you no longer have to be limited to high-class hotels to secure a view.
→ Consider Airbnb if you are looking for a longer-term stay in a city, with many properties located in central districts and riverside.
Beyond Paris
Provence Region
→ For hotels in Aix-en-Provence
Nouvelle-Aquitaine Region
Normandy Region
Occitanie Region
France Budget Backpacking Tips
See More by Bike
I'm a walker and huge fan of hiring a bicycle for the day to save costs of day trips and other organised outings – especially in the smaller, more compact towns. Some hostels and hostels have their own bike hire services, or in Paris, check out Vélib' – the city's official bike-sharing scheme.
Public Transport in France
I have found the metros systems, such as the one in Paris, to be very affordable. Also, opt for the slower regional trains which can be a much cheaper alternative to the popular main departures.
Cheap Eats
Food in France normally ranges from fast foods to mouth-watering dishes served in very peaceful and beautiful environments. This means you can choose any manner of the culinary spectrum based on your personal budget.
The best budget tip is to shop at local markets. These offer a variety of meats, cheeses, among other lovely produce and can be found almost everywhere. Not to mention an abundance of French wine, without the bar tab mark-up.
Europe Connections from France
Planning on seeing more of Europe alongside France? Check out some Europe backpacking highlights and tips from a backpacker to get started on a route that takes you through some of the continent's best capitals.
Don't Want to Backpack France Solo?
Not everyone wants to wing it, nor has the time to be more laid back and take things as they come and make huge changes to an itinerary. If you are looking for all the fun of backpacking and social travel, but with the help of a local to help you facilitate your journey, check out the following G Adventures France trips.
France Tours for the Adventurous
If it's your first time in France, or you want to explore beyond the main sites, then consider trips that take in the highlights or which are themed to suit your style of travel.
What to Pack for a Backpacking Trip to France
The best things to carry include maps and a guidebook, comfortable clothes, gloves, a first-aid kit, a flashlight, sunglasses, sunscreen, water bottles, lightweight tents (as there are a lot of camping sites in France), utensils, and extra food and drink supplies.
Travel Insurance for Backpacking France
I'm a huge advocate of travel insurance and rant (lecture) about it constantly. Even though France is not too far away from the UK, I would still recommend it to cover medical expenses (you may need to get an emergency flight home), and for those petty situations like theft (hostels are not always the most secure of places).
I have friends who don't get insurance for countries close to home, but I just can't do that, especially as I am accident prone and carry a lot of electronics. For my last backpacking trip to Paris, I got 'backpacking insurance' which was the cheapest at the time. I price check a whole host of insurance companies for EVERY trip I take – time-consuming but necessary – since they all vary according to the country, the length of your trip and what time of the year you choose to go.
France may be the epicentre of gourmet cuisine, couture fashion and a place where country you can enjoy the finer things in life but, as a budget traveller, you can always find ways of cutting costs and exploring your surroundings and living locally, without having to indulge too much.