Disclaimer: This post contains affiliate links to handpicked partners, including tours, gear and booking sites. If you click through or buy something via one of them, I may receive a small commission. This is at no extra cost to you and allows this site to keep running.
You need to think hard before volunteering on your travels and you need to think even harder about visiting an orphanage. This is why.
I've seen a handful of times now, in forums and discussions amongst travellers, the mention of an orphanage visit in the context of other main must-see tourist sites. Specifically, it has been in relation to Cambodia, and in other instances, countries in Africa. It goes a little something like this:
"What are the must-see things to do in Cambodia?"
"Angkor Wat, the bamboo train, the Killing Fields and visit an orphanage for the day!"
It appears poverty has become a spectator sport, a chance for a traveller to expend pity and show their compassion for a fleeting moment in between fish pedicures and boozy buckets. If you are treating it as just another thing to do then please don't bother.
Volunteer because you really want to volunteer, because you are compelled to do so. Because it is a part of your life and a part of 'how' you travel.
NOT because it's something to be added onto the itinerary as you would an ancient temple or war memorial, because someone said it was 'fun' or a 'good experience' or because getting your photos with cute kids in a poor country looks great for your Facebook album.
Children Are Not Tourist Attractions
Friends-International, with the backing of UNICEF, launched a campaign called Think Child Safe: 'Children Are Not Tourist Attractions' to partner with tourists to end what is known as orphanage tourism in Cambodia.
This is typically a situation where children approach tourists to visit their orphanage, which is usually followed by a performance or dance routine. This can also be the case in many other countries.
READ MORE: Street Children in Cambodia – How Do Your Actions Contribute to Bad Practice?
A research report into Cambodian residential institutions (orphanages) has revealed that "tourist visits, despite tourists' best intentions, cause more harm than good" and that it is "often conducted by unscrupulous business operators, rather than help child protection, rights and education standards" as well as contributing to "the separation of Cambodian families."
Instead, the campaign aims to direct tourists "to support vocational training and community-based initiatives, rather than visiting an orphanage directly." In essence, projects which will potentially attract people who want to provide longer-term investment and to hopefully weed out the travellers wanting to fleetingly observe poverty.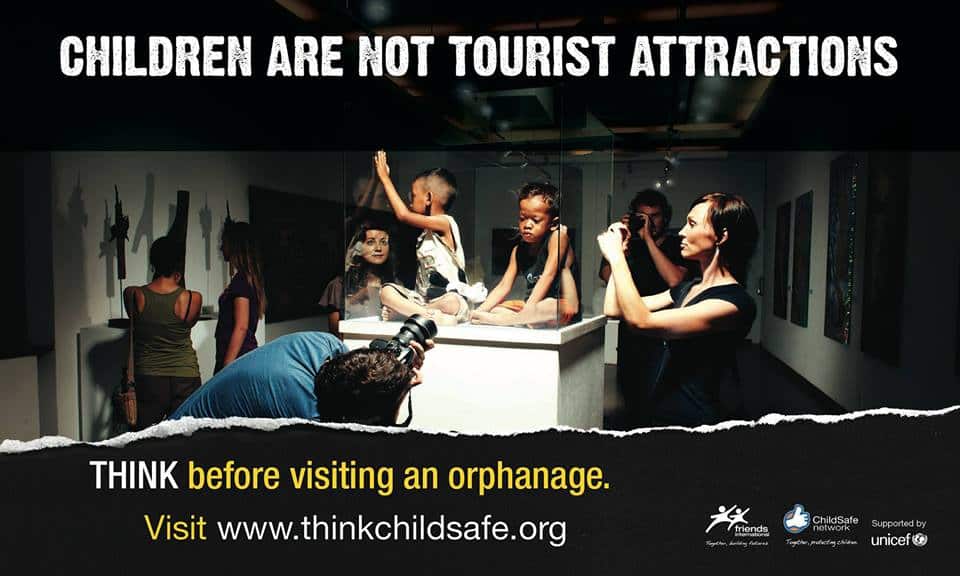 I personally have never visited an orphanage for a day. I've always felt that I've never quite understood their set up or their true intentions. Orphanages generally (and sadly, as some are of honourable cause) have a bad name, but I research as thoroughly as possible into every charitable cause I hear about or will do when I come across many on my travels, even if that means asking locals how they feel about it. My day trip to a school in Kenya came about through the locals at my hotel who informed me of a local village where help was needed.
If there is a scheme in which I can help, or lend my skills too in the time I have, I will. If an orphanage genuinely needs help and visitor support, without having to exploit the children, I would certainly support it. Sometimes the answer to authenticity isn't always clear, which is where gut instinct, research and common sense plays a major part in the decision.
Think Before Visiting An Orphanage
I'm not begrudging those that do happen upon a situation that genuinely moves them and in turn leads them to want to help, even for a day (it's happened to us all and for those who are now long term volunteers, this is where the passion to make change long-term started) but it's thinking about both the genuine nature of the cause at hand and your deep-down honest intentions.
"Care or don't care. Don't pretend to care."
That's the message from Lucy Caslon, Director of Msizi Africa, who has first-hand experience of the pros and cons of the one-day volunteer practice. Msizi Africa funds feeding programmes for AIDS orphans in Africa as well as providing shelter, medical care and school uniforms for children in need helping over 1,000 orphans in orphanages and in child-headed households.
Lucy worked in the charity sector for three years before visiting Africa in 2006 and spending four months at an orphanage and realising she had to help long after her departure. Since then, her life has become dedicated to her charity, and the children she looks after.
I asked her about whether she too saw a rise in people using an orphanage or school as a tourist attraction and how such attitudes affect her intake of volunteers.
"There are some people who couldn't care less about giving something back and I'd actually rather that than someone who feels like they 'ought' to do it to tick it off the list. Volunteering is a valuable resource and we wouldn't rule a day visit out, although they don't happen often, mainly because our projects are so rural and in harder-to-reach areas.
"If it's manual work then at least two weeks would be ideal to see a project through. However, I actually don't think it's healthy to have someone permanently there either.
"I think the longest I've known someone stay at my project is about a year and the children find it very hard for that person to leave, but then they do get the benefit of them being almost permanent and a real part of the family. Overall I'd say three months is about perfect."
However, not everyone can give up that amount of time (even if they wanted to) and in wielding out the bad attitudes from the ones that want to do good, even for a day, Lucy simply asks that people bring something that will benefit the children – should that be gifts, toys or educational resources. An investment is more beneficial than a photo opportunity.
"When people want to make a difference, it could be something as simple as visiting for a day and saying, "Do you know what, I've seen enough," and write a cheque. But then there are people who will visit for a month and do nothing much while they're there and then leave and you never hear from them again. It is the quality of the person, not the length of time they stay I think to be honest."
When Wanting to Volunteer, What Makes a Person Appear Committed?
"I always go with my gut, you get a feeling about someone to some extent when they email. I get the longest emails talking about who they are, what they do, why they are coming, why they think it will be good, similar experiences they have had, and I think if someone has bothered to write a long explanation like that then it is a pretty good indication that they want to be there," Lucy adds.
"I think it's the same with everything, if you get that generic 'can I come and visit?', then I'm thinking 'why, and what can you do?' I don't just say yes. Then if you get someone who does that, I always write back and say "can you write a covering letter and an example of how you would spend your day with the kids helping out" and you usually never hear back from them again."
While Lucy has been lucky not to encounter too many travellers trying to tick an orphanage visit off the list (the rare experiences which she sadly relates to young people on Gap Years), she does highlight the advantage that a visit can bring.
"It really is a full-on experience and I think people are always a bit surprised at the fact that the children aren't miserable and unhappy. The common reaction is 'they're just so normal'. I've never really encountered someone who felt sad by the situation and dwelled on it too much; they obviously they understand why the children are there and if you tell them the statistics about AIDS and orphan numbers they are sad, but they always feel like at least the children are now in a 'good place' and they tend to be positive about the children's futures."
READ MORE: Volunteering when Travelling – The Invaluable Benefits When Done Right.
Orphanage Visits are Not for Your Bucket List
So maybe there is a chance for those to be truly changed by the experience after a one-off visit and where you may feel compelled to give more time to the cause or even return, but if you are going there because it's something else to do to fill your day, then stick to your temple hopping. The local orphanage, school or charity scheme doesn't need you unsettling the kids for kicks or to help continue a negative tourism practice.