Disclaimer: This post contains affiliate links to handpicked partners, including tours, gear and booking sites. If you click through or buy something via one of them, I may receive a small commission. This is at no extra cost to you and allows this site to keep running.
I was told that some of Australia's road trips start from Melbourne – one of them being the 'South East Touring Triangle'. Here's what I found on the 1000km journey in Australia's state of Victoria.
My memories will always be filled with long, sunny days. Of afternoons spent sipping on local wines in the manicured green of endless vineyards, flanked by the brightest of blue skies. Where towering, white waves crashed against the shoreline as I tried to stand up on my surfboard to hitch a ride on their journey forward, and where wandering a forest or a wilderness patch of land for even a short hour, felt like losing yourself for half a day.
For a week I had the opportunity to put such acclaim to the test, with a 1000km round trip that took me through a huge chunk of the most compact state in all of Australia – Victoria.
It lives up to its title of being the 'Garden State'. Here I experienced everything from vineyard filled valleys, dense forests, vast conservation and wildlife hinterland, the window to the start of the Great Ocean Road and worldwide acclaimed surf beaches.
Every scenic and action-packed highlight of my five-day trip on the road was always within a two-hour radius of Melbourne, making this road trip a far cry from the hours long, wilderness-laden drives often pictured of the country.
Watch: Australia Road Trip – Go Beyond Melbourne
Melbourne: The City Base
My Australia road trip in Victoria wouldn't have been the same without digging deep into its capital, Melbourne. One of the world's 'most livable cities', it sprung from the gold rush in the mid-1800s, where today a scattering of colonial architectural pokes through as a window of its short history. Known for its vibrant culture and off-the-wall vibe, Melbourne also offers plenty for those that are into more unique experiences.
It is compact and easily navigable, but heavy on the cultural and activity spectrum – sports and entertainment venues in droves, riverside cool and eclectic neighbourhoods, quirky fast food outlets and gourmet restaurants, gritty laneways and glistening towers.
I (traditionally) met a friend under the clocks at Flinders station and dined on the riverfront, dabbled in an art exhibition, devoured an infamous Melbourne breakfast or two at swanky restaurants like Cumulus, and found all manner of boutique stores, hidden bars (including the Gin Palace) and ultra-cool hipster cafés, like those around Federation Square.
Much of Melbourne's highlights and best-kept secrets are concealed down historical arcades and laneways – the signature of Melbourne's unique culture. Without a local in tow, you might just miss the best of what the city has to offer.
I spent three hours on a Melbourne 'Hidden Secrets' tour – the city's original laneway touring company, uncovering a side to Melbourne that is hidden at first glance. I was able to find the best architectural elements, wander local design and concept stores, meander historically rich and opulent arcades, and indulge in local hangouts that gave insight into the artistic focus of the city.

The afternoon was dedicated to learning more about the art movement in the city's old laneways with Blender Studios and their Melbourne Street Tours. The Melbourne Street Art movement burst into life around 2001, and now includes everything from huge graffiti works, throw-ups, stencils, paste-ups and lanes covered in everything from re-purposed junk and bat-winged Barbie dolls.
It's here you will also get to witness the Rooftop Honey project in action – where hives have been placed on roof spaces of cafes, restaurants and hotels in and around Melbourne for bee conservation whilst creating delicious honey. Artists from Blender Studios, such as my guide Junky, teach you all about the urban movement here while taking you to the best artworks and the most famous street art lanes including 'Hosier' and 'Blender', where you get to meet the artists back at the studio, on the lane that contains some of the city's earliest murals and designs.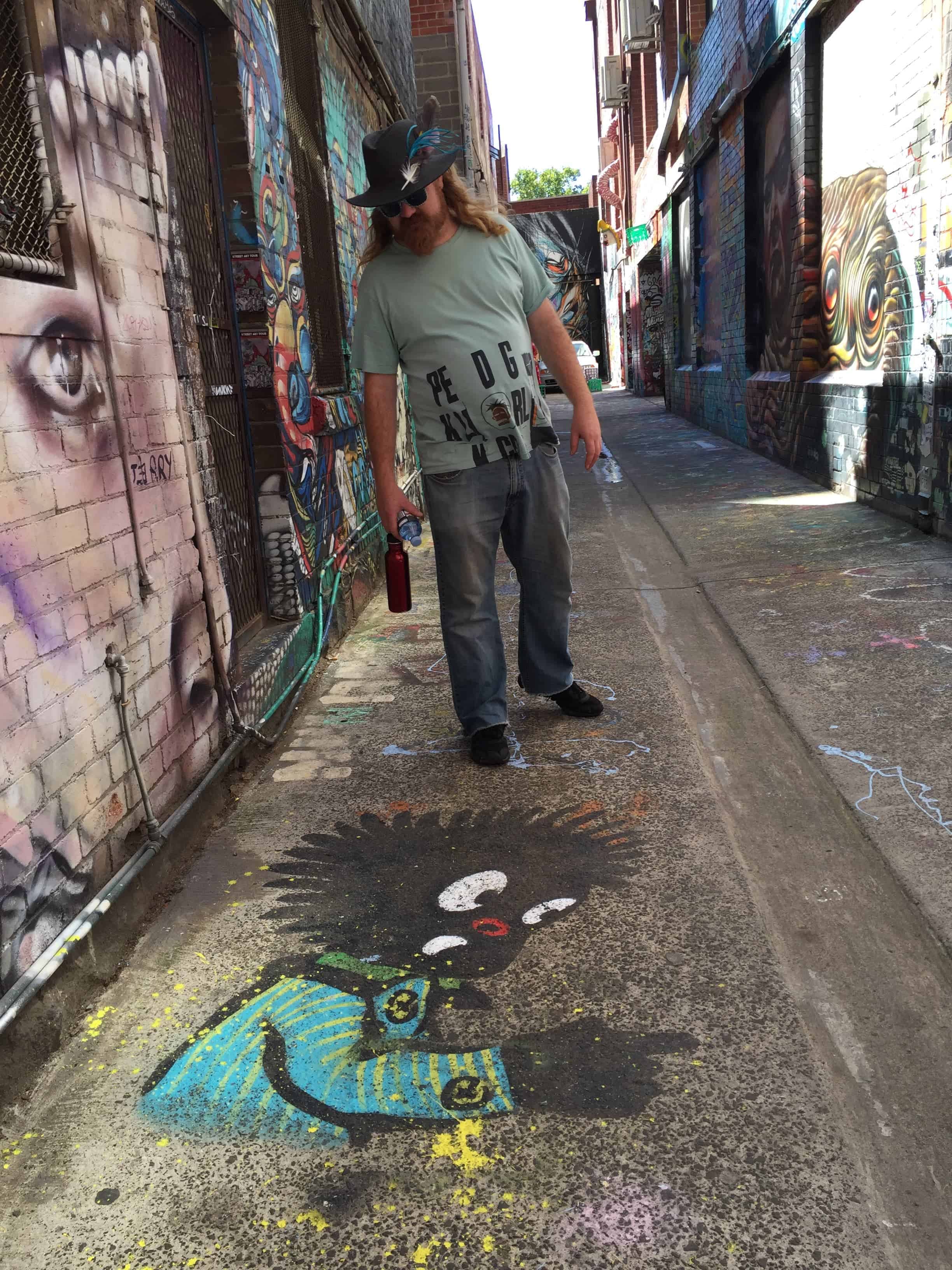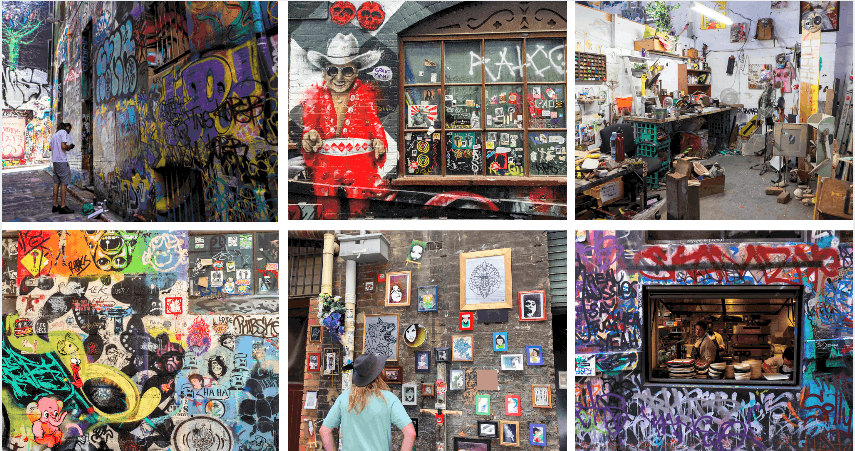 While Melbourne is easily connected outside of the Central Business District (CBD), especially with its well-known tramlines connecting you to characteristic neighbourhoods such as including St. Kilda, Richmond, Collingwood and Fitzroy, there's only one way to see it in its entirety.
Melbourne is one of the few cities in the world where permission is granted for hot air balloon rides to glide all across the city. Your day might start at 4 am in preparation to catch the breaking of dawn, but you will get to see Melbourne from all angles, from its outer boroughs until the CBD and its adjacent coastal edges.
Recommended Accommodation:
The Cullen Hotel. Boutique art-focused accommodation, including life-sized fibreglass cows and a lovely attached café that serves too many quality breakfast options to choose from.
Crown Towers. For those looking for luxury, right on the riverside. A 10-minute walk to Flinders Street station and the very heart of the city.
Around Melbourne:
Have more time in Melbourne? Add these two small-town locations with character to your list.
Echuca
If you want to get out of town, Echuca sits about 215 kilometres up the B75. This tiny town has lots to offer for those of a more independent spirit. Trade four wheels for two by renting a vintage bike and then cruise around the Murray River before stopping by a winery to pick up some supplies for a rustic picnic. You can also check out the bridge that crosses into New South Wales overlooking the Murray, the 1865-built timber wharf and the old paddle steamer boats.
Kyneton
Closer and to the northeast of Melbourne is Kyneton, a small town that has a lot of bohemian staples for a cool afternoon road trip destination. Located about an hour from the city, many of Kyneton's cafes and restaurants cater to localvores, sourcing their products and materials from nearby.
Australia Road Trip Day One:
The Yarra Valley – Healesville Sanctuary and Vineyard Rambling
In Victoria, indulgence is mixed with education and conservation. On the way to the epicentre of vineyard fun, I stopped at the Yarra Valley's beautiful bushland of the Healesville Sanctuary wildlife conservation park.
This education, breeding and sanctuary haven is carved out on indigenous land and has become a place that has helped to fight the near-extinction of many species of animals through breeding and rehabilitation. Here you can see over 200 species of Australian animals including koalas, wombats, dingoes, platypus, pelicans, emus and possums in a natural environment, and see its wildlife hospital in action, where more than 2000 sick orphaned and injured native animals are cared for each year and brought back to life.
I guarantee seeing a tiny possum being fed will be one of the cutest things you will ever see. Or a wombat munching on a pumpkin.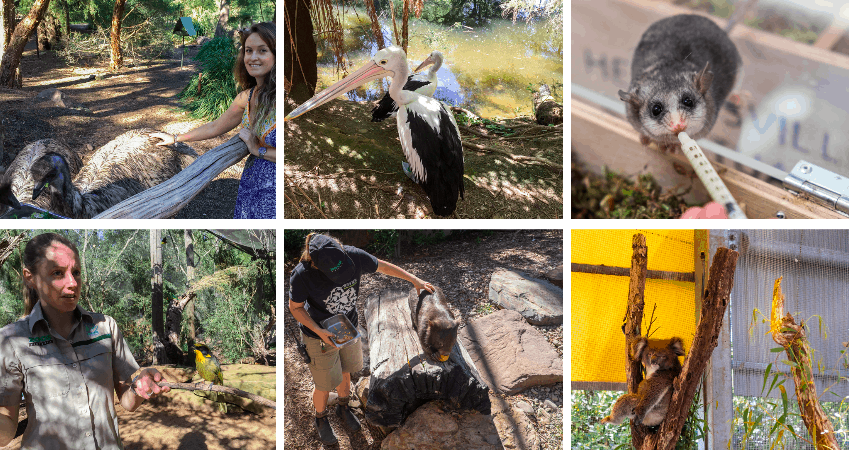 Further east, within the mountains of the Great Dividing Range, is a scene of forested hills and creasing valleys of perfectly landscaped vineyards – only one hour away from the very heart of Melbourne.
As a cool-climate region, some of the best terroirs in the country has created an infamous wine scene that sees visitors taste-hop between its 150 or more wineries. It's well worth an overnight stay to make the most of (or recover from) all that will tempt you.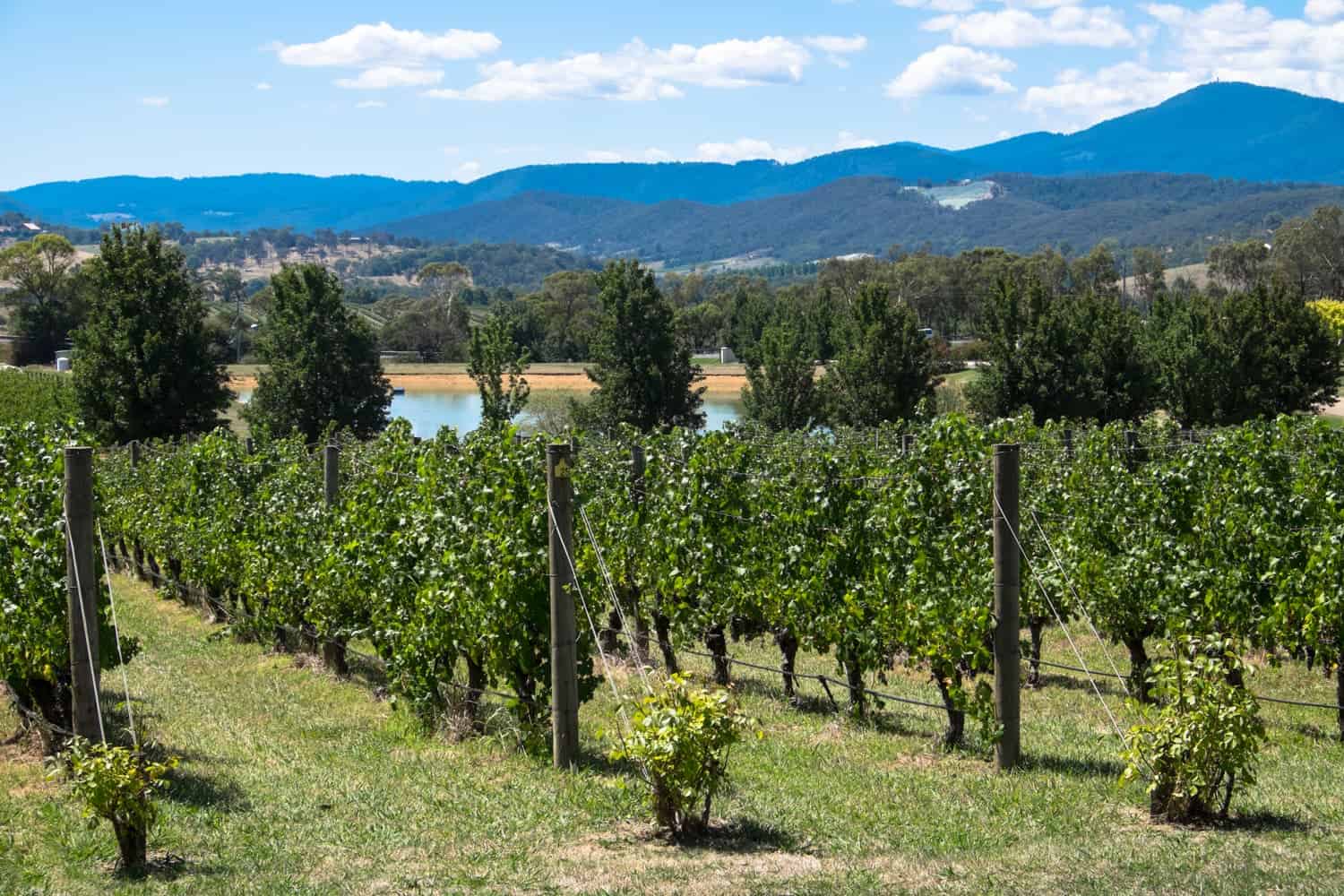 I lunched at the award-winning Oakridge, which combines culinary excellence (known in the area), with their outstanding wines. It was here we sampled a range of crisp, fruity white wines while looking out across the 10 hectares of manicured vines and gardens that line the Maroondah Highway.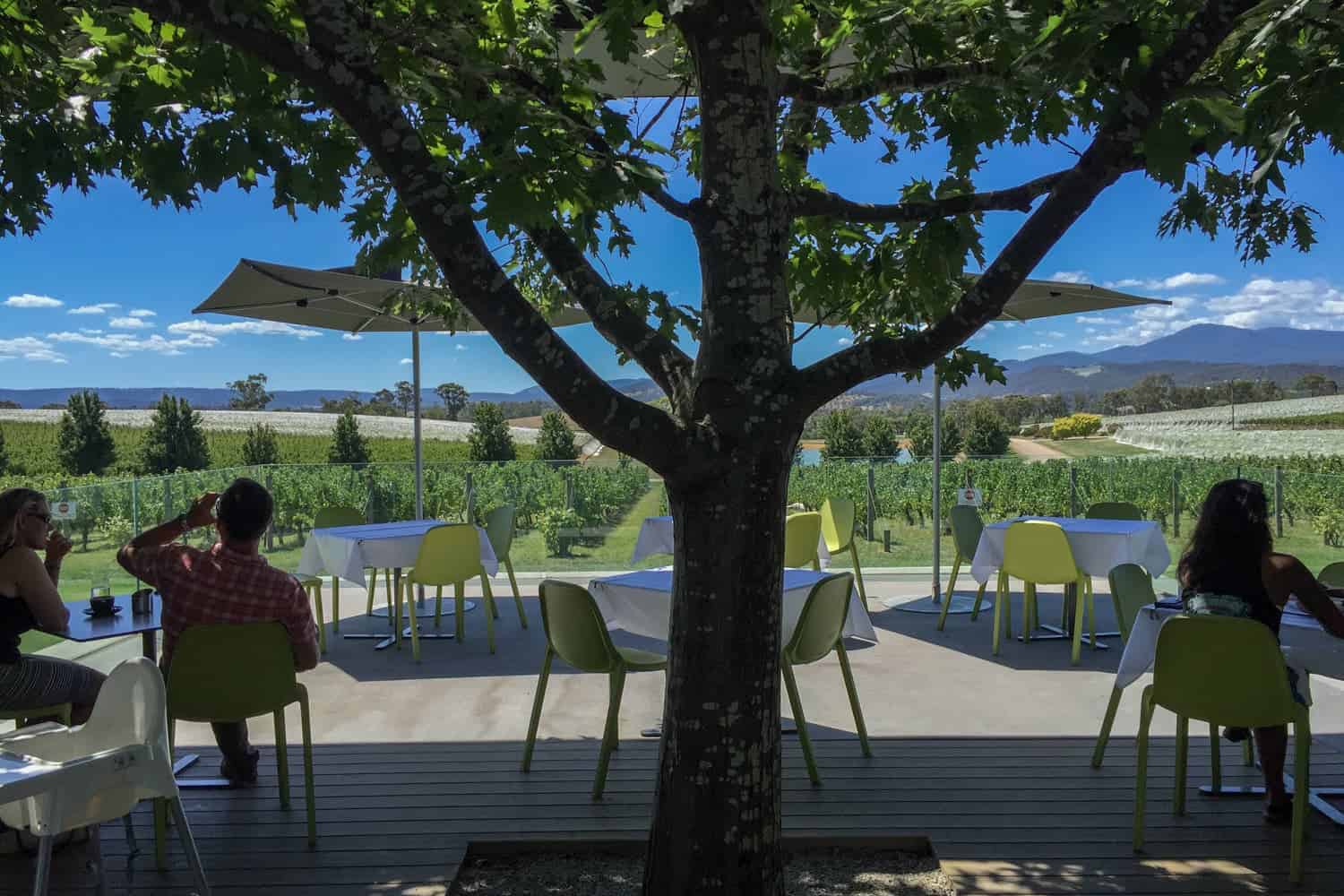 Next came the visit to the newer winery, Dominique Portet whose heavy French influence goes back 10 generations to the renowned father and son team it is today. Aside from sipping on its specialist, elegant and light Brut Rose I tried my hand at mixing combinations of Shiraz and Cabernet Sauvignon in a more technical winemaking session – a fun attempt to match their award-winning red offerings.
I got it right the first time (I'm not giving away the ratio), but it was also a perfect excuse to sample the deep, fruity, naturally acidic red varieties that this winery is proud of.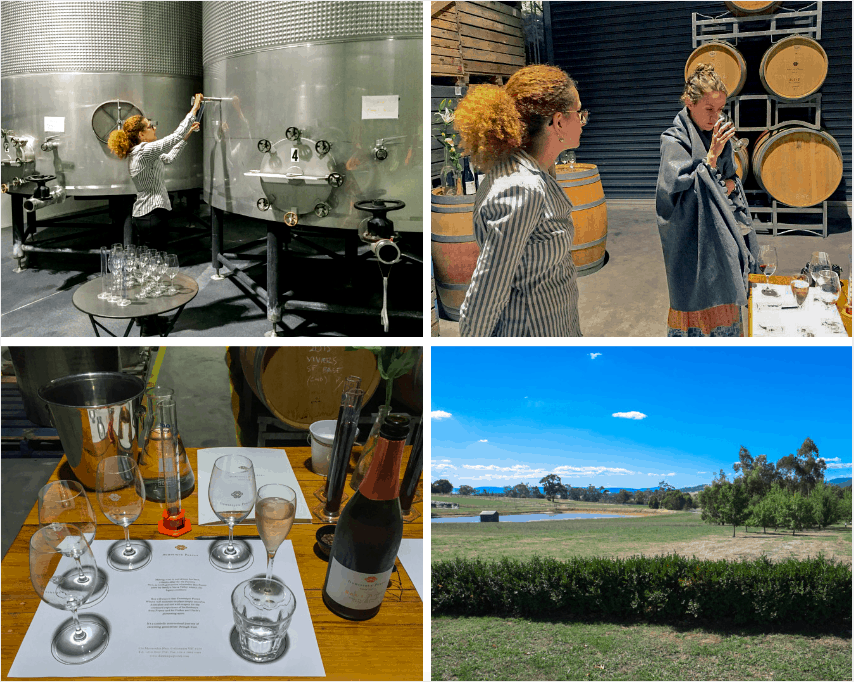 Yet there's also another firm excuse to get lost in the valleys – there's more than wine! The Four Pillars distillery deserves the time of any gin enthusiast, and I was more than happy to sample their distinct blends, one of which was created exclusively for Qantas airlines.
Only three years in the making, Four Pillars is globally acclaimed and served in some of Melbourne's top bars, including the ultra-swanky Rockpool. Try the strawberry based gin cocktail and the orange marmalade with toast. You might not leave for a while.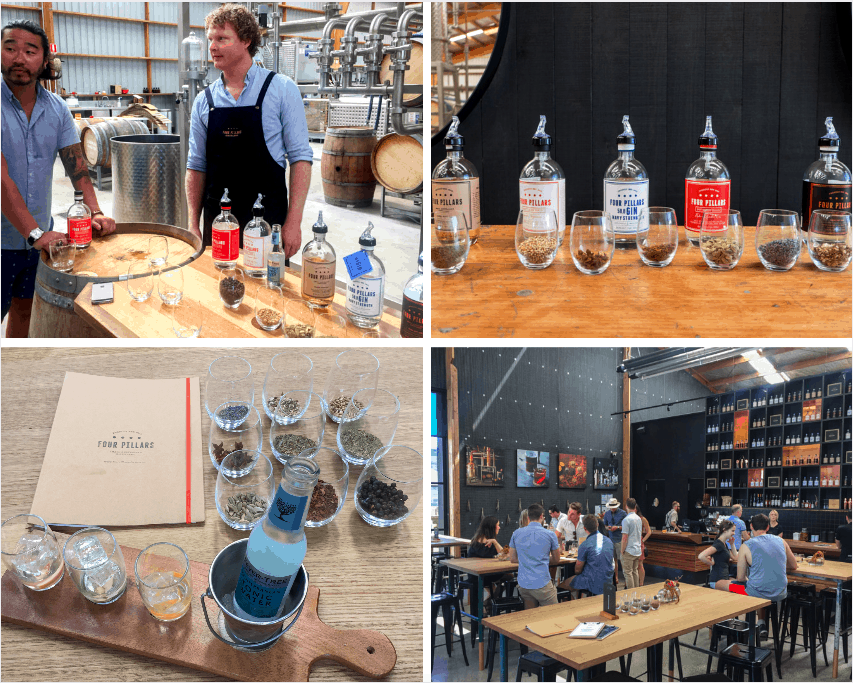 The Napoleone Brewery and Ciderhouse is a great hangout in the afternoon sun – a newly opened bar with a joining café and pizzeria, built on the foundations of a 19th century dairy on the Napoleone family property. Tasting is always best from the source, especially here where only small, fresh batches of beer and cider are brewed and bottled.
Recommended Accommodation:
Yering Gorge Cottages on a 44-hectare nature reserve. It has eight one-bedroom cottages and four two-bed, all with a panoramic view of the Yarra Valley.
Australia Road Trip Day Two:
Dandenong Ranges and Phillip Island's Conservation
Forest and conservation exploration are worthy of days-long indulgence, but it's easy to get a taster of the Dandenong Ranges before heading to the infamous Phillip Island.
You can hike the acres of the leafy Dandenong wilderness or choose a shorter stroll in the William Ricketts Sanctuary. I felt right in the thick of it strolling around these grounds where Ricketts lived and spent many years carving dozens of incredibly detailed wood-carved sculptures depicting Aboriginal culture and heritage, based on his research and experience of living with members of the indigenous populations. He lived out here as an artist in nature until his death in 1993.
The area is developing artistically and with a culinary focus (of course), with the run-down and abandoned mansion at Burnham Beeches in Sherbourne being granted a boutique facelift to turn it into a hotel and restaurant as part of the visions of celebrity chef, Shannon Bennett.
Of course, the repurposed former pig farm next door is up and running as the popular sophisticated eatery, 'The Piggery' and is well worth the re-fuel after the forest foray. Heritage is never a waste in this region.
Phillip Island is the shining star of conservation practice in Victoria, as well as being an easily accessible coastal getaway. It is known for being close to pest-free status after its fox eradication programmes, (the biggest threat to the survival of native species) while also conserving a quarter of the island's natural environment. This means a landscape dotted with walking and cycling routes in stunning natural grounds, outside of the small towns.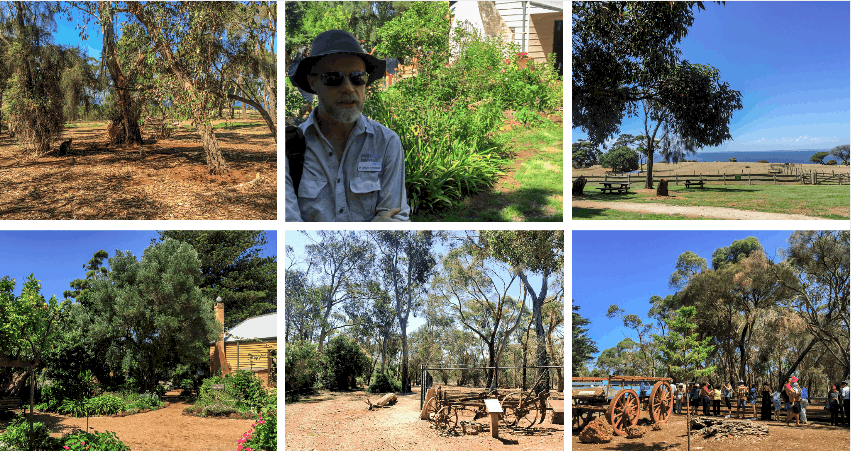 Neighbouring Churchill Island was an insightful addition, both historically as one of the first sites in Victoria to be colonised, and because it is the base of a successful breeding programme of Bandicoots, which became extinct in the wild in 2010.
Breeding mastermind, Dr Duncan Sutherland walked me around the farmland and gardens and told me all about how this programme started with just 20 Bandicoots. I didn't get to spot any members of his new community during the day, since the mainly emerge at night when the islands is theirs alone.
Speaking of sundown, it's true that Phillip Island's true inhabitants take centre stage. Just before sunset, I jumped on the daily 5 pm Ocean Adventures Boat Tour experience to the home of Australia's largest seal fur colony, known as Seal Rocks. I won't forget the echoing noise, the cheeky antics (and the smell), but you are never too old to feel the childlike excitement of being co close to these creatures in their natural environment.
You can view this colony from afar from the Nobbies cliff top viewpoint, and head to the Nobbies Centre WWF Antarctic exhibition to learn more about environmental issues and wildlife in this continent.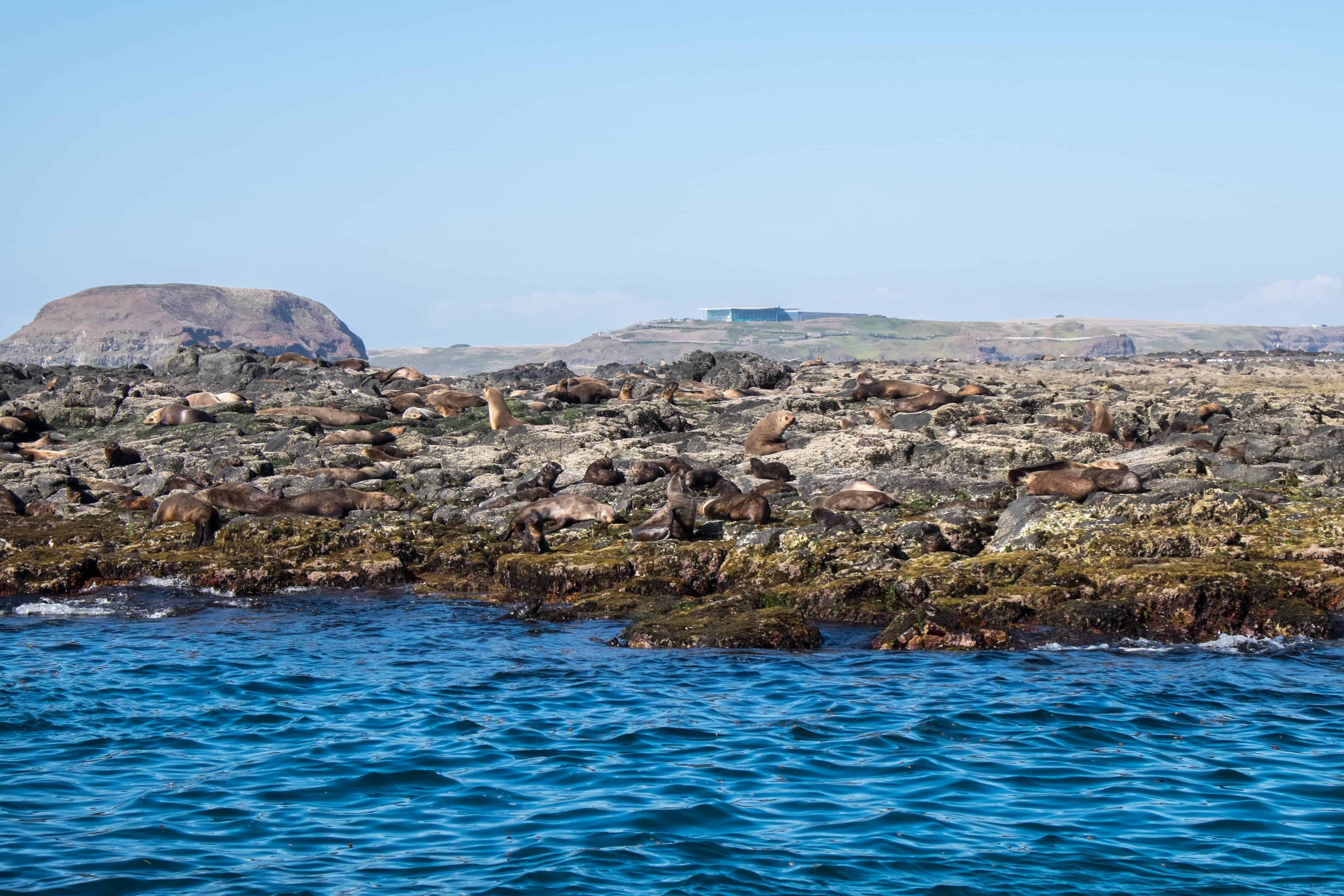 The peaceful 'Penguin Parade' is a real spectacle of nature and the island's star attraction. It is carefully set-up so as to allow humans to observe without constructing the natural migration of the crowds of penguins who peacefully waddle to shore on Summerland Beach to rest up and hibernate on the land after a day sourcing food.
Despite huge contention of how it was done, the government 'brought back' 183 houses in the area and restored the area to its natural use. Penguin migration flourished as they returned to the safe haven that they once used to. On the night I was there, I was witness to over 1,000 of these gorgeous creatures coming home, and I will never, ever forget it.
Recommended Accommodation:
Oak Tree Lodge. Luxury, self-contained, apartment-style in the quiet village of Phyll. Period Elegance. With a contemporary twist and English garden setting.
Australia Road Trip Day Three:
Cape Wollomai (Philip Island) & Mornington Peninsula
Like day two (or any day), it's refreshing to start exploring with a good stroll or awakening hike, which you can do here to finish off your time in Phillip Island. Cape Wollomai's beach flies may have liked nipping at my skin a bit too much, but it was a chance to catch a glimpse of the stunning coastline here.
I sadly didn't have time to sample the many routes of the hours-long Cape Wollomai Coastal Walk, but it's noted as a must while in the area. Phillip Island's highest point is filled with scenic walking tracks and viewing platforms which out over areas such as the Pinnicales (green path markers: 2 hours return), the Woolamai Beacon Walk (black markers: 3.5 hours return) and the old Granite Quarry (blue markers: 3 hours return).
A combination of all the tracks is approximately 8 kilometres and takes 4 hours. The boutique Cape Kitchen for lunch, perched on the cliff tops overlooking the Southern Ocean, continued the incredible views.

The Mornington Peninsula curves southwards from Melbourne down Port Phillip Bay, a short one hour or so drive that leads you to one of the most charming destinations on the road trip.
This joie de vivre, so close to the city, is dotted with 26 bayside beaches and pretty coastal villages on the Peninsula tip in hues of soft blues and sharp whites that mark out classy dining venues, art galleries and sophisticated stores. The tourist rite of passage was to wander the yellow sandy beaches dotted with multi-coloured beach boxes in neat rows.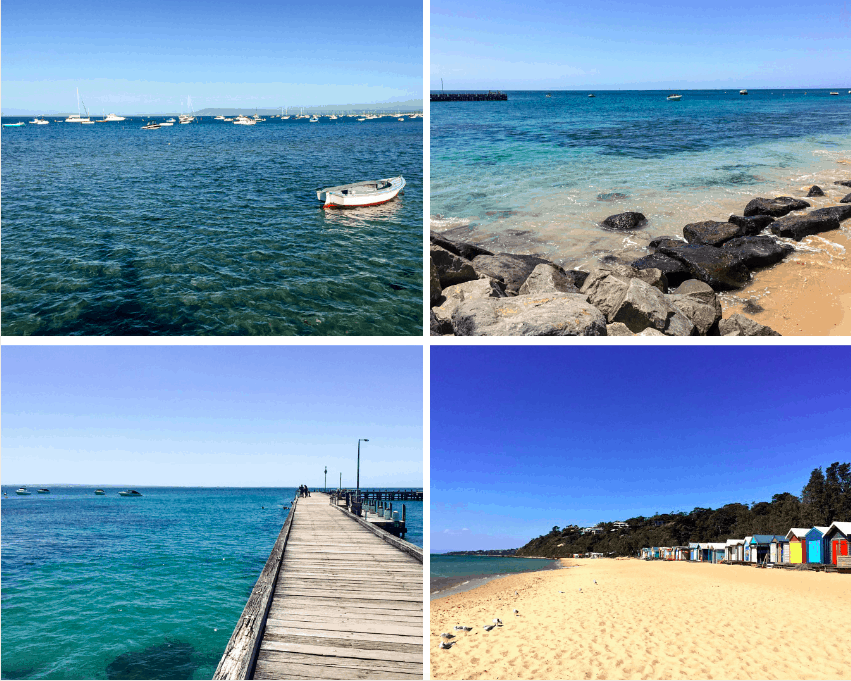 I began by submerging myself in the 40-degree thermal spa pools of the Peninsula Hot Springs – waters that rise from below the hills. This really is a natural sanctuary, and I especially like the thermal pool perched upon the highest point, with a panoramic view of the pastures.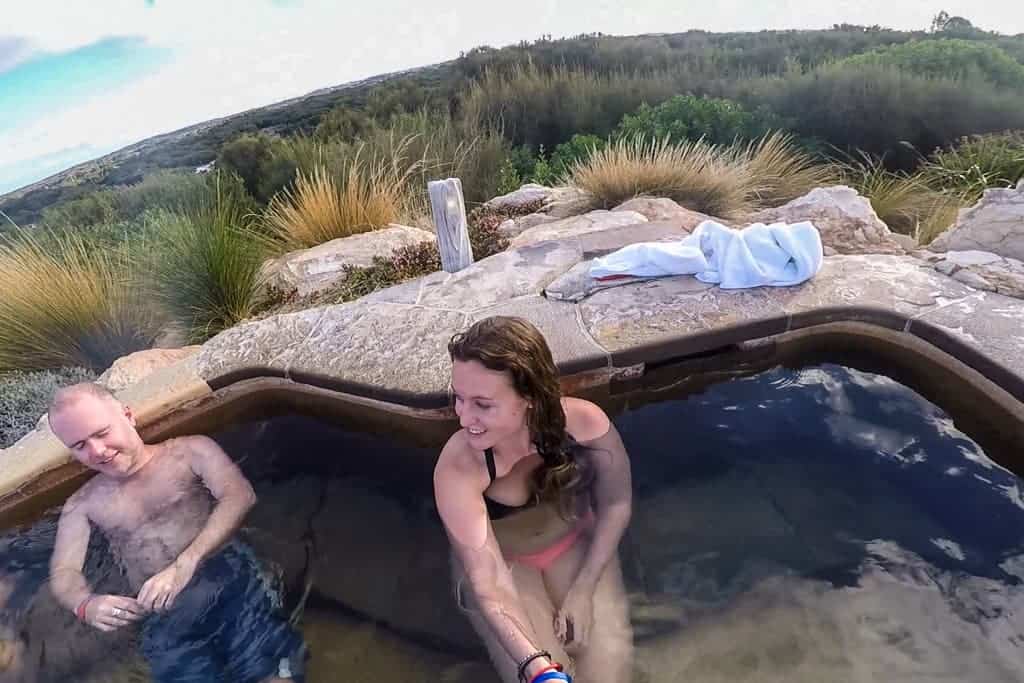 Recommended Accommodation:
Flinders Hotel. Established in 1889, devastated by fires but transformed into a boutique hotel marked out by its culinary renowned 'At The Deck' restaurant.
Australia Road Trip Day Four:
Mornington Peninsula
This day was about water fun – both sporting and conservation. Who wouldn't rise early knowing there was a chance to board a special boat from Sorrento Pier in order to head out into the waters of Port Phillip Bay and swim with wild bottlenose dolphins?
Polperro Dolphin Swims is a family-run, award-winning environmental tourism operation, and as one of only two registered conservation boats that are allowed to take people out, I had the chance to get close to dolphins for the first time in my life – in a responsible way that kept a respectful distance and without any harm to the natural habitat.

Floating face-down on the water, steadying myself by holding onto long ropes, I bobbed on the light waves, waiting with such childlike anticipation for the dolphins to swim under me and in the hope they would playfully glide right past me. But even just a metre or two underneath you is magical enough.
Close to tears on nearly all five occasions that we were allowed into the water, this will always remain as one of my most memorable moments from all my years of travelling. This trip also included a reef swim to find colourful weedy sea dragons – one of Victoria's state symbols.
In-between coastal walks and rambles in national parks (try the 'Point Nepean Walk' around Point Nepean Park) and a spot of 'SUP'ing' in the low tides with expert guide Cath, who runs Peninsula Paddle Co, I had to make sure I indulged in the one thing the Mornington Peninsula is known for – stylish coastal lifestyle relaxation.

That meant sampling some of the product of the 50 vineyards with award-winning Pinot Noir and Chardonnay, which I enjoyed most in the sun-drenched gardens of the Portsea Pub over a spot of lunch with a shimmering blue coastal view. Sorrento was the perfect late afternoon stroll and dinner spot, complete with short coastal drives to catch even more coastal views that you can never tire of.
Australia Road Trip Day Five:
A Taste of the Great Ocean Road and Mt.Rothwell
Crossing from Sorrento to Port Phillip Bay by Searoad Ferries, we eventually drove to what marks the beginning of the Great Ocean Road before heading back to Melbourne. This ferry makes the journey 24 times a day on every day of the year, on the hour every hour from 7 am until 6 pm.
The Great Ocean Road coastline is synonymous with one of the nation's top sports – surf – and it would have been blasphemous to have passed by and not taken my surf lesson here. Even more so when you are on one of South Australia's most iconic beaches and Victoria's surf capital of Torquay.
I met with my private instructor, Rusty from Go Ride a Wave for a two-hour introduction on mastering these world-famous waves. Before hitting the water you learn the basic skills of how to balance and jump up on your board before Rusty leads you out into the water, waits for the right waves to draw closer, turns your board around and then sets you free to ride the powerful waves. Well, the smaller ones anyway.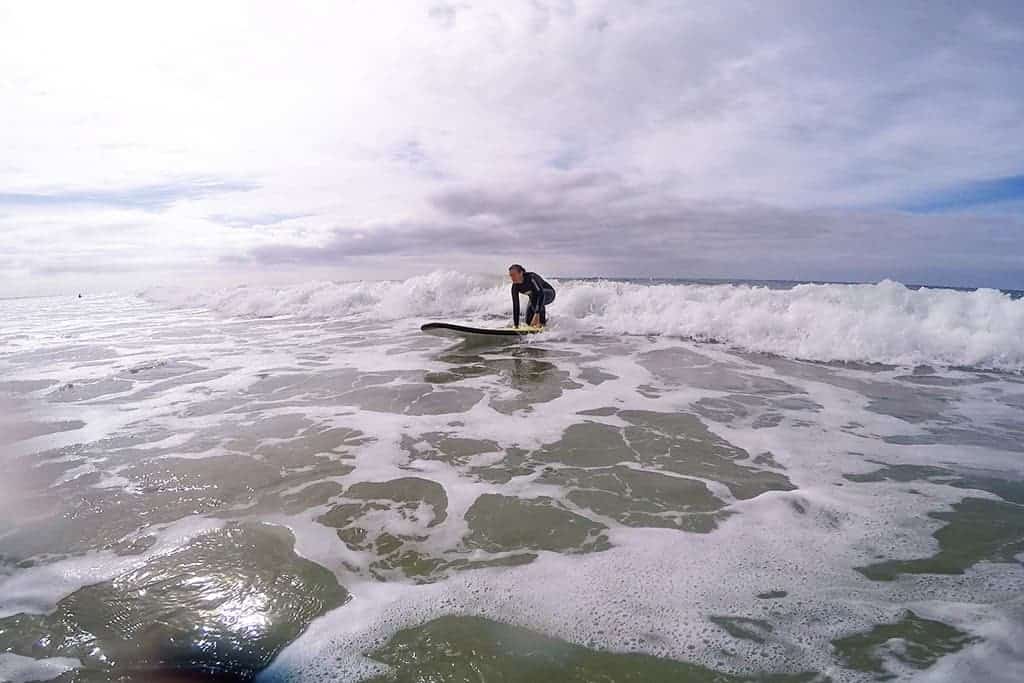 By the end of the two hours, I had stood up a number of times, which left me pumped full of adrenalin, enthusiasm and admiration for this sport. Especially when watching the riders out on the crashing waves of Bells Beach – home to the World Surf League Rip Curl Pro.

A brief drive through pretty Port Arlington was en route to my last conservation stop before the final leg back to Melbourne. Only an hour west of the city is a vast desert-like wilderness of The Mount Rothwell Conservation and Research Centre (Mt Rothwell).
A privately owned property that is not a part of the country's official zoo set-up, Mt Rothwell undertakes research in restoring the habitats and completing the ecosystems of threatened species populations, to save them from extinction.

It's also known for its film-set attraction, being used for both the Ned Kelly film and recently as the village in The Dressmaker starring Kate Winslet. Boulders dot the flat brown lands, whose wallaby guards keep watch silently. Sporadic, dramatic, craw-like trees rise from nowhere, adding to this barren landscape which is actually the largest predator free ecosystem in all of Victoria.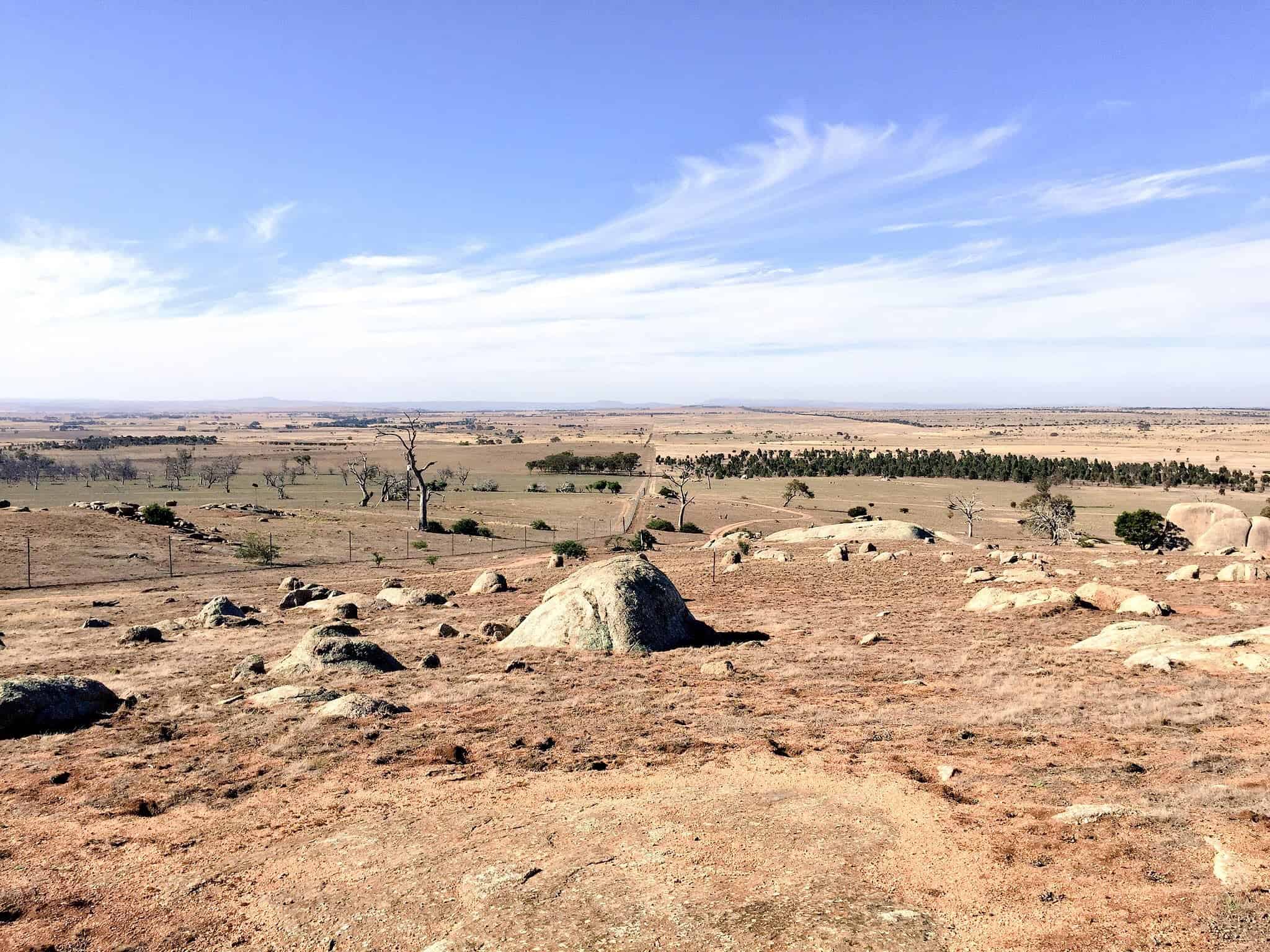 Australia is a huge space, and a road trip is a good place to start. So why not in Victoria? Although each destination highlight is also accessible as a day trip from the city, I arrived back in Melbourne feeling as if I had covered more than a single state, in what felt longer than a week.
But that's the true beauty of a great road trip – the feeling that it should never end.
Things to Know About an Australia Road Trip Staring in Melbourne:
With Melbourne being the closest major airport hub to the UK, and with the state of Victoria offering a huge expanse of sights in such a compact area (one of the most compact in all of Australia), a road trip here is certainly a good place to start. I flew from London to Melbourne with Qantas, testing out the Premium Economy and Business Class offerings. A jet-lag minimisation plan was in place, with more spacious seating and dining in Premium, and Business to sleep on the way back to the UK.
Melbourne Street Tours is the first street art tour in Melbourne and cost $69 per person, including guide, beer or wine, cheese platter and goodie bag at the end of the tour.
The Hidden Secrets Tours in Melbourne covers everything from lanes and Arcades, Café Culture, Progressive Degustation (the famous restaurant scene), High Tea Stroll and Golden Mile Heritage. Prices start from $95 per person, with small group sizes of between 2-8 people.
Healesville Sanctuary is open every day of the year from 9 am-5 pm, and is located one hour from Melbourne via the Maroondah Highway.
Be sure to say hello to Cath at Peninsula Paddle Co. She's a whiz out on the water and will make you feel at ease and up your SUP'ing game.
For more on private surf lesson with Rusty out on the infamous Torquay waves, check out Go Ride a Wave. Over 80% of participants get to stand up on the board in their first lesson!
My Australia Road Trip was supported by Tourism Victoria as part of its 'Australia Road Trip' campaign. All opinions remain my own.