Disclaimer: This post contains affiliate links to handpicked partners, including tours, gear and booking sites. If you click through or buy something via one of them, I may receive a small commission. This is at no extra cost to you and allows this site to keep running.
What are the best gifts for travellers? This travel gift guide is packed with over 40 inspired travel-themed gifts from trip items to homeware.
So, where on earth do you start when it comes to finding the best gifts for travellers when you can't afford the luxury of giving a plane ticket?

With this Ultimate Travel Gift Guide, packed with 42 inspired travel-themed gifts, you can find the perfect gift for that special someone for their birthday, Christmas or for when they are just about to set off on a grand adventure.
From books to help plan a dream trip, or to treat yourself to an extra special present with some fabulous new stationery or to decorate your home with maps and airport codes, there is something to delight everyone, even the loved one who you think already has everything.
Best Gifts for Travellers: BOOKS, JOURNALS AND PLANNING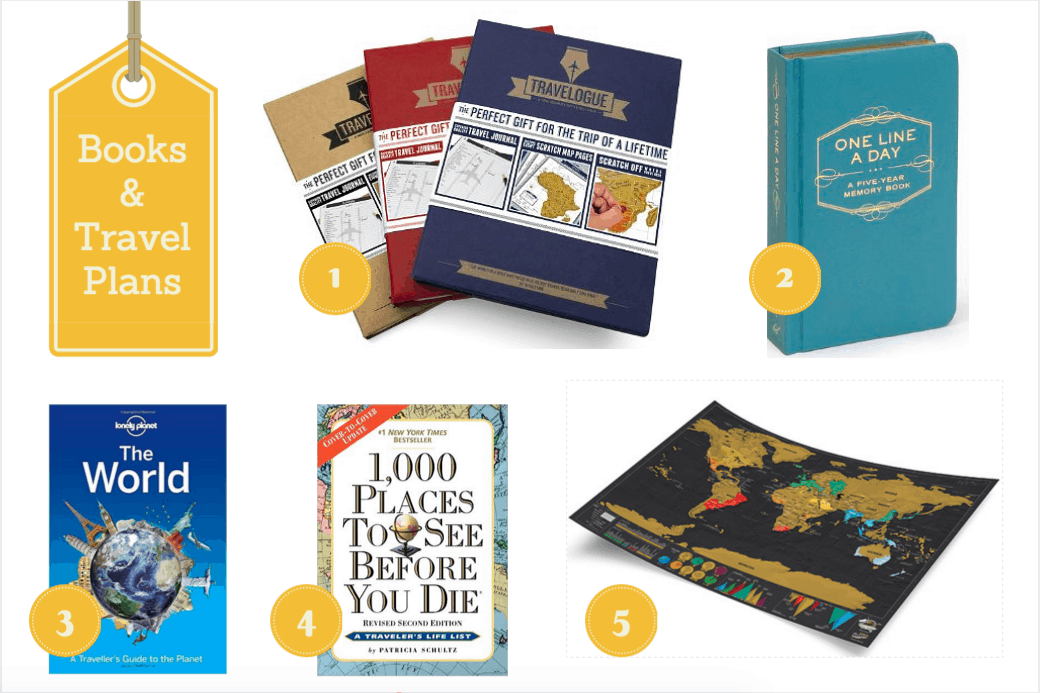 Serious travellers need to look no further, for this travelogue is the ultimate companion for planning the trip of a lifetime. With checklists and scratch maps to keep track of where you have been, and where you are yet to explore – this planner is a sentimental gift that will last forever.
Not everyone blogs or keeps extensive diaries, so this memory book is the perfect gift to remember the best of your travels in the most compact way. With each page featuring room to document the same date over five years, you can instantly relive forgotten moments from the past.
Move over the humble atlas, as there's a new book in town to show us the world! Lonely Planet does not disappoint, revealing everywhere you could dream of going in the world. Covering destination highlights along with some quirky facts about the most amazing places, this is the ultimate traveller's bible.
This insightful read makes the ideal gift for the adventurer in your life, to tick off those bucket list destinations that range from the bizarre to the magnificent.
Love them or hate them, there's a demand for scratch-off world maps. However, a more elegant design also looks good when framed. A great idea for tracking where you have been in the world. Top Tip: Use the rubber on the end of a pencil rather than a coin as it is a bit too abrasive!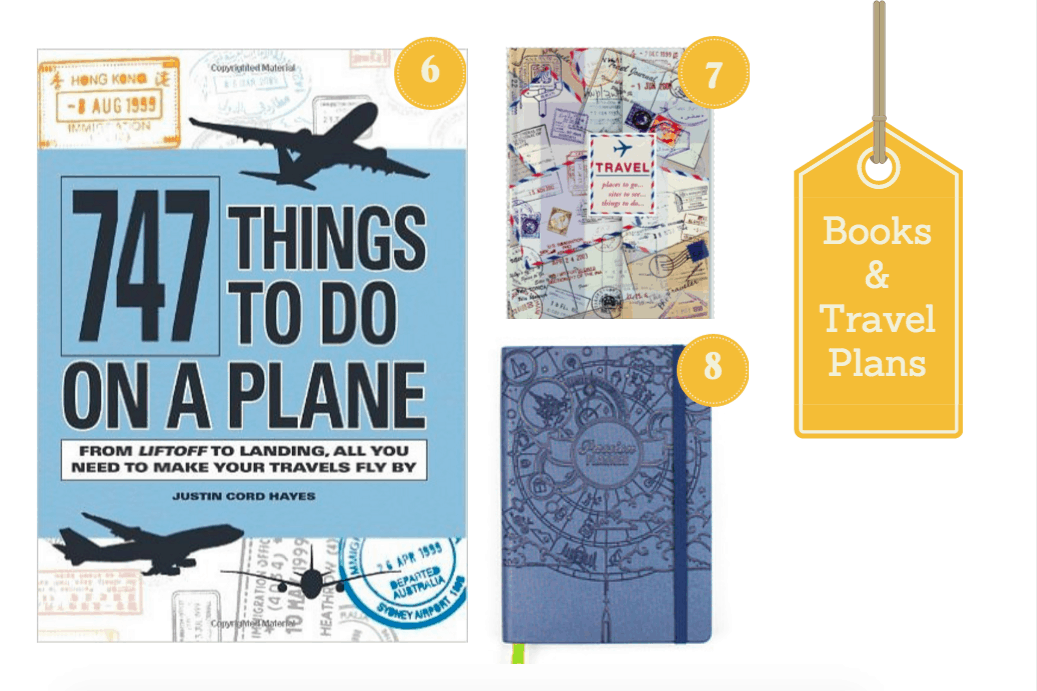 We all reach that point where boredom sets in on a long flight. This book is the best travelling companion. Packed with things to entertain, including brain teasers and challenges, your trip just got a whole lot more interesting.
Treat yourself or a loved one to this beautifully designed journal, perfect for recording your visits to far-flung shores.
Make 2016 the year to achieve everything you've ever wanted with this planner to map out your goals over the next three years. It features positive quotes for motivation, it is divided into personal and work sections to maintain that work-life balance we all crave and makes the perfect gift for that special someone with a hectic lifestyle.
Travel Gift Guide: STATIONERY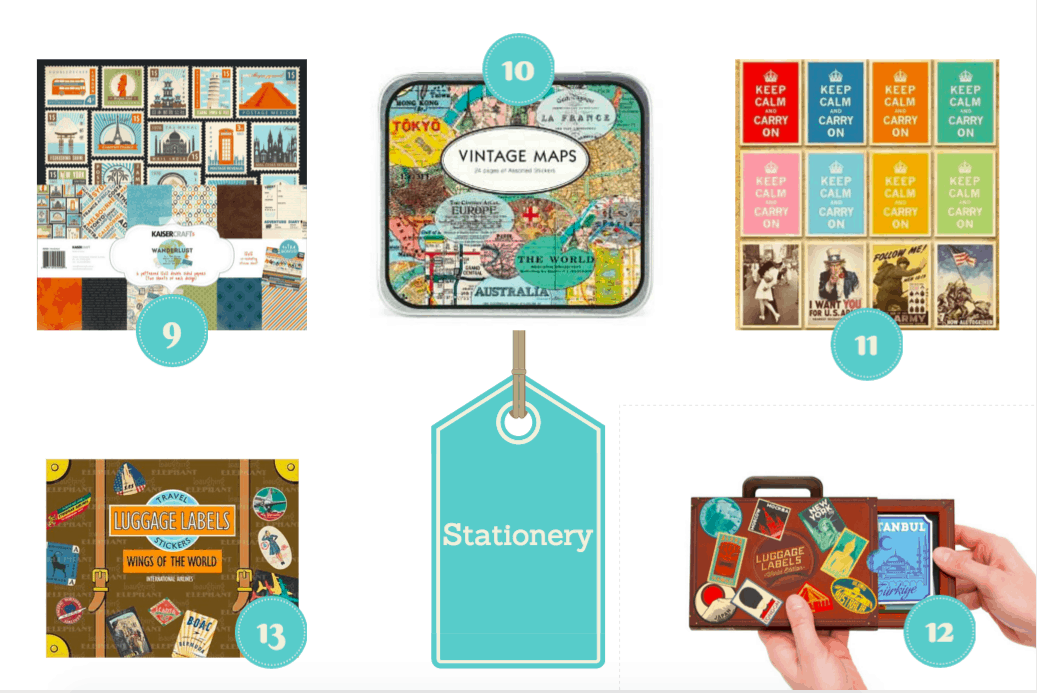 9. Wanderlust Paper Pack
Document your globetrotting with this travel-inspired paper for scrapbooking. Featuring maps and passport stamp wallpaper with coordinating stickers, these designs are worthy enough to make you start crafting if you haven't already! No longer available.
Perfect for travel themed arts and crafts, these stickers express your sense of adventure and will brighten up any project.
From one piece of vintage to another, travel postcards with retro images from planes and iconic sites to old tourism posters are so beautiful that you wouldn't want to post them.
These world edition labels transport us back to steamer trunks from yesteryear. While not quite the same as the Samsonite four-wheeled spinners of today, these labels are the ideal present for nostalgia and fans of vintage travel.
Airlines throughout history have created some of the most stunning retro and old poster designs to depict the glamour of travel. The perfect gift idea for the well-travelled to make their luggage stand out with these alluring and standout labels.
Best Gifts for Travellers: STORAGE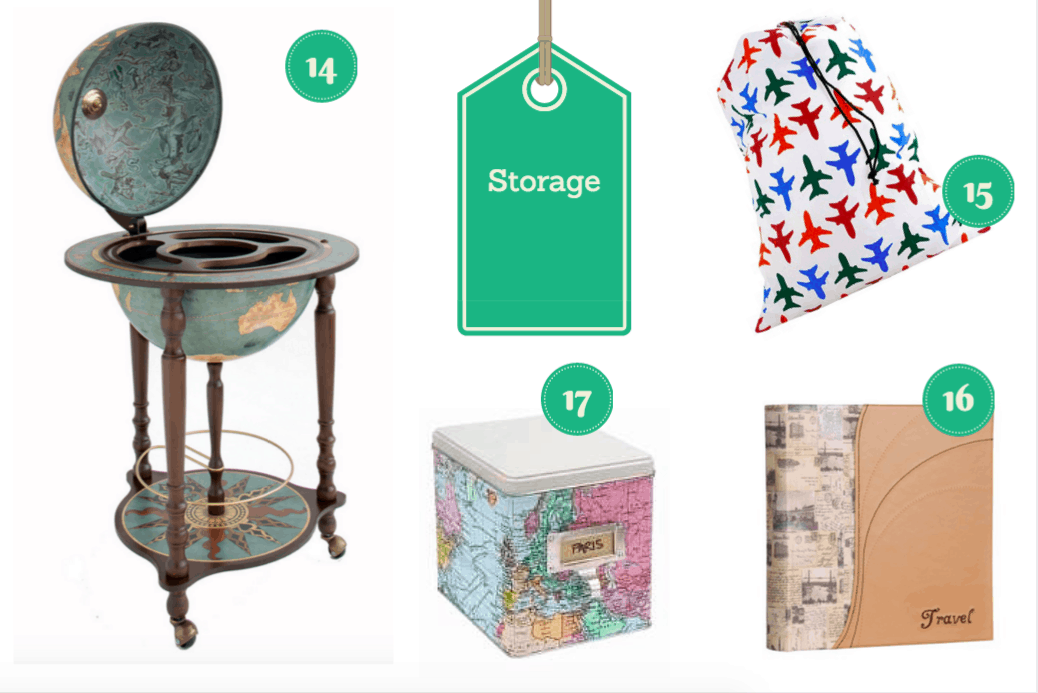 It couldn't get much more retro with this bar globe, perfect for the gentleman in your life for storing his tipple of choice. In 18th-century cartography design, this beautiful piece has been crafted in Italy and makes a stunning centrepiece for any room.
Make washing laundry more appealing with this colourful drawstring bag, an excellent mainstay for the luggage while wandering the world.
A beautiful keepsake for storing a lifetime of photos, leather photo albums embossed with world maps or words of grand adventures, makes for a perfect gift for the home, or for someone to start recollecting memories.
You can never have too many storage tins for stashing your worldly possessions, and this eye-catching storage tin is rather surprising. Both delightful and practical, with endless options for storage from travel documents to tea bags!
Travel Gift Guide: FANS OF FLYING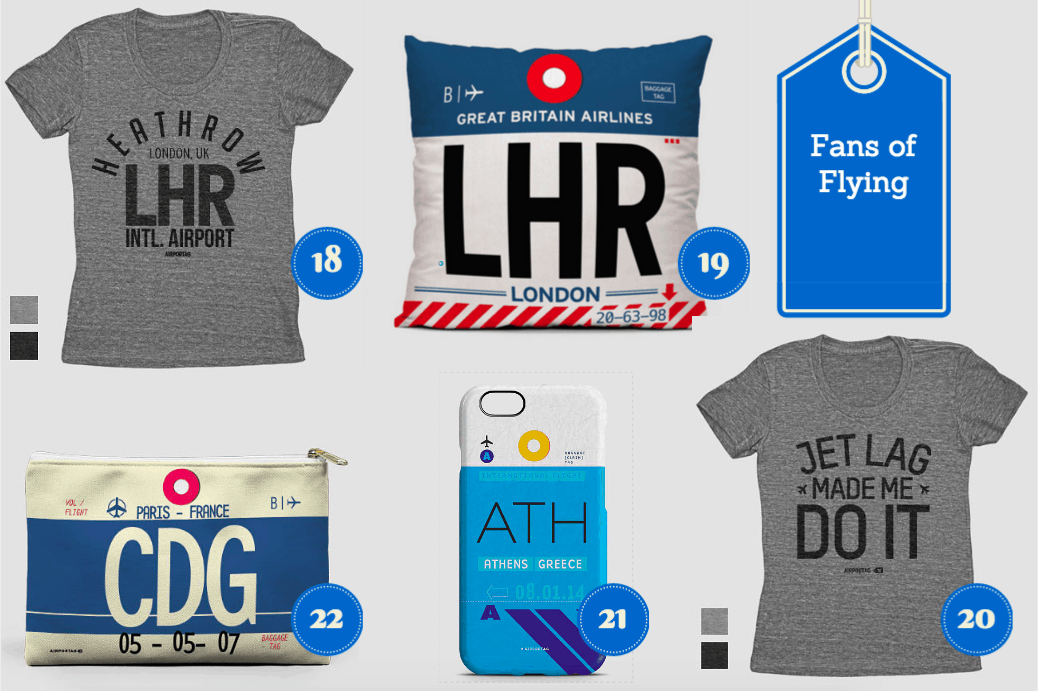 Serious travellers will undoubtedly know their three-letter airport codes, and this t-shirt says it all. Available in two classic colours and for a whole host of airport codes, it's a unique gift for anything from a birthday present to an inspired Christmas gift.
Inspired by vintage travel, this cushion makes a bold statement piece for any sofa and is the perfect quirky gift. Available as a cover or a complete cushion, you can also choose from a range of airport code designs.
Looking for an amusing gift for that special someone who spends more time in the skies? We think this classic t-shirt ticks the box, available in grey and black.
If you instantly know what ATH stands for, you need this phone case in your life. Inspired by vintage luggage tags, with a range of options to fit iPhone and Samsung Galaxy models of phone.
We have fallen in love with this beautifully designed bag which is versatile for a range of uses from a wash bag to a purse.
Best Gifts for Travellers: ON THE ROAD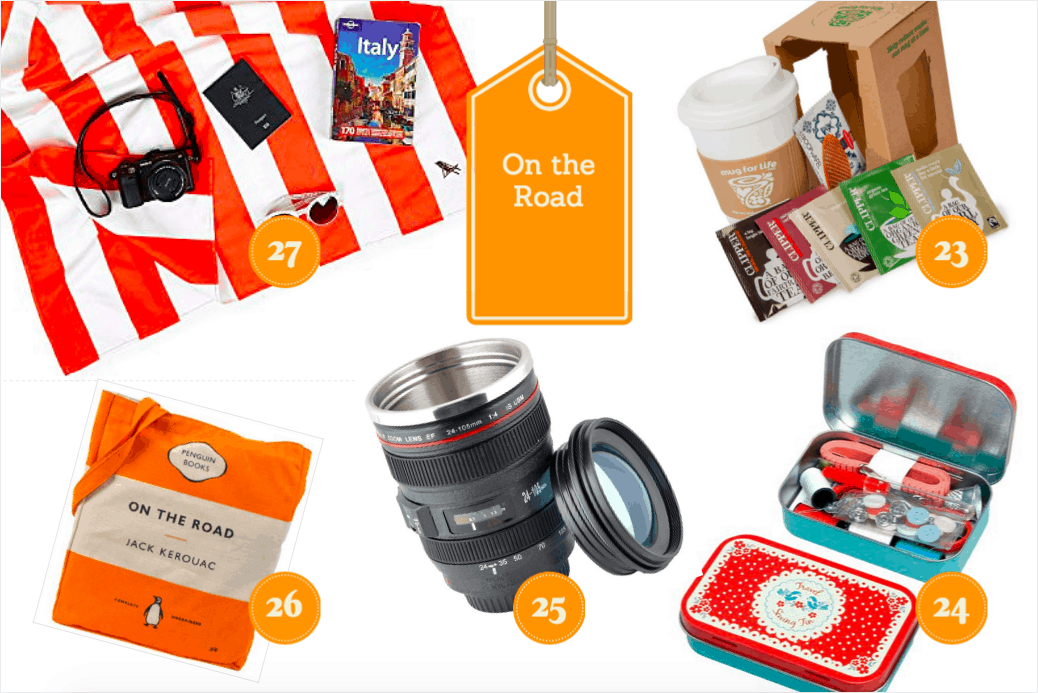 Tea and coffee lovers will adore this mug for life, insulated to keep your favourite beverage warm. Also an excellent gift for the eco-conscious, especially from those companies using bamboo or planting trees for every ten mugs sold.
For any clothing mishaps, a compact sewing kit will come to the rescue. A unique gift idea for a stocking filler or small token gift.
Both fans of novelty gifts and keen photographers will adore this stainless steel lens mug, ideal for drinks on the go.
A multi-use bag for at home or abroad, the Penguin book design makes an inspired gift idea for book lovers. Available in a range of 'book covers' and colours, you can't go wrong.
One of the best inventions of our time, this microfibre towel is the ultimate companion on your trip. Quick-drying, it can be used as a bathroom towel, or for lying on the beach as it doesn't hold sand in the fibres – so no having to shake out towels. Available in six vibrant colours, these towels stand out on the beach.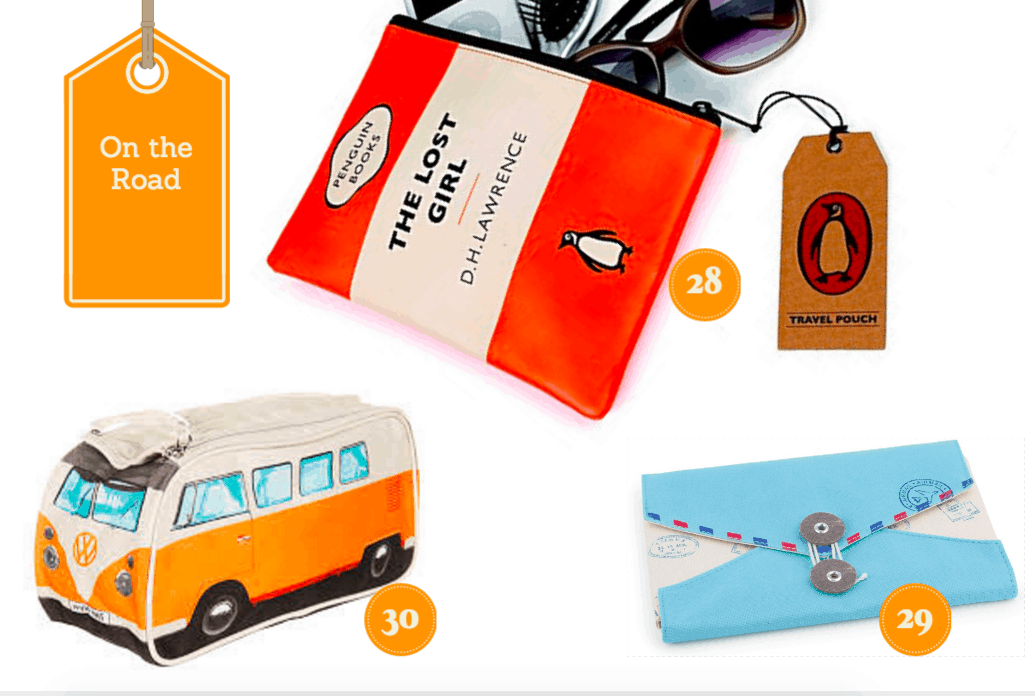 Part of a range, this eye-catching travel pouch stores small items safely when travelling, brightening up someone's day in more ways than one. Also featured in the collection are passport covers and water bottles, which make a lovely gift set.
Your jewellery should have the opportunity to travel in style, without getting tangled during transit. Featuring zipped pockets for storing your prized gems, this is an original gift for her, and she won't be disappointed.
Campervan enthusiasts will love this wash bag, fully waterproof and complete with side pockets for storing all those bare essentials.
Travel Gift Guide: TRAVEL THEMED HOME DECOR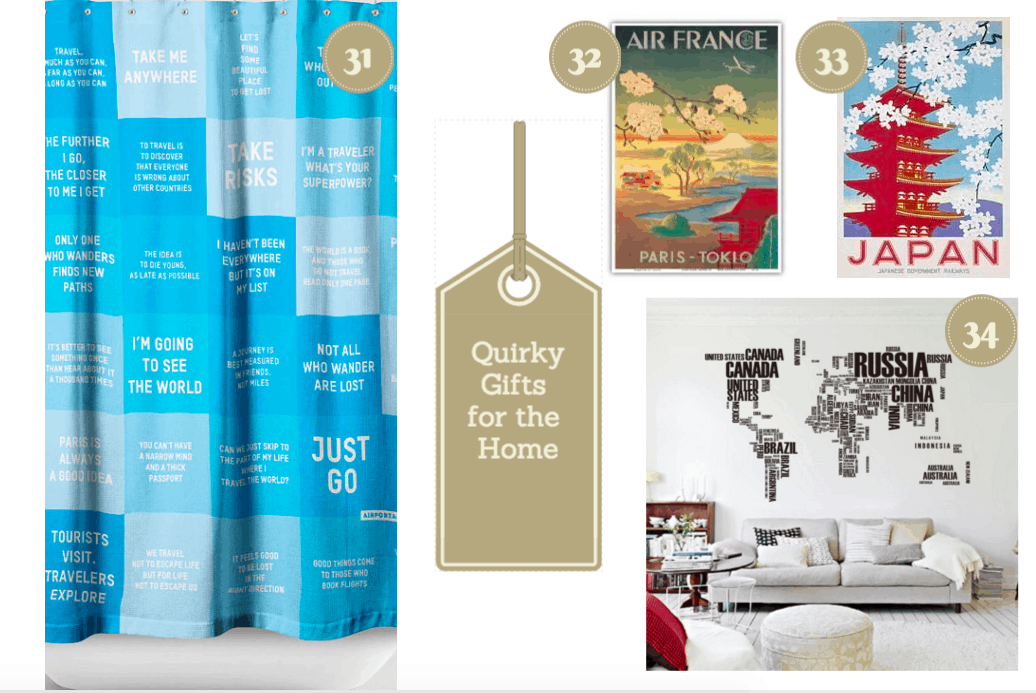 Motivational travel quotes reveal the inner adventurer in all of us, and this shower curtain sums it all up with a compendium of the best phrases to inspire us to dust off our passports.
A gorgeous travel-themed print made for a lounge or office as a reminder of all things travel-related, and to stamp your personality and love of all things exploring on living space.
A whimsical poster design, reminiscent of the retro adverts in the early days of travel. Beautiful and well balanced, this would make a great addition to an office or living space for peace and contemplation.
A vinyl wall map, uniquely detailed worded country names. A unique idea and a wow factor for any room.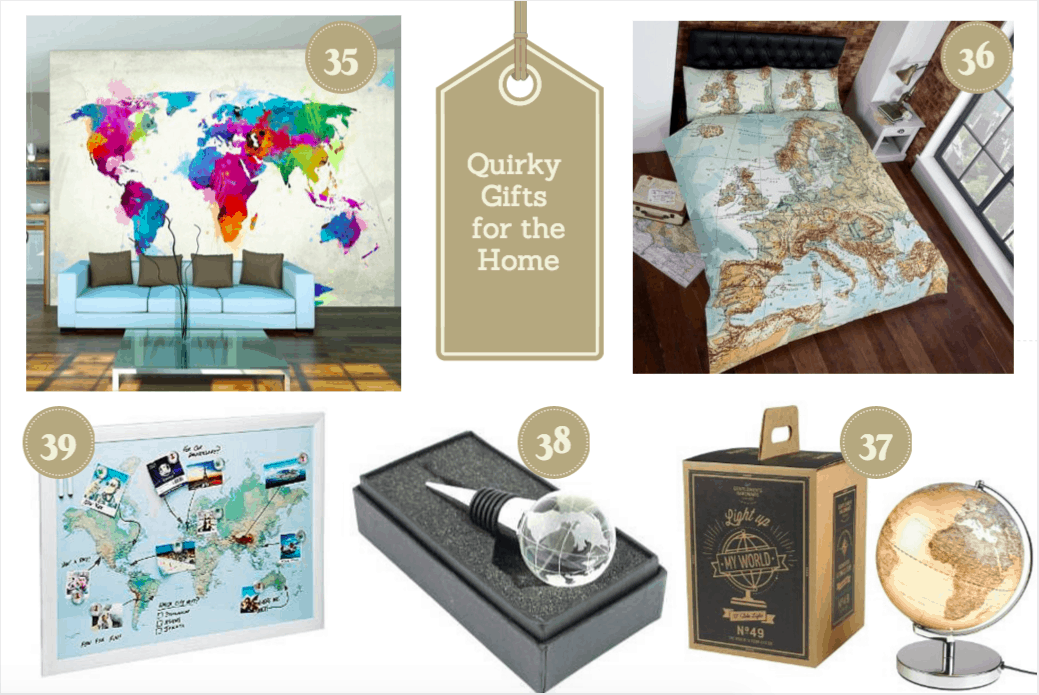 Brighten up someone's life with this mural which is sure to add colour to their living space too! A vibrant depiction of the world, the paper is easy to apply and comes in a range of sizes, creating a real visual impact for neutral interiors.
Eat, sleep and now dream of exploring the world with this printed map duvet set. An unusual gift idea, and the one place you can go to bed in the UK and wake up in Asia!
This art deco globe makes a beautiful addition to a study or living room, with a warm, inviting light ideal for reading. A well-thought gift for him to light up his world while planning his next globetrotting adventure.
This wine stopper makes a great little present to keep your finest bottle of red fresh as the day you opened it. The perfect think outside of the box gift to show how much you care.
This noticeboard is the gift for those organised people in your life. A magnetic map with a wipe-clean surface, this is made for couples to plan and pinpoint their past, present and future globetrotting. Supplied with ten magnets and two markers, other design options including a foodie, city or a version for children.
Best Gifts for Travel Lovers: THE BEST OF THE REST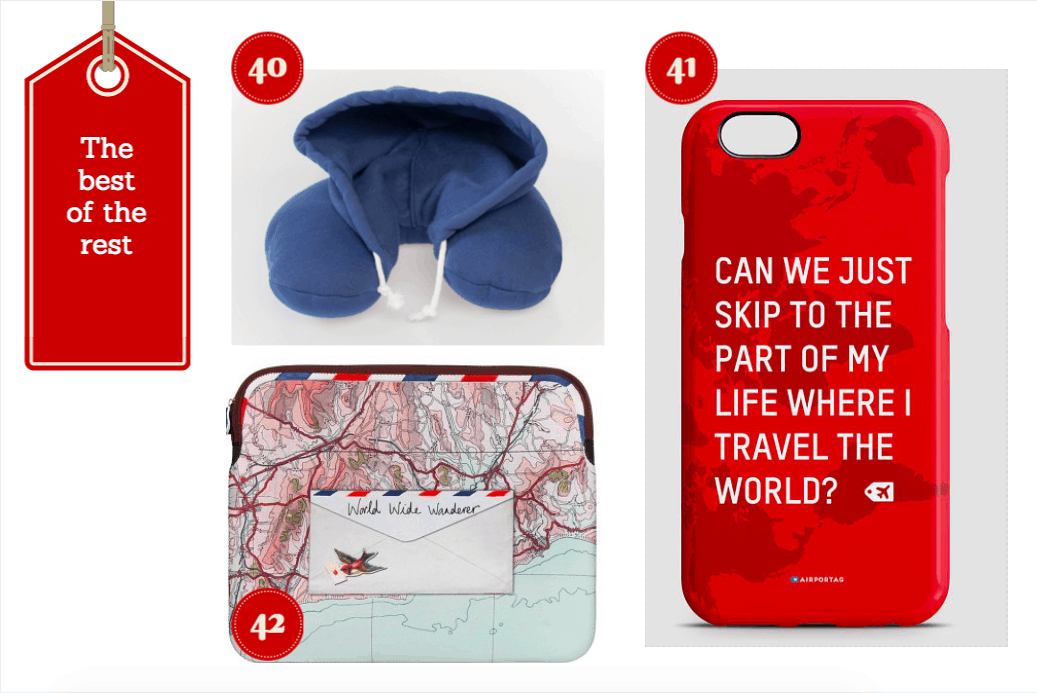 The world of travel neck pillows just got better with this added hoodie to provide some shade and warmth, as well as reduce neck strain. Available in three colours, and made for long journeys.
This phone case pretty much sums up how most of us feel when it comes to travelling the world. Will fit a range of iPhone and Samsung Galaxy models.
Give your laptop a stylish way to travel with this gorgeously designed neoprene laptop sleeve, to safely transport your computer. Featuring a map, aeroplane and airmail envelope, it is a travel icon overload and perfect for the wanderer in your life, or for treating yourself.
Some of the travel resources listed here contain affiliate links – should you purchase anything from the particular site, it is of no extra cost to you, but will help contribute to the running costs of this site.
All images are copyright of the website to which they are listed (and directly linked to within this article).