Disclaimer: This post contains affiliate links to handpicked partners, including tours, gear and booking sites. If you click through or buy something via one of them, I may receive a small commission. This is at no extra cost to you and allows this site to keep running.
Looking for the best Osprey backpack for travel and adventure? Ultra functional and smart, these reviews will help you choose the right fit.
Osprey Backpacks prove that when it comes to exploration, adventure gear can be functional, comfortable and hardwearing without compromising on style. While many find exactly what they are looking for in multi-packing compartments, security features and the perfect fit, the additional colour and trendiness can somewhat be lacking in contrast.
I've tried many brands over my years of globetrotting, where the blacks, kakis and muted colours have been the only options to match the detailed practicality and hardwearing factors. Osprey Backpacks also factor in colour in their style.
Over the years, Osprey has invited me to put some backpacks to the test. The Ariel AG 55 litre in the vibrant 'Tidal Blue' and the Daylite Plus daypack in 'Solar Yellow' allowed me to move at ease while Overlanding in Europe, Asia and South America, as well as feel vibrant and stylish. These are durable packs that are great for longer trips that need to carry extra weight beyond carry-on suitcases. I tested out the Osprey Mira 32 in challenger blue; complete with a 2.5L water pouch, during my Kilimanjaro trek.
Here's my honest review of Osprey Backpacks and which ones to use for particular kinds of travel.
Review of Osprey Ariel AG 55 Backpack
Ariel AG 55 litre backpack looks compact when laid out, but expands as you fill it, making it an ideal choice for hiking trips or extended travelling stints where you need to carry more.
The main thing I love about this backpack is that the hip belt is rigid, hugging your hips tight for a perfect fit when distributing the weight. Osprey is known for its AntiGravity back system and mouldable fit that comes from the IsoForm hip belt, which is ideal when looking for a 'women's fit'.
My only criticism is the lack of side loader opening. While I am used to side loader packs that essentially open like a suitcase, this backpack is designed with many pockets and compartments for easier accessibility when on the move. There's a 'top loader' style pocket and only smaller side loader zips for instant access – more to reach in and grab an item.
Multiple compartments in the lid, holding a waterproof cover and also giving extra space for packing, compliment the bottom compartment where you can also access the main hold.
Review of Osprey Daylite Plus Daypack
The Osprey Daylite Plus daypack was with me every single day, used as a front pack for my most important equipment when on the move with both bags (it has an expandable front pocket for extra storage) and then as my day-to-day backpack when exploring each city.
This daypack is designed to be lightweight and versatile so that you can fit more into it, although it still has a padded laptop sleeve without bulking it out too much. The ventilated mesh back and Hydraulics (water pouch) reservoir alongside the outer side mesh pockets also turn this bag into a perfect trekking daypack.
Review of Osprey Mira 32 Backpack
It's vital during any multi-day, strenuous trek to not carry too much in your daypack but have enough space and weight capacity for water. The optimal trek backpack should be a 30-35L Day Bag with a Camel hydration pack.
We used the Osprey Mira 32 (female fit) and Osprey Stratos 34 (male fit) both of which include a 2.5L reservoir, which I cannot recommend enough for keeping hydrated easily while on the move. These packs also have a rain cover, contoured fit and cooling back system for maximum comfort and with roomy, multi-compartment sections to organise your gear. You can also easily remove the reservoir water pouch if you want to use the pack as a regular backpack.
With side pockets for walking sticks, extra water bottles or clothing, and multiple front zippers with compartments to store the things you need quick and easy access to, this trekking backpack is my most favoured Osprey backpack of all.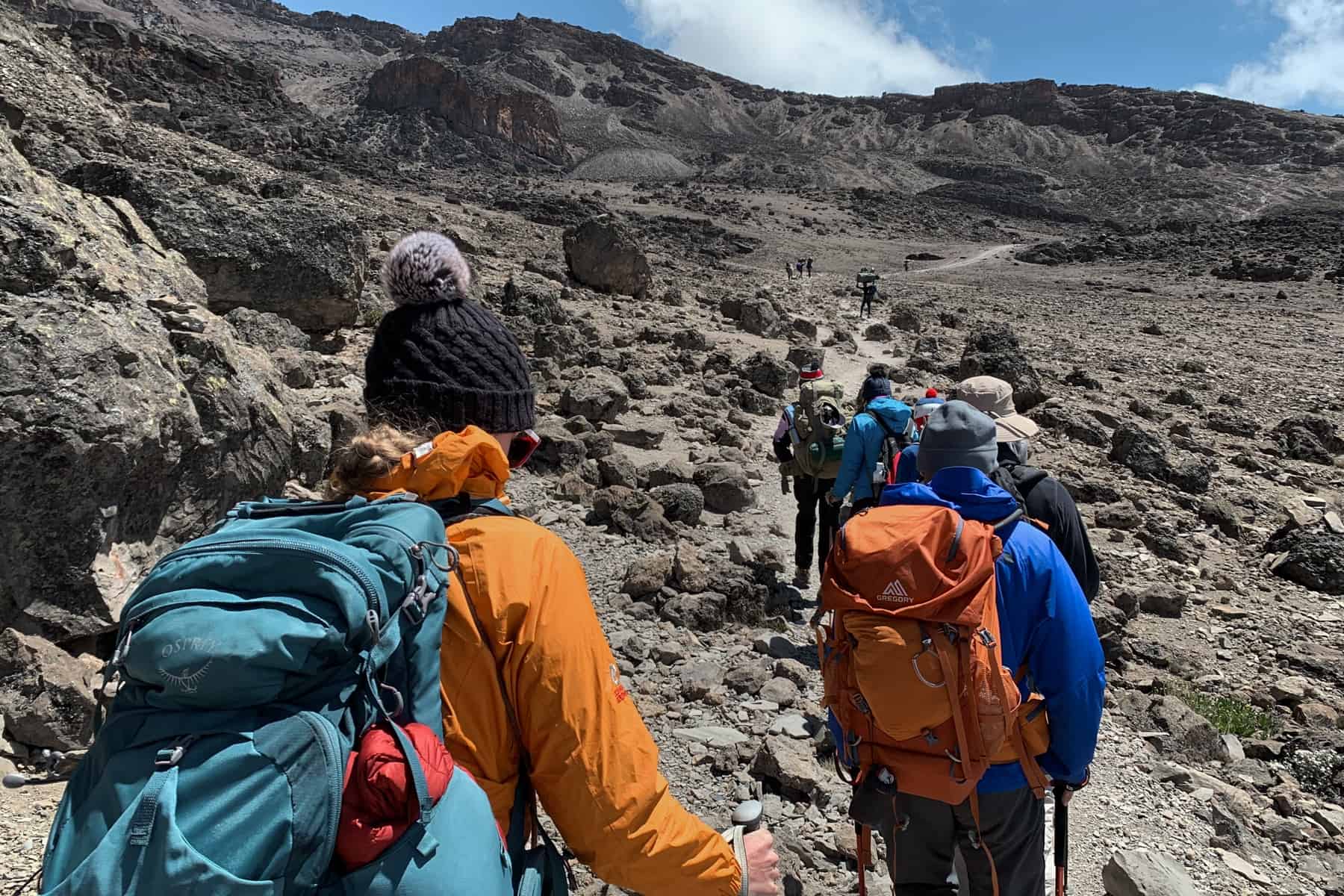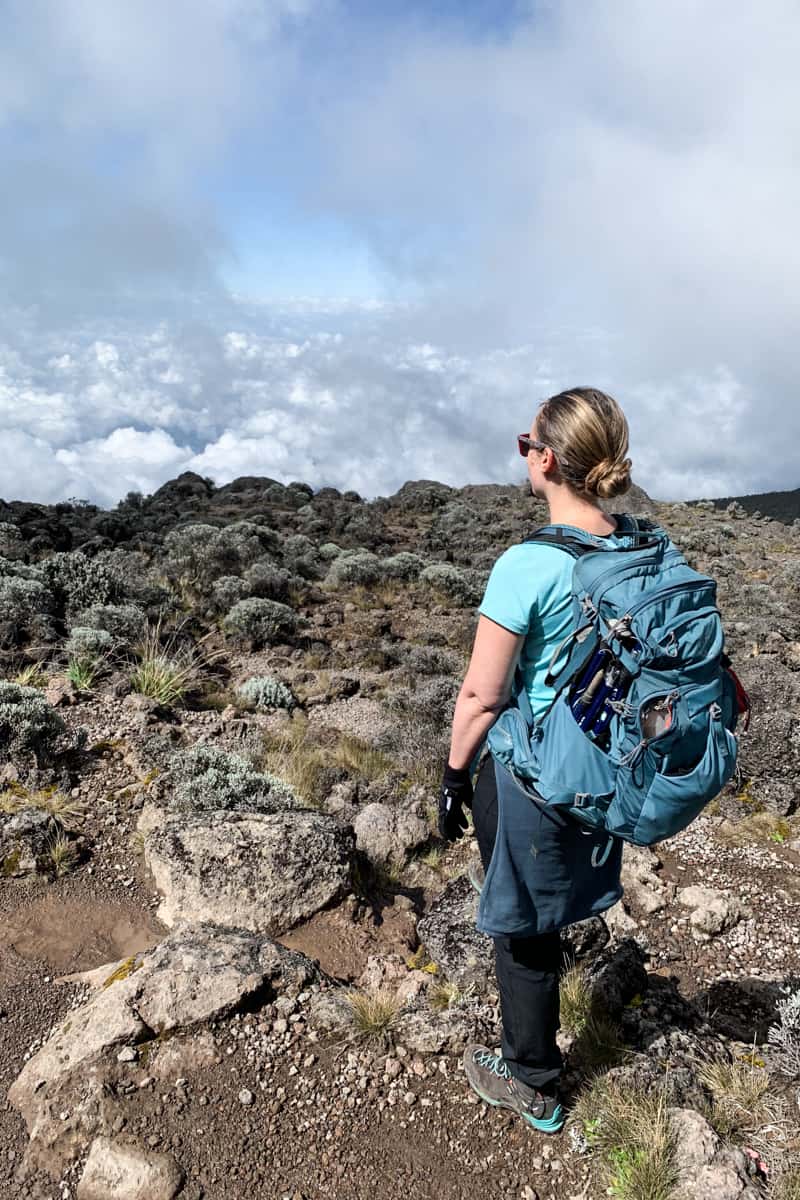 Looking for More Travel Gear?
You have the backpack, now it's time to fill it with all the essentials for the ultimate adventure. Check out my streamlined list of travel gear, and everything I pack that has me covered for any destination.