Disclaimer: This post contains affiliate links to handpicked partners, including tours, gear and booking sites. If you click through or buy something via one of them, I may receive a small commission. This is at no extra cost to you and allows this site to keep running.
Staying in Capsule Hotels in Tokyo is a unique experience and should be done in the way that a capsule is intended: for a few short hours.
Breaking up my stay at the traditional Ryokan in Tokyo, I spent my second night in the city curled up in my pod and using it for one of the reasons it is normally used for – after a big night out on the town.
The concept of staying in a capsule hotel in Japan is one of the many eccentric things synonymous with the country – and therefore, I had to try it.
What is a Capsule Hotel?
The first capsule hotel opened in Osaka in 1979, and since then their popularity has boomed. Usually found near train stations or other major transport hubs, Japanese capsule hotels (kapuseru hoteru) have multiple floors with long rooms that stack together a multitude of small, boxed, rectangular spaces side by side and two units high. Most contain a simple mattress, TV, and a lockable storage box.
The intention of a capsule hotel is to provide quick, basic and budget accommodation in Japan based on the concept of a one night stay, and an option for those not looking for the luxury and full amenities of a standard business hotel.
The majority of users are those who have missed the last train or who are either too drunk to make it home or too embarrassed to admit it to their other half!
A capsule simply serves a short-term purpose.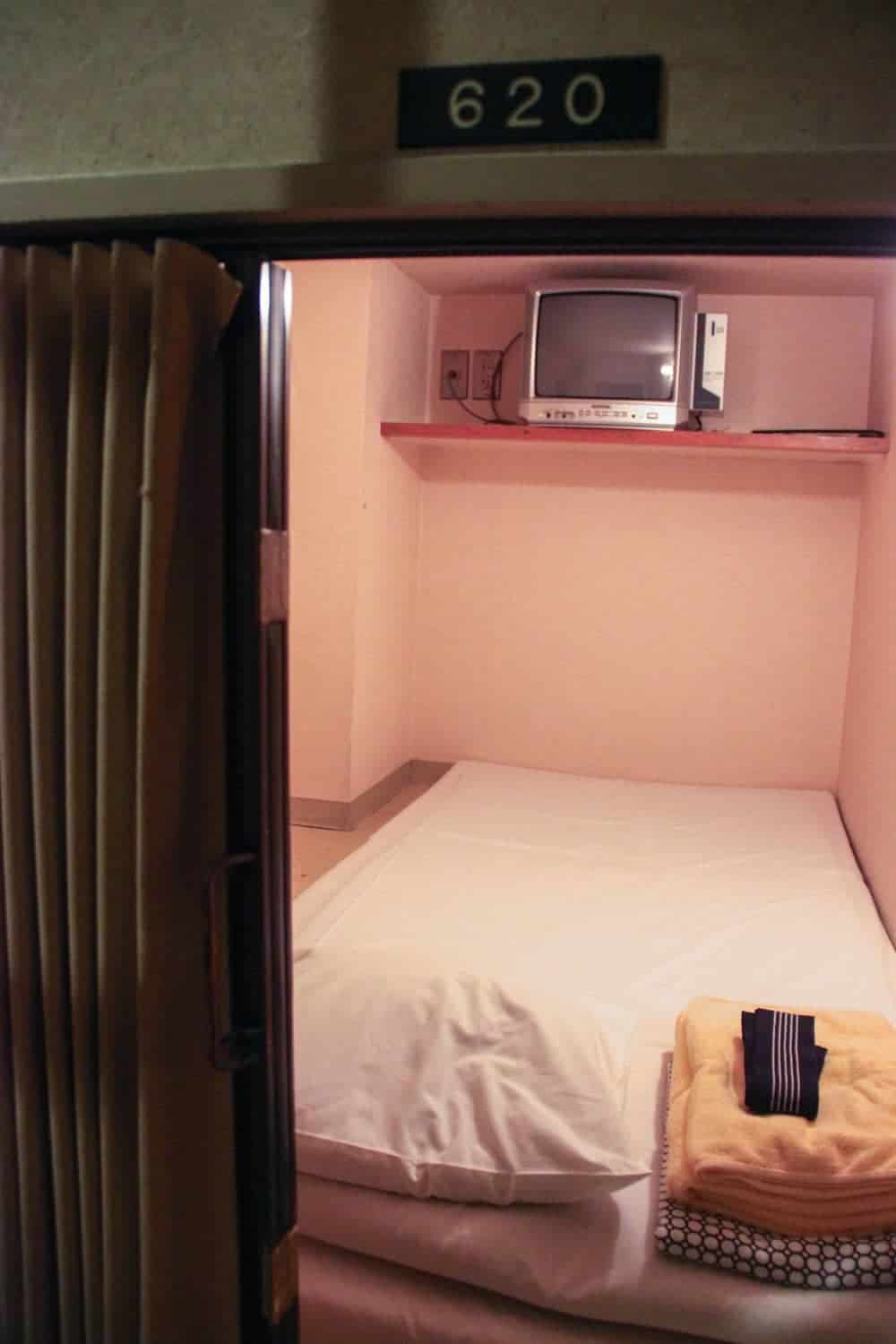 Capsule Hotel Etiquette
Shoes and Lockers
Taking off your shoes is similar to Japanese house rules, and you will not be allowed to wear them past the front desk and locker area. Choose your locker and exchange your footwear for some Japanese style slippers.
After you have locked away your shoes, leave the locker key at the counter / front desk.
Once you are checked in, you will then receive another key for a personal locker where you can store valuables. This key also corresponds to the same number as your capsule. This is also provided since the capsule doors themselves do not have a lock, and it is not advised to leave your valuables inside.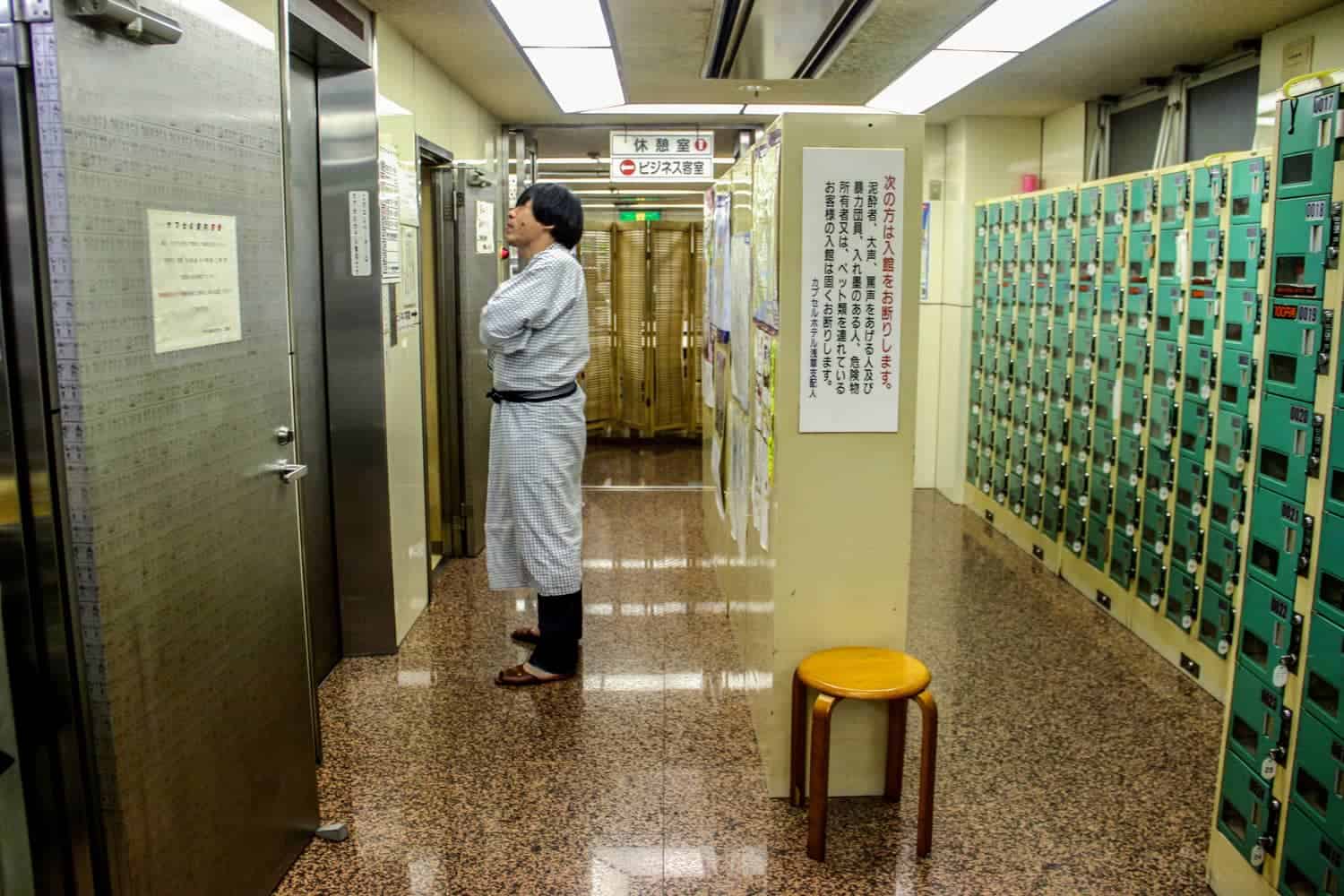 The Capsule
Sheets, a pillow and a blanket are provided. You'll find a yukata (robe) or lounge style pyjamas on the bed of your capsule and some toiletries such as soap and shampoo. Many bathe in the Onsen before changing into this and retiring for the evening.
Respect your neighbours. Capsules are not think-walled bunkers type spaces. Walls are thin and the general etiquette is to be discrete and quiet.
Do not eat or smoke inside the capsule.
Gender Segregation
While Capsule hotels have typically always catered to businessmen, the rise of interest has resulted in the acceptance of female guests with gender-segregated floors and even some Capsules have gender-segregated buildings.
You will never find a mixed-gender Capsule hotel floor.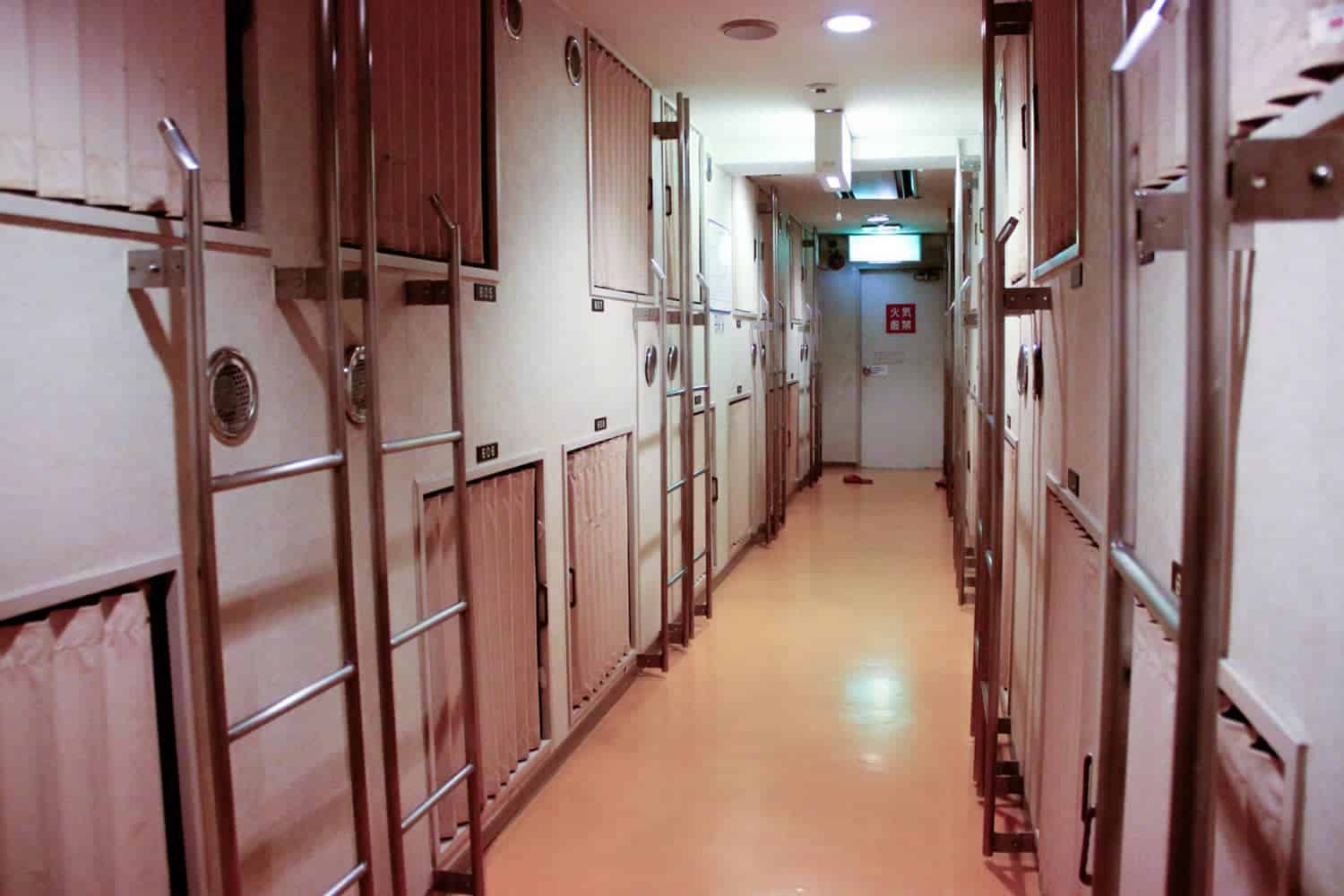 Capsule Hotel Amenities
Toilets and bathroom facilities are shared. There are common bathrooms/toilets that you will share with your floor.
While Japanese hotels have showers, it is uncommon for Capsule hotels to have them. Instead, they have a communal bathing area or an Onsen bath on-site, but be sure to wash your body or shower before using them, as is the etiquette.
There is usually a common room or lounge area on the ground floor with vending machines for snacks and laundry facilities. Some now even feature a game room. Some places include refreshments, and others have a 'charge to your key' system, where you can pay upon check-out.
Most capsules come equipt with a TV, high-speed internet, and a privacy curtain or shutters.
Overall Impressions of Sleeping in a Capsule
At first glance, the room looked rather intimidating and bland; on the other hand, it appeared rather inviting in a mysterious 'futuristic' way.
Except my capsule didn't have a plastic door like a spaceship cabin, just a material sliding shutter. Whilst my prior assumptions of a capsule summoned up thoughts of a space-age style cabin complete with mod cons and a button that would transport you to the future, it didn't materialise.
As minimalist as a capsule is intended, interior design and entertainment are not the priority in these types of hotels.
Even though a yukata (robe) was provided, I didn't need that when I rocked in at 3 am and passed out in my clothes. I used a capsule hotel in the same manner as to how some of the locals do – for a few short hours.
The night started with watching the fireworks on the rooftop of the hotel – an annual event in Tokyo to mark the start of summer – and then it rained, so we moved the small gathering inside the hotel communal area, which is a room full of tables, chairs, and vending machines. The evening with my new local friends turned from a late-night noodle supper into a full-on clubbing session in the well-known Shibuya-based club, Womb.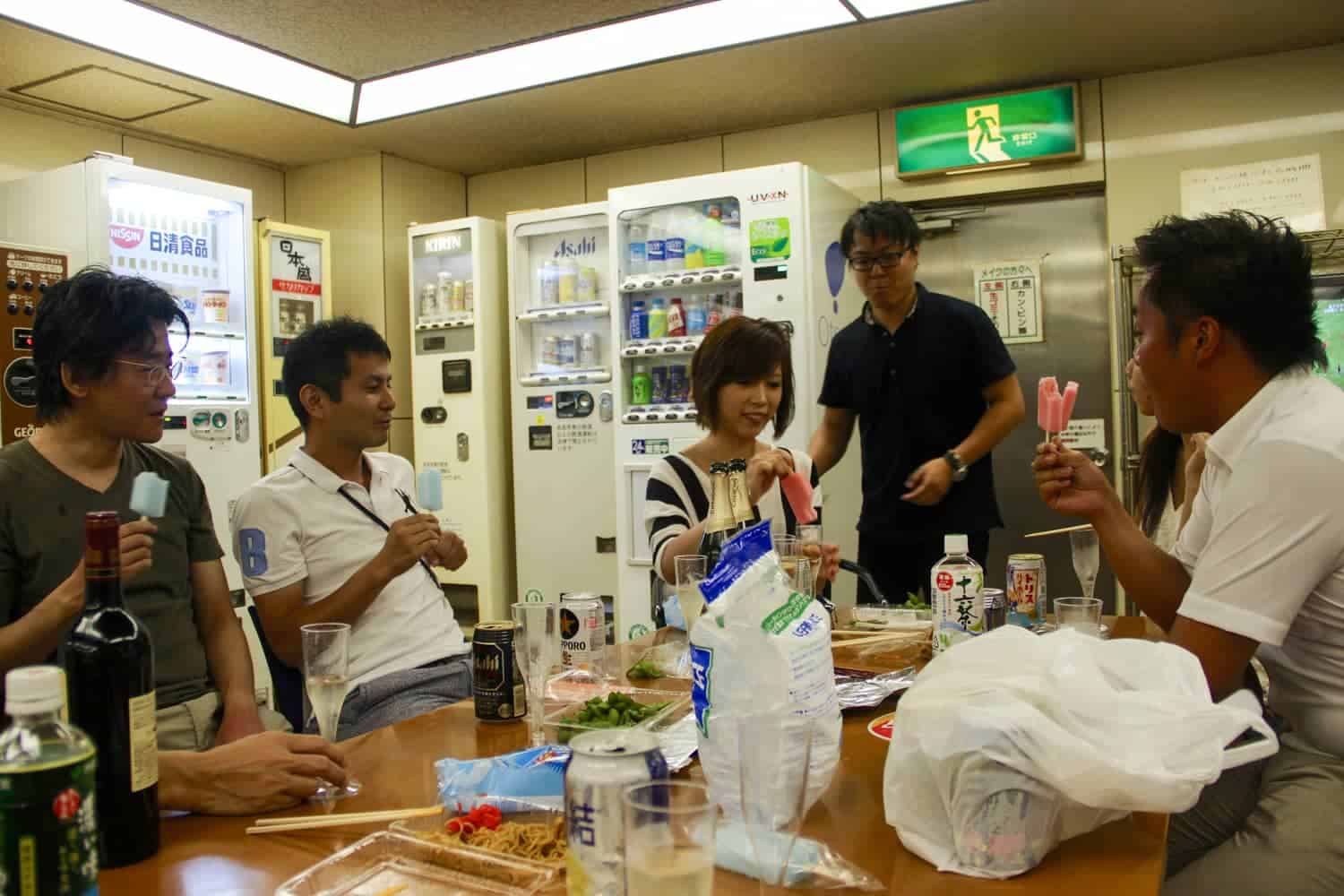 Still, it was comfortable and spacious, clean and cosy and not at all as claustrophobic as I thought it would be. Besides, as a quick fix accommodation option, you can't expect luxury, although some of the more modern capsule hotels are providing touches of that.
Whether you check in for a restful night or just a few hours, a stay in a capsule hotel is a true Japanese experience – quirky, different and something you don't get to try at home. It's amazing how much you can look at four small walls and still find them fascinating.
How much is a Capsule Hotel?
Cheaper than a hotel for one night in Japan, you can find a capsule from as little as 3,000 – 6,000 Japanese Yen / $25 – $50 / €20-€45.
The capsule hotels in major cities such as Tokyo, Osaka and Kyoto are generally a little more expensive than their smaller city counterparts. The price can also vary according to the age, style and location. More modern style pods will be more expensive, for example, and you can get last-minute deals when there are one or two spaces left.
Overall, this price point is ideal if you need a short stay or stopover or simply just want to try out the capsule experience for fun.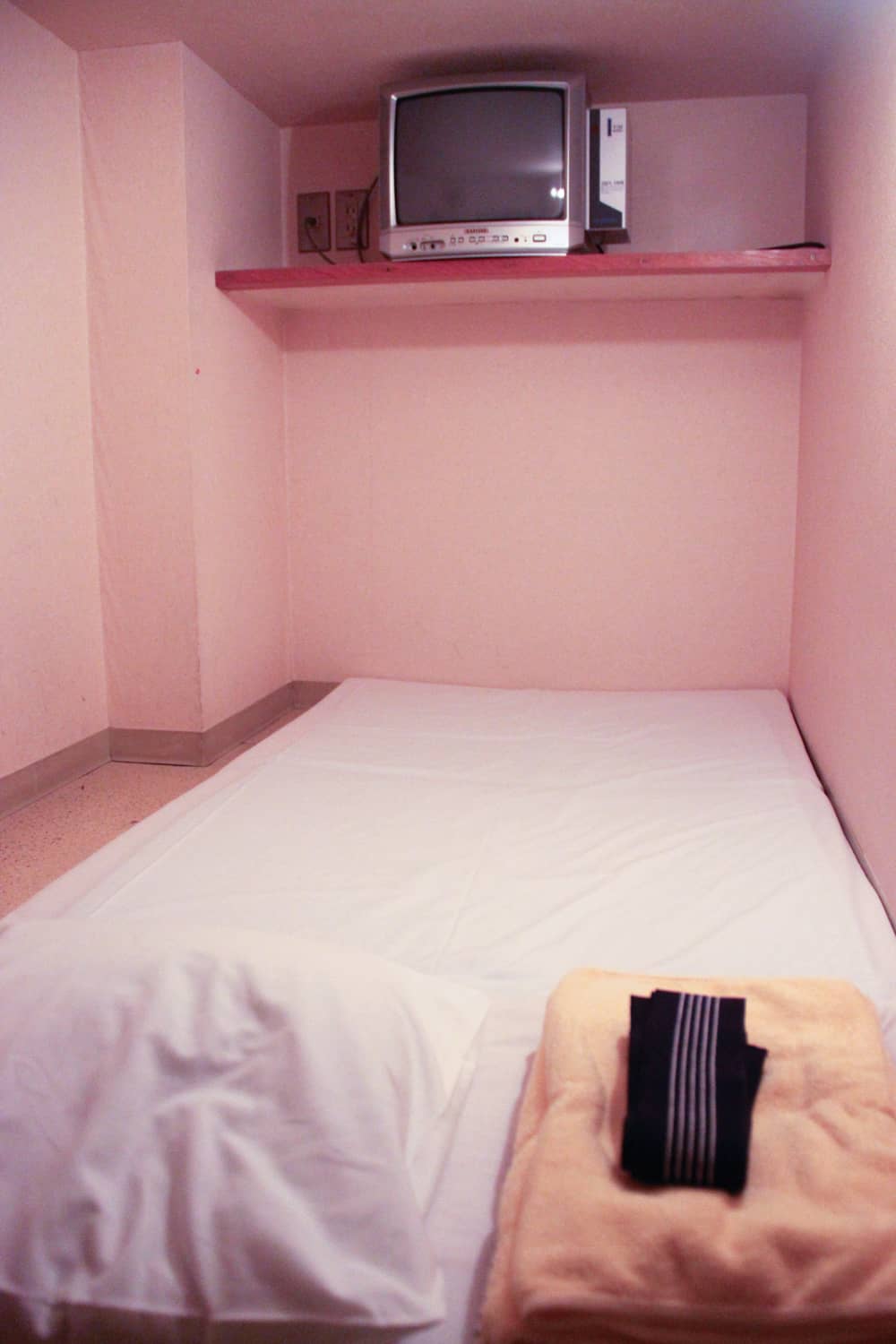 Best Capsule Hotels in Tokyo – Where to Stay
Ready to book a single night experience? Or maybe opt for a luxury capsule hotel for a longer stay? Here are some of the best-rated capsule hotels in Tokyo to get you started.
The Ueno Station Hostel Oriental I has capsules for both men and women, that is a 5-minute walk from the JR Ueno Station and a 3-minute walk from JR Okachimachi Station. It has hot tubs and saunas and popular tourist sites such as Asakusa, Akihabara and Ginza can be reached within a 10-minute train or subway ride. Tsukiji Fish Market is a 12-minute subway ride away. This is an ideal choice for travellers wanting to try the tradition in more of a combined hostel setting.
The Nine Hours Asakusa is a trendy, pod-style capsule hotel, located behind the Sensoji temple and within 3 minutes of Asakusa train station. Capsules are more spacious, facilities and amenities more modern with funky design and easy to follow signage. It also continues with the etiquette of having segregated floors for men and women.
There is also the Nine Hours Takebashi, located by the Japanese Imperial Palace and the Yasukuni Shrine and a variety of other locations.
do-c Ebisu has a Scandinavian style, with a wooden interior theme and a Finnish sauna. It's located less than a 5-minute walk to the Ebisu station JR train line. The famous crossing outside Shibuya Station is the next stop along.
The modern Global Hotel Tokyo is in the Shinjuku district, close to the Shinjuku Gyoen National Garden and the Meiji Jingu Shrine. The rooms have a terrace that looks out onto the garden, modern facilities including USB charger ports in the capsules, and free breakfast.
Looking to combine a stay in a capsule with a traditional accommodation? here's what it's like staying in a Japanese Ryokan in Tokyo.