Disclaimer: This post contains affiliate links to handpicked partners, including tours, gear and booking sites. If you click through or buy something via one of them, I may receive a small commission. This is at no extra cost to you and allows this site to keep running.
As popular as visiting the Great Wall of China in Beijing or the Terracotta Army in Xian, taking a Chengdu Panda Tour at the Giant Panda Breeding Base is just as high on the list. It's also said to be one of China's most sustainable tourist attractions.
As soon as you arrive in Chengdu city you know you have hit the land of the panda. Their adorable faces greet you from every street corner, appear in all manner of advertisements, and are even used to decorate taxi car bonnets. Random Chengdu panda-themed goods are sold at every street market and an official panda merchandise store even exists within the city's main shopping streets, including the Big and Small Alley and the Jinli night fair.
Excited about the opportunity of seeing a rare animal native to China, I was also apprehensive that visiting the pandas would not live up to the hype lingering all around me. Is the panda overload just another money-making tourist scheme?
I had imagined an oversized zoo, with a few cages and uninviting box rooms scattered here and there full of pandas looking less than pleased with their lives of captivity and where tourists still found it a wonderful sight regardless.
However, the Giant Panda Breeding Base in Chengdu is legitimately well-run and where the real action is at.
Taking a Chengdu Panda Tour – Conservation and Education
Instead, I spent hours wandering around a never-ending open space of perfectly landscaped, dense green forest and beautiful parkland.
This is no zoo but a huge conservation base spanning 7,000 square meters.
Rather than feeling enclosed, you feel at one with nature as you meander peacefully through endless amounts of greenery, past towering trees, and across quaint wooden bridges and viewing levels. You realise that you are in a well-run establishment, where the setting has been deliberately crafted to provide a humane and self-sustaining home for the 50 or so pandas that reside here.
With no glass screens and wire mesh fencing to ruin the view, you are right the heart of the action, where the pandas are rustling about; crunching and crackling on large supplies of bamboo; lazing around without a care in the world; not flinching or becoming uncomfortable at the sight of humans.
Information boards are in abundance, detailing general panda facts and key insights into the research that takes place there and there's even a short film if you like that kind of tourist reel. Plaques are also scattered around bearing the names and birth dates of some of the pandas – except they all looked the same to me so I couldn't keep up with that kind of intricate detail.
While giant pandas are the main focus here, you can also see Red Pandas (which actually look like raccoons and are not as interesting as their giant cousins) as well as learn about the research base's conservation programs for tigers and monkeys.
Best Time to See Pandas in Chengdu
Open from 07:30 am – 18:00 pm, we were told that it's best to visit before 11:30 am when the pandas are at their most active before falling asleep in the early afternoon.
Since they are pretty much lazy creatures anyway, you will want to see them in top form. At their best, they are fascinatingly humorous. I'll never forget the sight of pandas lying on their backs, covered in a heap of bamboo and eating shreds of it from their bellies.
Then there was a panda we named 'Dozy Dave' who climbed a small tree and had absolutely no idea how to get back down! We thought about telling one of the conservation workers about his plight but then realised he probably spends every day in this same predicament!
Dozy Dave moved all of half a metre in the 20 minutes we spent watching him and gave up very easily. I think he was either scared or lazy, although I guess it's probably the latter. Just like his friend closeby who made the giant step up to the next level of his climbing frame and then decided to roll onto his back with exhaustion.
Chengdu Baby Panda Viewing
The award-winning conservation base includes a panda hospital and a nursery, where you can see baby pandas in their incubators and resting peacefully on baby blankets. You can't help but coo over them and try and wing out your time by the viewing window before the guard ushers you on.
Monitored around the clock by an expert team who make up part of the project's many scientific and technical workers, you can tell they are well looked after and that the breeding process here – which includes artificial insemination and other means to overcome the mating difficulties – is successful and well managed.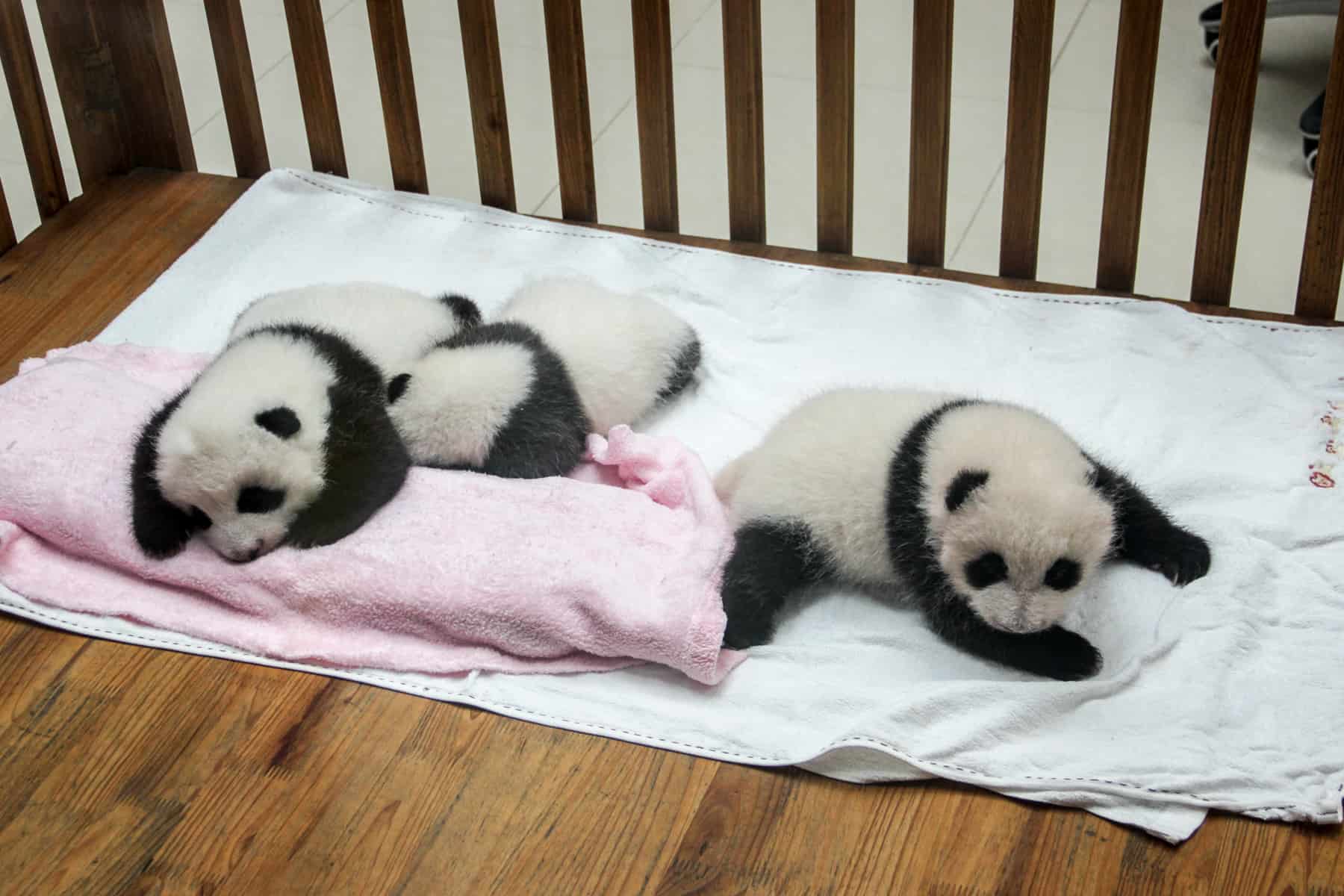 Holding and Feeding a Panda
It's here that you can hold a panda for around £135, except that it is out of most people's travel budget, and in the interests of responsible practice, it is better to leave them as wild as possible in their habitat in the enclosure. Although living in captivity, the Panda is still a wild and potentially unpredictable animal. I also think this practice of being passed around humans and having a camera flashing in your face all day is a bit cruel.
You can pay for other experiences here, such as feeding the pandas, where you stand on a viewing platform, attach a piece of bamboo to a long stick, and lower it down for the panda to take from you. It was a lovely sight, except when a woman dangled the stick and moved it up and down, meanly teasing the panda who nearly fell off the ledge of its enclosure trying to catch it. Irresponsible tourists have no place here.
The Goodness of The Giant Panda Breeding Base
Apart from shattering my childhood view that all pandas are black and white and fluffy (they are mainly black and yellow and slightly matted), this was one of the best and most delightful days out I have had in China. The Giant Panda Breeding Base states: "Successful conservation programs require the combination of good science and effective communication about needed human conservation behaviour" and it certainly lives up to its word.
Even if your interest doesn't lay this deep, the sheer size and man-made beauty of the place and the close proximity you get to the pandas is an experience in itself.
Cost of a Chengdu Panda Tour
Getting to the Giant Panda Breeding Base
There are two ways to get to the Panda base.
Private trip
An inexpensive private trip of approximately 200 Yuan (£20), including round-trip transport from your accommodation.
Metro and Bus
No matter where you are in the city, you must take Chengdu's Metro Line 3 to the Panda Avenue Station (signed posted with a Panda) and leave via Exit A. From here, you will pick up one of the buses – D025, 198, or 198A – that goes to the Panda Base Bus Station.
Entrance to Chengdu Research Base of Giant Panda Breeding
Tickets cost RMB 55 per person (full price) and RMB 27 per person (concessions).
A skip the line ticket can be purchased from Get Your Guide, where the printed or mobile voucher is accepted.
The Panda Centre is open from 07:30 AM – 18:00 PM throughout the year.
Planning a Giant Panda Tour in Chengdu? Pin It for Later!