Disclaimer: This post contains affiliate links to handpicked partners, including tours, gear and booking sites. If you click through or buy something via one of them, I may receive a small commission. This is at no extra cost to you and allows this site to keep running.
It takes three hours winding the 762 road curves by bus to get from Chiang Mai to Pai – a vibrant, quirky mountain valley in Northern Thailand that is close to the Myanmar border. Here's how to take the journey and what to do in Pai when you arrive.
Once a quiet market town, turned popular traveller hub, it's fast become a backpacker haven known for its super-chilled, relaxed and hippy vibe. Which you will appreciate after the dizzy journey to get there.
However, despite the multitude of guesthouses, restaurants and souvenir shops that you see so often elsewhere, Pai does things differently. Set within a stunning mountainous backdrop, Pai does it in colour, like a rainbow which decided to explode amongst a winding valley full of jagged green hills, and Pai does it in artistic style – the kind that's as childish and fun as it is quirky and unique.
For those heading to Chiang Rai to trek after a trip to Chiang Mai, try and squeeze in Pai as an extra stop in between. It exceeded my expectations, despite it not feeling very Thai at all. Cemented in a Thai Rasta and hippie culture, I enjoyed the decorative, carefree vibe that came with it. I happily spent four days quite literally doing nothing except casually roaming and lapping up the relaxed café culture vibe.
How to Get From Chiang Mai to Pai
The bus from Chiang Mai to Pai costs around $5, via the winding route 1095. It takes around five hours and leaves from the Arcade Bus Station in the north-eastern fringes of Chaing Mai city. Tickets can be purchased from the counters at the station, but it is advised to arrive with plenty of time beforehand as tickets can sell out quickly.
There is an option to pay a little more and ride in a shared mini-bus, which costs from $6-$8. This shortens the journey time to around three hours.
You can book all tickets online via 12Go Asia.
The hundreds of curves are no joke and coupled with the desire to look out the window at the stunning scenery, may cause sickness. Be prepared and purchase some motion sickness tablets before your adventure.
You get back to Chiang Mai from Pai the same way you come in – via the winding bus ride.
Things to Do in Pai
Pai is more than a day trip, especially after the arduous, often stomach-churning drive. Mostly what you do in Pai is relax. Spend hours at cafes, bars and on hillsides admiring the view. Where to relax can be easily broken down into three distinct areas.
Visit Pai Town
The small town and its main walking strip may look nondescript in parts, yet the shops, restaurants and cafes ooze character and creativity. It's rare to find any that are plain in design. There's a good coffee culture of quality brews; food is wholesome with plenty of clean, vegan and vegetarian options; the locals are laid back and welcoming in a small community environment, and gone are tacky souvenirs for more stylish and arty finds.
The life of Pai is about finding your happy place, relaxing your body and mind and taking everything as it comes.
Relax in Pai Countryside
Only a short walk away from the main streets and guesthouses is the riverside and surrounding countryside, which includes hot springs, waterfalls and caves. It's untouched land that makes you feel like you are the only person around.
Yet to succumb to tourist ruin, Pai still looks like a perfect picture postcard; sometimes a bit like Middle Earth.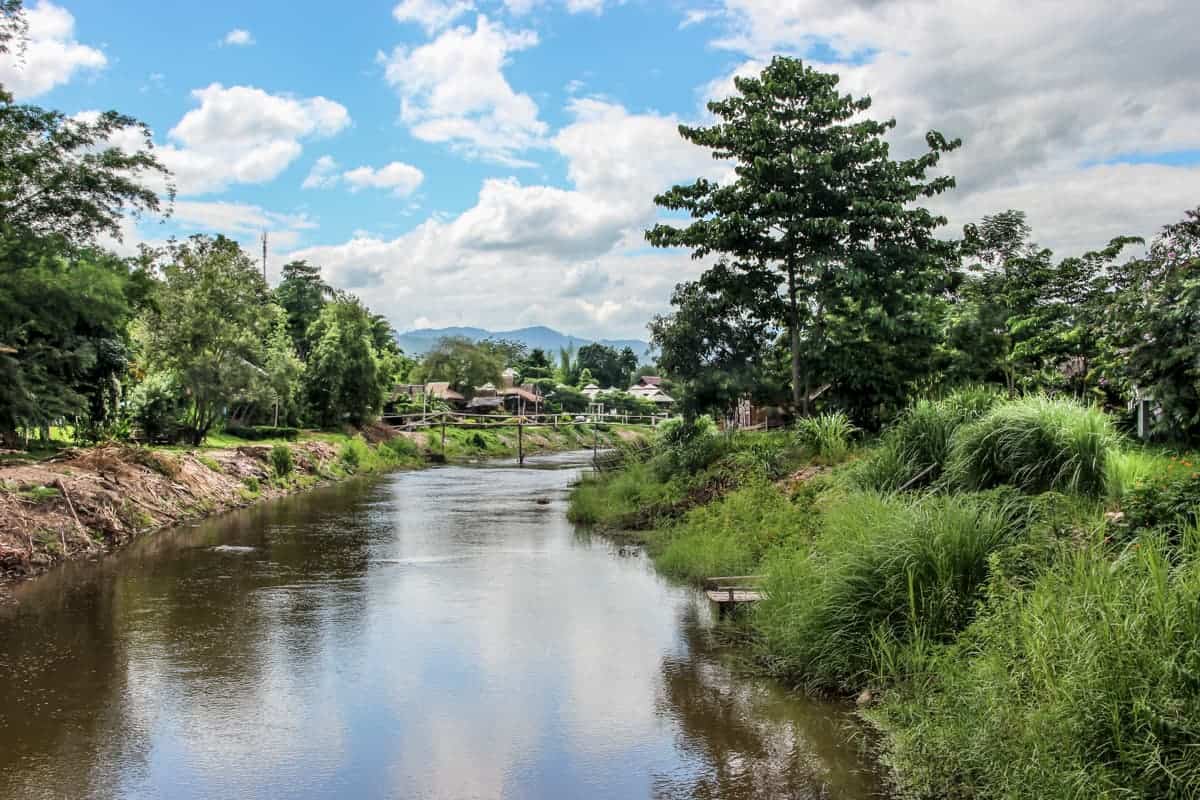 Those looking to learn Muay Thai boxing in Pai will find themselves at a gym in the Pai countryside, where you can sweat out to a green valley view. You'll find many signs advertising full-day lessons to multi-day sessions – in contrast to the do-nothing vibe.
READ MORE: Trying Muay Thai Training in Thailand – An Attempt at Being a Pro Fighter in Pai
Explore the Pai Hills
Grab yourself a bike and set off on the exhausting, yet rewarding journey outside of Pai's main bustling streets, which will bring you to a whole host of funky guesthouses, street artistry, houses that look like they are from fairy tales, and cafes whose imaginative themes jump out at you from every new corner you turn and hill you climb.
Pai, famous for its curves, may mean actually pushing your bike rather than riding it, yet the reward is the exhilarating downhill part.
Signs in town and general word of mouth advise against moto riding for that very reason – unless you want matching ankle and elbow bandages like many of the travellers here.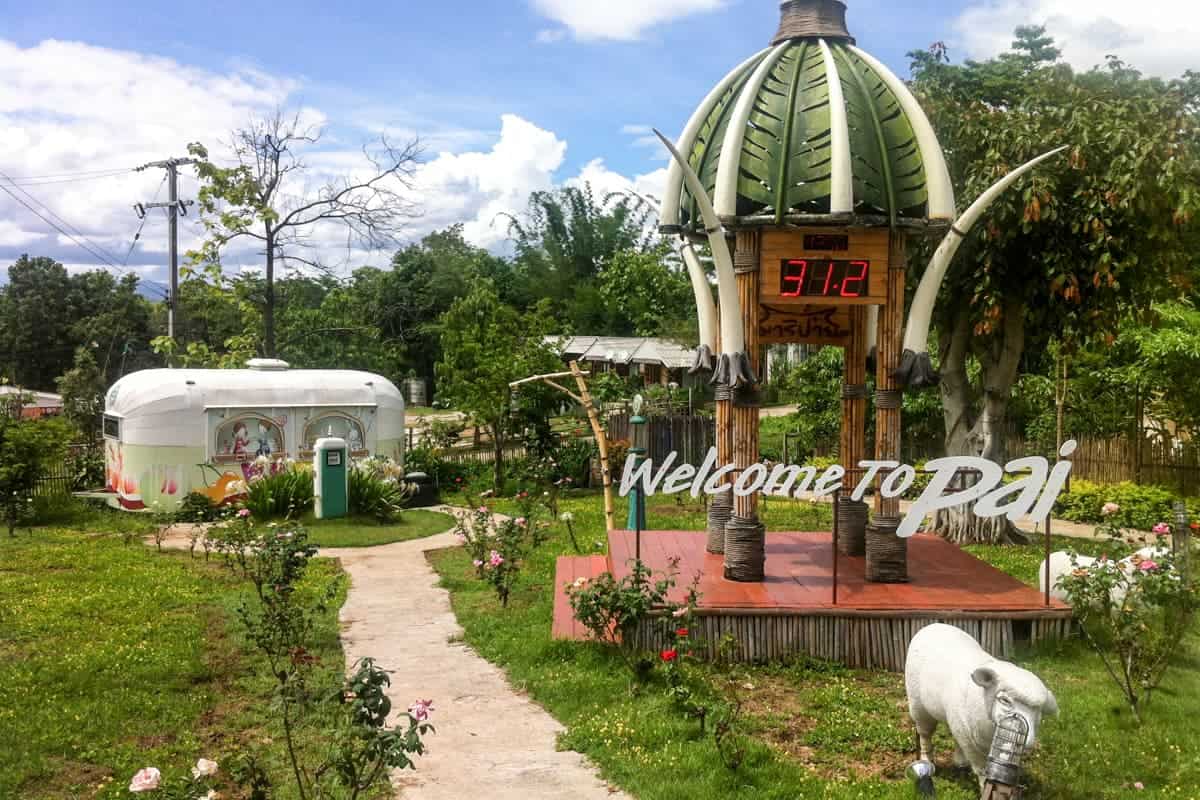 My favourite cafés were Container and the Strawberry Café – both with excellent panoramic views over the valley.
My friend and I spent the most time in Strawberry cafe eating, drinking and sampling everything from strawberry shakes, ice cream, wine and vodka. It was one of the very first cafes we noticed on the bus ride into the town on the Chiang Mai to Pai road, so keep an eye out for it!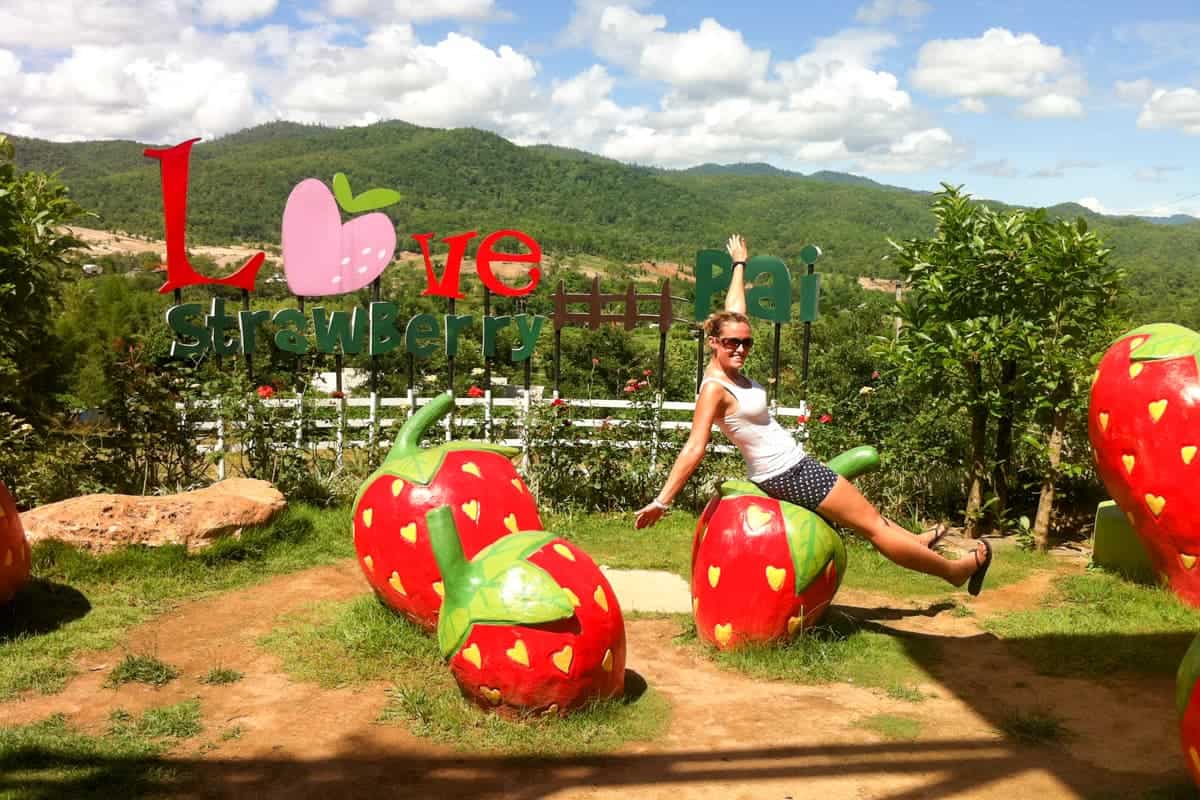 Travel Chiang Mai to Pai and See a Different Side to Northern Thailand
Pai may be popular, but it doesn't feel overcrowded. A traveller haven for relaxation after a more rustled city pace in Chiang Mai, Pai hasn't become ravaged by the continuous stream of visitors and even the small handful of bars there haven't ruined the atmosphere with a raucous vibe.
This town provides an escape from the cities and a window into the rural side of Thailand.
Just don't expect a fast pace there, or to make it out in a day or two.