Disclaimer: This post contains affiliate links to handpicked partners, including tours, gear and booking sites. If you click through or buy something via one of them, I may receive a small commission. This is at no extra cost to you and allows this site to keep running.
Tourists can now enter the former US Embassy in Tehran dubbed the Den of Espionage. It's now been turned into a museum.
It was once closed to the public, and tourists rarely got a look inside the US Den of Espionage in Iran's capital, Tehran with its sporadic opening times.
With time in Tehran, I managed to be allowed in. It was already a museum-like interior, although that wasn't something I was expecting to see. It's not surprising that the Den of Espionage is now an official museum.
The former US Embassy in Tehran is not hard to miss. Its long and imposing walls are coated in colourful, provocative murals and slogans denouncing the USA. Travellers over the years might have seen slogans like the 'Great Satan' and 'the most hated government in the world' denouncing the US. Yet this is in no way reflective of how everyday Iranians think and feel now. It's quite the opposite since Americans are welcomed to visit and are not barred from tourism.
The mysterious building was a magnet for tourists eager to photograph and peer over its walls, trying to envisage the historical day that completely severed diplomatic ties between the two countries, and which further propelled the construction of modern-day Iran. Now they can go inside and learn all about it.
This area provokes the fervency we see in the media, rendering this area and its murals very exhibition-like, and not to be taken at face value. They are now a part of the museum and its topical focus – the history between Iran and the US.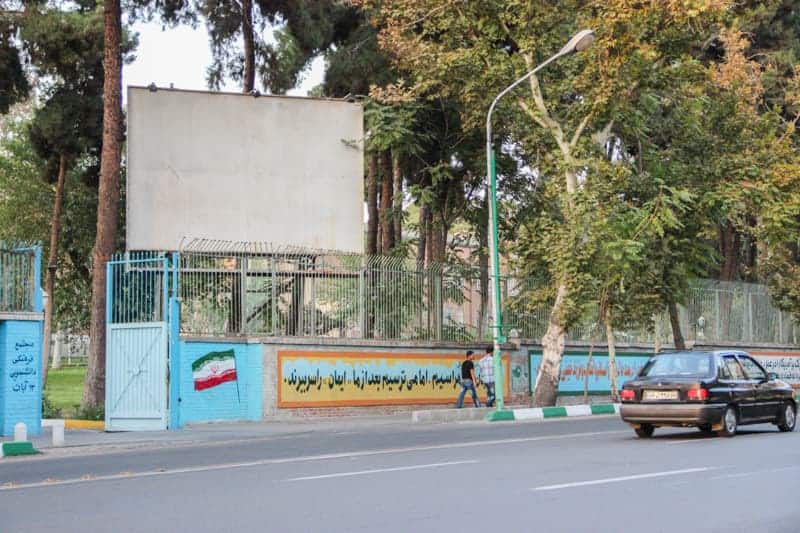 History of the US Den of Espionage
On November 4, 1979, militant students supporting the Iranian Revolution leader, Ayatollah Khomeini, stormed and seized the US embassy, claiming the US was orchestrating a CIA plot to undermine the Revolution, especially with its continued support of and asylum granted to the then overthrown (Royal) Shah of Iran, Mohammad Reza Pahlavi.
This day sparked an international crisis that saw 52 Americans held hostage for 444 days. The US broke off all diplomatic relations following the release of all hostages, but they have never been restored since.
The Former US Embassy in Tehran – What it Means Today
Before it formally became a museum, the Iranian government dubbed "US Den of Espionage" became the home to hardline defenders of the Revolution and was used as a training ground for the Revolutionary Guards and a stage for anti-US demonstrations.
It was one of the most coveted buildings in all of Iran. Heavily guarded and concealed, it is said tourists were often told to leave the area, despite the somewhat crass murals of the skull-head statue of liberty, American flags covered with weapons and barbed wire, and anti-Israel messaging drawing the eager eye. Even a 'Down With USA' mural would greet all who entered and exited the metro station.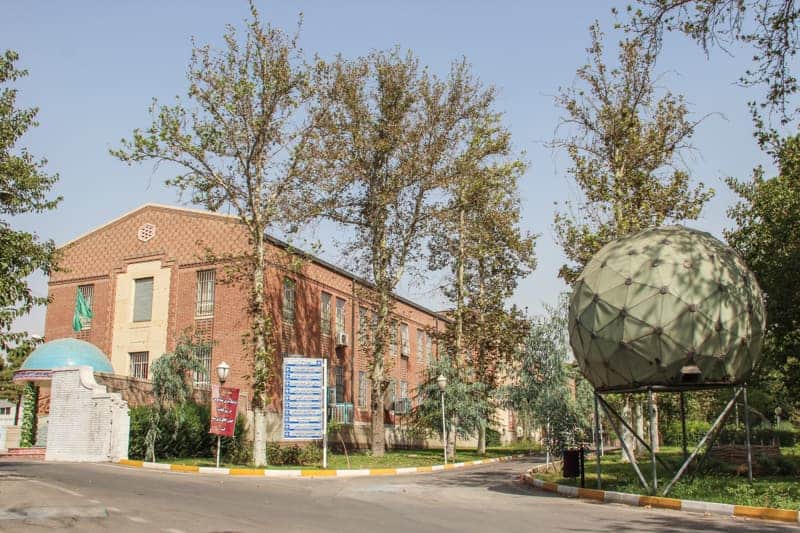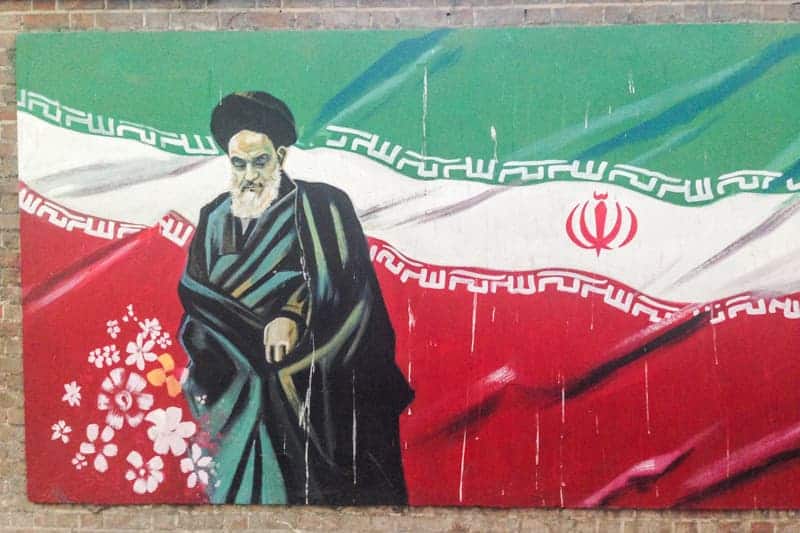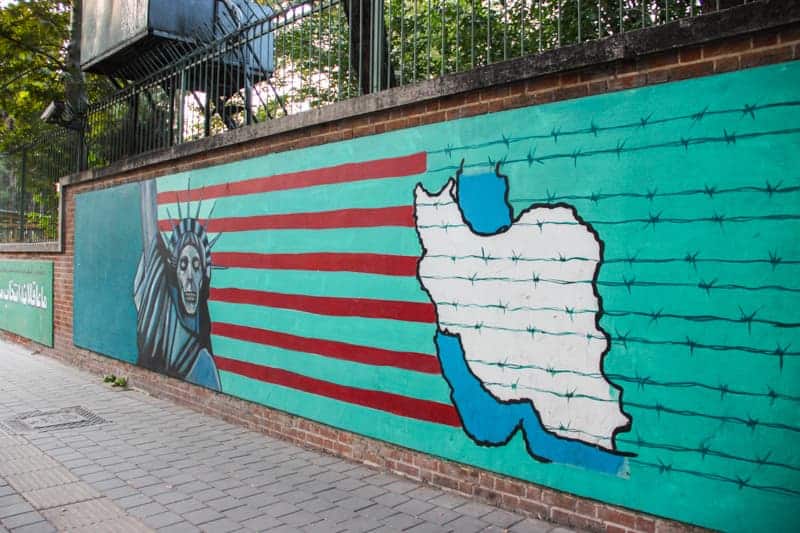 On the surface, the images confirm the country's anti-US sentiments that we often hear about in Western media; in reality you'll soon find them conflicting with the aspirations and outlook of today's open-minded generation.
Inside the building, the sentiment of that day continues with a 'museum' depicting the stages of the 'Iranian Hostage Crisis' and a showcase of further artwork, alongside machinery, documents and other evidence found inside during the takeover.
Visiting The Den of Espionage Museum in Tehran
When I first visited during the Tehran segment of my Iran tour, every person in the group wanted to visit, hoping our Persian guide would help us gain entry. Rumour had it that it was only open for a few days in the first two weeks of February, yet the man at the gate told her that they would be letting people in that coming Saturday after our tour had ended.
Despite having to be on a guided tour because I held a British passport, I had two days afterwards to explore Tehran independently – moving independently around the country as a Brit isn't permitted.
Approaching the gate with another traveller friend in tow on that Saturday, I asked about entry only to be told it wasn't possible. My reasoning about my guide's earlier conversation was still met with strong dismissal. I was told to come back on this day armed with cash as a form of entry fee. It was still a no. Just with a continued persuasive calmness and a dash of cheeky determination, we eventually settled on a deal that set us back nearly 1 million Rial ($40).
Today, entry ti the Den of Espionage Museum ticket costs 300.000 Rial ($7).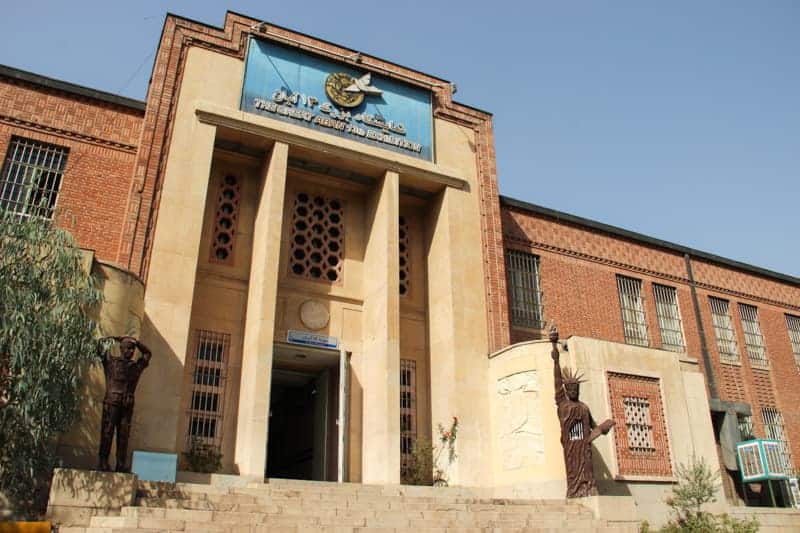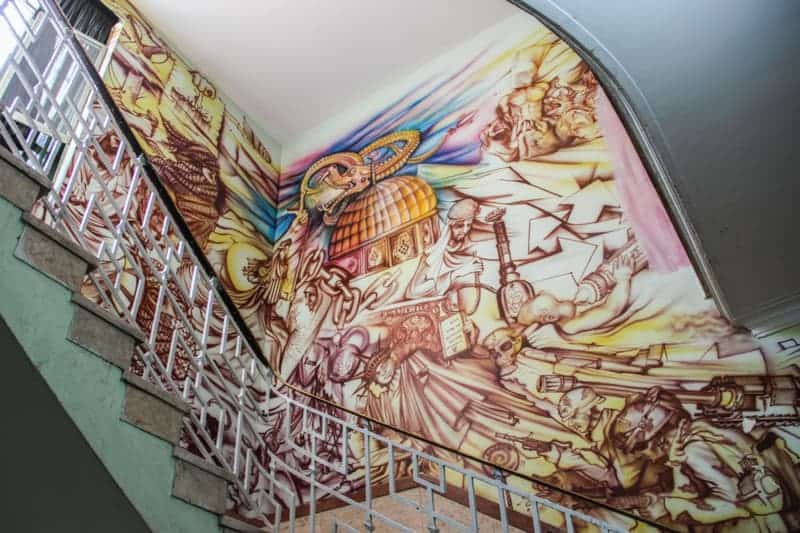 Espionage On Show
From reconstructions of soundproof dens, spying equipment and machinery, alongside the pieced together shredded documents which the hostages frantically tried to destroy during the takeover (which have since been turned into books), parts of this place are as shocking as you imagine.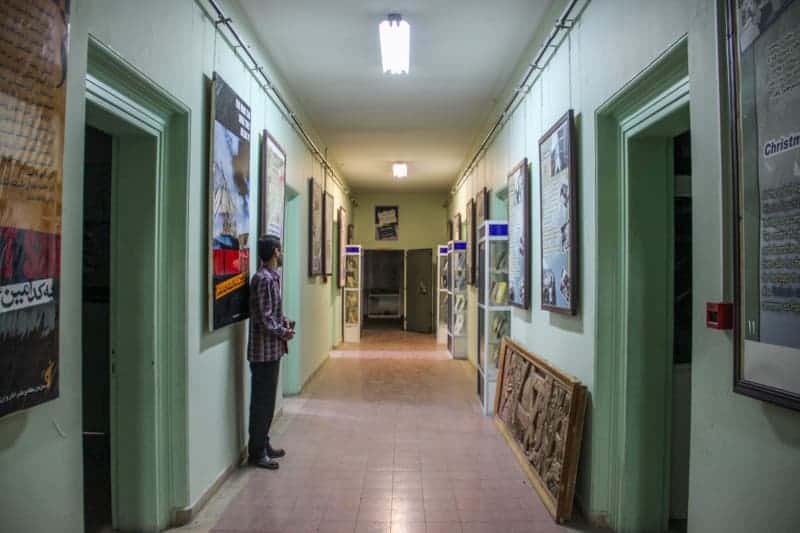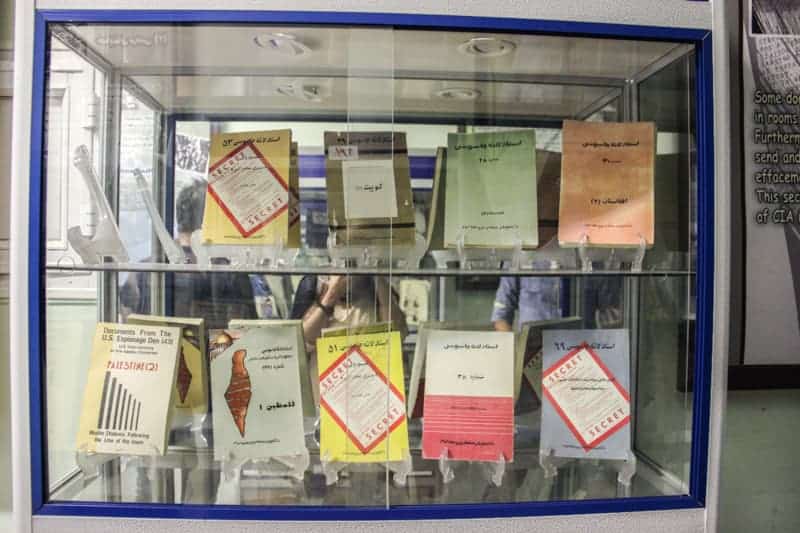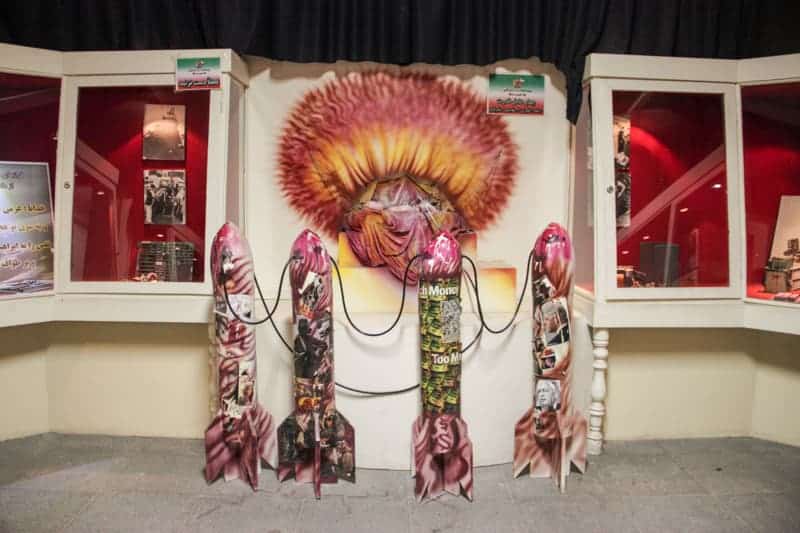 Should you Visit the Den of Espionage?
The "US Den of Espionage" is a significant element of the constriction of the Iranian regime's psyche, and even just a glimpse at the murals is essential in trying to understand the components that make up modern-day Iran and some of the 'political' components that exist that are in no way reflective of the general population.
More importantly, one should visit to make up their own mind about the situation, while observing that the local people who walk past simply pay no attention.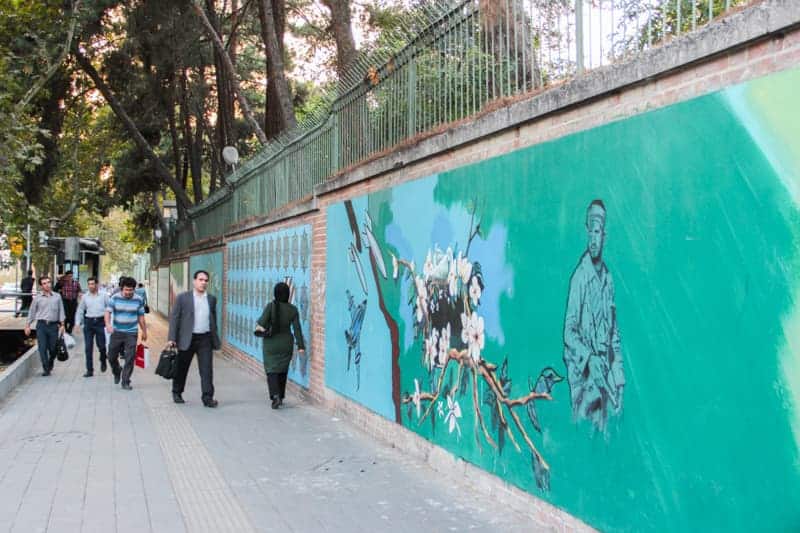 Things to Know About Visiting the Former US Embassy in Tehran
The Den of Espionage Museum is open daily from 9:00 AM – 1:00 PM and 2:00 PM – 5:00 PM.

The ticket entry cost is 300.000 Rial ($7).
I don't know if the new official museum set-up means that income goes to the militia group supporting the revolution who were once stationed here. We were informed that those on National Service worked here also. Whether they see any of those funds is unknown.
At the time of visiting, it was said that plans were in place to remove all anti-US murals across the capital within a matter of months. Pressure mounts for moderate President Rouhani, who is seen to be paving the way for more open political relations, especially in light of the current tensions over Iran's nuclear programs. However, looking at recent photos online, new murals are present, still playing into anti-US sentiment.
An easy-to-digest timeline of events of the 'Iranian Hostage Crisis' can be found here.