Disclaimer: This post contains affiliate links to handpicked partners, including tours, gear and booking sites. If you click through or buy something via one of them, I may receive a small commission. This is at no extra cost to you and allows this site to keep running.
Flying on the Taiwanese airline Eva Air Hello Kitty plane is a happy journey. From check-in to meal time, everything is Hello Kitty themed.
Flying on the Eva Air Hello kitty plane is a way of living out a childish dream as an adult. I've loved everything Hello Kitty since my early teens when my Asian friend at school would bring me back stationary and various other items from her annual trips home to Hong Kong. 17 years on and proudly in my 30's, I still love Hello Kitty and have often considered trying to grow out of it.
Then Taiwanese airline, Eva Air did something incredible. This is an Eva Airlines review with a difference because it's about flying with Hello Kitty.
Introduction to the Hello Kitty Airplane
Eva Air combined all the kitsch of Hello Kitty with travel by partnering with Sanrio to create six special themed planes, decked inside and out with images and paraphernalia. These ridiculously fun Hello Kitty planes travel to eight destinations to and from Taipei – Tokyo, Sapporo, Fukuora, Seoul, Guam, Shanghai, Hong Kong and more recently, Los Angeles.
In all the last-minute frenzy of booking the Eva Air flight from South Korea to Taiwan, with Eva Airlines being the cheapest, I completely forgot about the possibility of the Hello Kitty flight until the epiphany came a few days before take-off.
Scouring the web to confirm, I found the specialised Kitty EVA Air website, where I could cross-reference my BR160 flight number, and smiled as I watched the cute little Hello Kitty face float between Seoul and Taipei on-screen as my confirmation.
The theme runs through everything to do with your flight, starting with the check-in screens and your boarding pass. Nothing escapes the branding, so if you are not a fan of Hello Kitty, it's best to steer clear – it only gets more Kitty'fied as times goes on. It's like Eva Air is a secondary point to what is now simply Hello Kitty Airline.
When the plane arrived, crowds formed at the window to snap pictures of the 'Hello Kitty Loves Apples' plane – adults (ahem, parents) being just as enthralled as the children. I saw two businessmen cower in horror, having no idea of the spectacle that was to unfold before them.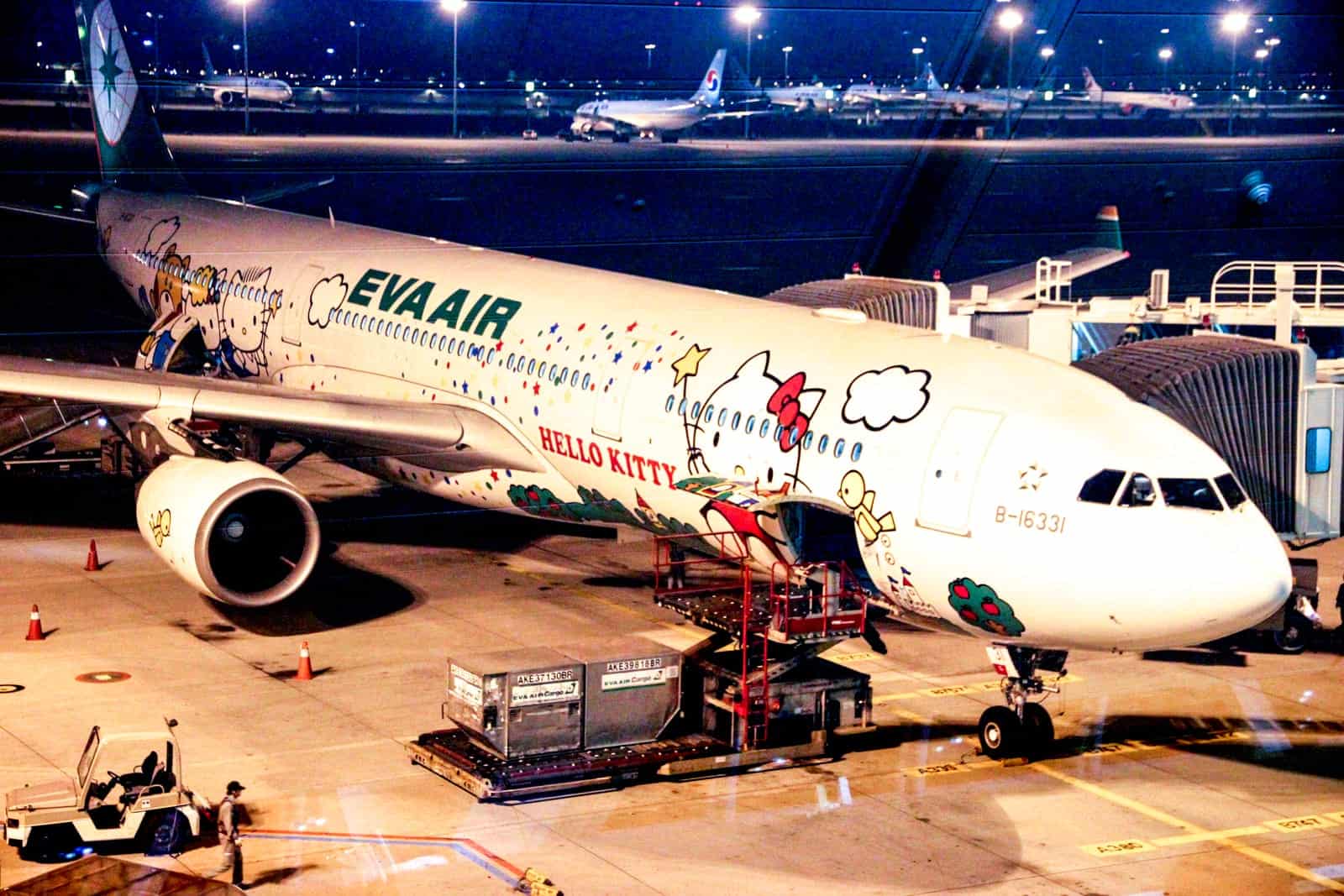 On Board the Hello Kitty Flight
Flight attendants greet you while dressed in pink Hello Kitty aprons and your first sight on board is the sea of Hello Kitty headrest covers, before you relax with your Kitty pillow, read your pink safety instruction card and watch the on-screen animations, which are a bombardment of kitsch, cuteness and joy.
Even the bathroom escaped the usual bland attire, with the addition of specially created, jointly branded Hello Kitty / Eva Air toilet paper alongside themed hand wash, hand cream and eau de toilette.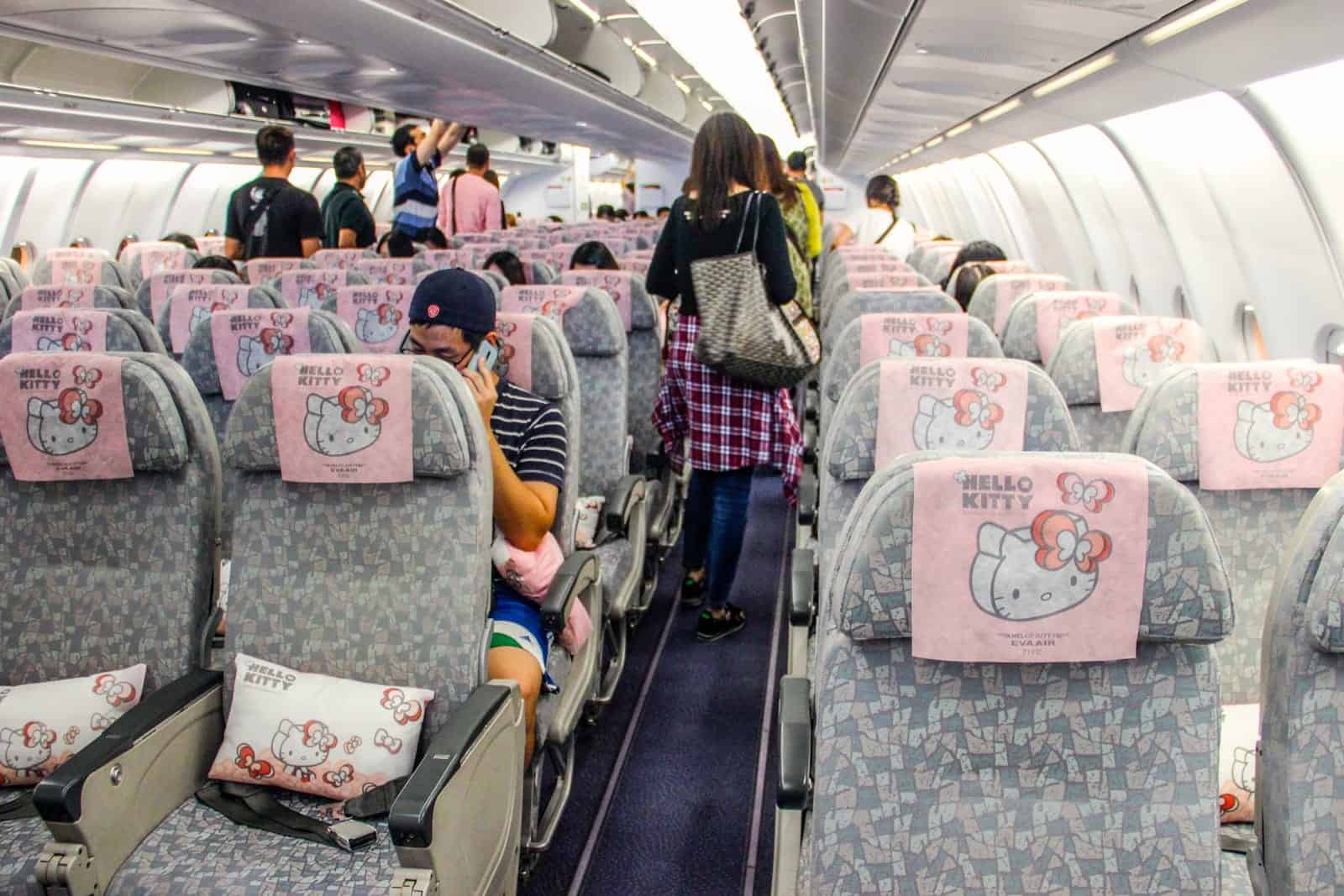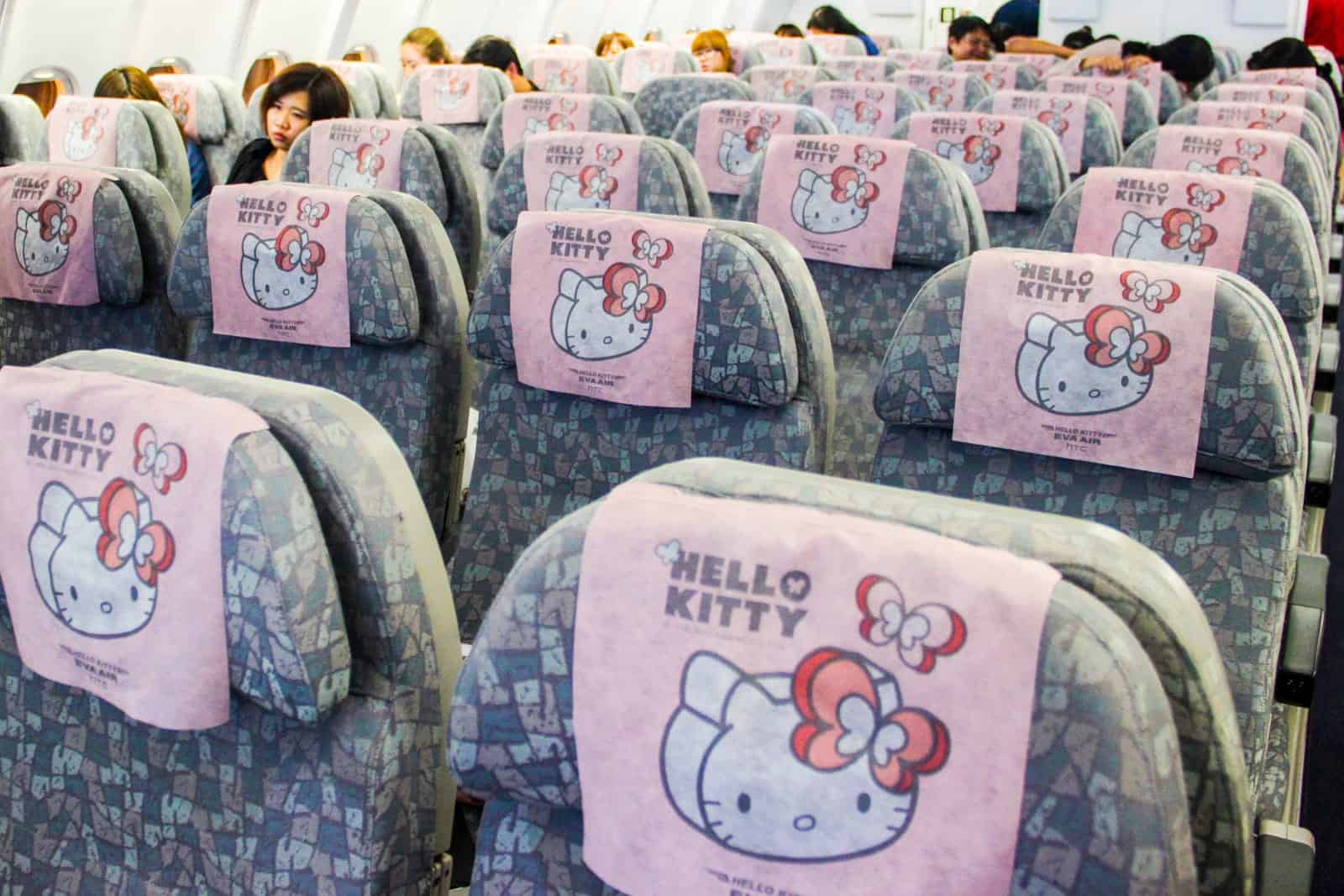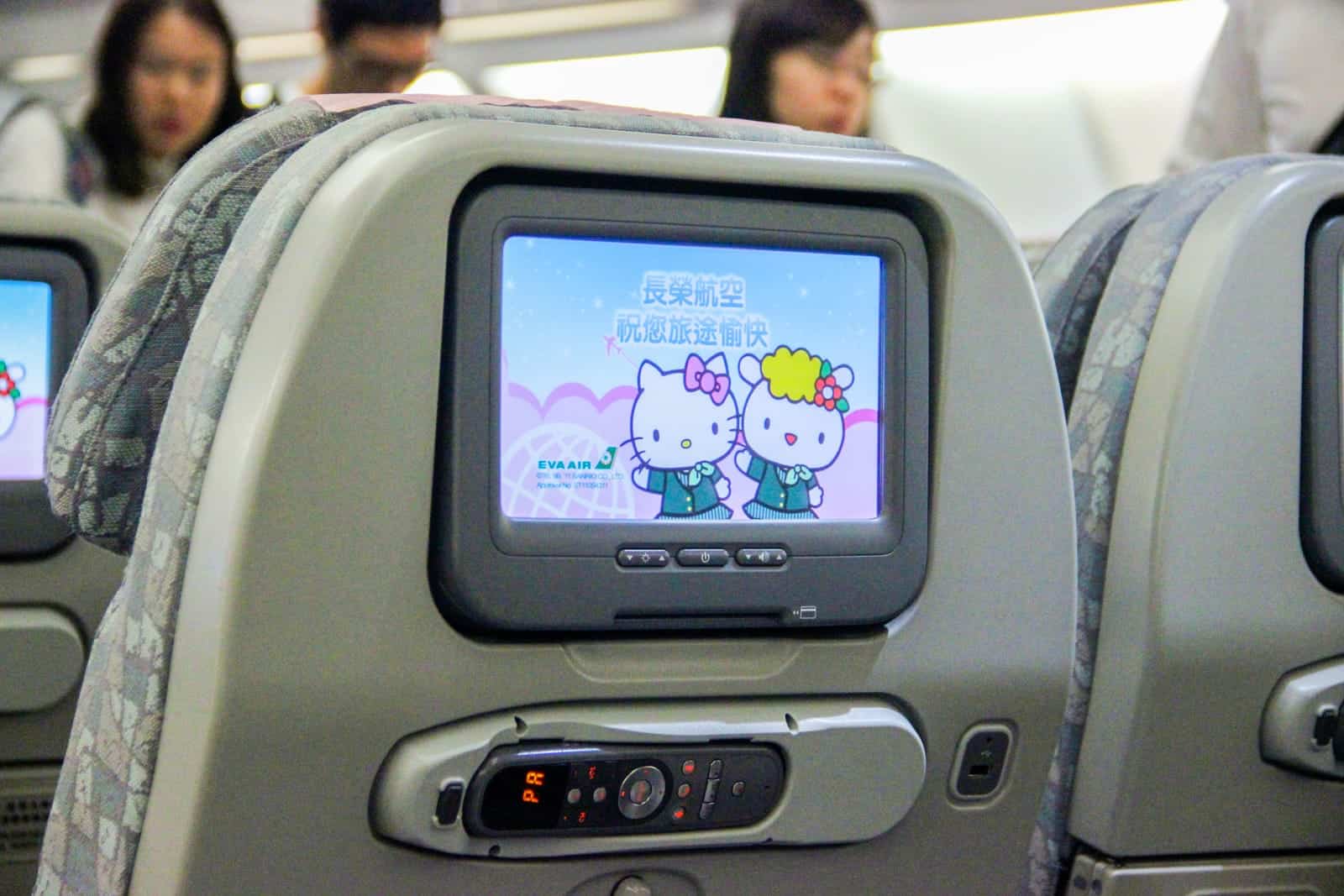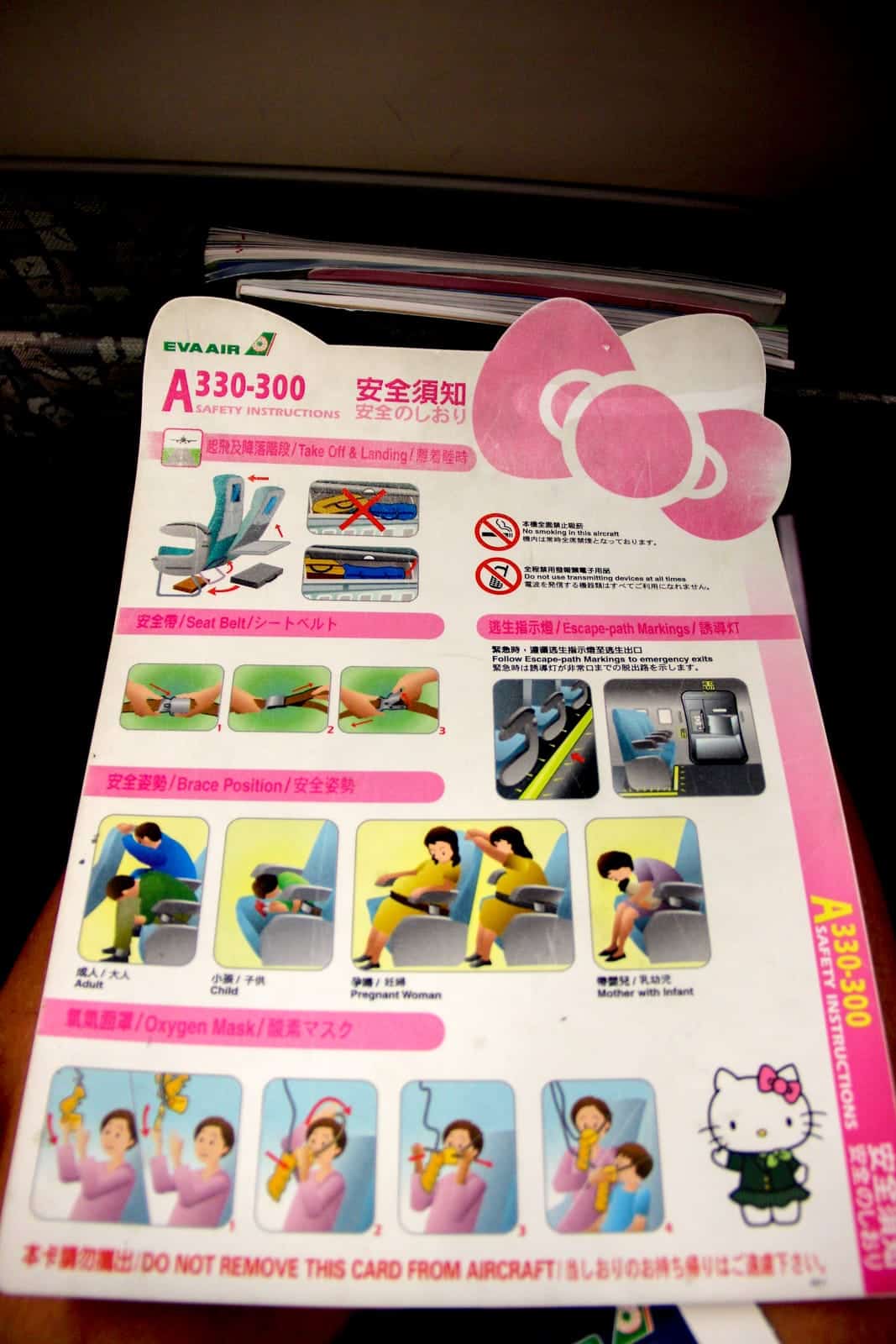 The attention to detail didn't stop there. Dinnertime was met with coos and giggles as our in-flight meal was served, complete with edible Hello Kitty foods to be eaten with Hello Kitty cutlery.
And I wasn't the only one who kept the knife, fork and spoon, the plastic coffee serving stick, sugar sachets, the tray cover, paper cup and everything else in between – many people were delicately cleaning up their wares and popping them in their bags as souvenirs.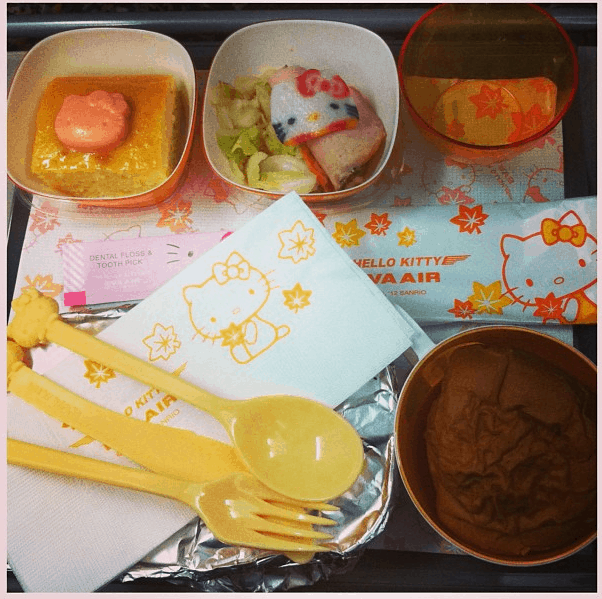 How to Love the Flying Kitty
I can honestly the Hello Kitty Eva Air experience was the happiest flight of my entire life. Even if you detest Hello Kitty, you can't deny that such an idea breeds a lot of merriment, no matter what your age.
As for the two businessmen, they happened to be in the seats behind me, spending much of the flight shifting in their seats and giggling nervously the entire time.
They really had no idea of the existence of this flight and nor will they forget it. Much like the rest of us.
Want to Fly on the Hello Kitty Plane? Pin It!