Disclaimer: This post contains affiliate links to handpicked partners, including tours, gear and booking sites. If you click through or buy something via one of them, I may receive a small commission. This is at no extra cost to you and allows this site to keep running.
Travel to Taiwan is underrated and the island relatively unknown. Here are the best places to visit in Taiwan to see it differently.
Underrated and rarely spoken about, travelling in Taiwan was put on the radar after I met a woman called Marie during my travels in India five years ago. Born and raised in the capital city of Taipei before moving to the USA with her family in her teens, she's spent years telling me incredible stories of her home town, the culture she left behind and (like many of my Asian friends) the food.
Her plethora of memories brought to life the little known island south of Japan and Korea, east of Hong Kong and north of the Philippines.
I dub Taiwan, "What China could have been" and while there is huge debate surrounding independence from China vs. China 'controlling' Taiwan, Taiwanese people (despite many being hereditary Chinese mainlanders) shout of their independence and their difference. Laid back yet open, proud but approachable, there is a distinct beauty in their nature that certainly marks them apart in their culture in comparison to what I experienced in China.
I've met people I can't wait to see again, in a land I will forever be shouting about.
I spent two weeks in the country, but that wasn't enough. A stunning mountainous plain, filled with thick forests, national parks and turquoise blue streamlined hiking trails, and surrounded by a multitude of towns and cities, each with their own unique offering, Taiwan is an outdoor lover's paradise as well as a culture vulture's playground. Falling into both categories, it fast became a country on my 'Live Here' list, yet I only scratched the surface when visiting the four key hotspots…
Travel to Taiwan – Start in Taipei
While there's more to Taiwan than just its capital city, many only give this burgeoning cityscape a couple of days of exploration and it deserves more. As you can see on the map, much of the main hive of activity includes the Longshan Temple, National Taiwan Museum, 2-28 Peace Park, National Concert Hall and the incredible Chiang Kai-Shek Memorial Hall in the west of the central city, the art and temple area to the north of Taipei Main train station and the Taipei 101 viewing tower and cable car in the east.
Every evening I navigated a new night market across this central area, the biggest and most well-known being Shilin much further north on the metro line.
For those wanting to explore further, my two favourite places in the city exist right at both ends of the Metro line. I lived right at the very north of the red metro line, 45 minutes from the centre in an area called Tamshui (Danshui) – a once-bustling port town occupied at various times by the Spanish, Dutch, Japanese and Han Chinese.
It's a hilly town full of stunning renovated colonial buildings and former residences, the site of the Spanish Fort San Domingo, beautifully landscaped Alethia University and narrow streets brimming with street food and market stalls.
I grabbed myself a map that outlined all the historical buildings, hired a bike for the day, leisurely perused the town and then hopped on a ferry over to the seacoast town of Bali to test out the huge and very picturesque cycling route there.
The last stop on the metro line, south of the city, is Xindian station and Bitan Park, another walking and cycling route that lines the Xindian River, flanked by green encased mountains and a huge cable suspension bridge. A juxtaposition of sorts, but a stunning area to explore.
Visit Tainan
Following the typhoon that hit Taipei on my final evening, my plans to head south to Hualien on the east coast were dashed when I arrived at the train station and absolutely no trains were heading there – the typhoon was moving that way.
Instead, I headed to the other side of the country to Tainan where I was due to end my travels. It fast became one of my most favourite areas of Taiwan and it was here that I stayed with a local couple Thomas and Abby, who enjoyed nothing more than proudly showing off their hometown and culture.
Not only did they take me on a little tour of Thomas' childhood town and a key temple in the area, but they gave me maps and insight into two key historical areas – the beautiful, cobbled stone district of Anping with its harbour front, temples, old streets and banyan tree root 'Tree House' and Tainan City – the oldest city in the country with plenty of shrines, temples and colonial buildings, perfect for a few hours of wandering.
READ MORE: Things to Do in Tainan – See Taiwan's Oldest City Differently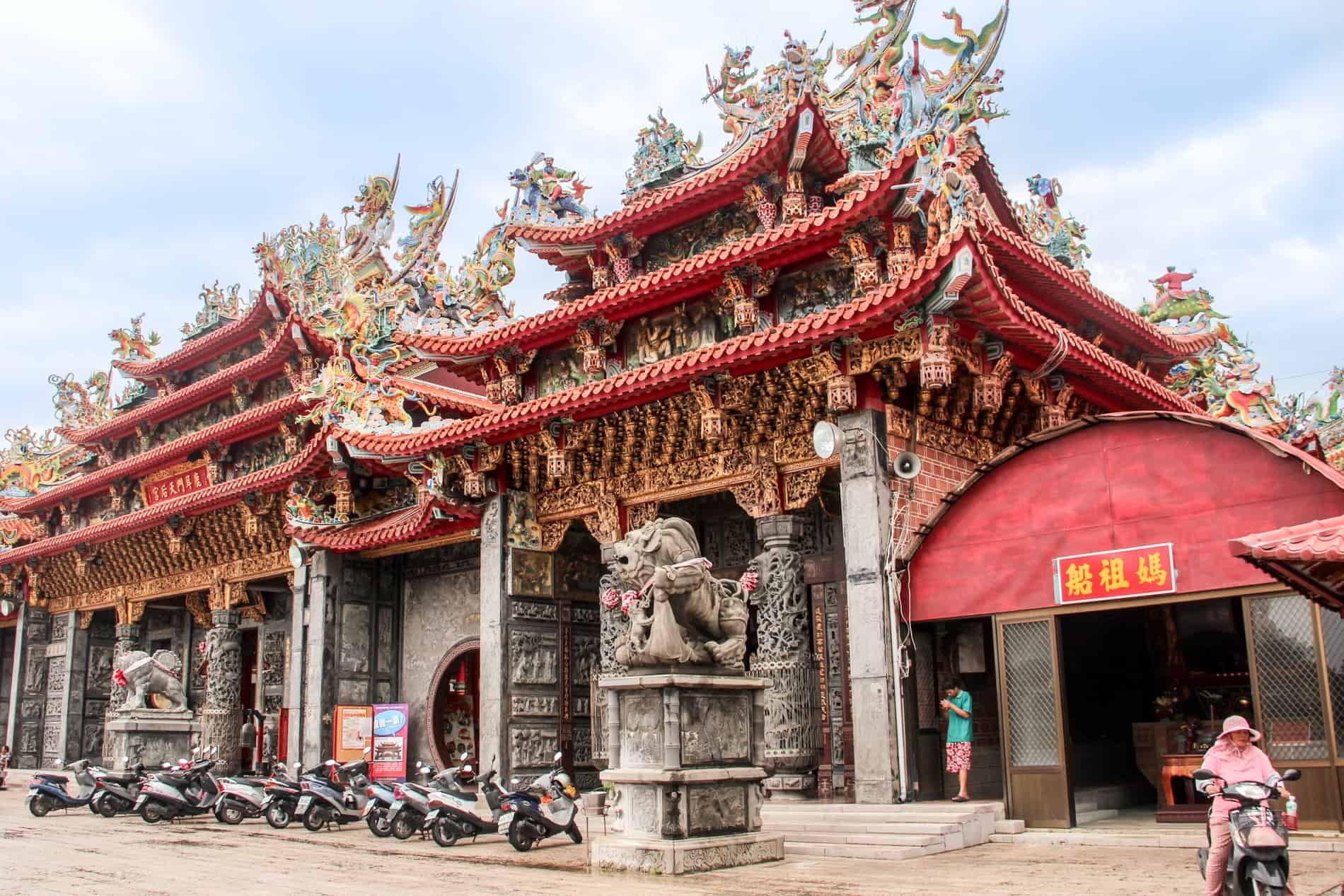 Taichung to See the Iconic Sun Moon Lake
North of Tainan is the huge yet nondescript industrial city of Taichung. With nothing much to do here aside from the science museum, many bypass the city, although it's a great stopping point if you want to reach Sun Moon Lake without rushing or leaving on early transport links.
The misty sky-lined Sun Moon Lake is day trip filled with scenic boat trips, mini-hikes, long walks and cycle routes encased by more mountains. When you see past the crowds, the views from up high are incredible. This is the largest body of fresh water in the whole of Taiwan and a government-controlled National Scenic Area.
READ MORE: Sun Moon Lake Attractions of Taiwan – Not as Sunny as You Think
Visit Hualien and Trek Taroko Gorge
Hualien has so many outlining towns and activities that it's impossible to list them all here, but due to being tight on time my main priority here was to get to the infamous Taroko National Park. Except the typhoon had meant two-thirds of it was shut down.
Deciding to make the most of what was open, my travel buddy and I donned our trekking gear, only to find 30 minutes into the Shakadong Trail, that the rest was behind 'no entry' barriers.
But those 30 minutes were breathtaking – a bubbling blue river, dotted with smooth boulders in a spectrum of grey and silver, flowing alongside marbled canyons that lined our rocky valley trail. This was most possibly one of the most luscious natural spaces I have visited and I WILL be back. Hualien itself might not look like much, but a random cycling adventure led to a few picturesque finds.
Two weeks in Taiwan didn't satisfy enough. With a central island route that takes you through mountainous hikes, historical trails, Recreation Areas and winding highways, in addition to other coastal towns calling for exploration including Lukang, Kaohsiung, Sanyi, Mataian and Yuli, one visit is really not enough.
Where To Stay in Taiwan
My top picks for budget stays and local experiences in Taiwan.
Taipei Hostels and Guesthouses
Alex's Oceanview Stay – A homely family-run guesthouse in the northern and historical district of Tamsui.
Banana Hostel – A small, cosy apartment-turned-hostel right in the heart of the city.
Tainan Homestay
At Home – A Taiwanese homestay in a modern apartment, close to the historical hotspots of Tainan.
Taichung Hostels
Joy – A simple, friendly, budget hostel and homestay offering with bike rental and group bike trips.
Hualien Hostels
Sleeping Boot Hostel – A small, funky and colourful offering right in the middle of town and near key transport links.
Search Taiwan Hotels and Hostels