Disclaimer: This post contains affiliate links to handpicked partners, including tours, gear and booking sites. If you click through or buy something via one of them, I may receive a small commission. This is at no extra cost to you and allows this site to keep running.
The history of German beer is more than just a drink, but is based on the traditions of centuries-old culture with its routes in Franconia. Here's where to enjoy the best German beer.
When visiting Franconia, I wasn't only at the geographical centre of Europe and Germany, but at the very heart of the German beer tradition and culture. In Germany, beer is more than just a drink; it's more than 'downing a quick pint' or drinking according to a popular brand.
The clinking of the litre-full ceramic beer stein in a centuries-old setting is a way of life – a cultural and social experience that has come to define German tradition.
I spent a few days exploring Bamberg and Forchheim – two of the best-known beer areas and two of the prettiest and most well-preserved architectural cities in all of Germany. Known for its finely crafted beers, the region of Franconia has the highest number of breweries per square metre than any other region in Europe and I only scratched the very surface of them.
Part of this German beer accolade in Franconia is down to the environment – an unspoilt countryside canvas of green hills and fresh spring waters, where 14 cities sit within 15 forest, valley, mountain and nature parks. It is here that beer is made using only the very best of ingredients – fresh water from the region, aromatic hops and locally grown, high-quality malt (barley).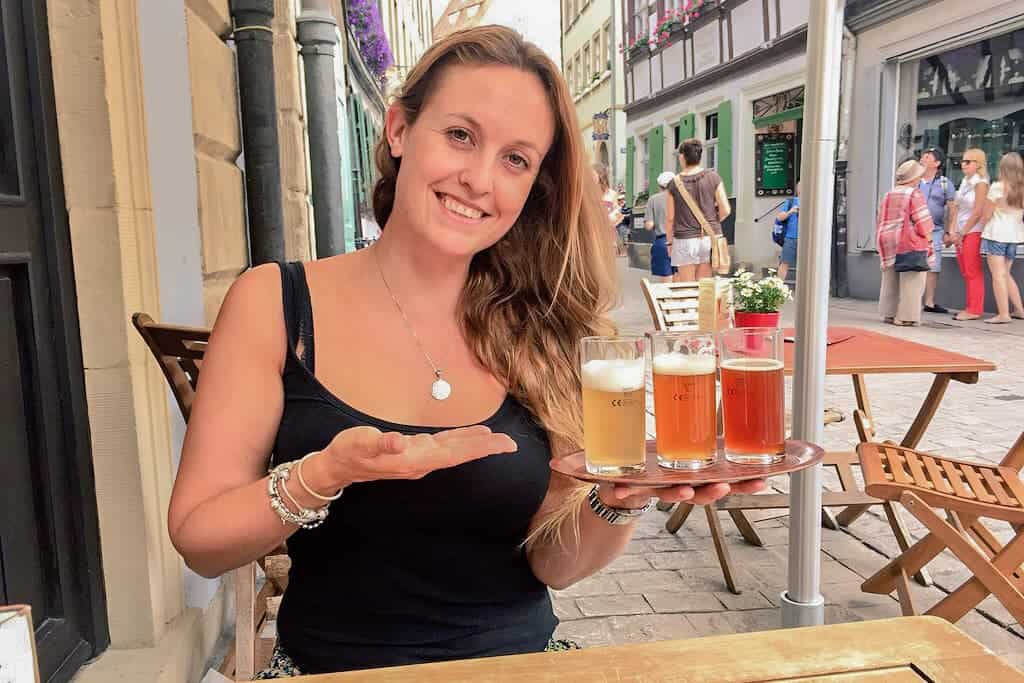 Here, German beer is of the highest quality, with unique blends and distinguished tastes straight from the barrels of atmospheric brewery taverns and historical beer festivals that last for days. And it all dates back to the history of the monks, where production first began.
Of course, one must always participate in copious amounts of beer tasting in the name of tradition!
Bamberg, Germany – 'The City of Beer' and the Legend of Monks
Bamberg is the go-to Franconian destination to learn about German beer tradition. There are over 60 breweries in the city and countryside combined (nearly every village has its own brewery), producing over 400 varieties of the good stuff.
First and foremost, the city's beauty may stop you in your tracks before you even get to a typical German beer tavern – a step-back-in-time cobble-stoned labyrinth of pastel colours and centuries-old detailed architecture, from medieval to baroque. With little bridges and curious pathways, the city is a romantic labyrinth where you can ride a traditional Venetian gondola along the River Regnitz and wind within the maze of alleyways, courtyards and bustling squares.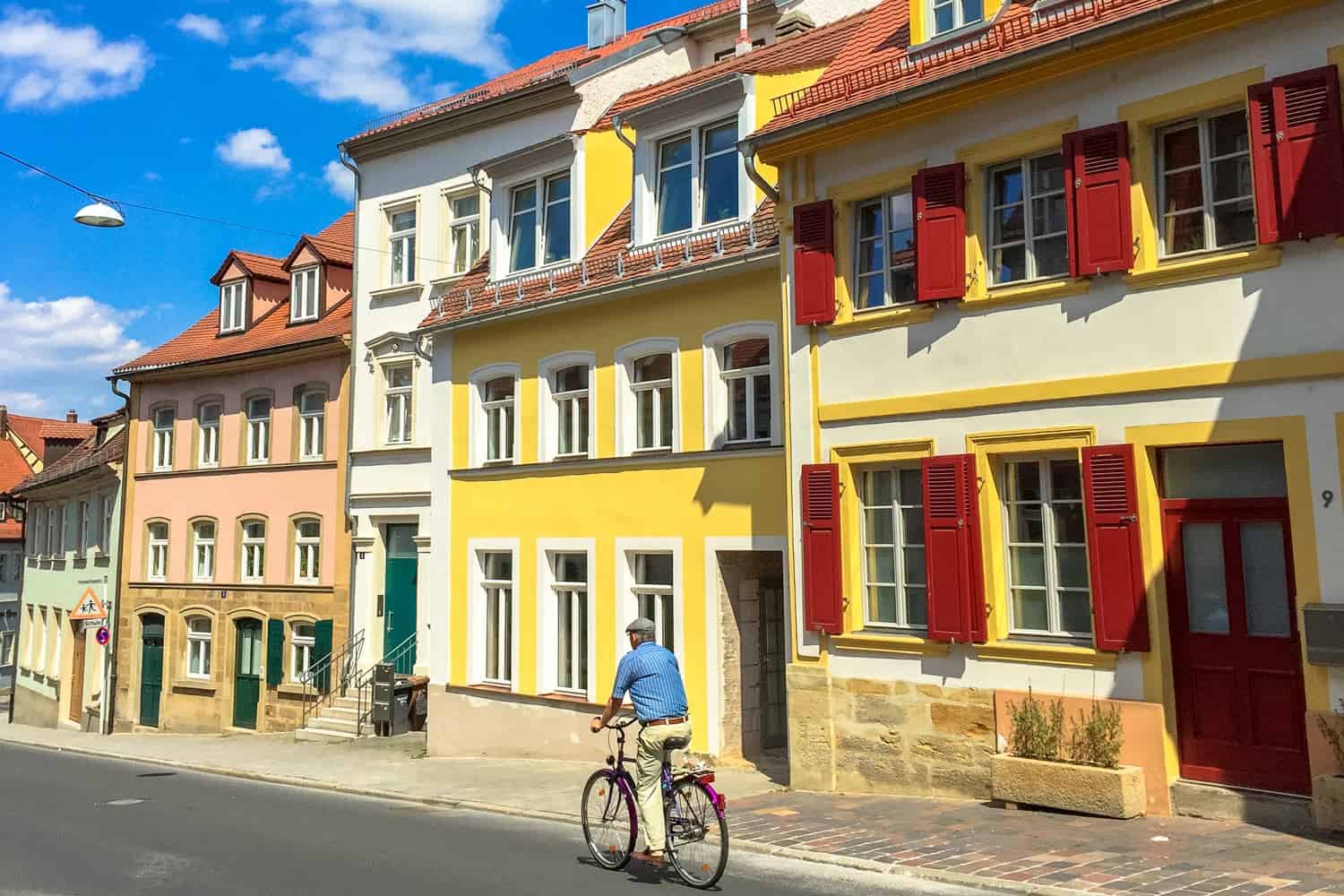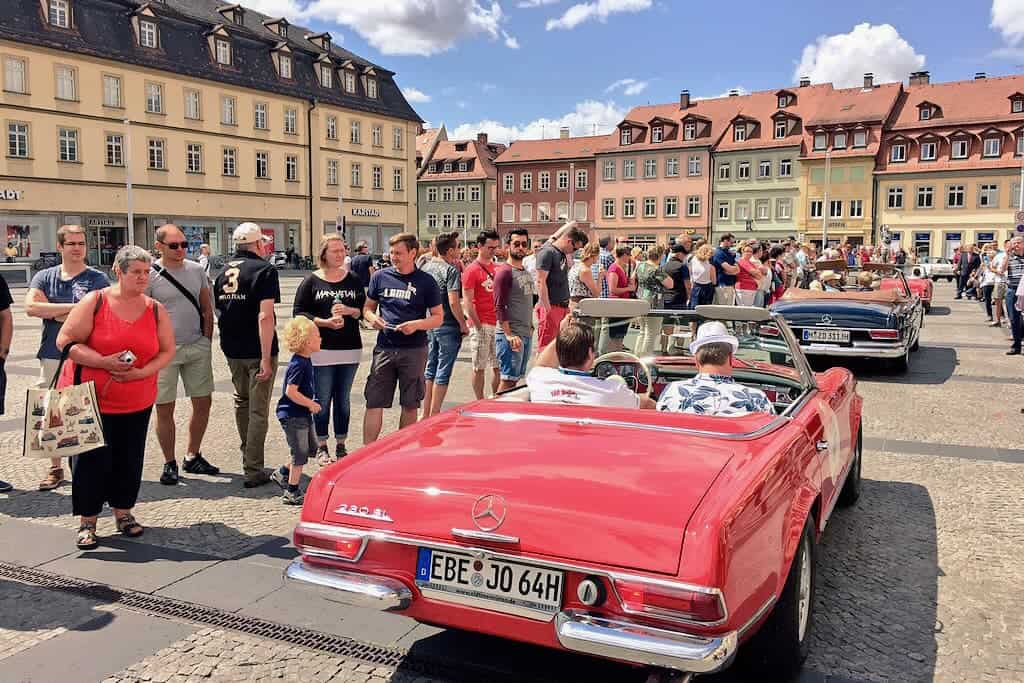 Said to be the largest historical old town centre of all German cities, you must spend time walking this 1000-year-old open-air museum, granted UNESCO World Heritage status. Hardly damaged from major wars, its original medieval structures and layout were not destroyed, nor were its later additions from the Romanesque, Gothic and Renaissance periods.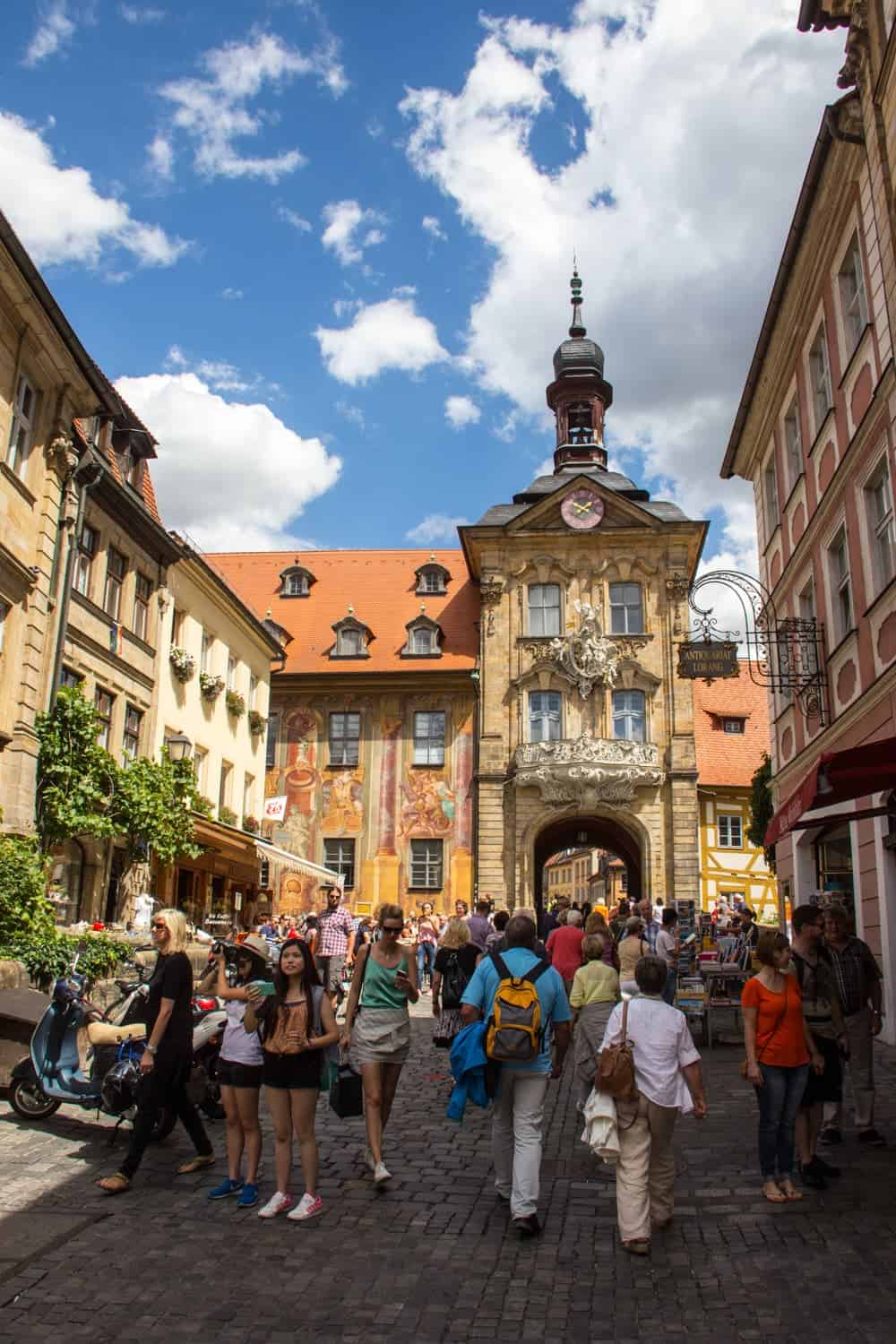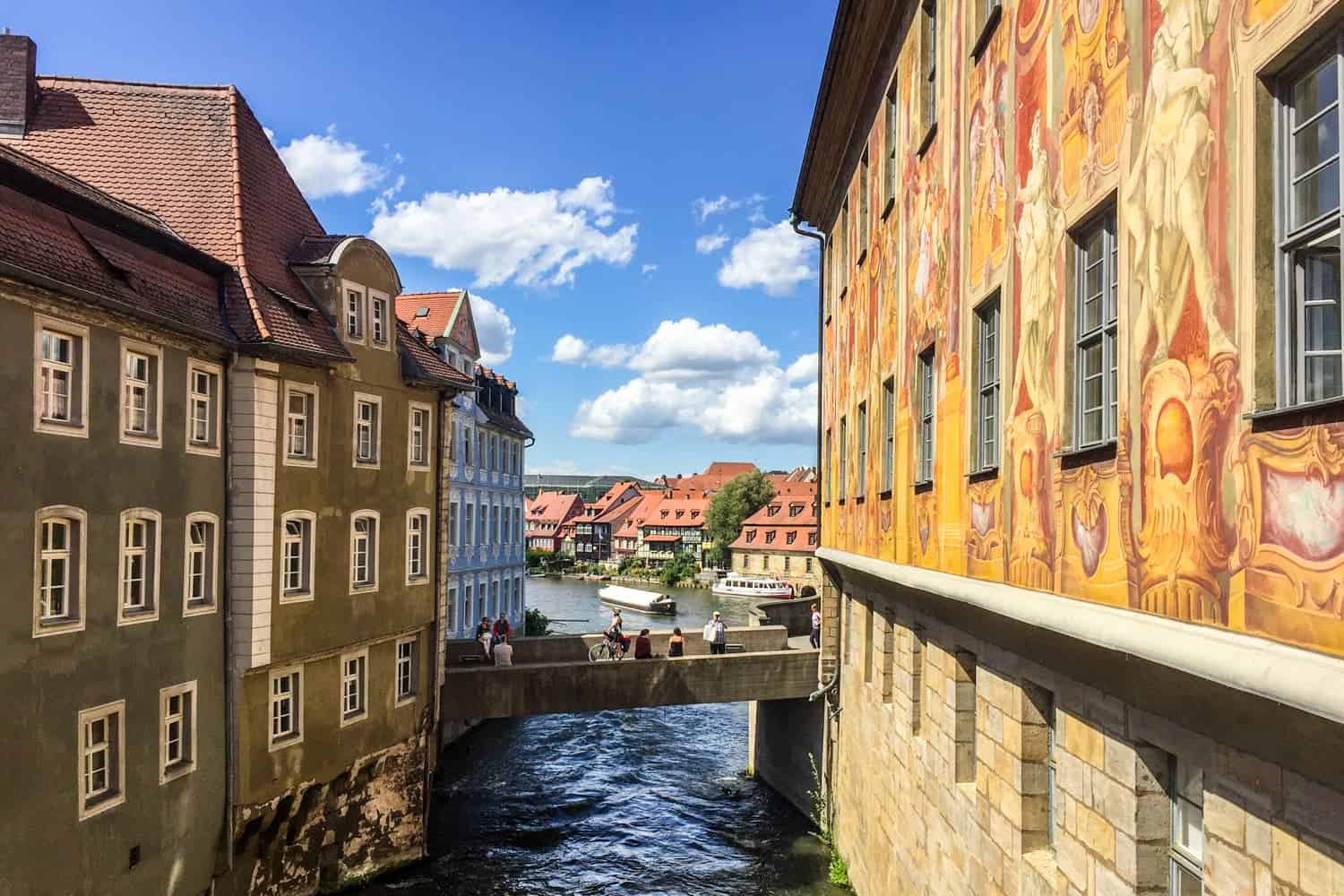 A city that was once the seat of estates of emperors and bishops, it is the Old Town that best showcases Bamberg's centuries-old treasures from the 11th century to 1802. Head to the grand and gothic-style Cathedral, the residence of the medieval archbishops and the panoramic views of the city from the manicured Rose Garden opposite the Old Court.
The most famous of all is the 14th-century Imperial Old Court which sits on the river like an exquisitely decorated gingerbread house.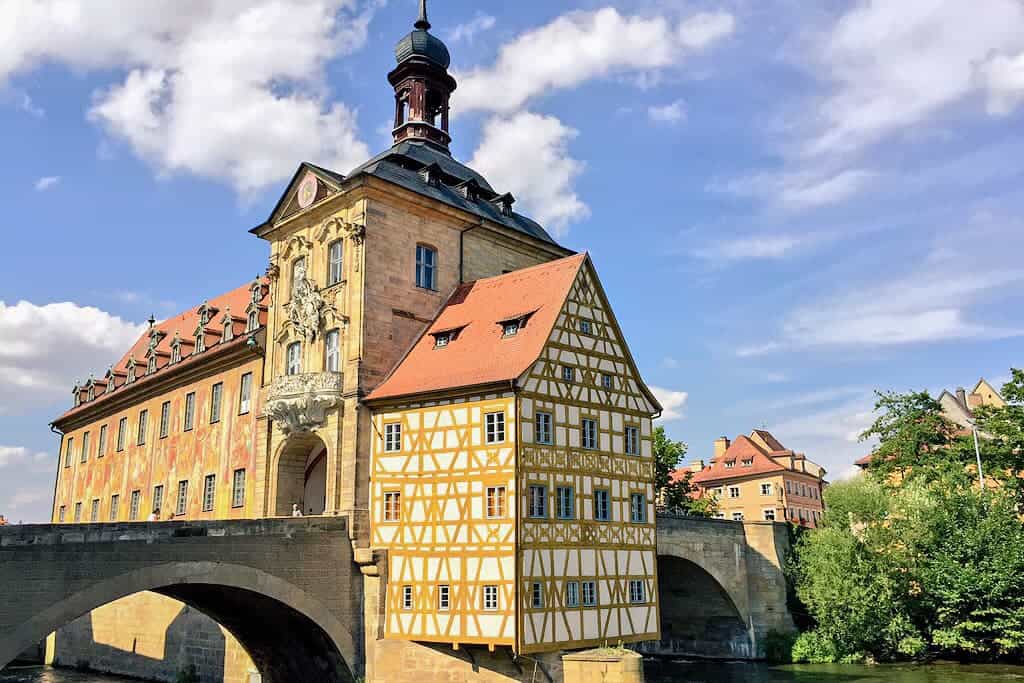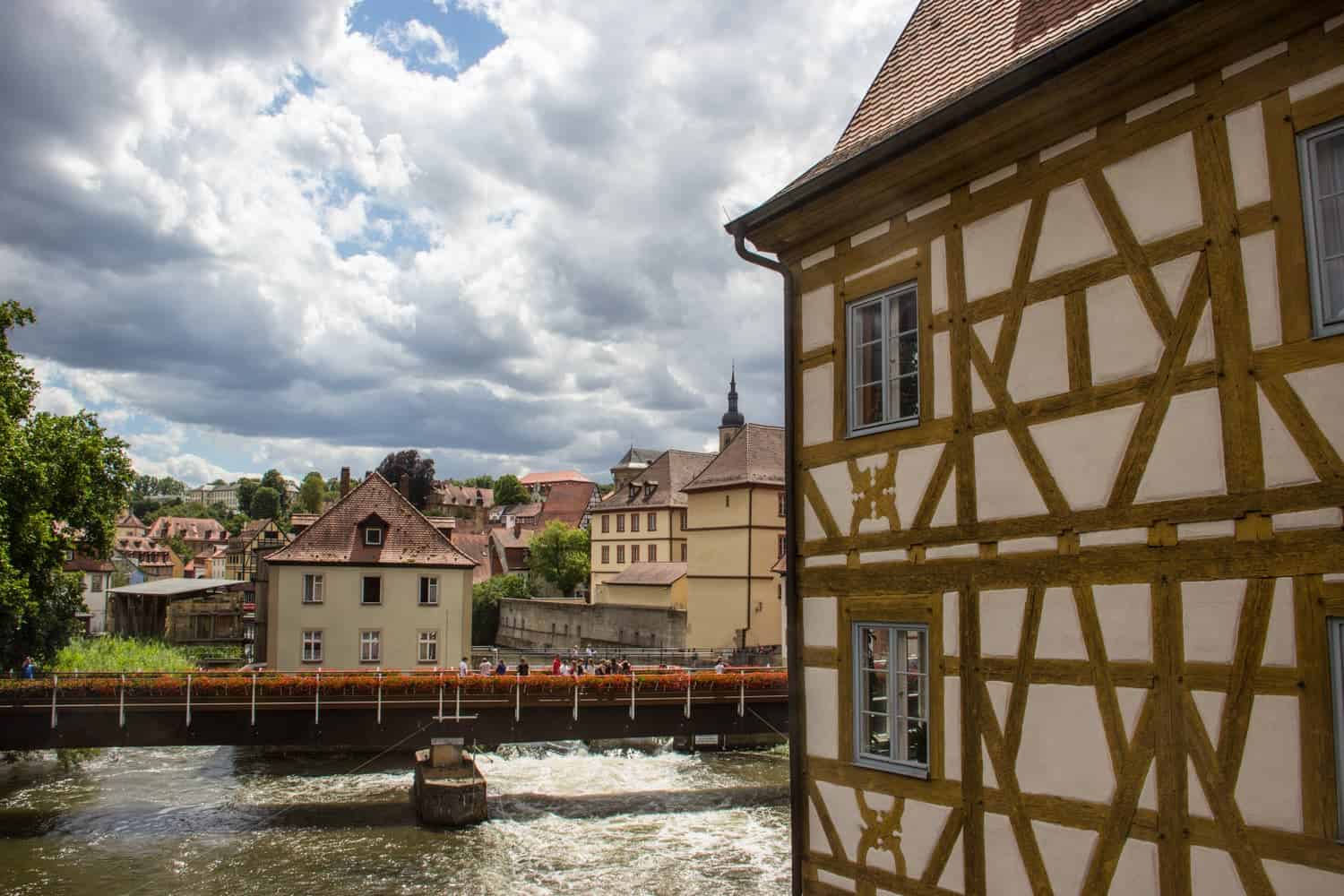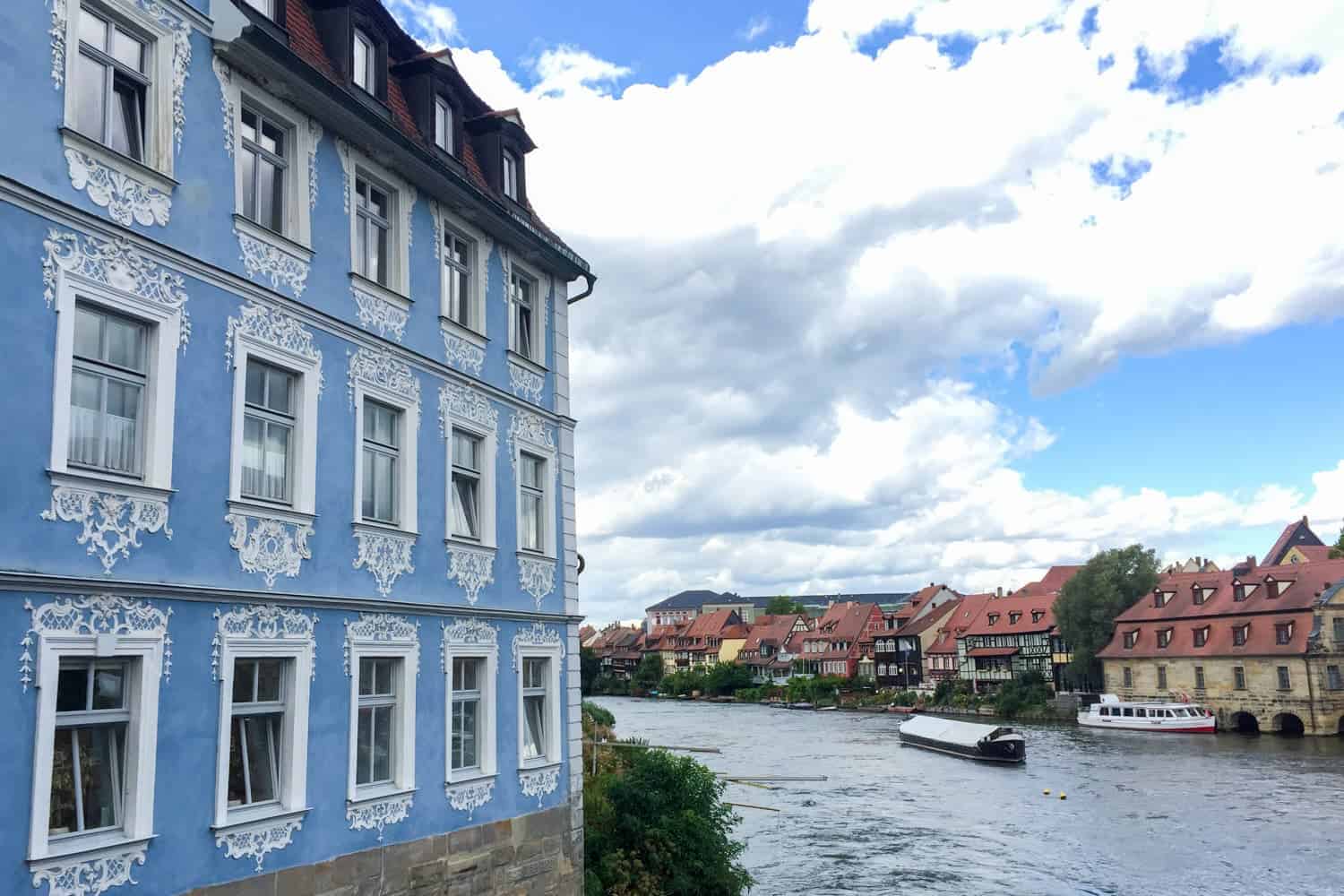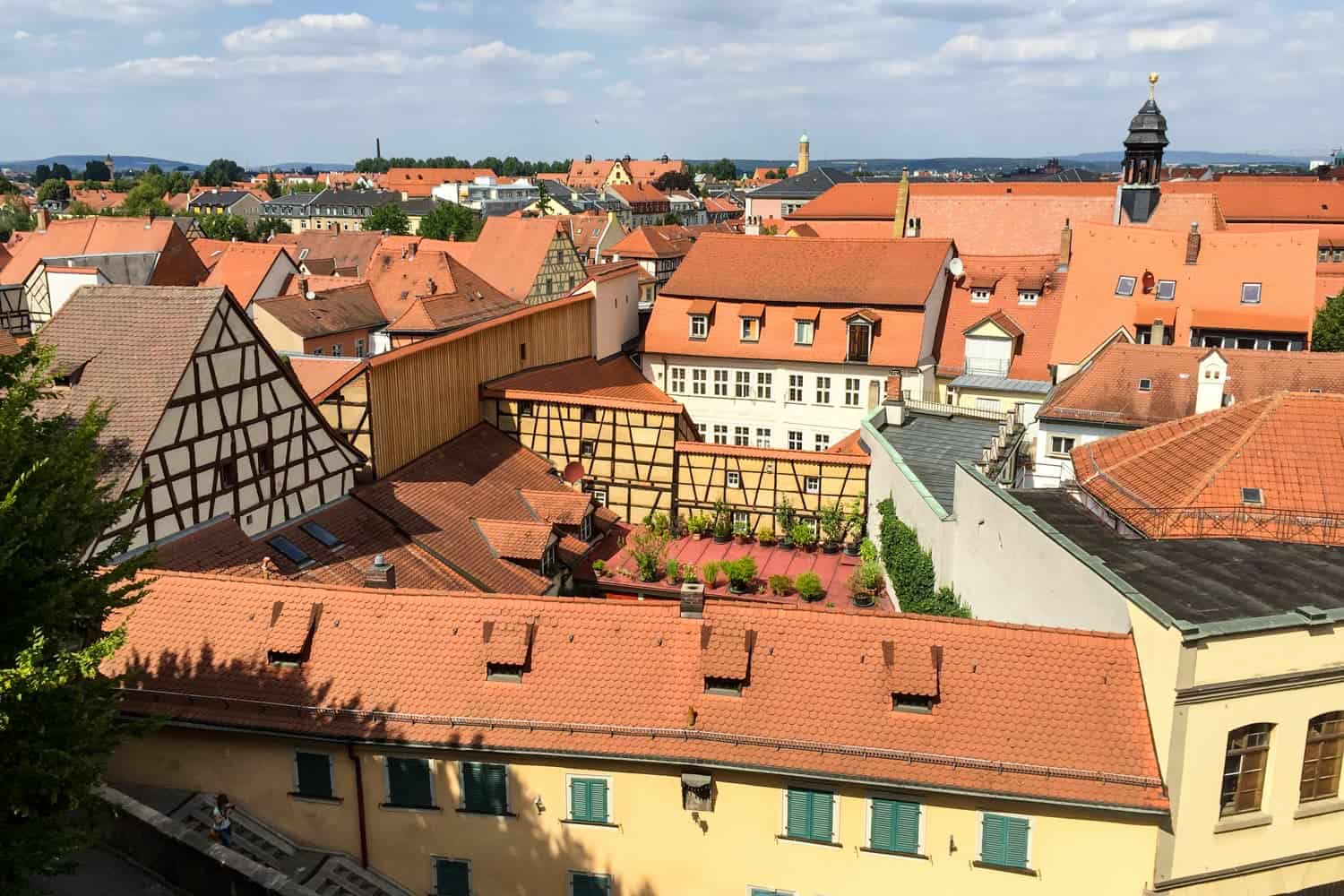 The timber-framed houses along the stretch of river known as "Little Venice" were once the former Fisherman's settlement, but the area is now a picture-perfect place to stroll. When the sun goes down, the younger crowd gather on the bridges that line this side of town and keep the city's social hum alive.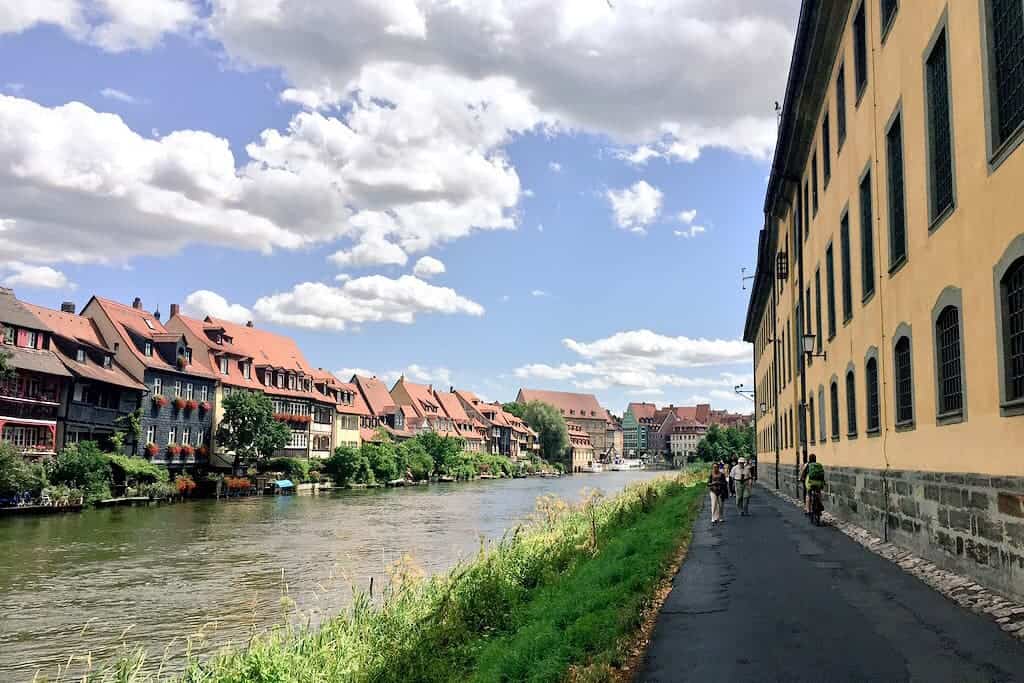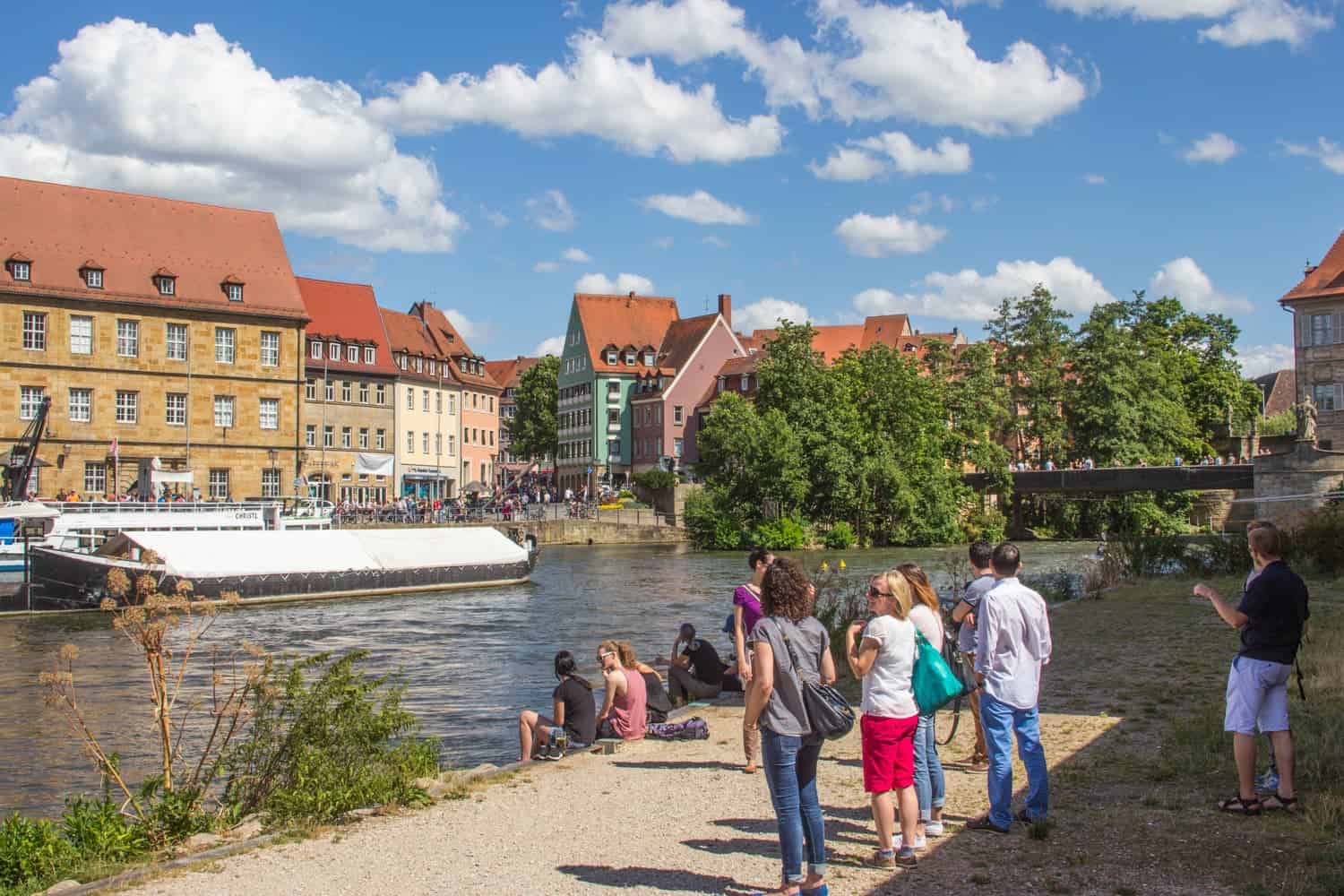 Exploration is naturally rewarded in beer here, and your historical strolls are intertwined with drinking halls and taverns. History and culture remain in unison with modern life and today's visitors are invited into the fold.
A Brief History of German Beer
Beer has been brewed in Bamberg and Bamberg county for over 1000 years. A legacy of the monks, beer was first introduced here in 1122 when Bishop Otto of Bamberg permitted the monks to brew it.
It had medicinal properties, especially at a time when beer was cleaner than water. Trust in the saints meant that everyone followed. It wasn't until the 15th century that citizens were given the privilege of brewing, with everyone in the village chipping in for the cost of equipment and production, perfecting the art of efficient beer production. The Michaelsberg monastery, where it all began, is now the city's brewery museum.
I got to understand the different tastes and brewing styles of beers in Bamberg with the self-guided BierSchmecker Tour, where for €22 you get five beer vouchers to test across the eight central Bamberg breweries and the Franconian brewery Museum.
In every place I visited, I got to mingle with locals and other visitors – the very essence of the culture of beer drinking – whether you perch yourself right outside or share tables with strangers who soon become friends.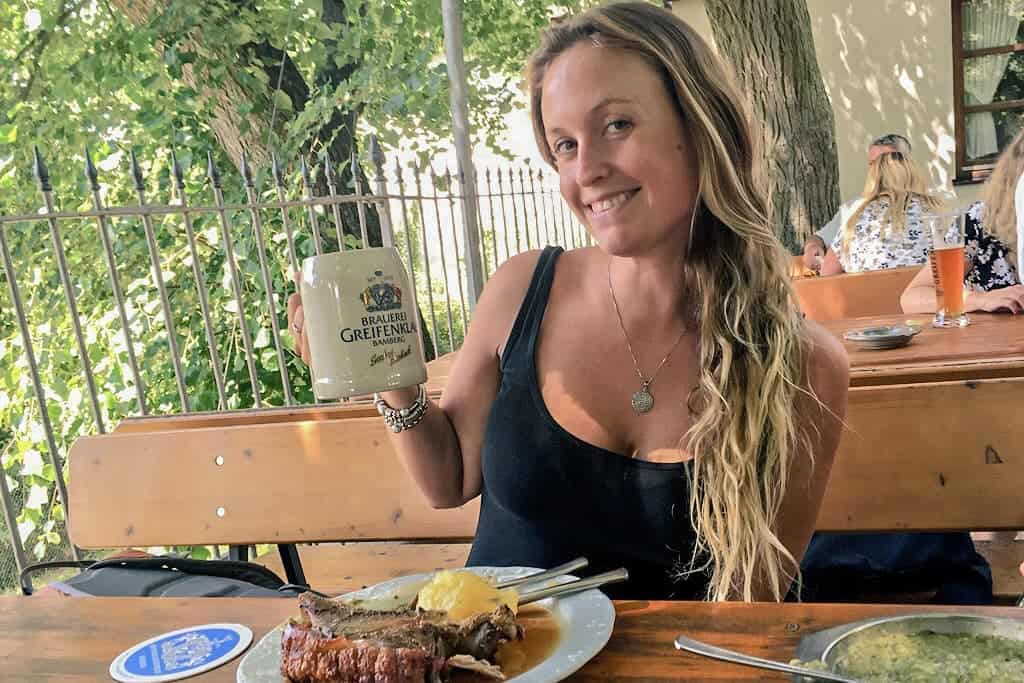 My first stop was the Brauerei Greifenklau brewery, where I had my half-litre 'Seidl' combined with some heart Franconian Schäuferla (pork shoulder, dumpling and cabbage). A hearty meal provided the fuel to continue, savouring the pale amber from Ambräusianum, a mahogany-coloured clear beer from Fässla Brewery and clear pale ale from Keesmann.
Bamberg, however, is most famous for its "smoked beer" – a dark brew made from green malt and dried over an open beech-wood fire, which gives it a smokey bacon-like taste. Sampled on the streets outside the central Schlenkerla tavern, it wasn't as bad as I expected. Only then had I officially graduated from beer tasting in Bamberg!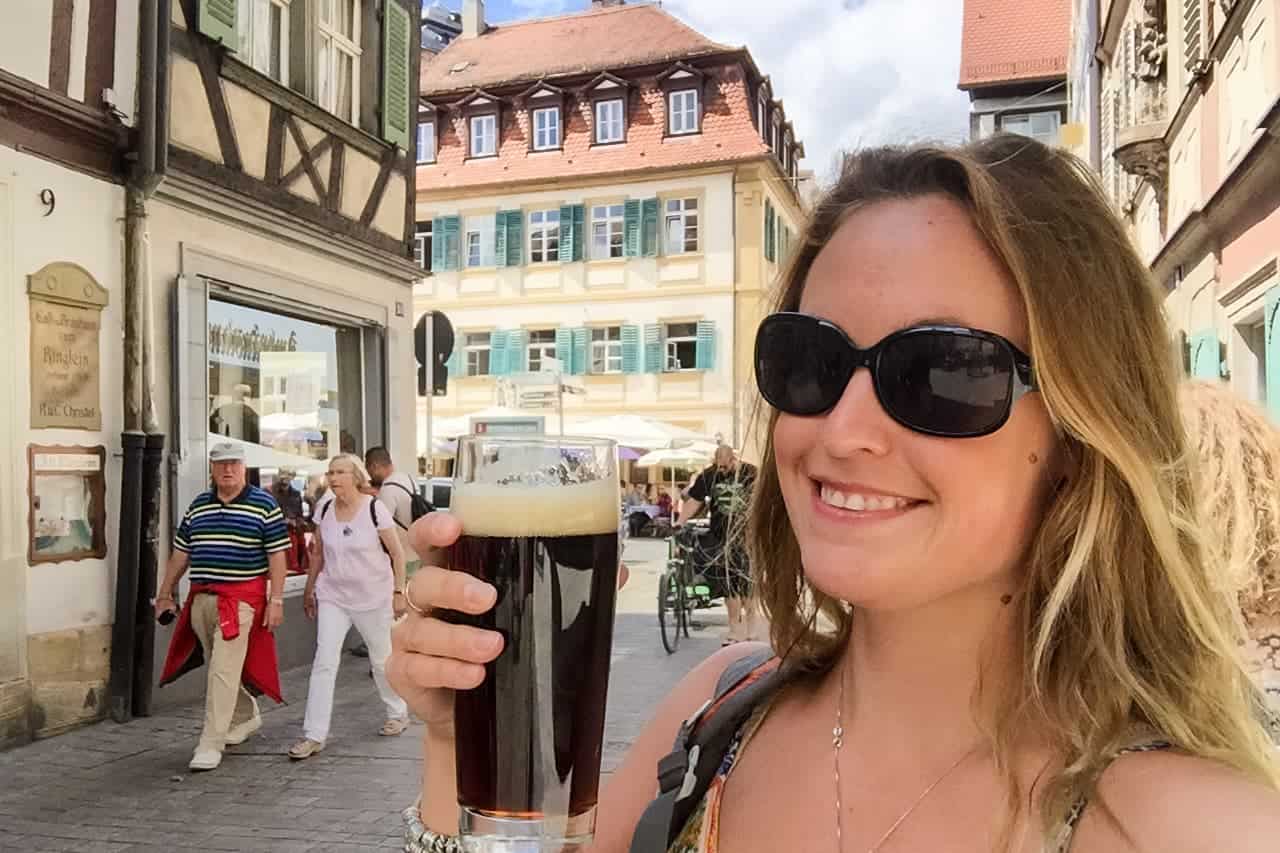 Franconian Tuscany
Village Beer Trails in Germany
The beer trails continue well into the Franconian countryside, where dreamy landscapes invite you to traverse its walking and biking trails. Of course, these hikes across seven hills and a 40km cycle route through the Steigerwald forest connect to a beer trail much larger than the one I sampled in the city.
I had a taster of "13 Breweries Trail" through the never-ending green landscapes of "Franconian Tuscany" which, after climbing a small hill for a better view, looked like a very inviting giant orchard.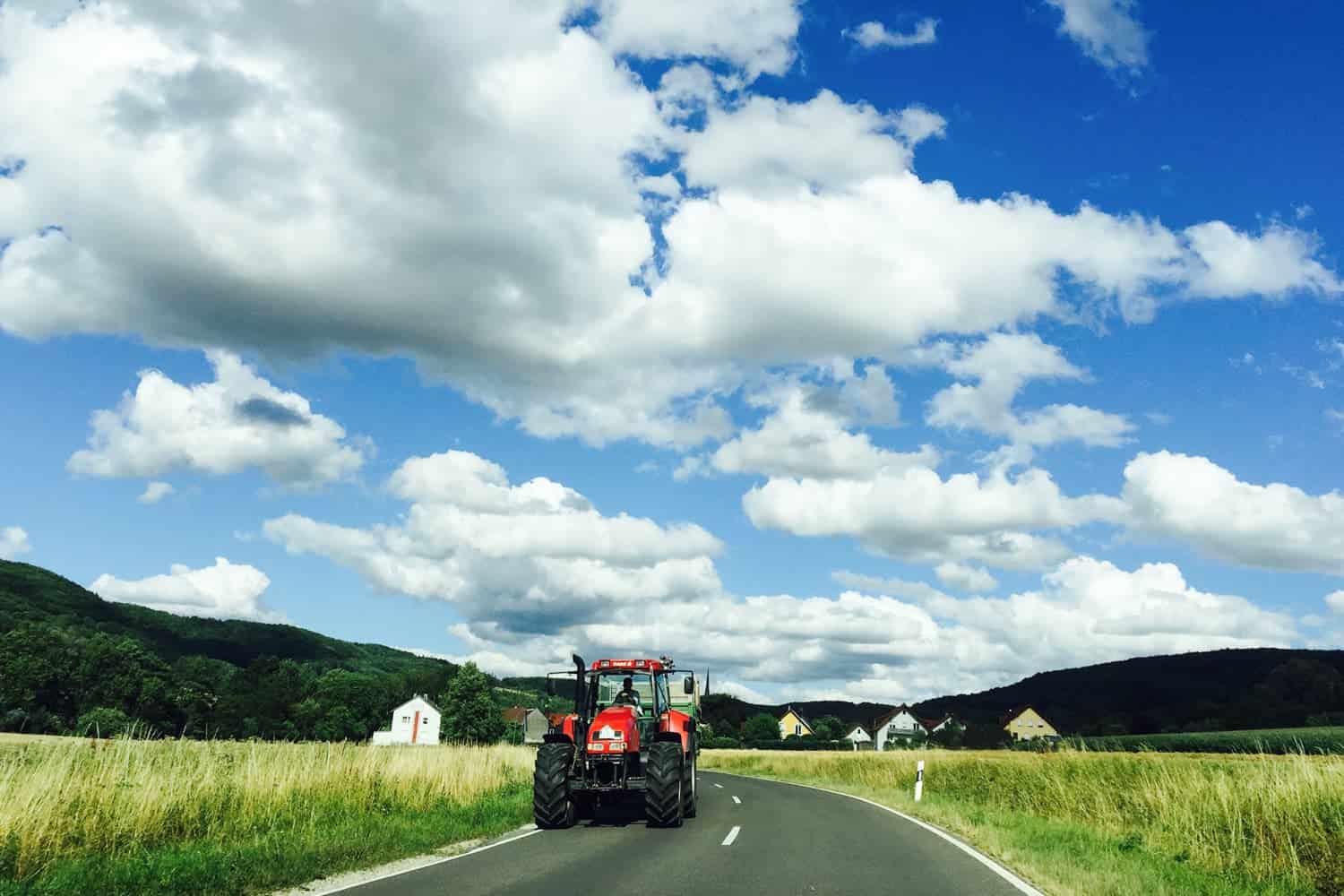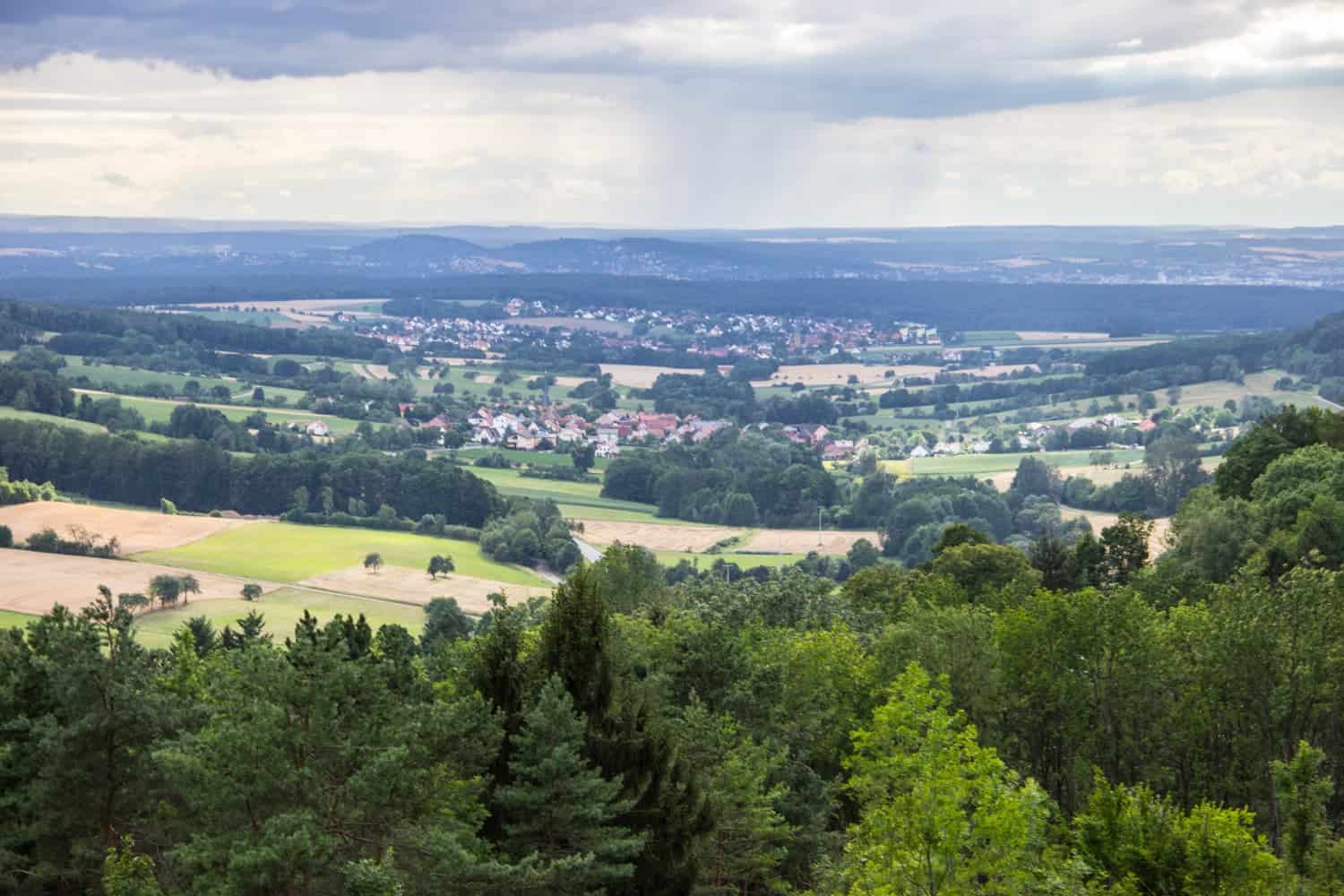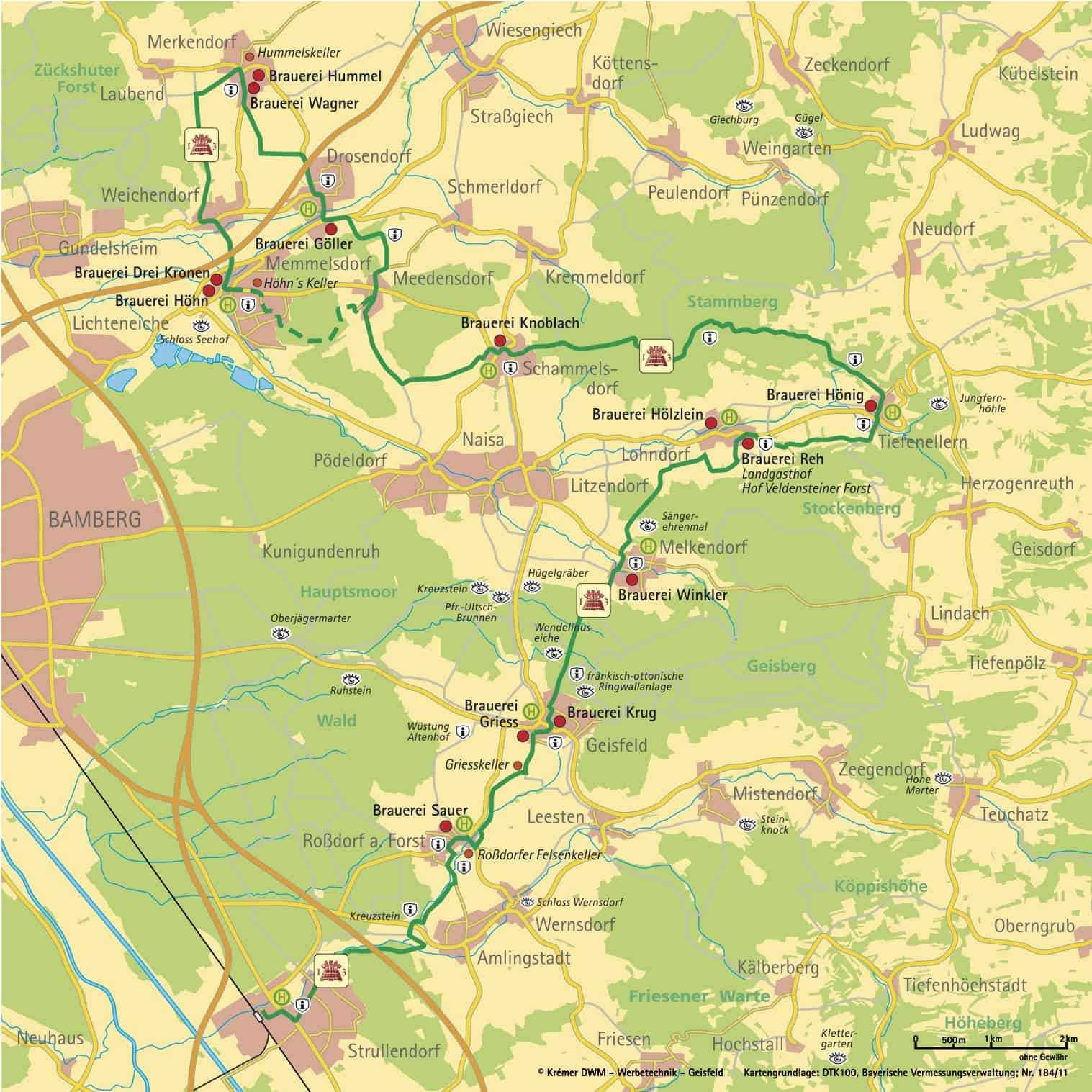 For a more in-depth view of the brewing process, be sure to visit the Brauerei Drei Kronen (Three Crowns). The owner and master brewer is a real character and a delightful host who will take you through the process of production, before you, of course, sit down and sample some of the house best.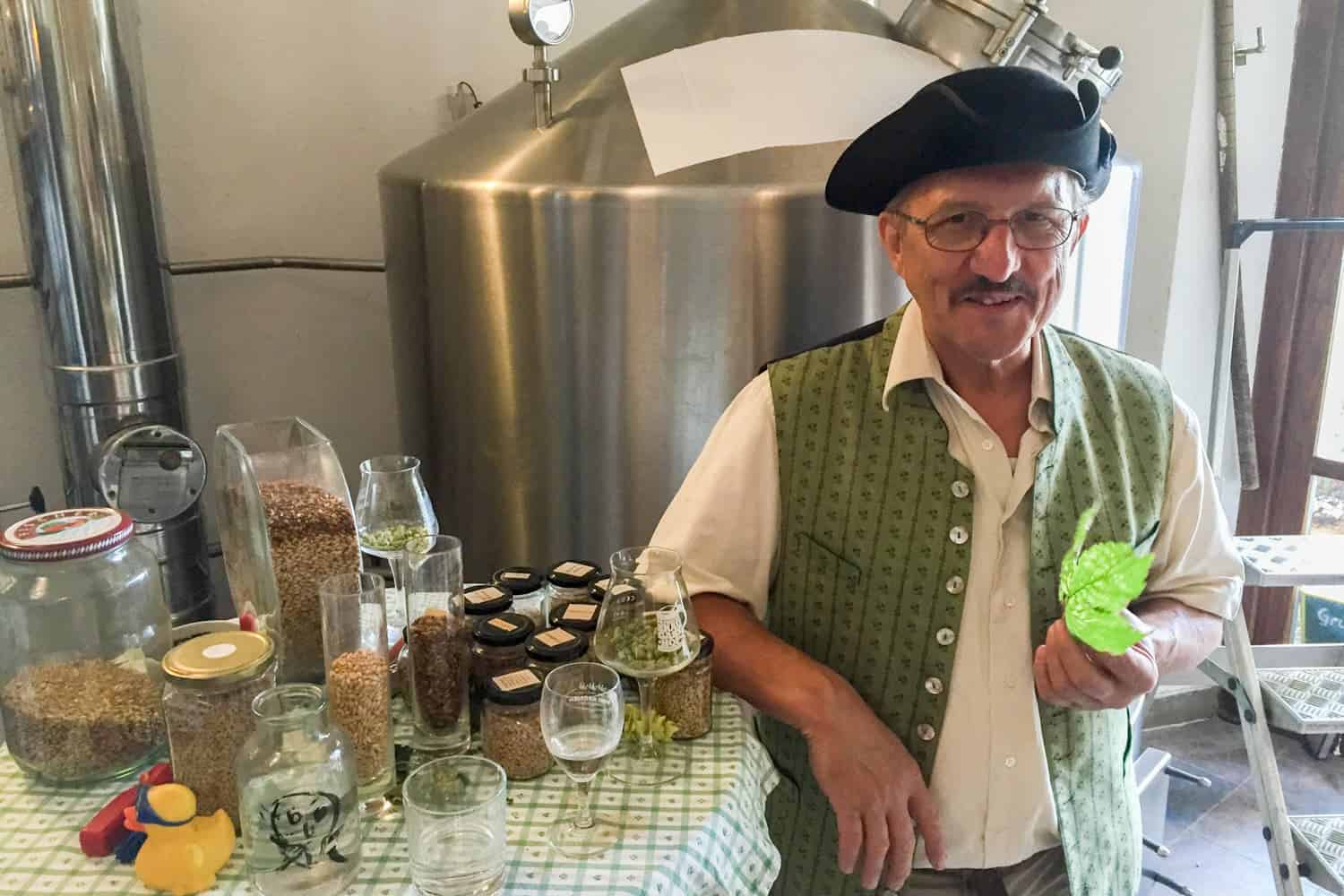 I could taste a beer brewed by his daughter and other female brewers – a beer by women, for women. A wonderfully pink label, and a beer that wasn't too heavy, it has opened the beer market to a wider audience. It has added a new quirk to the history of brewing which men have traditionally dominated.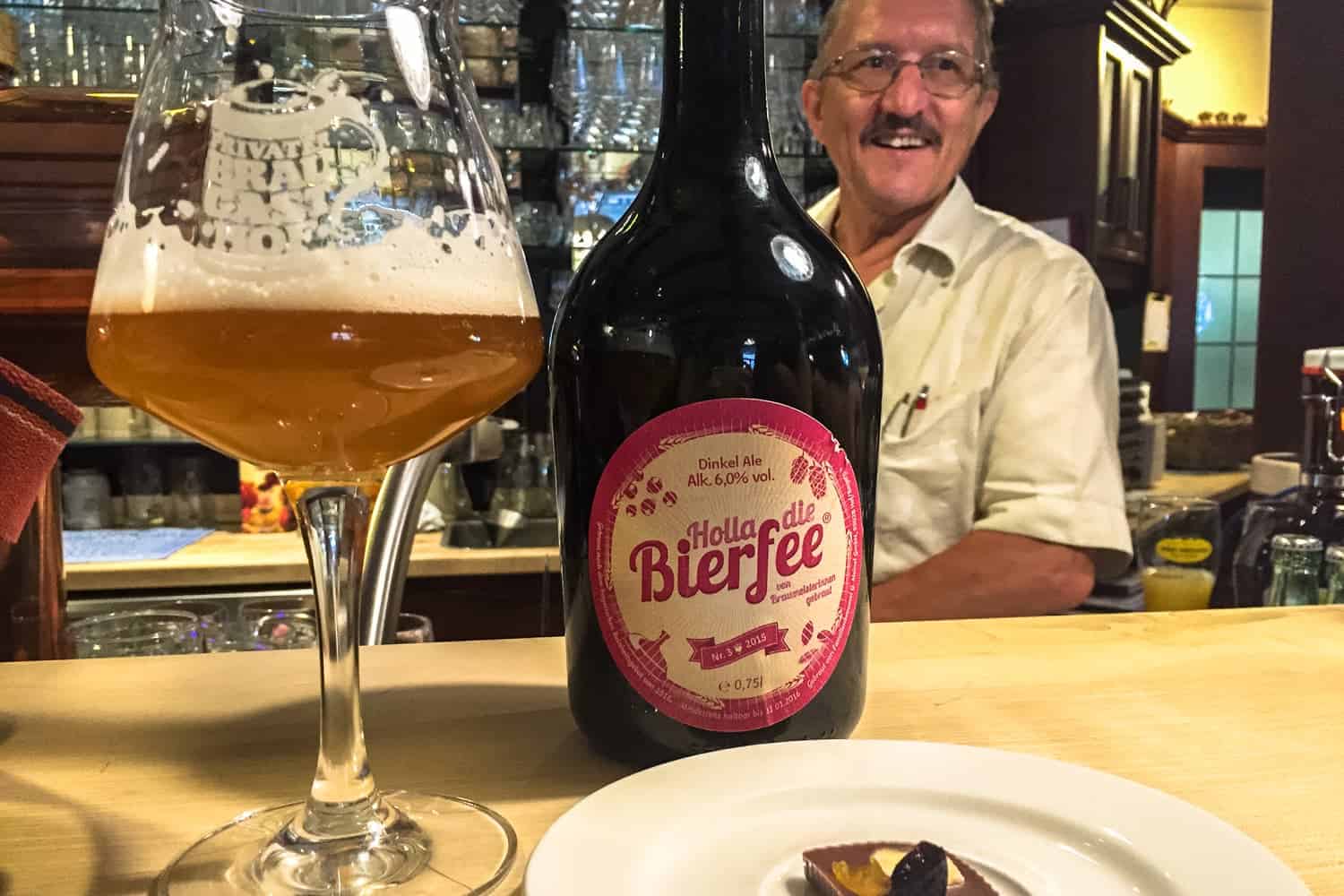 While in Franconian Tuscany, you can add quality wine to the menu. It's one of Europe's oldest wine-growing regions and has been in production here for over 1,200 years, with three large wine estates today.
I wished I had opened my bottle of white from the Divino Nordheim estate before I went home so that I could have purchased more – a crisp fruity flavour with low acidity. The countryside here is not only a setting fit for growing quality hops but a terroir perfect for rows of vines.
Beer Tradition in Forchheim
The Annafest Beer Festival
It's not only Oktoberfest that brings in beer enthusiasts. Franconia is awash with beer festivals all year-round, and I was excited to be joining the Annafest festival in Forchheim. I'm not going to lie, after two litre-sized beers, I slept like a baby, but the overall experience was unforgettable.
In celebration of St Anna's Day on 26th July, people flock to Forchheim for 10 days. They've celebrated here since 1840, building to the mass of fun that starts with the street parade through the town and continues to the funfair, musicians and packed breweries at the adjacent Forchhiem Kellerwald on the hill.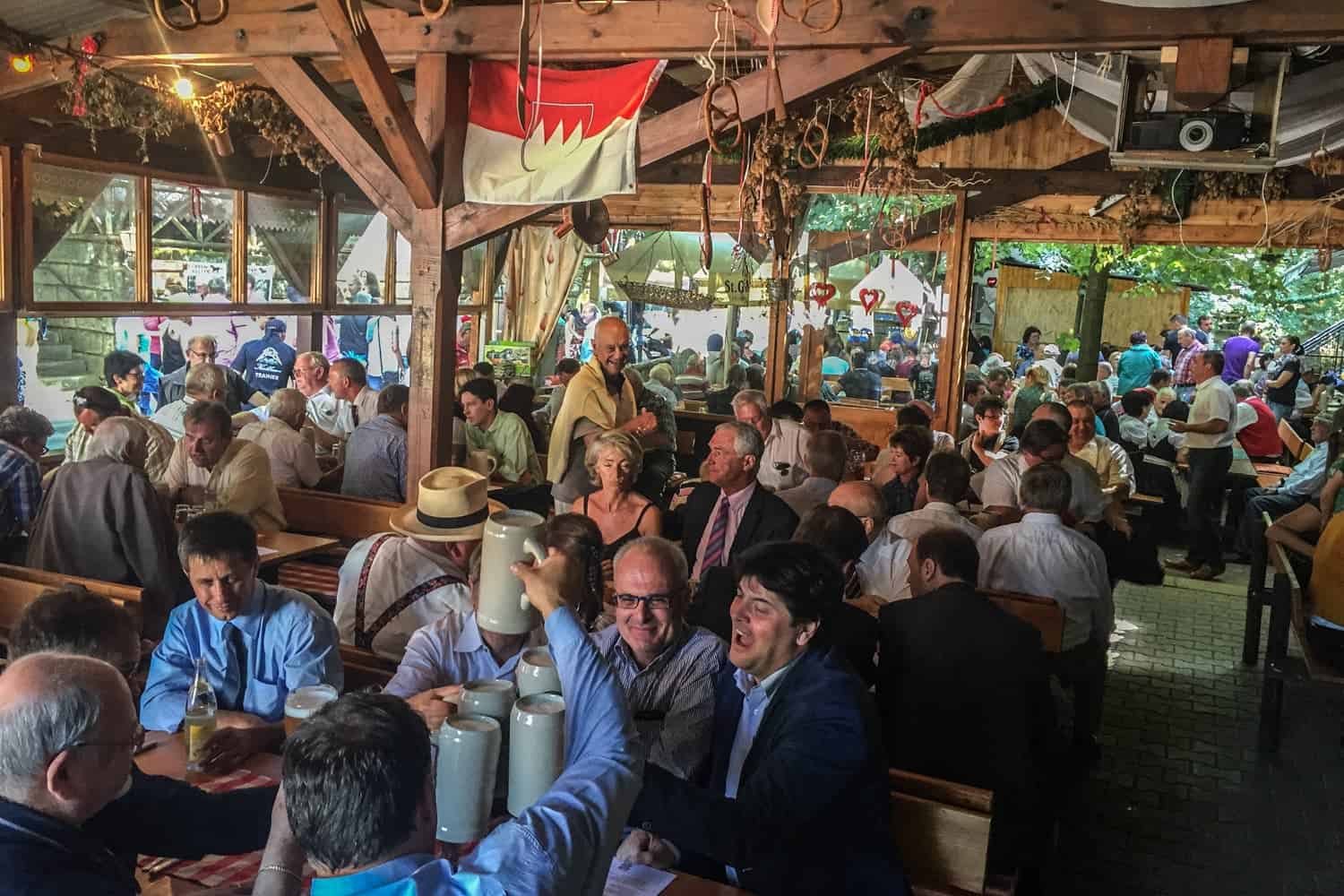 It is the very heart of Franconian hospitality, as 30,000 arrive per day to join in the revelry. It was jubilant, alive and frantic.
The sound of delightful squeals from the amusement rides filled the air as happy faces at tables raised their beer steins before revelling in great conversation with family and friends. Bagpipe players joined Brazilian drum sounds in friendly unison, Bavarian music switched to modern bands and back again, all the while people danced in the street until sundown.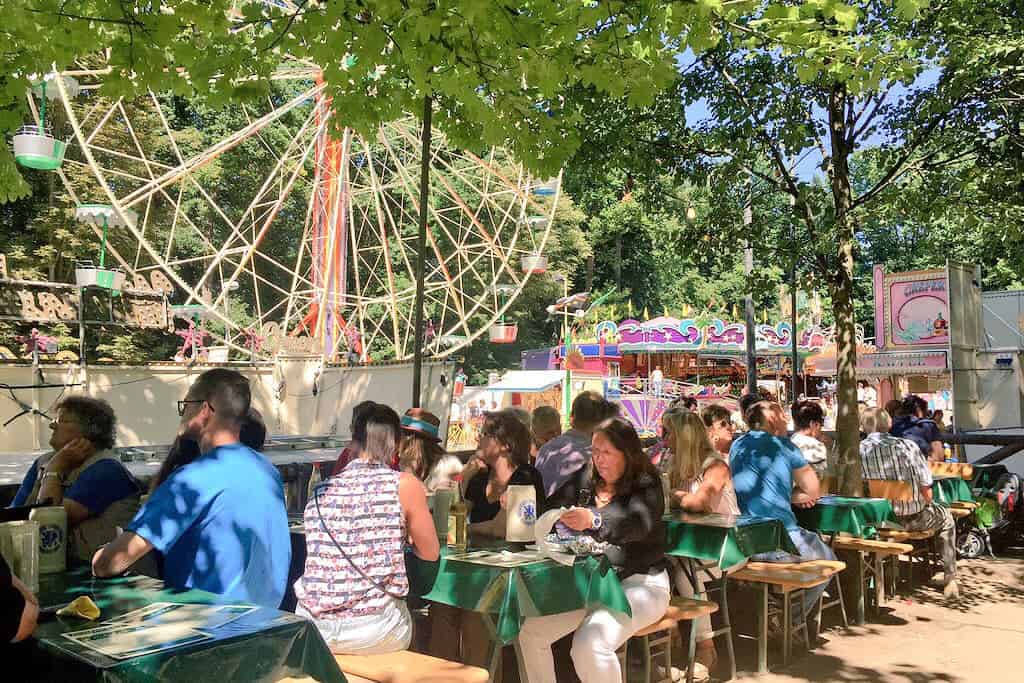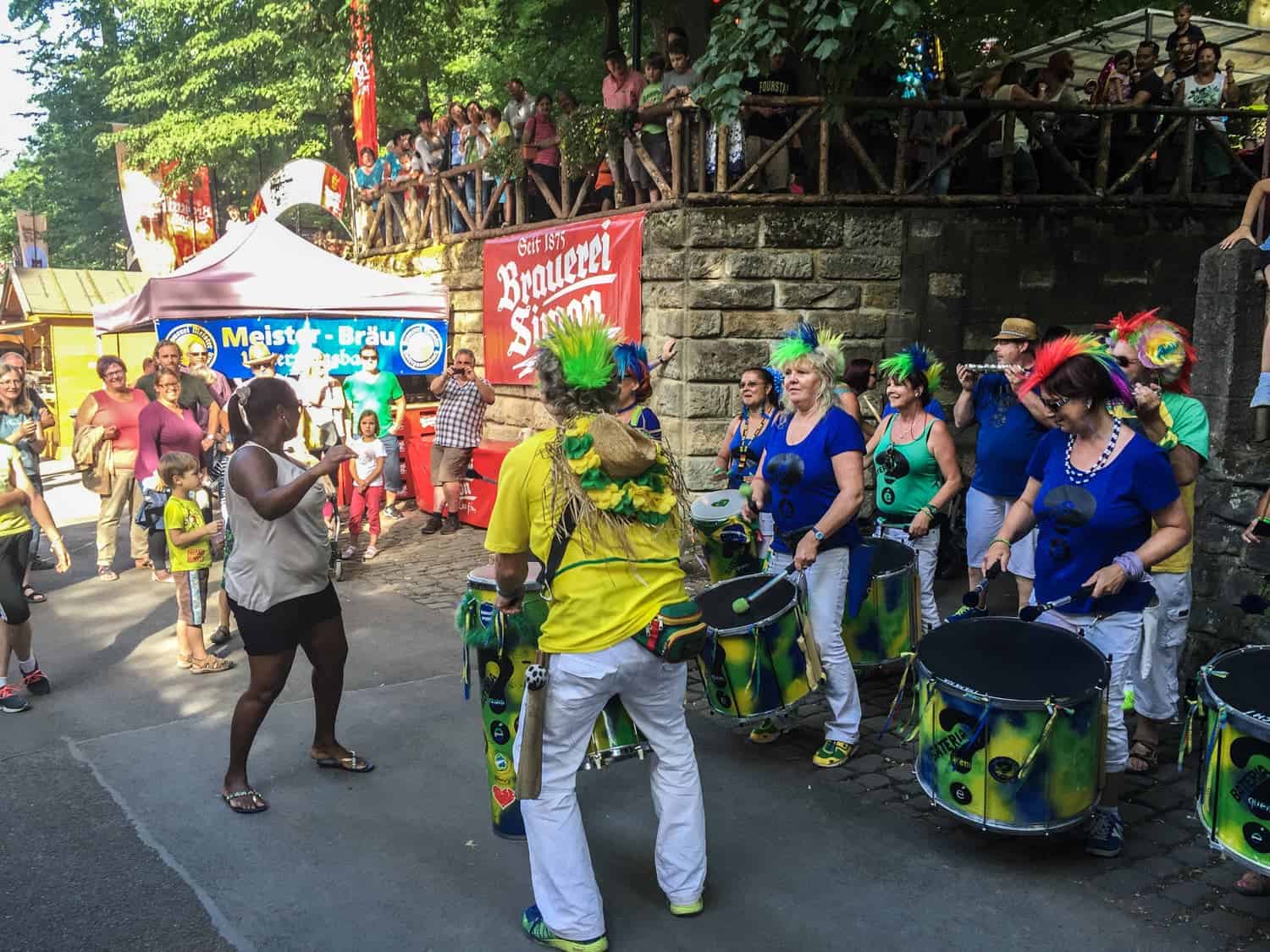 Like Bamberg, but smaller, Forchheim is a beautiful Franconian town filled with half-timbered architecture, old streets and alleyways. Not surprising since Bamberg Bishops settled here building their palaces, like the moated castle and the Imperial Palace.
One of the most stunning areas is the square where you will find the famous Town Hall – the pride and joy of the town, which sits alongside the similarly styled council building and St Martin's church.
The Annafest Parade passes through here – the impressive facades of old prosperity, alongside today's brewery taverns and boutiques, creating a colourful backdrop to a delightful parade, which celebrates the town's long prosperity and the people who make it.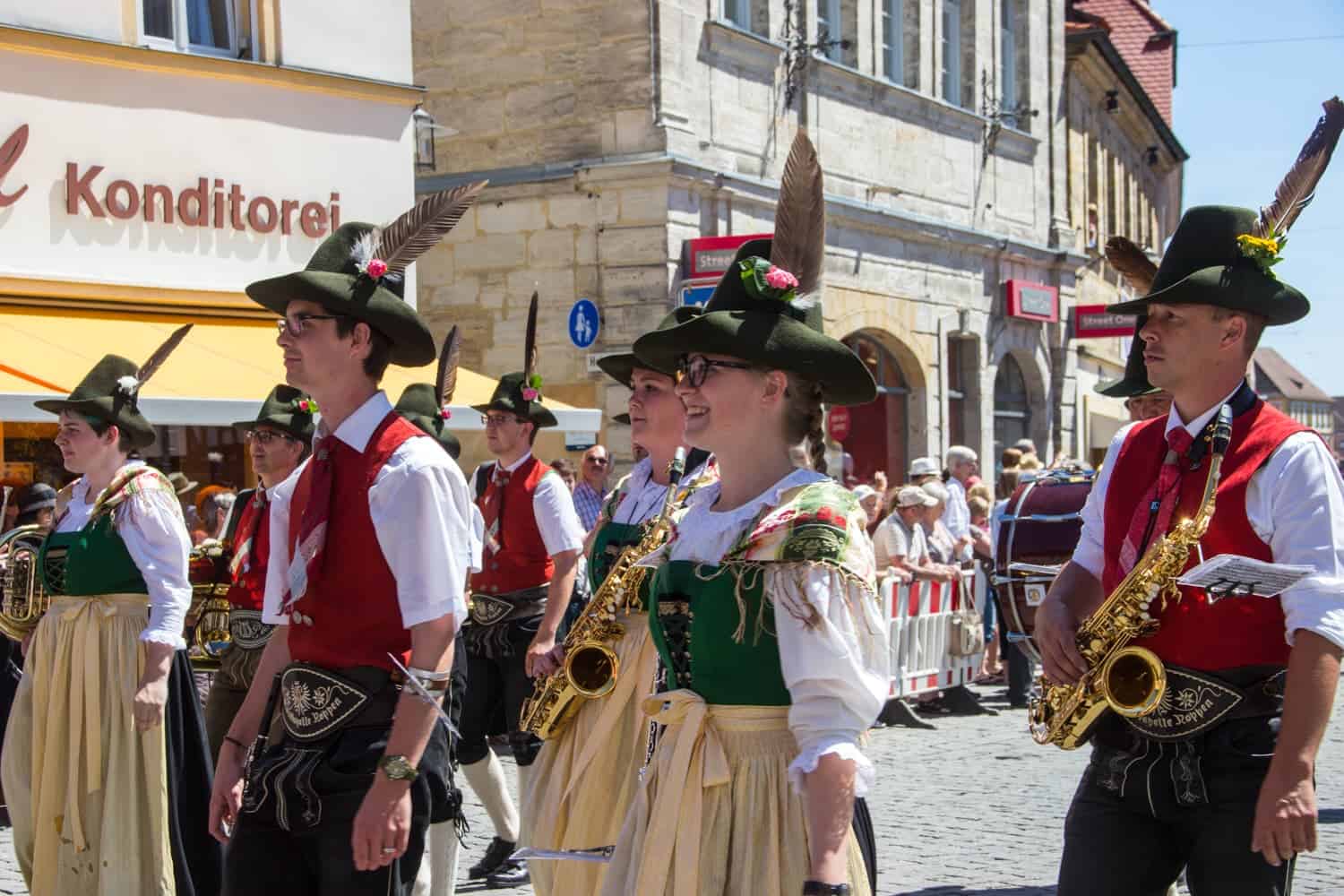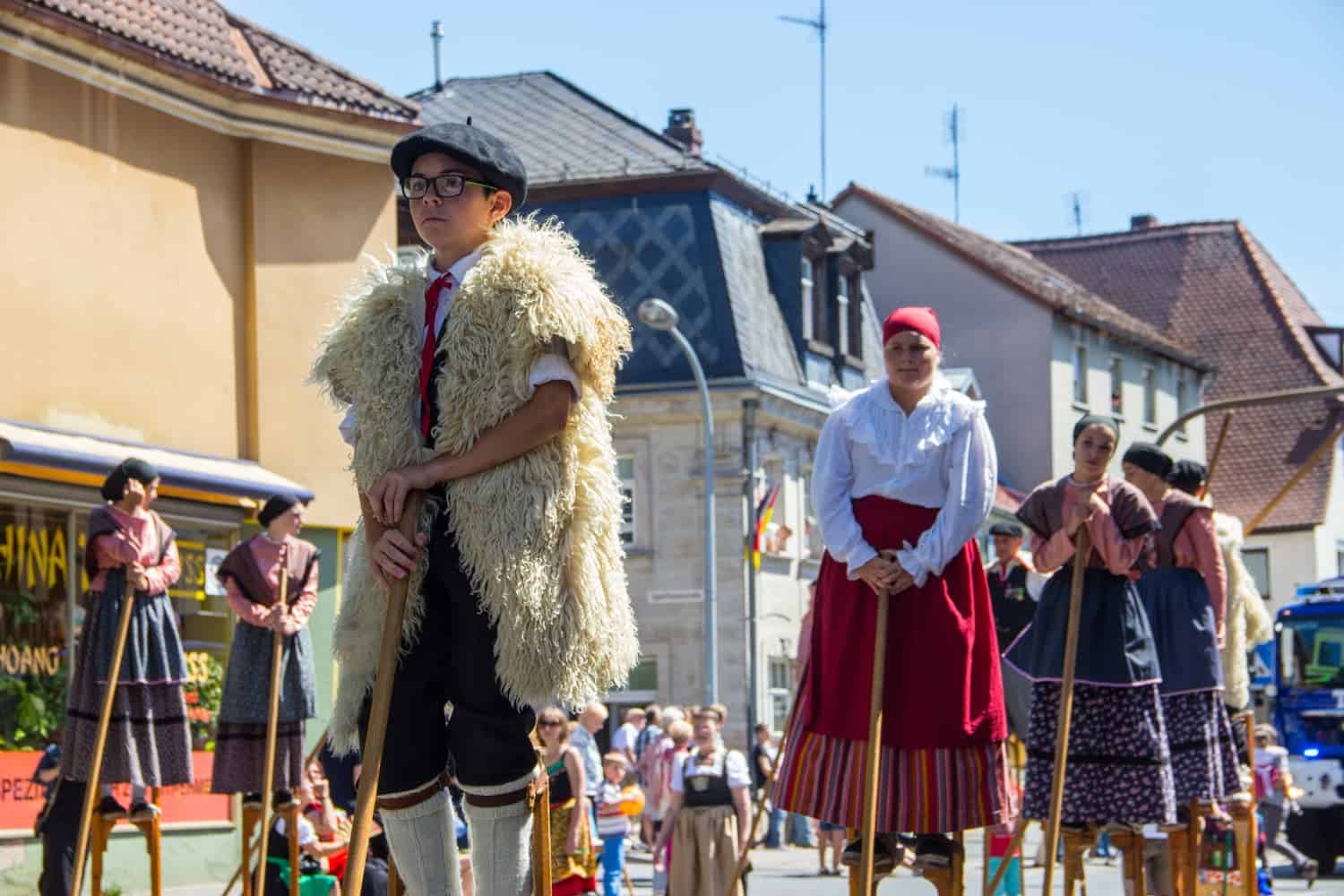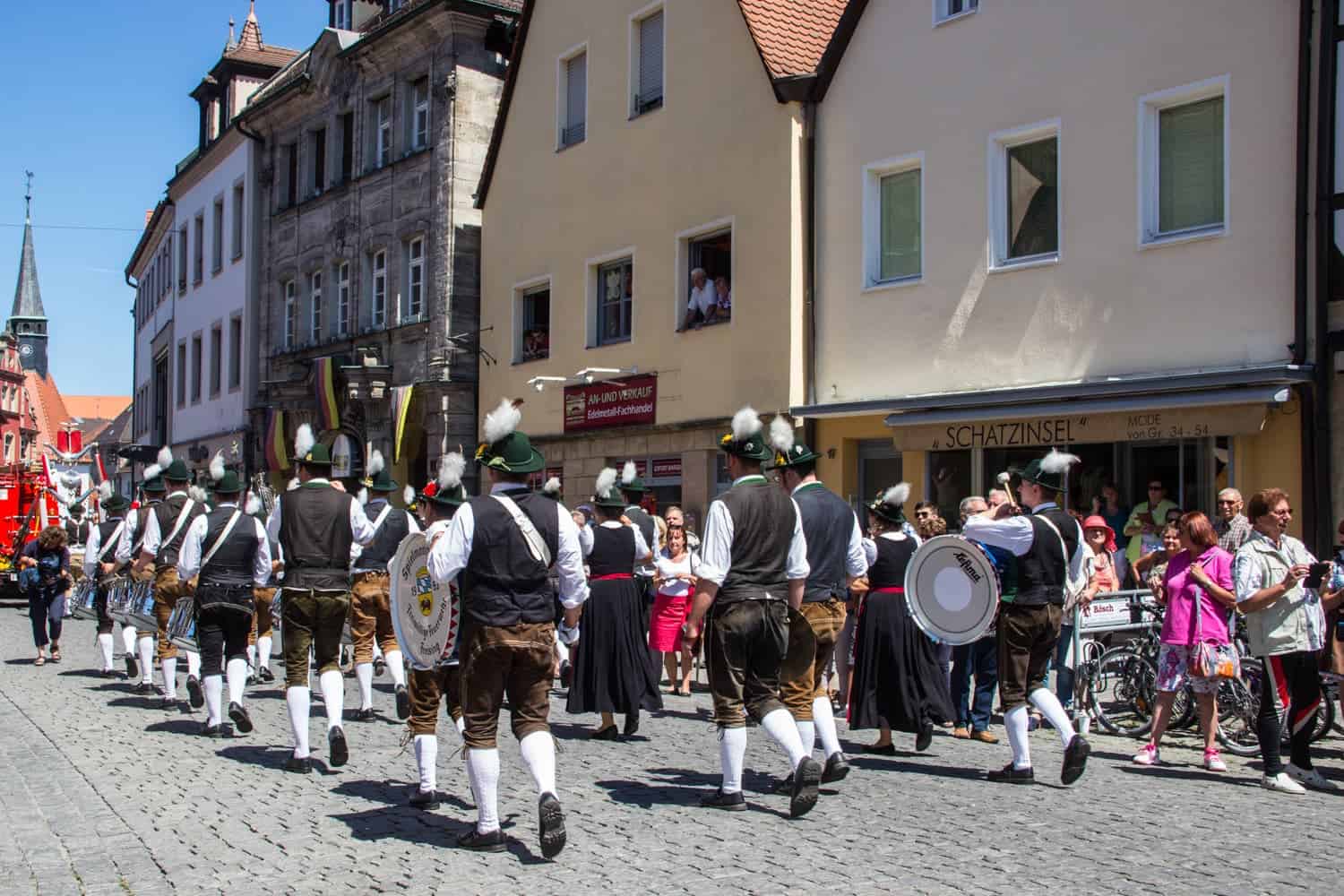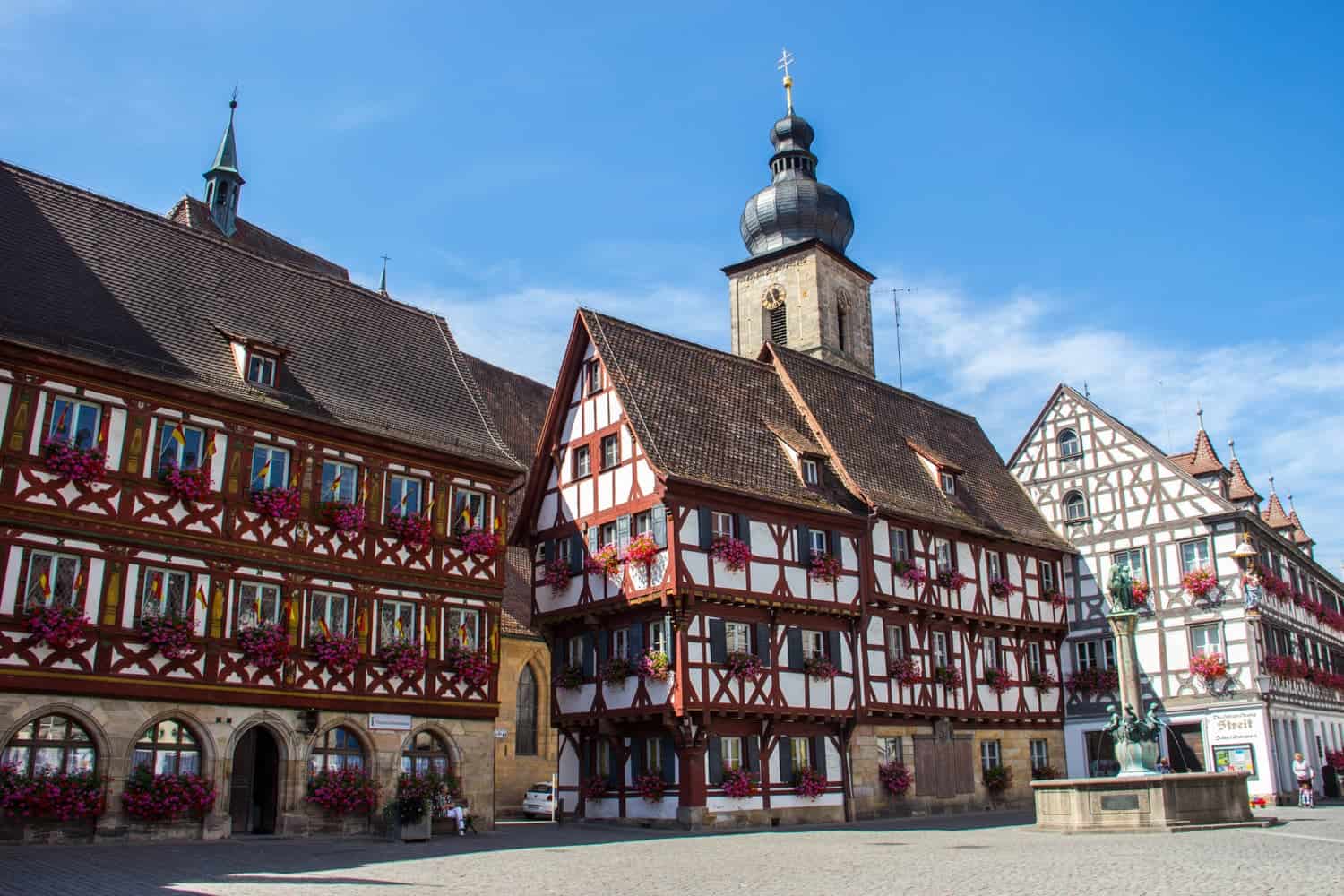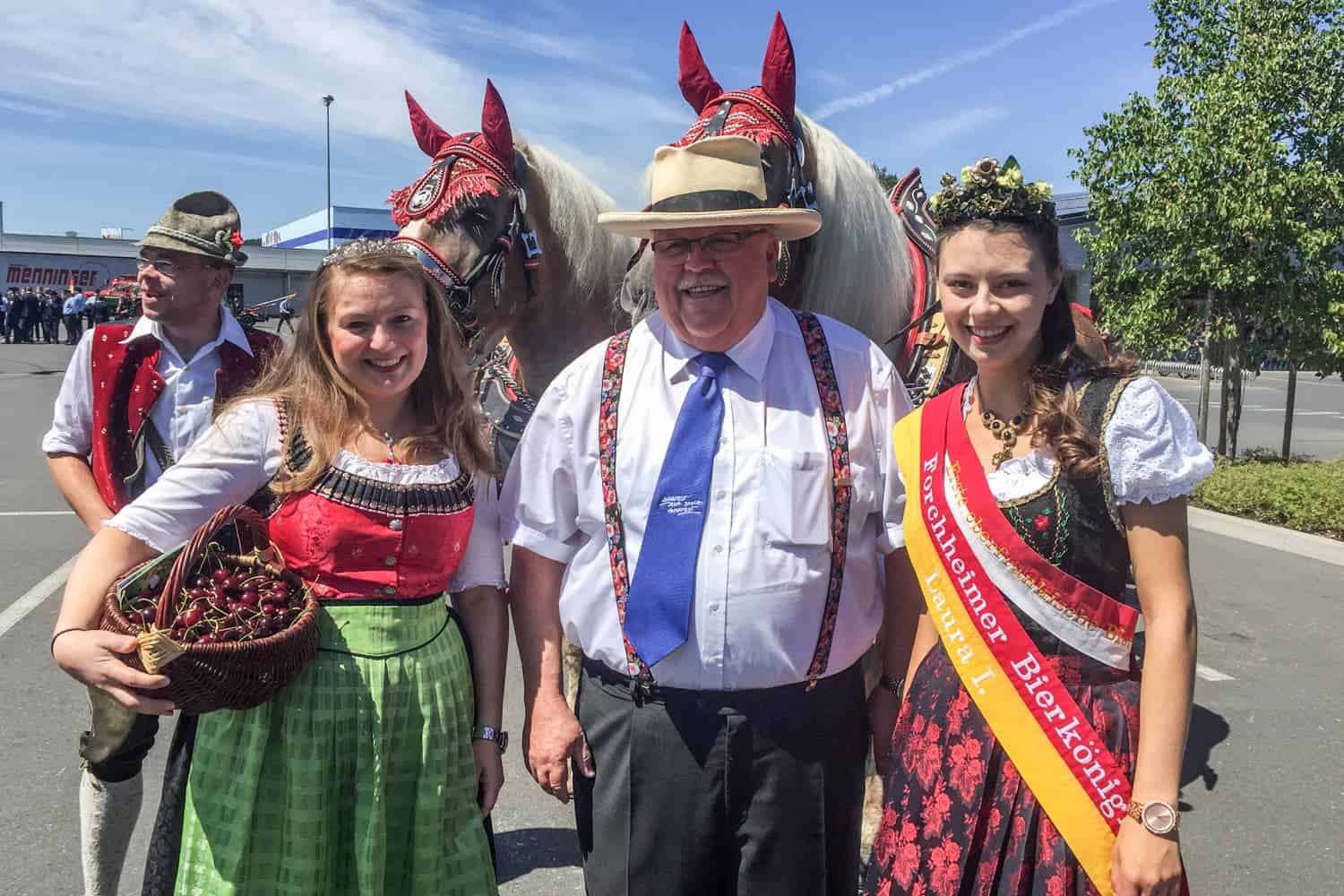 In Germany, beer brings people together, and it's clear why this German tradition forever lives on. Especially in Franconia – an open-air museum of living history set within a naturally beautiful landscape. That's reason enough to celebrate all year round, don't you think?
Things to Know About German Beer Tradition in Franconia
The BAMBERGcard, costing €12, is a 3-day ticket giving admission to several museums (including the historical museum, Levi Strauss museum and natural history) and collection, alongside free travel on all urban buses
The BierSchmecker Tour is €22 and has a maximum limit per group of six people (also includes a backpack, beer mats and brochure with beer descriptions). Nine breweries within the town "illustrate what can be done with hops and malt". Beer tasting tours Some pubs only open until 2 pm, some only until 10:30 or 11 pm
The Beer Day festival takes place on 23rd April in Bamberg, with special promotions across the nine breweries in town. October-January is the Bock beer season
"Franken – Where Beer is at Home" publishes everything there is to know about German beer and beer-related experiences in Franconia: Festivals, tours, and vacation packages. For information, go to the website or request a paper brochure
Prime examples of German beer festivals in the region are The Bergkirchweih in Erlangen, Sand Kerwa in Bamberg, the Annafest in Forchheim, the Michaeliskirchweih in Fuerth, and the Schlappentag in Hof. They all combine Franconian traditions and heritage and welcome visitors to join.
Want to Try German Beer Tradition? Pin It!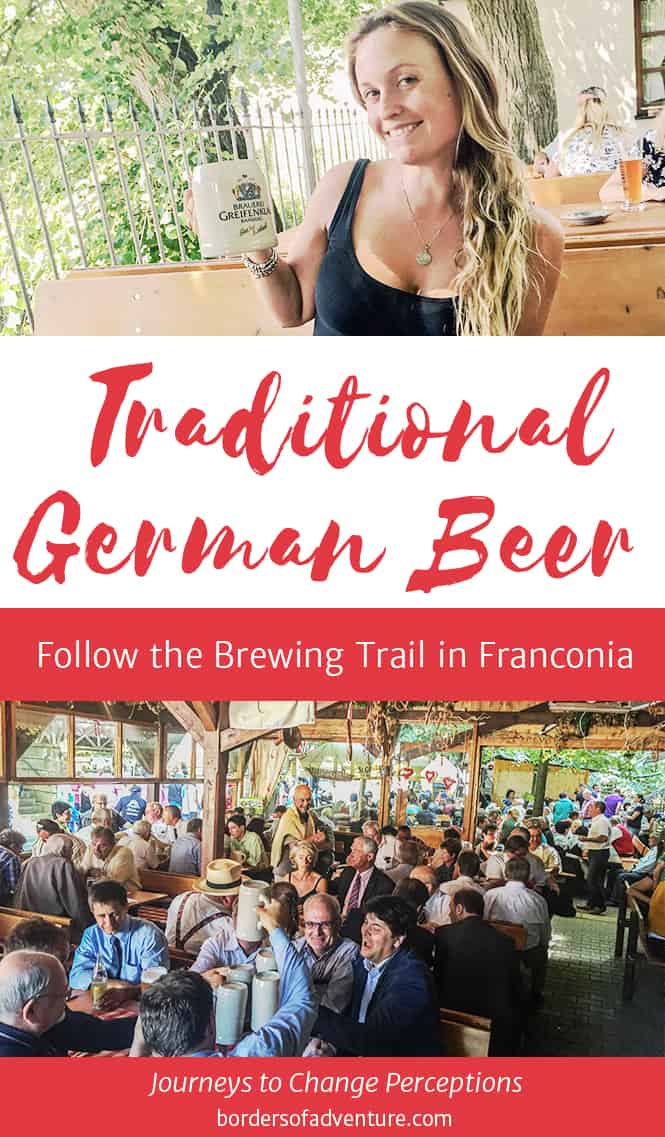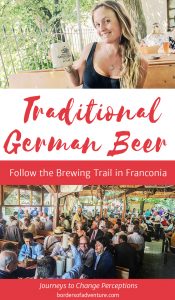 I visited this region of Germany as part of the German National Tourism Boards Join German Tradition campaign. All beer-related antics and opinions are my own. I still don't like sauerkraut.