Disclaimer: This post contains affiliate links to handpicked partners, including tours, gear and booking sites. If you click through or buy something via one of them, I may receive a small commission. This is at no extra cost to you and allows this site to keep running.
London is the home of Greenwich Mean Time and the Greenwich Meridian Line your chance to time travel by nanoseconds. Well, kind of.
In the Southeast of London, you can straddle two hemispheres at the same time and stand upon the official centre of time. East is east and west is west, but the twain meets at The Royal Observatory in Greenwich – home of Greenwich Mean Time (GMT) and the Prime Meridian of the world and known in technical terms as Longitude 0º. It's one of the core attractions in this Royal Borough, full of maritime history, art, architecture and adventure.
A bronze line embedded into the pavement represents the division of the eastern and western hemispheres of the Earth and from this everywhere on the planet is measured according to its distance east or west of this 'line', just as the Equator divides the northern and southern hemispheres.
How to Find the Greenwich Meridian Line
Getting to the Greenwich Prime Meridian Line is easy, aside from needing a little stamina. From the Greenwich DLR station, the Royal Observatory is signposted and only a 10-15 minute walk, the majority of which is up a picturesque hill.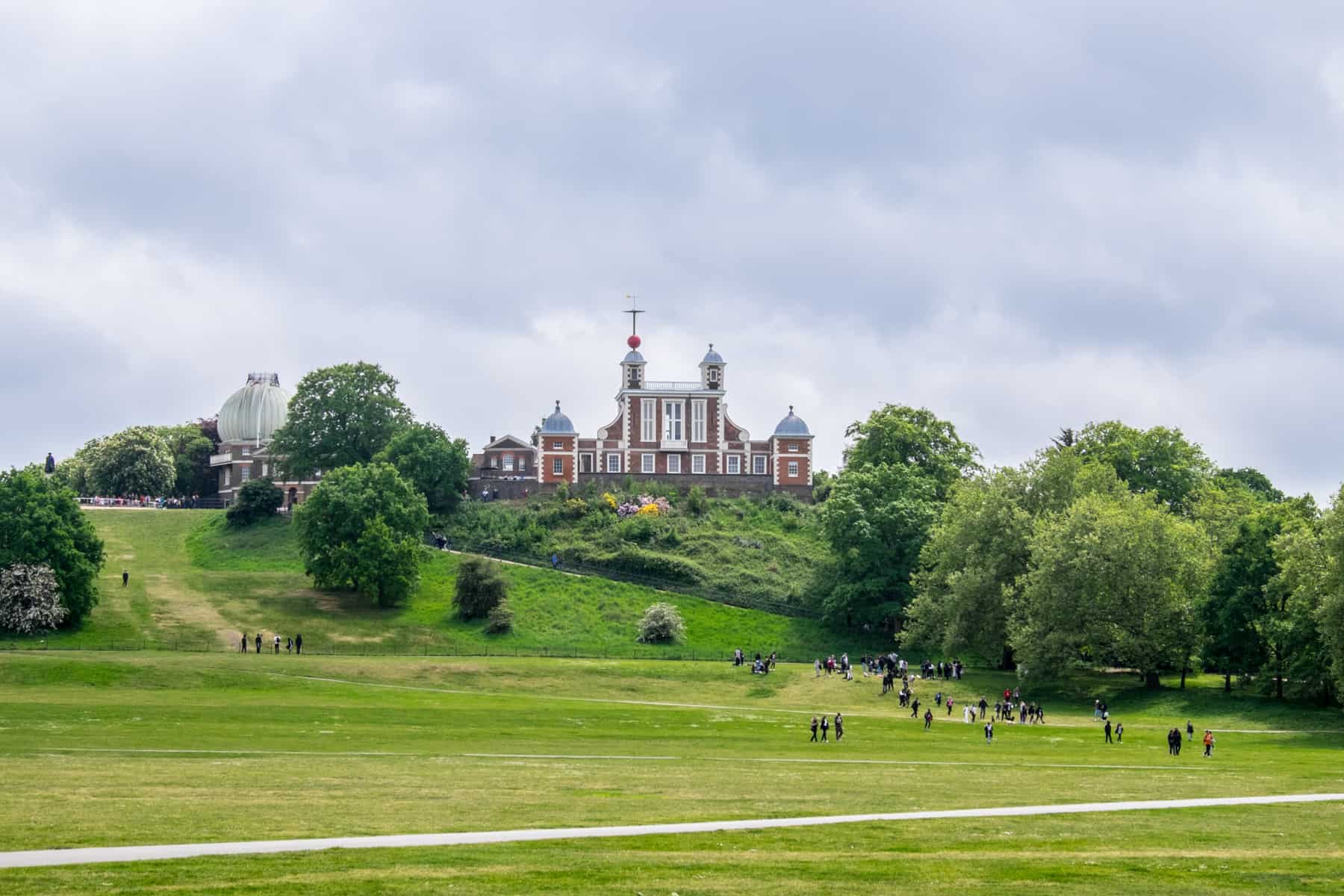 You will find the Prime Meridian Line instantly by the droves of people queuing for their photo, so be prepared to wait patiently while people get their snaps in various poses as they strategically place arms and legs accordingly in East and West.
The observatory even has pictures showing you how to stand on the line properly to ensure you place a foot on either side of the line.
Greenwich Mean Time – How to Officially Stand in Two Times Zones for Free
For budget travellers and the more frugal amongst us, there is a very small section of shiny bronze line goodness you can stand on and pose for free. It's behind a black iron gate just next to the enclosed area where the long line is.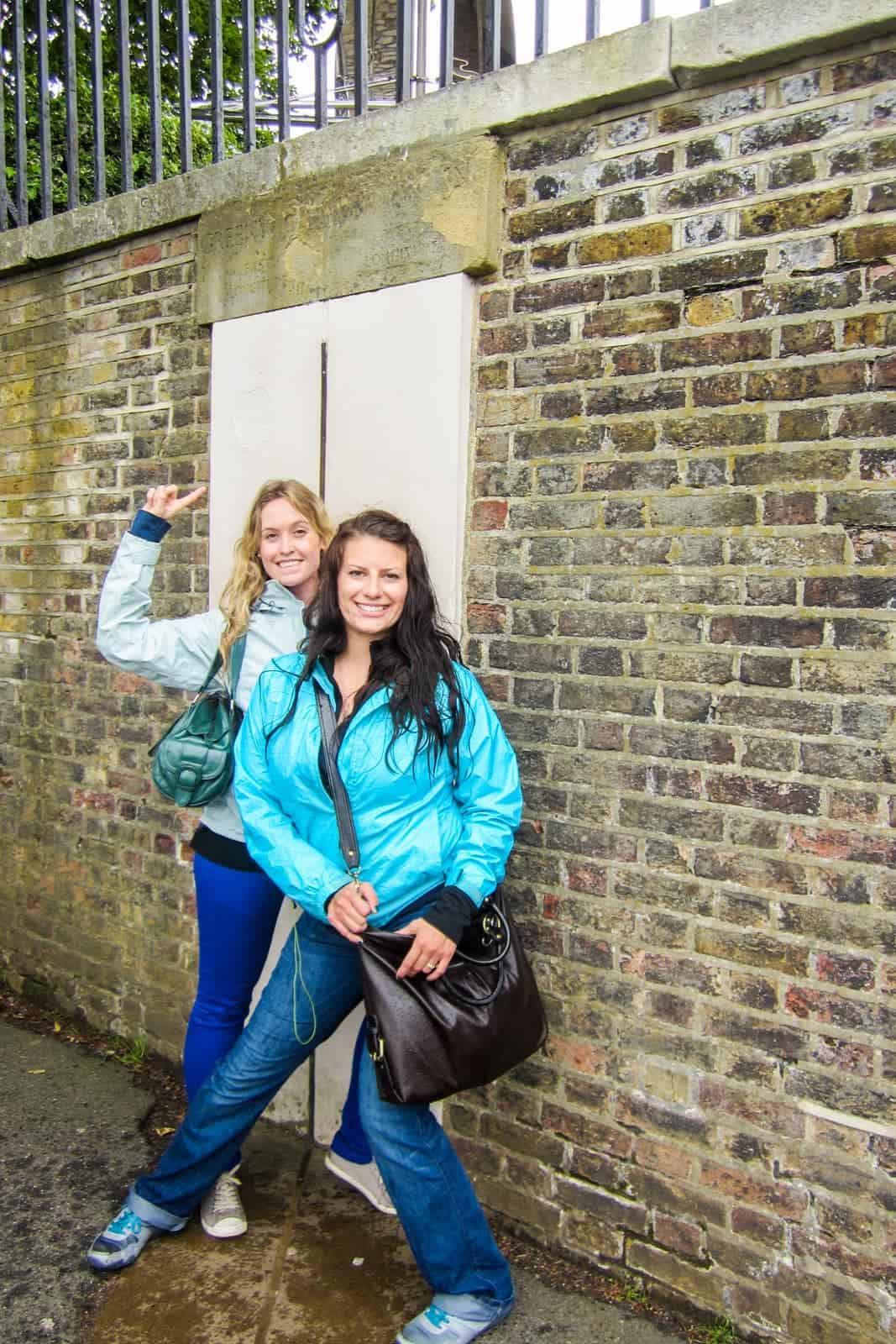 How Much Does it Cost to Visit the Greenwich Meridian Line?
The pleasure of the bigger, more official Greenwich Meridian Line option comes at a price of £16. However, this cost is for the overall entry to The Royal Observatory's historic Flamsteed House, Time Galleries, Meridian Line Courtyard and Meridian Building.
Inside the Royal Observatory, you can see how the discovery of GMT came about, with the display of clocks designed by John Harrison. Latitude was already measurable by the distance from the equator, and in a competition calling for an invention to solve the "longitude" problem for seafarers, these clocks brilliantly found the solution.
Luckily the gating surrounding the larger Meridian Line has large spaces big enough to look through, stretch both arms in and take a photo. So, really, you get the best of both worlds, at no cost at all.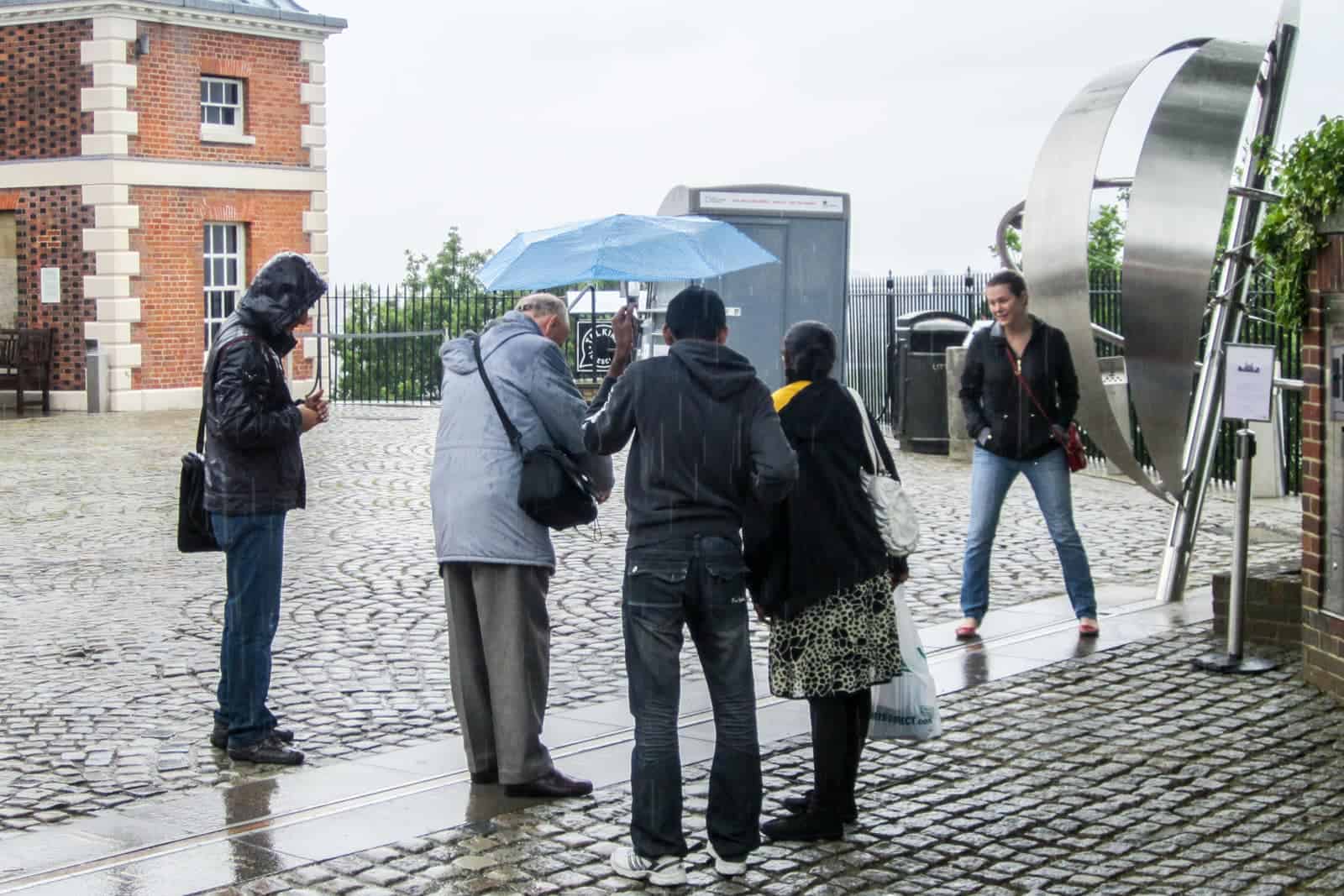 What is Prime Meridian and Why is it in London?
So why is Greenwich the Prime Meridian? It is said that before the 19th century, all towns kept their own record of time, which was probably a great excuse if you were running late for a meeting.
But then came the rise of infrastructure like public transport and so the world needed a standard measurement of international time.
And so the Greenwich Meridian was chosen as the Prime Meridian of the World in 1884, decided by 41 people from 25 nations.
Also, by the late 19th century 72% of the world's commerce depended on sea charts which used Greenwich as the Prime Meridian, therefore choosing this location would benefit a lot of people.
So, on your next visit to the Capital, why not come and stand at the centre of world time.
Things to Know About Visiting the Greenwich Meridian Line in London
Opening Times: 10.00am – 17.00pm. Last admission 30 minutes before closing.
Cost: £16 for adults. Entry for children under 16 is free. The £16 entry is an annual pass (visitors are able to return as many times as they like within 12 months for no additional charge).
Admission to the Royal Observatory's Astronomy Centre which houses three state-of-the-art modern astronomy galleries is free.
Planetarium London Ticket Prices: £8 for adults, £4.50 for children and concessions.
Book Tickets
For pre-booked tickets to ensure peace of mind, better planning and to combine sights, the respected tour platform, Get Your Guide, features various options for the Royal Observatory and Greenwich Meridian Line tours and tickets, such as:
The Royal Observatory Greenwich Audio Guide Tour is for those wanting extra insight as they wander around.
An easy-to-use and sightseeing favourite hop-on hop-off Thames Cruise, that includes a Royal Observatory ticket.
A Day Explorer ticket, which includes the Royal Observatory and Cutty Sark. This is also a chance to visit the National Maritime Museum and the Queen's House which are both located within a short walking distance from the Cutty Sark and are free to visit.
See More of Greenwich
You've likely ventured to Greenwich just for the Prime Meridian Line. Yet there's so much more. The historic town centre, royal lineage and scientific and naval institutions comprise the Maritime Greenwich World Heritage Site, inscribed by UNESCO in 1997.
Mixed with active outdoors and adrenalin adventure activities, parks and markets, and world-renowned art and architecture, Greenwich stands out. This complete guide to Greenwich attractions highlighting what to see, where to go, and where to stay might tempt you.