Disclaimer: This post contains affiliate links to handpicked partners, including tours, gear and booking sites. If you click through or buy something via one of them, I may receive a small commission. This is at no extra cost to you and allows this site to keep running.
Do you want to celebrate Halloween in Transylvania, Romania? Fearlessly revel in the footsteps of an old legend? Have a Halloween party in the real Dracula Castle? Now you can.
Romania is the place to be for Halloween in Europe. Nothing beats the seven-day exclusive Halloween in Transylvania trip with G Adventures that promises ghosts, ghouls and frightful fun. This was the biggest and best Halloween party I've ever attended, and if you are going to get involved in such a well-known cultural festival, you might as well do it on a large scale at least once in your lifetime.
This seven-day trip begins in Romania's capital, Bucharest, before taking you through highlights of the region, some of which keep to the theme. The travel-packed Halloween in Romania tour includes visiting Sighisoara – the birthplace of the real Dracula, Vlad "The Impaler" Tepes, a medieval prince with a thirst for blood.
After a cultural city-hop, you'll be lured to the mysterious dwelling of one of horror legend's most fearful figures as you embark on a spooky spectacular tour of Dracula's castle, where you hold the best Halloween party tickets in town. No other traveller groups party here on 31st October – Bran Castle is exclusive to G Adventures on this evening.
Romanian castles can be found in abundance, but Bran Castle in Transylvania is one of Romania's best-known landmarks – a 14th-century fortress sitting atop a hillside in the Carpathian Mountains.
The monument became home to the world's most notorious vampire, Count Dracula, made famous by Bram Stoker's 1987 novel about the curse of the undead. Count Dracula is based on Vlad "The Impaler" Tepes, who was allegedly imprisoned here for a few months.
So, if you are tempted to relive a story that's over 120 years old, Halloween in Transylvania is something you'll want to sink your teeth into.
How Did Halloween Start? Halloween Around the World
The Halloween date of 31st October is a firm fixture on the calendar of many nations of Christian influence, who try to catch up with the scale of celebration and costume our American neighbours put on. Yet, contrary to popular belief, Halloween didn't start in the USA. So how did Halloween come about?
I only recently found out myself that the origin of Halloween began in Ireland and that the Irish took the celebration to the US, where it was made into something much bigger. Halloween originates from the festival of Samhain, an ancient Celtic harvest festival about casting out the old and welcoming the new on 1st November. The harvest season was at an end, and it was a time when departed souls were seen to return to their former homes. An Irish Halloween tradition was to light bonfires to ward off evil spirits, and families would carve Jack-o-Lanterns from turnips to carry on their journey home. When the Irish emigrated to America, they continued this tradition using the native pumpkin instead.
The Romans gave Halloween a Christian spin, with the 31st of October marking All Hallows' Eve – the night before All Saints Day (also known as All Hallows Day) on the 1st of November and All Souls' Day on the 2nd of November. From All Hallows' Eve came the term Halloween which we affectionately use today.
Halloween in Romania
Even before the Dracula novel brought about Halloween in Romania, the region of Transylvania has for centuries had its legends about the undead (called Strigoi) that still exist today. The Halloween party inside Bran Castle, as it beams in its yellow glow, is a fitting end to the trip in a destination already filled with folklore.
It's essential to pack your costume Halloween-ready for Europe's biggest All Hallows' Eve celebration, where the scary soirée at Hotel Transylvania kicks off with a blood-pumping gathering with 1,000 fearless, fun-seekers from around the globe.
We dressed up as scary monk vampire slayers, a pirate, a Handmaid, a zebra and a mermaid, joining others who embraced cyborgs, Star Trek, slaying queens, and well-known horror figure alter-egos. It is quite a unique site watching this Transylvania castle fill up with spooky characters as Vlad the Impaler welcomed us before we ventured across the six floors for a Bran Castle tour.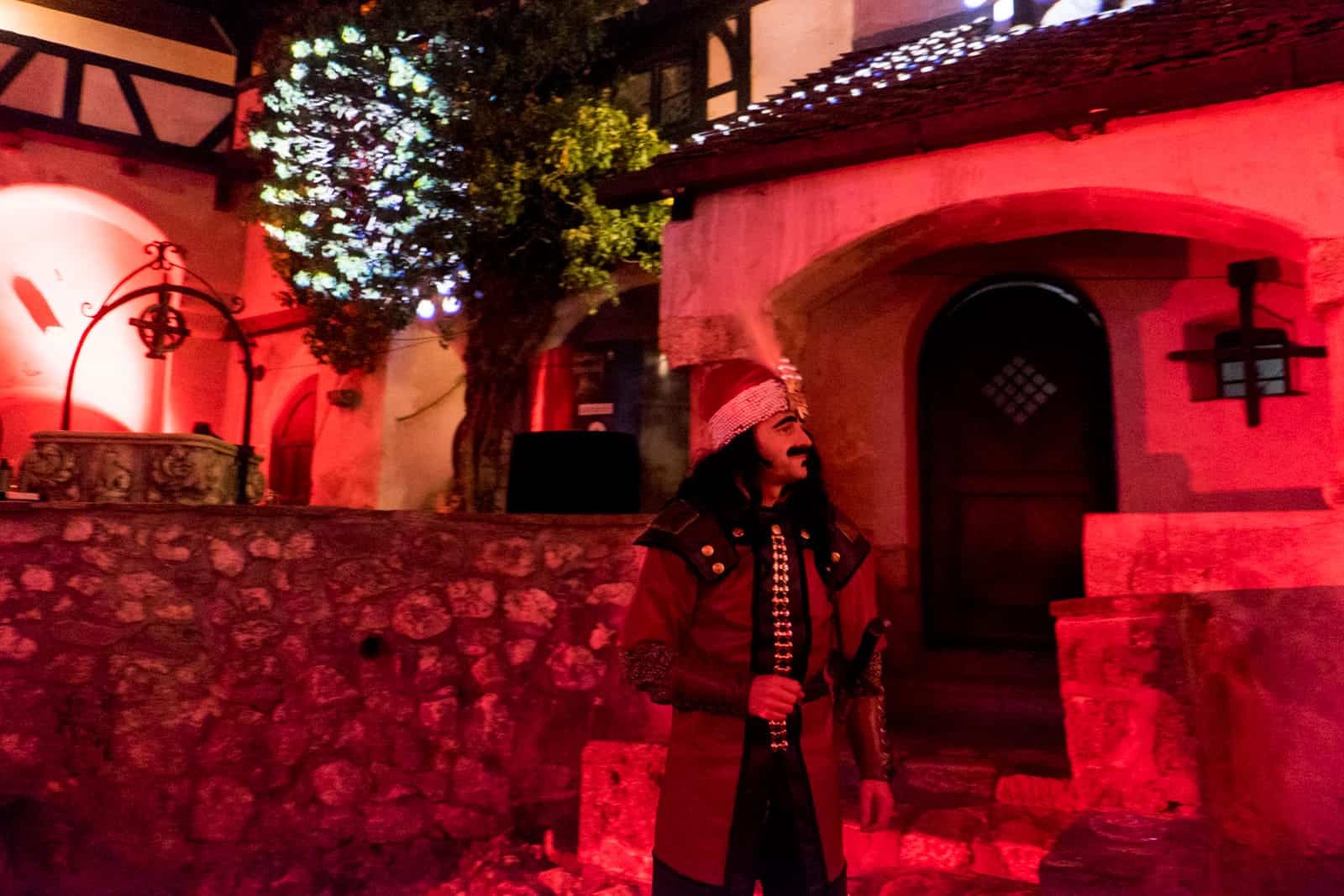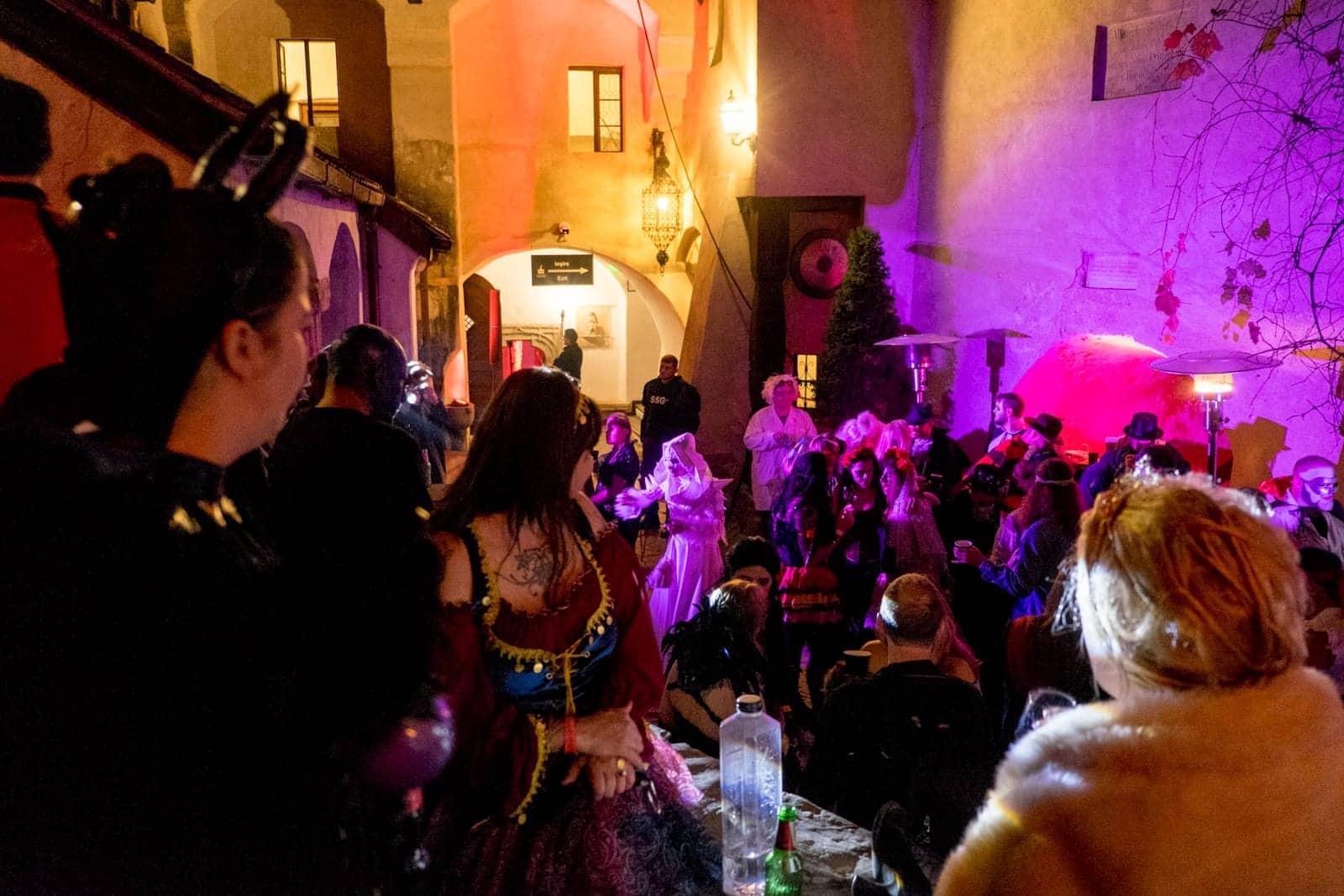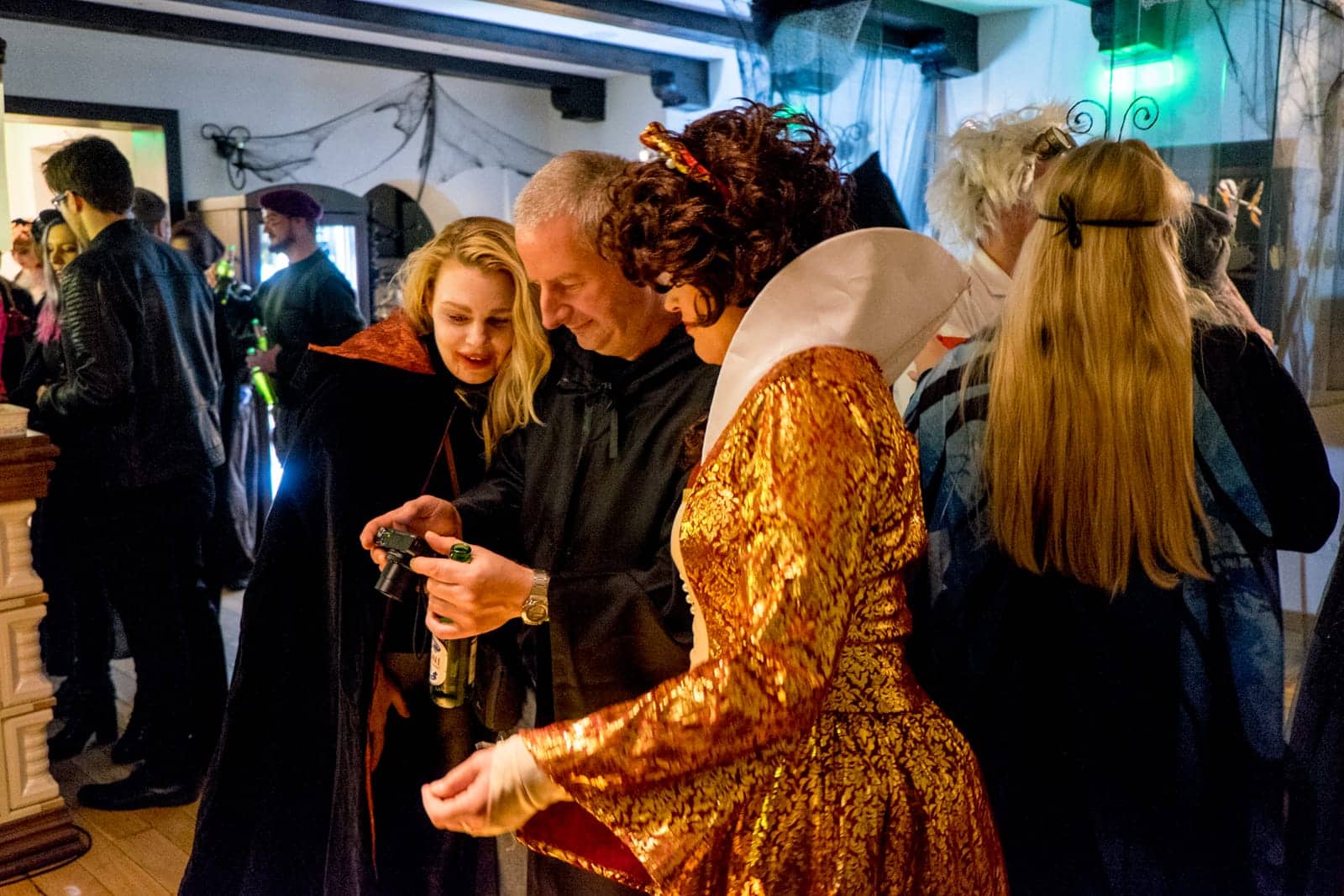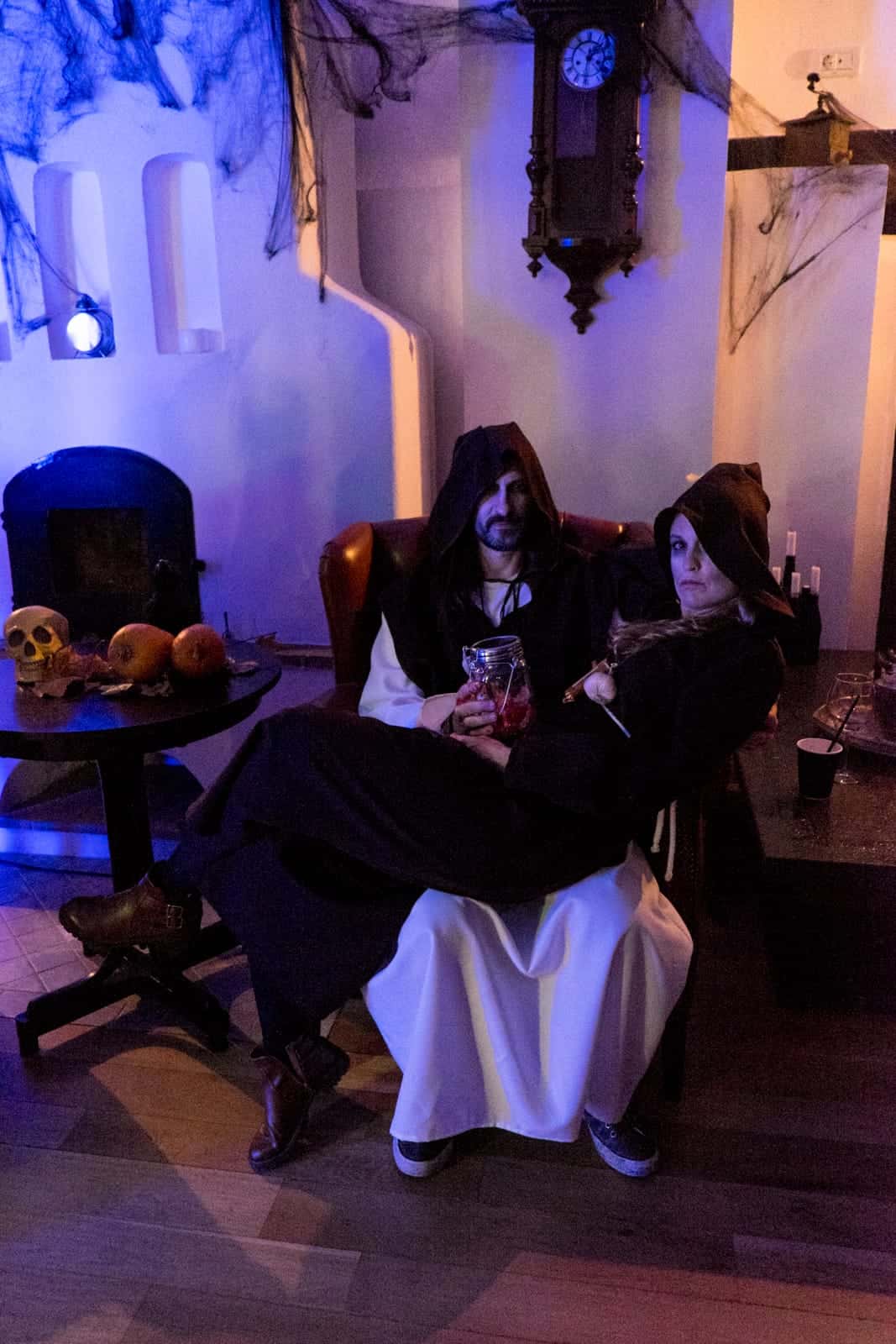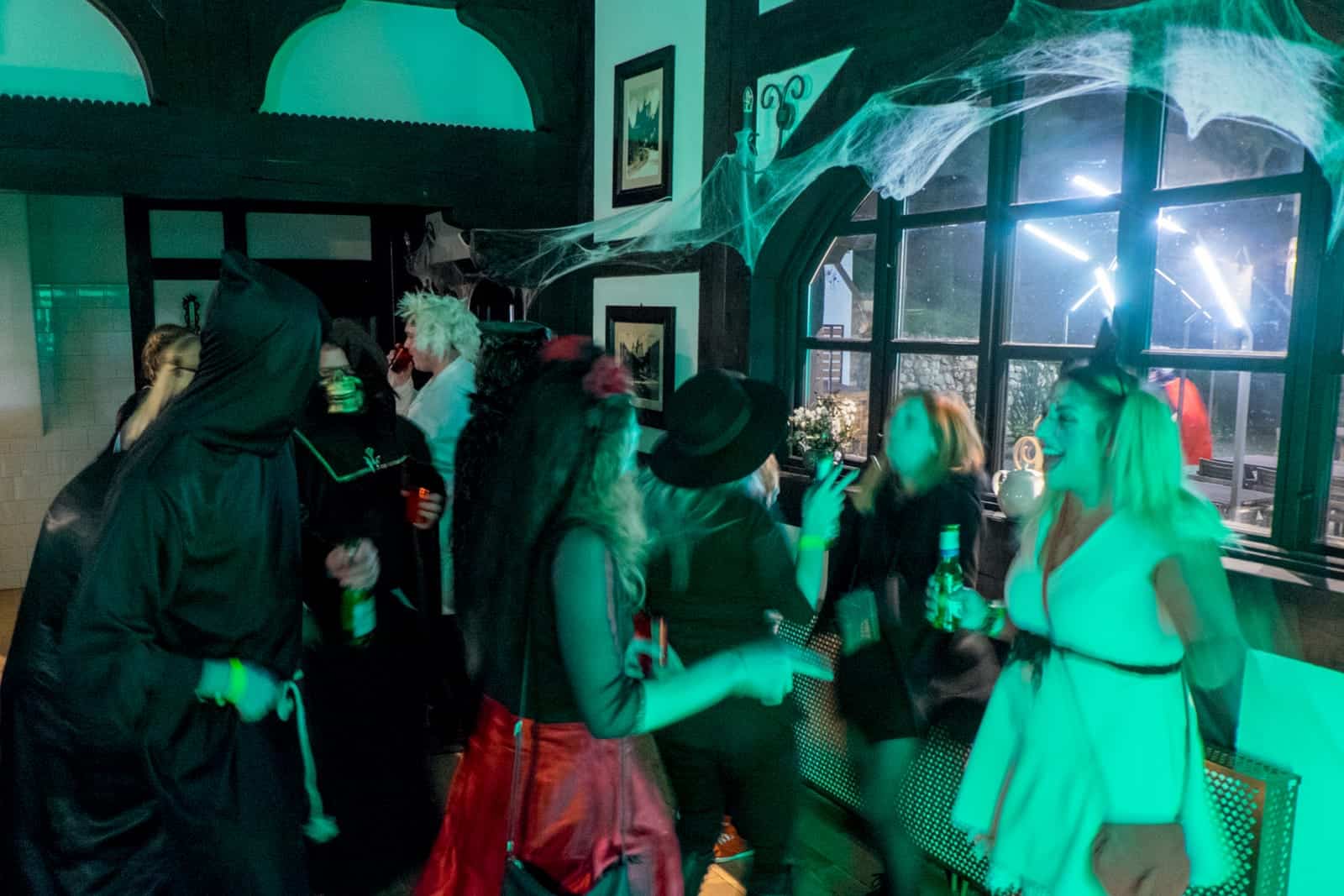 Food was provided, with a couple of pop-up bars on-site, and DJs spun tunes all evening, with some cheesy classics like Monster Mash thrown in for good measure. One of the main highlights of the night was the highly competitive and hugely entertaining Halloween costume showcase. Enter if you dare, for your name will be called, and you will have to show you've got what it takes.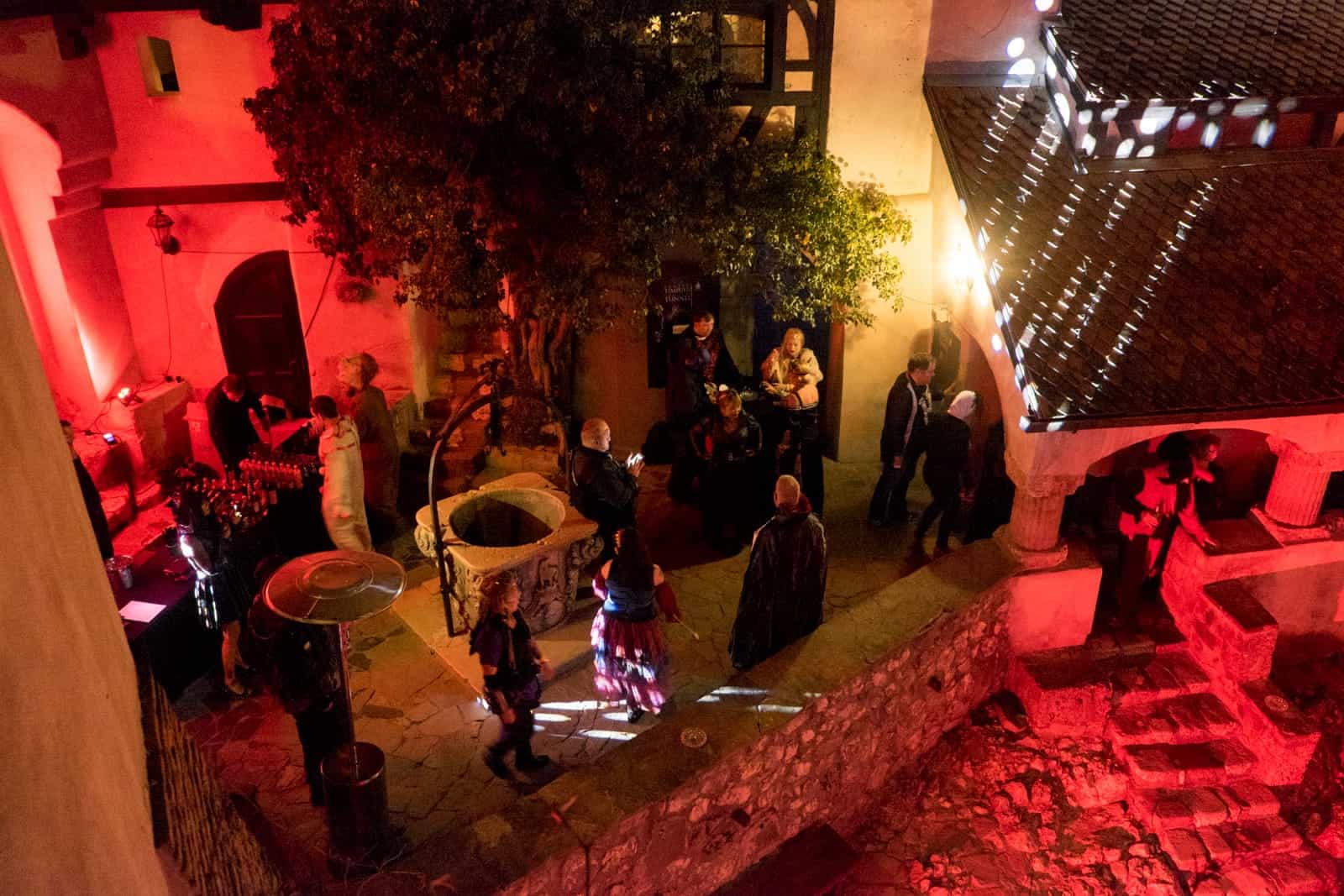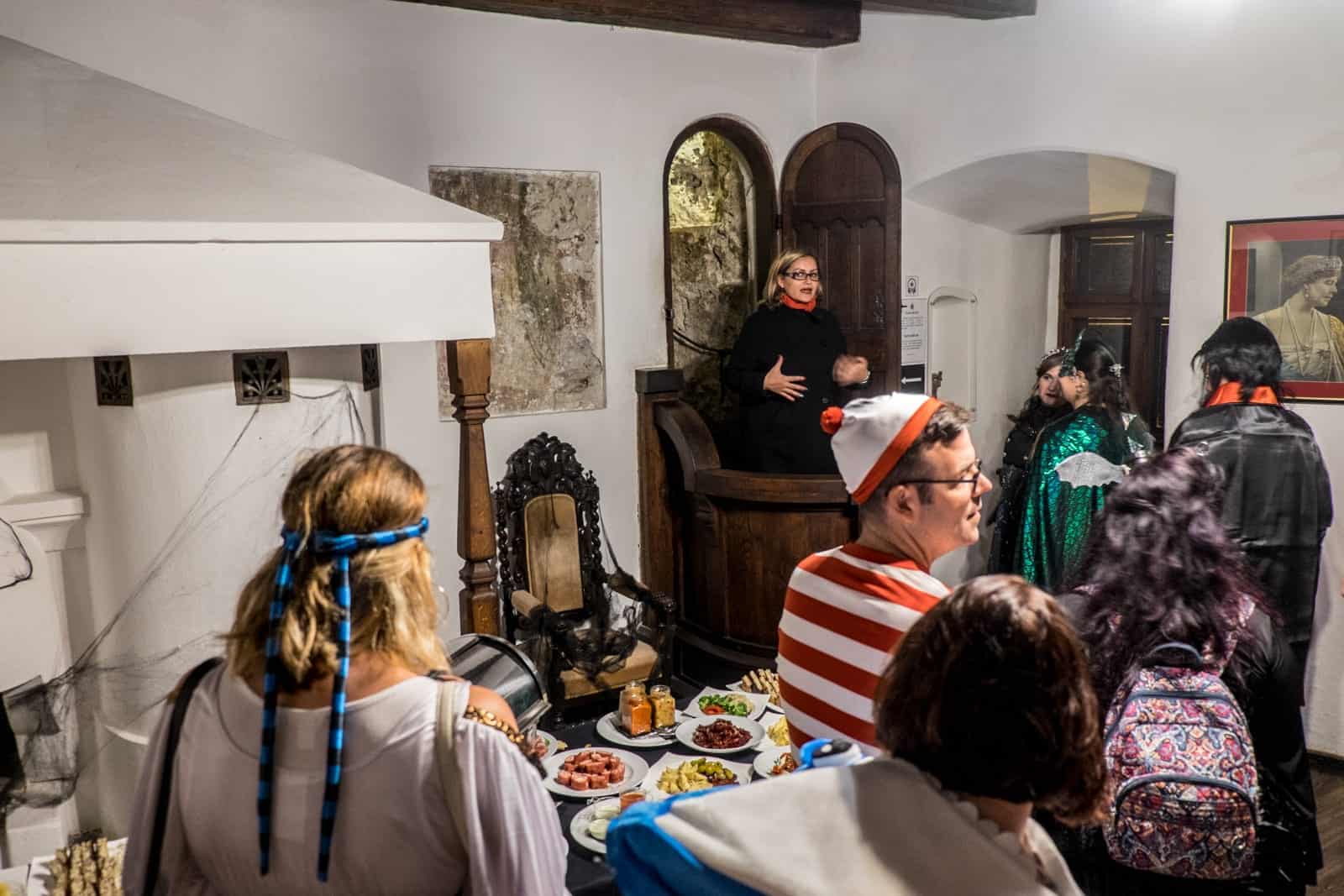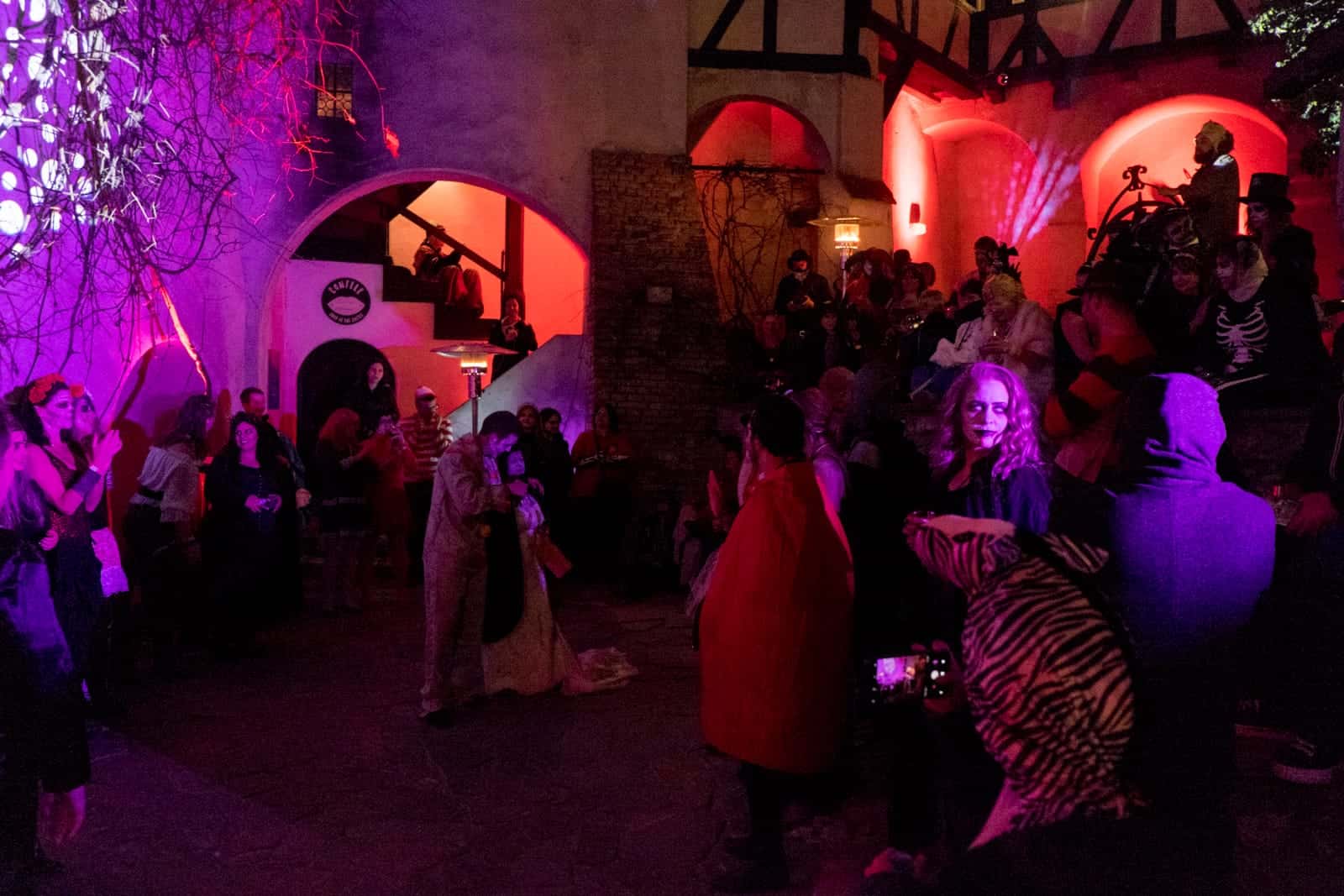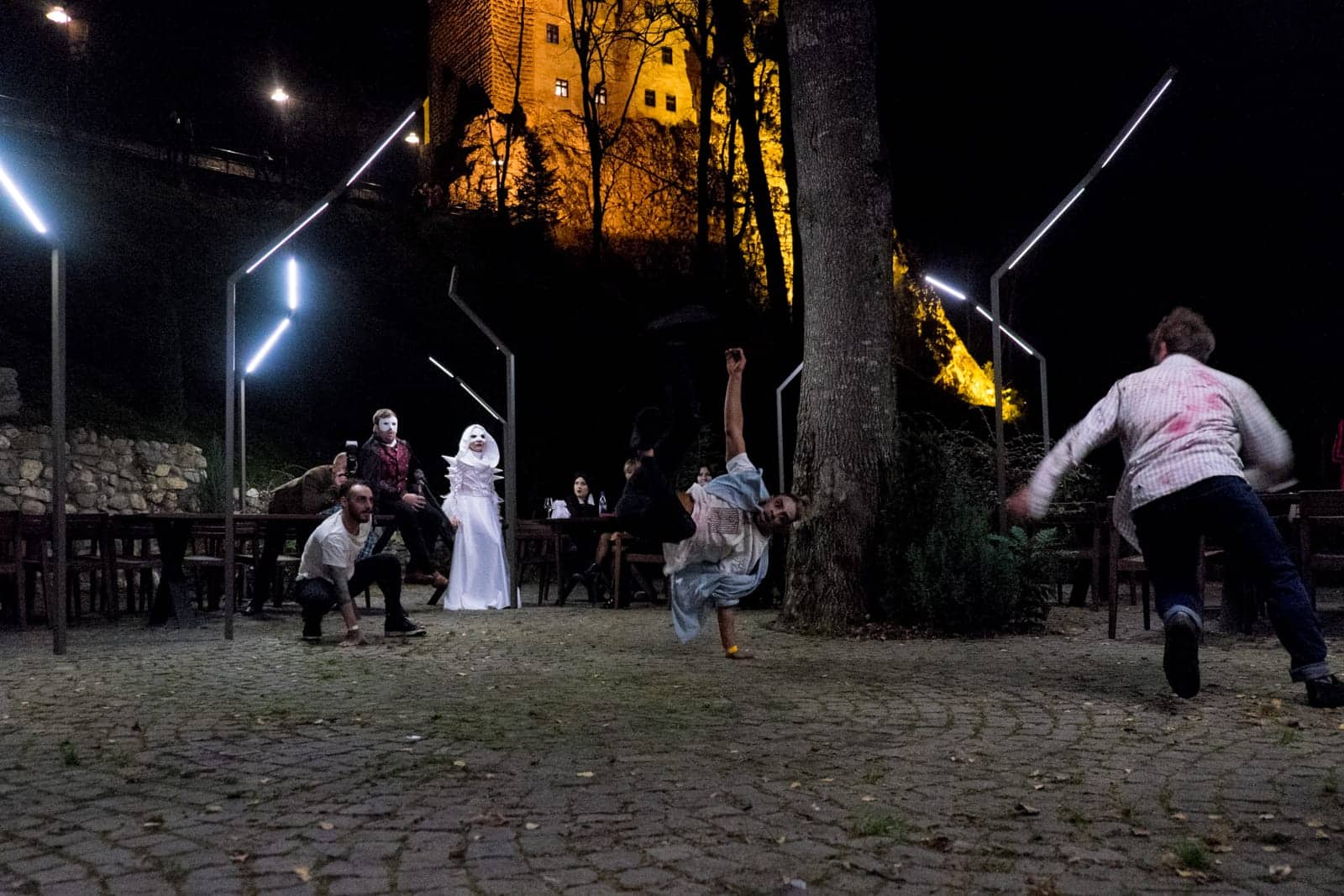 Facts about Bran Castle
Bran Castle is more than just a famous Transylvanian Castle. It's gone from a fortress to a castle used in 1438–1442 in defence against the Ottoman Empire, to a royal residence for the last Queen of Romania (Queen Marie) and a communist holding. Today, Bran Castle is a museum.
Constructed in 1382, its original purpose-built was to protect the border between Transylvania and Walachia but is now better known as Dracula Castle in Romania, home to the legend and host to Europe's best Halloween celebration.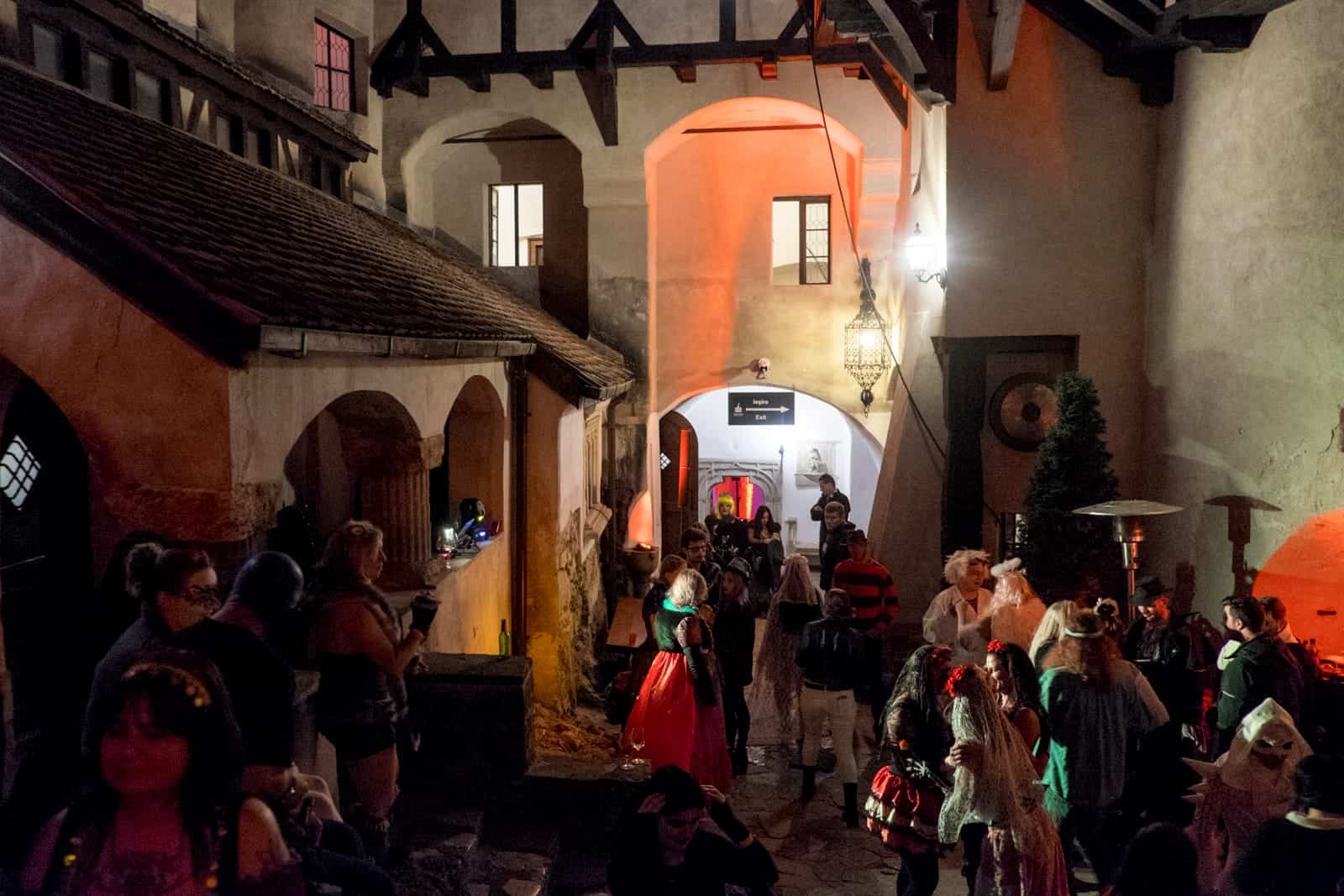 Currently, no one lives inside Bran Castle, but Dominic Habsburg, the grandson of Queen Marie, owns it.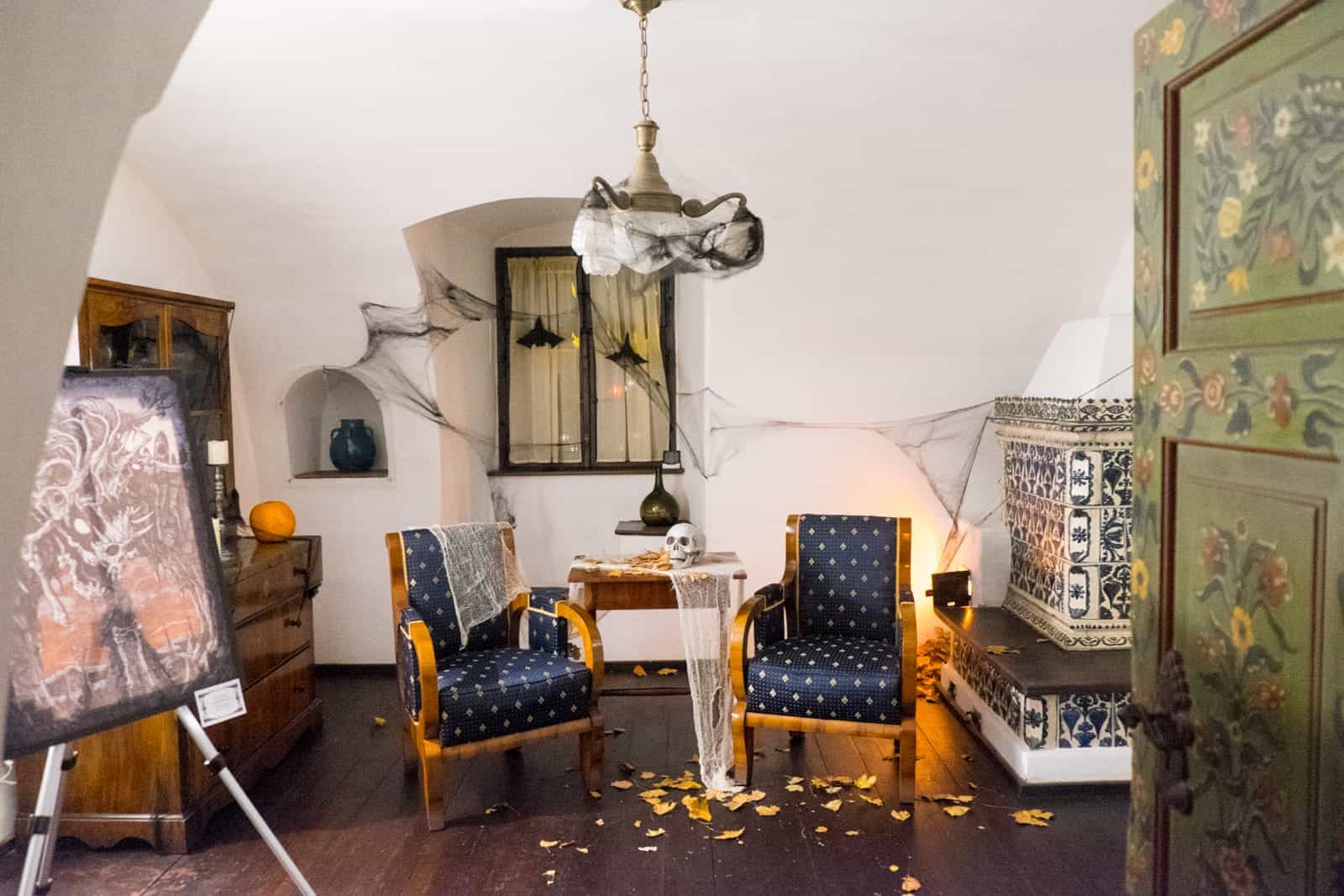 Rumours abound that Bran Castle is haunted, with the most well-known spirits said to be Vlad the Impaler and Queen Mary, whose heart is buried at the castle grounds.
Halloween in Transylvania, Romania Tour Itinerary
Day 1: Bucharest
Arrive in Romania's capital and explore the city. In the evening you will meet their Chief Experience Officer (CEO) for a briefing before transferring to Sibiu in the morning.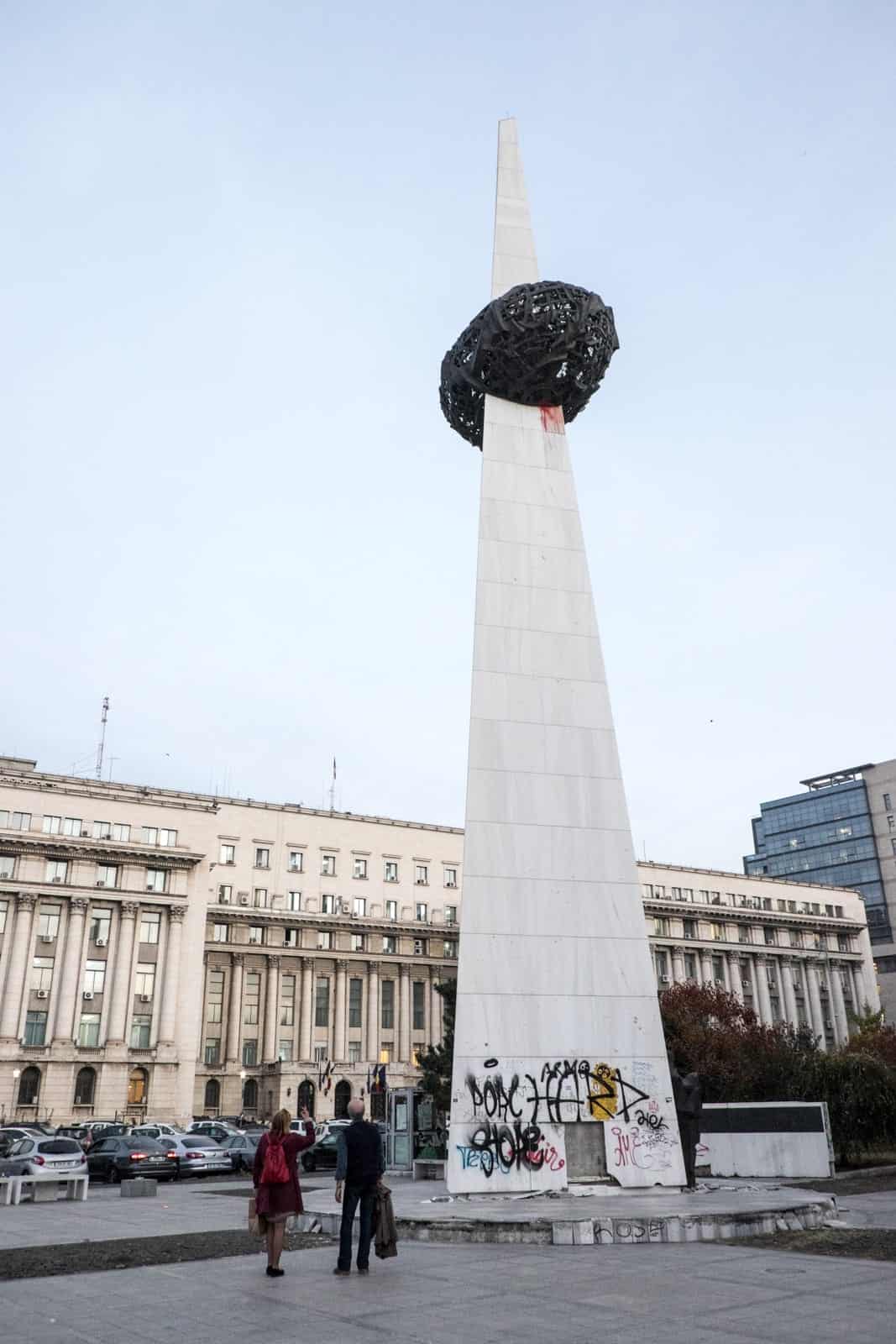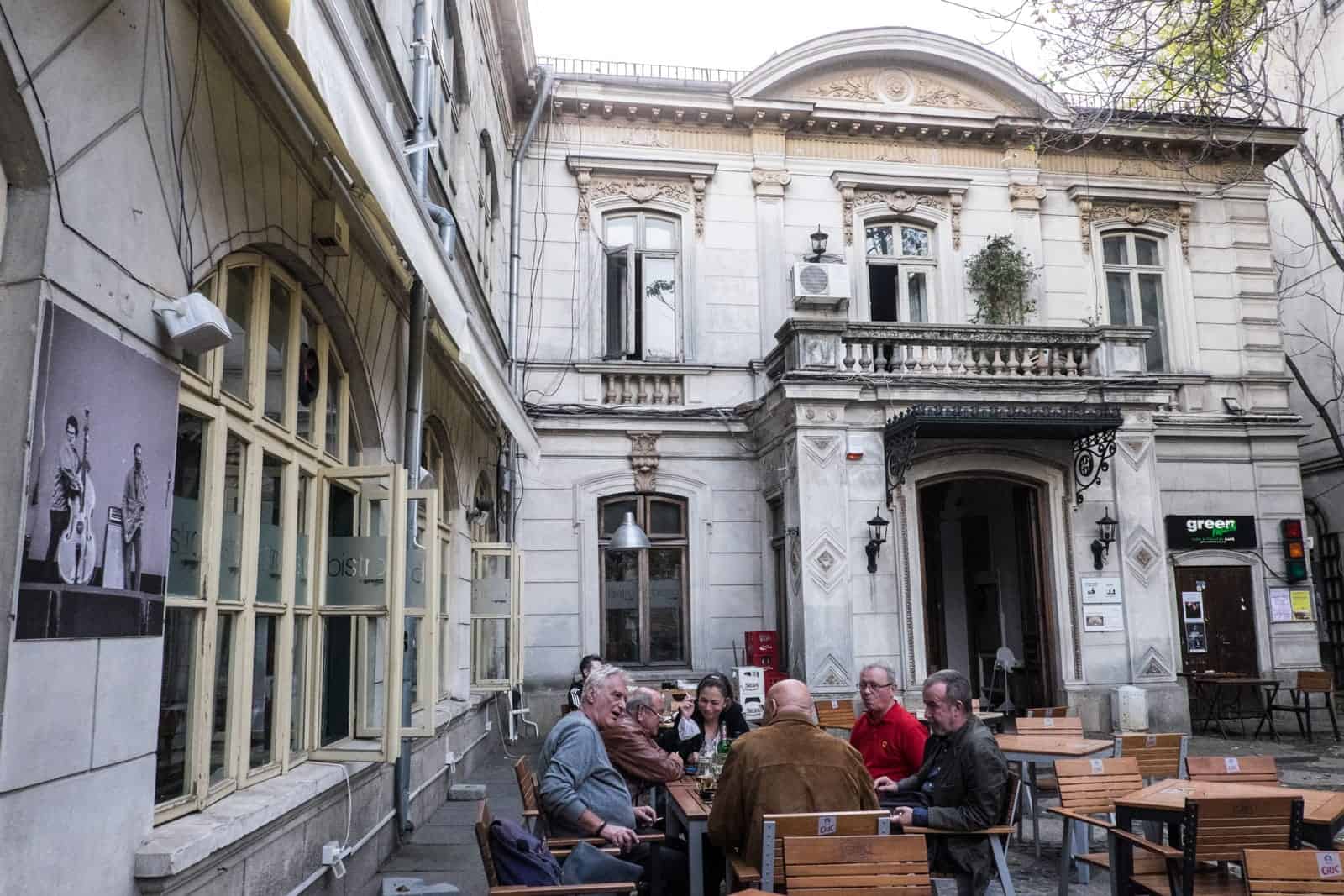 Day 2: Bucharest/Sibiu
Not only do you get a chance to get to know your fellow partygoers better on the road, you will also visit the ruins of Dracula's Poenari Castle and the stunning Curtea de Arges Monastery en route to Sibiu. There is the option to join an orientation walk upon arrival or you can spend your own time exploring, with highlights including the art-focused Brukenthal Museum. Overnight in Sibiu
Day 3: Sibiu / Sighișoara
A new day marks a new location as you head to Sighisoara with time to look around on arrival. Sighisoara is the birthplace of Vlad "The Impaler" Tepes, also known as Dracula, who is said to have been born here around 1430.
Day 4: Sighișoara / Bran (Combined with Brasov)
On the journey to Bran, you will stop for a visit at Rupea citadel, a 14th-century fortress as well as have time to wander around the city. There is also time to take a short taxi ride into nearby Braşov. Wander its cobble-stoned streets, visit the gothic-style Black Church, explore the Brasov History Museum, or indulge in nature with a short one-hour hike up the Tampa mountain for the best views of the city marked by a Hollywood-style sign.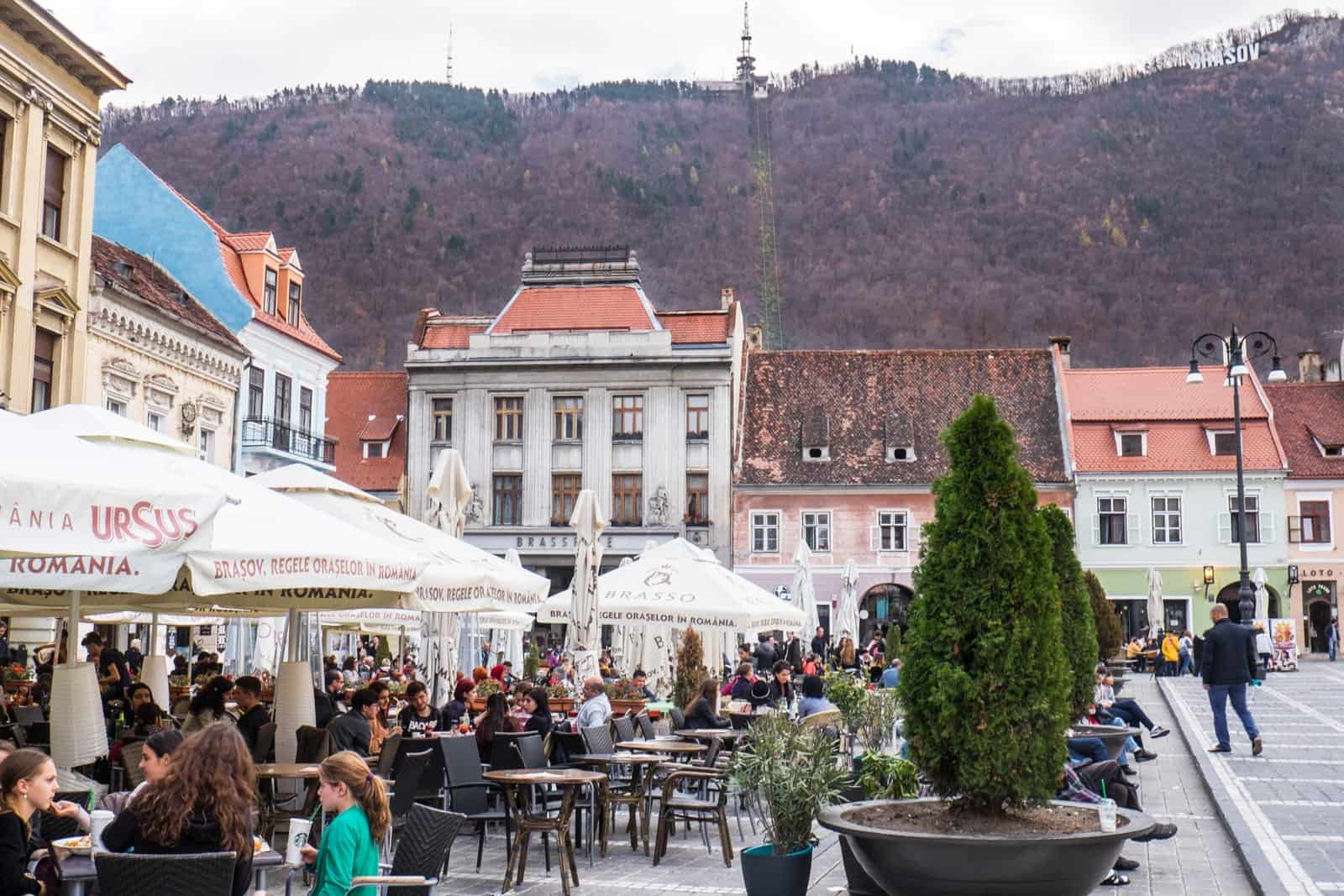 Day 5: Bran – for Halloween
You then get to explore the town and, more importantly, the spooky sites of Bran castle, where historians will be waiting for you on each floor to tell you everything from its history to its ghost stories within the narrow winding stairways and 60 old timbered rooms, underground passages, secret tunnels, and collections of furniture, weapons and armour dating from the 14th to the 19th centuries.
By evening, it's time to showcase your best costume for an unforgettable Halloween in Transylvania!
Day 6: Bran / Bucharest
The party might be over, but the travel isn't. Travel back to Bucharest via Snagov Monastery, then spend the remainder of the day enjoying Bucharest. If you have the energy, enjoy the nightlife in the capital after a day of sightseeing.
Day 7: Bucharest. Trip End Day
Depart at any time. Stay on in Bucharest. Or embark on more travel in Romania. The choice is yours.
Book Your Space for the Halloween in Romania Trip
The seven-day Halloween in Transylvania, Romania trip is priced from £999 per person travelling in a loop to and from Bucharest, giving you a chance to see the highlights of the region outside of the capital and the national monument of Bran castle. Aside from its reputation as the stronghold of Dracula, Romania ranks as one of Europe's lesser-explored regions, beguiling visitors with its stunning Gothic architecture surrounded by a blanket of rugged forests and mountains. As idyllic as it is by day, the real fun happens at night – particularly Halloween, when you get treated to a costume party in an authentic castle. These are Halloween party tickets that you don't want to miss out on.
Visit the Halloween trip page for more information and to book your space.
This tour promotion is in conjunction with G Adventures, who I have been travelling with for over a decade and of whom I am now affiliated with. Will you join this adventure?