Disclaimer: This post contains affiliate links to handpicked partners, including tours, gear and booking sites. If you click through or buy something via one of them, I may receive a small commission. This is at no extra cost to you and allows this site to keep running.
How much does it cost to travel in Japan? Not as much as you think if you plan well. This guide on Japan trip costs has budget tips and breakdowns for transport, bookings, and accommodations across the country.
The higher cost of Japan is the main drawback of travel here for most people, but the expense is secondary to the experience. Whether you want to soak up the bright lights and the distinct buzz of the big cities like Tokyo and Osaka, wander the old, narrow wooden housed lined alleyways of Kyoto, stroll through the scenic smaller towns of Kobe and Nara, or relax within the beach towns and mountain ranges of the peninsulas and islands, Japan is vast and full of natural beauty and endless changing scenery.
Aside from where to go and what to do, the questions of 'is Japan expensive?' and 'how much does a trip to Japan cost?' are always at the fore. So I will cut to the chase and admit that travelling here is more costly than its Asian neighbours, yet it doesn't have to be expensive if you pre-book rail passes and plan your rough route and associated bookings in advance.
This Japan travel cost breakdown will help you plan your trip, calculate your estimated Japan budget and see exactly where your money goes.
How Many Days to Spend in Japan?
Of course, the length of your Japan itinerary determines your budget. Typically, visitors spend two weeks in Japan on their first visit, hopping between the major cities and associated landmarks and sites.
I spent four weeks in Japan, travelling entirely via overland transportation. I wanted to immerse myself in the culture, see a range of different places, and spend a quality amount of time in areas that are both key highlights and some of the biggest areas to explore – Tokyo (one week), Kyoto (six days) and Osaka (three days), time to climb Mount Fuji, and to cross the country and get down to Hiroshima.
Yet in one month, I didn't get to explore the far northern regions of Japan, the Alps, anywhere further south than Hiroshima, nor the outlying islands, which would have meant having to budget for an internal flight.
The country is much bigger than you think, and seeing it all on a single visit is impossible.
If you are planning a trip to Japan and don't know where to start on what destination to visit, check out my other Japan travel tips and city overviews for inspiration.
READ ALL: On my Destination Page for Japan.
When is the Cheapest Time to Travel to Japan?
With the best times to visit Japan being March to May (for the spring season) and September to November (for autumn), it's a good idea to look for flights to Japan and accommodation deals during the off-season: November to March. The summer months from June to September (especially July and August) can be unbearably hot and uncomfortable for travel and sightseeing.
The official climbing season for Mount Fuji is also between July and September, which is a big factor for a lot of visitors wanting to hike.
How Much Does a Trip to Japan Cost in Comparison to the Rest of Asia?
Japan is one of the most expensive countries to travel in when it comes to traversing the Asia region. For that reason, many people choose not to travel here in favour of the more established and budget-friendly Southeast Asia routes.
Backpackers and hardcore travellers are a minority here; most westerners are those just visiting on business. Although visitor numbers to Japan are growing, Japan tourism has one of the fastest growth rates in the industry year on year. Now Japan is open again, following intense Pandemic measures, exponential visitor numbers are expected.
In reality, Japan isn't going to get any cheaper; in fact, it may get even more expensive – and avoiding Japan for cost reasons alone means missing out on what is rated as an absolute must-see destination.
In the Southeast Asia countries of Cambodia, Laos, Vietnam, Thailand, and Myanmar, you can look to spend an average of £500- £600 / $800-$950 + a month on a budget. China and Nepal come in slightly around the same, as do Korea and Taiwan, dependent on transport options and the number of activities undertaken.
A step up from that are destinations like Mongolia, Borneo, Singapore, and Malaysia, where your budget would stretch closer to £800 / $1,300+ over a month because they are places with stronger economies, where prices are naturally higher or where activities and options for travel are harder to reach or organise on your own.
Japan Trip Cost by Length of Visit
In Japan, independent travel was much easier than I had originally thought. Hostel options were plentiful, local food outlets were cheaper than larger restaurants, and the transport was cost-effective.
But where does your money go in Japan, and what is the ratio of the spending?
Japan Budget Per Day, Per Week, Per Month
Estimated calculations based on transport, accommodation, and food expenses. All variations include the cost of a three-week Japan Rail Pass for comprehensive Japan travel.
Japan trip cost for one month
Japan trip cost

for one week

Japan trip cost

per day
It might also be worth organising a Japan trip planner or enlisting the help of locals to pull together a personalised trip itinerary which can help set expectations with a budget. A 5% discount for Borders of Adventure readers is applied at checkout.
Average Cost of a Two-Week Japan Vacation
Based on average vacation time, the most common question is how much a trip to Japan costs for two weeks. To which I would say you need to budget at least $1,200.
Around one-third of that will be spent on a Japan Rail Pass.
How Much Money Do You Need Per Day in Japan?
Since there's no set amount of time to travel in the country, with some even visiting as a layover just in Tokyo, it can be easier to calculate how much money you need per day in Japan.
Japan on a budget – 10,000 Yen per day (£70 / $90)
Those looking to stay in hostels, eat cheaper meals, and not frequently indulge in nightlife.
Japan on a mid-budget – 15,000 Yen per day (£100 / $130)
For those wanting to stay in low-cost hotels, enjoy the restaurant scene, nights on the town, and the odd activity/experience splurge.
Japan on a high-end budget – 20,000 – 25,000 Yen per day (£135-£170 / $175-$225)
For those wanting more luxury, the best cuisine in town and first-class train tickets.
Cost of Travelling in Japan for One Month
Japan Rail pass
£405 / $532
Accommodation for 30 nights
£600 – £800 / $790 – $1,055
Food, drink, tourism site entry fees, other transport, and day-to-day living
£700 / $925
For a slow and budget traveller, this hit my monthly outgoings hard, but I don't regret a single penny spent, and I would happily go back many times over and spend the same amount. Yes, Japan is incredible.
Is it Worth Getting a Japan Rail Pass?
The Japan Rail Pass might be one of the biggest initial costs. Suppose you plan to visit more than two or three long-distance destinations in Japan. Buying one is highly advised in that case, giving you unlimited journeys on all Japan Rail, Japan Ferry, and Japan Buses throughout the country.
Many people are put off by the high cost of the rail pass, but individual rail journeys are expensive and, when added together, can cost more than the unlimited rail pass.
Train Prices Without a Japan Rail Pass
Thinking of paying as you go? Here are some average one-way train ticket costs in Japan without using a Japan Rail Pass.
Tokyo – Kyoto: £94 / $124
Tokyo – Osaka: £97 / $127
Tokyo – Hiroshima: £128 / $168
Kyoto – Osaka: £20 / $26
Kyoto – Hiroshima: £77 / $101
Osaka – Hiroshima: £70 / $92
The average cost of train travel without using a Japan Rail Pass for a basic Tokyo – Kyoto – Osaka – Hiroshima – Tokyo round-trip = £348 / $459. That's if you can find good fares at the time of travelling.
Therefore you save a lot more money and avoid the hassle of searching for the lowest-cost ticket when buying a Japan Rail Pass for unlimited travel in Japan.
How Much is a Japan Rail Pass?
So, if you covered this basic route over 14 days, you save money by purchasing a two-week rail pass. If you were visiting these key places within 21 days, by booking ahead and planning your timings well, you could spend less than the cost of a three-week rail pass, yet it could still be cost-effective to purchase the 14-day pass, if you are spending a week in Tokyo, for example. The tricky part of travelling in Japan is making decisions!
Therefore it's worthwhile investing in a Japan Rail Pass to make the cost of multiple and long-distance travel worthwhile.
The following are prices for the standard/ordinary class tickets.
7-day Japan Rail Pass
£199 / $259
14-day Japan Rail Pass
£316 / $416
21-day Japan Rail Pass
£405 / $532
Buy a Japan Rail Pass Here
The Japan Rail Pass MUST be booked before you arrive in Japan.
Local travel agents can book this for you, where you will be given a receipt to be presented at the main stations in Tokyo in exchange for your pass. It's quick and easy to purchase a Japan Rail Pass online below.
Japan Rail Pass
From £199 / $259 / Multiple Currencies
You can purchase a rail pass from Japan travel experts, J Rail Pass. Multiple-day and regional passes can be ordered with free delivery in various countries. The website is easy to use, with quick and secure payment and with other Japan travel services to hand.
Buy a Japan Rail Pass Now
Other Transportation Costs in Japan
Local trains in Japan
Local trains outside the JR Rail pass inclusion can cost anywhere from £3-£10 / $4-$13 for a short half-hour journey up to £15 / $20 for a destination an hour or more away.
Ticket prices vary according to which of the five different types of train you take:
Local trains stop at every station on the route.
Rapid trains skip some stations
Express trains skip even more stations
Limited Express stop only at major designated stations
Super Express (shinkansen 'bullet trains') operate separately on different lines and with their own stations
Be aware of extra costs when using Japanese trains and booking tickets. An extra fee is applied on top of the train ticket base fee for the faster trains.This applies to the Express trains upwards (in terms of speed)
What seat class do you choose? While most local trains have a standard class across all carriages, there are two classes of seats on long-distance trains, which also affects your overall costs – Ordinary (Second Class) and Green (First Class)
Green / first-class seats can sometimes be double the price of the standard fare.
Shinkansen (bullet) trains have reserved and non-reserved seating options, where a reservation can cost within the region of $5.
Shinkansen (bullet) train seat reservations are free with the Japan Rail Pass.
Check here for routes and timetables for trains in Japan.
Japan Metro and Bus System
Japan has metro lines in nine cities, although you are likely to mainly use those in Tokyo, Osaka, and Kyoto. Tokyo's subway is the largest and most tricky to navigate, although I always find myself being helped out by locals who came to my aid in helping me purchase the right ticket or even ride the line with me until my correct stop.
The cost for a single trip on a Metro and average bus journeys in all cities varies but is usually from 750 – 800 Yen – around £1.25 / $1.5 for a single journey.
The Unlimited Metro Day Pass in Tokyo is £6 / $8
You can purchase an unlimited 24, 48, or 72-hour Tokyo Metro Pass for less than $15, including booking fees and ticket delivery to your hotel.
A comprehensive breakdown of all metro lines, ticket prices, and tips on navigating each system can be found here.
Taxis in Japan
Taxis, especially in Tokyo, are ridiculously expensive and should be avoided unless absolutely necessary or if you have no choice. As an example, a 20-minute journey home after a night out in Tokyo cost nearly £38 / $50, and that was even on the meter.
Bike Hire in Japan
Like most destinations, bike hire is common and one of the most budget-friendly ways to get around and explore an area.
Many guesthouses in Japan offer this facility for free, and if not included, the average cost I found for one-day bike hire was £3 / $4.
Cost of Food in Japan
Prices for food (and drink) vary dramatically depending on location and whether you were eating a cheap bowl of ramen noodles to a full meal at a standard restaurant or trying the delectable beef that Kobe is famous for, with a hefty price tag! Chain restaurants like the CoCo Ichibanya curry house do great deals alongside local establishments, which might throw in a free beer if you stick to a certain menu. I'm not a sushi eater but have been told if you look hard enough, it doesn't have to be an expensive option, as does tempura.
One budget food tip for Japan is to get breakfast, snacks, and sushi sets at a local supermarket, where you can even stay within a 1,000 Yen budget (£6 / $8) for a meal.
A meal in a local restaurant: £5-£10 / $6-$13.
Ramen or curry: £6 / $8 (can be sought for less than 1,000 Yen).
Kobe beef (special, must-do treat!): £17 / $22+.
Budget sushi: £0.75 / $1 (Around 100 Yen per item on the menu)
Sushi at Tokyo's Tsukiji Market: £13 – £20 / $17 – $26 (2,000 – 3,000 Yen for sushi sets of around seven pieces or more).
Cover charge at themed bar or restaurant: £6 / $8 on average.
Bottle of beer: £3 / $4.
Cup of coffee: £3 / $4.
Accommodation Costs in Japan
In Japan, accommodation will be your biggest cost, alongside transportation.
However, this country is quickly responding to the needs of the budget traveller, with more and more establishments becoming aware of the growth of tourism and a slow influx of more established backpackers looking for practicality over luxury.
Hostels are prevalent in big cities like Tokyo, Kyoto, and Osaka. In many areas, old houses and traditional Ryokan are being preserved and turned into homely hostels and guesthouses, meaning you can experience Japanese tradition on a budget.
I stayed at the range of accommodations in Japan listed below to pull together a comprehensive list of options that cover all manner of budgets, from no-frills to luxury hostels, to traditional homestays and Ryokans, on a journey that started in Tokyo and which took me through various key hotspots in the country, all the way down to Hiroshima.
Below is an outline of where I stayed and the costs per night for a dorm or a single room.
Tokyo Accommodation Costs
Homeikan – A traditional Ryokan, said to be Tokyo's oldest, with an onsen bath.
£41 / $54 for a private room
Mount Fuji Area Accommodation Costs
K's House Traveller's Hostel in Kawaguchiko – In the heart of the Fuji area, with free bus transfers to the main train station.
£58 / $70 for a dorm room
Private rooms for £140 /$170
Standard mountain house on Mount Fuji
£38 / $50 for a sleeping space, sleeping bag provided
Ito Accommodation Costs
K's House Ito Onsen – Shared and private rooms within a 100-year-old Ryokan, with an onsen bath.
£20 / $26 for dorm room
£58 / $70 for a private room
Kyoto Accommodation Costs
Santiago Guesthouse – A new hostel with its very own luxury café.
£11 / $15 for a dorm room
Kyoto Piece Hostel – A luxury hostel with a swanky hotel vibe.
£42 / $56 for a private
£15 / $20 for a dorm room

Haruya Hostel – An old Japanese house converted into a homely guesthouse.
£16 / $21 for a dorm room
Utano Youth Hostel – A traditional 'youth hostel' outside of the central city.
£21 / $28 for a dorm room
Nara Accommodations Costs
Nara Backpackers – A traditional Japanese house turned into a cosy guesthouse.
£16 / $21 for a dorm room
Osaka Accommodation Costs
J-Hoppers Osaka – Based slightly out-of-town in nearby Konohana ward (where Universal Studios is based) and main transport links.
£17 / $22 for a dorm room
Kobe Accommodation Costs
Yume Nomad – A huge local house turned guesthouse with its own in-house café.
£17 / $22 for a dorm room
Hiroshima Accommodation Costs
Hostel Mallika
– budget hostel with capsule-style beds and basic private rooms.
£13 / $16 for a capsule
Nest Hotel Hiroshima Hatchobori
£49 / $16 for a economy double
Book a Hotel in Japan
Cost of Tours in Japan
For some, independent travel in Japan might seem overwhelming. If you embark on solo travel in Asia for the first time, Japan can feel more isolated and less trodden than the Southeast Asia hotspots. Would you rather a travel trip to Japan be taken care of and travel in a small group with other adventurers? I recommend these tours of Japan with G Adventures, which takes in many of the country's key cities and highlights, getting you from Tokyo to Hiroshima and back again.
With a variety of trip options from five days to two weeks, including visiting the iconic Japanese sights on a National Geographic Journey trip, seeing Japan's highlights on a budget, or travelling the backroads of Japan, you could even mix and match a small group tour with independent travel.
How Much Do Attractions Cost in Japan?
Eccentric shows, walking tours, cultural tours, and ceremonies also factor into your exploration budget when travelling in Japan.
Temples, castles, and palaces are mostly free to enter, although some historical monuments may have an admission fee, which contributes to the site's protection.
For example, Tokyo is a dream on a sightseeing budget, with core sites such as the Buddist Sensoji Temple and the Imperial Palace grounds having no admission fee. However, the Kinkaku-Ji Temple of the Golden Pavilion in Kyoto is ¥400 – $3.50/€3.
Is Japan Expensive?
Yes, but the cost of travelling within Japan is relative. Before getting there, there is a lot to decide about where you will go, whether to purchase the rail pass and what kinds of accommodation you want to try out, from standard budget hostels to traditional Japanese experiences.
Everything else along the way just falls into place, and if you look hard enough when it comes to food and other everyday costs, your overall Japan vacation cost might not be as overwhelming as you expect.
Japan may be more expensive than her Asian neighbours, but the incredible time you will have here will leave you saying the same thing long after you have left: "It was completely worth it". I promise you that, and I'm already looking forward to returning, cost and all.
Planning a Trip to Japan and Want to Budget? Pin It!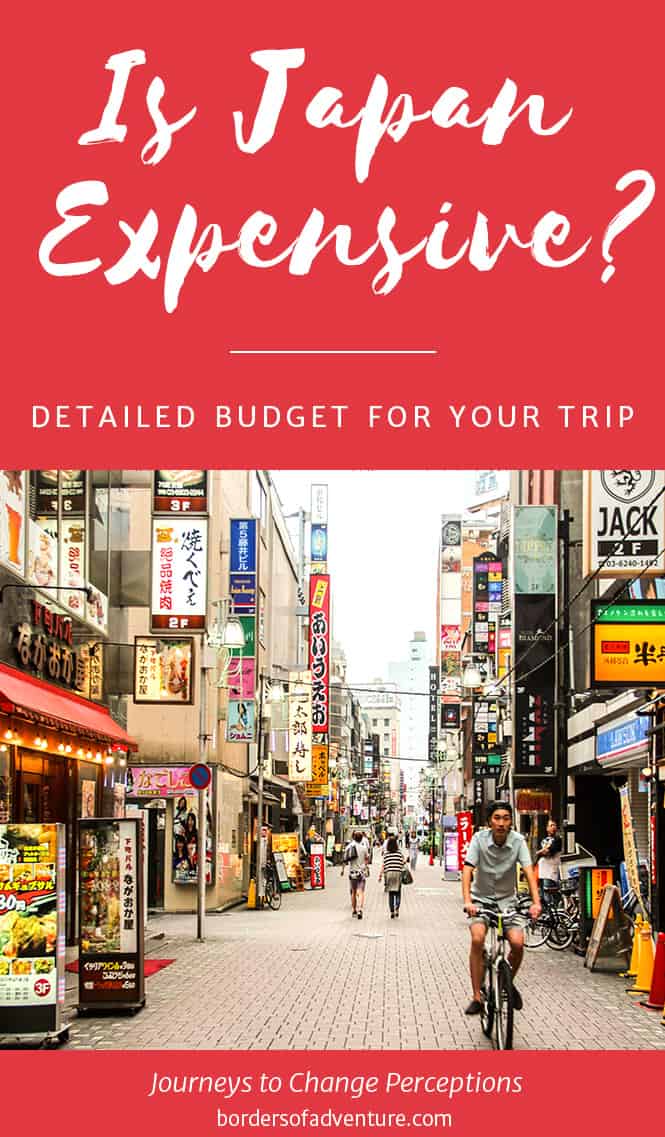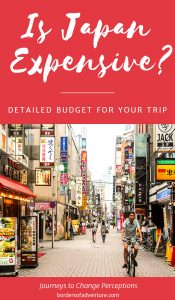 Any plagiarism of this Japan cost travel blog, or any of its calculations and descriptions used on other sites and blogs without attribution is not information authorised by myself for use.