Disclaimer: This post contains affiliate links to handpicked partners, including tours, gear and booking sites. If you click through or buy something via one of them, I may receive a small commission. This is at no extra cost to you and allows this site to keep running.
On a Mandalay bike tour, you'll find there's more to the chaotic city. Mountainous plains and temple bells, just as Kipling once described.
I loved the city of Mandalay and while I preferred Yangon and its more easily navigable and compact feel, Mandalay was a vast open place to traverse and get lost in for hours – markets, side streets, narrow residential alleyways and even a convent where I was invited in for a lovely chat and some lemon juice with the nuns.
Yet, it was a Mandalay bike tour brought to life Kipling's poetic visions – the river valley landscape surrounded by mountainous plains, rice paddy fields and friendly locals – rather than the negative opinions of the bland, nondescript and chaotic space I had heard from so many travellers. Kipling has always played a small part in my love for Asia. "An' the sunshine an' the palm-trees an' the tinkly temple-bells; On the road to Mandalay . . ." – Kipling
But that was the city; a space growing so quickly in the face of economic growth and political change, yet I was eager to find a landscape that resembled Kipling's descriptions – because the rural and stunning landscape of Myanmar isn't yet ruined by the over-zealous hands of tourism.
READ MORE: Ethical Myanmar Travel Guide: What To Know Before You Go
Due to the military coup, ALL TRAVEL TO MYANMAR SHOULD BE AVOIDED.
Who to Bike Mandalay With
So when an opportunity presented itself to bike through the countryside of Mandalay and catch a glimpse of local life away from the grid-street layout of the booming city, I wasn't going to decline. Teaming up once again with my favourite bike tour people, Grasshopper Adventures, I got to visit another South-East Asian city away from the central city confines.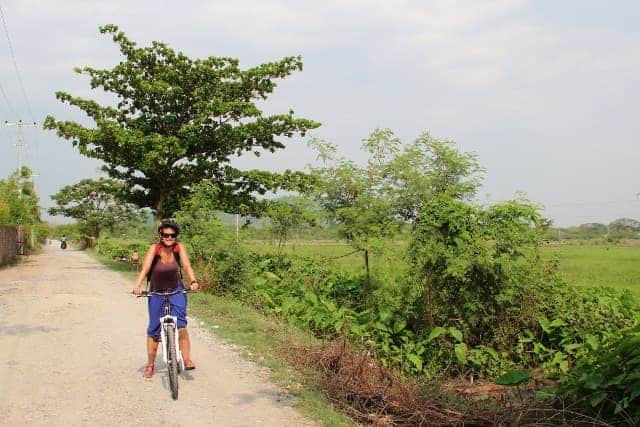 Cycling in Mandalay for approximately 22km, with a local guide in tow, this tour provides a real snapshot of local life and tradition. Since Myanmar is moving towards positive change, it's a perfect opportunity to learn more about this fascinating, untouched place.

What to See on a Mandalay Bike Tour
A short ride out of the main city streets brings you to a busy local market, selling fruit, vegetables, jellies, delicacies and snacks and even unique items such as shampoo – made with an interesting mix of natural items left to ferment in a sausage-shaped, air-filled plastic bag (no I didn't try it).
The Myanmar people, who still find the presence of a foreigner fascinating, welcome you to sample their produce and your tour guide is proud to show you the culinary delights of his culture.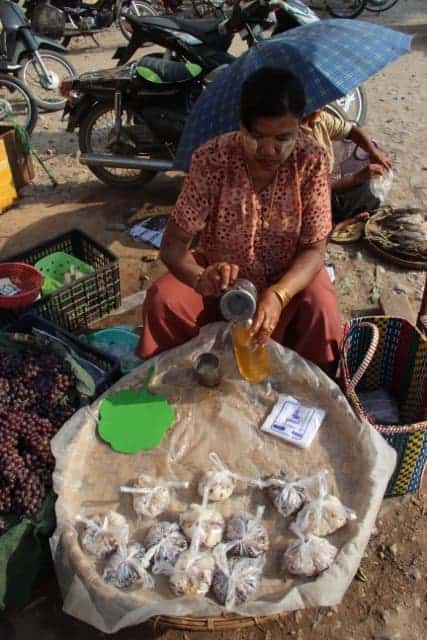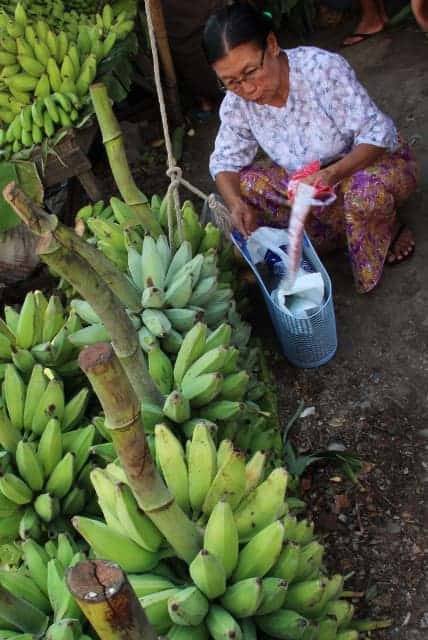 Village Life in Mandalay
Moving from the main road to smaller gravel roads you'll head right into the heart of village life, with the bamboo weaving village as the first stop. I learnt about how the Myanmar people have a unique way of weaving bamboo that is pieced together in pretty patterns and alternate shades and used to construct everything from houses and roofs to storage and shelters for outdoor showers. It was only then that you started to notice the distinct bamboo patterns on the houses in the countryside and the hard work and skill behind them.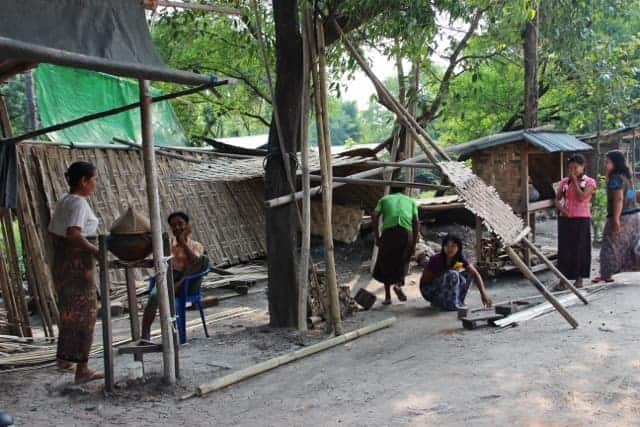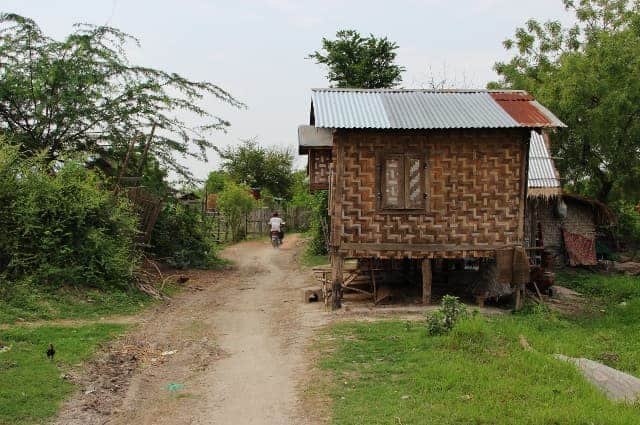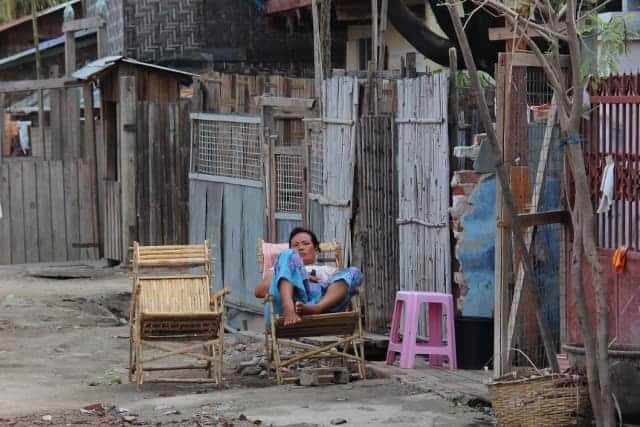 Bean curd has become a huge industry here, and a visit to a privately owned factory is a real eye-opener on small-scale factory life, from the sweltering hot conditions as people toil over hot stoves, to the production line of stretching, drying and packing of the bean curd strips. It's a big business from a small operation.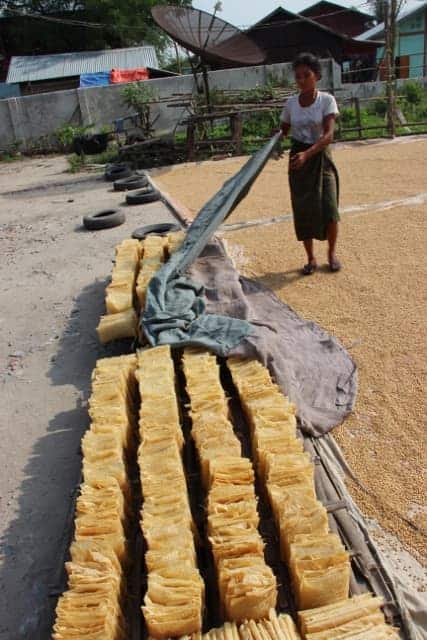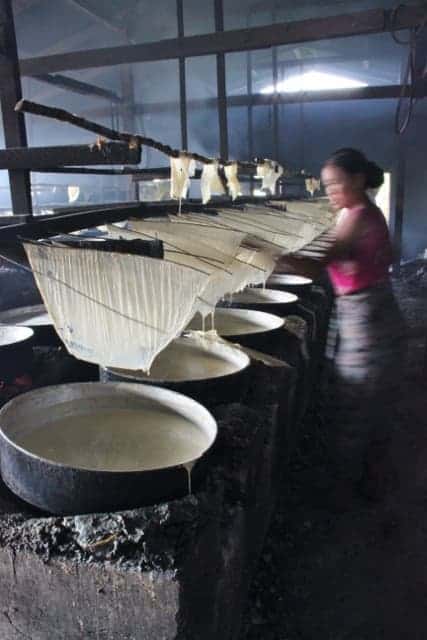 While biking through the villages, a stop at a traditional Myanmar snack shop resulted in being lucky enough to get an invite into a wedding party after my guide and I heard the blaring of modern music (which he assured me wasn't traditional but very much a part of the new generations and how they celebrate).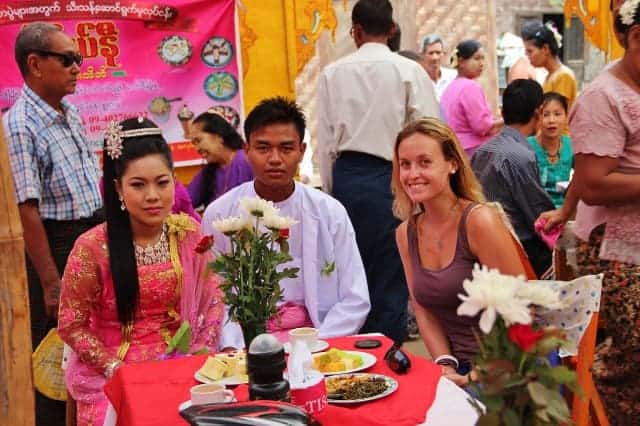 Visit The Countryside of Mandalay
You know when you've hit the countryside when a vast sea of green paddy fields opens out in front of you, encased by the grand Mandalay hills. The roads become smaller tracks of gravel and dried, bumpy mud (mountain bikes are a godsend) and your rural adventure becomes incredibly serene and peaceful.

As you leisurely pedal through this incredible landscape, you will see farmers plough their land and women working the fields, their colourful clothing forming a rainbow against the canvas of green. Locals and land workers will eagerly wave at you as you shout "Ming-ga-laba" and await the beautiful smiles and hellos in return that you quickly become accustomed to daily in Myanmar.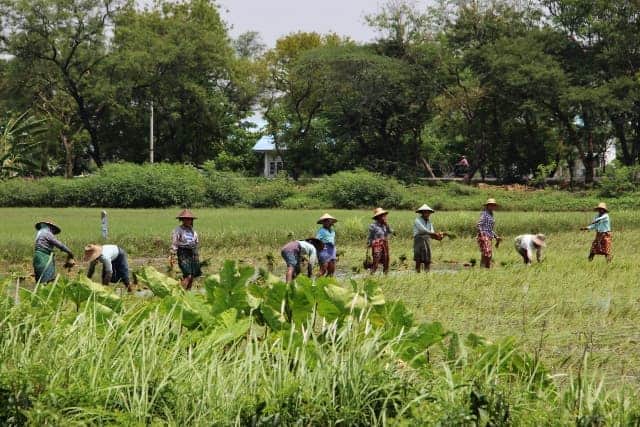 Traditional methods are very much alive here as you witness the simplicity and beauty of rural life – you won't see machines and tractors here, just the strength of the buffalo, many of which you will find around every corner, lazily enjoying the muddy waters of the paddy fields.


After half a day of cycling, you are rewarded with a tea and snack stop at a local tea shop, which is a Myanmar tradition across the country. My guide ordered so much food, encouraging me to try a bit of everything. By everything, I mean a selection of around 10 dishes including samosas and Indian style foods, local noodles and fresh sauces, all topped off with fresh milky tea. I didn't need any persuading! It was the perfect end to a day of countryside immersion.
There is more to Mandalay than the central areas of the city. With the tranquil arena of the countryside only a very short distance outside of the chaotic, dusty city, you really can stumble upon a landscape that writers such as Kipling once mused upon.
And while we can only dream of what it was like to travel in that time, those poetic descriptions of days gone by are still very much alive today – you just have to know where to find them.
Take a Mandalay Bike Tour
The Magnificent Mandalay Mornings bike tour costs $33 and starts at 8:30 am, finishing approximately at 11:30 am. Bike hire, drinking water and local snacks are included in the overall cost. Many thanks to Grasshopper Adventures for the opportunity to try it. All opinions, as always, are my own.