The bus drifted along Highway 40 from Israel's central town of Be'er Sheva through the transfixing yellow sandy hues and rocky plains of the southern Negev desert, before alighting at a lowly bus stop on the roadside of a town called Mitzpe Ramon. Reveling in the sense of freedom you can only feel in beautiful isolated spaces, the only sound in the air was of the bus wheels rolling away into the distance as a scattering of buildings on barren land emerged into view under a crisp blue sky. It was time to go hiking in Israel.
Once a camp for workers building a highway through the dusty landscape to the southern port town of Eilat in 1951, the development area of Mitzpe Ramon was soon forgotten. Now, it is a thriving town that sits on the edge of the incredible Ramon Crater – attracting travellers to one of the most spectacular hiking spots in all of Israel.
Watch: Hiking in Israel – Mitzpe Ramon and the Negev Desert
Luckily my hostel, the hiker-friendly The Green Backpackers was perfectly placed right opposite the bus stop, but more impressively, just a few minutes walk to the northern ridge of the crater and it's viewing points and trails. With just a couple of hours to spare before sunset, I hired a bike and set about heading up to the edges of the Ramon Crater – a 38 km long, 6 km wide, 860 meter high and 450 meter deep natural wonder.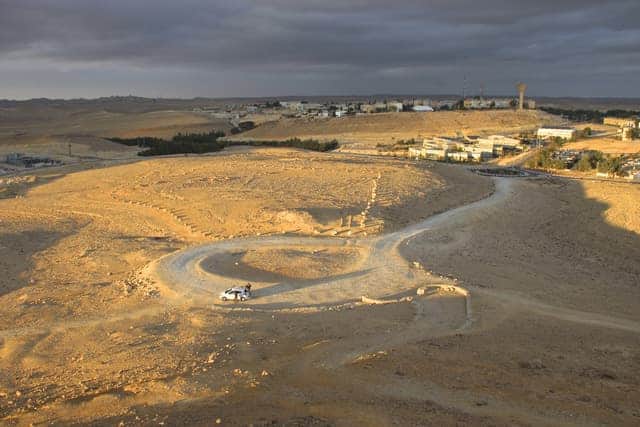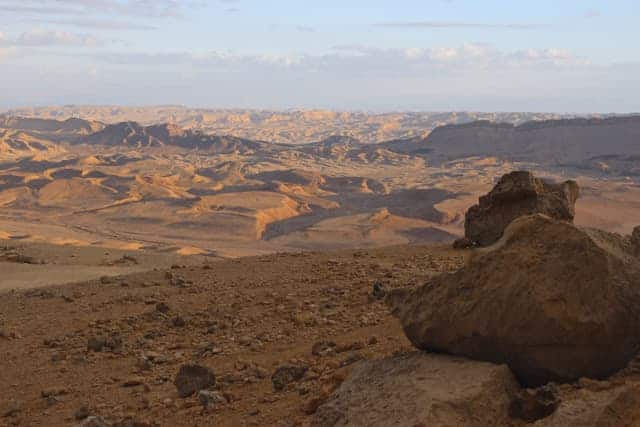 Ramon Crater Viewpoints and Sunsets
You can either climb a small hill for a wider view or visit various constructed ledges along the 'Albert Promenade' including the 'bird balcony' that hangs over the crater.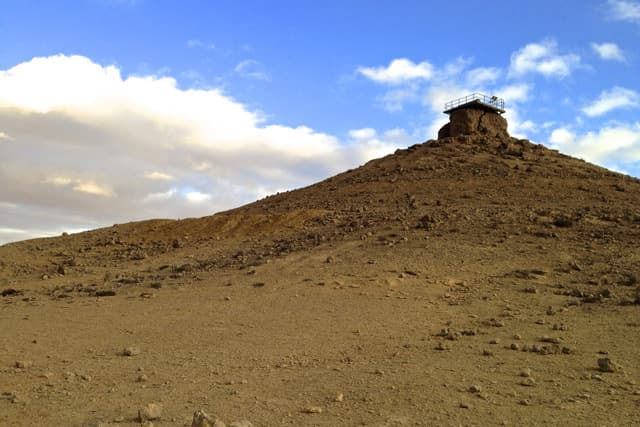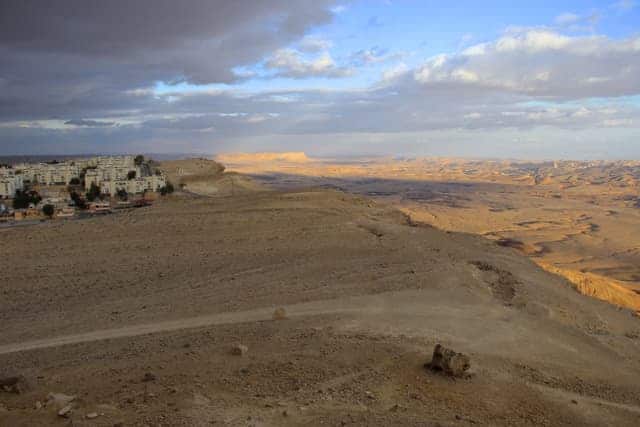 Either way, the view doesn't disappoint. It sounds impressive in numbers but in reality more so, with the dusty air blurring the ridgeline in the distance and making it appear never-ending. I may have been on my own for sunset, but I quite enjoy those moments for reflection and I couldn't have asked for a better backdrop.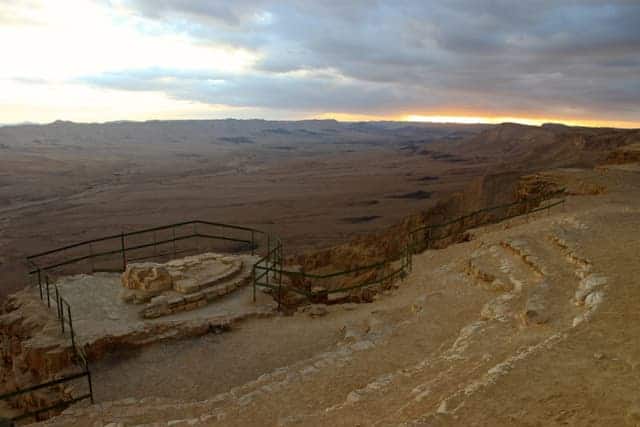 A Home for Travellers in the Isolated Desert
With nothing much going on in town, I headed back to The Green Backpackers for a pizza and movie night – this hostel luckily providing the sociability factor needed to be able to meet travellers in an area a little off the beaten track. It also gives back to the community in the fact that it's owners, Lee and her husband Yoash, are helping to put this once ailing town on the map as a viable tourist destination and drive footfall to local businesses.
Forging plans with another traveller to go on a two-hour hike down into the crater the next morning, I was armed with all the information on the various routes, safety advice and tips for hitchhiking back. Lee and Yoash are also both certified tour guides and experts on the area, and with Yoash volunteering on the regional search and rescue team also, they know when it is safe to hike or not and what routes are advisable that day. In the instance where my safety in trekking had not been the utmost priority of the local people who knew better, this really was an appreciated addition to the hostel's offering, with Lee strongly advising against the longer routes due to predicted rain.
We were due to leave at 8am and Lee was right. You might assume it to be constantly hot here considering it's a desert, but due to Mitzpe Ramon's location right above the crater it feels colder than it is and is wrapped in moderate winds all year round. In summer, this is a welcome addition; in winter, it can put a hold to the most eager of plans.
It was raining to the point where my fellow trekker and I spent around two hours debating whether or not to go out or not. But a true adventurist is never defeated and so we emerged out into the chilly winds at 10am, just a few minutes walk to the start of the crater's marked trials.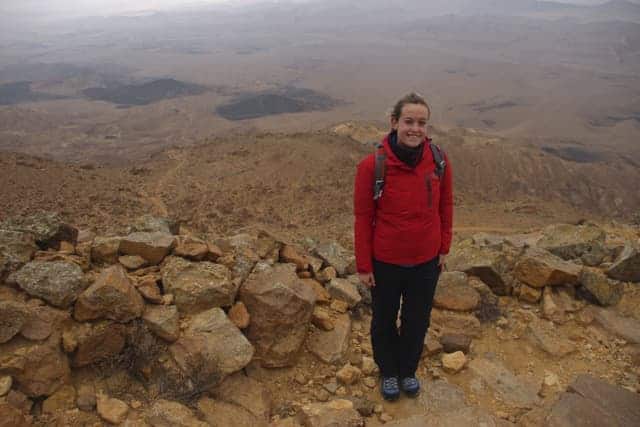 The video speaks for itself in that the changes in landscape and the views are immense, and in seeing no other travellers on the route until the very end at the constructed viewpoints, it actually felt as if we were the only people traversing the planet. A well-marked route with painted markers, the two hour hike wasn't too taxing, with only some loose rock to contend with.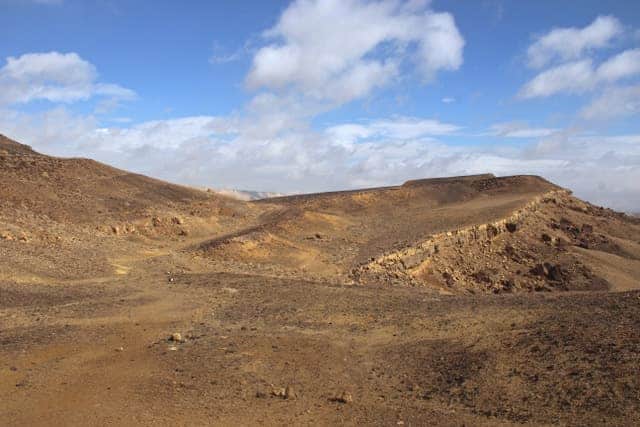 Hitchhiking, considered to be a normal occurrence throughout Israel, was one of the toughest parts, taking us nearly 30 minutes to attract the attention of a local willing to transport us up the snaking road and back into Mitzpe Ramon. The fact our driver ended up being a serious military general who ushered us in with curt "Get in, NOW!" and who only smiled twice during the entire journey, only added to the day's adventure.
Why Travel to Mitzpe Ramon?
My time in Mitzpe Ramon ended where it started – at the bus stop. Except this time there were local people with me, bringing me full circle in my journey of realisation that it isn't all that isolated here after all. It's actually very much full of life, rapidly garnering attention as a must see destination in Israel, with the rise of luxury hotels, eco lodgings, adventure activities including jeep touring, biking and abseiling, alongside wineries and a growing arts scene.
But this wouldn't be possible without the visions of people like Lee and Yoash, who offer the means for people like you and I to come here and, in turn, help the community to grow… out in the incredible desert landscape, in a town that's no longer ignored.
My stay at the Green Backpackers, part of Israel's ILH hostel network, was complimentary as part of my suggested visit to Mitzpe Ramon by Tourist Israel – one of my partners during this trip. All opinions remain my own.
Want to Hike in Israel? Pin It!