Disclaimer: This post contains affiliate links to handpicked partners, including tours, gear and booking sites. If you click through or buy something via one of them, I may receive a small commission. This is at no extra cost to you and allows this site to keep running.
In a country of diverse landscapes and unpredictable weather, how do you prepare and what should be on your Mongolia packing list?
Mongolia is a land of the unexpected, taking you across a diverse range of landscapes from flat, barren land and mountainous terrain to the heat of the Gobi Desert. The weather can be unpredictable, and the travel landscape is challenging to navigate.
So how should you prepare for and what should you be packing for Mongolia – a beautiful country untouched by the overdrive of tourism and relatively unknown?
Mongolia Packing List
For Getting Dirty – Pack Things You Don't Mind Getting Ruined
Having old clothes that are easily disposable later become a large part of your packing for an Overlanding trip in Mongolia. More so if you travel by truck. Still, even if you are travelling around the country in jeeps there is also a big possibility that you will get stuck along the way – and you may just need (or want) to get involved with the process of digging and pushing a vehicle out of the mud.
I ended up using an old pair of pyjama pants, but a friend used waterproof trousers; easy to wash and dry out afterwards.
Generally, travelling in Mongolia runs the risk of getting your hands dirty in these kinds of situations, including having to walk through muddy areas and shallow water, so expect the worse to happen and stock up on the baby wipes and hand sanitiser.
I embraced it as part of the travelling experience, but many people in my group stood on the sidelines not wanting to get involved because they hadn't done their research on the place – and they were the ones who sadly enjoyed the whole experience the least.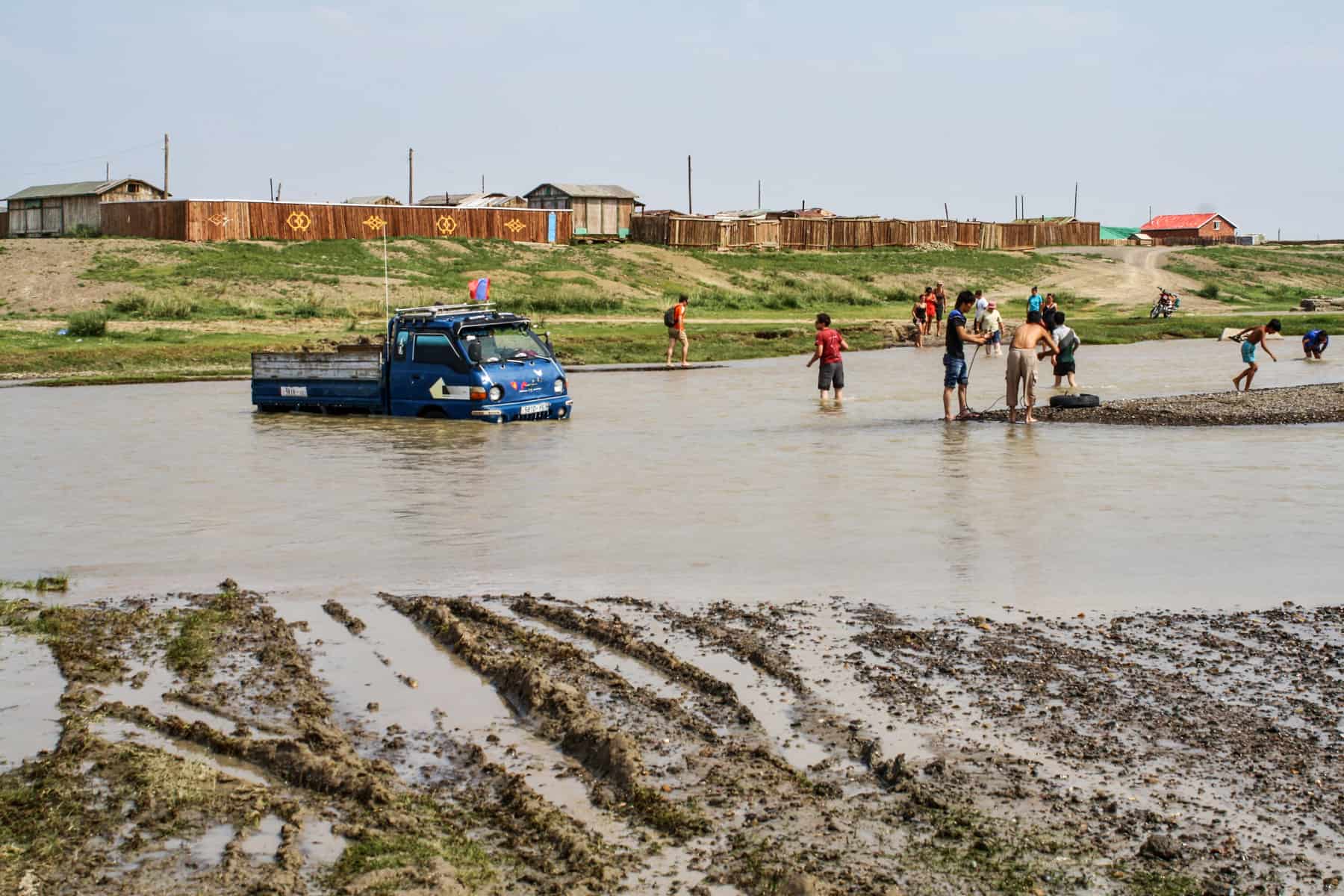 For Multiple Landscapes and Seasons – Pack Hot and Cold Clothing
I expected Mongolia to be chilly in the evening so had packed a cardigan, leggings and a fleece. Yet, the further into Central Mongolia we travelled the colder it was at night. I luckily had packed a compression sack full of super warm clothing for my forthcoming Everest Base Camp trip, and I was surprised when I had to use my thermal top, thermal leggings and my down jacket! In the day time, shorts and a vest top will suffice, but a long sleeve top is sometimes helpful for the slight chill or a rain jacket for the unexpected downpour.
If you are camping, then it's wise to get a sleeping bag that's at least a Season 3. There will be nights when you need that extra warmth!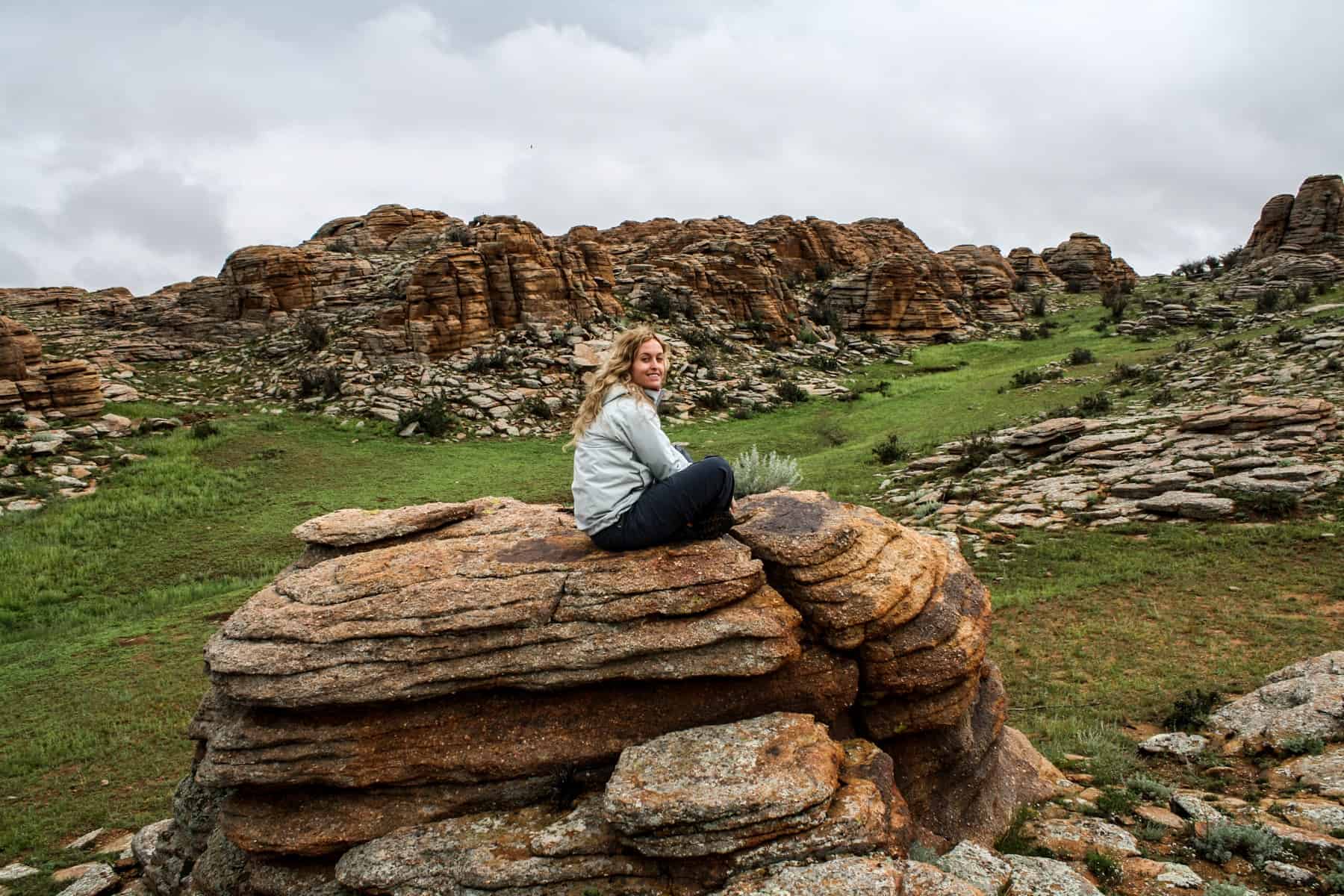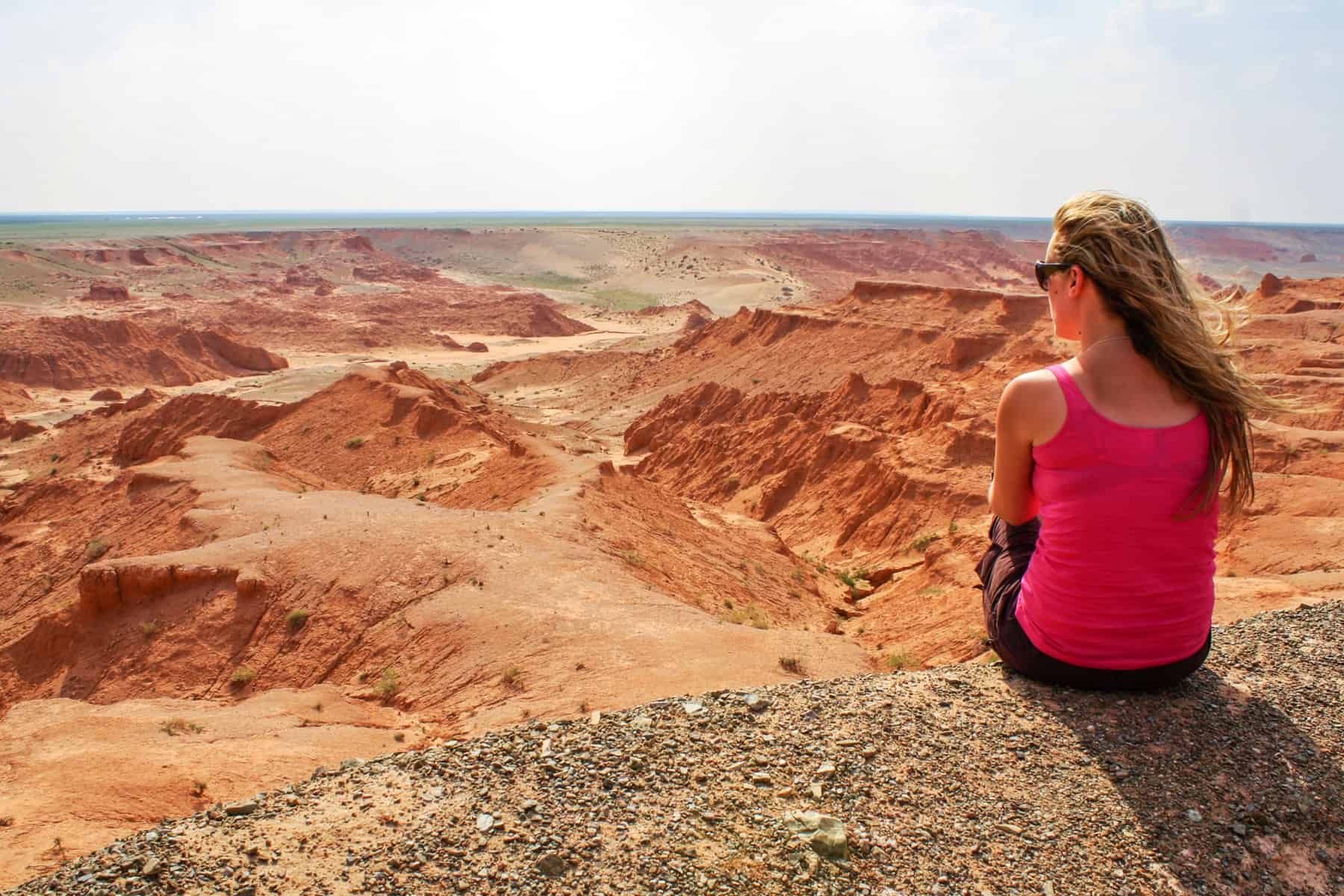 For Sandflies and Mosquitos – Pack Strong Bug Repellent
When heat and humidity lingers, our flying friends like to make an appearance. Within the first few days, I managed to get a few sandfly bites and then the mosquito bites began to appear rapidly. I get bitten easily so became a regular super tasty treat for the little critters here, especially on my face! Pack the repellent and the after-bite creams and lotions. It's not a malaria-risk area, so you don't need to worry about anti-malaria medications.
There are also areas where flies are commonplace – the kind that lands on you and does not move unless you brush them off. They are entirely harmless, so don't be alarmed and only become a pain if you are bush camping and nature calls.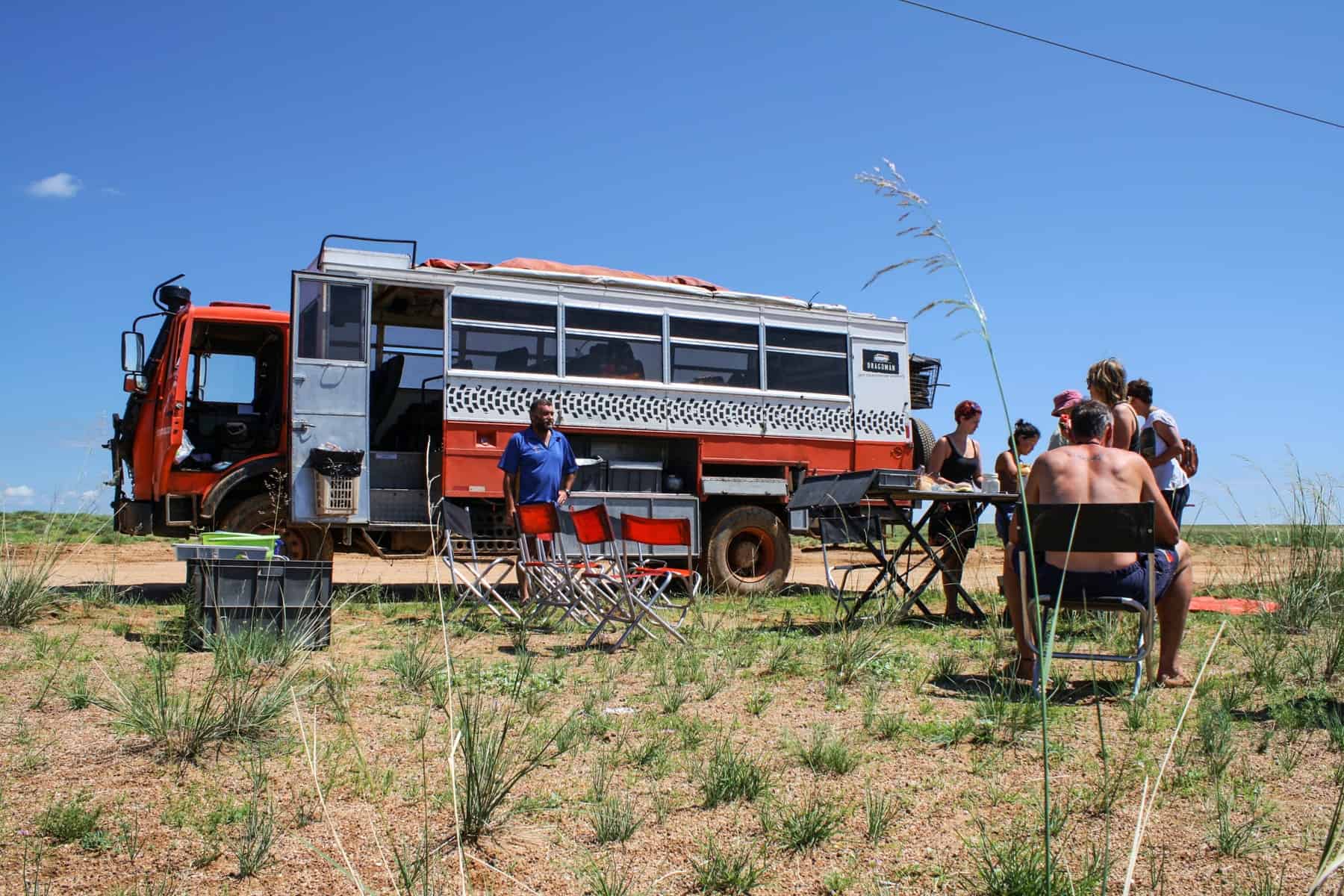 For Time in the Desert Sun – Pack Strong Sun Protection
Sunscreen is a must, with more frequent applications needed for the areas approaching and in the Gobi Desert. When it's hot in Mongolia, it's scorching! The sky is piercing blue and clear, and there is no pollution meaning the sun is strong. So pack the sun lotion, at least Factor 30 – it can sometimes catch you off guard, even if you are sitting outside for an hour.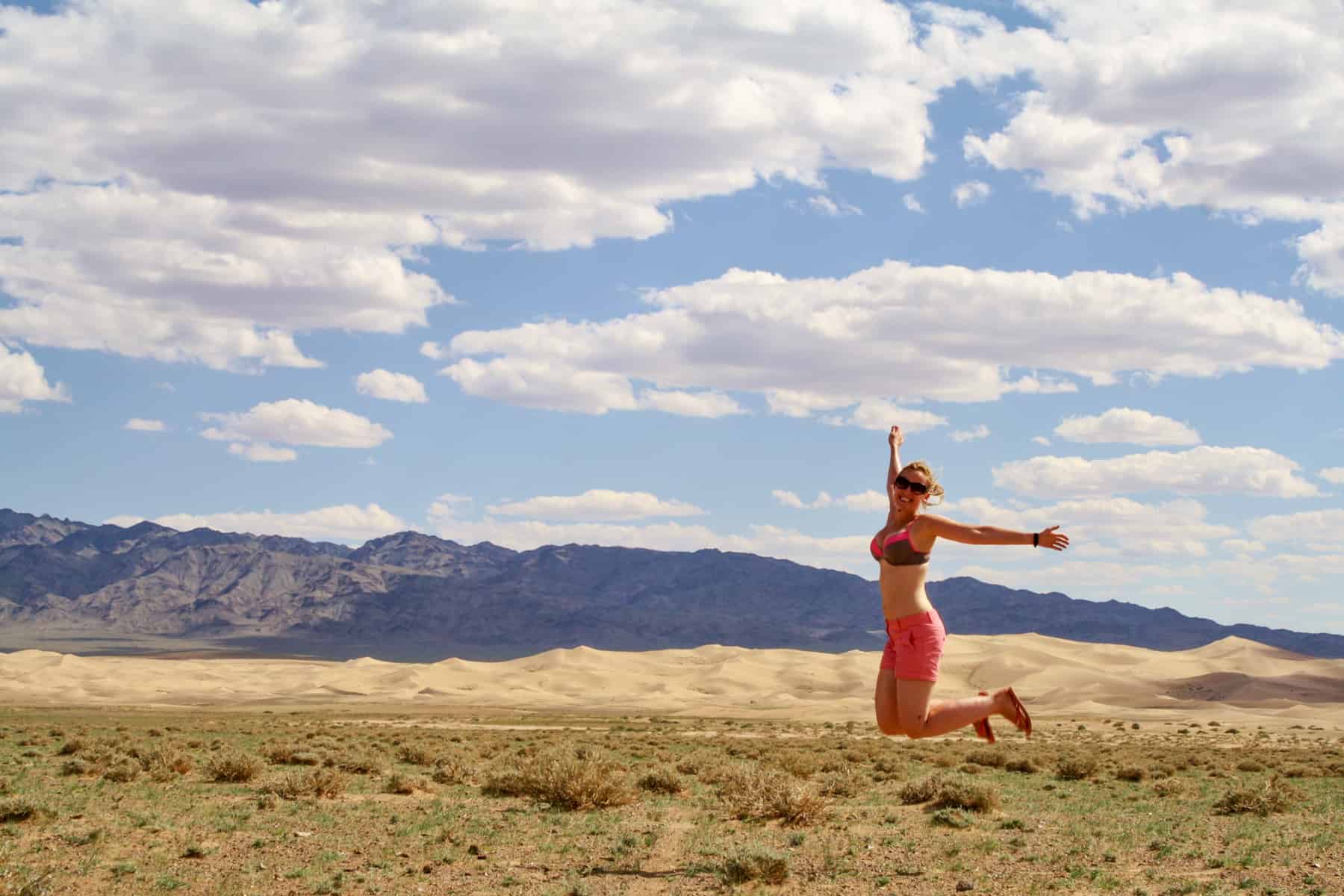 Preparing for Mongolia
For the Language Barrier – Mongolian Phrases Are Hard to Grasp
In most countries, I find it easy after a few days to learn the basics of hello, goodbye, thank you and numbers in the given language but learning and speaking Mongolian is hard. When they talk, it's fast and in a low tone and almost in a mumble, making distinct words hard to understand and pick up. There is also a lisp-like pronunciation to certain words that don't come easily to the Western tongue.
The one word I learnt properly was 'thank you' which is 'bayarlalaa'. To me, that is the essential word to retain if any.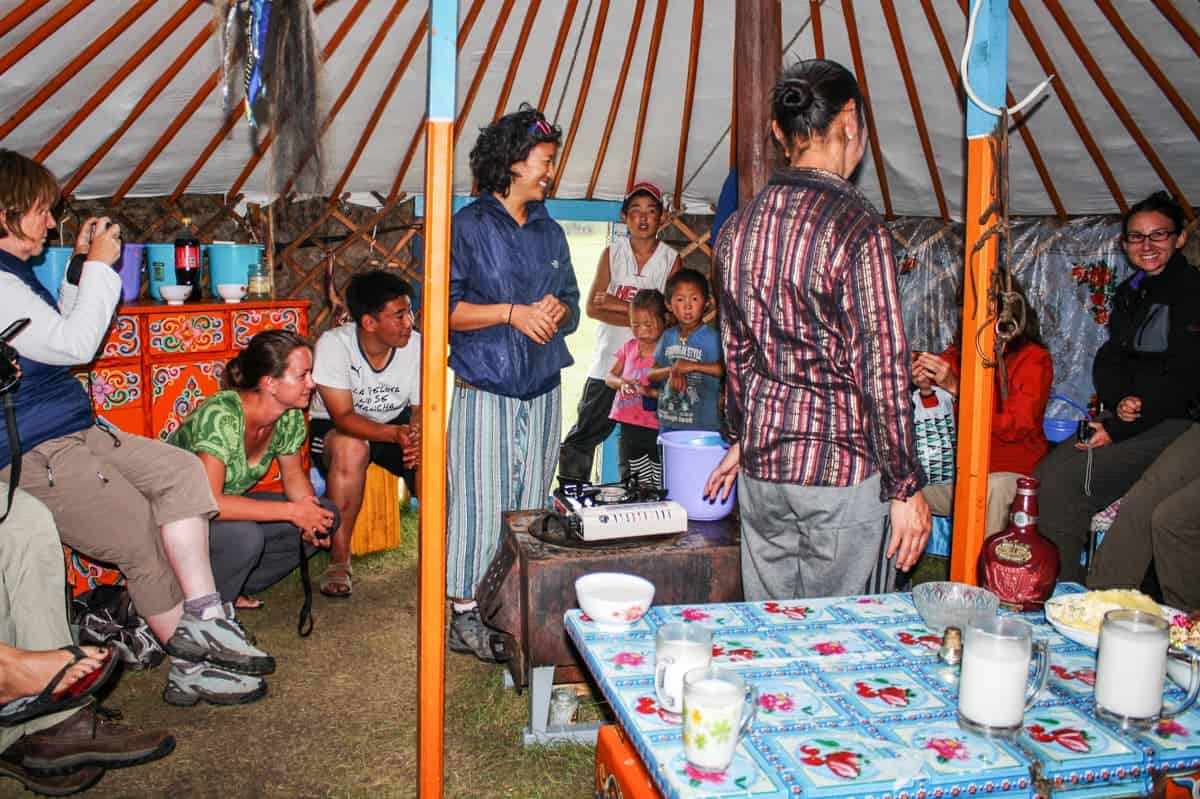 For a Lack of Variety in Food – Expect a Lot of Beef Stew and Rice
If you rock up to a random town, there is a chance they may not be able to cater for everything listed on the menu so be flexible when it comes to the food and what they have available (especially if there are a few of you). In essence, it's mostly delicious, regardless of what they serve up.
In Ger Camps, it is more than likely that nearly every meal will be a beef stew and rice variation. It's limited and when staying at multiple ger camps, tiring, but that's the way it is. I found washing it down with a beer took away the pain of repetition as well as multiple stops to snack shops which are pretty much everywhere catering to Western sugar and salt cravings!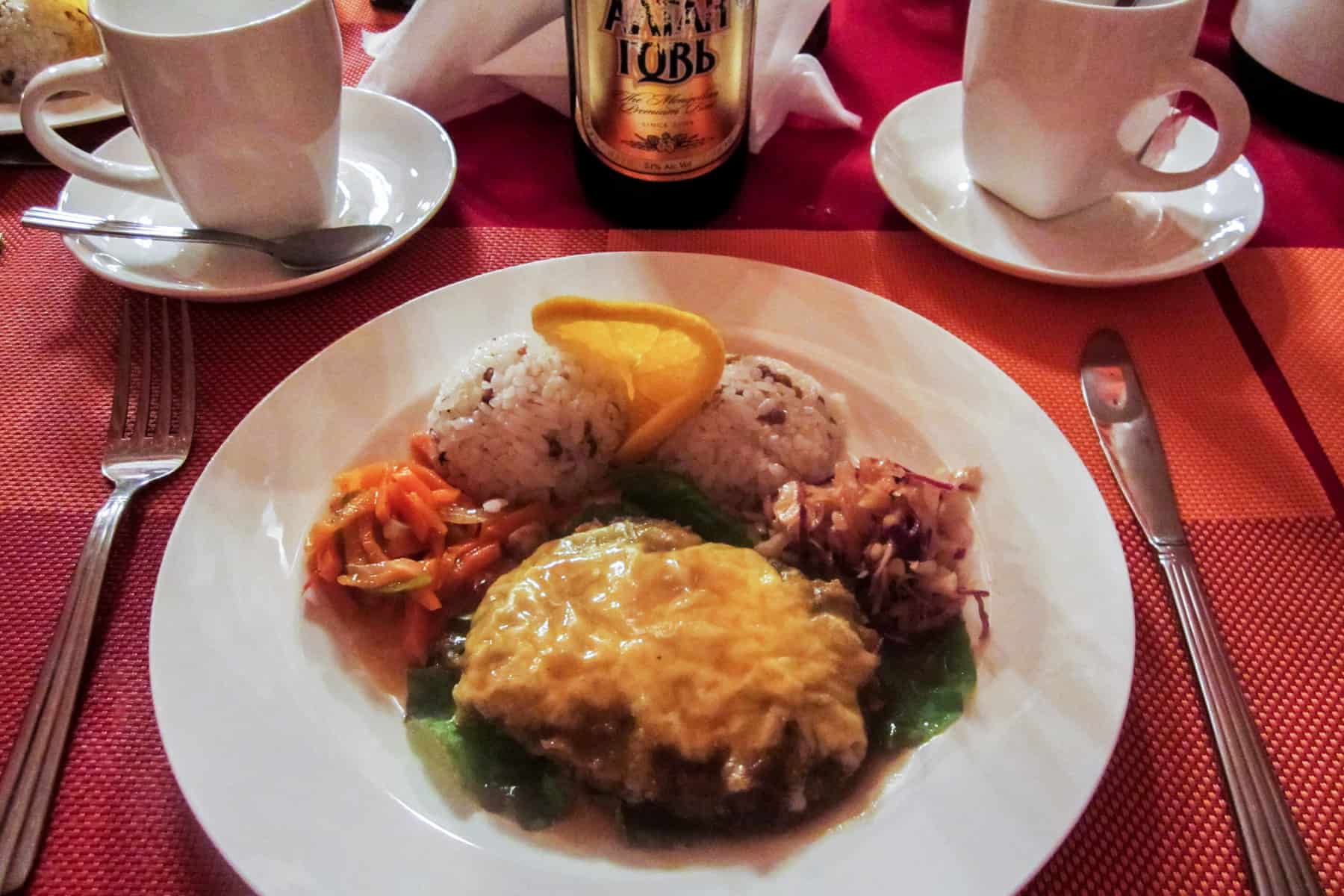 Ulaanbaatar is Not Representative of Mongolia – Get Ready For Contrasting Landscapes
I wasn't a fan of the capital, Ulaanbaatar. I love cities, but this one felt dodgy. There are a few things to see and do including temples, museums and shopping and it has some great local restaurants and nightlife, but don't let your guard down as a lot of crime takes place here.
It's a city where the quick grips of opportunism have corrupted a beautiful way of life. Even some of the Mongolians I spoke to who live there said they were not the biggest fans of Ulaanbaatar. Unfortunately, it's just the best place for them to be for their line of work and a far cry from their rural, community-driven upbringing.
Enjoy the city for a couple of nights but make sure you get out into the far reaches of this stunning country – it will be worth it, and you will get to see the real Mongolia.
READ MORE: How to Travel to Mongolia – Overlanding the Least Densely Populated Country in the World.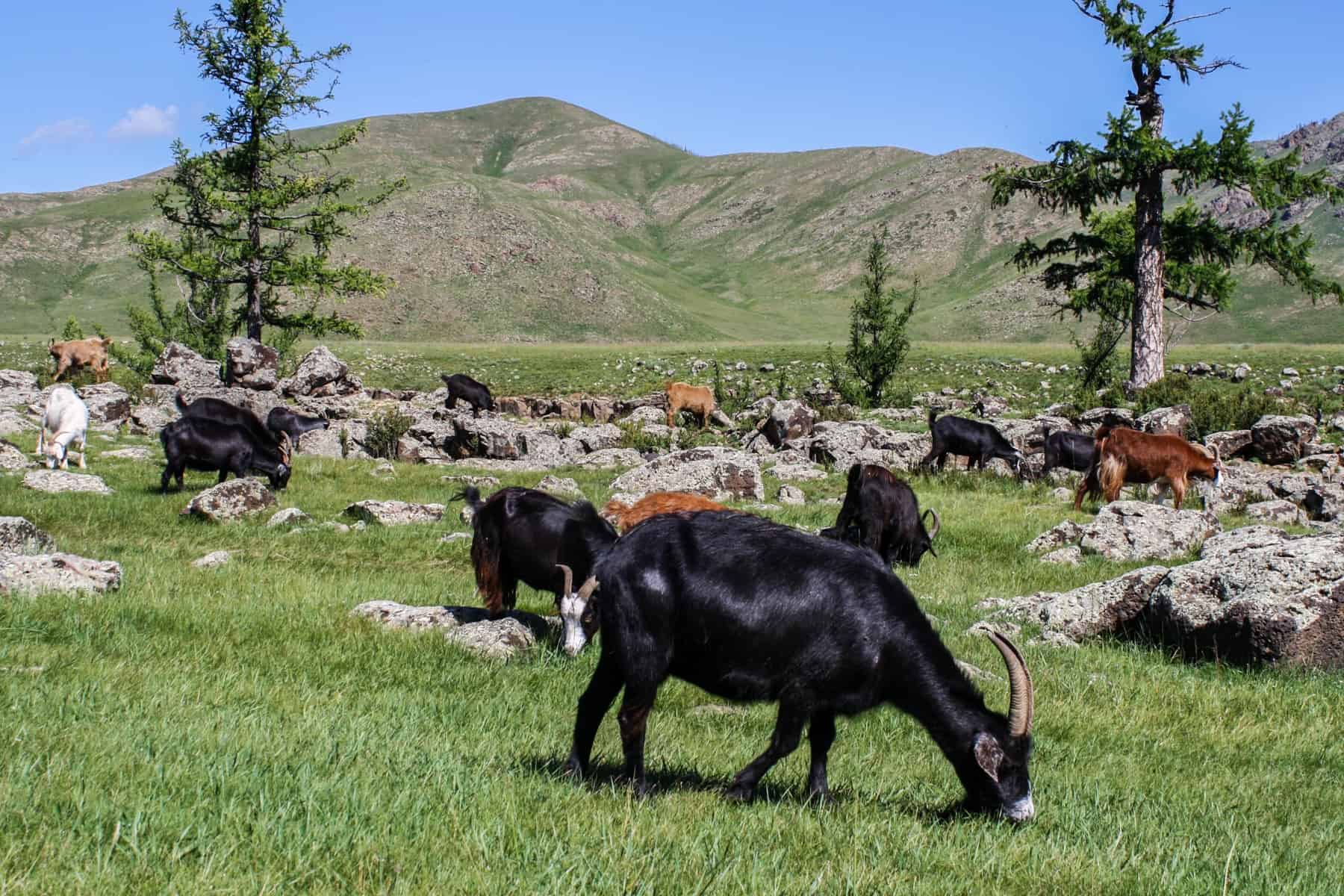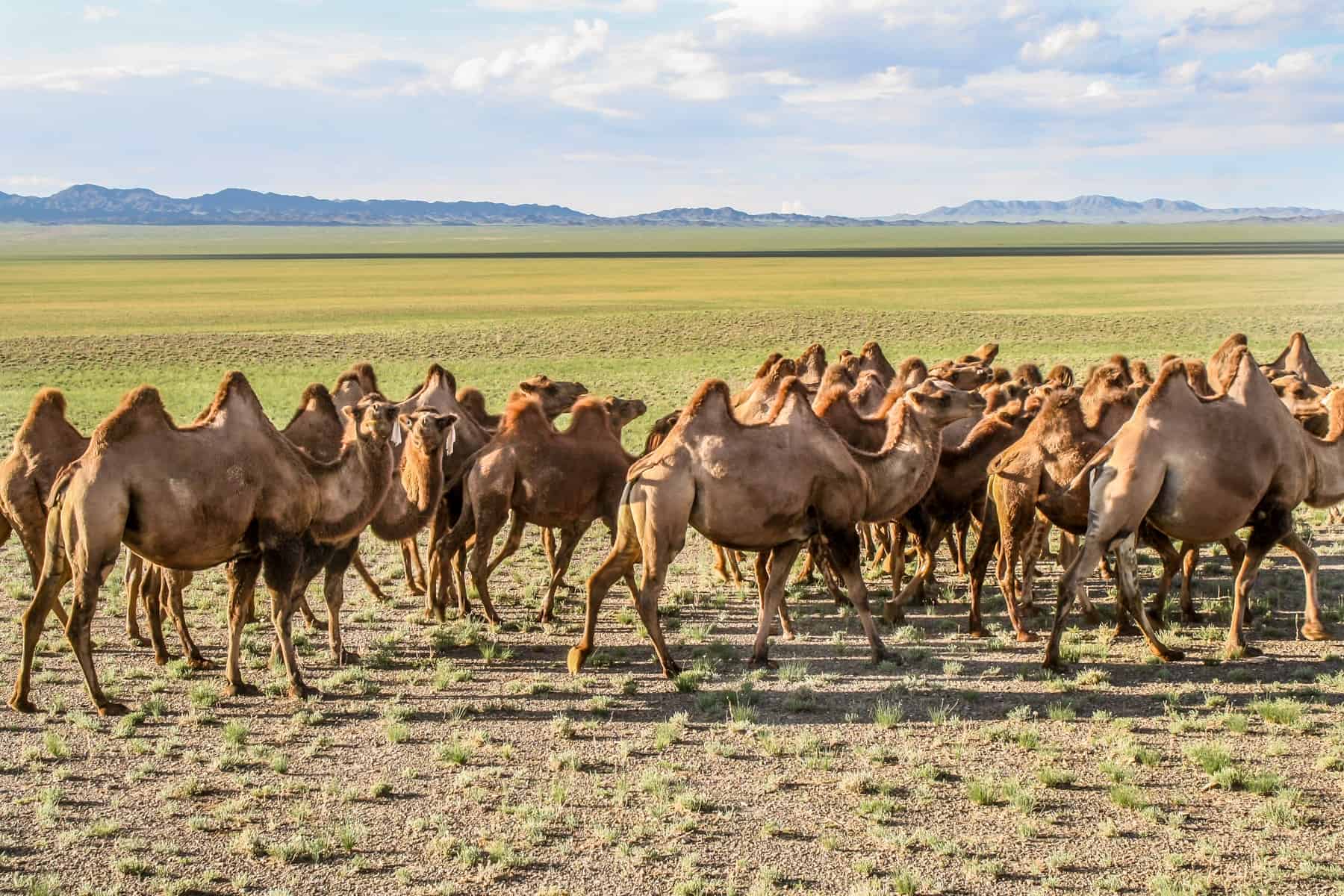 Local Knowledge is Invaluable – Prepare to be Guided
Mongolia is the world's least densely populated country and one of its largest. This accolade makes it beautifully isolated and not ruined by tourism but also tricky to get around. I choose a comprehensive three-week Overlanding tour because I wanted to get out into the far reaches of the country. Most hostels in Ulaanbaatar only offer excursions that last a few days where you can hire a driver and a guide.
Make use of Mongolian knowledge because it is invaluable. They know the nooks and crannies of their country better than anyone (even if they do draw maps on the ground) and when you look at how isolated the landscape is, you will see the skill in that. A guidebook doesn't always cut it if going alone.
Mongolia is a fantastic place to explore that's different and not your typical kind of travel. Still, it's a country with minimal infrastructure so pack some patience and flexibility for an experience that's generally slower, more difficult, and with challenges, all of which will not deter from the overall experience you will have there, but add to the adventure!
Mongolia Tours
At the time I was planning my travel to Mongolia, Dragoman was the only company offering Mongolia tours that lasted more than two weeks. However, G Adventures offer a broader spectrum of Mongolia tours, that all start and end in Ulaanbaatar.
As my favourite small adventure group company, and as one of their travel ambassadors, I can personally vouch for their overall service with a local guide, as well as their ethos in travel as a force for good, in supporting local enterprise and best practice.
Classic Nomadic Mongolia
A 14-day trip, including highlights on a budget (from €1999), this Mongolia trip includes a Gobi Desert and Mongolian Grasslands stay, alongside packing in the major historical must-sees and cultural experiences that make Mongolia an unforgettable adventure.
Local Living Mongolia
This 10-day local immersion includes heading out to sites of cultural and historical interest by foot and horseback while residing with three different families in Gers to experience life as a nomad.
Discover Mongolia – National Geographic Journeys
This two-week adventure through Mongolia in partnership with National Geographic Journeys is all about seeing the highlights in a little more comfort.
Go to the Naadam Festival in Mongolia
This trip takes you off the track of the standard highlights and places you right into the heart of a traditional Mongolian festival.