Disclaimer: This post contains affiliate links to handpicked partners, including tours, gear and booking sites. If you click through or buy something via one of them, I may receive a small commission. This is at no extra cost to you and allows this site to keep running.
An Inle Lake tour is one of Myanmar's top tourist attractions, best taken with a local who can reveal the unique way of life there.
Touring Inle Lake is one of the top four travel activities in Myanmar alongside the never-ending temple landscape of Bagan and the two main cities of Yangon and Mandalay. Whilst similar, yet grander in scale, to Cambodia's famous Tonle Sap Lake, Inle has overshadowed my other experiences on Southeast Asian waterways.
The second largest lake in Myanmar, located in the northern Shan State, Inle Lake is a huge water basin that sparkles in its silvery-blue hue, snaking off into tiny canals with miniature hand-built dams. It's a place where tradition remains as fishermen paddle by operating the oar using one leg, floating gardens grow fruit and vegetables, buffalos bathe in the muddy waters and weavers toil away in makeshift workshops.
Closer to the main town of Nyaungshwe, the sound of motorboats signal the arrival of a new dawn, where tourists flock for speedy day trips, new construction booms and where canals are said to be being widened to ferry through more eager-eyed passengers. Such sights make you realise the swift power of tourism and you hope that the ambience of this area isn't, in time, completely ruined by rapid change.
Cruising the Waters on an Inle Lake Tour
Travelling during the low season in May, the Myanmar heat was intense and so I choose to visit the lake as early as possible before the midday sun dominated and scorched my skin in the open deck of the boat. Starting at 9 am, and choosing only a half-day sight-seeing option, I opted out of the temple and monastery hopping side of the standard tour to instead concentrate on spending more time peacefully observing local life. I much prefer it that way.
It was, quite simply, stunning. The lake is so vast that it never feels congested; a middle-of-nowhere feeling, floating along without a care in the world and passing sporadic fisherman at work, or locals relaxing in on the wooden thresholds of their stilted houses.
But what I loved most was that I saw the lake in its serene glory and at a time of the day when the light reflected and gave colour to the hard work of the people who call this place home, the structures that thrive there, the protective landscape that surrounds it and the locals who regularly pass through its waters…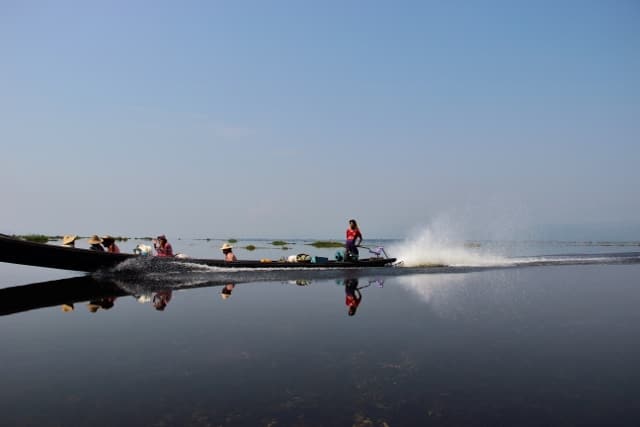 Things to Know About Inle Lake Tours:
Boat hire on Inle Lake costs approximately 15,000 Kyat ($16) for the full day. Half-day options will only save you around $3.
Bartering takes a very long time.