Disclaimer: This post contains affiliate links to handpicked partners, including tours, gear and booking sites. If you click through or buy something via one of them, I may receive a small commission. This is at no extra cost to you and allows this site to keep running.
From historical sites to nature and art spaces, here are the places to visit in Beijing, China to see it from a different perspective.
When visiting Beijing, three sites are given – The Great Wall, Tiananmen Square and the Forbidden City. In most guidebooks, it's almost always stated that without this holy trinity of tourist must-dos ticked off the list you haven't experienced Beijing.
While there is more to do than this you may have limited time in Beijing as you plan a trip around China to see as much as possible in a short time frame. I spent around 12 days in Beijing – I loved it and kept finding more and more things to do and see – but many only spend a third of that time there. China is so huge and tempting that it is easy to bypass spending a lot of time in one place getting to know it in the eagerness to squeeze in other destinations.
If you plan on visiting Beijing and only have a short stay, you may be faced with the dilemma of what core sites to see. So here's my shortlist based on my exploration of what I can now call one of my most favourite cities.
Places to Visit in Beijing: Historical Sites
Summer Palace
A leisurely climb up through contrasting temples, beautiful pavilions and lush green landscape will firstly take you to the top of a hillside providing you with a spectacular view of the city. A winding stroll down the other side brings you to the gleaming Kunming lake, where you can relax, jump on a dragon boat and take a stroll around its perimeter, over its bridges and through its gate towers. If you are done with the climb, take an alternative route back to the entrance gate via the parks and gardens. It's where all the locals are hanging out.
Metro stop: Xiyuan
Lama Temple
I tire of too many temples very quickly, but this one is up there as one of my favourites. While the Temple of Heaven is another well-known site it's not really a magnificent temple complex like this (more of a huge park). Known as the most renowned Tibetan Buddhist temple outside of Tibet, you'll be hit by an array of magnificent colours, exquisite decor, sporadic prayer wheels, ancient architecture and the strongly scented mists of incense. A particular highlight here is the towering Maitreya Buddha, carved from a single sandalwood tree, which supposedly holds a Guinness World Record for its claim.
Metro stop: Yonghegong-Lama Temple
Old City Wall
Much of China has been or is being rebuilt, but in Beijing, a lot was destroyed forever during the Cultural Revolution of the Maoist days. Although this vast stretch of wall is completely reconstructed, it does give a good insight into how this impressive city must have looked before its modern, industrial overhaul. Set within a park landscape, it's a beautiful stroll, even if the wall doesn't ignite a historical fire within you.
Metro stop: Chongwenmen
Hutongs
Beijing has a vast collection of Hutongs – a series of narrow neighbourhood alleyways and passageways that are a preserved historical capsule of old, traditional china. In the city, you can still find some Hutongs still standing, which survived demolition and paving for more favoured, modern structures.
READ MORE: Visiting Hutongs in Beijing Respectfully.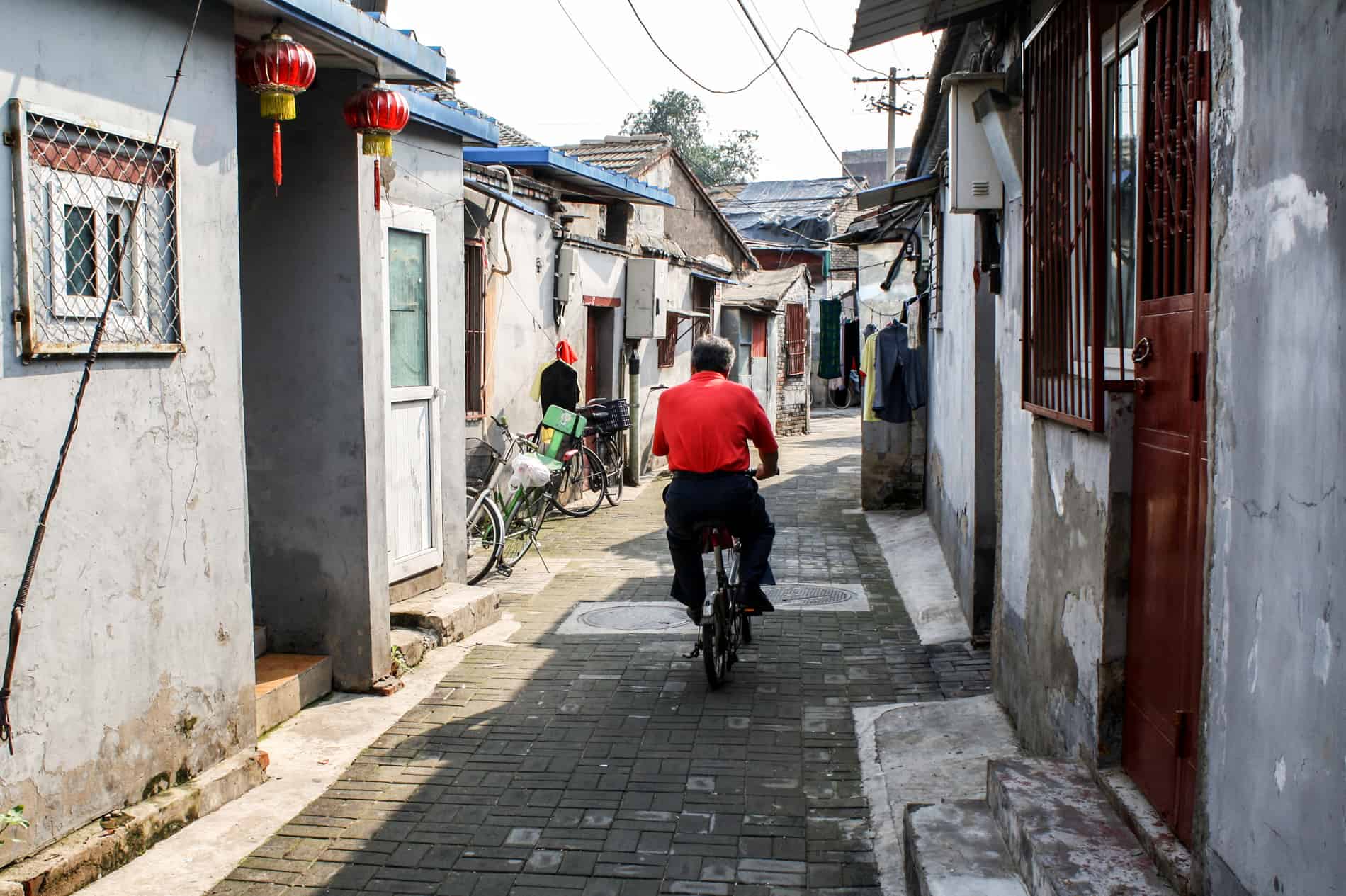 What to Do in Beijing: Find the City's Quiet Corners
Beihai Park
With another beautiful lake that is not too taxing on the strolling scale, this park is situated west of the Forbidden City. I spent half a day here (the lake is not as huge and magnificent as the Summer Palace) using the impressive White Dagoba as my start and endpoint.
It's serene and peaceful, a love haven for local couples and a great escape from the crowds at the nearby Forbidden City and Tiananmen Square.
Metro stop: Tiananmen Square Xi
Olympic Park
With three Olympic metro stops to hop on and off, you can combine seeing the architecture of the famous 2008 Olympic stadium structures with a park so huge you really don't know where to start. The Bird's Nest (National Stadium) and Water Cube are now slightly rusty up close, but still impressive and ticket touts will charge you 50 yuan (£5) for the privilege of entering.
I preferred marvelling from the outside before heading to the park for a long stroll and jumping in a hired motorboat for some time out on the lake – a great chance to interact with the local people.
Metro stop: Olympic Sport Centre and Olympic Forest Park
Things to See in Beijing: The Art Areas
The 798 Art District
An unexpected find, one might not associate finding a host of modern art on a visit to Beijing. Fact is, there is an entire area dedicated to it. The 798 Art District hosts an impressive art community, from traditional galleries to controversial and wacky sculptures to my absolute favourite – street art. We even found a bunch of giant Santa statues!
Most of the art is housed in a former East German electronics factory, making the setting even more artistic and funky. You could spend days here depending on your love of art, but maps are available in most galleries for easy navigation with limited time.
Metro stop: Sanyuanqiao
Where to Eat and Drink in Beijing
Sanlitun
The area of Sanlitun fast became a favourite of mine, next to the hostel area of Qianmen. In the day head to the multiple floored Yashow Market to pick up a few bargains (like, ahem, fake goods) or head to the top floor for all manner of beauty treatments – be sure to haggle here too since a pedicure didn't include a polish (minor girl irritation).
At night, the area comes alive where expats and locals come out to play amongst the vibrant and heaving bars and street food hawkers. Balloon and flower sellers might tempt you to part with your drunken cash.
Metro stop: Dongsishitiao, then a 15-minute walk
What are your favourite must-see parts of Beijing?
Travelling China?
For a comprehensive resource of China travel tips, destination guides and other stories from my month travelling around the country, check out my full list of China Travel Guides.