Disclaimer: This post contains affiliate links to handpicked partners, including tours, gear and booking sites. If you click through or buy something via one of them, I may receive a small commission. This is at no extra cost to you and allows this site to keep running.
What is Seoul like? South Korea's capital combines history and tradition with arts and modern culture. Here's where to find the best places to visit in Seoul.
Most capital city visits are filled with grand anticipation, so what is Seoul like? And is Korea's capital city worth the hype? Like South Korea overall, Seoul didn't win me over instantly; yet with some time things click, and you find yourself navigating a city that forces you to dig deeper. As you should.
With some time to travel, rather than using the city as a brief stopover, knowing what to do in Seoul that takes in its variety of neighbourhoods and sites, can help form a better idea of its persona and what it is trying to be as rapid modernisation seemingly overshadows Korean tradition.
Like much of South Korea, the atmosphere predominantly comes alive at night – South Korea owning the 'work hard, play hard' drinking culture more so than its East Asian neighbours. Seoul in the daytime takes much more effort. It does not exude impressive sights and activities like some of its neighbours as it's more subdued and residential.
I stayed in two neighbourhoods that I grew to love, both of which had their own distinct character and which were polar opposites – Samcheong-dong, with its narrow, hilly shop-lined streets and close proximity to the main historical sites, and the younger, funky and arty district of Hongdae.
This contrast allowed me to see the best of what Seoul had to offer over the course of 10 days, as well as drink a lot of coffee. Seoul's abundance of coffee shops, everywhere, gets my vote and is a core draw of the city.
Samcheong-dong – Where Korean Tradition Thrives
Seoul has been described as Korea's Ancient Modern Capital, a description fitting of this area and which was noticeable straight away. Samcheong-dong is the hub of culture and everything artistic in downtown Seoul, where its narrow cobblestoned streets connect independent stores, bookstores, coffee shops, wine bars, art galleries, museums and stylish hangouts to the heritage and traditional architecture of old Seoul.
More often than not, these new establishments are set within former traditional houses, combining the old with the new.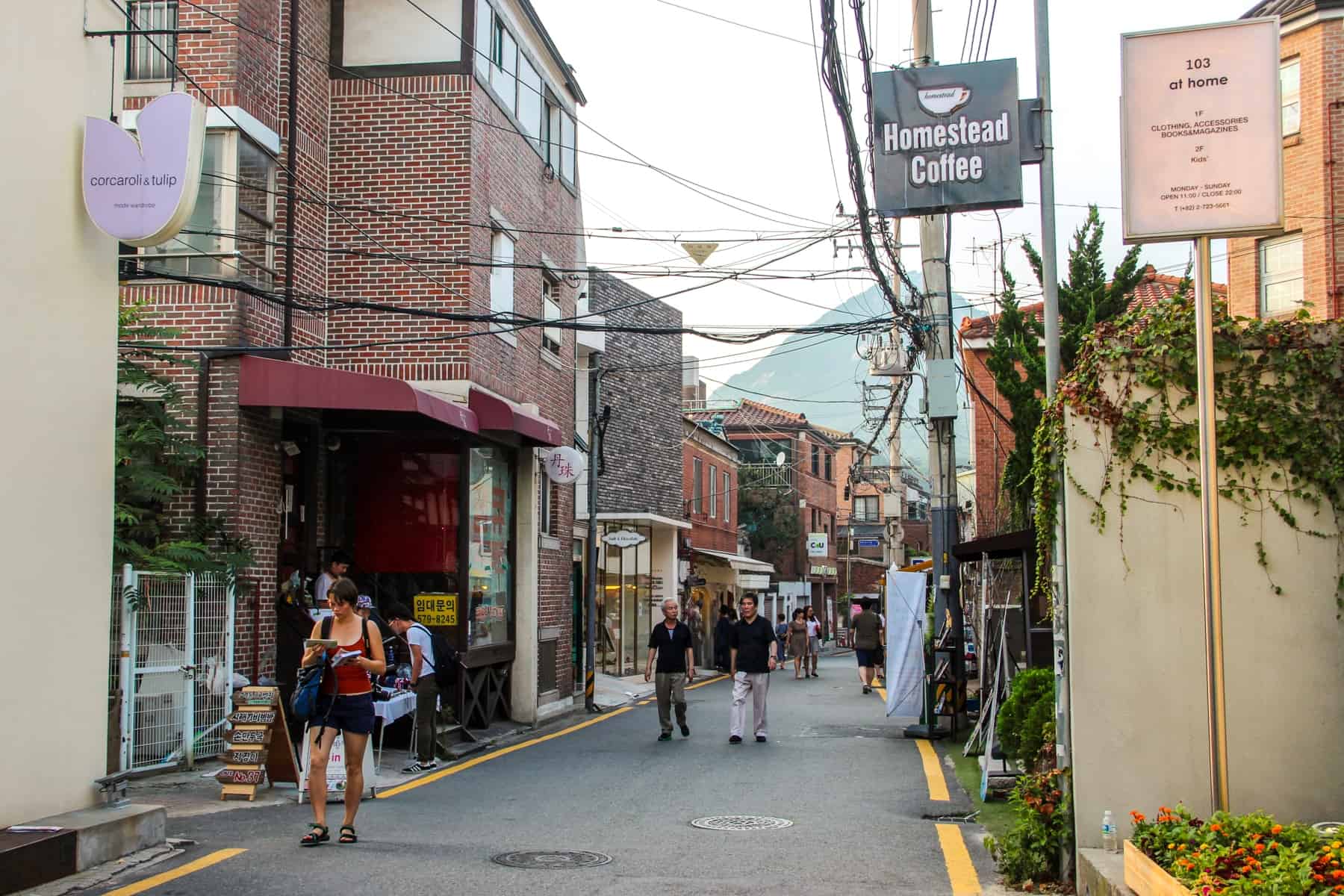 At the very centre of this area is the Bukchon Hanok Village, which was my favourite find in Seoul.
Scattered between the city's two main former Palaces of the Joseon Dynasty and major sites of preservation – Gyeonbokgung and Changdeokgung – this compact village of over 900 hanoks (traditional Korean style houses) stand in stark contrast to the rapidly built urban landscape that surrounds it.
Parts of the village require a little perseverance, both in seeking out specific historical properties and traversing the hilly climb. However, plenty of red-shirt clad Koreans are on hand to help you find your way. My preferred way of exploring the area was to start at either Samcheong-dong Culture Street or from exit one or two from Anguk station and wander aimlessly without a map.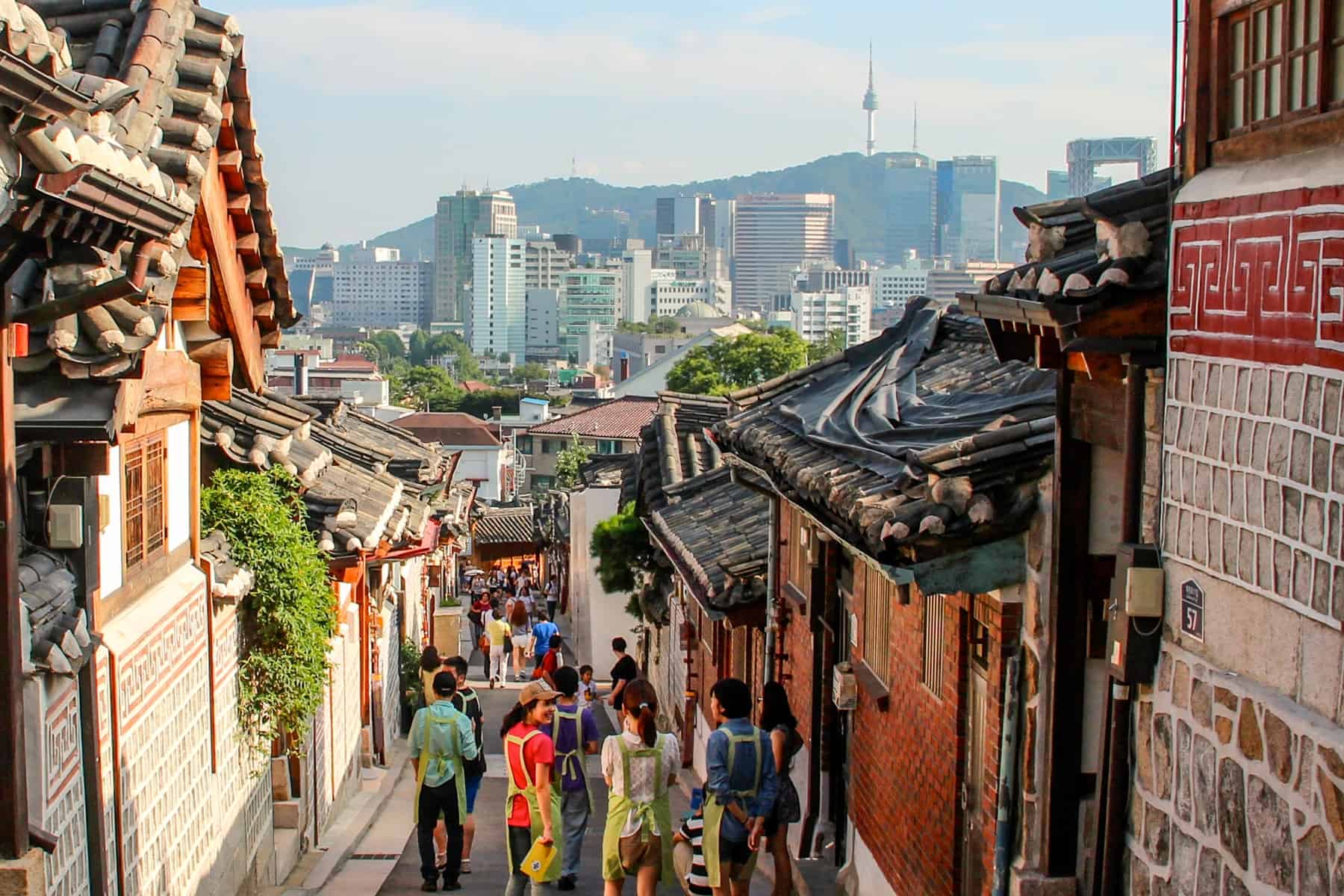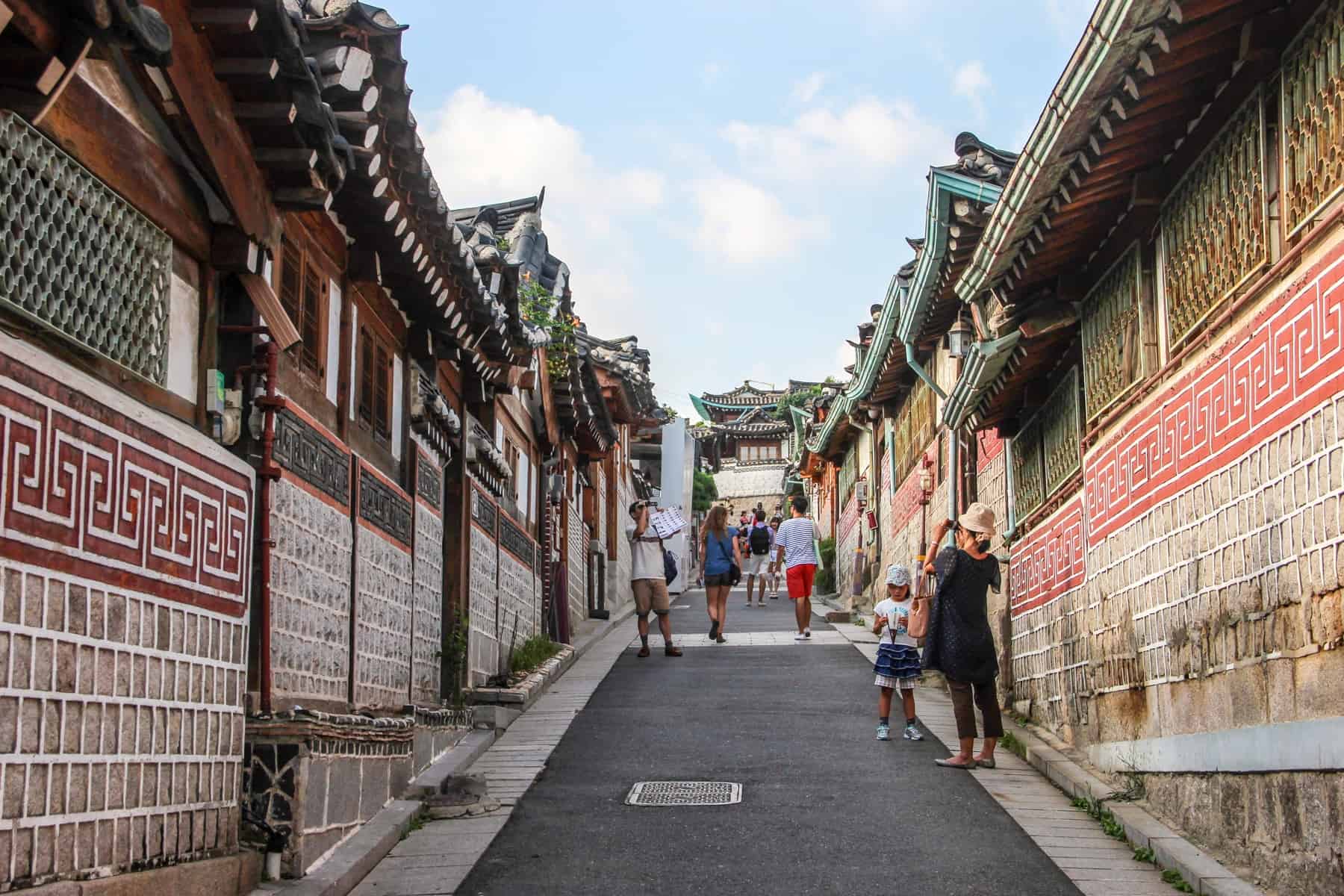 Hongdae – The Gritty, Artistic Neighbourhood
I moved to this neighbourhood after spending a week soaking up the historical sights in Samcheong-dong.
This gritty, rough-round-the-edges-but-oozing-cool student area was the contrast needed to keep my interest going in Seoul – it was pumping with energy, day and night, from the trendy café street of Sangsu-dong and nearby street performers, to theatres and early hours raving dance clubs (on the aptly named 'Club Street').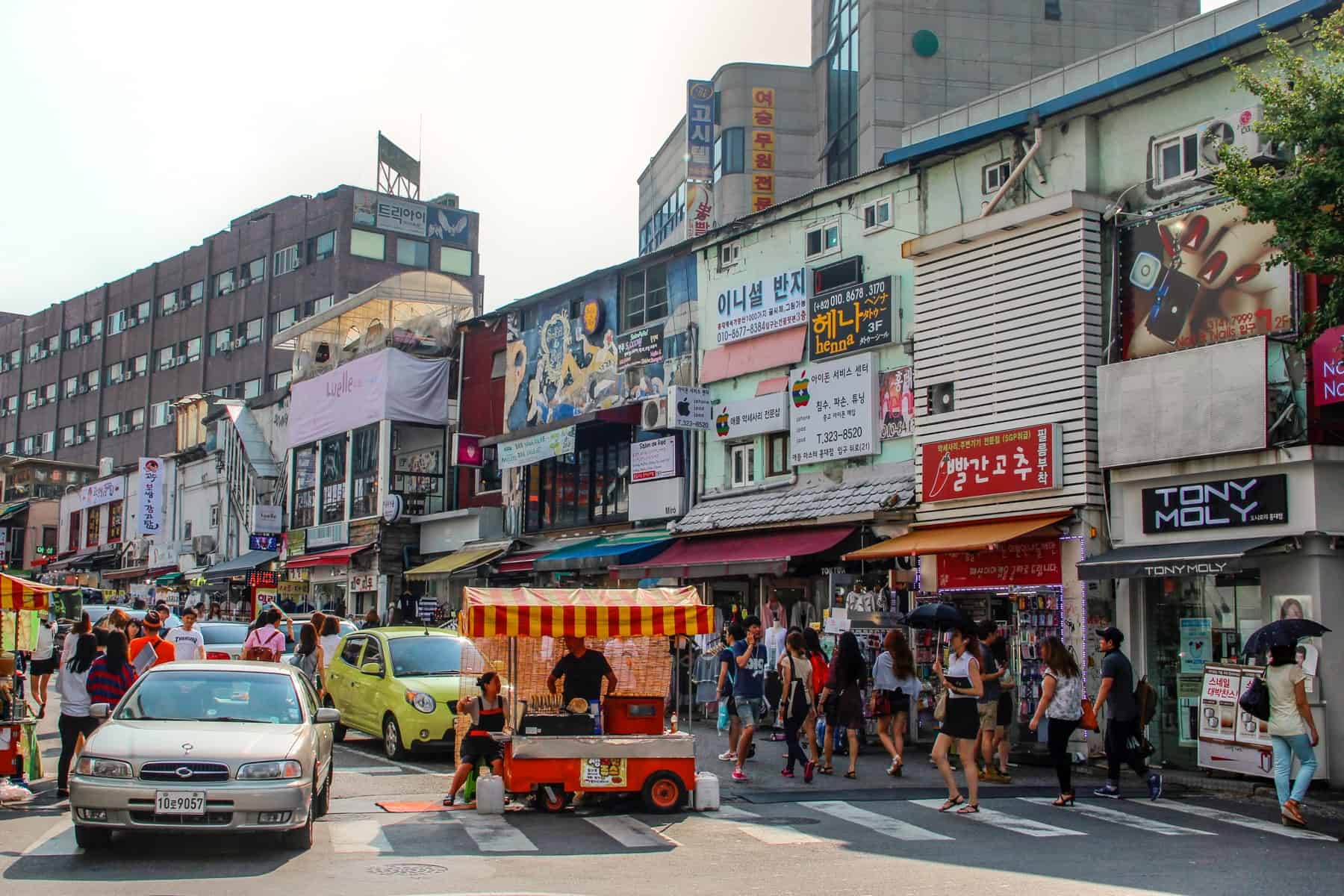 But the one thing that made Hongdae stand out for me? The street art. 'Wall Painting Street' sits right alongside Hongik University, tucked behind the houses and shops that line the main road. Nearly every spare inch of brick and cement here is covered in vibrant, brash and fun designs.
Considering the University is known for its young artists, it's of no surprise they are given the space to showcase their talents, just how the fine arts students can be found selling their wares at the outdoor street markets close to Hongik Children's Park.
Another vibrant student area is in Sinchon and Ewha Woman's University – the landscaped grounds of the women's only college being perfect for a quiet hang out before walking the Ewha University's 'Street You Want to Visit' which is lined with more boutique stores, beauty parlours and buzzing cafes.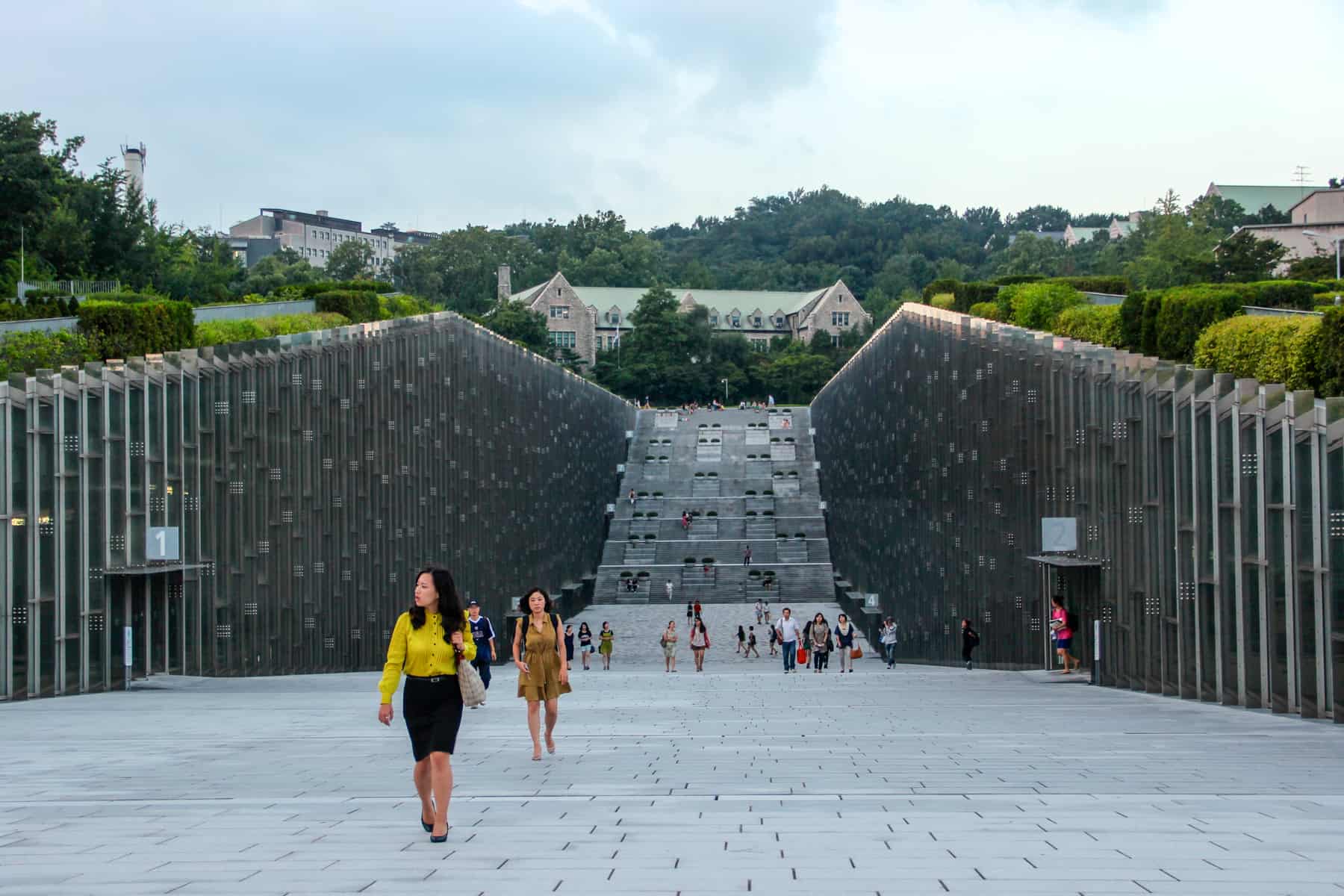 Insa-dong – Buzzing Nightlife Strip
South of Anguk station (best found via exit six) lies Insa-dong, a vibrant grid of streets best seen when the sun goes down, where the average looking cityscape of mobile phone stores, shop fronts and teas houses turns into a buzzing, neon-lit post-work hangout.
Restaurants are tucked away in winding side streets, while the main strip is all aglow with craft shops, souvenir stalls, street food vendors and quirky treats such as foot long and curly ice cream cones.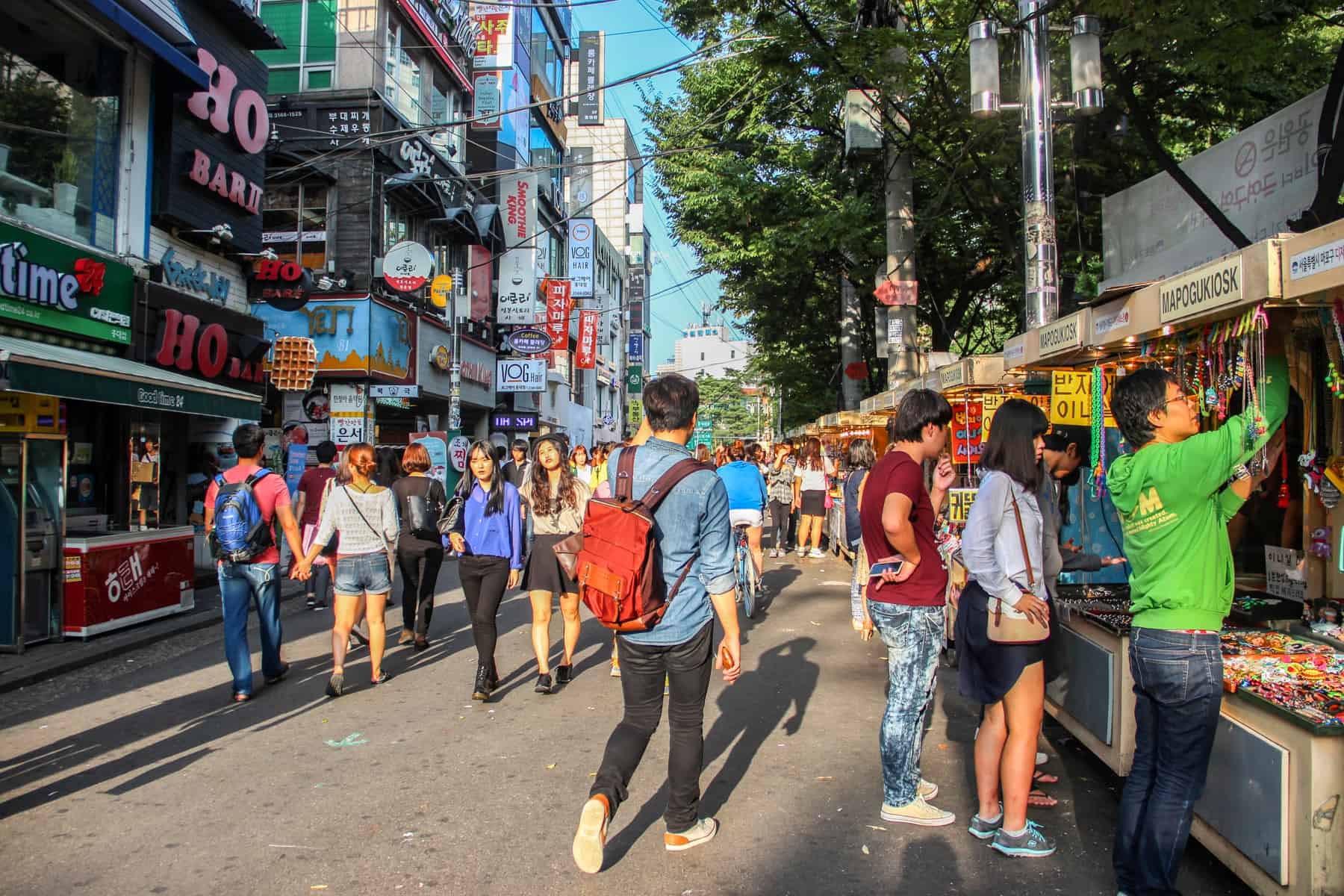 Seoul City Stream
Cheonggyecheon Stream was once a natural stream that was covered by roads and brought back to the fore again in 2005 as part of the area's restoration project. It's 5.8km long and runs through downtown Seoul, close to the Jongno and Euljiro metro stations.
After a long day wandering in the city's humid climate, the perfect tonic was for dangling one's feet into this refreshing cold-water stream. However, I have heard this has since been prohibited.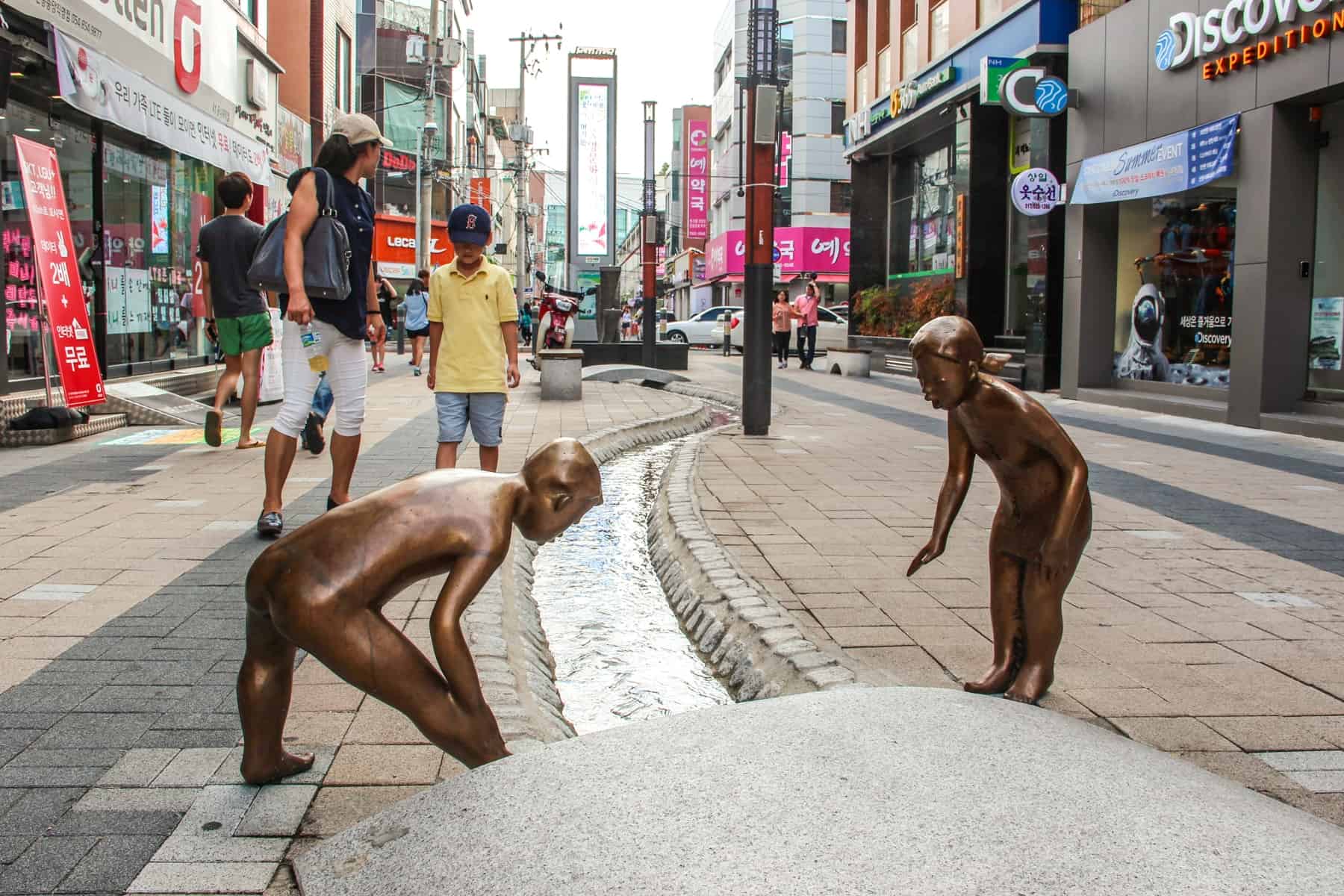 The Hammering Man Moving Structure
The Hammering Man is a moving structure that has been installed in over 10 cities across the world including New York, Los Angeles and Frankfurt – a striking mechanized art installation celebrating 'the worker' that must be seen.
Seoul's Hammering Man is the largest of them all and strikes a blow nearly every minute. He can be found at the location of the Heungkuk Life Insurance building in Gwanghwamun, a few minutes walk from Gwanghwamun Square.
Themed Cafes in Seoul
Seoul is home to themed cafes, especially of the dog variety – existing for those who can't have or afford pets in the city or who need an emotional fix if sad about leaving their beloved pets behind as they travel.
Despite not being a huge dog lover and finding difficultly in drinking my ice lemon tea amidst the onslaught of chaos, the strong smell of urine and my own sporadic sneezing from the masses of dog hair, I enjoyed my time at the dog café in Myeong-dong (the most popular one is Bau House in Hongdae).
The dogs live at the café and roam freely and essentially you can rent a pet, except you can't take them out. The average cover charge is approximately $5 and includes one drink.
For those not looking for a café of the furry variety, you can visit the animated version instead. My love of Hello Kitty continued in Seoul when I found out it was home to three Hello Kitty cafes – the Hongdae one (now closed, sadly) being the largest of them all. I visited two out of the three, where literally everything is pink and Kitty themed – including the cocoa stencil on your latte. I even flew on the Eva Air Hello Kitty plane from South Korea to Taiwan.
Namdaemum Market
Endless rows of stalls, undercover markets and thrift shop style sales – it's all here. In fact, it's been here since 1414 when it was first established by the Joseon Dynasty.
It's natural to get lost, considering there are over 10,000 shops and stalls combined and eventually when you have seen enough, you can ask a local how to get out. Nearby is the shopping mall and chain store haven of Myeong-dong, if you need a more familiar or luxury shopping fix.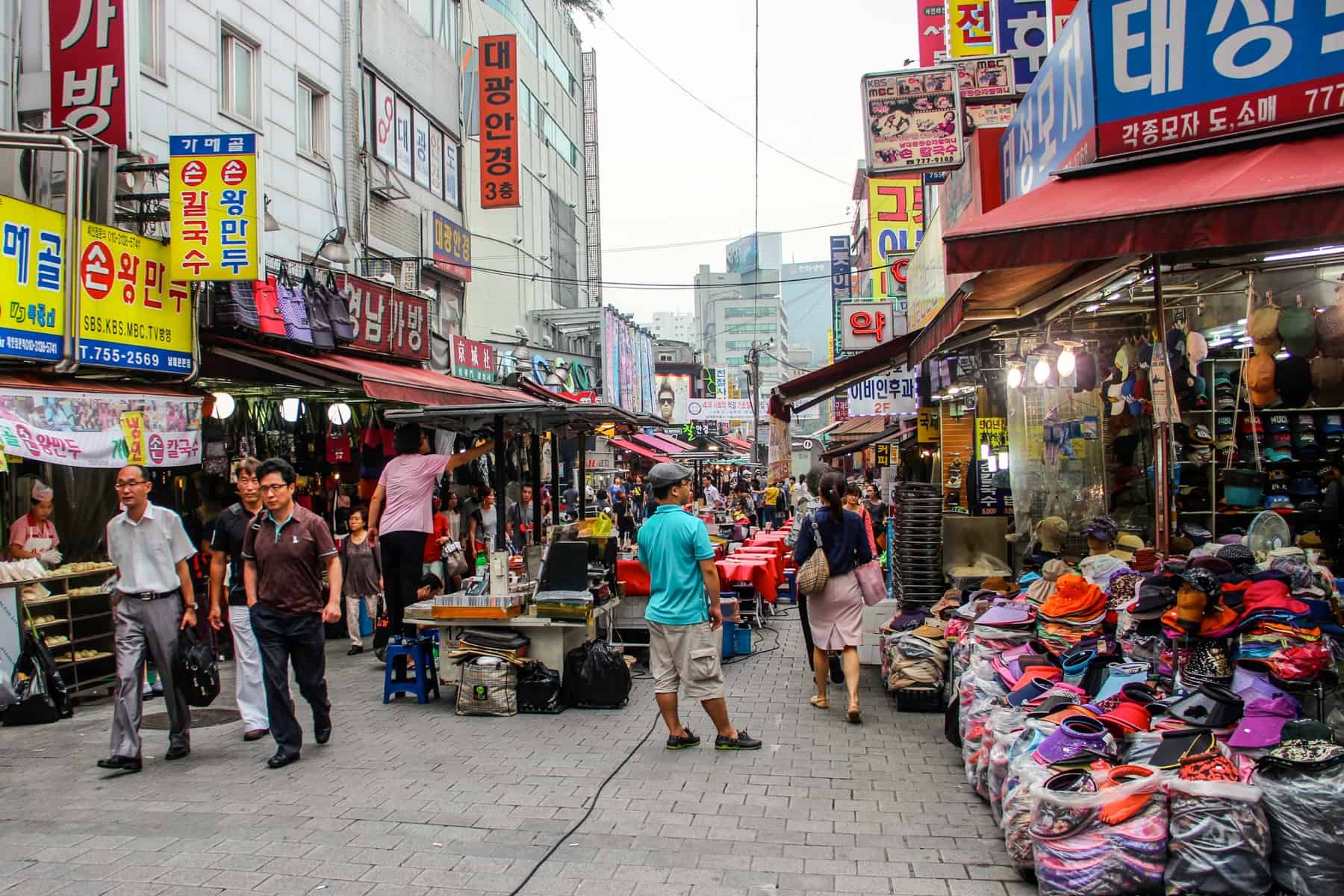 Although all-encompassing and interesting in its combinations of history, art, architecture, shopping, tradition, café culture, culinary expertise and nightlife, you really have to dig deep to understand Seoul.
Those pockets of beauty and culture are often hidden, seemingly lacking an obvious charm that's probably a result of its rapid growth. Seoul's individual districts, instead, hold their own.
READ MORE: Travel to South Korea Guide – What Seems Underwhelming is Misunderstood
Where to Stay in Seoul
Seoul, in all its urban glory, doesn't have to be an expensive place to stay. I stayed in a variety of different accommodation options in the two popular areas mentioned, from hostels to mini studio apartments with a guest house atmosphere.
You will notice lots of hotels filling the city's skyline, but there are many local and more homely options available, at an affordable price:
Seoul Mansion Guesthouse – A beautiful indie art boutique guesthouse with a stylish, antique style café downstairs. My top pick if you are looking for something slightly more luxurious than a standard guesthouse or hostel, without the hefty price tag.
Studio 41st – A home away from home hostel located in a quiet residential area within walking distance of Hongdae. Perfect for long stays if you are looking for a studio apartment feel with all the amenities.
BoA Travel House – A large hostel, with more of a guesthouse vibe, located right in the heart of the Hongik University area in Hongdae, although away from the crowds.
Whitetail Hostel – A fun, sociable and homely hostel, tucked away in a local part of town around a 10-minute walk away from central Hongdae. If you want to meet a lot of other travellers, this is the place.