Disclaimer: This post contains affiliate links to handpicked partners, including tours, gear and booking sites. If you click through or buy something via one of them, I may receive a small commission. This is at no extra cost to you and allows this site to keep running.
Testing the zipline in Nepal – one of the world's longest at 1.8km, fastest with speeds over 100mph and steepest with a 600m drop in Pokhara.
A zipline in Nepal? It's the country's very first high wire escapade. The longest in the world? It used to be, but it has since been overtaken by the new Jebel Jais Flight in Ras Al Khaimah in the UAE as of February 2018.
Still, not content with pushing myself to breaking point by climbing up mountainous terrain during my Everest Base Camp trek, I decided that it was time to try an exhilarating way of travelling down through the new patch of Himalaya landscape I had found myself in. All via Zipflyer Nepal, which dubs itself as, "the world's most extreme zipline."
Zipflyer Nepal is, in fact, one of the world's longest, fastest and steepest ziplines. It's over 1.8km long, with a 600-metre vertical drop and which can travel at speeds up to 100 miles per hour. It's one of the best and most popular attractions to spring up in the adventure sports haven of Pokhara.
Riding the Zipline in Nepal
The thrill-seeker in me spotted the advertisements to zipline in Pokhara as soon as I got to town and despite the scary looking video and £45 price tag, I was booked to go the very next day, forcing a friend to join me for the ride.
Located in Sarangkot, a 20-minute bumpy truck ride from the centre of Pokhara, the zipline stands isolated at the top of a hill where the only other sound you will hear, apart from the rustling of the trees, is the gut-churning mechanical clunk of the device in motion.
Fully briefed and split into pairs (if you have not signed up with a partner already), you are summoned two-by-two to the platform. My friend and I were, of course, the last pair to take to the stage having patiently watched others being buckled up and released into the air alongside a chorus of nervous expressions.
Luckily for this monster of a zipline in Nepal, you get to sit in a harness, not hang by a rope!
When I was strapped, fastened, clipped, clasped and secured in my seat my adrenalin was, literally, sky-high. I was so scared I wouldn't remember the commands we had been told: tug on one rope to slow you down if the person at the end of the line waves a flag as a warning; pull both ropes to 'release' you should you come to a stop; always lean back; keep your legs splayed in the air at all times. Did it have to be this difficult? Would I remember any of this if anything happened while hundreds of metres up high, hanging in the air?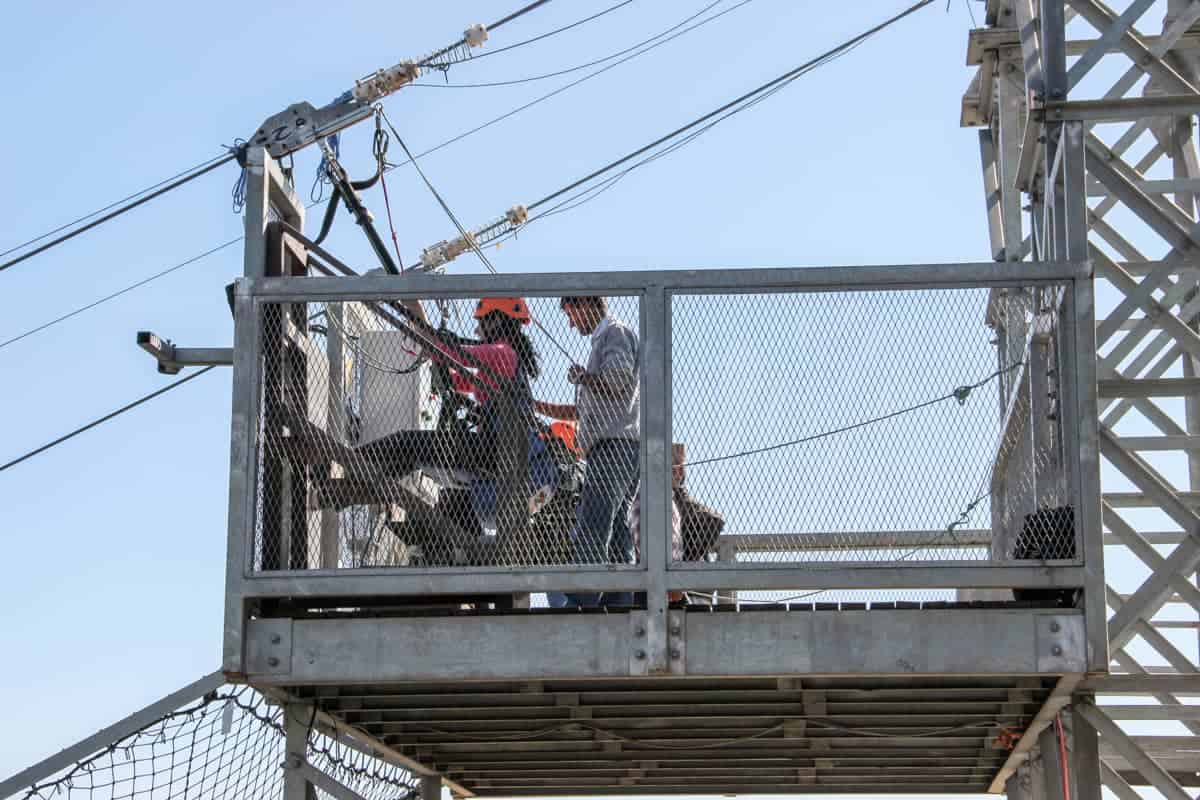 Before we knew it we heard "FIVE, FOUR, THREE, TWO, ONE, GO!" as the metal shutters flung open, swinging us out and straight down out into the great expanse of the dense forest below us.
It was breathtaking and terrifying at the same time. My heart was racing but my face was smiling as I was propelled through the air in the direction of the magnificent mountain peaks which formed a stunning wall in front of me, and soared over the beautiful Seti River. It was absolutely exhilarating.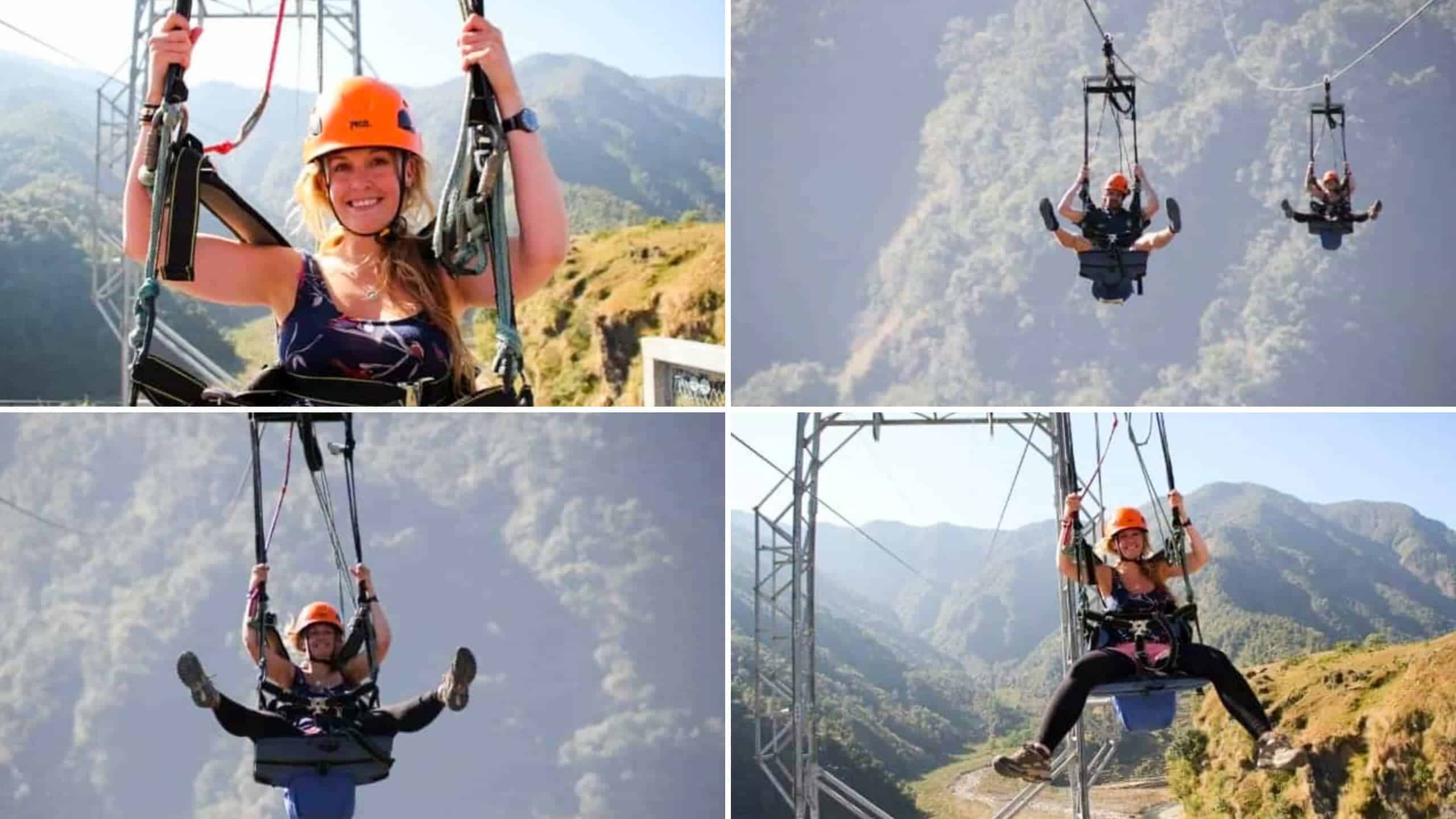 So exhilarating that I wished the zipline was LONGER.
So exciting that I craved for it to go FASTER!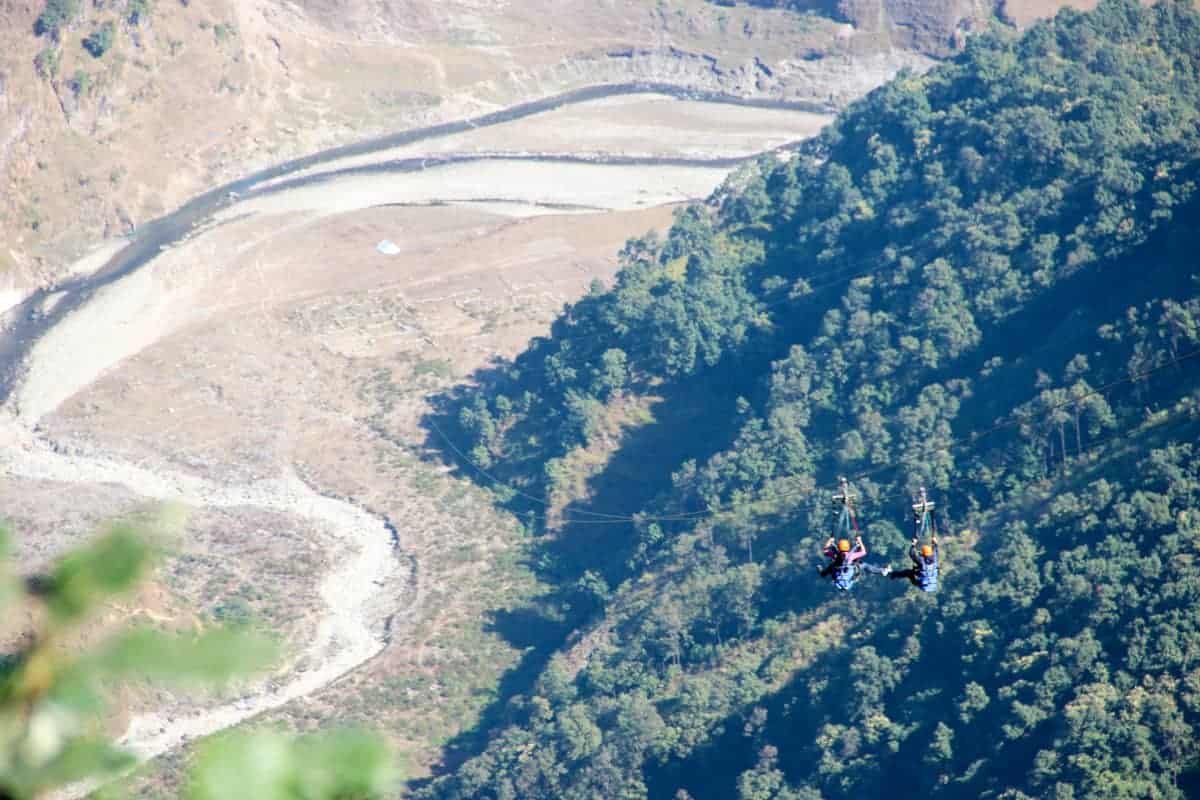 I panicked a little when my zipline slowed halfway and my friend ended up racing further ahead than me (he was heavier after all). I had felt more at ease when we were whizzing through the air side-by-side and my immediate thought was that I was going to get stuck mid-air which would turn adrenalin stores into a panic. Instead, I used all my might to lean back to gain speed and all my strength to keep the harness straight since the wind was swaying me slightly to the left and right.
I had to keep going, but before I knew it (the flight lasts only a matter of minutes) the end of the line appeared and I was relieved not to have anyone waving flags at me.
Is Ziplining in Nepal Worth it?
Ziplining in Pokhara is absolutely worth it because you get to combine two things – traversing a beautiful landscape with great adventure. I shot through the sky. I survived one of the world's biggest ziplines. I saw a patch of the great Himalayan landscape from a completely different perspective.
It's just a shame that you come to a very abrupt and slightly painful stop that yanks you swiftly out of your adrenaline-charged world.
Book your Zipliner Nepal experience via adrenalin specialists, Highground Adventures.