Disclaimer: This post contains affiliate links to handpicked partners, including tours, gear and booking sites. If you click through or buy something via one of them, I may receive a small commission. This is at no extra cost to you and allows this site to keep running.
From slow, scenic relaxation to action-packed paragliding, ziplining, and water rafting adventures – the things to do in Pokhara, Nepal might just surprise you.
In Nepal, most travellers visit Pokhara to recharge their batteries. A peaceful lakeside town encased within a panorama of stunning Himalaya peaks; it's an arduous and tedious bus ride from the bustling capital of Kathmandu but worth the pain of Nepal's lack of infrastructure to get there.
It's also the playground of adventure sports for when you are done relaxing and ready to get your adrenalin levels pumping!
Things to Do in Pokhara, Nepal
Relax in Pokhara Town and Pokhara Lakeside
Pokhara has pockets of calm, but also bundles of energy – a town of juxtaposition. Like Kathmandu, it's a gateway to another trekking haven – the Annapurna mountain range – where smaller trekking shop-lined streets resemble a less chaotic Thamel. It also plays host to a fabulous feast of restaurants and lively bars like Busy Bees and Amsterdam that play live music and offer Happy Hour deals from 4 pm.
I choose to escape to Pokhara after completing my Everest Base Camp trek because the weather was warmer, the town was quieter, and the setting more serene.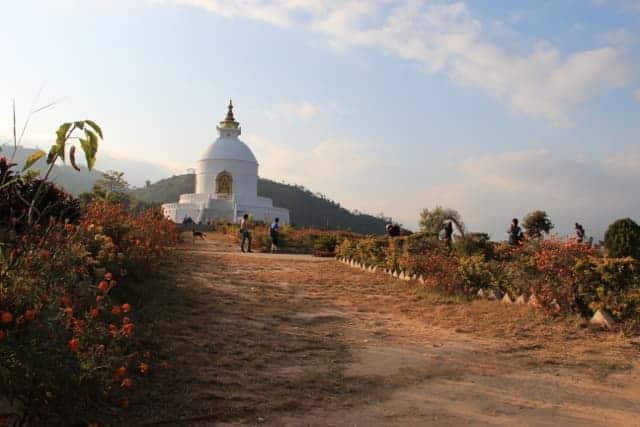 Broken and tired, I was desperate to leave Kathmandu to relax in one of the many bars and cafes with a stunning lake view, hire a boat for an hour or two on the calm waters, take a leisurely and peaceful stroll or lounge in the glorious sunshine in a garden or by a pool and do… nothing.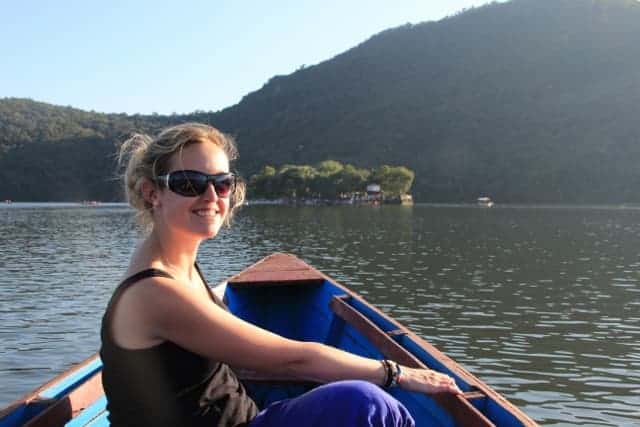 But I also came here to try some of the best adventure sports, with the most magnificent of scenic backdrops. Adventure sports I had never tried before, which made it all the more exciting.
Go Paragliding in Pokhara
I thought paragliding would be a great way to bridge the gap between my obsession with wanting to skydive and actually getting to New Zealand in order to do it. While not as dramatic when it comes to the action of free fall, I would finally be airborne (adventure style) and with Nepal, or Pokhara specifically, said to be one of the best places to paraglide given the magnificent views and clear air, it would have been foolish to bypass the opportunity.
Yet, with many outlets offering deals it can be hard to determine if you are making the best decision. For me, safety and reputation are vital over a discount, and so I choose to fly with Frontiers Paragliding. Alongside instructors with years of experience and well-known through word of mouth in the area, prices start from $100 for 30 minutes to $140 for a full 'cross-country' one-hour flight. A CD of photos and a video cost you approximately $20 on top.
In comparison to Western paragliding prices, this is cheap and they didn't disappoint. After a 20-minute jeep ride from Pokhara to the viewpoint in Sarangkot we were fully briefed, assigned to our instructors, buckled up and ready to go. "Ok, walk, walk, walk, walk, walk… STOOOOOP" was how my paragliding session started, just as we neared the edge of the cliff.
Unluckily for me, we had a 'false start' as the instructor didn't feel as though the airflow was good enough. I was already nervous about the take-off and I was the last one from my group to take flight, but you have to admire a perfectionist.
The second time lucky, and with my knees knocking from the nerves, the walking resulted in a soft glide off the cliff face where I naturally fall back into the seat and began the peaceful drifting. With other people paragliding metres away from you, many just become colourful specks that fill the blue sky, leaving me to feel as though I was the only one floating through the Himalaya encased valley as I soared over 8,000 feet high in the air.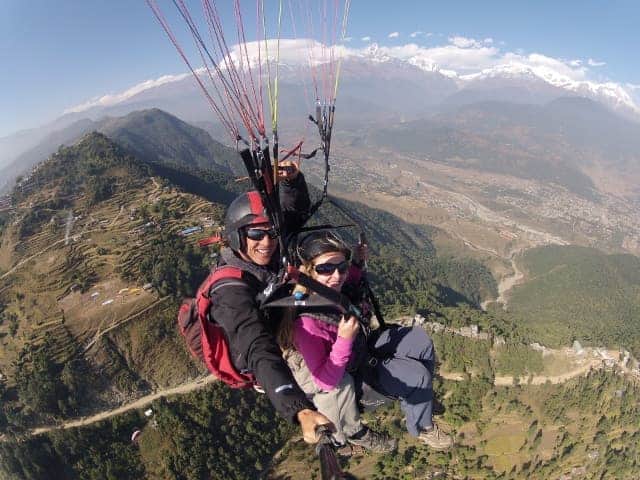 For miles around all you can see are pockets of green forest and occupied land; a scatter of people and communities as you climb higher and higher. But the one view you will never forget is the crisp white backdrop of the mountain ranges – Dhaulagiri, Annapurna, and Manasulu being three of the highest mountains in the world.
Not to mention the close proximity of the hovering clouds and below you, the shimmering great expanse of the Phewa Tal Lake where you later start your descent to the shoreline. Ask nicely and at this point, your instructor might do some 'acrobatics' for you – spinning and spiralling quickly as the air rushes all around you with incredible force.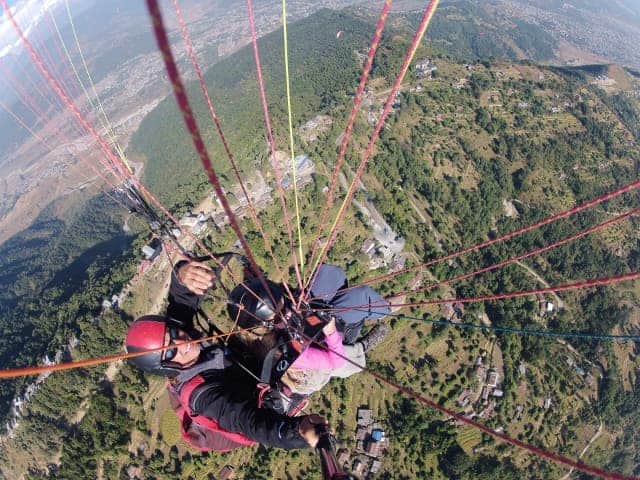 It's a shame I ended the flight on my arse, falling on top of my instructor after being unable to follow through with the simple command to 'stand up' upon landing. It had to end how it started, and that was bad.
Adrenaline Water Rafting in Pokhara
Wanting to desperately pull ourselves out of the hold that Pokhara had on us (we had been there for 10 days and could have stayed much longer being lazy) my friend and I decided that water rafting for two days with an overnight camping stop (rather than as a quick day trip) would be a good idea since the endpoint was very close to Chitwan National Park, our next point of call.
With Paddle Nepal, the two-day trip to raft down the Lower Seti river with grade two and three rapids cost $90, which included transportation to the start point, all food, and transportation to Chitwan. Late November wasn't the best time to go weather-wise (it was a little chilly unlike the basking sunshine in Pokhara), but it didn't distract from the fun.
Just be prepared by packing extra layers and dry clothes if you do this at the start of the Nepali 'winter' like I did. When you reach the campsite in the late afternoon it turns cold, you are soaking wet and the beach campfire isn't started for a few hours.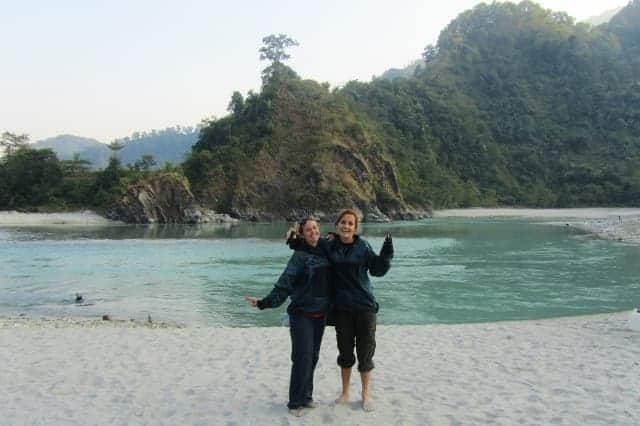 Water rafting is exhilarating as you hit big rapids that throw you forward upon impact and then straight back as the force of the huge water wave hits you. But keep paddling through it. It took me a day to work out how to position my feet under the raft weights and elastic rope to hold me in, by which point the rafting was nearly over.
As a girl with a shocking sense of balance, this may not have been the most well thought out of sporting choices, but the adrenalin rush was just too good.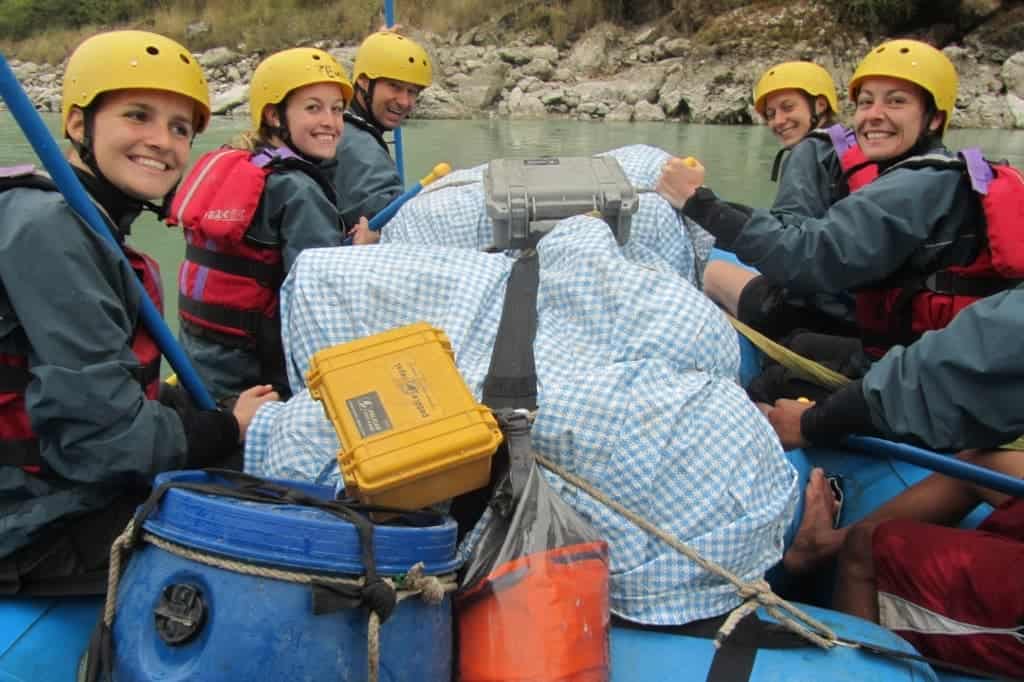 Both days were spent screaming as we went through the rapids and laughing hysterically as we came out of them, feeling sorry each time for the one guy in our group of five who had to endure the constant cackling. After each rapid, we longed for the next one and even though we felt a little bored as the water lulled, it was the perfect opportunity to soak up the stunning scenery.
High cliffs tops faced us on both sides where local houses poked through the undergrowth; children would run along and shout "Goodbye! Goodbye!" over and over again as we drifted past and when we were alone, we coasted the clear blue turquoise waters with nothing but birdsong in the air.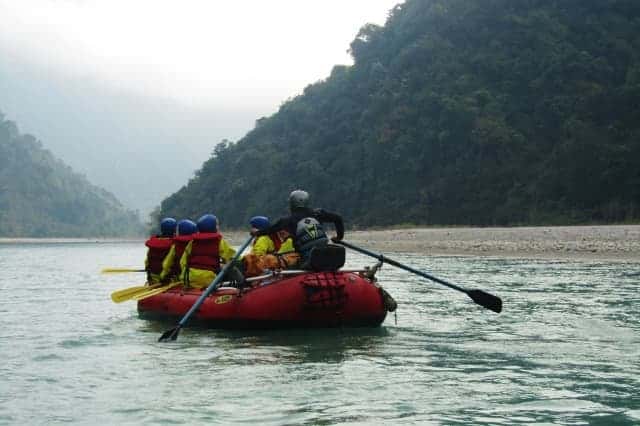 But it wasn't long before you heard the sound of swishing water in the far distance and the beating of your heart as it began to race again. Fear had subsided and exhilaration was in full swing. I'm already dreaming of another rafting trip but next time I have to up the ante and brave some grade three-four rapids!
Pokhara has it all, so be sure to add it to your Nepal itinerary. Just try not to get stuck there – it's a hard place to leave and one place where you will be sure to blow your budget on both entertainment and adventure!
Glide on the Pokhara Zipflyer Nepal
What was once the world's longest and fastest zipline (now beaten by a new offering in the UAE) is now one of the main adventure attractions in Pokhara.
Want to see the valley from great heights? Travel 1.8km, on a 600m drop, reaching speeds over 100mph as you swoop over part of Pokhara's green ravines.
READ MORE: Flying on the World's Most Extreme Zipline in Nepal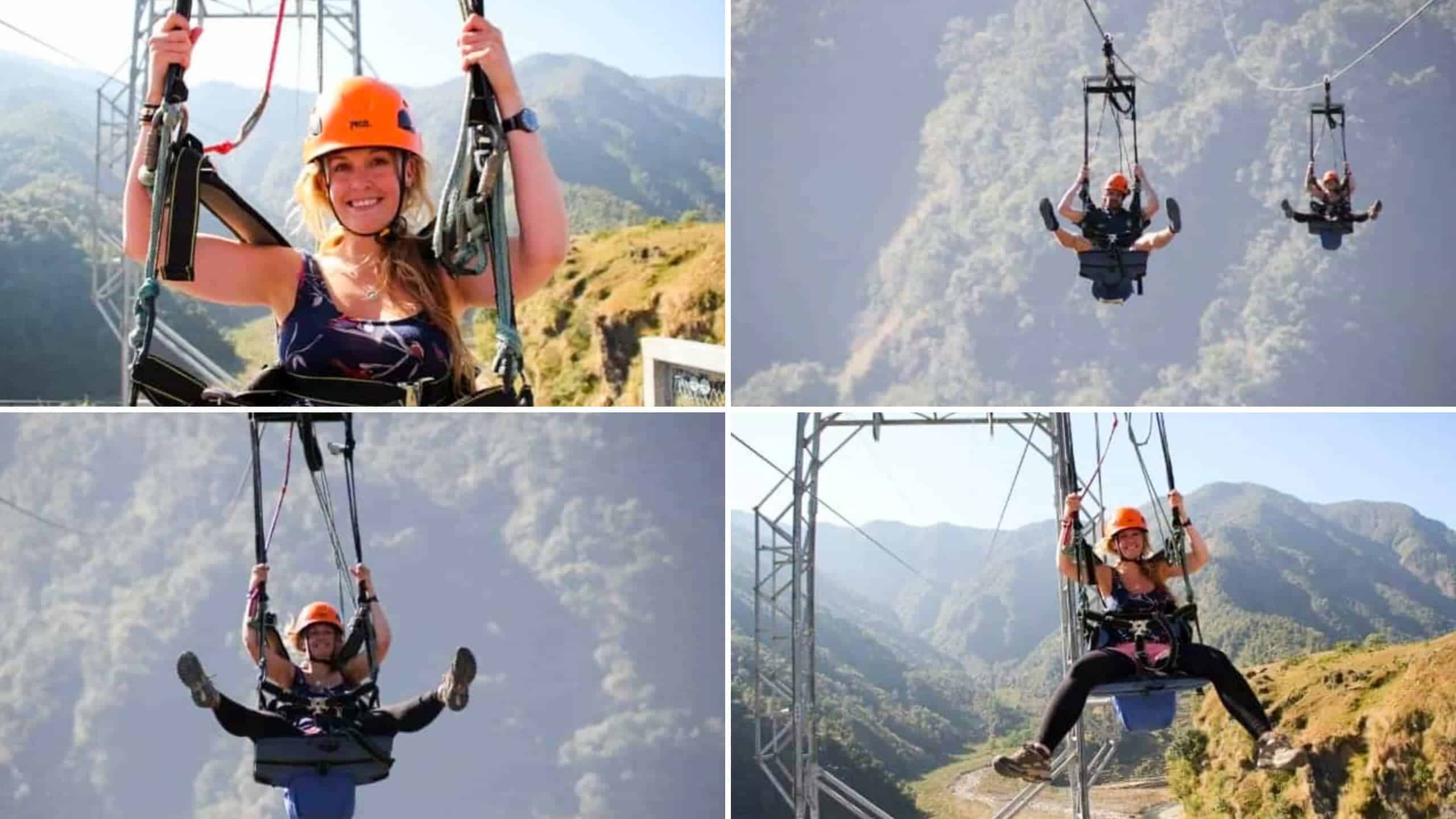 Travelling in Nepal
Planning how to travel in Nepal and don't know where to start? Read more of my Nepal travel guides and get more inspiration for city and hiking adventures, alongside historical and cultural sightseeing.