Disclaimer: This post contains affiliate links to handpicked partners, including tours, gear and booking sites. If you click through or buy something via one of them, I may receive a small commission. This is at no extra cost to you and allows this site to keep running.
Visit the Robot Restaurant in Tokyo and witness a futuristic spectacle of mechanics, disco and lasers. Like you've never seen before.
Everyone knows that the Japanese are the masters of the robot revolution, leading the way for machines to aid the human race and the Robot Restaurant in Tokyo is a window in the future you will never forget.
Tucked away underground in Kabukicho, in Tokyo's Shinjuku district, are robots that blow that sensible notion out of the window, via the medium of entertainment. Exactly what this district is known for.
Here, robots engage in mock battles with beautiful bikini-clad, drumming and ninja fighting Japanese women riding neon tanks and giant fembots. Other robots roller-skate and dance while swathed in a rainbow of neon lights.
What is The Robot Restaurant in Tokyo?
The Robot Restaurant in Tokyo is a $1 million investment that sprung up on the 'themed' scene around 2012. Two of the giant robots are frequently paraded on the city roads, which certainly captures your attention, although you quickly become accustomed to strange and quirky sights in Tokyo. But if you are going to do one thing when in this city of random, you must go and watch dancing robots fight in Tokyo.
Who wants to eat in another normal restaurant anyway? Plus this place isn't really about food at all. You just get food as a bonus.
It was my last night in Tokyo and I still needed a 'themed' fix after my time spent at the Alcatraz prison-themed restaurant and a maid cafe. I'd seen the two giant robots twice, passed the posters and ticket booth advertising this place enough times to see it as a sign and gathered up five hostel friends to make it a big night.
WATCH: My Experience at the Robot Restaurant in Tokyo
The Tokyo Robot Restaurant Show
After picking up your tickets, or showing your pre-booked printed or mobile voucher, you are escorted a few doors down the street and into a building where the performance takes place. Here you wait in a bar area decked floor to ceiling in sparkle, neon, and mirrors, before walking down brightly decorated stairs that make you feel like you are in a giant funhouse or a blinding mind warp. This immediately gets everyone high in childlike excitement, and that's not even half of it.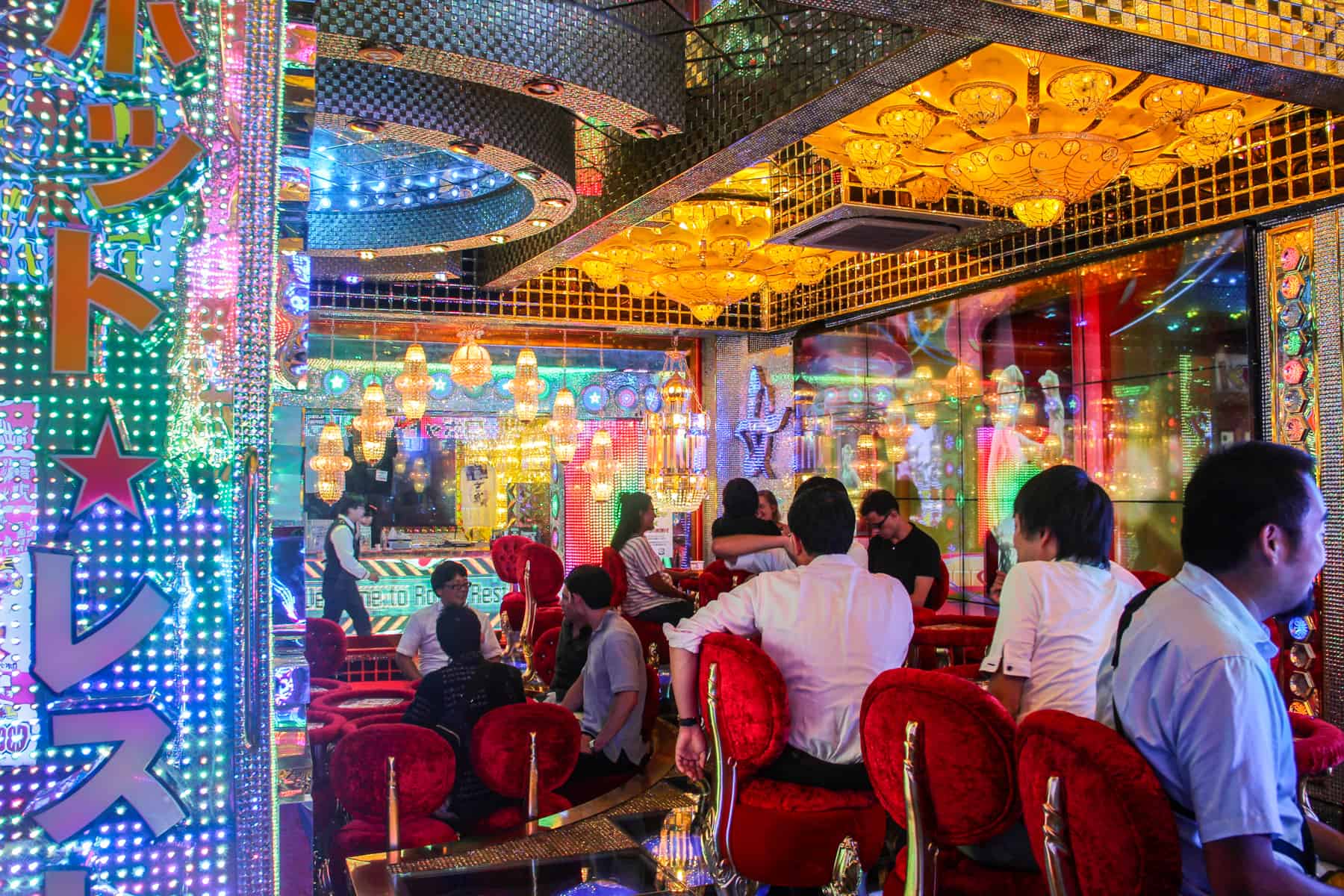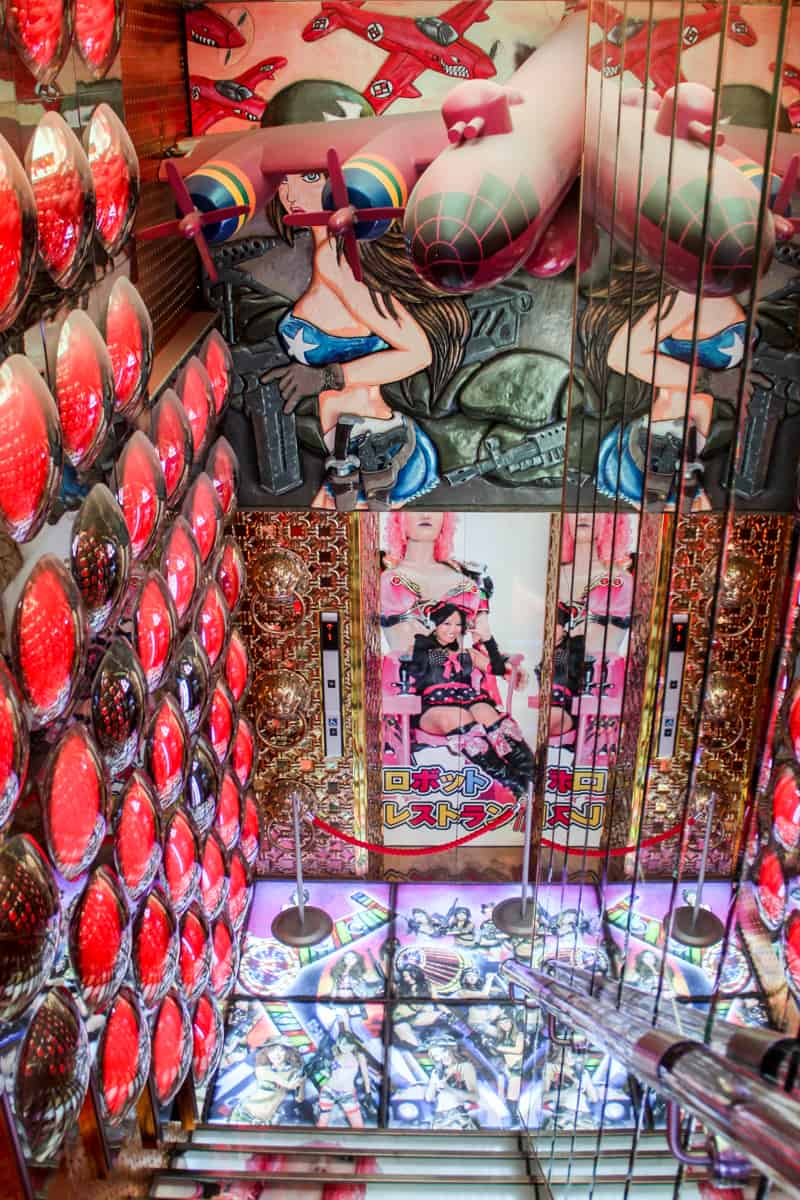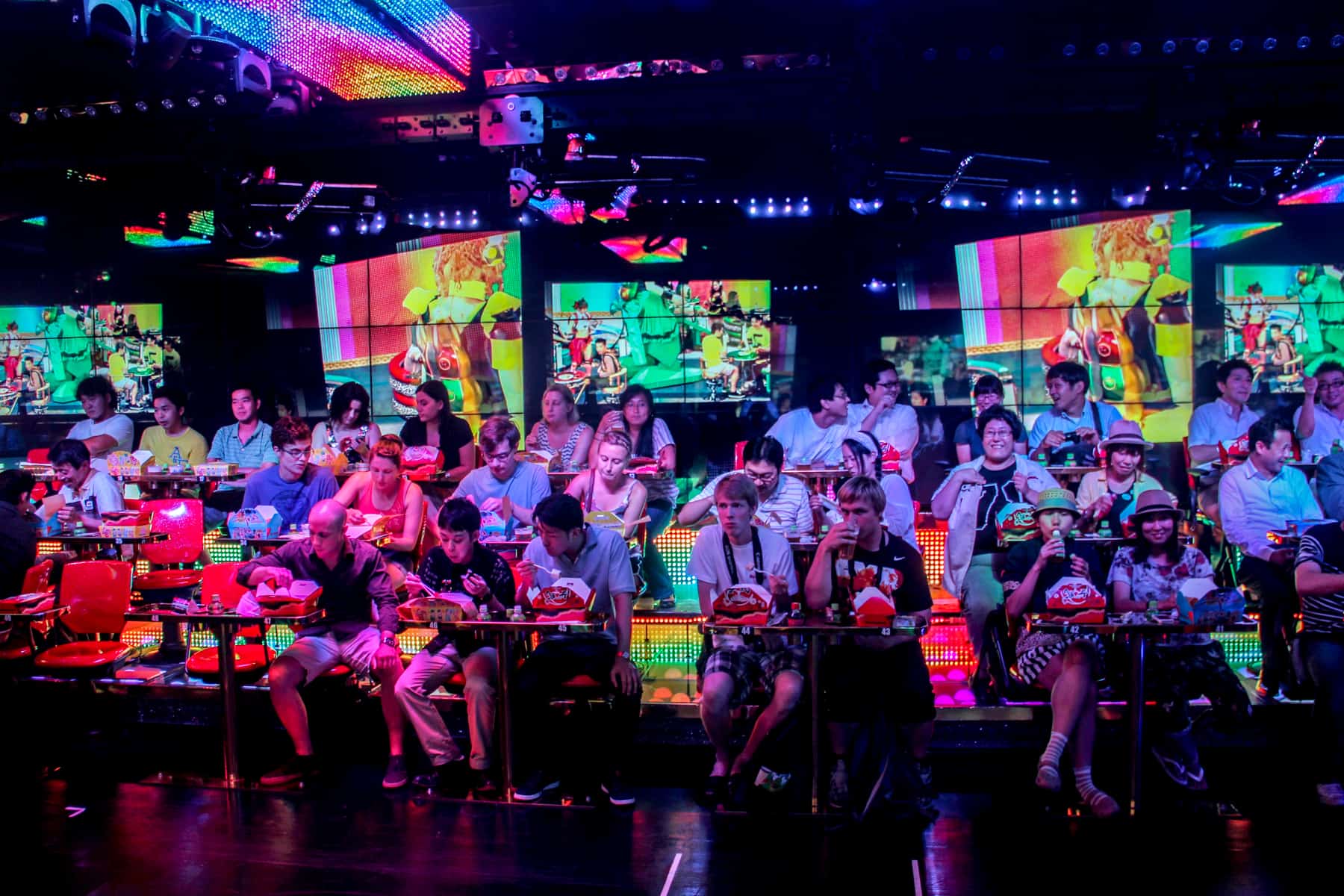 Thinking that the hype might give way to letdown, our preconceptions were blown within minutes, and so were our minds. I think I was so gobsmacked during the entire performance that I don't quite remember it all.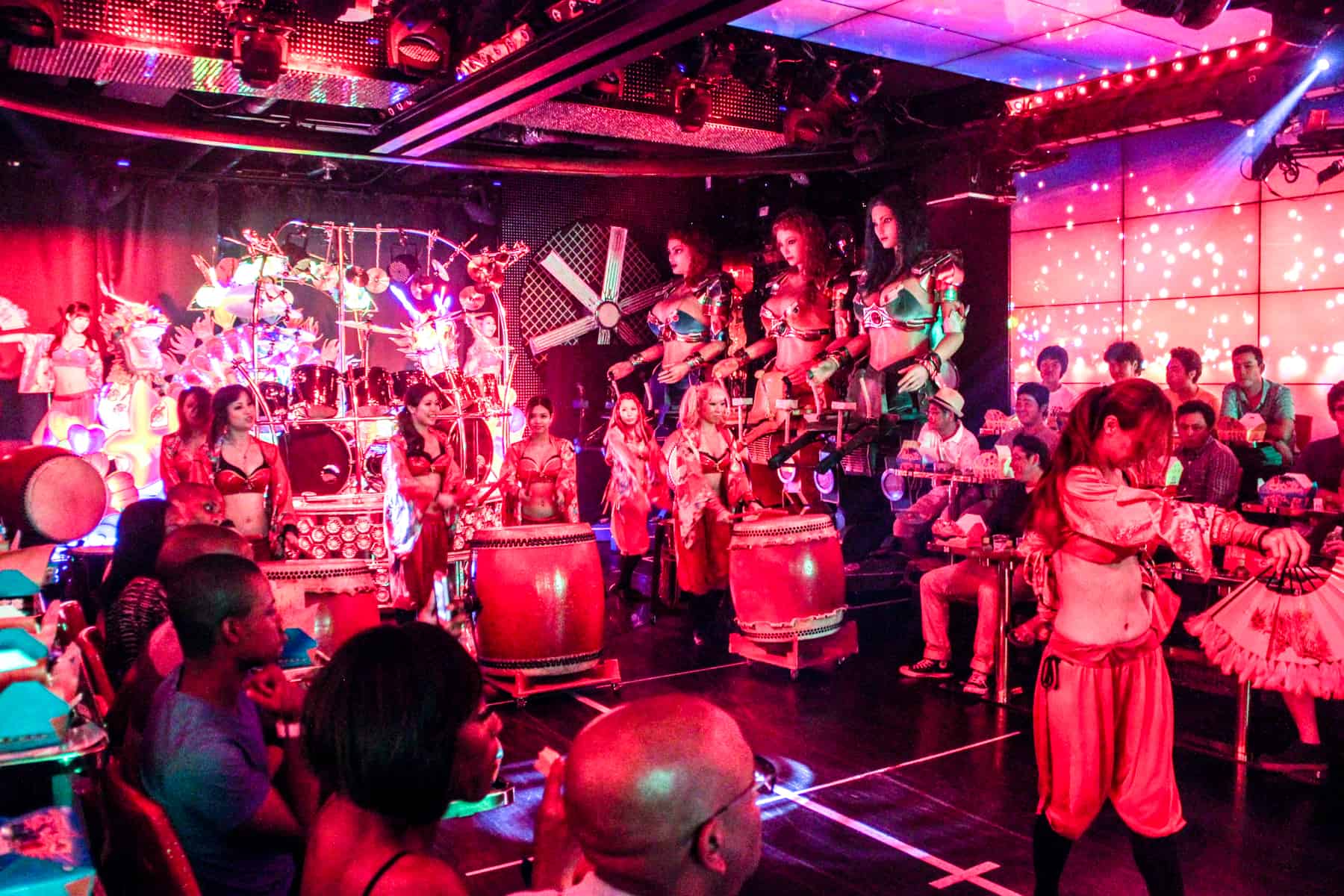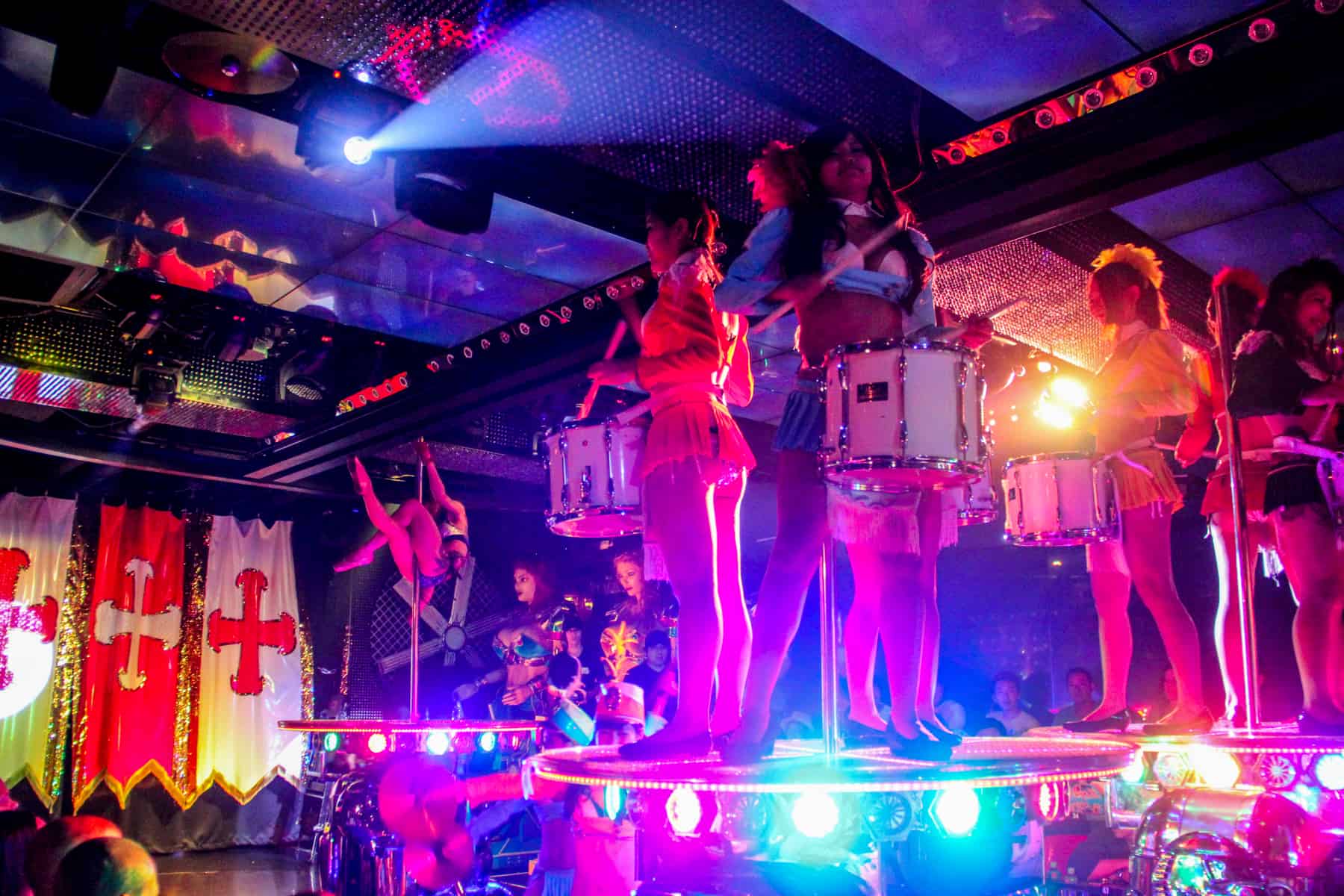 For one hour you are treated to a show that is out of this world. Broken down into four sections, the room is filled with a spectacle of LED screens with Anime style graphics, choreographed with flashing lights, lasers and electronic effects.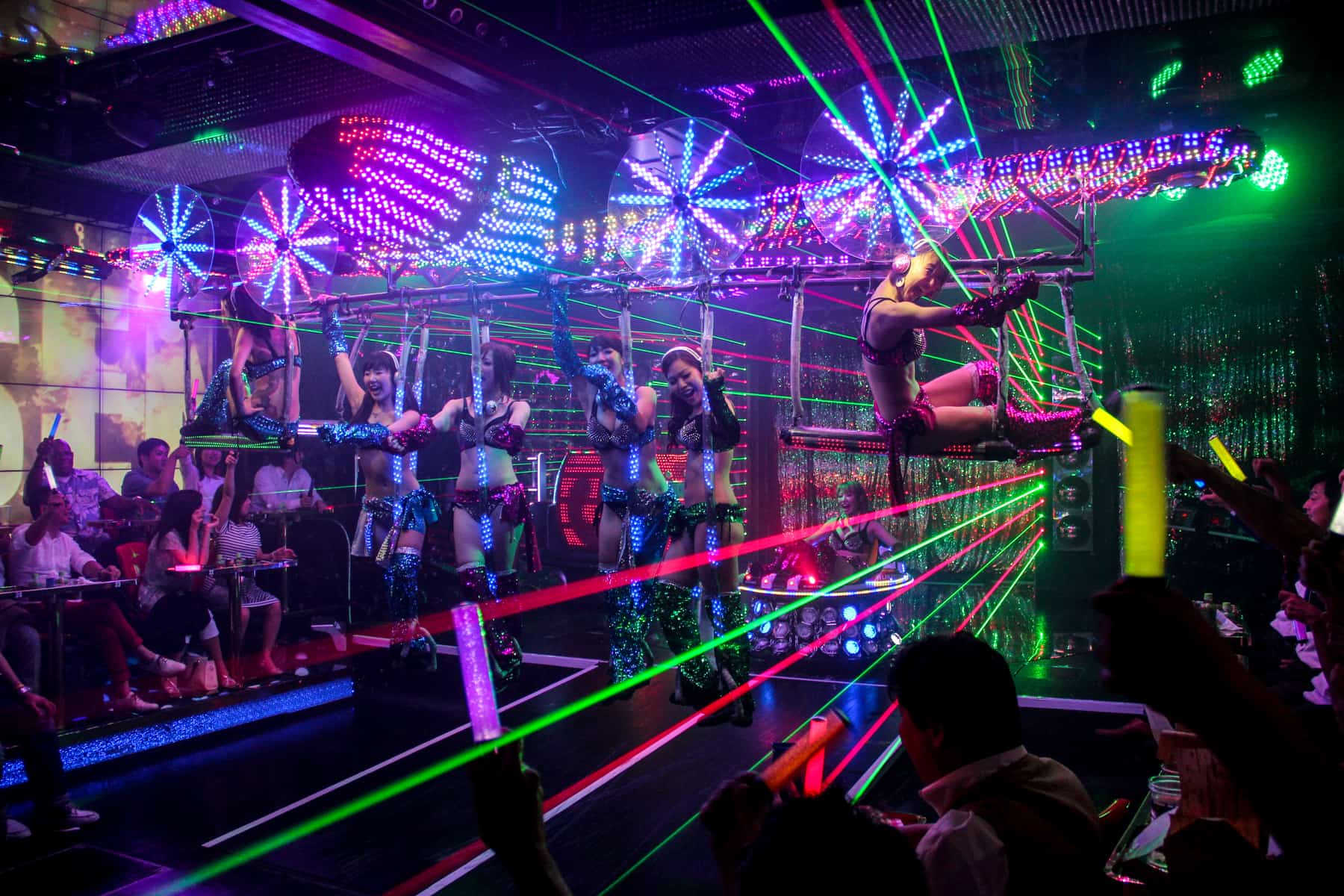 On the ground are performances that showcase traditional Japanese dance routines with a half-naked twist, which later progress into frolicking on neon tanks and aeroplanes and where ninja and army girls fight with giant robots, pandas and dinosaurs.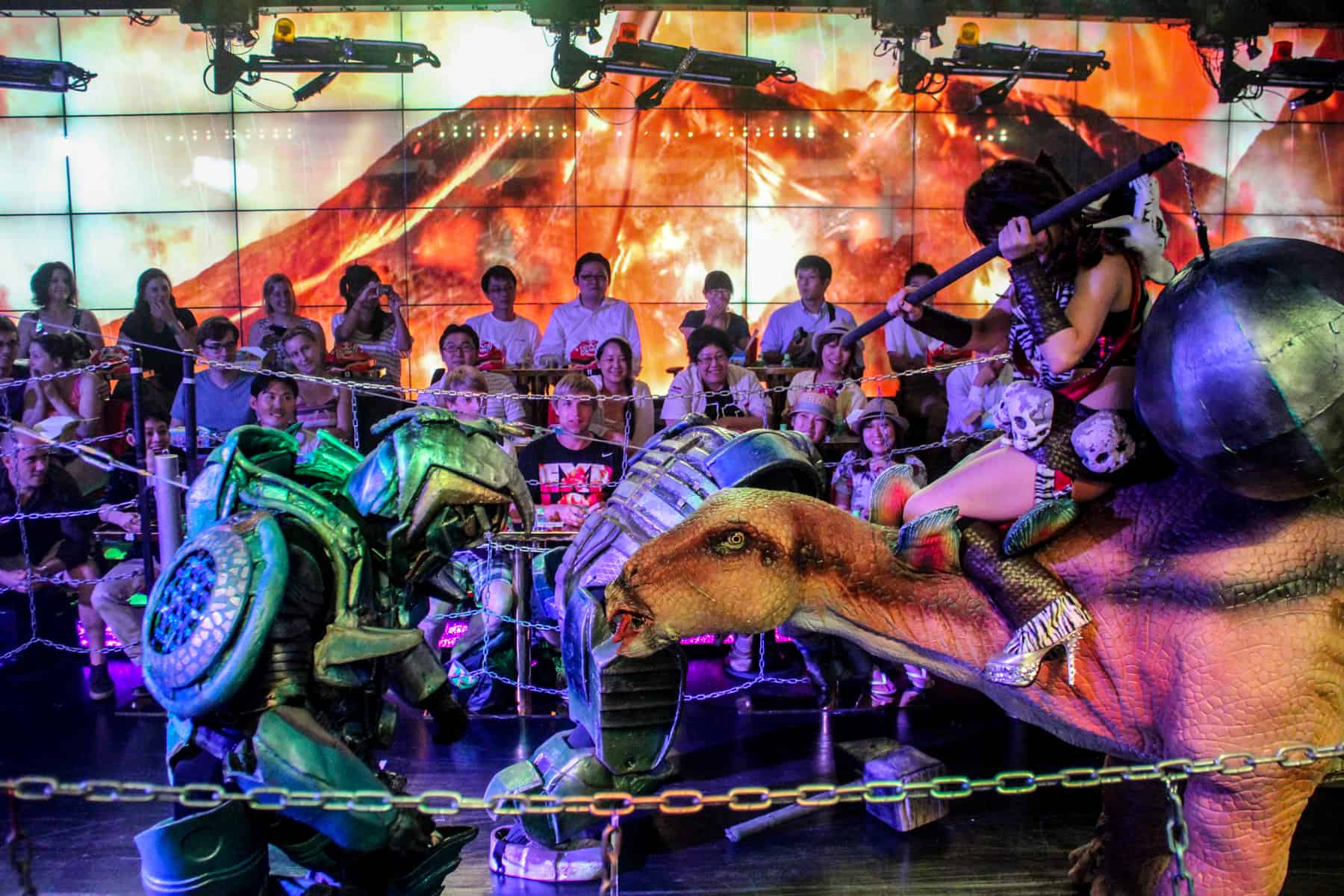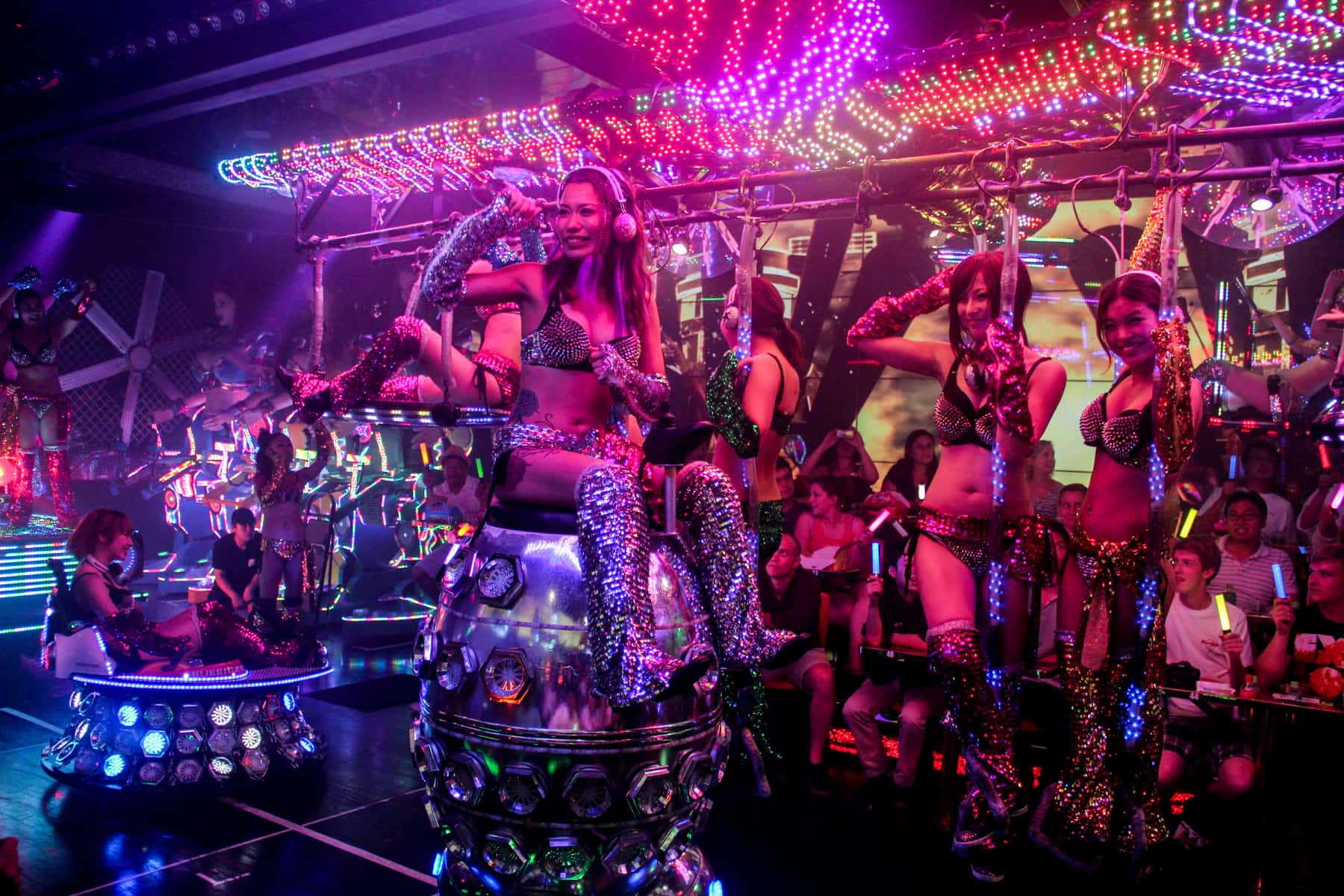 A robot skates around Starlight Express 2035 style, as giant fembots grace the runway of the stage with their very womanly features, getting the men in the audience all hot under the collar.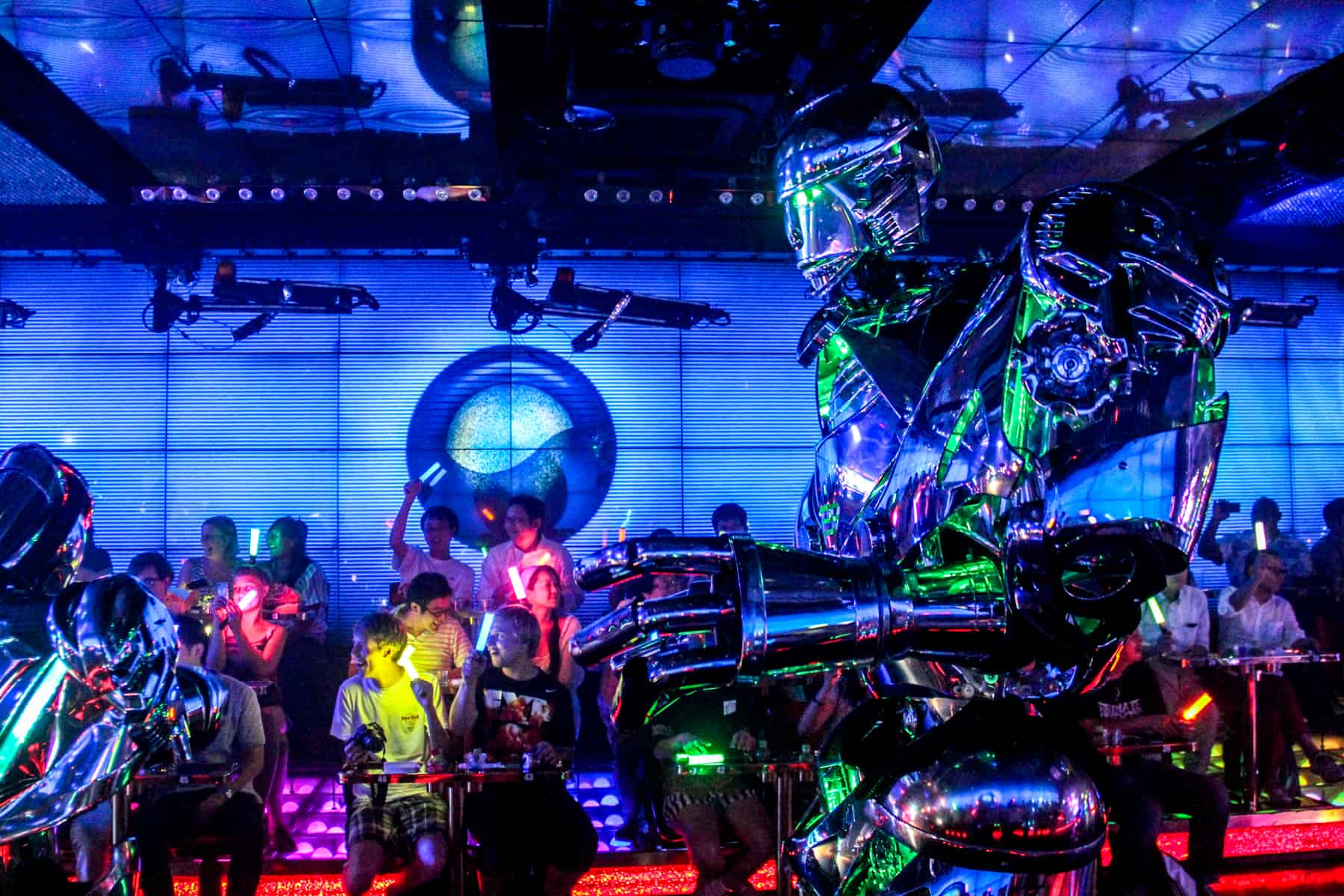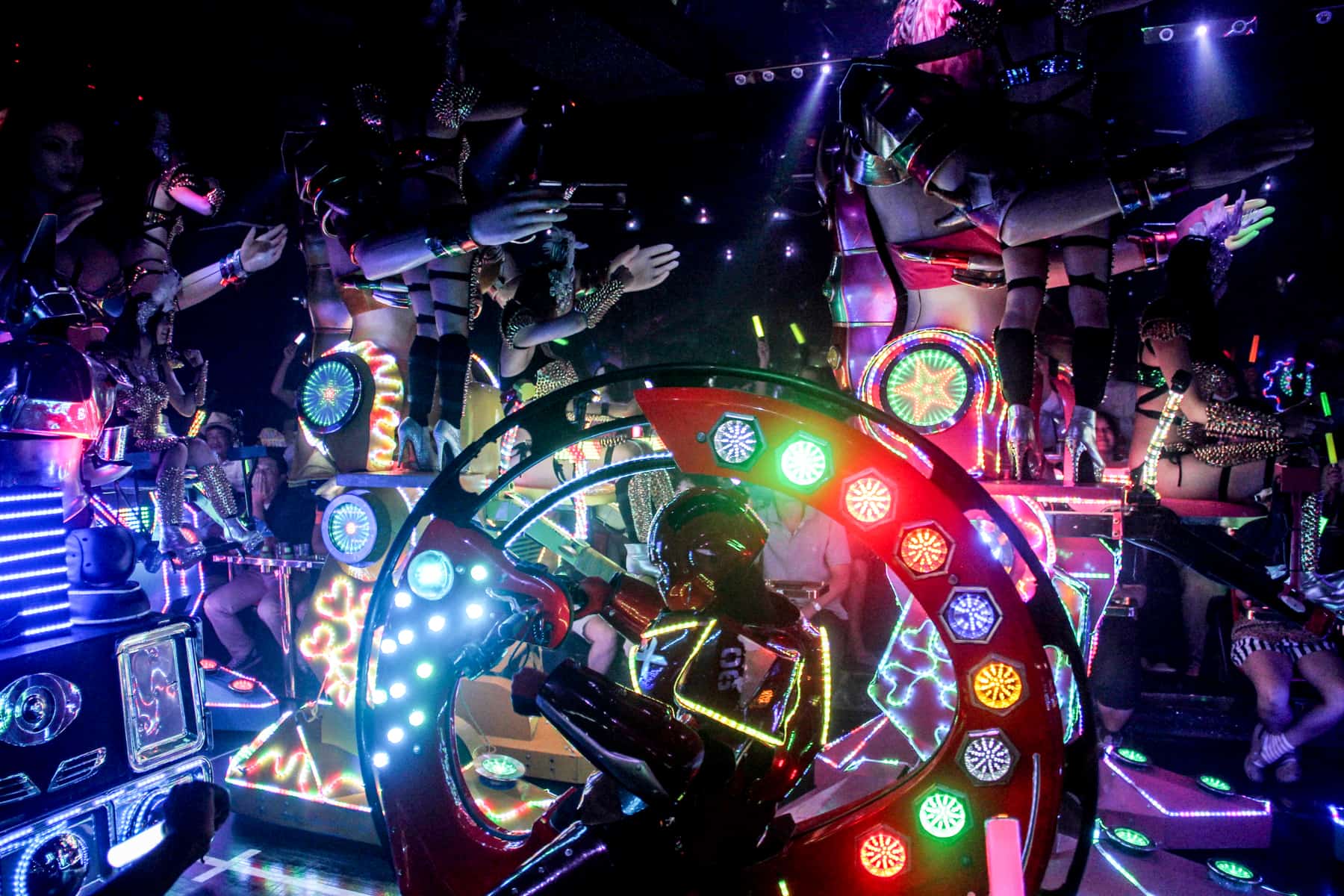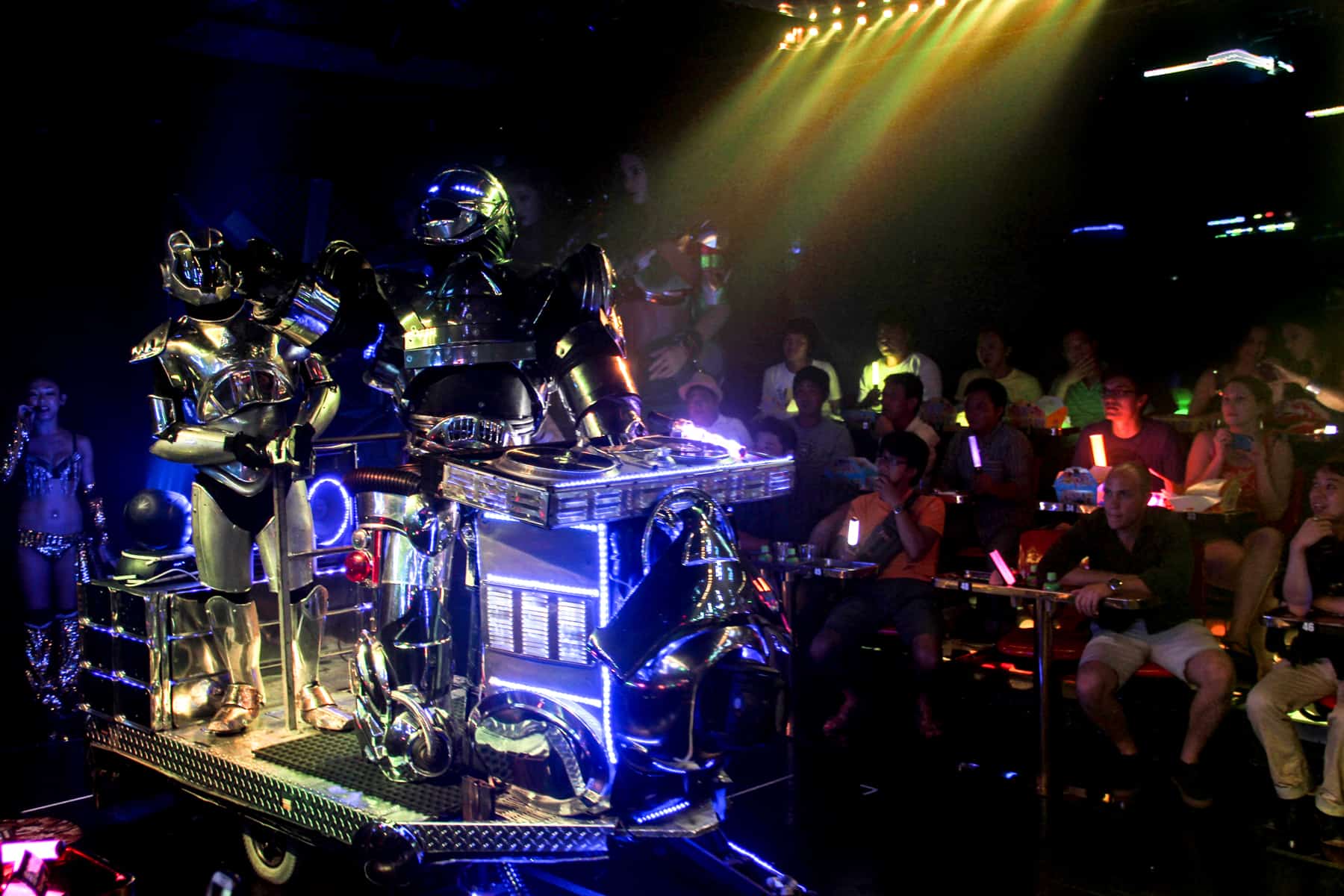 All the while, the audience is whipped up into a glow stick waving frenzy.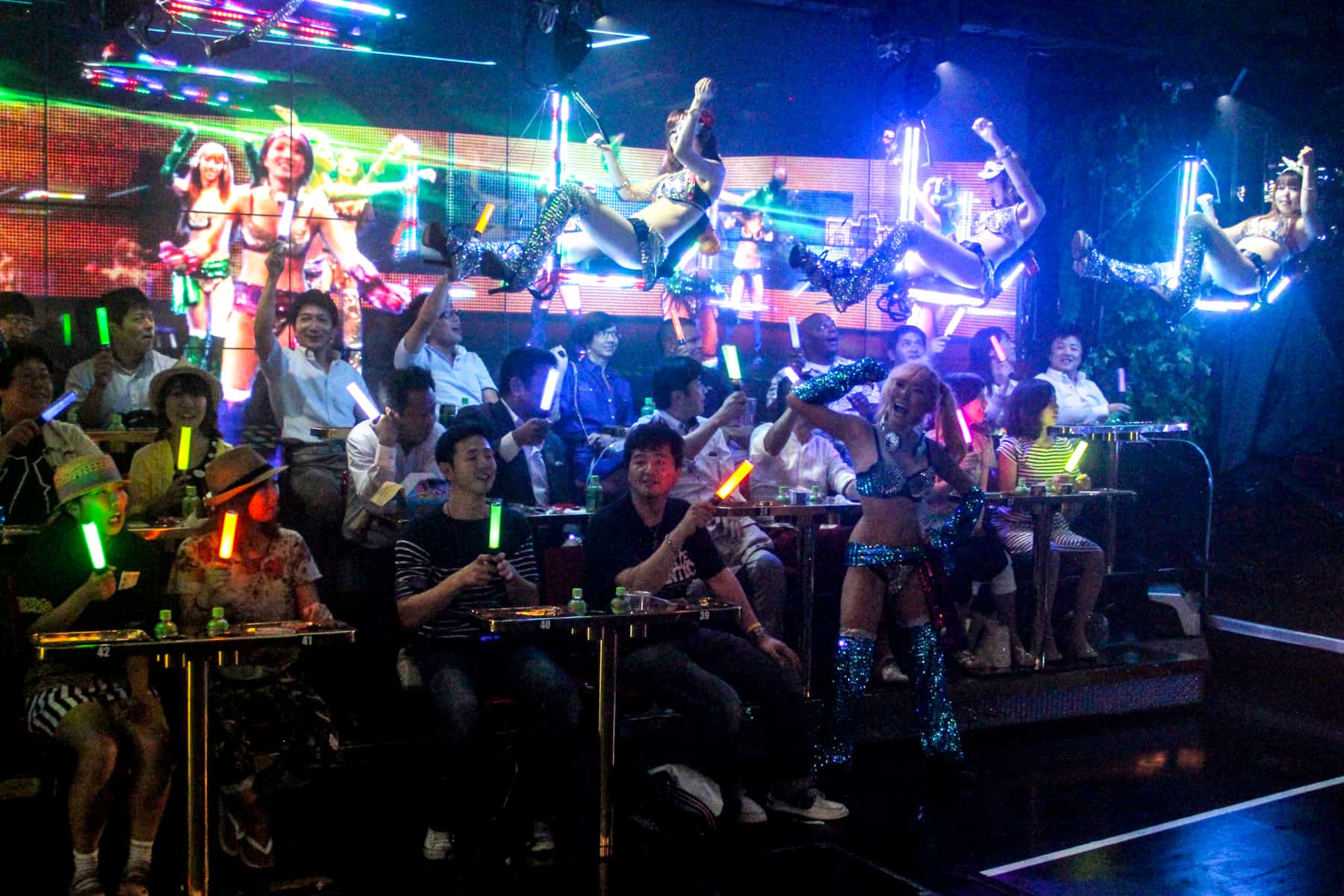 Trust me, you WILL be joining in as you get sucked into this insatiable vortex of psychedelic mayhem.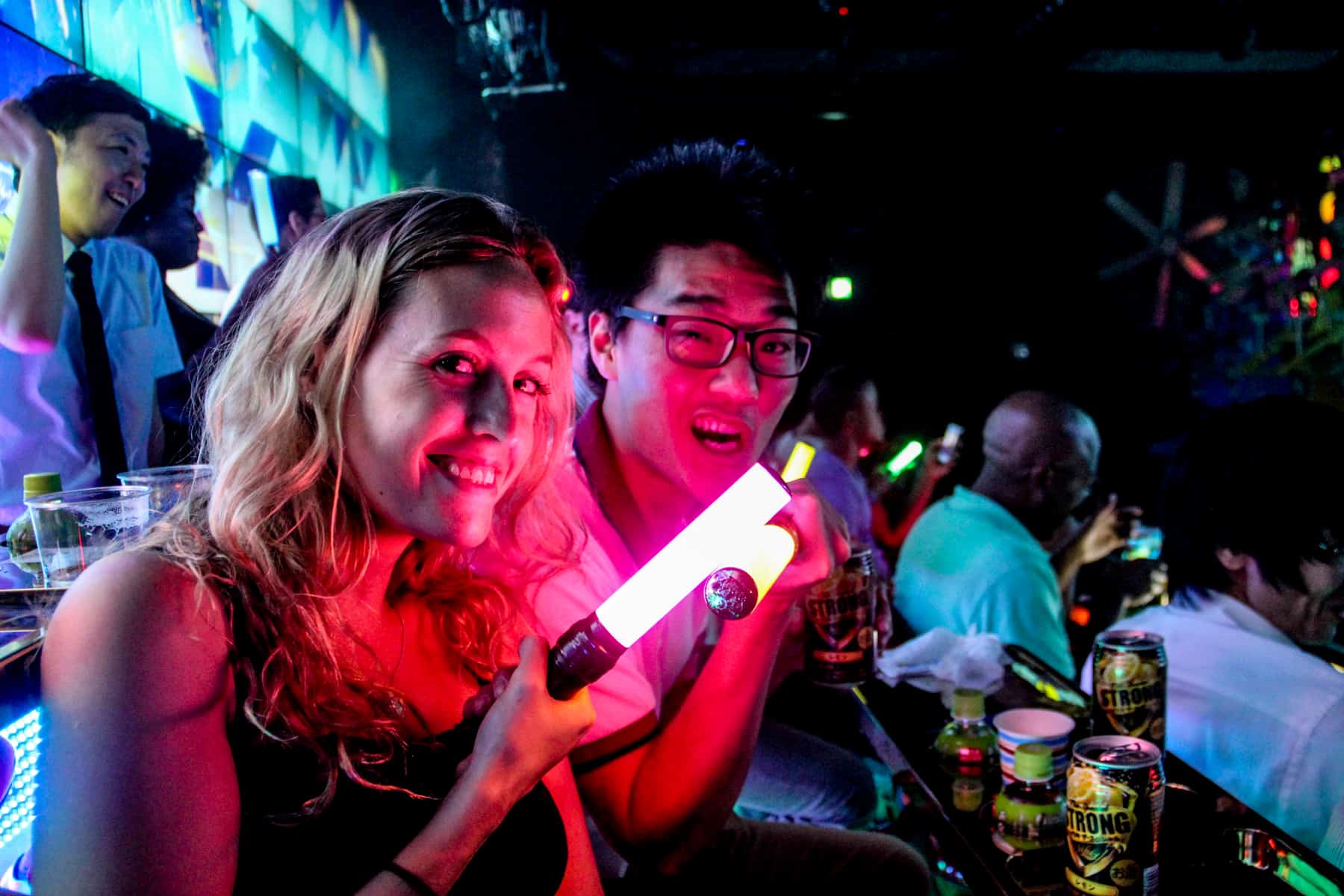 Why You Have to Go – Robot Restaurant Review
I'm not making any of this up – the Robot Restaurant Tokyo is so random it's incredible. This place is fast-paced, jaw-dropping and insane, so much so that some of it had to be captured on video just to bring the random visions to life.
This article is only a small taste of what the Robot Restaurant is all about, without giving too much away.
A spectacle that exceeds extraordinary, this is futuristic, disco space crack for the electronics obsessed, gaming generation and I couldn't think of it being better placed anywhere else than Tokyo and its unique city persona.
And to the women out there, you won't be outnumbered by excited men reliving their teenage fantasies – this show is for everyone. You'll believe it when you see it.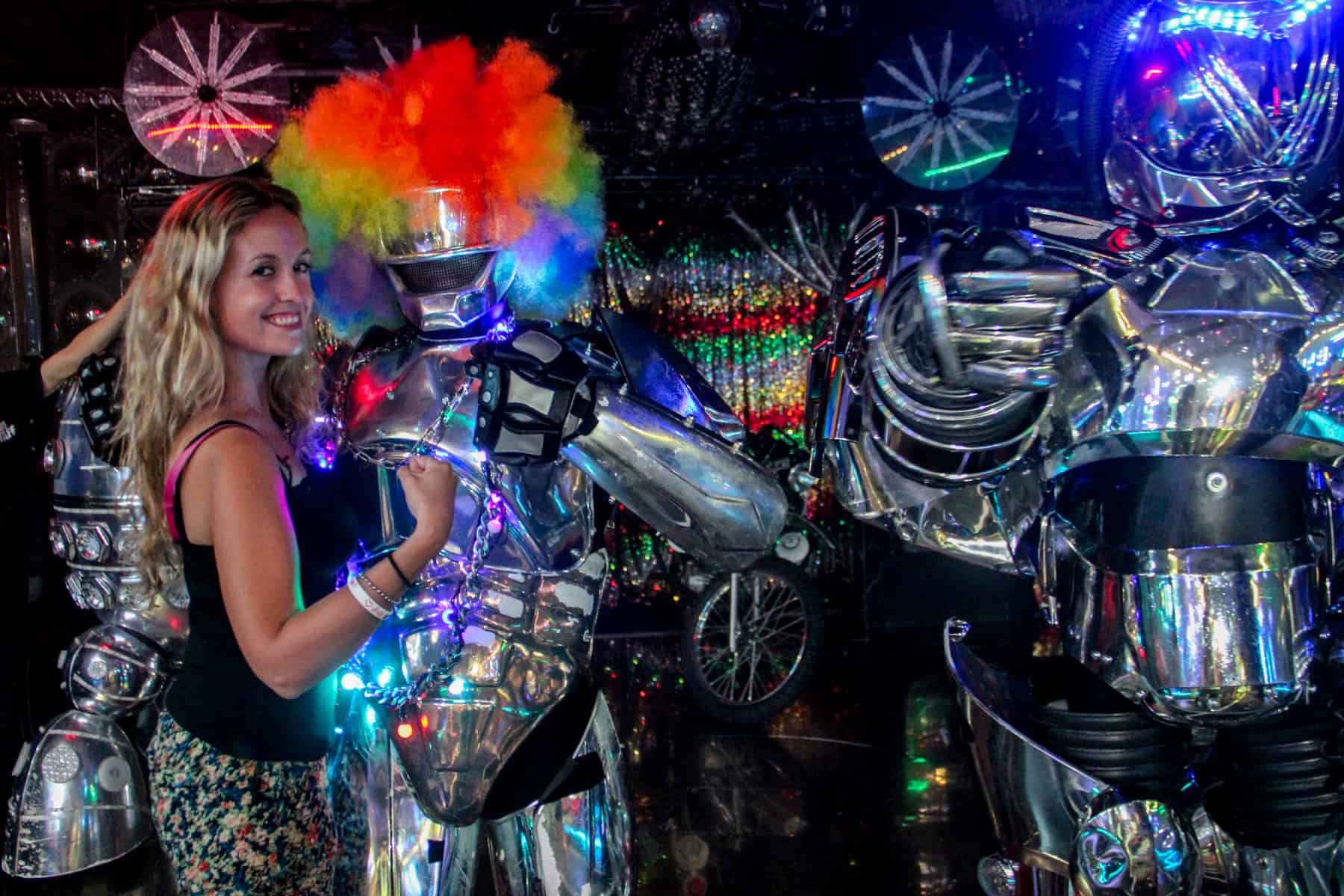 What to Know About Tokyo's Robot Restaurant
General Rules and Admission
There are three one-hour-long performances each night starting at 7 pm, 8.30 pm and 10 pm.
The performance lasts 90 minutes.
Photography is allowed during the show and with the robots afterwards.
You are not allowed to touch the girls or take close up images. This might be a crazy show but respect is still due.
Robot Restaurant Tokyo Tickets
Note: The Robot Restaurant is temporarily closed, following the Pandemic. Here's hoping it makes a comeback, as it seems it hasn't closed its doors for good.
Tickets: The cost was ¥ 5,000 (Yen) per person which included a snack box and a soft drink. Alcohol was sold separately before the performance and during the intervals.
How to Get There
To reach Kabukicho go to Shinjuku Station and use the East Exit. The Restaurant is based on Sakura Dori, off the main road on Yasukuni Dori.