Disclaimer: This post contains affiliate links to handpicked partners, including tours, gear and booking sites. If you click through or buy something via one of them, I may receive a small commission. This is at no extra cost to you and allows this site to keep running.
Here's where to go in the Southwestern Finland Archipelago – one of the World's largest where you can experience the best of Nordic nature.
Rocky shores, pebble bays, long sandy beaches and tucked away coves are scattered throughout the Southern seas of Finland – each one a unique component of the thousands of islands and inlets inhabited by man and rare species alike. Standing within Finland's largest outdoors haven – The Archipelago Sea – I saw Nordic nature at her most vast and spectacular.
What many do not realise is that this playground of serenity, in Finland's most Southwestern point, is only a few hours from the modern capital city of Helsinki. Except here you'll find no grand stylish urbanisation. Behind the scenes are various eco drives both by the Baltic Archipelago and Island Centres (BACES) – a three-year co-operation project between 11 partners from Sweden, Finland and Estonia to push forward sustainable development and growth in the area – alongside the work of the Finnish National Heritage Services, which encourages recreational outdoor activity while developing sustainable practices and protection drives across the entire country.
For the Finns, the great outdoors is a part of the daily psyche. Protecting that landscape means protecting a way of life, creating an ideal balance in nature that sees neither neglect nor over-development.
Where to Go in the Southwestern Finland Archipelago
While it would take an avid explorer a lifetime to touch base on all points of the Archipelago, and with much is off-limits in various 'Protection Zones', there is a LOT within easy reach. My five days in Finland, as part of the nature-loving 'Outdoors Finland' campaign with Visit Finland, scratched only the surface of this incredibly scenic patch of landscape, yet it kickstarted a passion for a country with a fantastic ethos for life and well-being.
My highlights from this Archipelago region, accessible to and from Helsinki via train, bus, car or boat, are the Kasnäs Peninsula on Kimito (Kimitoön) Island (the largest coastal island in the country), the dominating yet beautiful Bengtskär Lighthouse (the tallest in all the Nordic countries) and the sandy and windswept shorelines of calming Hanko (the Southernmost region of Finland).
The Kasnäs Penisula and the Bengtskär Lighthouse
Aside from the sporadic speed boats darting past in their exploration of another relaxation haven, and the waves from locals whose candy coloured summer houses poking out from the greenery of the Peninsula shorelines, kayaking gives the sense of serenity that you can only find in a vast open space such as this.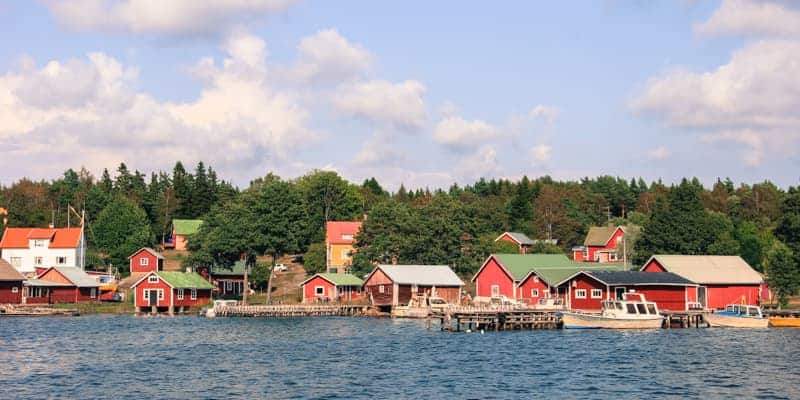 Kimito Island is one of 40 out of the 500 islands in the municipality that are inhabited, yet this area's mystery comes from venturing out and passing by only a fraction of that number. We were like a convey in rainbow hues gliding through a scattering of giant pebbles. Passing each small hideout, you could imagine those indulging in the routine of bathing in the glow of sunset after a sauna and awakening with the sunrise – much like what we were doing in our haven on the mainland.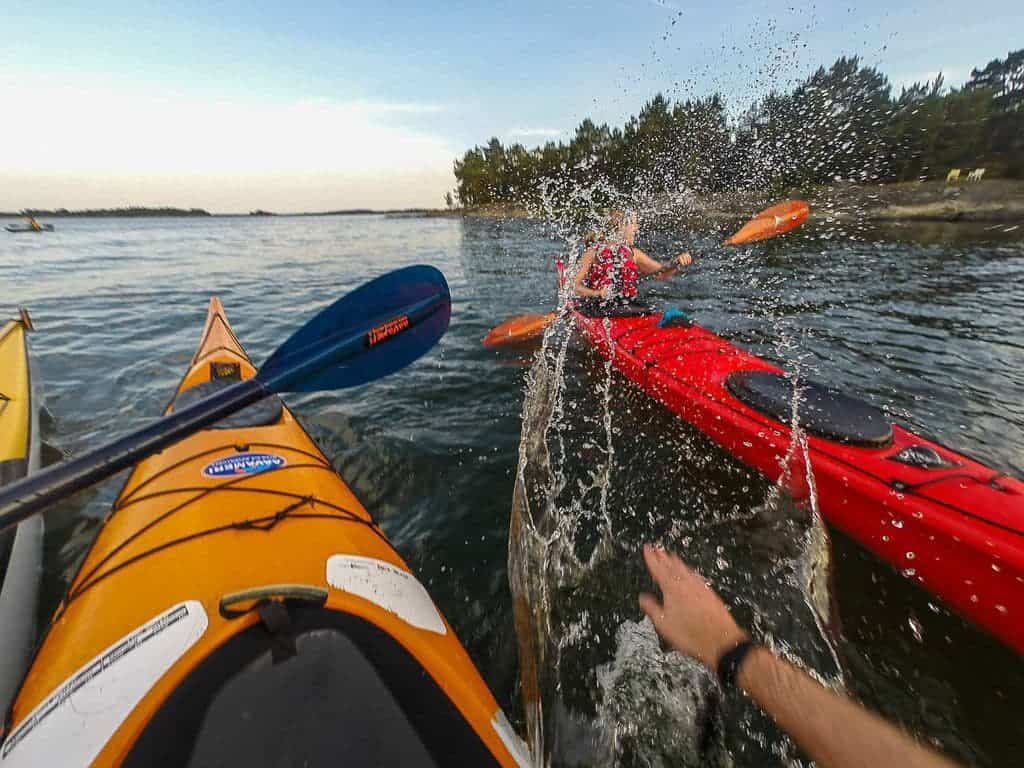 © Laurence Norah – Finding the Universe
Bengtskar Lighthouse is nearby and accessible via a frequent boat service. It may be the tallest one in all the Nordic countries, with over 250 steps to climb to reach its sweltering heights, but the scenic island it stands upon means your half-day there is not just limited to looking at the granite built architectural wonder that survived both World Wars. Before long, we quickly stripped down to our swimming gear and were out lounging on warm, smooth rocks and swimming within the shallow waters with the Lighthouse as our backdrop.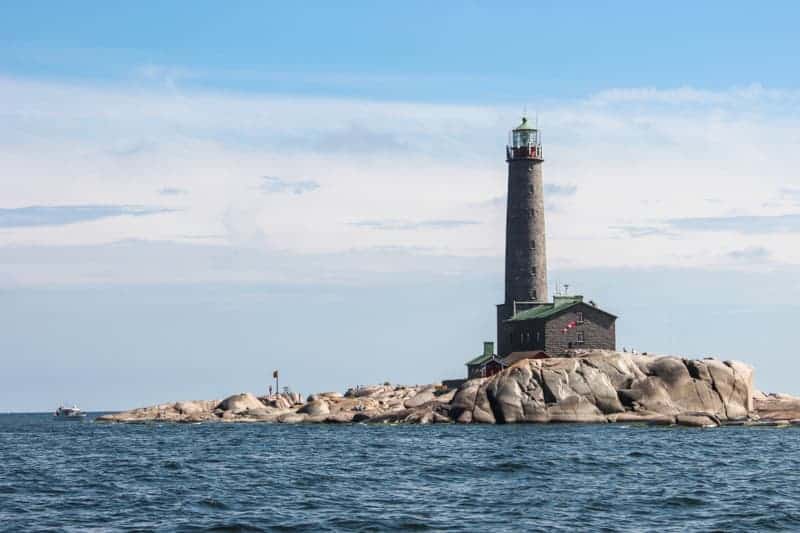 Hanko
Not long after I arrived at Hanko after a pump of adrenalin from the Rib Safari adventure speedboat from Kasnäs, and sitting down for lunch next the harbour, I soon proclaimed that if I could eat fresh salmon soup, drink coffee and eat ice cream every day while in a setting such as this, that I would be happy for life.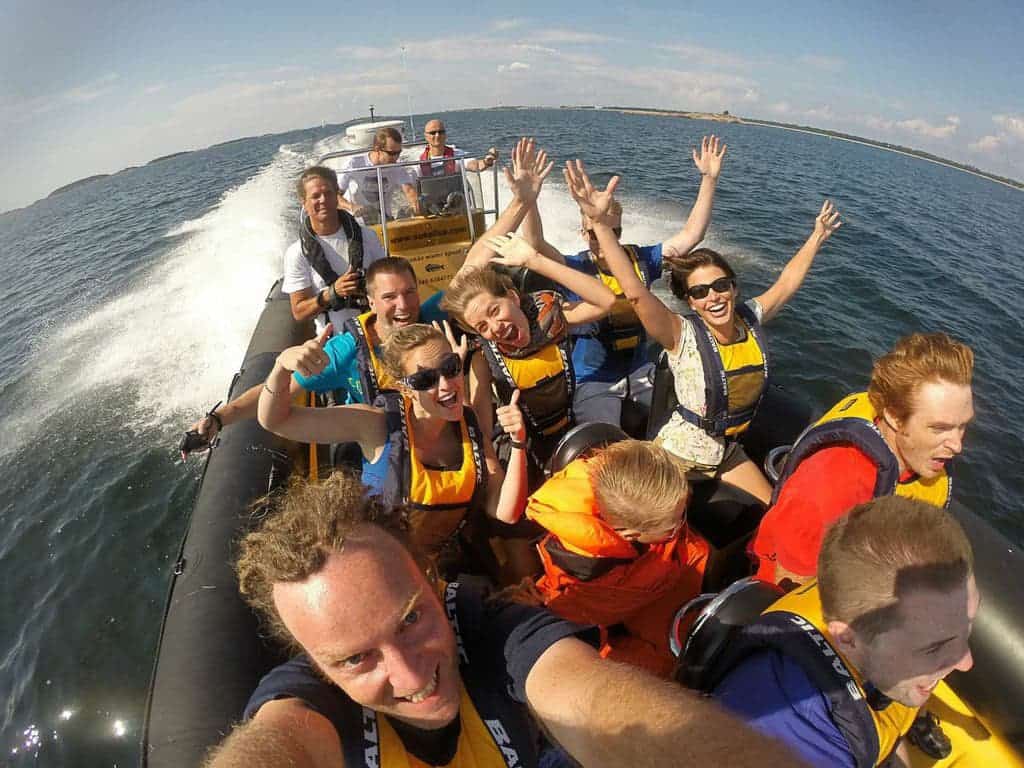 © Laurence Norah – Finding the Universe
The pretty much sums up the serenity of Hanko, otherwise known as 'The Sunny South of Finland'. It's a popular place for locals to visit (its Eastern Harbor being largest guest harbour in Finland), yet its sandy beaches, pine tree woodland and cycle paths combined with flea markets, cosy cafés and restaurants in converted storehouses, give plenty of space for everyone to unwind without feeling overcrowded.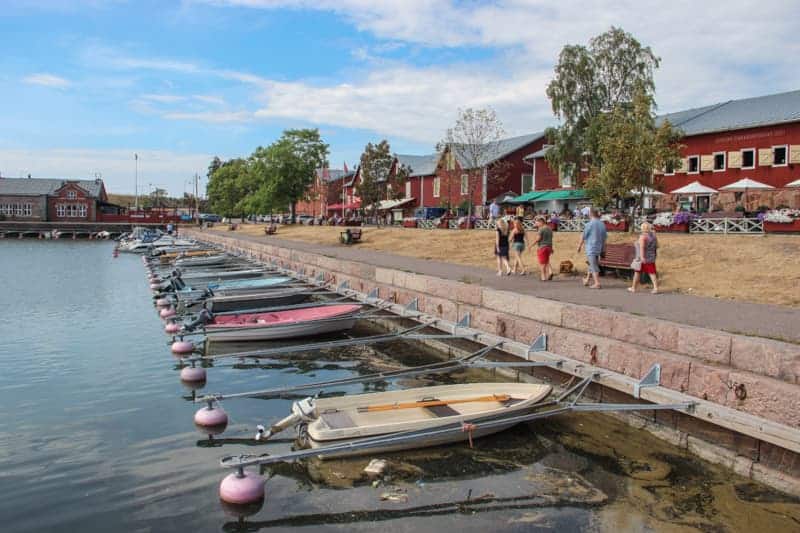 I enjoyed the silence and serenity of Hanko, yet found comfort with there being a wider choice of activity. With our hired orange bikes and sampled part of the 19km cycle path here that connects the architecturally rich town with the green terrain and various sandy beaches, including Plagen Beach with its unique water carousel.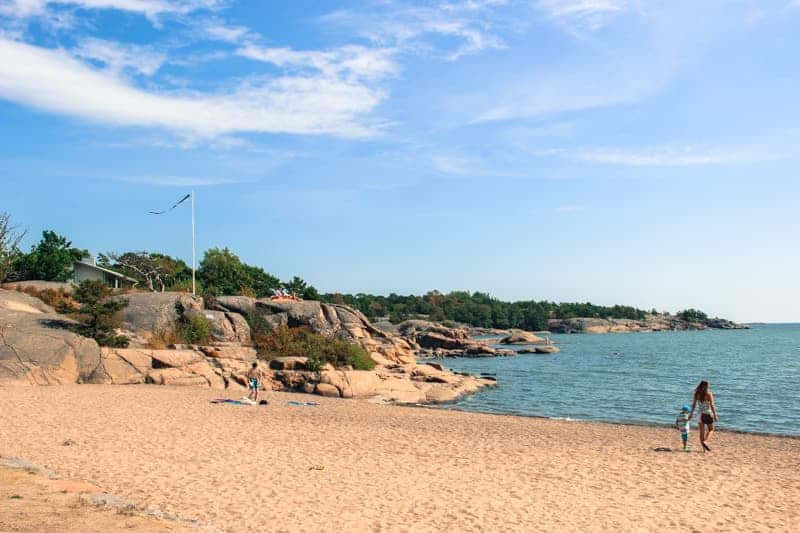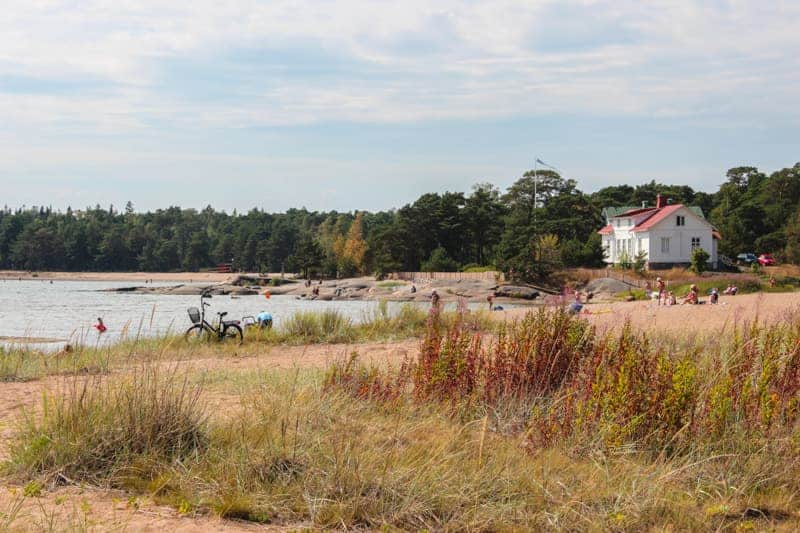 We'd stop to admire the view and the scattering of old white beach huts (a town symbol and replica of those in the town's 1920s and 30s spa time heyday) before visiting the local Sjöberg's Farm to pick up the groceries needed for that evening's dinner.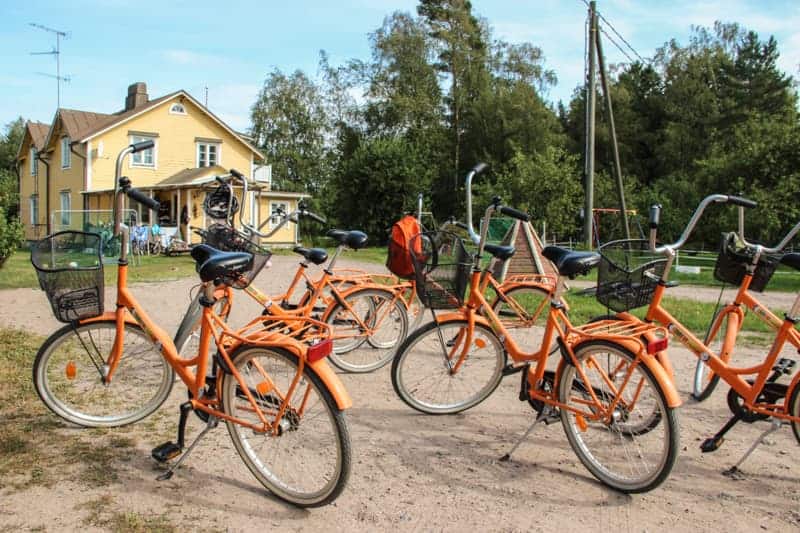 The Path of Love (where we later walked and meditated with Sattva Wellness) might sound corny, but is a place significant to history as well as natural beauty. The 1.5km woodland path along the Puistovuoret coast eventually leads to cliff rocks that were smoothed out during the glacial age, and which later became the stage for emigrants leaving Finland to seek fortune in the US, Canada or Australia (between 1881 and 1931) to have their last dance in their native country.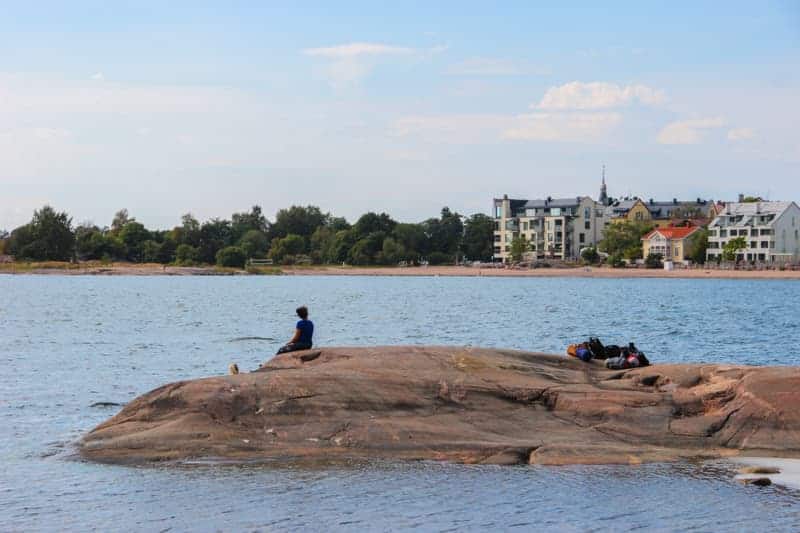 Explore More of the Archipelago From Hanko
A Nature Trail Open To All
Högholmen is 1 km nature trail through a pinewood, which leads out to the cliffs overlooking the Baltic Sea. This area is managed by WWF but open to everyone to visit.
A Protected Area With Entry Permission
Uddskatan Nature Reserve can be found right on the southernmost tip at the end of the country. Established in 1990, this water area is a protected spot and you need special permission to enter, which is usually only via guided tours.
An Island Uninhabited Since 1941
Three small farms existed on the island of Gunnarsörarna up until the Soviet occupation of Hanko from 1940-41. Used as a military base, with four canons set up on the highest hill, it has since never been occupied. These structures still exist, making this island a perfect spot for historical exploring and wilderness camping.
Even for Finns, much of their country beyond the mainland is still yet to be uncovered and opened to the public, and the Archipelago Sea area is no exception. https://www.rib-safari.fi//strong>
For now, these main bases serve as a stepping stone to the mystery of the thousands of outlining islands, to the nature we can't see or touch or belong to yet. In the meantime, do as the locals do and immerse yourself within the incredible natural landscape available to you. They certainly don't take the outdoors of Finland for granted, and nor should any visitor.
Travelling to Finland
Planning a trip to Finland and don't know where to start? Read more of my Finland travel guides and get planning for some adventures, in all seasons.