Disclaimer: This post contains affiliate links to handpicked partners, including tours, gear and booking sites. If you click through or buy something via one of them, I may receive a small commission. This is at no extra cost to you and allows this site to keep running.
A summer in Alpbach Tirol in Austria overturns the perception of a valley best known for its ski season, where you can climb, bike and hike instead.
A Tyrolean valley better known for its ski season and access to the prime Ski Jewel resort that merges with the ski area in neighbouring Wildschönau, Alpbach in summer isn't limited when it comes to exploration, local life and adventure. The beauty of Austria's alpine valleys is that they are entirely different places with the changing of the seasons. Which means one visit is never enough to know it in its entirety.
After spending winter in the snow-dusted village of Alpbach as part of my year-long quest to uncover all angles of Austria, it was time to see the region as it sprouted a layer of green, and swap skiing and snowshoeing for climbing and biking. I also switched up village life and stayed in neighbouring Reith.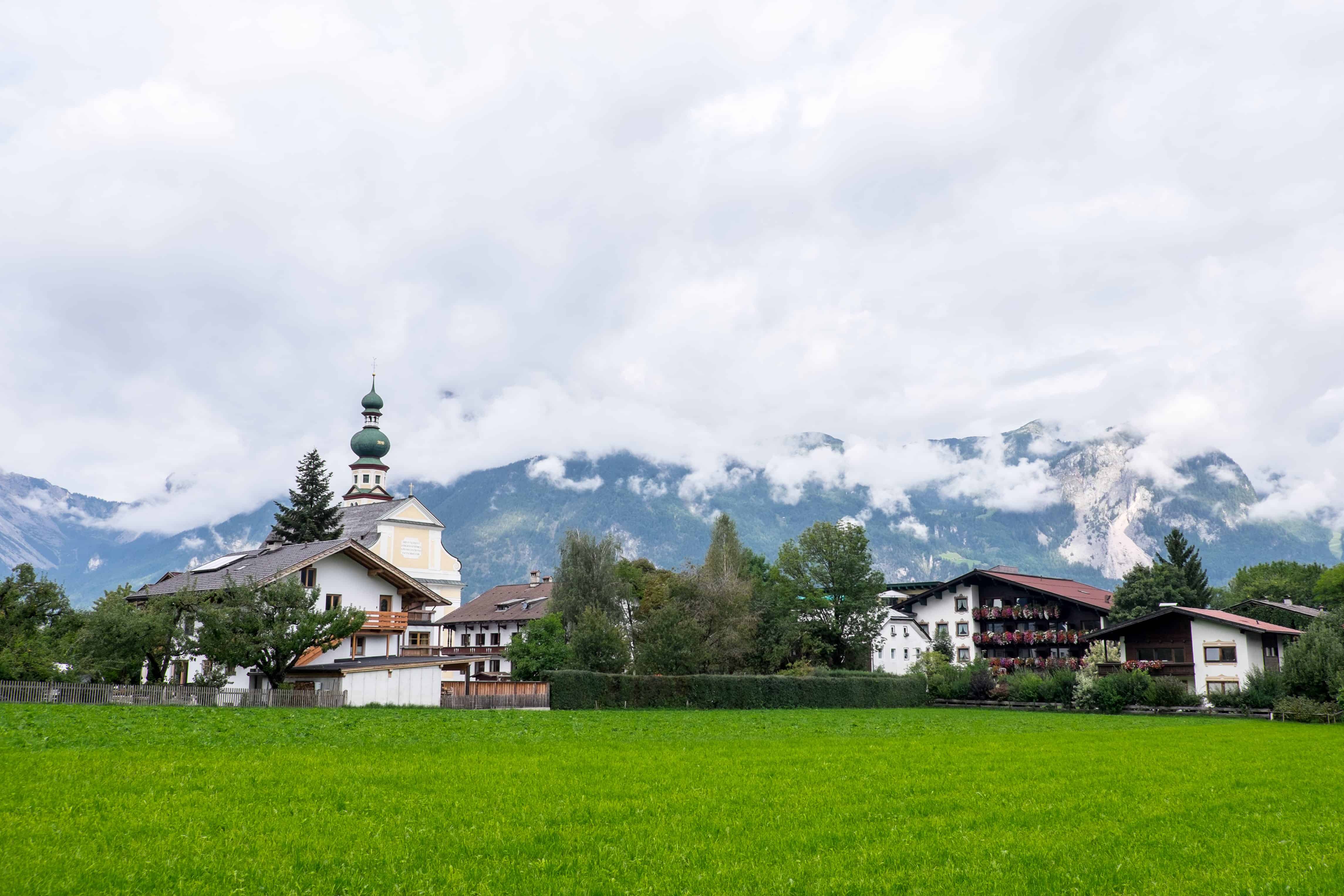 So whether you missed a ski season in Alpbach and can't wait another year to get back, or loved the region in winter and now want to see it differently, here's your chance to head back and mix up the adventure.
Things to do in Alpbach in Summer
Agility in Alpbachtal: High Ropes Course in Kramsach
A rolling valley filled with dense patches of woodland, it was only right to get stuck into a small patch of Alpbachtal's tree-filled basin. The first adventure was the High Ropes Course at the Outdoor Centre in Kramsach – a short drive from the main villages of Alpbachtal. With a guide in tow, you get to put your balancing skills, adrenalin rush from heights, co-ordination and power of strength to the test. During a crazy couple of hours, you tackle all kinds of wavering and wobbling apparatus and wireline obstacles, before whizzing through other parts of the forest on various ziplines, including one with a snowboard!
I love climbing, but I have naturally poor balance, so even though this was my second time on a High Ropes Course in Tirol, it was still a fair challenge. One where you not only need to rely on your mental agility but have good teamwork skills too (which also involves lots of laughter). It's well worth the adrenalin rush, especially since we had to adapt some of the obstacles to complete them while slightly slippery from the rain. It's all part of the fun!
Book your balancing adventure at High Ropes Course in Kramsach here.
Speed in Alpbachtal: Guided E-bike Tour in Reith
Staying in a different village means having new ground to explore, despite already having to wander part of the parameters of the valley on a short snowshoe hike. So I swapped the means of exploration this time for two wheels and went out on a two-hour e-bike tour around the village up in the woodland and around the valley, via the village pathways with a guide.
If you don't want to bike on some of the 250km of trails, there are over 900km of hiking paths, from beginner to experienced.
The two main biking guides in Alpbachtal are: Aktivbiking in Alpbach and Bikeprofi 31 in Kramsach.
Culture in Alpbachtal: Gasthof Kaiserhaus
Austria is known for its nationwide passion for inventing some of the best sweet treats and eating cake, and you haven't got to the real sugary soul of Alpbachtal until you have indulged in some Prügeltorte. At the 500-year-old forester's house known as the Kaiserhaus in Brandenburg, you to see the famous Prügeltorte cake made as one guy spins the rod over the open fire and the other artistically builds the hollow roll of goodness with a unique mixture.
Once you are filled with childlike smiles evoked from the smell of freshly baked cake which induce hunger, it's only fair to take a seat facing the garden and stuff your face with a slice of said Prügeltorte (and a dash of fresh cream), which goes well with a coffee.
This building is steeped in history and was once a place where the emperor liked to go hunting with friends. So do the imperial thing (minus the hunting) and take a little walk after you've enjoyed the cake, because nature here is pristine, and the gorge that surrounds the house is calling you.
Find out more about the Gasthof Kaiserhaus here.
Nature in Alpbachtal: The Kaiserklamm Gorge
The sound of fresh, rushing water and the sight of glimmering turquoise through the overgrowth, is enough to entice you into the Brandenberg valley – home to Die Kaiserklamm gorge that is said to be one of the most beautiful canyon landscapes in all of Austria. Historically, the timber industry was at the heart of Brandenburg and its primary source of income. Logs would be drifted down the raging waters of the Ache River, to be collected at the broadest point and distributed from the valley.
Now, people coming to enjoy the same protected hiking trails that the Kaiser once did around neighbouring Tiefenbach Gorge, but mainly come to marvel at the sheer size, scenery and serenity of the Kaiserklamm Gorge. There's a one-kilometre pathway that takes you through cave-like tunnels and over bridges where you can get a view of the dramatic cliff-faces that guard the mighty waters of this nature hideaway.
It takes around 30 minutes to walk from one end of the gorge to the other, or you can tackle some of the many hiking routes around its wild and rocky landscape, signposted around the Kaiserhaus. Hike the 'Erzherzog-Johann-Klause' way for a six-kilometre wander through dense forest paths that lead to this dam where the logged trees were once collected. Alternatively, you can choose to rapidly traverse its emerald waters via water raft or tube, or cruise leisurely in a kayak. Admission to the Kaiserklamm Gorge is free.
Things to Know About Visiting Alpbach in Summer
The Alpbachtal region is made up of 10 resorts: Alpbach, Brandenberg, Breitenbach, Brixless, Kramsach, Kundl, Münster, Radfeld, Rattemberg and Reith im Alpbachtal. This means there are plenty of regions packed full of activities from relaxing to high adrenalin.
Suggestions for Excursions in Alpbachtal Valley Tirol
Museum of Tyrolean Farmhouses in Kramsach. Close to Lake Reintalersee is an area where you can explore 14 typical and traditional Tyrolean farmhouses – an interactive, open-air museum about the history of this region. (Admission is free with the Alpbachtal Card).
Lake Berglsteinersee. One of the many warm bathing lakes in Tirol where you can relax in nature and its freshwaters. In this region, you can also visit Lake Reintal, Lake Krumm, Badl Breitenbach, and the lake in Reith where I spent an afternoon after some crazy adventure.
Wiedersbergerhorn Mountain Alpbach. Take the gondola to the top station and walk up to the peak (it takes around 40 minutes) or enjoy the panoramic view across the valley below. The other gondolas are Reitherkogelbahn and Markbachjochbahn (in neighbouring Wildschonau), included in the Alpbachtal Card.
Rattenberg – Austria's smallest historical town is known for its glass blowing craft, while craft beer lovers can head to the one-person brewery in Inner Alpbach and try the unique beers brewed by local, Jos Moser.
Kufstein – If you are looking for a nearby city excursion, head to Kufstein (the second biggest city in Tirol after Innsbruck). To the north of Alpbachtal and on the border with Bavaria, you can lose yourself in narrow streets lined with traditional houses and climb to the medieval castle fortress that looks out to the mighty Alps.
Where to stay in Alpbachtal Valley
There are over 600 accommodation facilities in the valley area from farmhouse holiday to 4-star spa hotels.
Hotels in Reith im Alpbachtal
In Reith im Alpbachtal I stayed in Hotel Der Kirchenwirt – a large but homely, family-run 4-star hotel in the very centre of this quiet village. The hotel is less than five minutes walk to the village lake in one direction and the Reitherkogelbahn gondola in the other. As is the Austrian way, it is not without a spa and pool to end the nature-filled days with some extra relaxation.
Hotels in Alpbach
Previously in Alpbachtal, I stayed at the Hotel Alpbacherhof, a spa hotel situated right in the very centre of Alpbach, and less than two minutes from the ski bus stop.
Get the Alpbachtal Card
The Alpbachtal Card gives you access to the three summer gondola cars, including the main one, Wiedersbergerhorn Mountain Alpbach, alongside free bus service in the region, free admission to the adventure wave pool, guided hikes and walks as well as discounts at shops, museums, excursions and more. It is free of charge at all accommodation partners when booking at least a one-night stay.
Further Information about Spring and Summer in Alpbach
Visit the Alpbachtal website for a complete list of activities and events, alongside costs and accommodation options.
My time in the Alpbachtal valley was a part of my 'Year in Austria' project, as the UK ambassador for the Austrian National Tourist Office. I visited various destinations across the country (from my home base of Vienna) over 12 months, showcasing a variety of regions and activities. Follow #YearInAustria for all the stories through the seasons.