Disclaimer: This post contains affiliate links to handpicked partners, including tours, gear and booking sites. If you click through or buy something via one of them, I may receive a small commission. This is at no extra cost to you and allows this site to keep running.
An underground labyrinth. Whacky sculptures. Bunkers and secret bars. This travel guide tells you all the surprising things to do in Brno, why they exist, and the array of experiences that make your time here an unexpected adventure in this lesser-known Czech city.
I was always told to spend ample time in Brno as curiosity grew in Austria beyond the claim of it being a suburb of Vienna from its days as a Habsburg territory.
Eclipsed by the shininess of Prague in the west, the capital of South Moravia in the east is far from the dormitory town many expect. It's the Czech Republic's second-largest city with an attractively unusual and vibrant persona and a village feel.
In the shadows of more accessible cities, Brno became a day trip city from Prague, Bratislava and Vienna. But you might regret such a short amount of time, and I'm glad I took the advice to stick around.
In not knowing what to expect, it makes a visit here all the more surprising. Any perceptions of Brno as a city subdued by imperialism or lost behind the iron curtain are immediately crushed. After years of occupation, it created its metropolitan legacy – one that's expressive, unconventional and experimental.
Brno adds quirkiness to culture, playfulness to history, and crams a lot of cool into a compact city centre. And if you allow yourself enough days to visit Brno city, here's where to find it all.
Visiting Brno City – What to Know
Where is Brno?
Brno is the capital of South Moravia, a southeastern region of the Czech Republic famed for its wine production. Three days here is the best introduction to the uniqueness of the city, which is broken down into two navigable areas:
Ring 1 – the city centre. Much like Vienna, a ring road belt surrounds the old town and central city, and it's where you will find the city highlights and Brno sightseeing.
Ring 2 – the city fringes. For first-time visitors, you'll likely venture into Ring 2 when you visit Villa Tugendhat and Löw-Beer Villa or if you have time to make your way up to the Cow Hill viewpoint.
Getting to Brno
Brno–Tuřany International Airport (BRQ / LKTB) serves flights from the UK, France, Spain, Germany, Greece, and more. Many people also travel here via train if coming from Austria, Germany, or onward from Prague.
You can search for tickets on Austria's ÖBB rail, Germany's DB Rail, or the Czech ReggioJet service, which also runs services between neighbouring countries.
Getting around Brno
Brno is a walkable city, navigable via its large squares and historical avenues in a traffic-free center. The city's residential neighbourhoods are accessible and home to independent stores, coffee shops, local cafes, and wine cellars. The walk to the Villa Tugendhat is only 30 minutes on foot.
Brno's public transport system consists of an extensive tram (the šalina) and bus network. Purchase tickets at the yellow machines and local kiosks. Single-use tickets: from 20CZK, depending on the distance. The 24-hour pass is 90 CZK.
Brno's designated bike paths are growing, but it is allowed to bike in the pedestrian part of the city.
Experiences and Things to Do in Brno that Will Surprise You
Brno is historical but youthful
Beyond the Cathedral spires and castle fortress markers of the city's 1000+ years of settlement, Brno is far from just a graceful Old Town. 80,000 people – around one-fifth of the city's total population – are students, making the city hum with eternal youthfulness and a fun and vibrant social scene.
Brno social scene
We noticed it as soon as we entered the centre from the train station and most certainly in the evening, especially St. James' Square (Jakubské námestí) after sundown. Alfresco dining, clusters of people enjoying a DJ set in a courtyard, socialising around a food truck or picnicking in Dennis Gardens, almost every street, cobblestoned alley, square and green space is teeming. Brno nightlife is not lacking.
Brno history
That's not to say to avoid the historical areas of reference, the skyline of Brno tells its own stories. The 13th Century Špilberk Castle looks like a typical gothic-baroque fortress outside, but it hides a dark history. It turned from a Moravian royal palace to one of the most notorious prisons during the Austro-Hungarian Empire. It was later reconstructed in the first year of the Nazi occupation of Czechoslovakia for use as a Gestapo barracks.
Even if you don't want to visit for the tours and exhibitions, it's a beautiful hillside for a stroll and one of the prettier views towards the Cathedral of St James and St Paul on Petrov Hill. The Cathedral is Brno's centrepiece and one of the Czech Republic's prized Gothic buildings. Below the 94-metre-high steeples, the cobblestone streets and narrow walled alleyways are a window into a preserved, bygone Brno.
If the art museums such as The Moravian Gallery – the city's largest – or the contemporary Brno House of Arts are not enough to tempt you, art is still accessible. You will see a host of Brno's sculptures scattered across the city streets, some with an alternative perspective at the right angle.
Of all the things to do in Brno, I bet seeking out the points of reference that have given the city a reputation for some phallic-looking art wasn't one.
The black stone Brno Astronomical Clock in Freedom Square has already been a design controversy since its conception in 2010. You can't tell the time from it (except if you wait to catch the one marble released daily at 11 am), and because it looks somewhat like a phallic emblem.
The Statue of Courage in Moravian Square is more than an obscure embodiment of Jobst of Moravia on a giraffe-legged horse. Walk underneath it, and you'll see the giant steed in a new way. Intentional or not, we will never know.
Brno's noon bells ring at 11 for a reason
From the clock to the city's countless church bells, Brno rings in Noon at 11 am. This quirk relates to a historic act of defiance by locals against the Swedish Army during the Thirty Years' War in the mid-1600s (a war between Catholics and Protestants) that saw Brno as the only town in Europe undefeated. When the Swedish General boasted that his army would leave if he didn't conquer the city by Noon, the people of Brno rang all the city bells at 11 am, saving it from siege with their shrewd trickery.
Brno created its architectural legacy
From classic boulevards of the Habsburg era and Austrian architects that gave Brno the affectionate term as a suburb of Vienna to Art Nouveau structures that started a push towards the later modernist styles and functionalism, Brno is a layer cake of urban design legacy. And if you are like me and always look up or enjoy strolling neighbourhoods looking at houses, then Brno is the place for that.
A once important Habsburg industrial centre supplying cloth to the monarchy, the fall of the Habsburg Empire in 1918 saw Brno become a part of Czechoslovakia and ignite the move to differentiate itself from Viennese style through contemporary, more minimalist, functionalist design.
You can spot this modernist metropolis growth in everything from apartment buildings to churches, theatres, and shopping centres throughout Brno. In particular, the Masaryk Quarter is a well-known neighbourhood west of the city centre that's a canvas for functionalism and the famed Villa Stiassni.
Look hard enough, and you might find those who have pushed the creativity levels in the residential areas like Kristek House in the fringes of Brno city on Tišnovská Street. Artistic Lubo Kristek returned to his childhood house and designed it to showcase the story of time and the figure of Sisyphus in Greek mythology, punished for cheating death, who holds onto the clock.
Brno has the Czech Republic's only modern UNESCO World Heritage Site
The Cerna Pole neighbourhood in Brno is full of functionalist housing and showcases the 20th-century villa society era, but one stands out. Villa Tugendhat is the only listing of modern architecture from the Czech Republic's 14 UNESCO World Heritage Sites – mostly historical centres and cultural structures.
Villa Tugendhat was designed by the architect Ludwig Mies van der Rohe and completed in 1930 for Greta and Fritz Tugendhat – one of the Jewish industrialist families who owned textile, sugar and cement factories.
The Tugendhats fled Brno in 1938, anticipating World War II's threat. The villa – a significant part of Brno's Jewish heritage – was restored to its original appearance in 2012, as was Greta's family home opposite – the art nouveau style Löw-Beer Villa.
Tickets for the Villa Tugendhat tour need to be booked months in advance, but you can purchase a Tugendhat Garden ticket (50 CZK) and enjoy a view of the villa from the grounds. A metal turnstile gate connects the Tugendhat garden with the Löw-Beer's lawn (free).
Brno conceals an underground labyrinth
Creepy, curious, and cultural, Brno conceals an entire network of underground spaces, crypts, cellars, an ossuary, and an aqueduct.
The labyrinth under the Vegetable Market (Labyrinth pod Zelným trhem) contrasts with its heaving social scene above, where 212 steps take you down to 1,000 metres of passageways once used as a storage space for merchants. The Mint Master's Cellar (Mincmistrovský sklep), under the New Town Hall, was where the city minted coins and the Underground reservoirs in Žlutý kopec are a newly opened space that's said to be very much like Istanbul's Basilica Cistern.
As cemeteries got full, people were buried in mass pits beneath churches. The Ossuary at the Church of St James (Kostnice u sv. Jakuba) was uncovered in 2000 when the square was reconstructed – a discovery that made this underground burial shaft the second-largest Ossuary in Europe after the Paris Catacombs. 50,000 people are estimated to be buried here, primarily victims of diseases like the plague and cholera. It was decided to rearrange the bones as a mark of dignity and remembrance.
The sacred Capuchin Crypt below the monastery on Capuchin Square is where friars of the Christian Capuchin Order and other prominent people associated with it were buried until 1784. It's a unique site because of the natural mummification of the 153 friars laid to rest here in a simple burial, naked and placed on the ground, due to the ventilation system combined with the soil composition under the monastery. The 52 benefactors were buried in coffins – some of the open caskets are also on display. It didn't feel right to take photos.
Brno has a nuclear fallout shelter you can sleep in
The 10-Z Bunker is also part of the Brno underground. As history geeks, we got to spend our first night here – a former Nazi civil defence shelter turned Cold War nuclear fallout shelter built for up to 600 people. Luckily, it never had to be used for its intended purpose.
After our stay, we wandered the narrow corridors that lead you through an exhibition on how and why the 10-Z bunker was set up, with original rooms and artefacts – constructed in 1959 during the Communist era, its purpose was to protect the city's political elite from nuclear attack and remained a classified secret until 1993. While slightly terrifying, it is a unique experience in Brno – it's only been open to the public since 2016. See 'Where to Stay' for further booking information.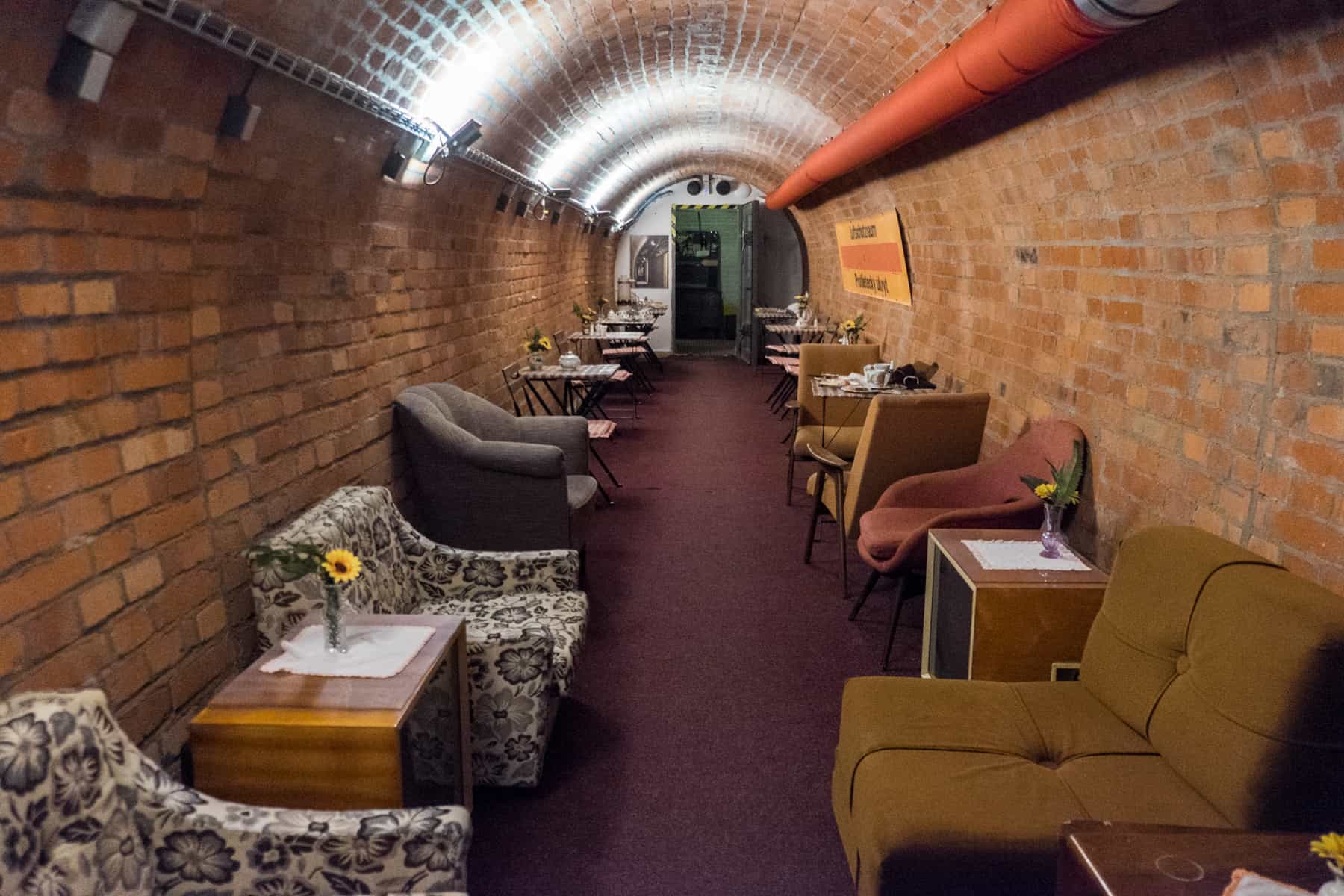 Brno is where Czech wine is just as important as Czech beer
Brno is home to the Starobrno brewery, but that's not the beer the locals drink. When you consider all the craft beer bars, courtyards concealing microbreweries, craft beer festivals (which we were lucky to come across during our stay) alongside the tap bars with traditional Czech lagers, you can see why.
But while Czech beer is in abundance, the wine is famed here. Since Brno is the capital of South Moravia, that makes it the wine-producing region's capital with renowned vineyards, especially of the white variety. Local wines can be found in cellars and bars all over the city, and Brno is also a great starting point to enjoy a day trip to the Moravian countryside vineyards.
There's a lot to choose from, so here are some top picks for your first time in Brno.
Beer and Wine Bars in Brno
Pub u dvou prátel – A laid-back bar with local craft beers on the tap.
Pivni Burza – A quirky beer stock exchange where beer changes price depending on how much is purchased.
Mandlárna – We combined a Moravian wine tasting with a food plate at this bar, known for its local almond produce.
Retro Consistorium – Popular also for its food, but has an extensive Moravian wine list.
Brno is a gastronomy haven and centre of Vietnamese cuisine
Cafes, pubs, bars, hidden courtyard hangouts, mobile coffee carts, the vegan ice cream truck at the Vegetable Market, and a restaurant run by nuns next to the Cathedral. From Brno city centres to its outer fringes, the city serves a feast on every level.
Many don't know until they arrive that Vietnamese restaurants are the beating heart of the culinary scene here, with the history of Vietnamese immigrants in the 1980s staying in the city and opening restaurants. You'll be so spoilt for choice; it might be hard to decide on another cuisine.
Best Cafes and Restaurants in Brno
I like the sporadic nature of choosing in a city with seemingly endless choices, but it's good to know some of the best places to eat and drink in Brno to make an impressionable start.
Coffee shops and bistro bars
Monogram Espresso Bar – extensive coffee range including espresso tonic and cold brews.
SKØG Urban Hub – this hipster cool, fantastic food and coffee hangout is a local favourite.
4pokoje – head for the neon lights. This funky bistro bar is great for grabbing a drink and trying the Umami Chips.
Café Momento – the choice for breakfast amid the hum and sweet fragrant smell of the Vegetable Market. Check out its sister store Sušenkána Momenta for delicious cookies.
Restaurants and food trucks
Ca Phe Co – Our Vietnamese top pick, known primarily for its excellent Pho but has an extensive menu, and you will likely order too much.
Annapurna – A local tip and one that's not fancy, but the Nepalese and Indian cuisine is authentic. Opt for the Thali plate and try a bit of everything.
Bucheck – the food truck at the Vegetable Market with a long queue for the pulled pork sandwich.
L'Eau Vive – French and Czech cuisine served by nuns by the Cathedral. Make a reservation, as it's popular.
Brno has a secret circus themed bar
Secret Panda Circus was our retreat on more than one evening, and while not entirely a secret, finding it makes it so. Unmarked and unsigned on Šilingrovo nám, it's not until you spot the red and gold circus curtain and ring the bell that you start your adventure.
From the unique welcoming to the entire cocktail making and show experience, Super Panda Circus is a core part of Brno's inventive persona. So much so that it deserves its spot on the unique things to do in Brno list, but with a few details left unsaid. We left with a bottle of Super Panda's in-house distilled gin.
In sharing more of their expertise and revelry, the same crew also opened ŽARDÁN, a summer pop-up bar project at the foot of the Castle.
Brno Travel Tips and Planning
When to Visit Brno
The best time to visit Brno in the Czech Republic is from March to May, when a lot of the music, art, food, and cultural festivals begin, and during the summer months from June until September, when the weather is comfortably warm. Visit in December for the Brno Christmas markets across the city.
After you've spent time in the Czech Republic's second-biggest city, why not visit its third-largest in North Moravia? A former industrial city that's repurposed its mining sites and undergone a huge cultural revival, there are many unusual and uncommon things to do in Ostrava, Czech Republic.
Where to Stay in Brno, Czech Republic
From the unexpected to the luxury, Brno has enough hotels, apartments, and accommodations to tempt you to stay beyond a day trip.
One night at the 10-Z nuclear fallout shelter is a curious experience for its novelty, especially since the rooms retain some original furnishings to keep the feel and communist-era historical context. It's a budget stay, with a double room for €30 with a shared bathroom, but I wouldn't recommend it for an extended stay. The cold and lack of daylight would get uncomfortable.
Tip: Bring your all-seasons sleeping bag for extra comfort.
We spent the remainder of our stay in one of the Masarykova N°30 Apartments, which are modern furnished, comfortable and close to the train station and St. Peter and Paul Cathedral. The average cost is €50 a night.
Tip: It's almost next to one of Brno's best coffee shops, Monogram Espresso Bar.
It was a hard call not to book into the city's 5-Star Hotel when prices were around €80 a night. It's next to the Dennis Gardens, with views of the Castle and classic to mid-century modern décor. A swimming pool would have swayed us, but unfortunately, the hotels with pools are further outside the city.
See all Brno accommodation options here.
Currency in the Czech Republic
While a member of the European Union, the Czech Republic's currency is the Czech crown (koruna), not the Euro. You'll see it abbreviated as Kč (local) and CZK (international). We could withdraw local currency from ATMs, including branches of our Austrian and German banks, and pay by card in most establishments.
Brno Tourism Information – Discounts & Tickets
The BRNOPAS Tourist Card
Covering a lot of ground? Save money on entry fees and public transport with the BRNOPAS. You can choose if you need it for one, two or three days, and have the option to add a public transport pass.
Tickets, Booking, and Guides
Go to the Tic Brno site to pre-book attractions and tours with specific time slots or to book a guide.
You can also book this two-hour historical walking tour in Brno with a local via Get Your Guide or a three-hour tour dedicated to Functionalism in Brno, history, and architecture.
Further Information on What to Do in Brno
For detailed information on planning your visit, even more things to see in Brno, and excellent breakdowns of shortlisted restaurants, bars, and brewpubs, visit Brno's official website.
When you arrive, you can visit the Brno Tourist Info offices at the train station, the Old Town Hall near the crocodile, and the building opposite the Nuclear Shelter 10-Z.
Disclosure: This post has been created in collaboration with Visit Czech Republic. We had the opportunity to travel from Vienna to Brno as the Czech Republic opened to vaccinated visitors from neighbouring countries. All opinions remain my own.