Disclaimer: This post contains affiliate links to handpicked partners, including tours, gear and booking sites. If you click through or buy something via one of them, I may receive a small commission. This is at no extra cost to you and allows this site to keep running.
Travel Belfast to Derry on the Coastal Causeway Route – the things to do in Northern Ireland soon overturn its reputation of past conflict.
Travel to Northern Ireland is often shrouded by a negative reputation in recent years as it continues to heal from the conflict days of The Troubles. During those violent clashes and subsequent peace missions, tourism took a massive hit.
Just 15 years ago, seeing a tourist in Belfast and beyond would have been a surprise, yet the fact is there always has been and still is, a host of things to do in Northern Ireland along the Coastal Causeway route that will make you see it very differently.
"Because we had the conflict, we didn't have the confidence," said my guide, Dee, about how the true beauty of Northern Ireland remained hidden.
Now, far removed from its reputation that it isn't a safe place to be, Northern Ireland will show you that not everything is about the binary narrative of the Protestant and Catholic / Union and Nationalist divide, especially since the Good Friday Peace Agreement in 1998.
Locals want nothing more than to show you what has been there for decades, centuries and steeped in ancient legend.
Just one visit to Northern Ireland will instantly shatter your preconceptions as you step into a destination outgrowing its old face, shaking off the negative image and ready to show the world exactly what it's about.
What is There to See in Northern Ireland?
Northern Ireland's scenic landscape and dramatic coastline have become world-renowned destinations, with journeys with the Causeway Coastal Route granted the accolade as being one of the best road trips in the world.
The Causeway Coastline spans 200km of the Atlantic ocean, on a trail from Belfast to Londonderry that can be traversed in as little as four and a half hours, with a multitude of stops along the way. So whether you spend two to four days or one week in Northern Ireland, it's a route that is accessible and easily navigable.
From old medieval castles like Dunluce Castle to the glens and lighthouses in Antrim, as well as its shores and beaches and old fishing villages, this road along the coast will leave you in windswept awe on perches of emerald-green.
There's country parks, woodland walks and forest trails, ruins of old mansion houses perched on cliff tops, more castle ruins of Dunserverick and Kinbane, ancient settlements like Mountsandel and the famed Bushmills distillery – Ireland's oldest working distillery for whiskey production.
With the Coastal Causeway of Northern Ireland declared a designated World Heritage Site in 1986 with rich geological and historical importance and designated special areas of conservation, protection, scientific interest and nature, in Northern Ireland you get to mix heritage and legends with rugged natural beauty.
Are you ready to see Northern Ireland in a different light away from its political reputation? This Coastal Causeway Route itinerary will help get you started.
Places to Go and Things to Do in Northern Ireland
Visit Belfast and Explore a City in Regeneration
Despite the abundance of nature that wraps the country, the cities in Northern Ireland shouldn't be bypassed. Even if still in development and in healing, history very much comes alive merely by walking through Belfast streets. Glass-fronted new-builds jostle with the preserved structures of centuries past, all wrapped up with the storytelling and political sentiment of the city's persona told through its large host of street art.
There are plenty of things to do in Belfast now, but a street art tour in with Seedhead Arts is the best introduction to the modern face of the capital city, and other museum and wider city-based tours to understand its many layers can be found in this guide.
Iconic sights include Belfast City Hall, St George's weekend market and the Cathedral Quarter where old warehouse spaces that line the cobbled stoned streets have been turned into trendy bars, revived old-timey pubs, world-class restaurants and new generation coffee houses.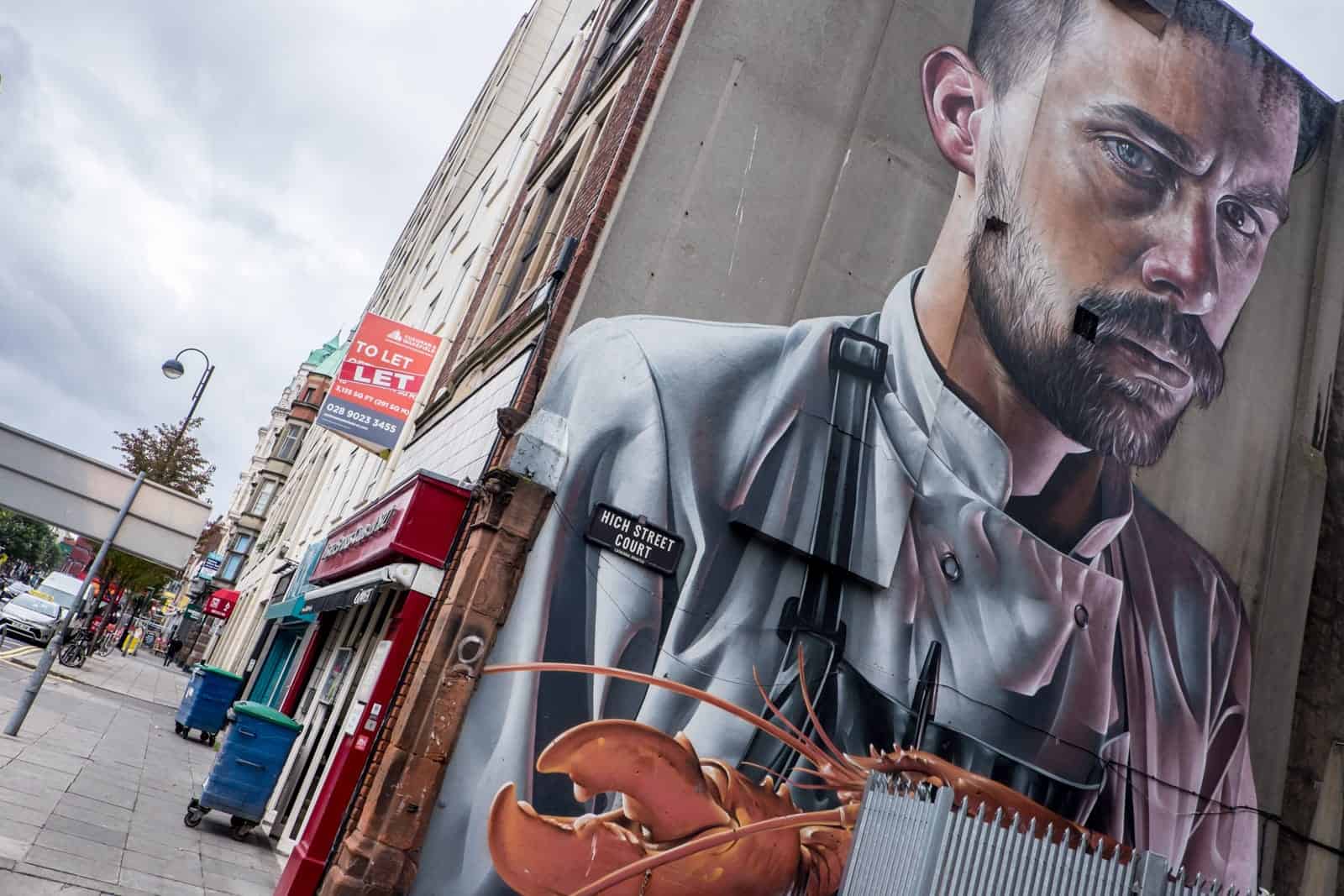 If exploring popular culture and history is something you're interested in then don't forget to check out everything behind the legend of the world-famous ship the RMS Titanic in the Titanic Quarter urban waterfront development, where you'll also find the 100-year-old HMS Catherine.
This area one of the latest and regenerated Belfast points of interest, for it was in Belfast's shipyard that the iconic Titanic was built, and you will find an incredibly detailed, modern museum dedicated to its history and shipbuilding heritage. Spanning six floors, the museum is the very same height as the Titanic was once complete.
Taking a Black Taxi tour is one of the best ways to learn about the political history of Northern Ireland and the Catholic and Protestant areas that still remain divided by a Peace Wall and other gates that close in the evening.
The area of West Belfast is where you will find a series of art murals, and it's important to see both the art on the Falls Road on the Catholic side and the Shankill road on the Protestant side in order to understand the conflict from both perspectives. While this fervency is still very much present, this is the opportunity to learn first hand by people who lived through the era known as 'The Troubles' and how this relates to the positive changes in the city of Belfast today.
Go to Lough Neagh – The Largest Lake in Northern Ireland
As the largest lake in Northern Ireland, Lough Neagh is drenched in culture and heritage. It's situated very close to Belfast and this is the place to go if you want to explore Northern Ireland's fascinating folklore and history. Toome Bay is a location on the lake where the oldest human artefacts have been found in Ireland, and there is another important archaeological site on Coney Island.
I got to sample a small part of a Bushcraft Wilderness Survival Skills two-day trip you can do at Lough Neagh with Outdoor NI. This combines all the best of canoe rafting, wildlife, wilderness cooking, shelter building and foraging for food in an excursion that combines outdoor adventure with survival education. You'll get to try the local delicacy of eels too!
Exploring Londonderry/Derry – Ireland's Only Remaining Complete Walled City
The second of the two main cities of Northern Ireland is Londonderry. Often known as 'Stroke City' for its double name reference, here it is more commonly referred to as Derry, and that's all to do with the political divide and the Irish vs. the British namesake. It is one of Northern Ireland's oldest cities, its second-largest city and the only remaining complete walled city in Ireland, stretching 1.5km around the city centre and offering a panoramic view from the fringes of the old city and within. What's more, Londonderry is one of the few remaining cities in Europe to have its city walls entirely intact.
Taking a walking tour with Martin McCrossan City Walking Tours is one of the best things you can do in Londonderry, taking you through the history of the old centre and along the wall.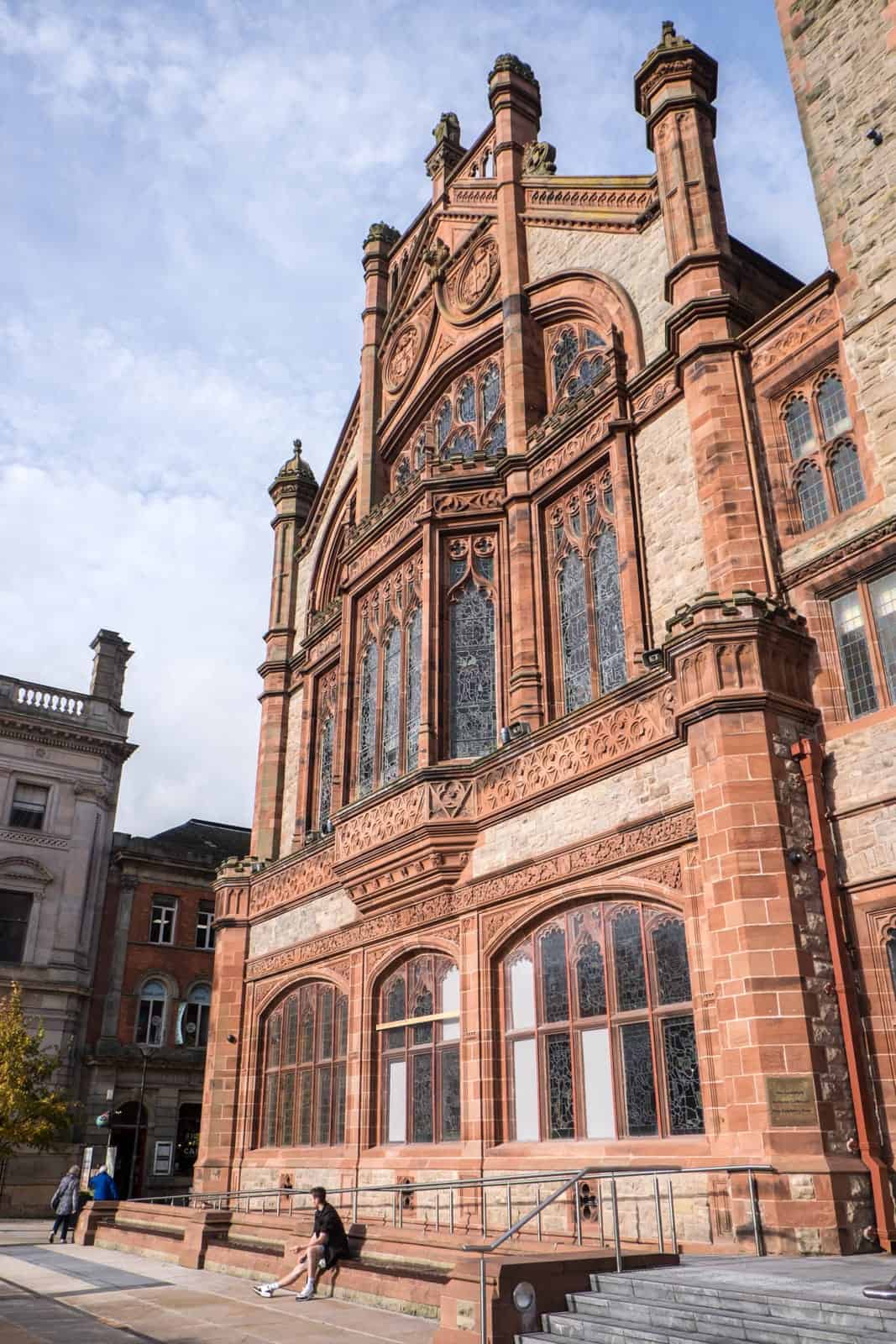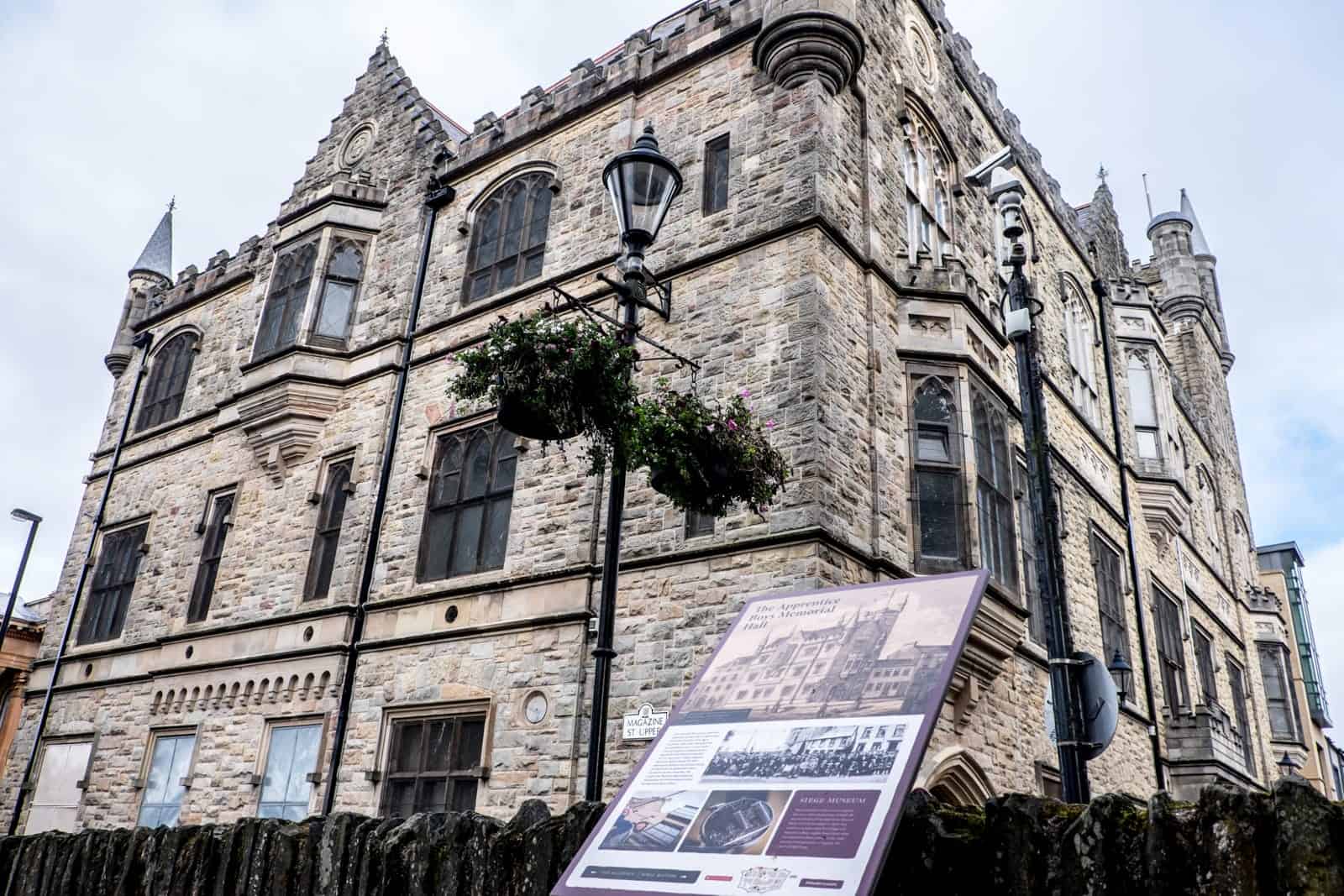 When you visit Northern Ireland you can't miss the symbol of history that is the 'Free Derry' Corner outside of the old city gates. Here you'll find the Catholic neighbourhood, known as The Bogside and the street art that lines it. The People's Gallery murals each displays a portion of Londonderry's stormy history and in remembrance of those who lost their lives during the violent clashes.
I ended up in Derry three times within two weeks. After the first visit, and upon finding family in Ireland, it meant more. I found out my grandmother worked there before leaving for a new life in London. Other family members are from there or have strong ties, since my heritage home of Moville in Country Donegal is just over the border (and technically Northern Ireland but not politically, as they say, "you have to go south to go north"). It was also important to find time to visit the Museum of Free Derry that puts the political climate before, during and after Bloody Sunday into a hard-hitting perspective.
Because importantly, to visit is about understanding Derry's past and seeing how 20 years of peace since The Troubles have given it (and Northern Ireland) a new lease of life. One way is to take a tour by skateboard – wheeling around on what's known as a boom board – with local guides from Far and Wild Adventure.
This two-hour boom board tour is a first for Ireland, with Far and Wild not only introducing a unique slow adventure activity for visitors but who also use it internally to work on community projects about inclusion and reconciliation. We started in the park where you get to practice, before wheeling around the neighbourhood, then over the Peace Bridge that's literally and symbolically connecting this once-divided area and ending in the old walled city.
Go Moonlight Kayaking on the River Foyle
The River Foyle and its estuary are destinations that are worth a visit. The entire region is scenic, yet from the water more so. Due to the perfect waters found here, you can easily do a lot of activities. Fishing is one of the main ones, as the river is teeming with fish like salmon and trout, but also kayaking.
Kayaking has become one of the most popular pastimes in the region, and this river is a fantastic place to try it out, as I did one evening with Far and Wild Adventure as a slower-paced, tranquil activity in contrast to the daytime boom boarding.
Game of Thrones Tours in Northern Ireland
The pride for Games of Thrones in Northern Ireland is immense, even amongst locals who have never watched it. With around 80% of the world's biggest TV show filmed in Northern Ireland for 10 years, it has brought tourism to the fore at a time when Belfast (where the studios are based) and the coastline (where you'll find a scattering of famous scenes) needed it most.
It is THE pinnacle of all things to do in Northern Ireland, even surpassing the famed Giant's Causeway. In the words of tourism officials, "the dramatic coastlines, foreboding mountains and ageless forests have formed the perfect backdrop for the fantasy world of the show." The show brings with it tens of thousands of fans visiting Northern Ireland every year, generating millions in the local economy.
There are 26 filming locations, from river valleys to windswept cliffs, tucked away coastal bends and dominating dunes. The avenue of Beech trees known as the Dark Hedges is one of the most iconic sites, alongside the real-life Winterfell of Castle Ward, the Cushendun Caves and Tollymore Forest Park.
When a storm brought down some of the trees at the Dark hedges it was decided that the wood would be salvaged and 10 unique carved 'Doors of Thrones' were created to tell the story of Season 6 of Game of Thrones, connecting pubs, restaurants and filming locations via an artistic trail.
Read More: Game of Thrones Attractions and Map of Game of Thrones filming locations by Northern Ireland Tourism
Adventure 32 Miles When You Walk The Gobbins Path
When choosing from all the places to visit in Northern Ireland, the restored Victorian attraction of The Gobbins Path should be one of them. It is a stunning work of architectural prowess built to show off the natural landscape it protects. That goes double when you realise that it was built just at the turn of the 20th century, and even though it's received extensive renovations, it's pretty much the same walkway that has existed for over one hundred years.
The path is a long walkway that goes along the Causeway Coastline and hangs from tall cliffs. The Gobbins path is around 32 miles long and home to some of the world's most amazing views, but also cool history in places like old smugglers' caves. The Gobbins coastal path tours are in small groups which are well-managed to prevent any kind of over-crowding.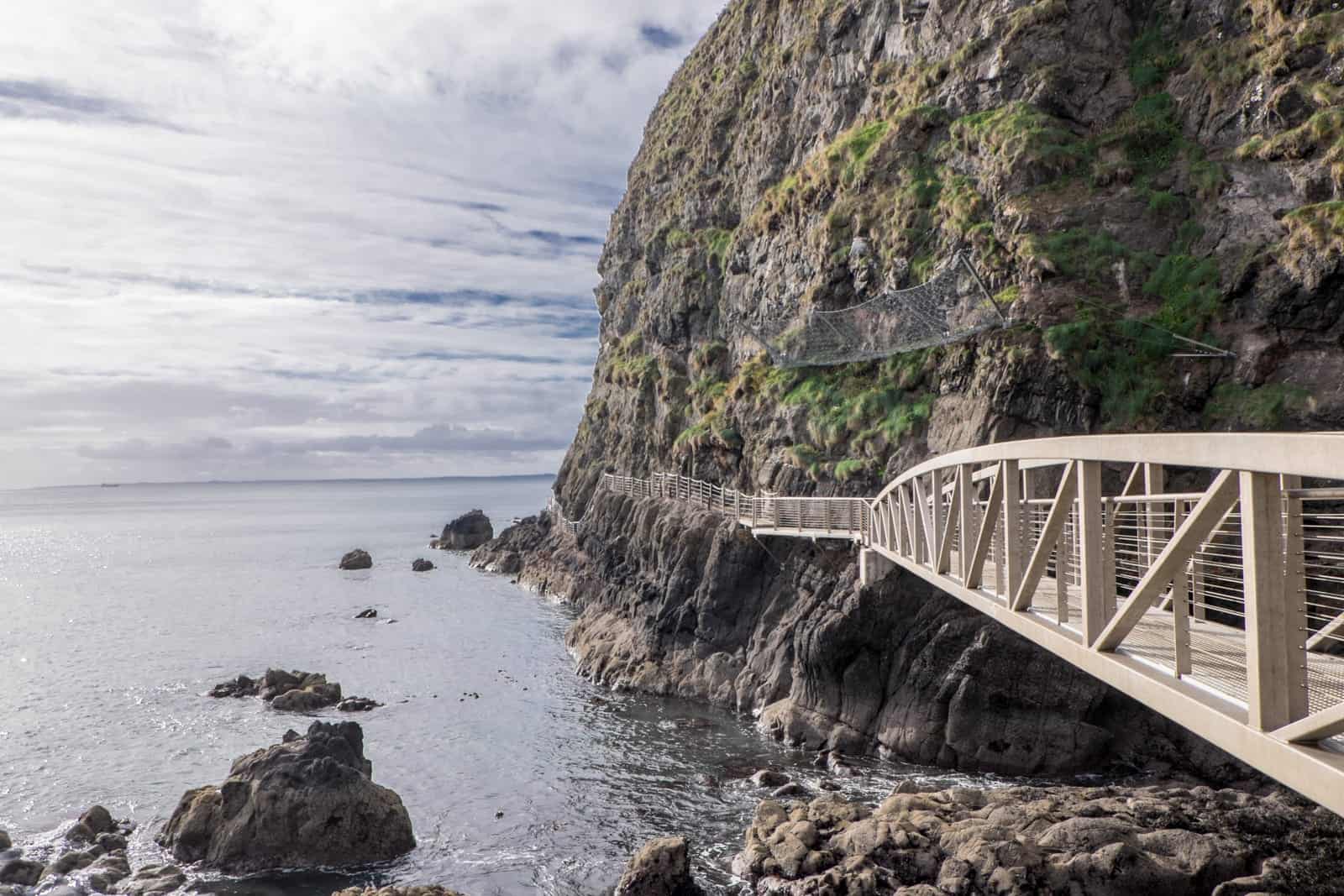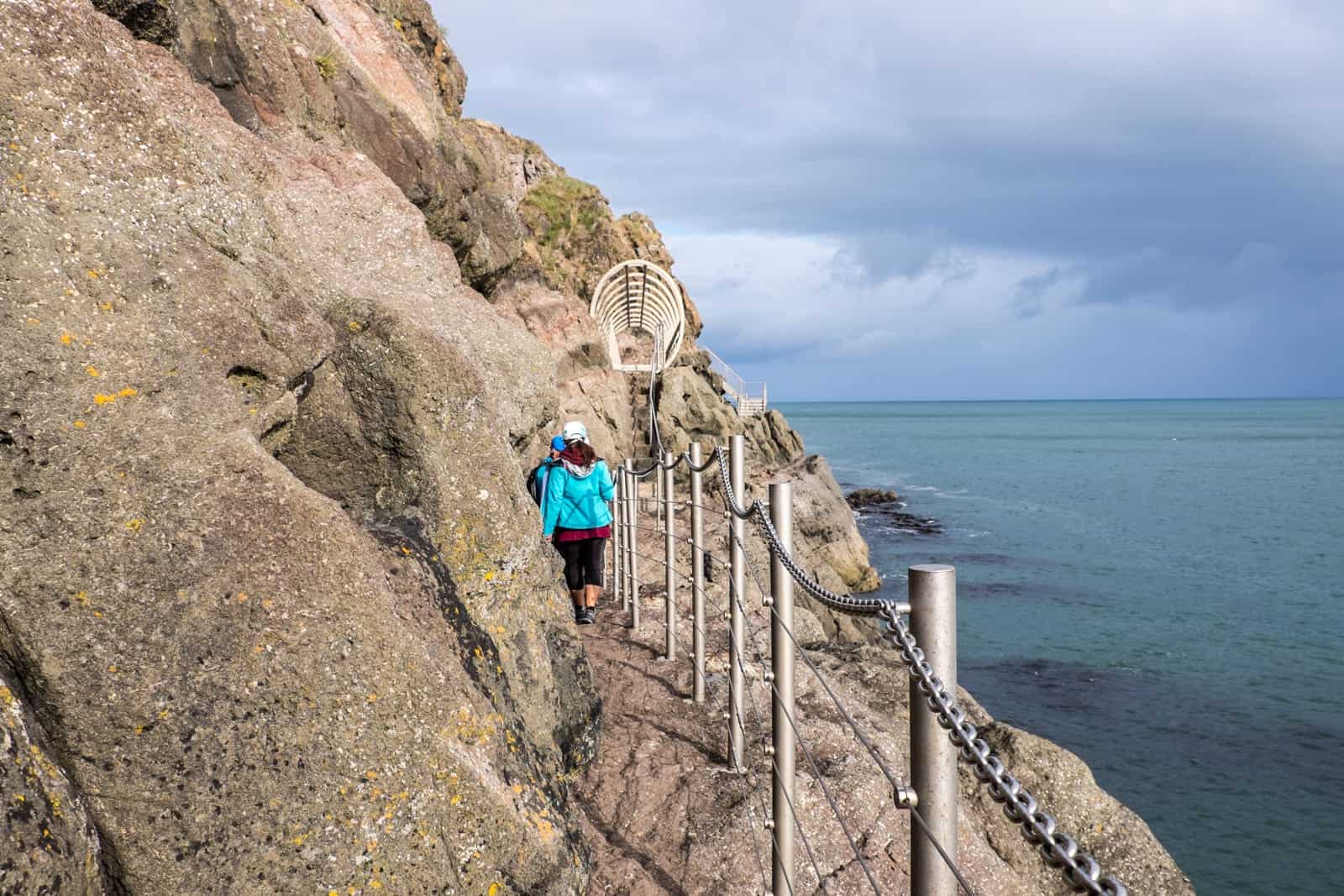 Visit The Giant's Causeway for 60 Million Year Old Nature
There's a feeling of magic about Giant's Causeway, one that's reinforced by the perfectly placed 40,000 vertical volcanic hexagonal pieces. They were formed when molten basalt cooled and contracted slowly at an even rate across a large area.
Likely the most well-known attractions in Northern Ireland, it's one of the world's most unique places with a 60 million-year-old legacy, as well as a UNESCO World Heritage site. Entrance is just £11.50 and you can plan your Giant's Causeway trip on the National Trust website.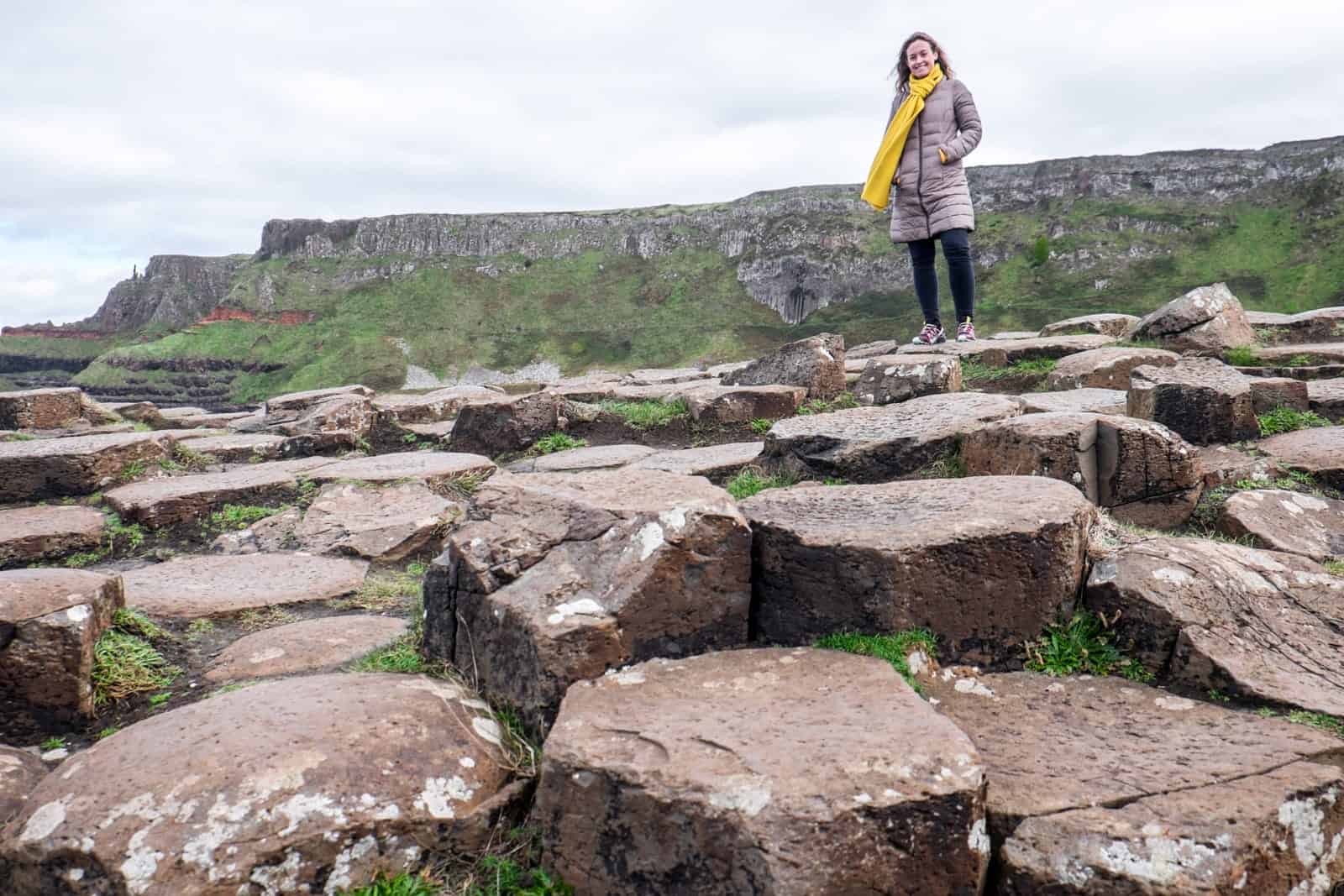 The perfectly placed stones are the result of millions of years' worth of volcanic activity, and their perfect symmetry is a lucky coincidence that resulted in astounding natural beauty.
Cross the Carrick-a-rede Rope Bridge on a Heart-racing Journey
An unspoilt coastline not far from its famous neighbour, the Giant's Causeway is a giant rock in a sheltered location that was separated from the mainland by the forces of nature.
When you explore Carrick-a-Rede on the Causeway coast, you come to cross the old salmon fisherman's bridge, that connected the 'rock in the road' where the salmon would swim through, once home to a cluster of fisherman and their families from the early 1600s.
Today, this site is refurbished and maintained by the National Trust. The rope bridge still dangles 30m high above the wild Atlantic waves, as it always did, connecting the mainland of Larrybane to the tiny rocky island of Carrickarede with views to Rathlin Island and Scotland in the distance.
What a place of rugged natural beauty to discover, drawing people to this special island that's become a Northern Ireland must-see. Tickets need to be pre-ordered.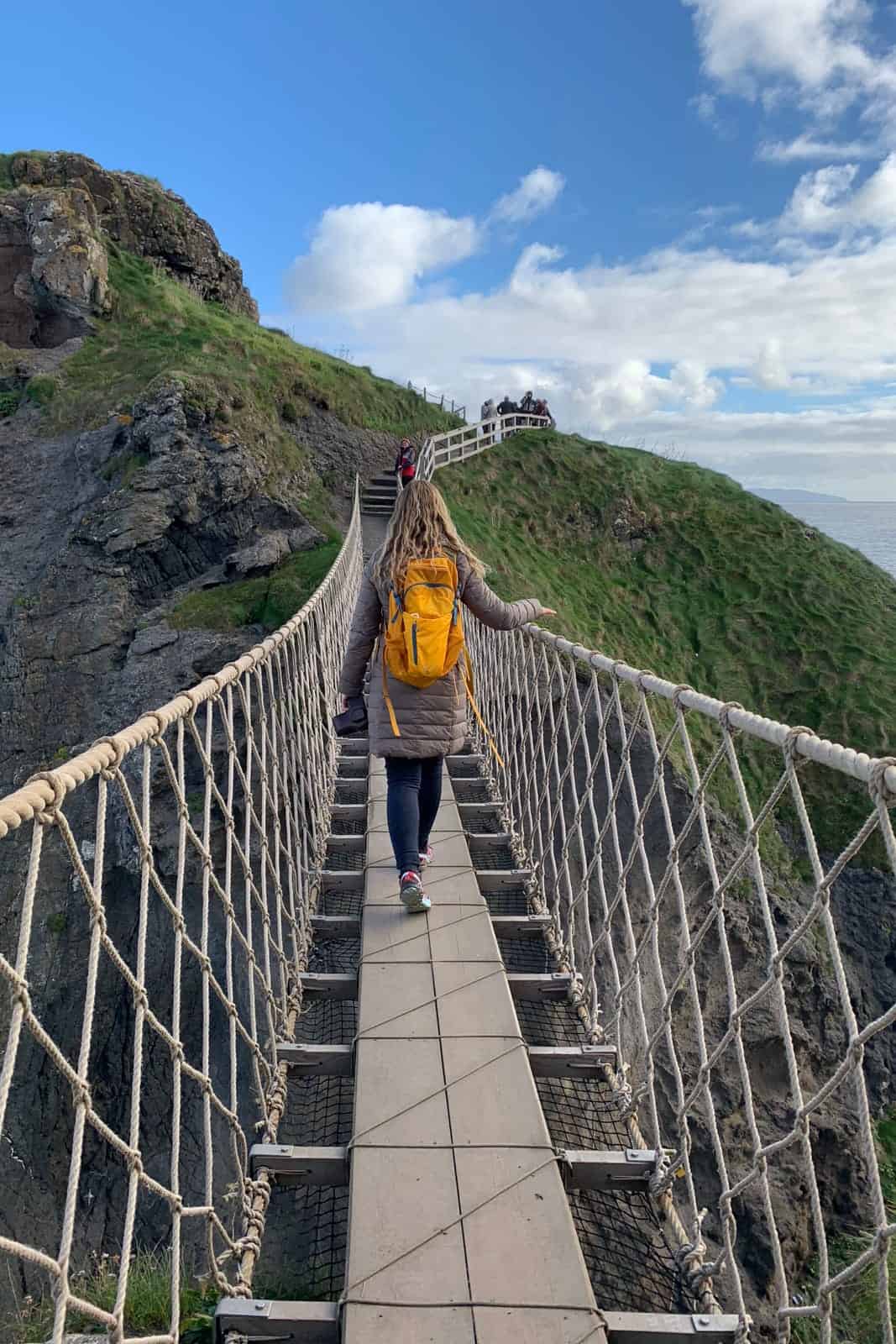 Enjoy the Coastline Beaches of Portrush & Portstewart Strand
Portrush is a resort town that has been popular ever since Victorian times. It's lined by yellow sand beaches and surrounded by cliff-face scenery and Ireland's County Donegal that peeks through in the background.
It's one of the best places to surf in the entire region, as the waters are perfect for these daring escapades. This is one of the biggest reasons why Portrush is considered the Causeway Coast's capital of fun.
Enjoy the sandy beaches of Whiterocks Coastal Park with dunes and soaring white limestone cliffs that date 135-190 million years to the Jurassic period, where at one end you'll find Portrush and the other, the crumbling ruins of Dunluce Castle.
Portstewart Strand is owned and managed by the National Trust and is home is the nature and wildlife reserve of Barmouth – a highlight for birdwatchers.
Go Sailing in Northern Ireland, On the North Coast from Portrush
If you love adventure then you'll never be stuck on what to do in Northern Ireland when it comes to fast-paced exploration and there's nothing like sailing the amazing waters of the northern coast of the country as the waves crash with a view of The Skerries.
It's an activity that intends on you being part of the main experience. There are many skippered sailing charters that will allow you to explore the surrounding region, where you'll feel like the only ones out there with a front seat to nature's show.
A tour can last anywhere from three to seven days most of the time, but there are some that will allow you to customise your excursion any way you see fit.
For me, one main aspect of travelling is trying new experiences, and this time it was all about fishing (for our next meal)! At 6.30 am we jumped on board the Causeway Lass boat in Portrush, for some deep-sea fishing and spectacular north Coastal Causeway views of craggy rock formations, seals and seagulls, while embracing the chilly winds and the wild waves of the Atlantic Ocean.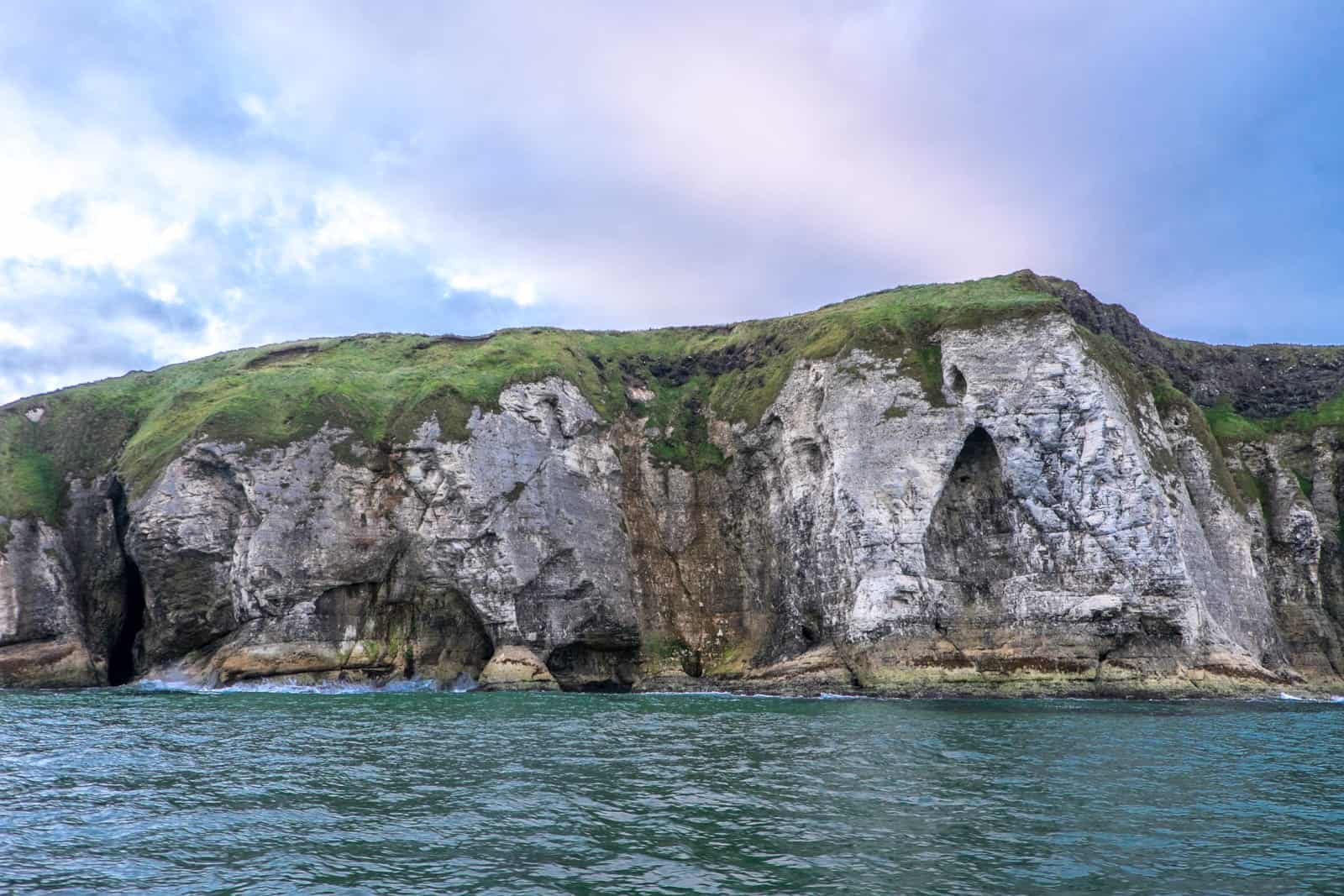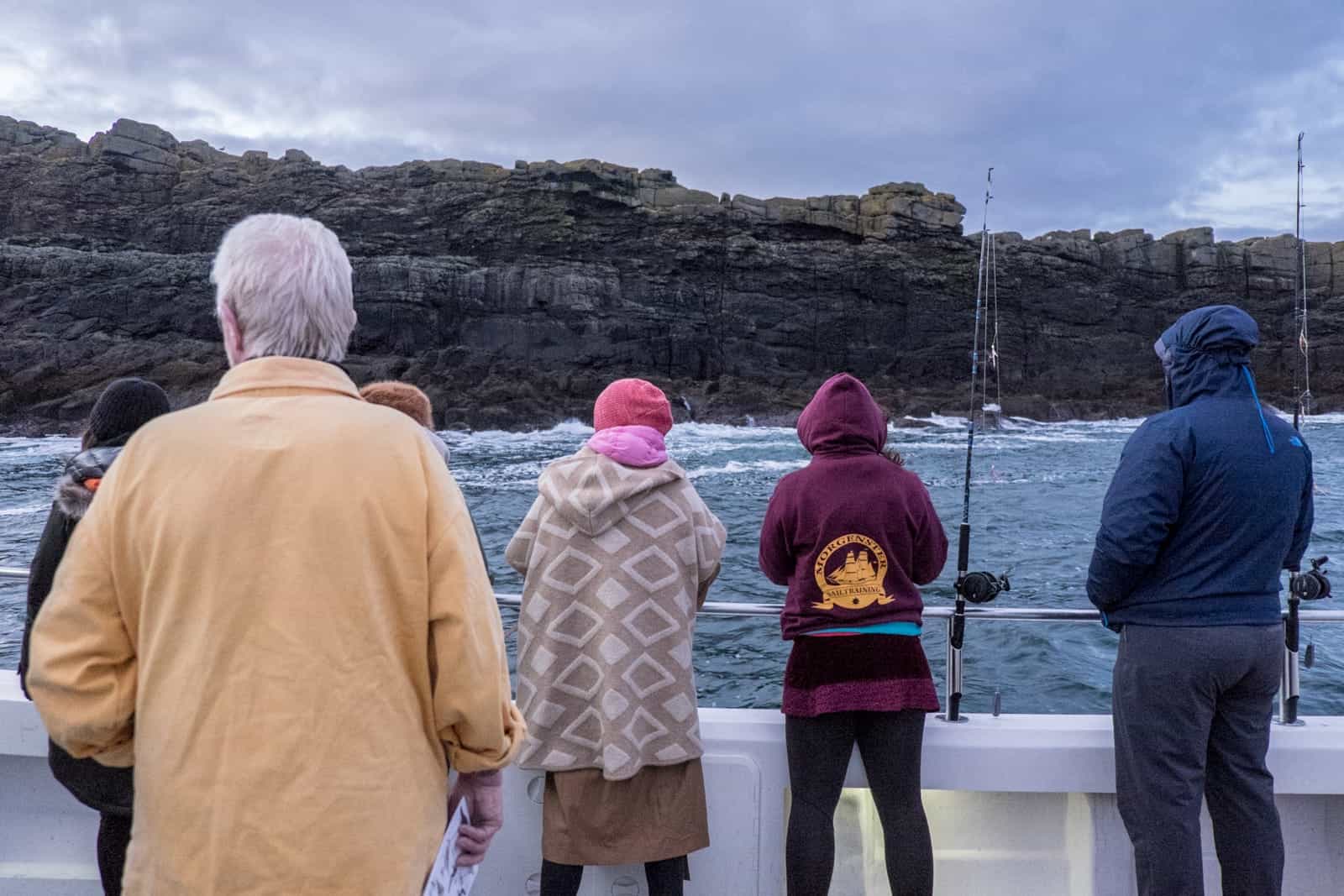 This sail at sunrise trip is in conjunction with Causeway Foodie who organise these trips to help people experience the fisherman's way of life and the fresh produce and culinary expertise that has thrived here. Our catch (with the help of captain Charlie pictured here) was turned into a tasty breakfast at the local Babushka Portrush Café and later for a dinner feast at Ocho restaurant, mainly using our mackerel stash. As for fishing? It does get a little addictive even if I only caught two!
Blokart at Binevenagh Beaches
The mountain of Binevenagh formed 60 million years ago by molten lava, is an ideal place for trekking and hiking, or for simply admiring the natural beauty of the region from great heights. It's a place that's been designated an Area of Outstanding Natural Beauty due to its exquisite scenery. On a day where the weather is clear you can view the entire coastline, but also you can spot Scotland in the distance.
It might only have an elevation of 385 meters, but its steepness allows for many daring activities, such as gliding and motorsports.
It's here that you can try Blokarting on the beach, where there is plenty of space to practice. This is a new activity where you manoeuvre a 3-wheeled mini land yacht powered by the wind. The size and shape of the sail are designed to capture the wind and transfer the wind power into a forward motion so that you can propel forward.
Stations are set up where you learn to turn your Blokart away from the wind in order to slow down, before facing the wind again ready to power up for some speed. It's harder than it looks, but a unique adventure activity in Northern Ireland to try while you are here.
See Northern Ireland Differently
Travel to Northern Ireland and change your perspective as you explore its pristine nature, learn the dual narrative of its history from the main cities of Belfast and Derry and indulge in the coastline of adventures on the Coastal Causeway Route.
More than the conflict that once closed it down to visitors for decades, how will you choose to see Northern Ireland differently?
Understanding the History of Northern Ireland – Further Reading
Understanding the history of Northern Ireland and the Troubles is complex, but there are plenty of great books and investigative accounts written to help gain some perspective on the make-up of the country and how the conflict has shaped it.
Northern Ireland Travel Tips and Driving the Coastal Causeway Route
The National Geographic Adventure Map of Ireland is a great addition to those driving the Coastal Causeway, possibly extending their trip into parts of Ireland as I did, entering County Donegal after my Northern Ireland trip, or heading down to Ireland's Ancient East around Dublin.
The Foders Northern Ireland travel guide (updated for 2019) remains one of the best-selling guidebooks on the country. It includes overviews of ultimate experiences and itineraries, including a suggested tour of Northern Ireland sightseeing. The pull-out maps and planning tools are also a helpful addition.
Where to Stay in Northern Ireland on the Causeway Coast
Many simply use Belfast as a base and travel along the coast with maybe a coastal town stop-over in between. Regardless of whether you book ahead or decide to be spontaneous along the way, there are plenty of places to stay in Northern Ireland. Here's a pick of the hotels and bed and breakfasts I stayed in on my NI trip.
Hotels in Belfast
With the boom in NI tourism, there's been a burst of Belfast hotels outside of the standard known brands. Independent offerings with artistic concepts and renovated listed buildings now form a part of the city's accommodation choices at affordable prices.
Hotels in Derry/Londonderry
Causeway Coast Hotels
Portrush and Portstewart are popular choices for those stopping over on the Causeway coastal route. Hotels in Portrush are usually locally-run Bed and Breakfasts, with some now offering integrated local cuisine options and a stylish setting.
I stayed in Saltwater House Bed and Breakfast – an idyllic Beach Retreat on the scenic Portstewart seafront, with panoramic sea views over the Atlantic Ocean. Not only are the rooms modern, spacious, and beautifully decorated with a homely touch, but the owners provide a unique holistic experience incorporating organic, healthy eating with complete rest and rejuvenation – perfect after a day of active adventure. The husband and wife team, Debbie and Richard, offer homely hospitality, which is nice to return too after a long day of exploring.
Want to go to Northern Ireland? Pin It!