Disclaimer: This post contains affiliate links to handpicked partners, including tours, gear and booking sites. If you click through or buy something via one of them, I may receive a small commission. This is at no extra cost to you and allows this site to keep running.
All the things to do in San Sebastian – the city swapping past conflict for European Capital of Culture status while retaining Basque heritage.
The northern Spanish city by the sea in the autonomous Basque region, San Sebastian (Donostia in Basque), is said to be one of the world's most beautiful. It first carved its name as scenic territory during the "Belle Époque" (the French named "Beautiful Era" of the late 1800s before the outbreak of World War I in 1914), where many a royal and aristocrat chose to spend their summer.
In recent history, San Sebastian became a destination dominated by ETA headlines and the Basque conflict for independence. Today, it draws in people eager to see its cultural tapestry as it moves towards peaceful new beginnings.
Yet, its history is preserved in its unique and somewhat independent micro-culture that it has strived for centuries to keep intact. San Sebastian, one of three regional capitals, has the longest history in the Basque Country – dubbed a 'small country with a big identity' – whose language and traditions are some of the oldest in Europe and still thriving today.
Visiting San Sebastian Today
Take the rich cultural traditions from San Sebastian's fishing town days to the revived central city of classical architecture that attracted the European elite. Mix it with the mountain panoramas, coastal-lined promenades of today's cosmopolitan city and world-renowned gastronomy (including Michelin Star restaurants and the famous Pintxos Bars), and you'll find a city of cultural diversity.
It is no wonder that San Sebastian was chosen as the European Capital of Culture for 2016, with the theme of coexistence.
Mixing gastronomy, festivals, architecture, music, nature, the arts, the Basque language, and culture, the city celebrates an open and connected society. It shines a light on preserving a culture that hasn't always been peaceful but is still independent and alive.
Where is San Sebastian?
San Sebastian is at the heart of the 250km coastline of the Basque Country in Northern Spain, alongside neighbouring fisherman villages, small towns, soaring cliffs, and low-lying mountains. It's an ideal introduction to this distinct Autonomous Community of Spain, reachable via San Sebastián and Bilbao Airports and by train from Madrid and other major Spanish cities.
Best Time to Visit San Sebastian
The northern Basque Country isn't as sun-drenched as Spain's southern coastlines, so if you are sun chasing, the optimal time to visit San Sebastian is in May, with guaranteed sunshine but cooler temperatures. June to October see average temperatures of 20°C+, with the peak summer season attracting crowds and higher prices.
Where to Stay in San Sebastian
The stylish Hotel Atari or budget-conscious Pensión Peñaflorida in San Sebastian's old town are perfectly set for easy access to Concha Bay and minutes from the Pintxos bar area.
City centre-based properties include the chic 4-star Arbaso Hotel or the minimalist designed Pensión Buenpas.
All the Things to Do in San Sebastian
San Sebastian appears small, but its streets and seaside promenades are big on activity. This city has many faces, from Baroque basilicas to Belle Époque buildings, manicured gardens and open squares to old towns and modern neighbourhoods. Here's an overview of the top attractions in San Sebastián.
Head Up Igueldo Mountain
Begin your journey at the central mount of San Sebastian, marvelling at the city's focal point – the sea. The mountain of Igueldo is the ideal spot to become acquainted with the city and its layout, with panoramic views of Concha the bay, the adjacent golden coastlines, and the sandy-coloured architecture.
The funicular car carries you up and down the cliff face in a steep but very scenic drop, giving you a taste of the city fringes above the sea.
Enjoy the Beaches in San Sebastian
A city surrounded by sea, San Sebastian has three main beaches to enjoy.
La Concha and Ondaretta make up Concha Bay, a 1350m stretch of coastline perfect for strolling, sunbathing and sports like volleyball, surfing, stand-up paddleboarding (SUP) and canoeing. Club Deportivo Fortuna on La Concha beach offers a variety of equipment hire and lessons.
Zurriola Beach is filled with the sound of crashing tides, attracting surfers in search of more powerful waves. The beach Promenade is a popular local hangout, attracting strollers eager to watch them.
St. Clara island sits in the middle of the bay of Donosti, and its 400m long sandy bay is accessible via a 25-minute boat trip from La Concha.
Wander La Parte Vieja (The Old Town)
Find the pink, yellow and white candy-striped, numbered doors, and you have found Constitution Square – the very centre of the Old Town. It has kept its former bullring features and is now a vivid focal point with its stripes of colour and the festive events that occur here.
The Old Town is the beating heart of everything representing San Sebastian, from gastronomy and fine confectionery to the freshest produce found at La Bretxa Market.
Bygone thoroughfares transport you to a different era, like Agostro Street – the only street left after the fire of 1813, which is tied together with the exquisite Santa Maria Basilica at one end and the oldest church of the city, San Vicente, at the other. Fashionable European classicism remains etched in the architecture and boutique stores.
Any modern city renovations still adhere to the preservation of traditional touches, and the area below the Old Town – known as the 'Romantic Area' – is no exception. In the second half of the 19th century, after the demolition of the old walls of the former fortified San Sebastian, a newly designed area of the city emerged. Once with French influence of grand boulevards, sandstone buildings, elaborate lampposts, and manicured, inner-city gardens like Gipuzkoa Square.
The main street, aptly called Boulevard, essentially splits the Old Town and the Romantic Area, dotted with grand structures like the City Hall and nearby Buen Pastor Cathedral. This newer district leads down to the port area and Concha Bay. You can stroll the 6km coastal promenade in just one hour – a prime spot for watching the sunset.
Top Old Town San Sebastián Sights to See
San Vicente Church
Basilica of Santa María
Buen Pastor Cathedral
El Paseo Nuevo (New Prominade)
Plaza de Gipuzkoa (Gipuzkoa Square)
Town Hall
San Telmo Museum
Port of San Sebastian
Mount Urgull
Cross the River to Modern Gros Neighbourhood
Two main bridges cross the Urumea River and lead into the part of town known as Gros. It's filled with walking and cycle paths along riverbeds and boulevards and into the more youthful neighbourhoods of this old city. Several highly rated Pintxos bars are also here.
And Egia for the Tabakalera Contemporary Culture Centre
South of Gros, the Egia neighbourhood is bohemian and more expressive with art galleries and Tabakalera – a former tobacco factory turned into the International Centre for Contemporary Culture and showcase for the visual arts. It's well worth the trip to see this repurposed industrial landmark brought back to life in line with San Sebastian's heavy focus on creativity.
See More on San Sebastian Tours
Want to cover a lot of ground and see San Sebastian attractions with a local? Consider a walking tour of the city or an excursion on the waters – the perfect introduction to one of northern Spain's best cities.
Two-hour Walking Tour of San Sebastian, including historical landmarks and modern history, including a drink and Pintxos stop.
San Sebastian's Hop-On Hop-Off City Tour Bus grants you a full day to visit the sights. Or stay on board and enjoy the one-hour sightseeing loop.
A Catamaran Bay Tour cruises along the coast and crescent bay of San Sebastian so that you can see the city from a different angle.
Visit Santa Clara island on this 30-minute boat trip.
There's no better way to glide through San Sebastian's highlights than by bike, which I did with a local who could get off-track out into local parks, side streets and quiet pockets of outer neighbourhoods. It's a city with dedicated cycle paths encouraging visitors to seek out its many cultural corners.
You can cover a lot of ground in just two peddling hours, including the banks of the Urumea River and into the 'new' neighbourhood of Gros, the Paseo Nuevo promenade and the city's classically pretty bridges.
Other San Sebastian bike tours on offer include this three-hour guided E-Bike tour out to San Sebastian's neighbourhoods and less touristy areas after covering the highlights.
Visit the Heritage La Perla Spa
No trip to San Sebastian would be complete with a trip to La Perla Spa, whose long heritage spans over 100 years since its first opening in 1912.
The first uses of the spa in San Sebastian came about when aristocrats, knowing of the healing powers of saltwater when sea bathing, wanted the water brought to them. Hence the La Concha beach spa was born. While visitors today still bathe the same way as those who indulged during the Belle Époque era, it has expanded to include modern hydrotherapy pools, water jets and an underwater gym.
Indulge in a San Sebastian Food Tour
Are you wondering what to eat in San Sebastian? Pintxos – traditional tiny bar snacks – are the answer. Picturesque facades in narrow streets spilling with pedestrians invite you into the culture of Pintxos bar hopping.
READ MORE: Finding The Best Pintxos in San Sebastian
Join a San Sebastian food tour and be shown some of the famed Fermin Calbeton Street's tasty favourites.
Go Local San Sebastian – Visit the city's top hangouts during a 2.5-hour mini-feast, which you will wash down with samples of fruity Txakoli white wine and the local apple cider.
Pintxos & Wine Evening Tour – Enjoy 6 unique pintxo bars on this three-hour tasting tour.
Guided Market & Food Pintxo Tour – Sample local produce in San Sebastian's market before moving on to Pintxos and local wine tasting.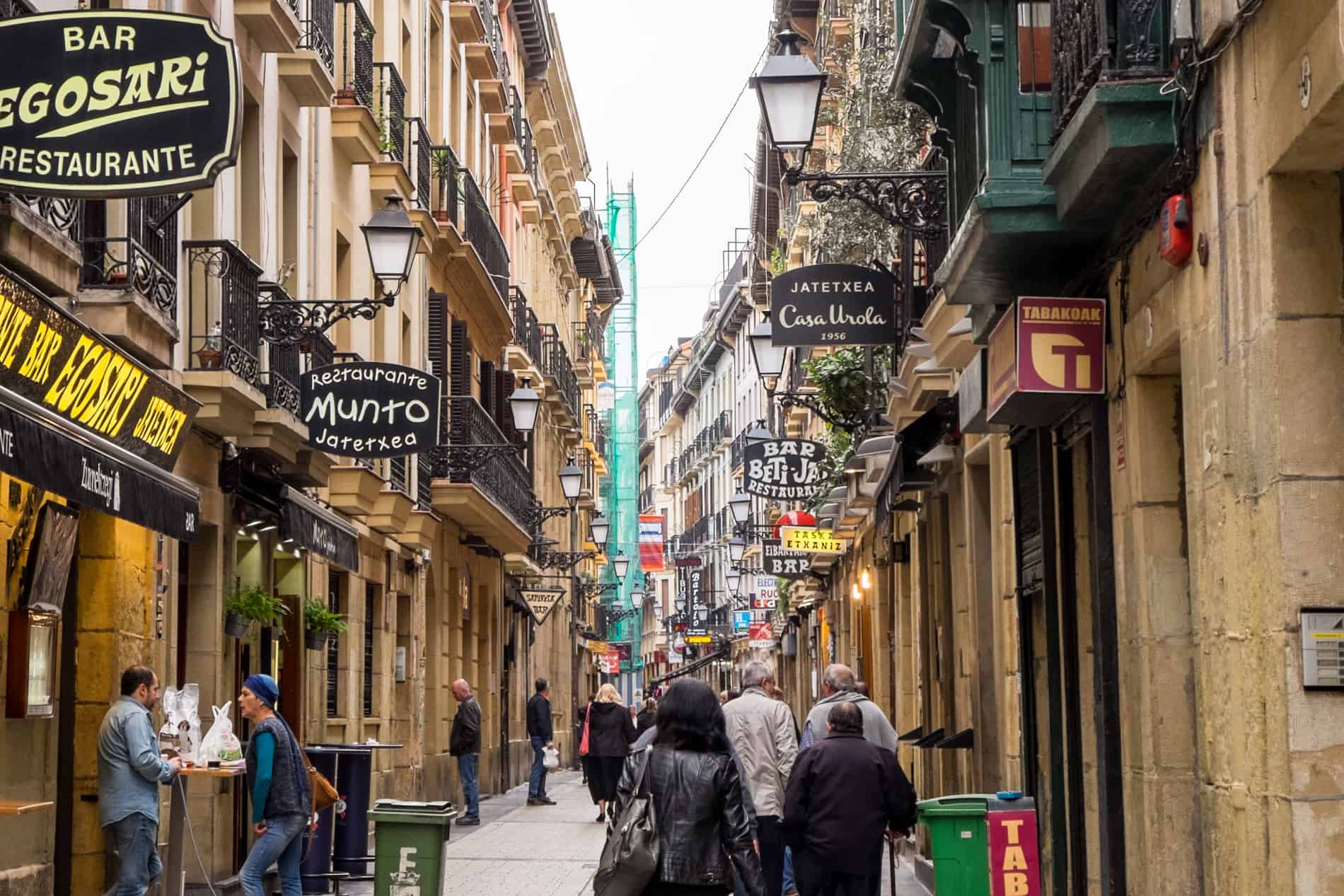 Fermin Calbeton Street – San Sebastian's food street.
Visit a Traditional Cider House
As a cider enthusiast, I'm used to ordering from the bar or drinking from a ceramic jug, as is the old tradition in countries like Germany. In San Sebastian, however, you taste it straight from the barrel.
San Sebastian's traditional cider houses in the northeast neighbourhood of Gipuzkoa are another staple of the Basque culture from the countryside and the seasonal sourcing of fresh fruit produce. In San Sebastian, you fill your glass from the curving liquid run of the kupela (barrel) tap before returning to your seat and feasting on all hearty meat dishes, mingling with friends and locals. It's custom not to drink on an empty stomach!
You can return to the barrel as often as you like – someone is always guarding the tap, ready for your next visit to the cellar.
Join others on this Cider House Experience, and enjoy a Basque tasting session.
Day Trip from San Sebastian to Getaria
The feel of San Sebastian's romantic 'Old Town' reverberates along the 250km coastline of the Basque Country, with neighbouring small town Geteria easily accessible for a day visit. The coastal route from San Sebastian to Getaria is also part of Spain's famed Camino de Santiago journey.
While similar in appearance, with narrow streets and cobbled walkways, its primary draw is the Balenciaga Museum – an ultra-contemporary exhibition dedicated to the Geteria-born fashion designer's young life and early beginnings in San Sebastian, where he opened a fashion house.
Its modern black annexe structure stands next to the 19th Century summer house known as Palacio Aldamar – the former residence of the Marquises of Casa Torre (grandparents to Queen Fabiola of Belgium) and mentors to Balenciaga in the early years of his career.
Known for his perfectionism and expert sewing techniques, you can find this on display in rooms that house his timeless designs, including evening dresses, suits, and capes, all presented immaculately in huge glass cabinets within beautifully lit spaces. His 20 years working as a couturier in San Sebastian before his rise to fame in Paris in 1937 is not forgotten and remains a vital part of the city's 20th Century cultural legacy.
Things To Know About San Sebastian Travel
San Sebastian may be a compact city, delicately surrounded by mountains and the sea. Still, it lives up to its Capital of Culture acclaim with a centuries-old tradition, world-renowned gastronomy, architecture, and artistry on every street and tucked-away corner. The question is – how will you see San Sebastian?
Consider getting the San Sebastian card for €25 for public transport and discounts in museums, stores, and restaurants.
Pick up the "Gastronomic Guide Map" from the tourism office, which details the 70 key bars and restaurants, three Pintxos routes and food shops on a map.
For further information and trip planning, visit sansebastianturismo.com
This trip was organised in conjunction with iAmbassador and the Spanish National Tourism Office to highlight San Sebastian's offering in light of it being the European Capital of Culture in 2016.