Disclaimer: This post contains affiliate links to handpicked partners, including tours, gear and booking sites. If you click through or buy something via one of them, I may receive a small commission. This is at no extra cost to you and allows this site to keep running.
Here are all the things to do in Thessaloniki – Greece's second-largest city packed with history and filled with a creative youth scene.
Packed with the history of conquests and sparked by a creative youth generation, Greece's second-largest city, Thessaloniki is a cultural metropolis worthy of a visit beyond its transit status.
When you know about the things to do in Thessaloniki you are going to want to stay, instead of bypassing it on the way to the magnificent sea and sands of the Halkidiki peninsula.
The city won the 'Youth Capital of Europe' title in 2014, and until then it was said that the city remained relatively unknown and failed to draw on the rich elements of its multi-cultural past – a heritage of 2,300 years of history from Hellenistic, Roman, Byzantine and Ottoman rule, alongside a Jewish community and a long-standing relationship with Turkey.
Now more known as a university city of over 120,000 young native and international minds – one-tenth of its entire population – Thessaloniki's youthful presence has given it a much-needed revival, driving its current forward-thinking mindset and adding an extra layer to its vast collection of cultural communities.
Knowledge and capital have flooded into the city, forging a growth of new business and artistic ideas that incorporate Thessaloniki's ancient past, making it a city well worth a visit.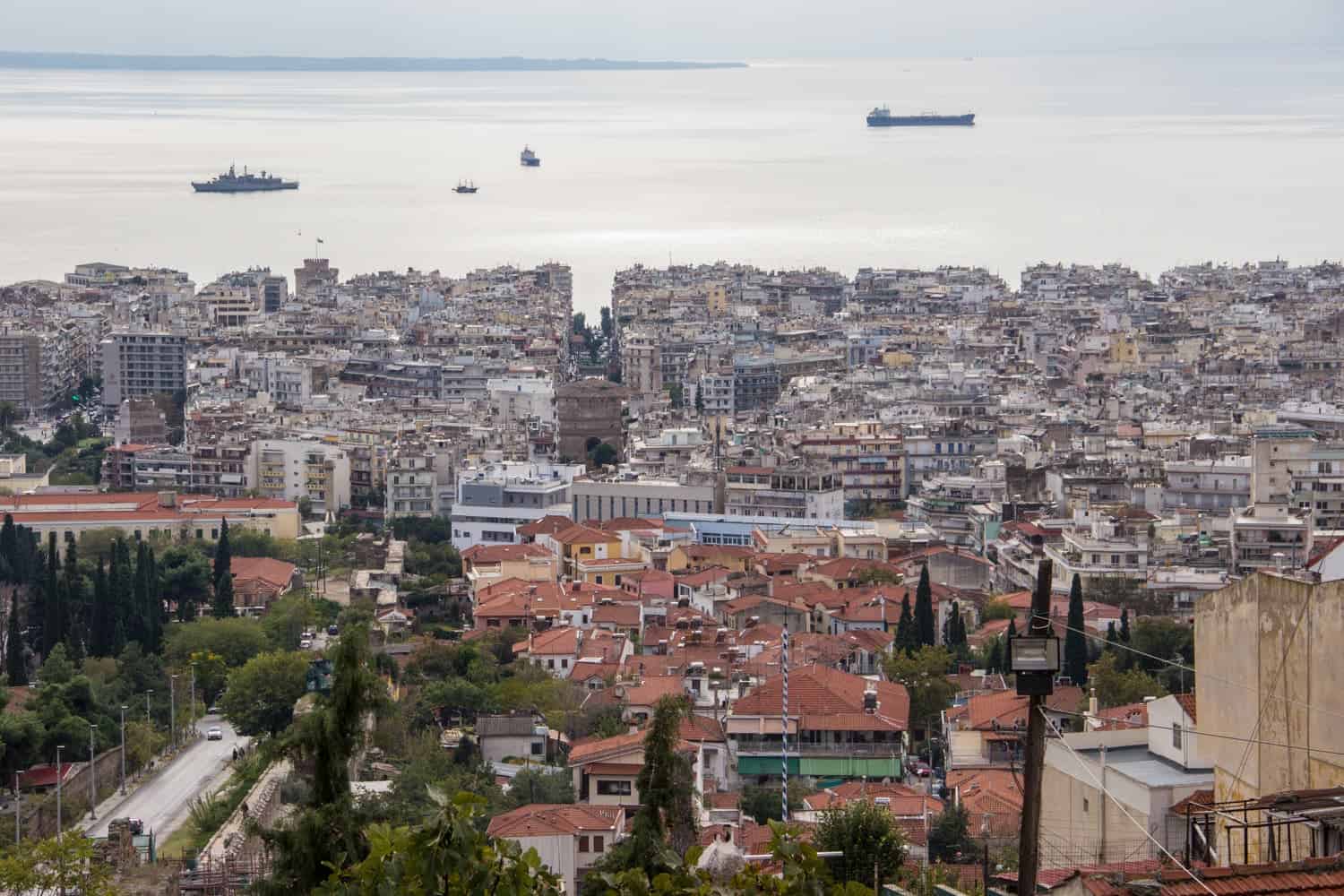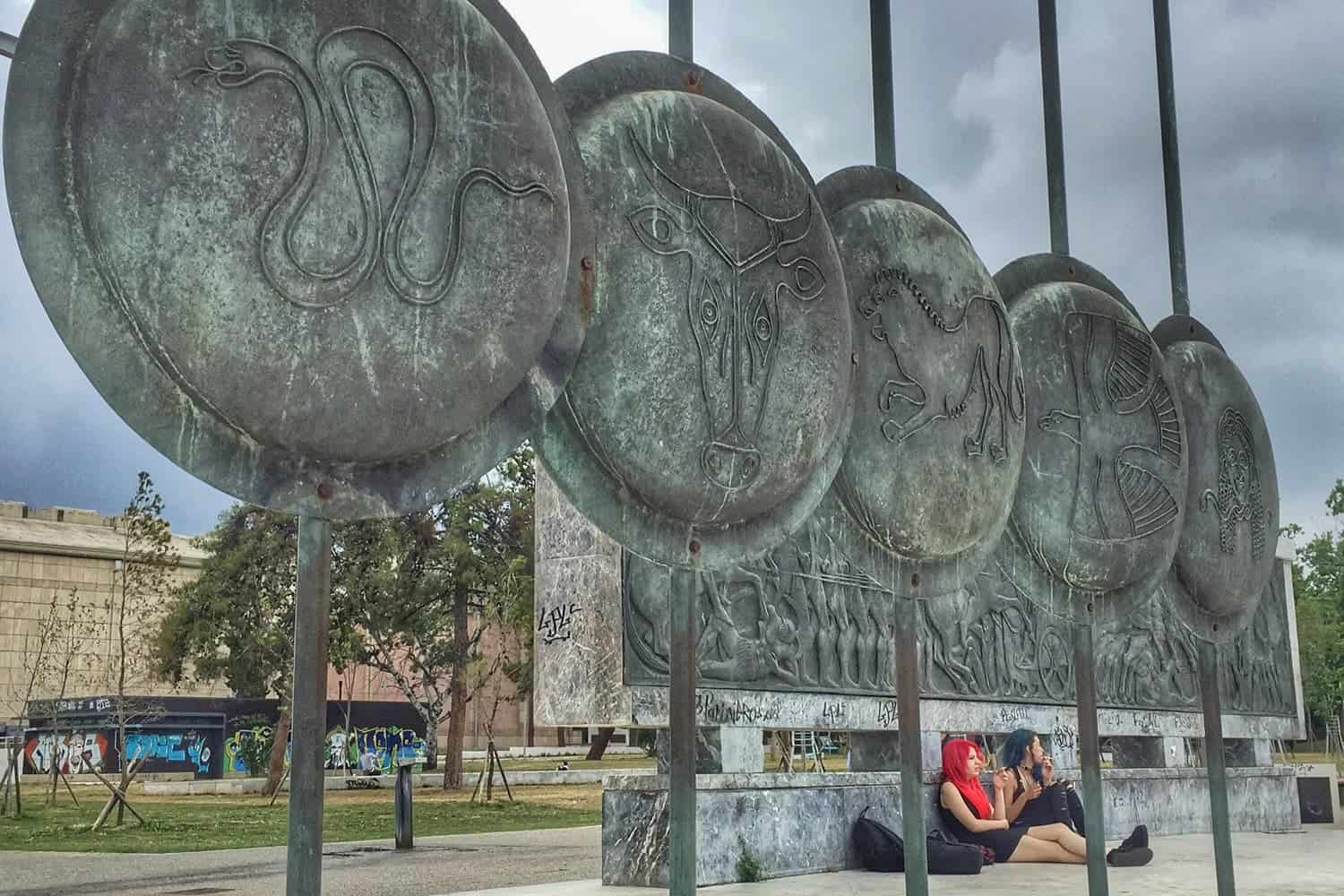 Youthful Revival. What Crisis?
Modern-day life in Thessaloniki is a cloak around the relics and markers of the city's monumental past, blending seamlessly with it and initiating regeneration projects.
The Old Port, while still a European trading hub, has been converted into prime social space to open up this old trading area to locals and visitors. Former warehouses have been converted into urban-cool sea view restaurants and galleries, such as Kitchen Bar and the Museum of Photography.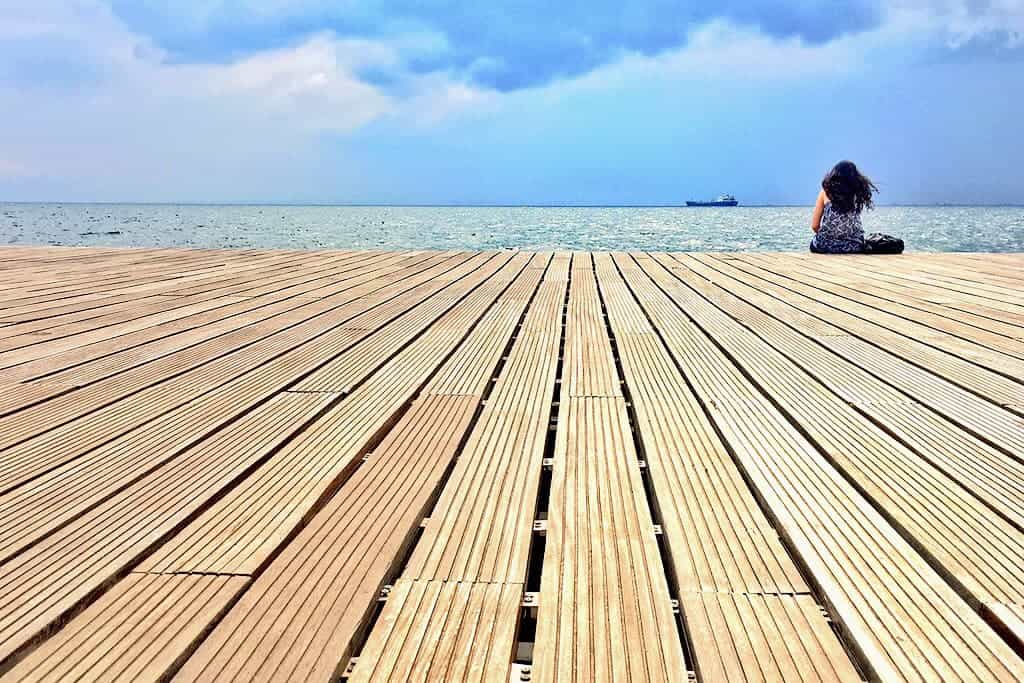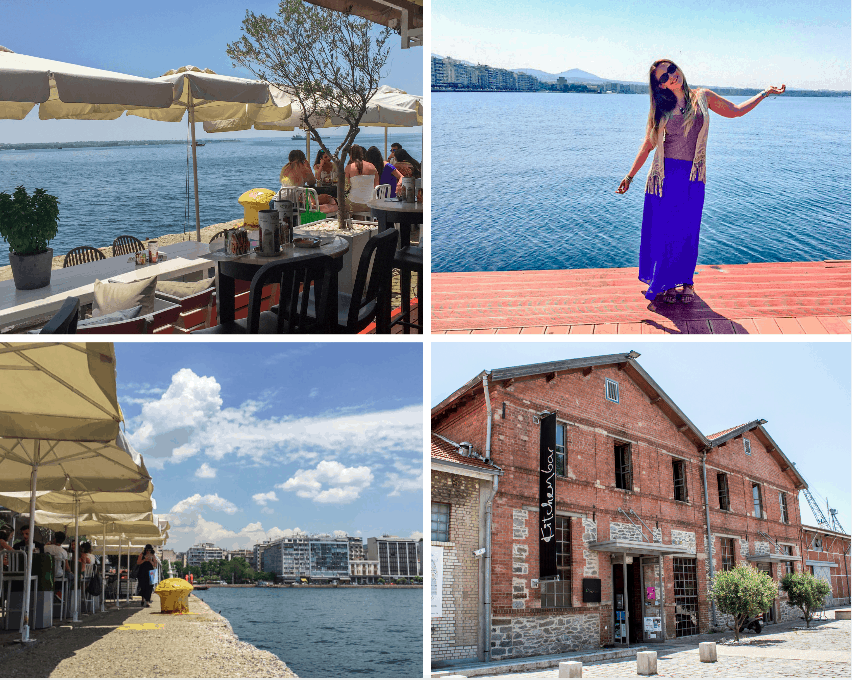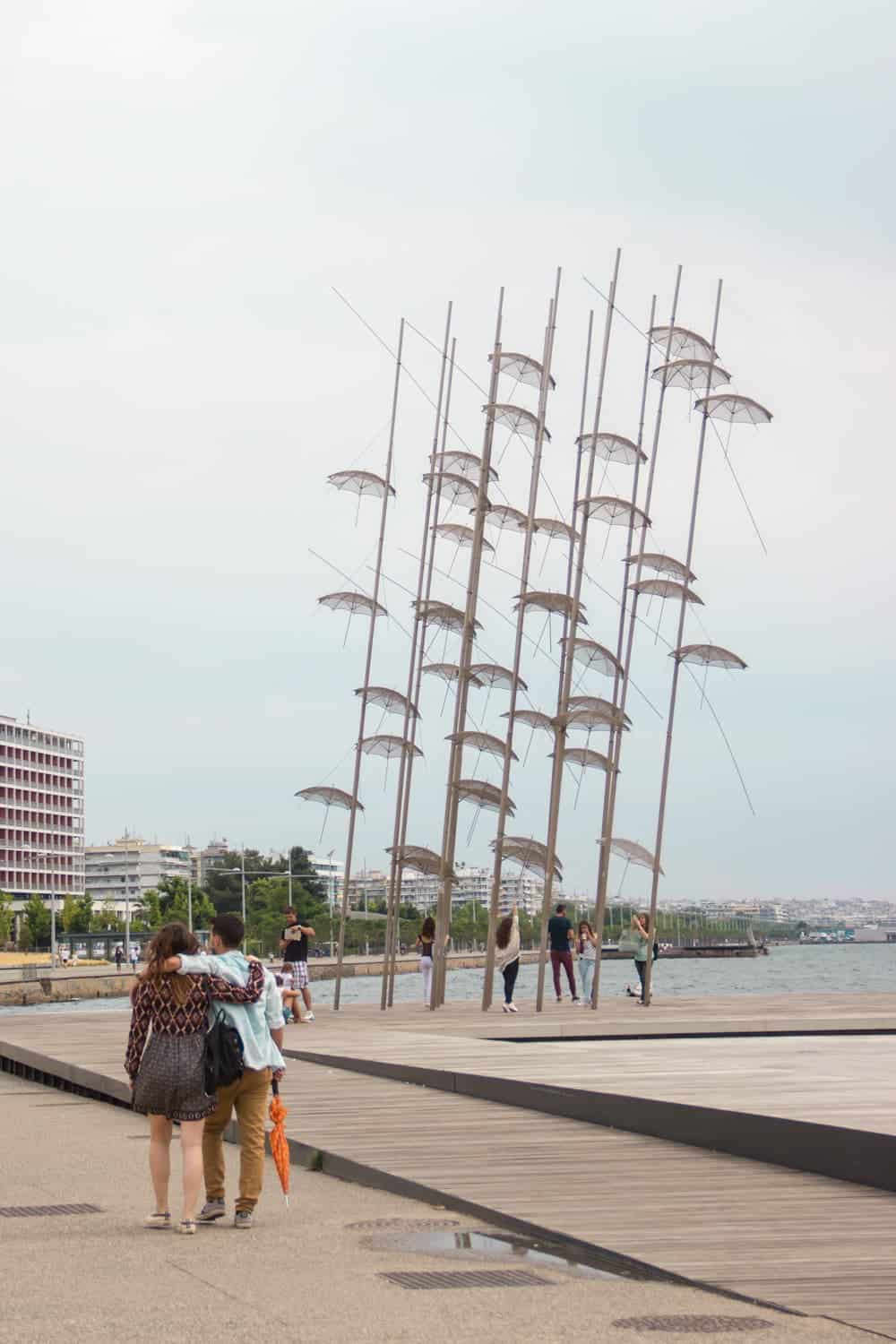 Strolling the waterfront, I soon saw Thessaloniki's mirror to its twinned city, Tel Aviv, exuding a similar booming all-hours social scene.
Nikis Avenue, which runs along the waterfront, is lined with laid-back cafes and bars. The old commercial area of the Valaoritou bar district turns the pace up a notch with beers and beats and the former working-class district of Ladadika is now a super funky hub that everyone tells you is the place to be, whose old stone warehouses are home to some of the city's favoured tavernas and watering holes.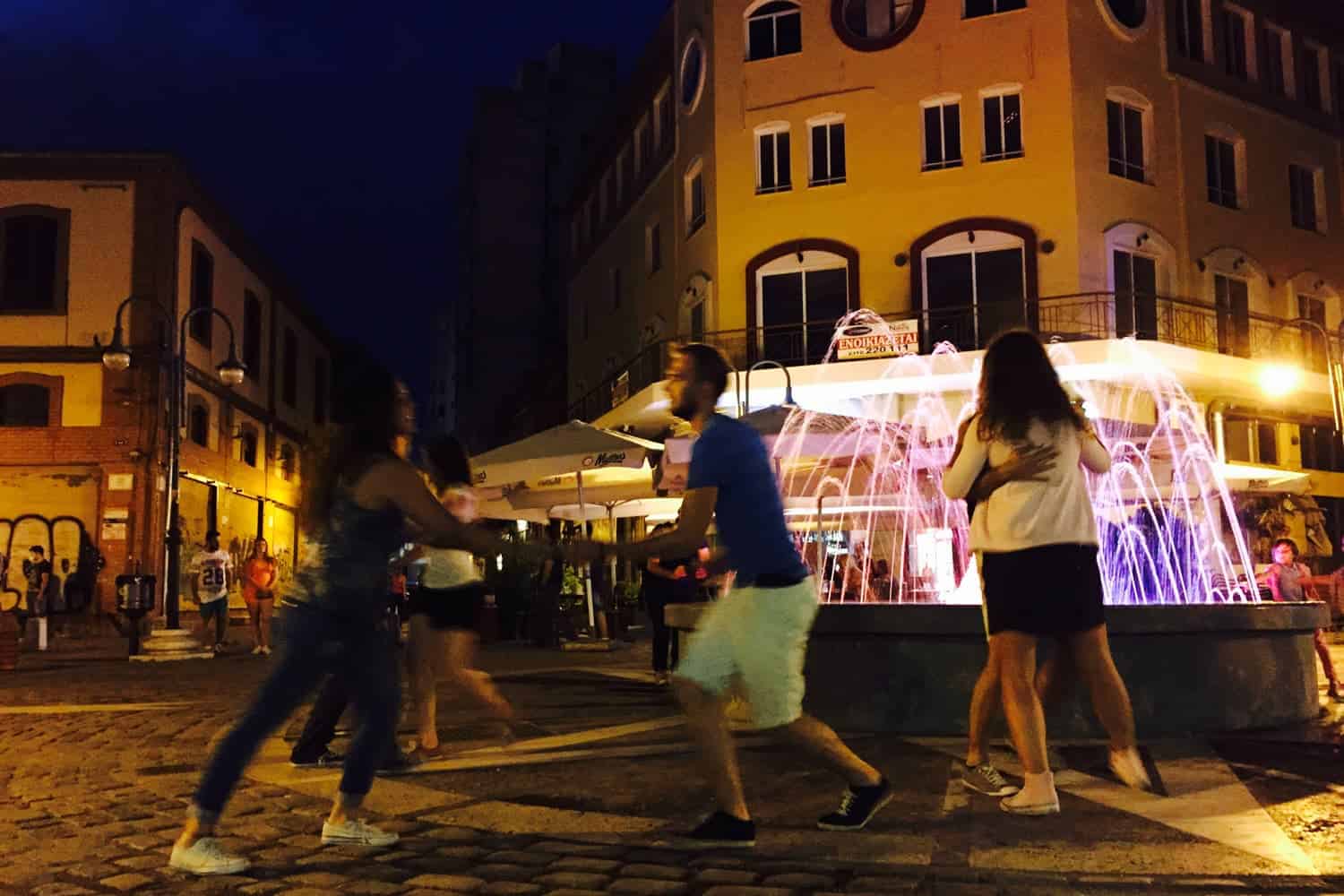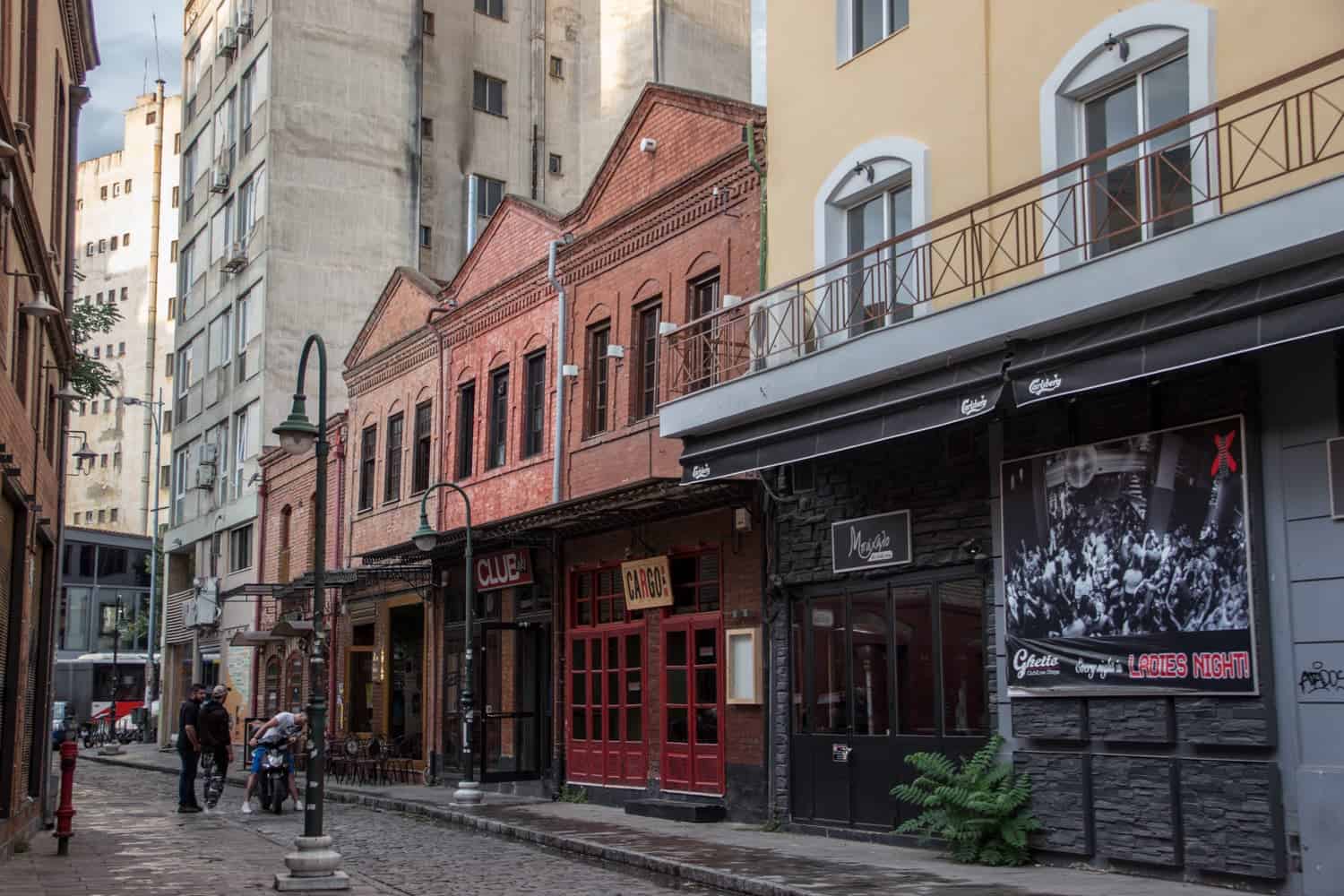 Thessaloniki ranks in the 'Top 10 Nightlife Destinations of Europe' and provides everything from cocktail bars to all-hours nightclubs, its residents showcasing an eclectic mix of styles and preference.
Bars pump out everything from Balkan to dance club tunes and we even passed some freestyle rapping on a makeshift stage as we rounded the corner to the next drink and dance stop, Panellinion – a traditional Greek taverna. Thessaloniki is cool, without being exclusive.
The city is also known for its shopping and what was once a single bazaar next to the port sprung into markets and a commercial neighbourhood.
Modern housing and other architecture expanded the area with large avenues, squares, neoclassical architecture, and art-deco buildings now home to Greek designers, boutique hotels like Electra Palace and Excelsior hotels, art cafes, fashionable restaurants and theatres.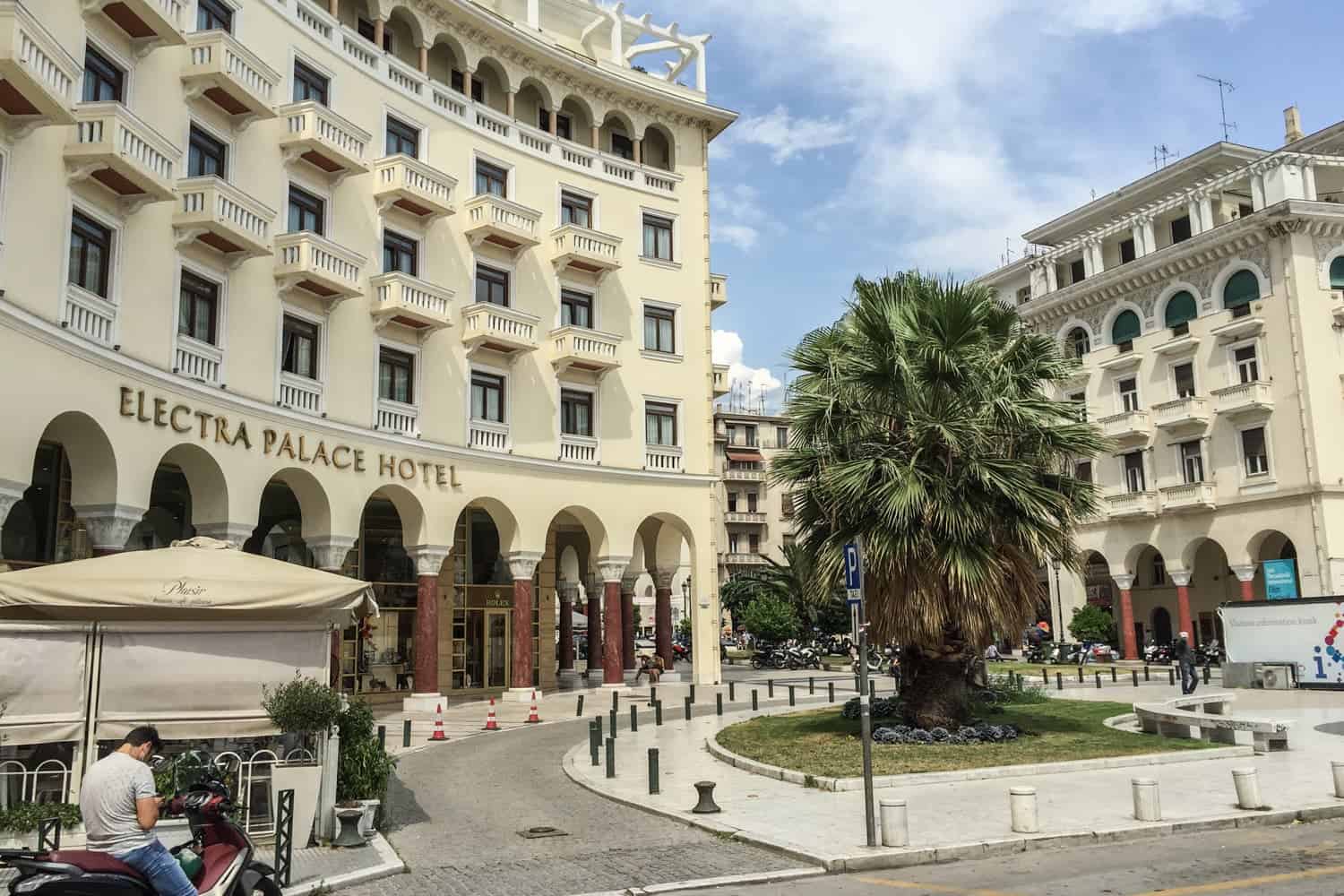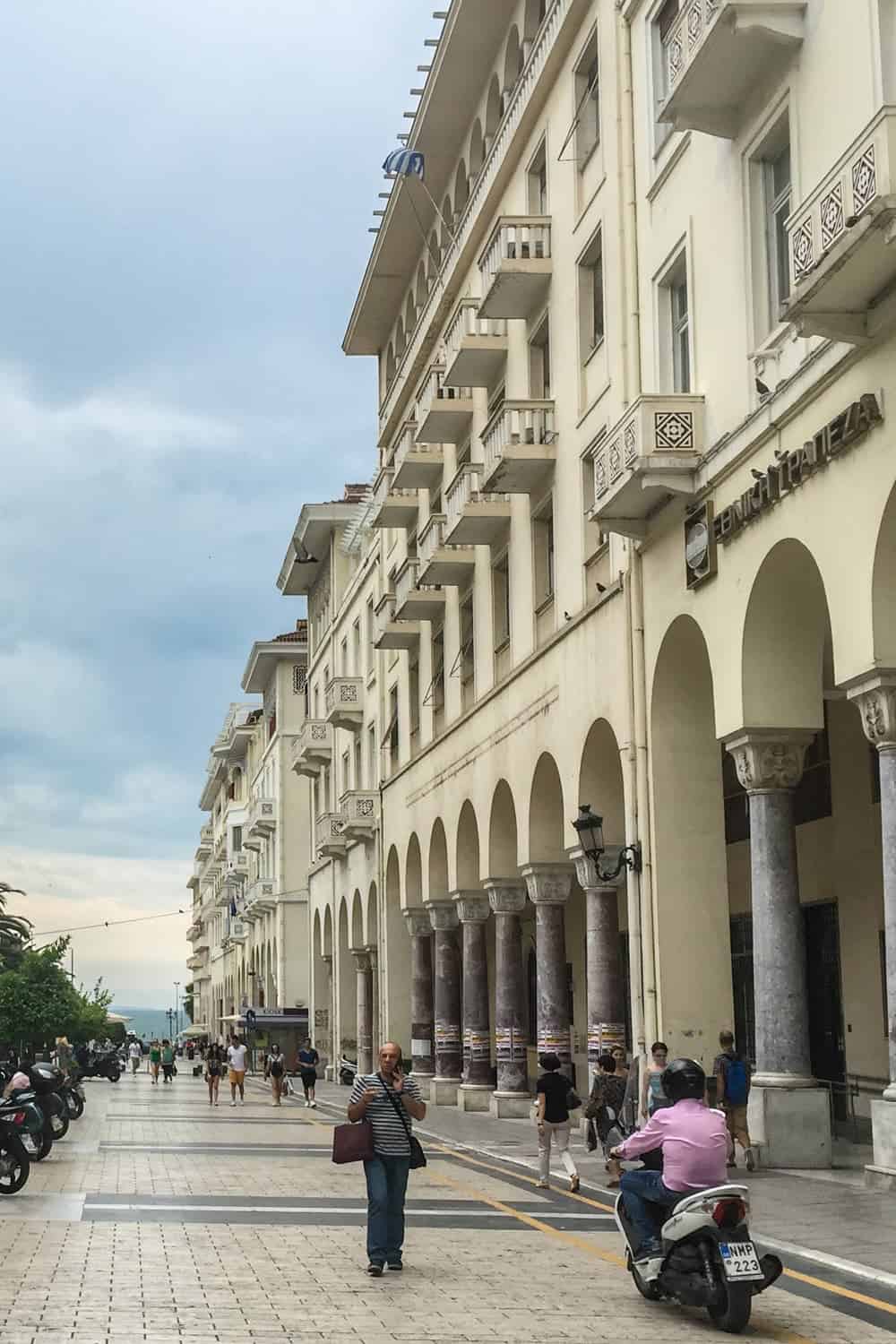 For a deeper insight in local enterprise, Handpeak provides tours of the workplaces of independent, contemporary creative individuals and groups – professionals, amateurs, new start-ups, artists and ideas in development.
Meeting with the team last year, when the initiative first started, I got to visit 'MAKE Creative Spaces' which provides space and equipment for budding artists and innovators, a mother and daughter fashion design duo and the two sisters behind the production of the local extra virgin olive oil brand, O olive.
This was a side to Thessaloniki I wouldn't have otherwise known, including music producers, photographers and jewellery makers.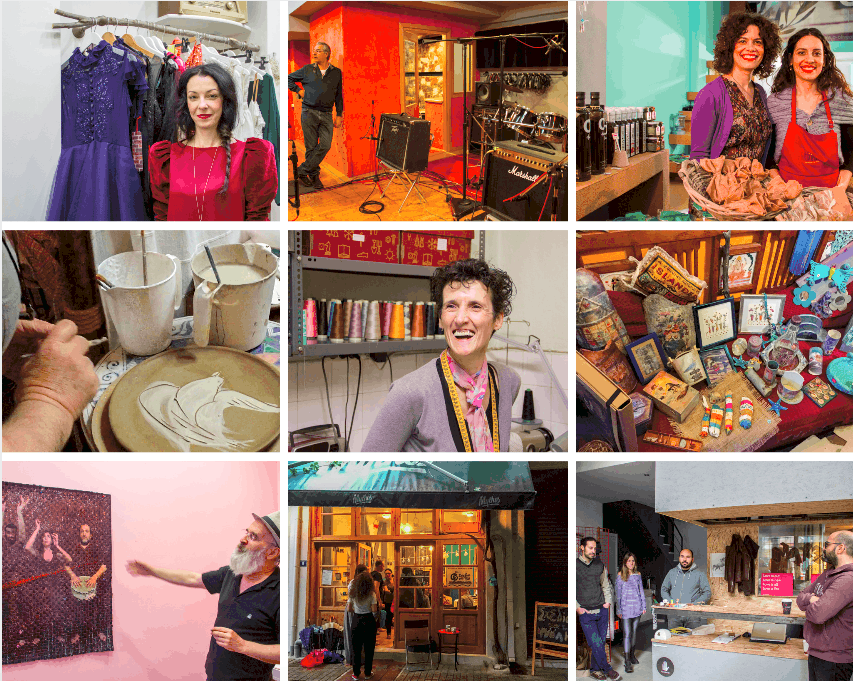 With Handpeak dedicated to showcasing Thessaloniki as a creative capital and the importance of creative ventures to the growth and overall feeling of the city, they have since expanded their mapping of creators.
New highlights included a visit to a local NGO, 'Raft in the City', working with children between 5-13 (mainly refugees and those in excluded groups), using art and play to encourage opportunity, keep young people in the city motivated and combat racism. Then there was the chance to rummage around a quirky up-cycling shop, see a traditional Byzantine-style pottery maker at work and find out about Dot2Dot, which provides walking tours, mainly in the western reaches of the city in old industrial areas outside of the old city walls.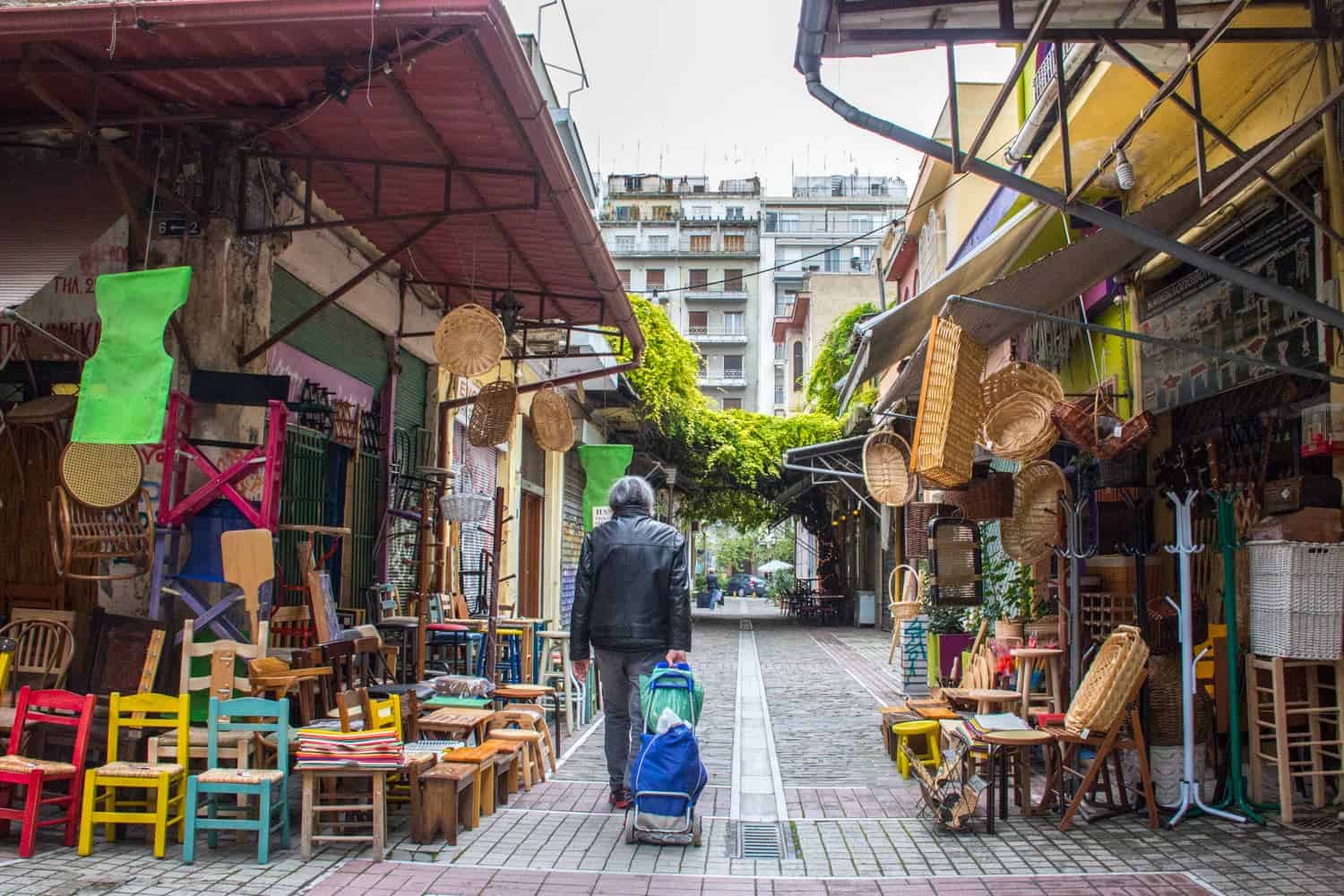 As in Athens, in the face of Greece's austerity measures, creative minds have been pushed in Thessaloniki also to compete and stand out in the big city crowd, whether it be combining funds, resources and talents with friends and family or setting up a new tourism initiative.
Add to this the colourful street art which is scattered all around (and more of a treasure hunt to locate) and you'll find yourself in a colourful urban vibe – one that marks a more fun and playful tone than that expressed in the more edgy and political capital.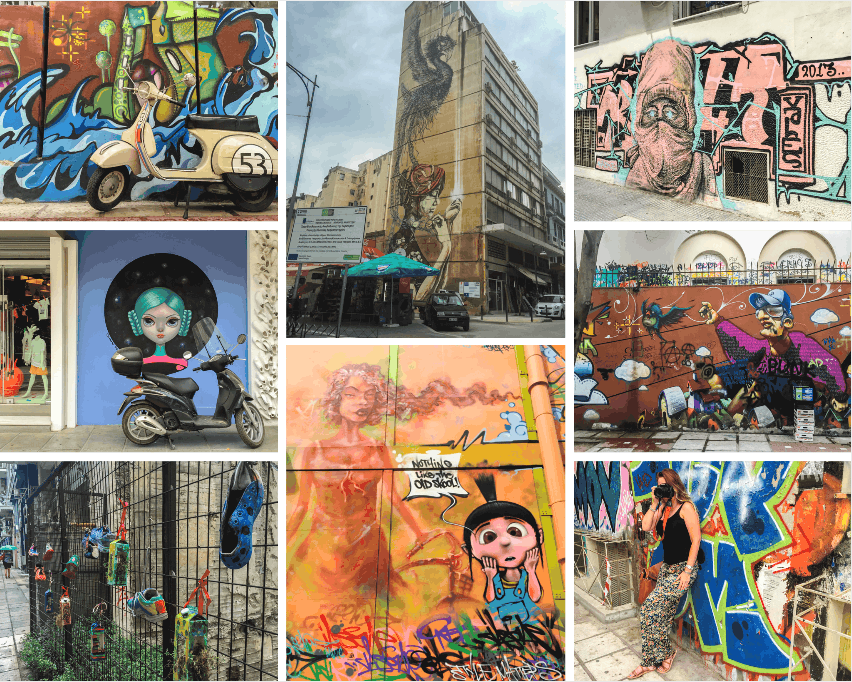 The Multi-Layered History of Thessaloniki
While the young create, inspire and party, Thessaloniki's ancient past still coats the entire city map. A place where Greeks, Ottoman, Jews and Armenians lived together for 500 years, Thessaloniki is filled with the historical relics and symbols, cuisines and traditions that complement one another and combine to form the unique face of the city today.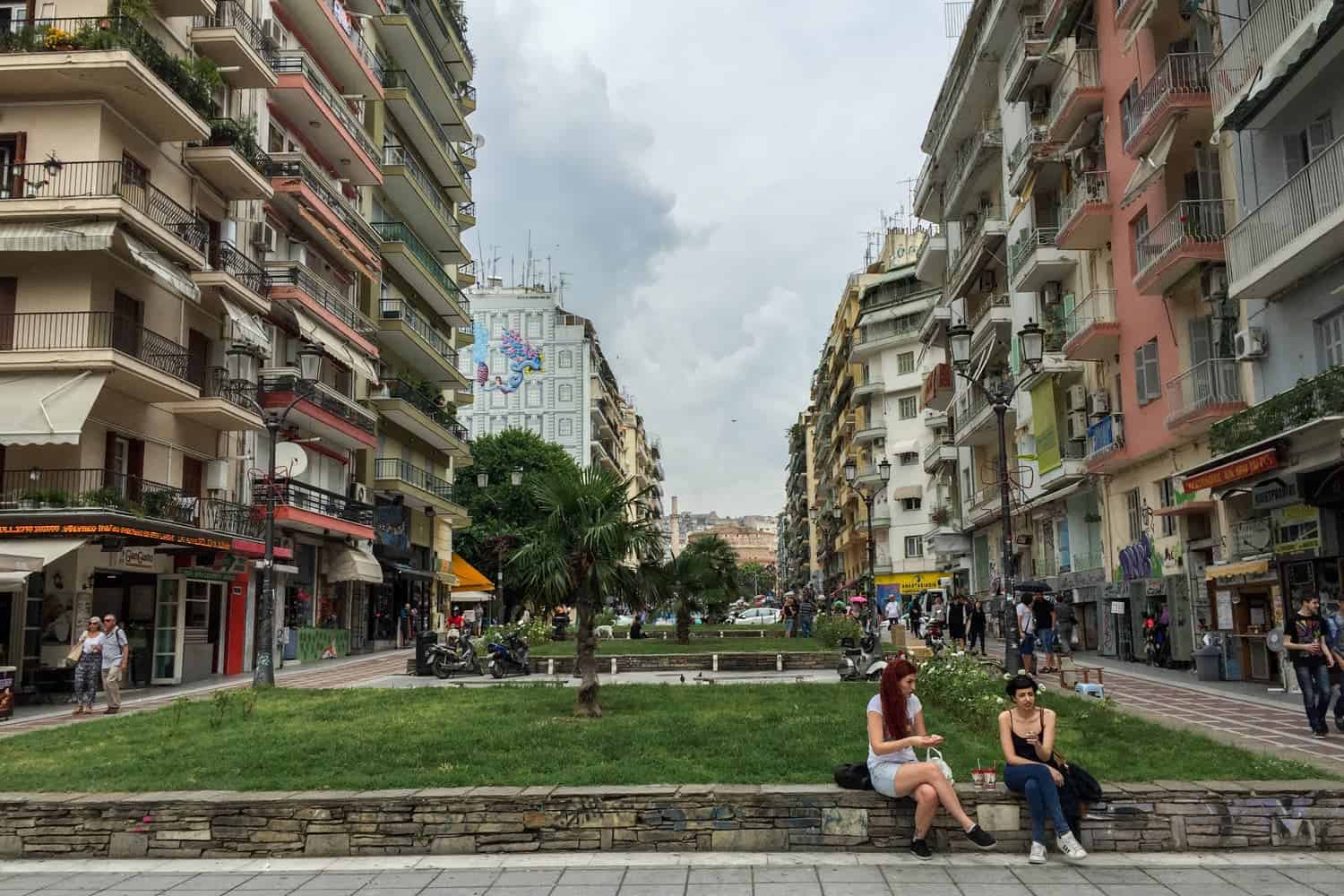 If you stand on the old walls that once protected this 4th century BC city in kingdom of Macedonia (Named by King Cassander after his wife, the daughter of Phillip II and half-sister of Alexander the Great), you'll be at an impressive height from which to piece together the historical puzzle of Thessaloniki's layout.
The levels at the Trigonion Tower can be found next to the sloping Byzantine and Ottoman structure-lined streets of the protected old Ano Poli – the upper city and the only area that survived the big fire here in 1917. This panorama is perfect for the time-travelling wanderer.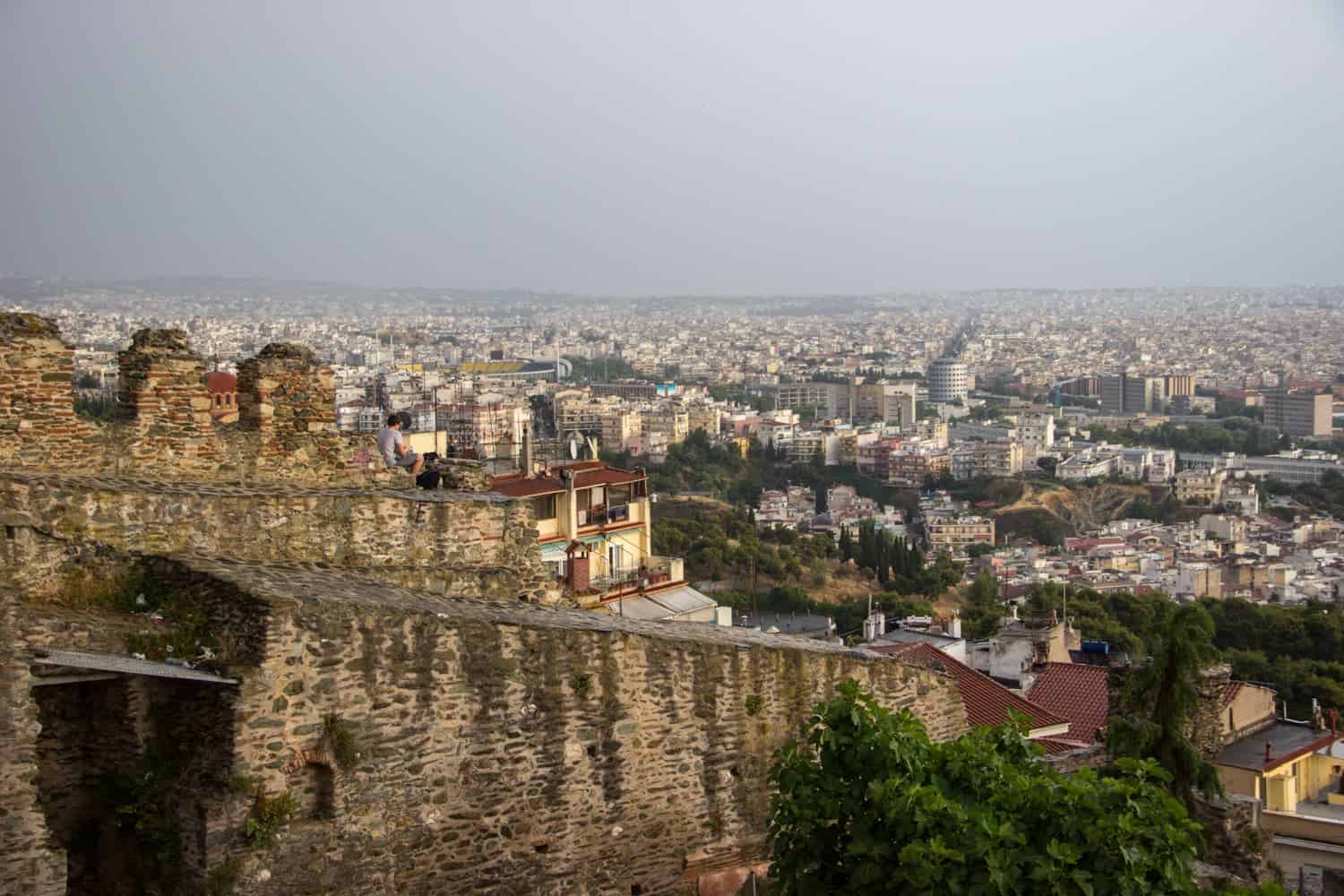 When the Romans conquered they added their own monuments – the detailed Arch (Kamara), the rotunda (which later turned into a church and a mosque during Byzantine and Ottoman rule), and the ancient palace complex of Galerius.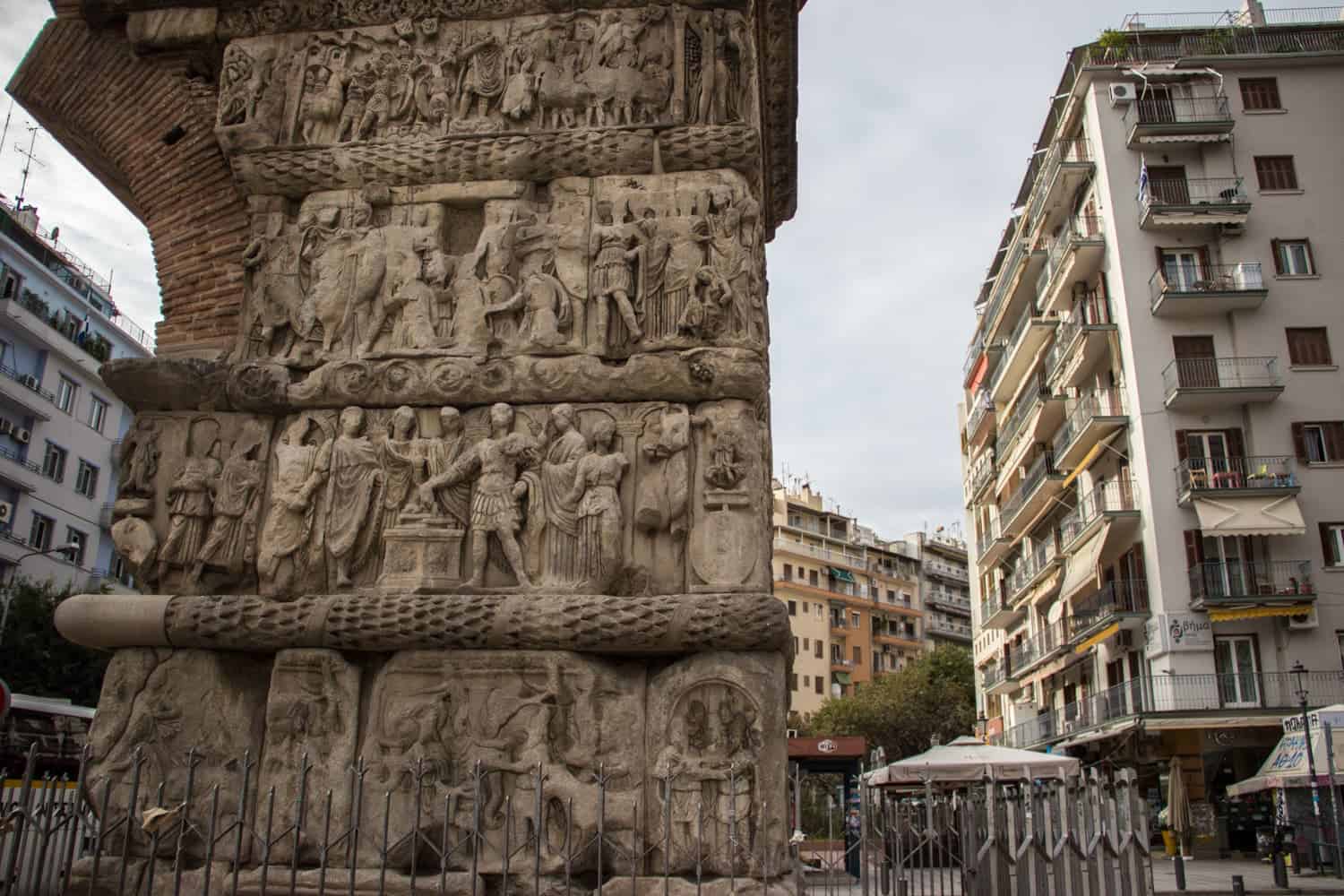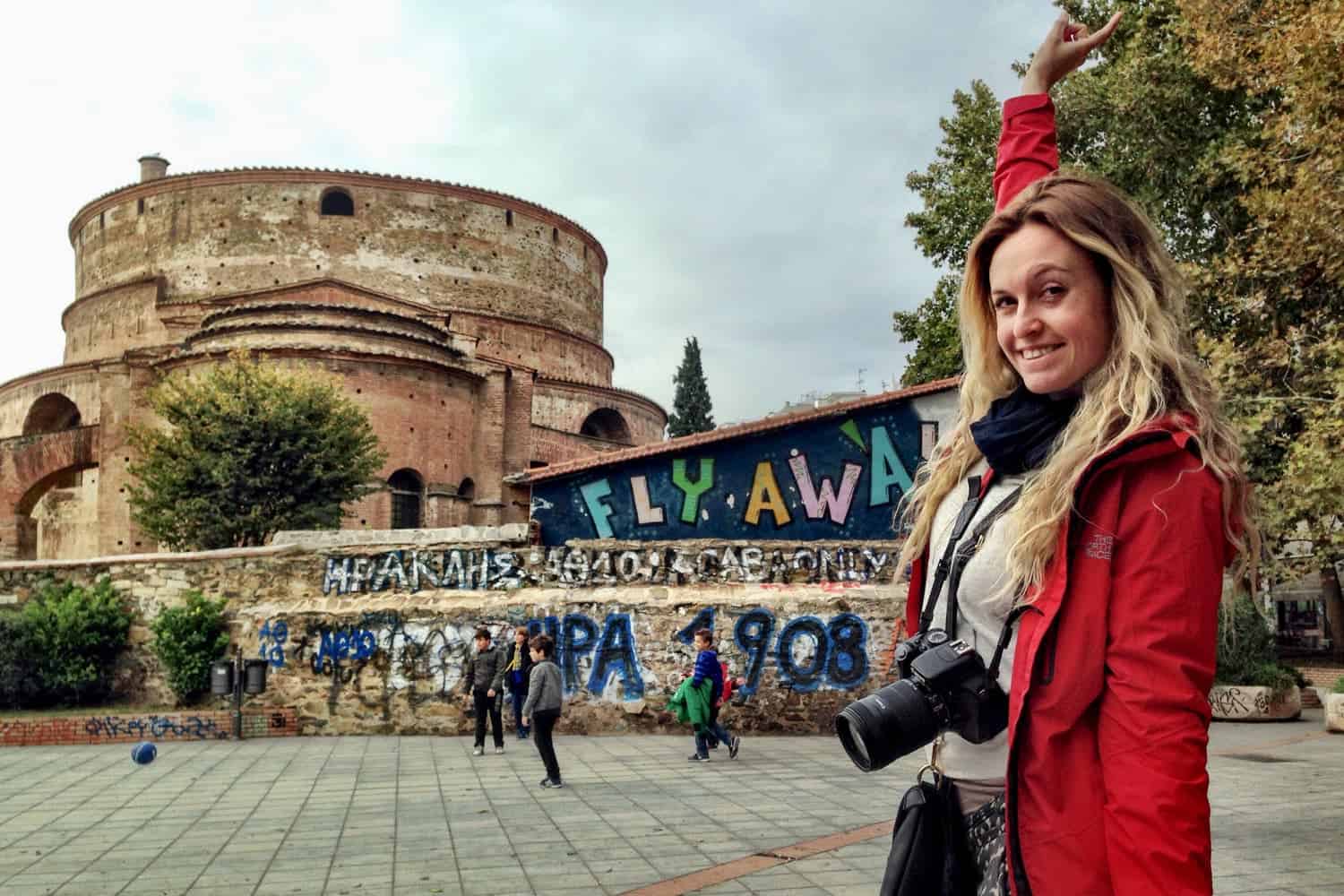 One favourite area of mine is to see the pastel-coloured apartment buildings (post-WWII re-build added the modern architectural character) and bustling public squares that line the Roman Forum – said to be a much-sought-after place to live. Or much rather, the kind of historical backyard I would be intrigued by. Mitropoleos Street, an ancient Roman now high-end thoroughfare, is a good marker for exploration of this area.

Byzantine rule grew the city adding wealth through flourishing trade, arts and religion. Thessaloniki (also the birthplace of modern-day Turkey's 'founding father', Kemal Ataturk) became Byzantium's second city after Constantinople and a deep connection with Turkey continues to this day.
It has been described as 'an open-air Byzantine museum' achieving UNESCO World Heritage status in 1988 because of its number of churches and monuments from this time.
The Byzantines fell to the Ottomans in 1432 who occupied until the 1821 Greek War of Independence that led to the formation of the Greek State in 1912. The main mark left today from the Ottoman time, aside from hammam and mosques like the great Hagia Sophia, is the infamous White Tower on the seafront.
It is one of the main museums of the city with another panoramic viewpoint – and a popular hangout spot. It's rarely quiet in this hip neighbourhood, which spills out onto the promenade.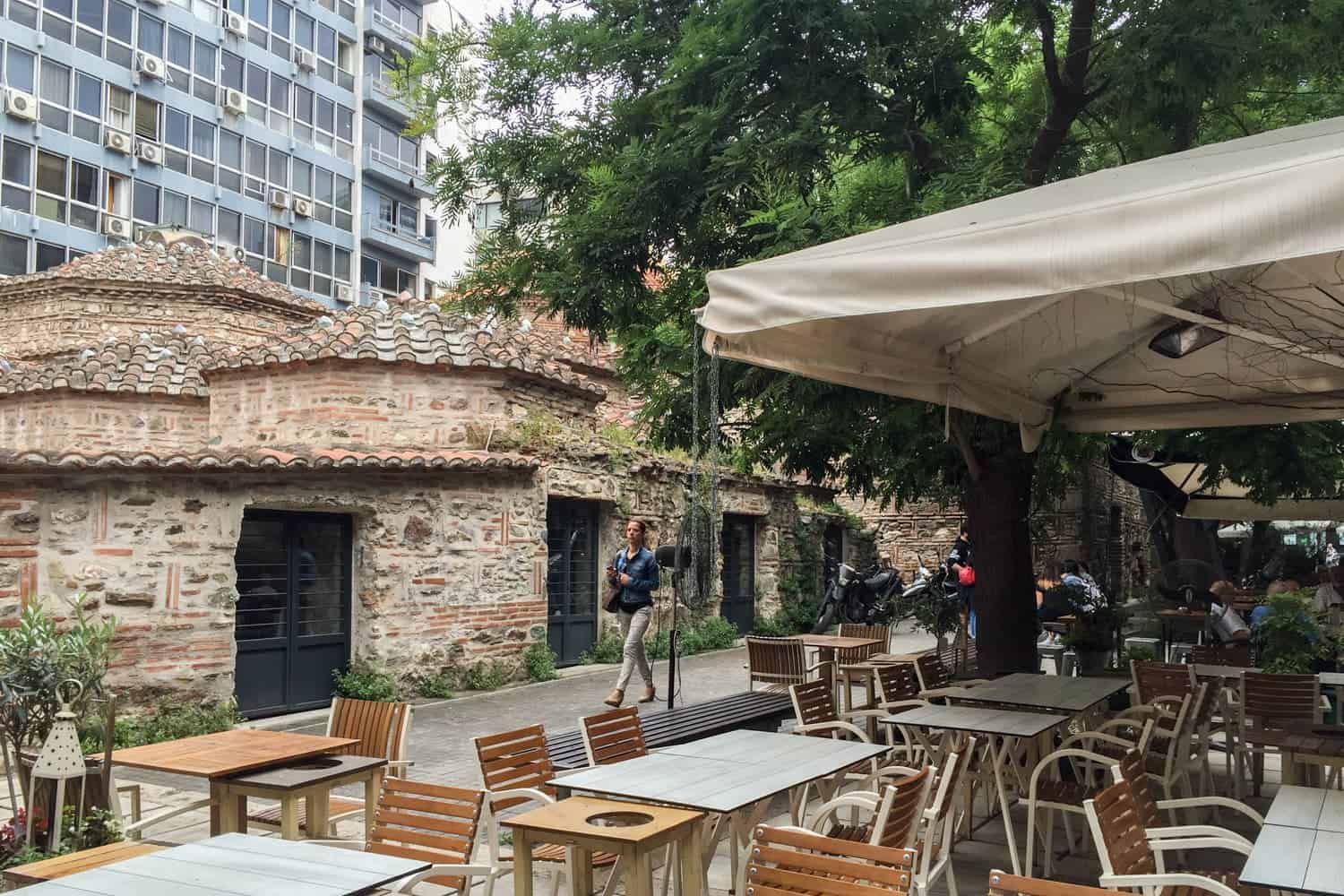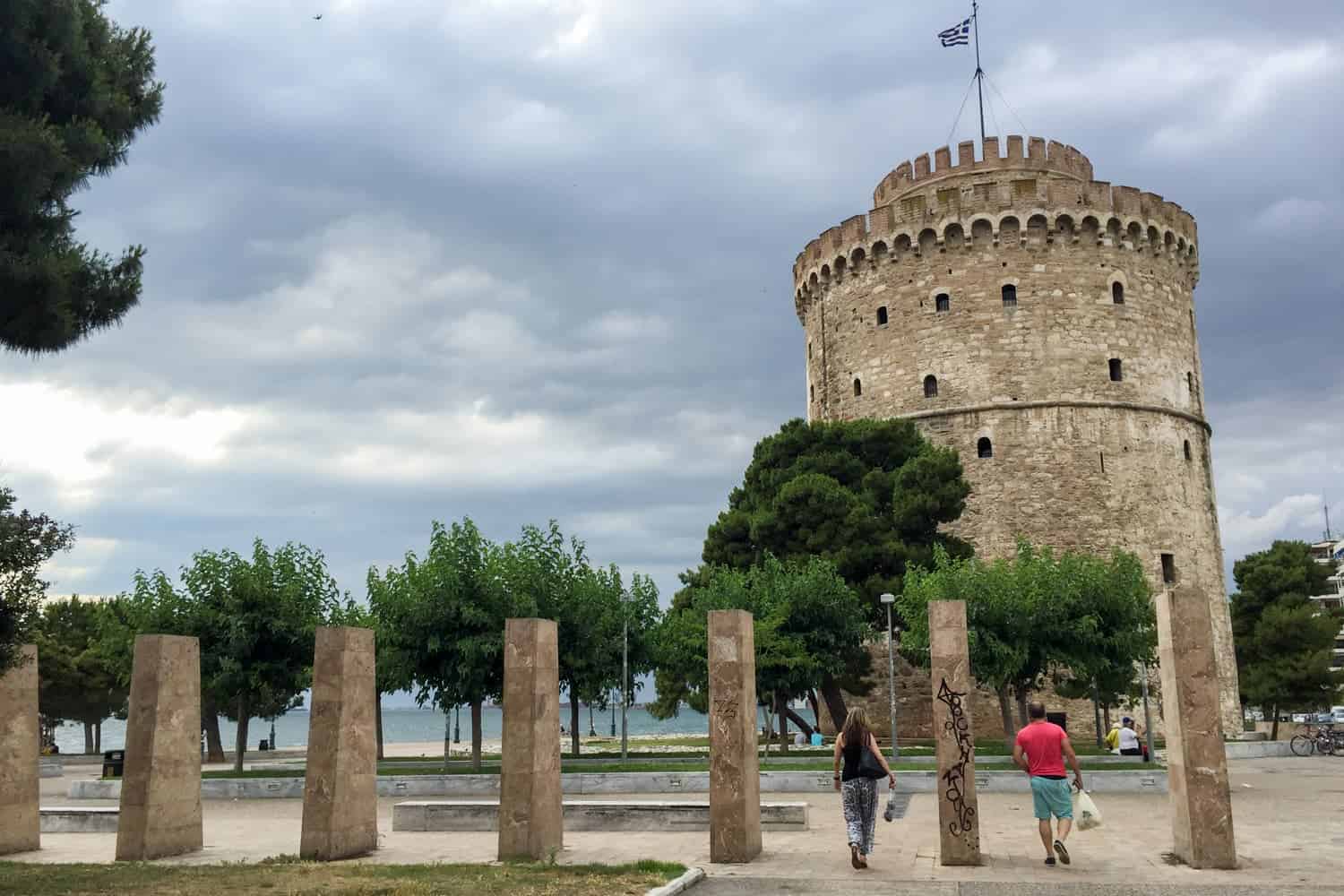 It was the Ottomans who settled the Jewish population here, but with the Nazi occupation of Greece, many were deported. Today's Jewish neighbourhood of Veria is one of the city's most interesting spots where you'll find old mansions and a synagogue marking a once-prosperous commercial and cultural coexistence of Greeks, Jews and Turks.

Conflict, occupation and re-build many times over, there is an incredible amount to take in, but an easy to digest way is to see and understand it at the hands of the experts from Thessaloniki Walking Tours.
Take in the food markets tucked in the side-streets around the central grand Aristotelous Square (one of four main squares of the city), the Louloudadika flower market next to the Yahudi Hamam and the antiquated Modiano food and spices market, which has been a part of daily life since 1922.
You'll learn not only about Thessaloniki's rich and convoluted history and its monuments on a local walking tour, with a chance to journey through the different cultural neighbourhoods, sample the unique gastronomy and meet some of the city's colourful characters and hear their stories.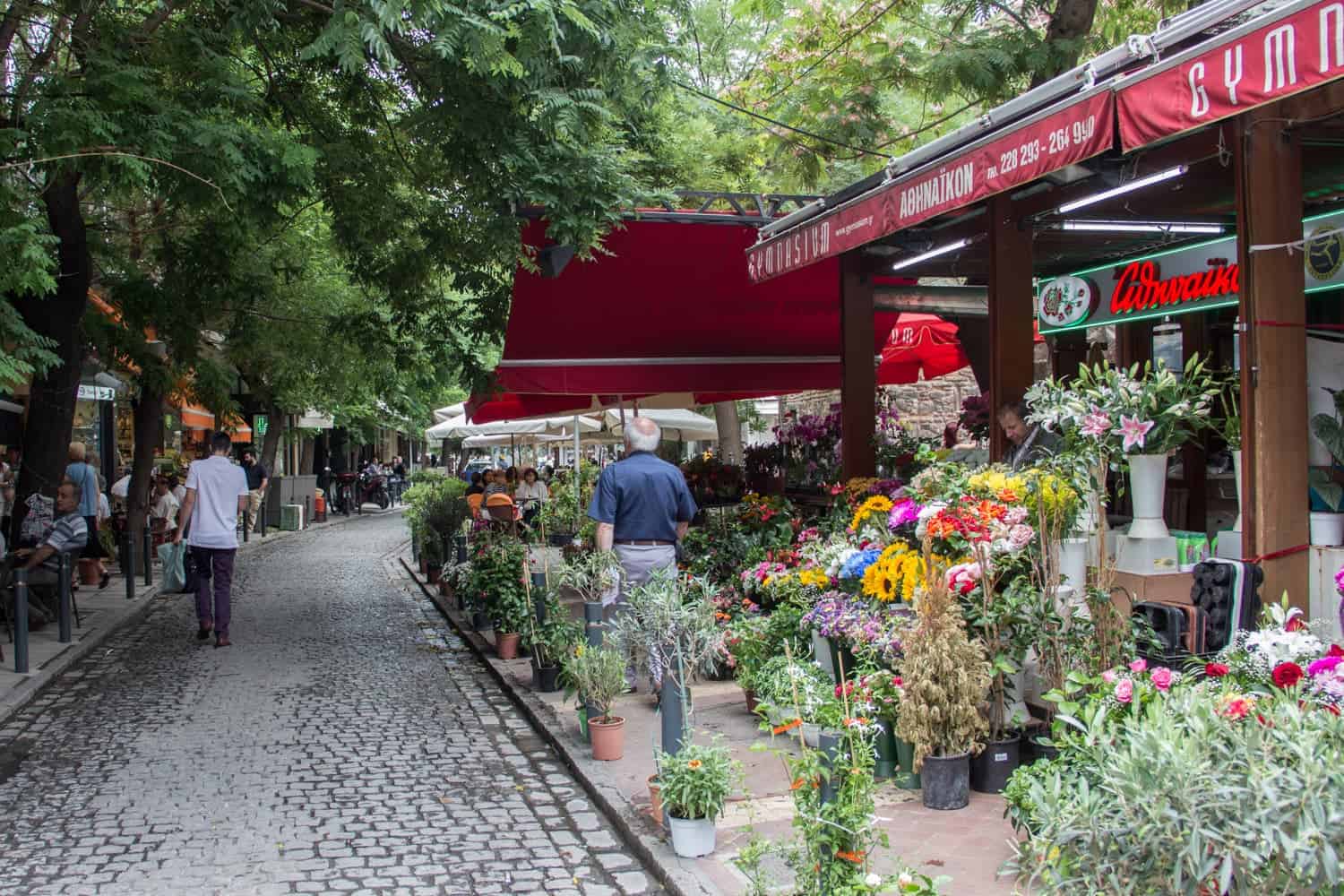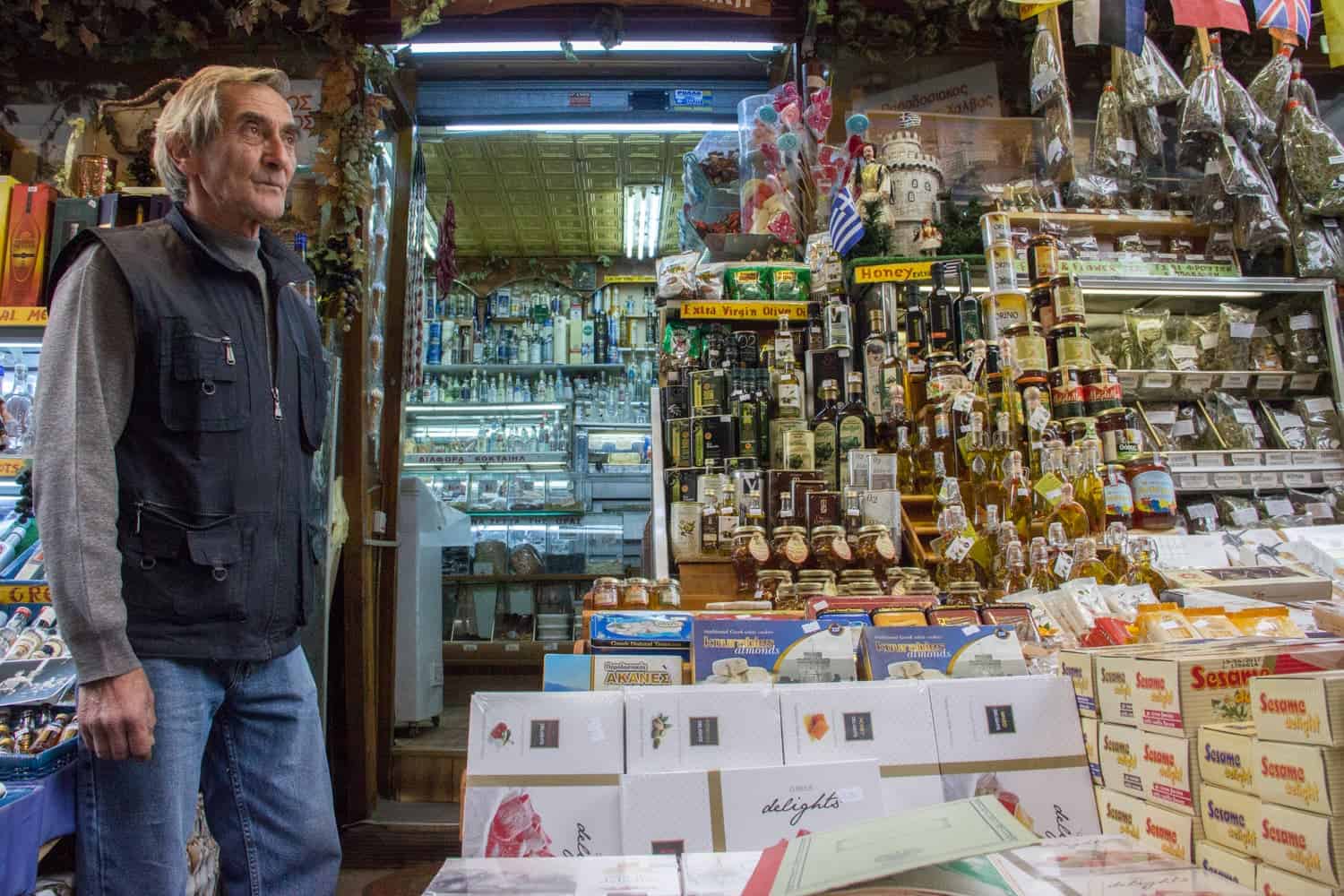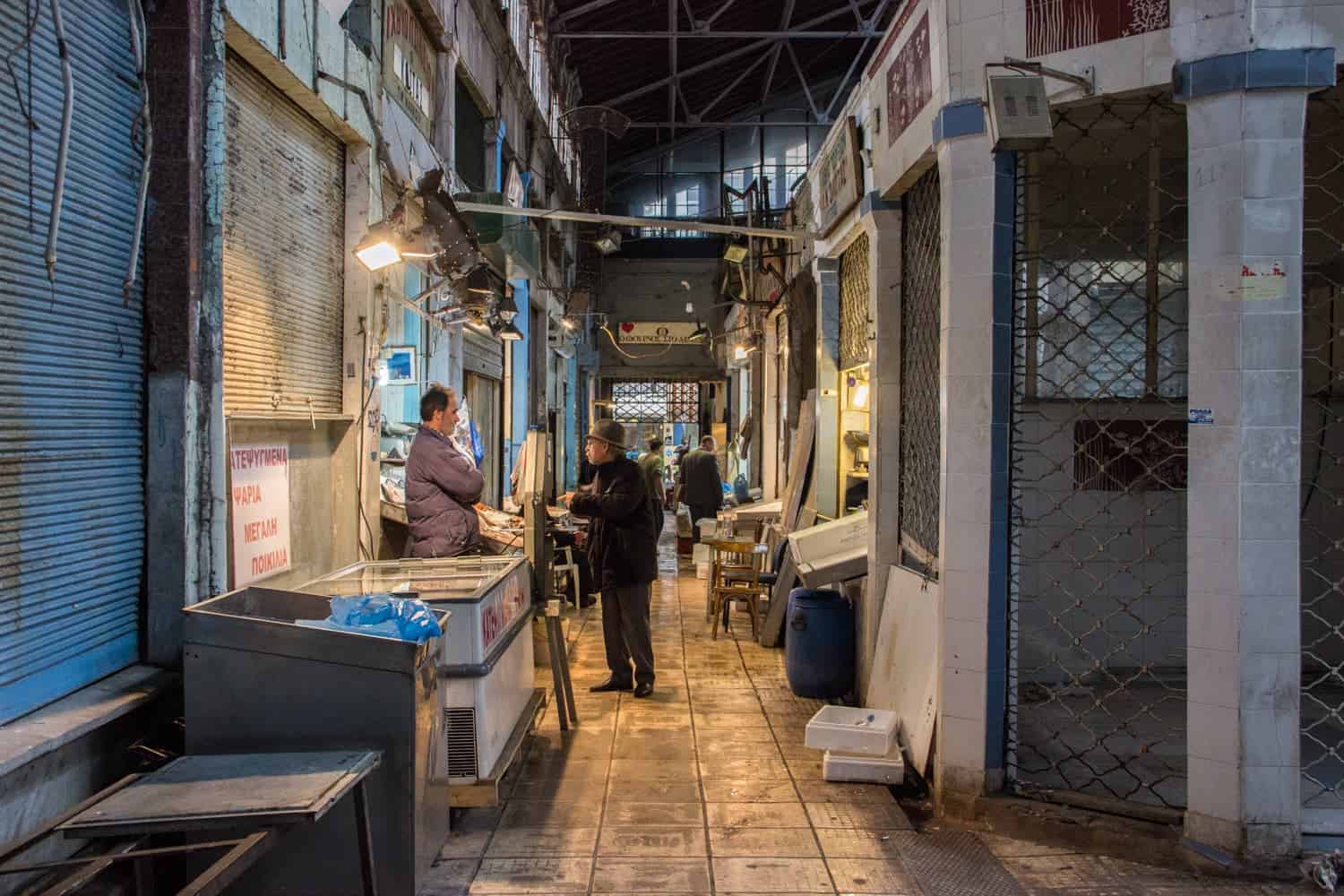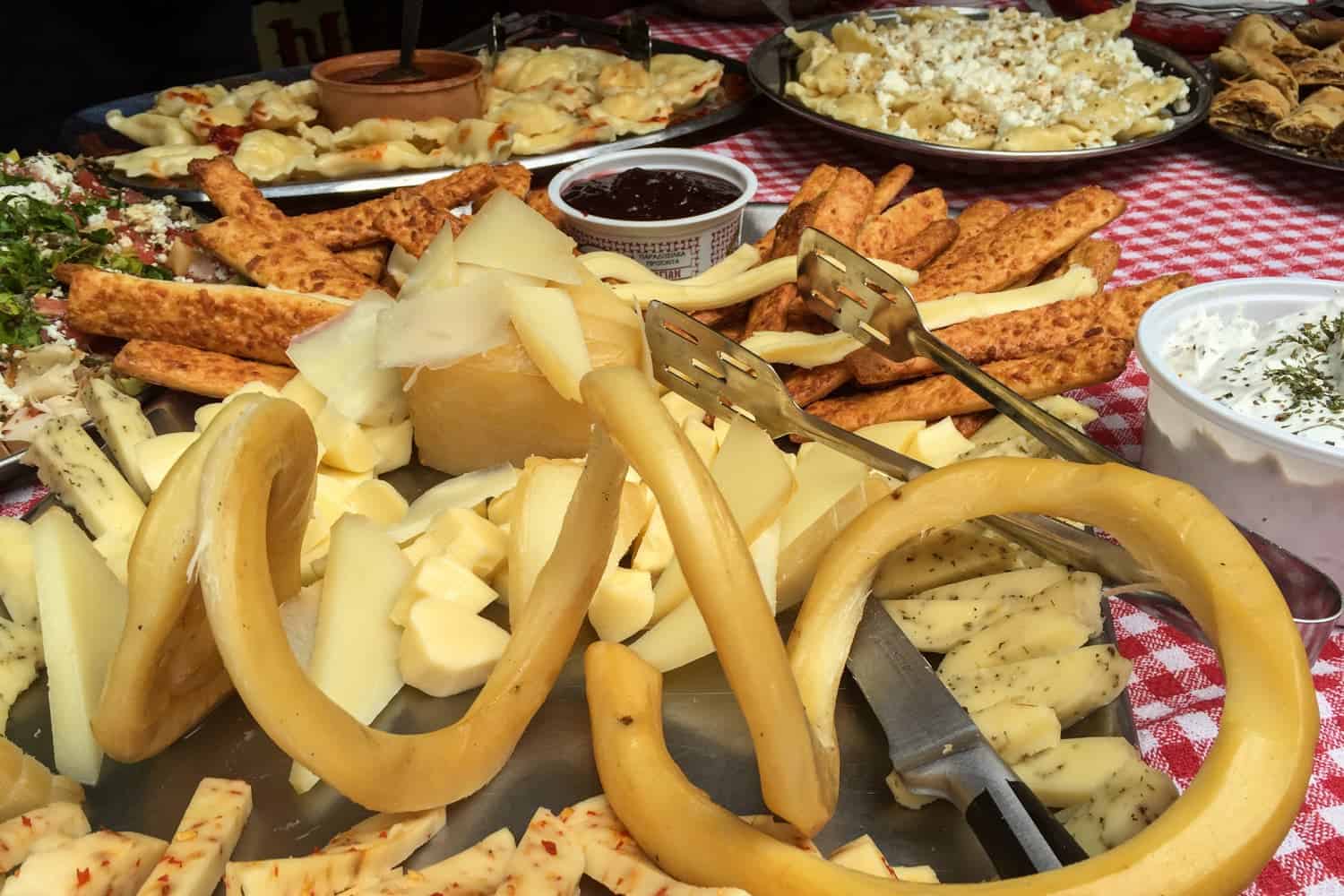 Combining City Life With Coastline
A city break in Greece is not complete without sampling the coastline and with much of the youthful eyes of Thessaloniki looking out to sea, it's a city with sunshine paradise right on its doorstep.
Halkidiki's turquoise waters, yellow sand beaches, and one of the highest peaks in Southeastern Europe for the more adventurous are just one hour away.
Head to Kassandra, the first of the "three fingers" of the Halkidiki (Chalkidiki) Peninsula and continue to bask in the youthful atmosphere on one of the many lively beach bars, like Lefki Ammos, just as I did.
Combining both city and coastline, I've certainly made up for my 10 years of curiosity and guilt at passing by one of Greece's most historically important and culturally rich cities.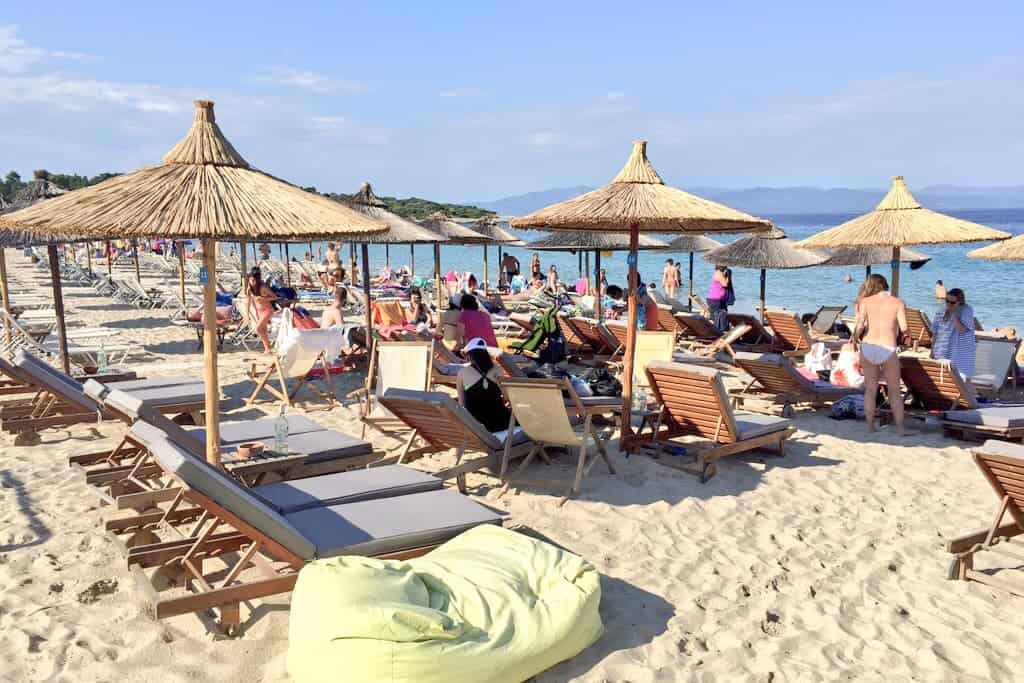 Thessaloniki's multi-layered history and the mosaic of cultures make it unique. At one time, all these cultures seamlessly blended and complemented one another, as their legacy does today, in a city whose youthful generation has injected new life into a city with a 2000-year-old history.
It's only fitting then, with its blend of historical legend and youthful vision, that the city slogan reads: "Thessaloniki. Many stories. One Heart."
Things to Know About Travel to Thessaloniki
Flights to Thessaloniki from the UK start from £106/ €145 each way, or from Athens, £32/€44 with Aegean Airlines
Local transport in Thessaloniki starts from as little as €2 for a bus ticket, and €5 for a short taxi ride. A metro system is said to be in development
For further information on travel throughout Greece, visit the portal DiscoverGreece.com, who invited me back to Thessaloniki. A comprehensive resource, you can use its iGreece facility to plan your travels in and around the country
Planning Thessaloniki? Pin It!