Disclaimer: This post contains affiliate links to handpicked partners, including tours, gear and booking sites. If you click through or buy something via one of them, I may receive a small commission. This is at no extra cost to you and allows this site to keep running.
Of all the things to do on Jeju Island in South Korea, the attractions that make it one of the World's New 7 Wonders of Nature top the list. Here's where to find them.
South Korea's tallest mountain, the dormant volcano of Hallasan, sits in the very centre of its largest isle south of the Mainland, Jeju-do. Of all the things to do on Jeju Island, admiring the sites that have placed it on the World's New 7 Wonders of Nature list is where your attention will most likely be focused.
Surrounding the volcanic mastiff are the inlets of beach coves and waterfalls, crater formations, volcanic rock forests and cave lava tubes, all connected by hiking trails, elevated viewpoints and pockets of isolation.
Jeju is often skipped on a first-time visit due to time and logistics. Yet, easily accessible from popular Busan, it's a perfect addition to the exploration of Korea's southern coastline, and a side to South Korea that draws a different kind of appreciation outside of city hopping.
Here are the highlights of Jeju Island, and how you can revel in the nature of the Korean archipelago on this volcanic enclave out in the seas of the Korean Strait.
Nature Bound Things to Do on Jeju Island
Jeju Circular Cycle Path and Jeju Olle Trails
I'm an advocate for exploration by bike, and Jeju makes it easy with the blue signposted Circular Cycle Path that winds the whole way around the parameter of the island, next to the ocean.
The bike path starts and ends at Yongduam in Jeju City, and the entire route is approximately 234 kilometres in length, made up of 10 different coastal stops that allow you to go on a sightseeing loop.
You can cycle the loop in a full day, or you may wish to break it down into manageable sections for a leisurely pace over a couple of days, especially if you want to include visits to main attractions. There's approximately a 20 kilometre journey between each stop.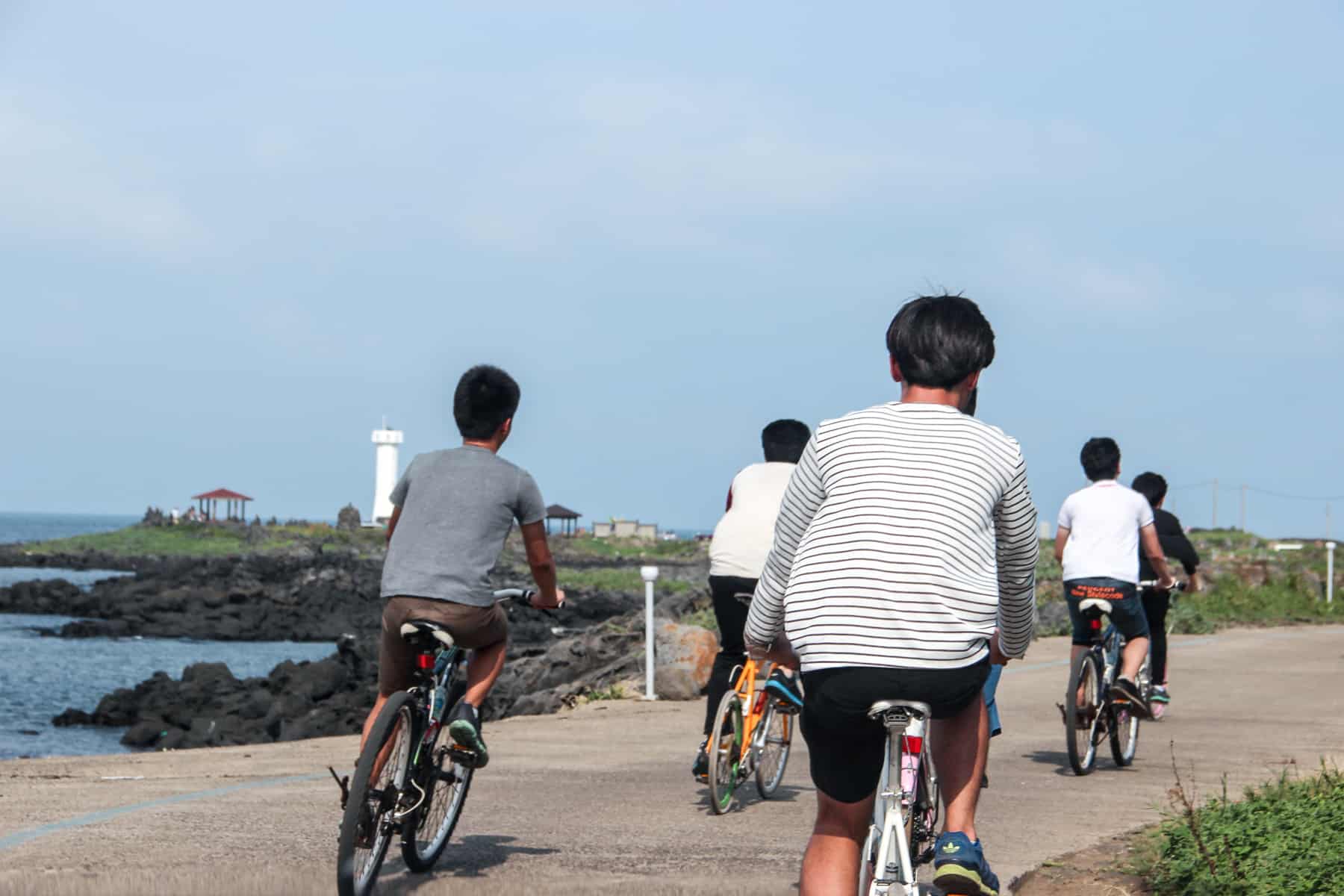 For those wanting to set a challenge, you can collect stamps at each stop and get a certificate of completion issued at the Jeju Provincial Tourist Information Center at the airport or Jeju Port.
There is a scattering of bike rental shops in Jeju to encourage exploration, or you can hire from your hostel or hotel as I did. Bike rental costs start from around 10 Euro / USD for day hire and more if you want a mountain bike for the long haul.
Circular cycle path course: Yongduam – Darakswimteo – Haegeoreum Village Park – Songaksan – Beophwanbadang – Soesokkak – Soesokkak – Pyoseon Beach – Seongsan Sunrise Peak – Gimnyeong Seongsegi Beach – Hamdeok Seou Beach – Yongduam
If you want to combine biking with hiking, look for the 26 Olle Trails routes that circumnavigate the island's coastline. They are broken down into similar circuits, crossing from farm to beach to forest.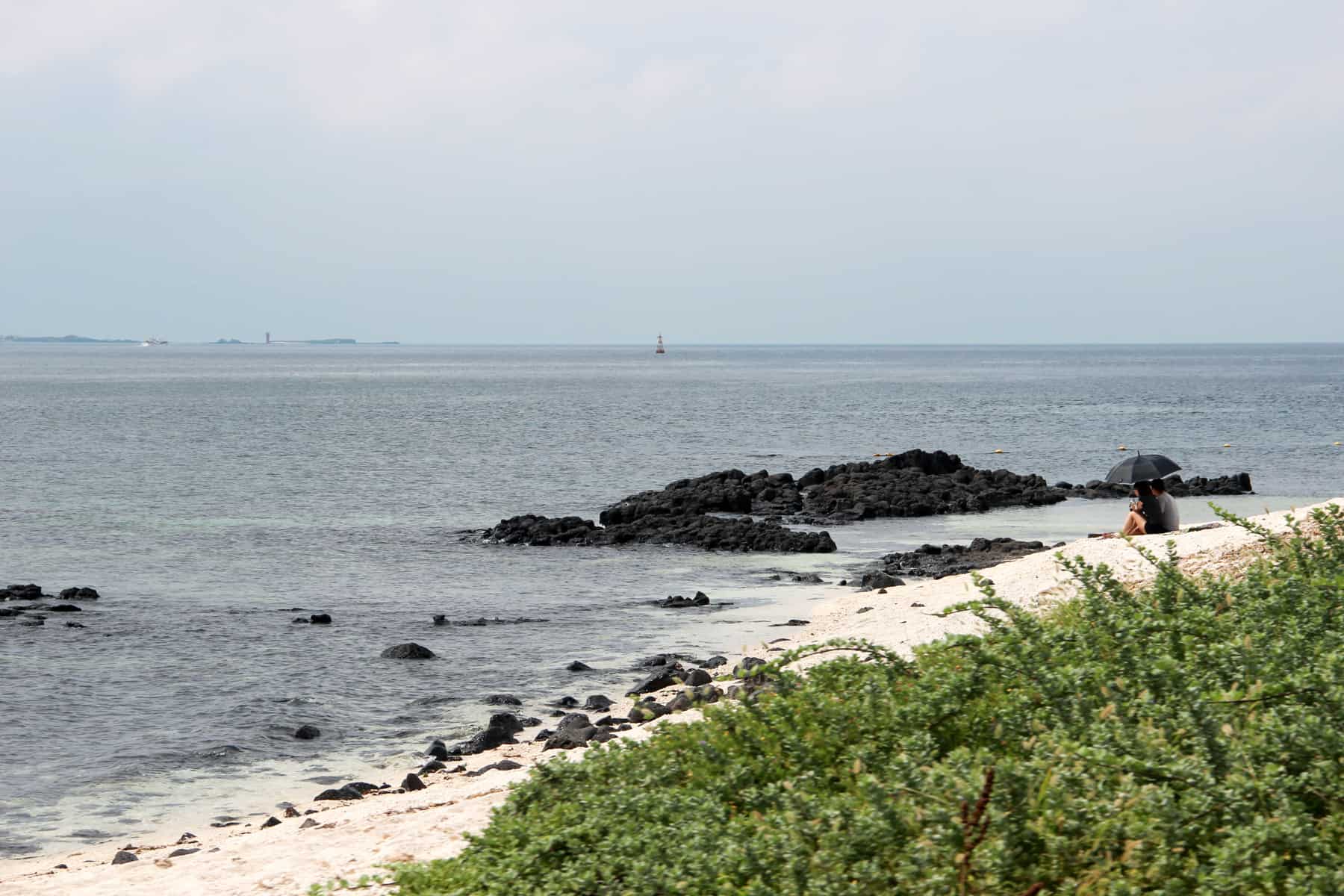 Seongsan Ilchulbong Peak – Sunrise Mountain
This monolith that rises nearly 200m from the sea on the eastern Seongsan Peninsula of Jeju Island is a result of an underwater eruption 5,000 years ago.
Today the volcanic crater of Seongsan Ilchulbong, which you can access via wooden platform walkways, is a designated Natural Monument, UNESCO World Heritage Site, and a UNESCO Global Geopark Site, recognised for its outstanding beauty.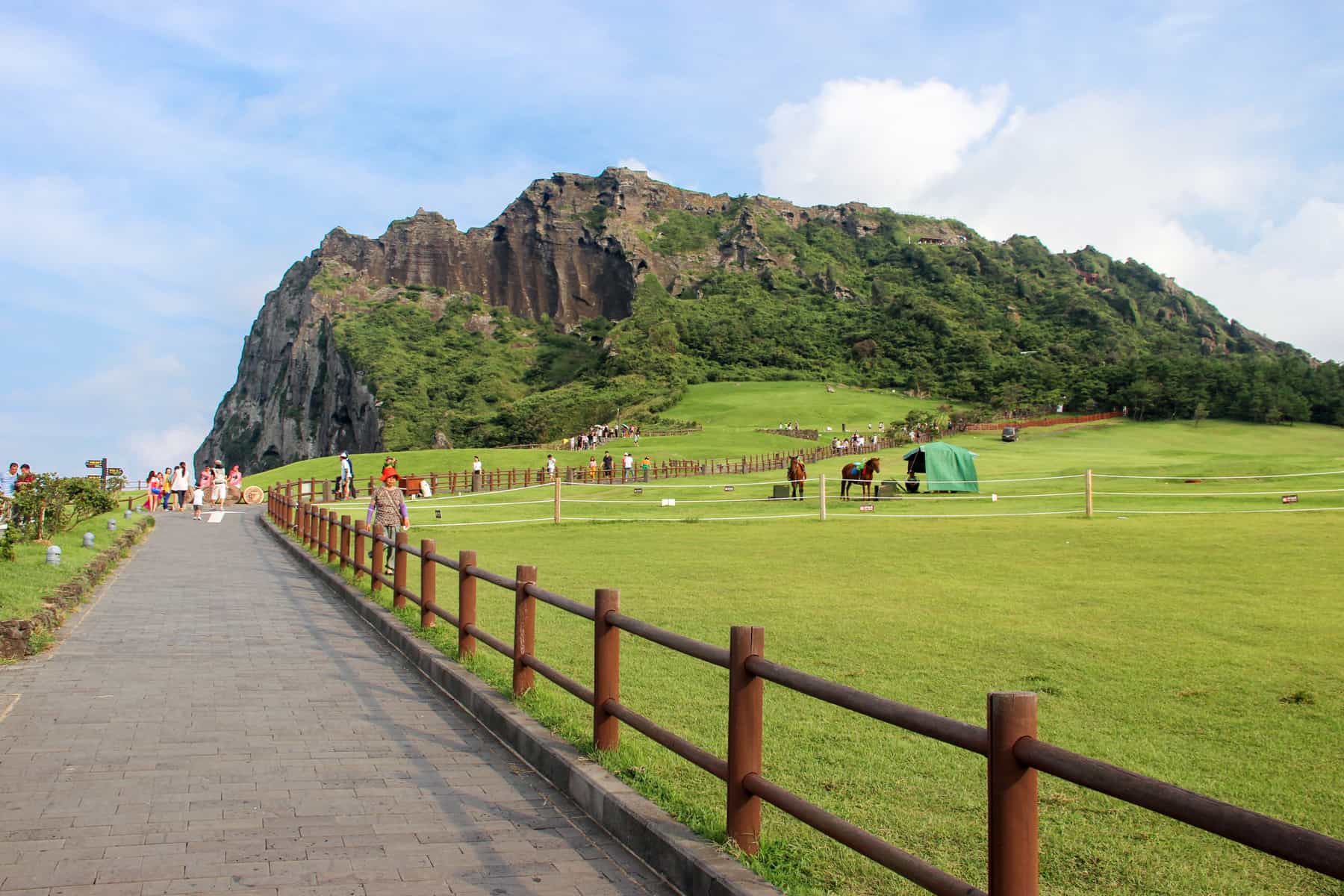 It's a scenic half-day trip, and climbing the peak rewards you with clear views across the island, which, as the name suggests, is most noteworthy at sunrise. It's not too taxing of a hike up Seongsan Ilchulbong Mountain, taking around two hours to climb to the top on the 8.3 km long trail. I visited in the early afternoon as part of a day trip to various sites, and it was still a perfect platform for parkland island views – considered one of the best scenic destinations in Korea.
You can join a small group on a Sunrise Peak Hiking tour. This one combines the hike with a visit to Manjang Cave and the ancient houses in Songeup Folk Village for a full-day trip of highlights across the island.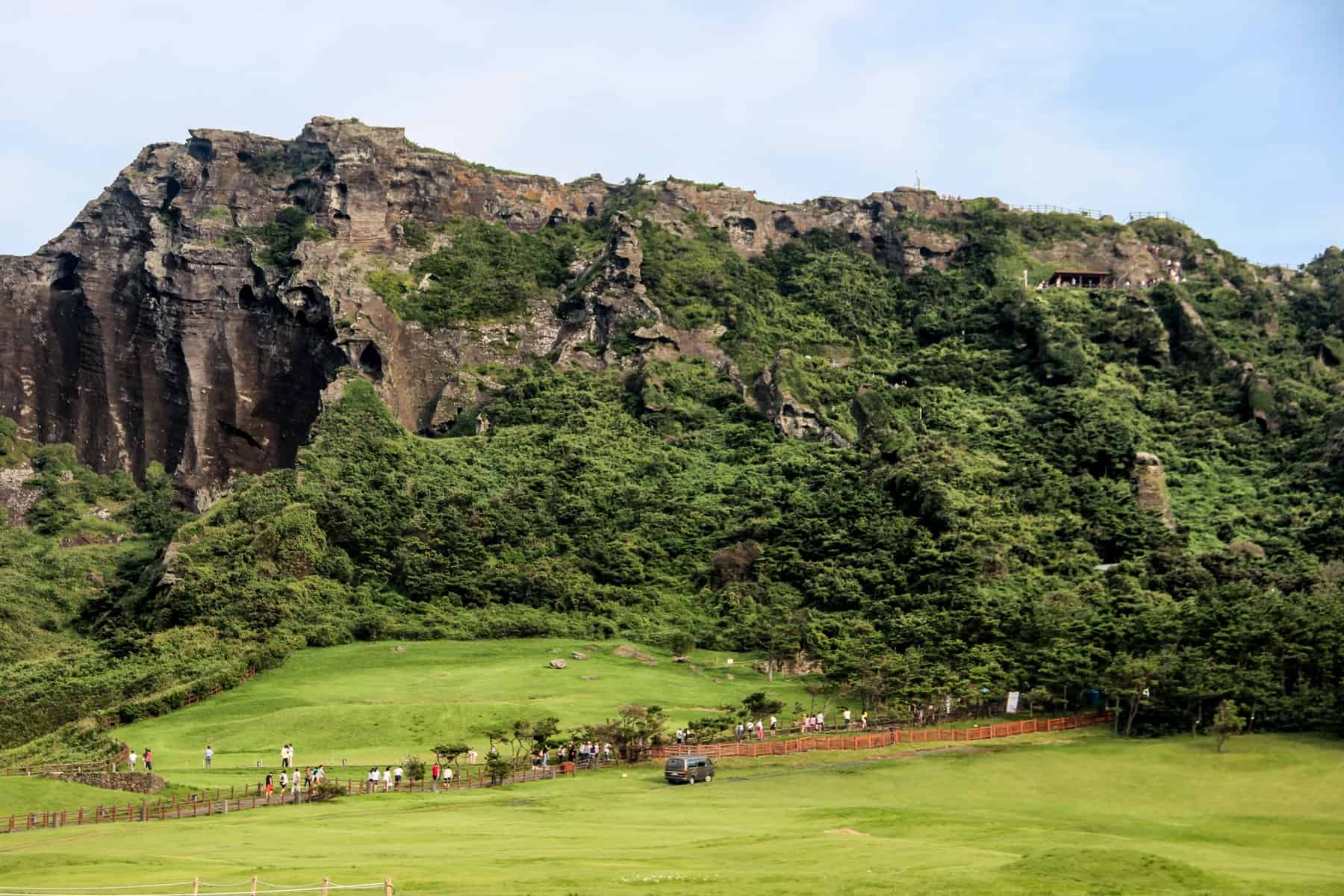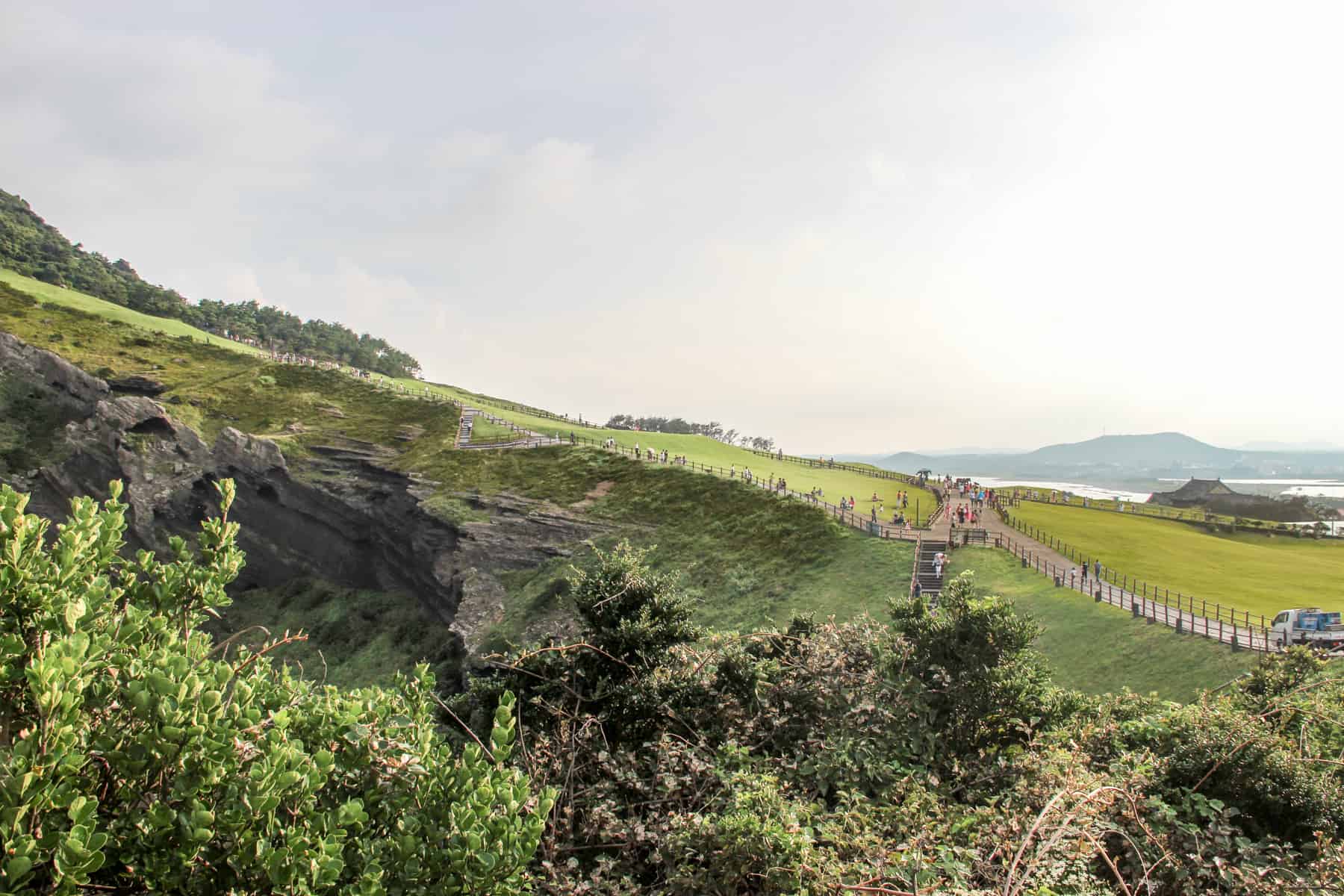 Hallasan National Park – The Dormant Volcano
Volcano mountains are fascinating, shaping how a destination looks today in their past eruptions and the erosion of nature over time. Hallasan Mountain is no exception. The dormant volcano rises from the middle of Jeju Island, and you can't miss it.
So integral to the makeup of Jeju Island, the mountain was designated as a National Park in 1970. It later became a UNESCO Biosphere Reserve in 2002.
For a closer look at this mighty volcanic cone, many take to the hiking trails that lead up it. The nearly 6km, three-hour Yeongsil Trail is the most popular path that takes you on an elevation to the mountain's vast crater lake, Baekrokdam, that blankets the 1,950m summit.
If you want the comradery of a group, consider booking a Mount Hallasan hike on the Eoseungsaengak Trail with a local guide. A full-day trip that includes Cheonjiyeon Falls, and a seafood lunch.
Udo Maritime Park and the Legacy of the Haenyo Female Divers
Since Udo Maritime Park is opposite Seongsan Ilchulbong Peak, combining them on a day trip was easy. As well as clambering another of Jeju's mighty volcanic elevations – the 132m high Udobong Peak – visiting Udo Maritime Park is about seeing the epicentre of Jeju's Island's unique culture of the Haenyo.
The Haenyo ("women of the sea") are the famed female divers who have always fished with nothing more than a wetsuit and goggles and a technique of holding their breath for long periods. Very much in line with the 'free diving' technique we see today.
It was a ritual and a tradition that defined the island economy built upon fishing villages. If you can see the Haenyo in action while on the island today, you'll have a lucky opportunity to understand the spectacle of it better – the tradition is dying out as the daughters of the divers leave for life and work in the big cities.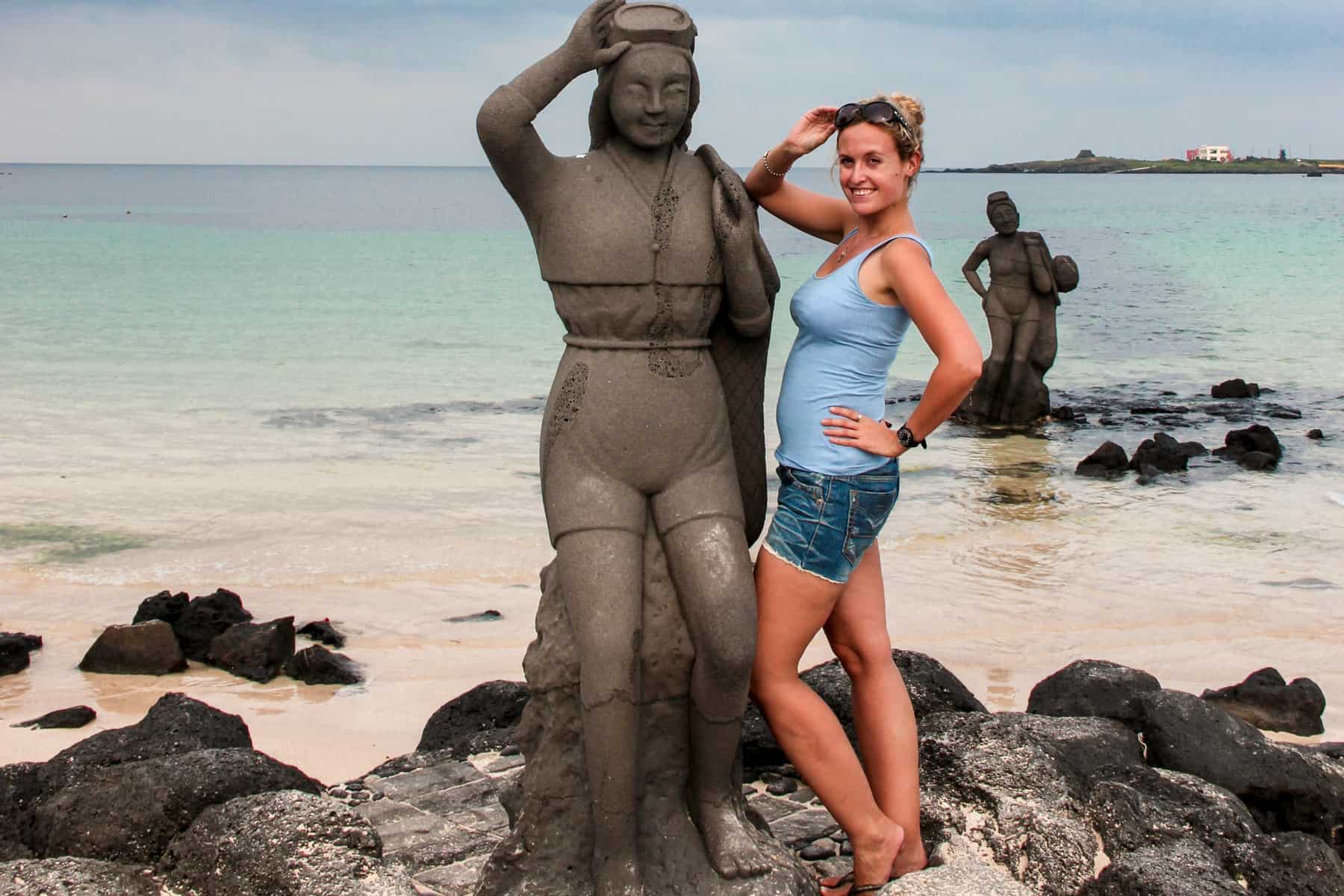 The Haenyo are so ingrained in the island's history that UNESCO included this diving culture in its Intangible Cultural Heritage of Humanity list. You'll see stone statues on the coastline of the Haenyo in remembrance of the culture, now on show in the Jeju Haenyo Museum. Otherwise known as the 'Jeju Mermaids', other statues appear in that formation.
Manjanggul Cave Lava Tube
The highlight of Jeju, and certainly one of my favourite things to do on Jeju Island, is to take the journey into the Geomunoreum Manjanggul Lava Tube 7.4km-long cave system that's 18 metres wide and over 20 metres high.
This natural phenomenon was created thousands of years ago when Hallasan was rumbling and still active, producing the otherworldly, blue-hue, rocky, layered cylindrical network into Jeju's volcanic core. It is considered one of the biggest and best-preserved Lava Tubes in the world.
On a walking tour of this underground cavern, you'll explore a 1km stretch of the main tunnel. While a scratch of the full length, it is enough to marvel at the lava stalactites and stalagmites and learn the science behind the formation of lava tubes, and the other waves, patterns, and flowlines that have shaped the lava. The centrepiece of the cave system is the lava column, which awaits you at the end. At 7.6m high, it is the tallest lava column in the world.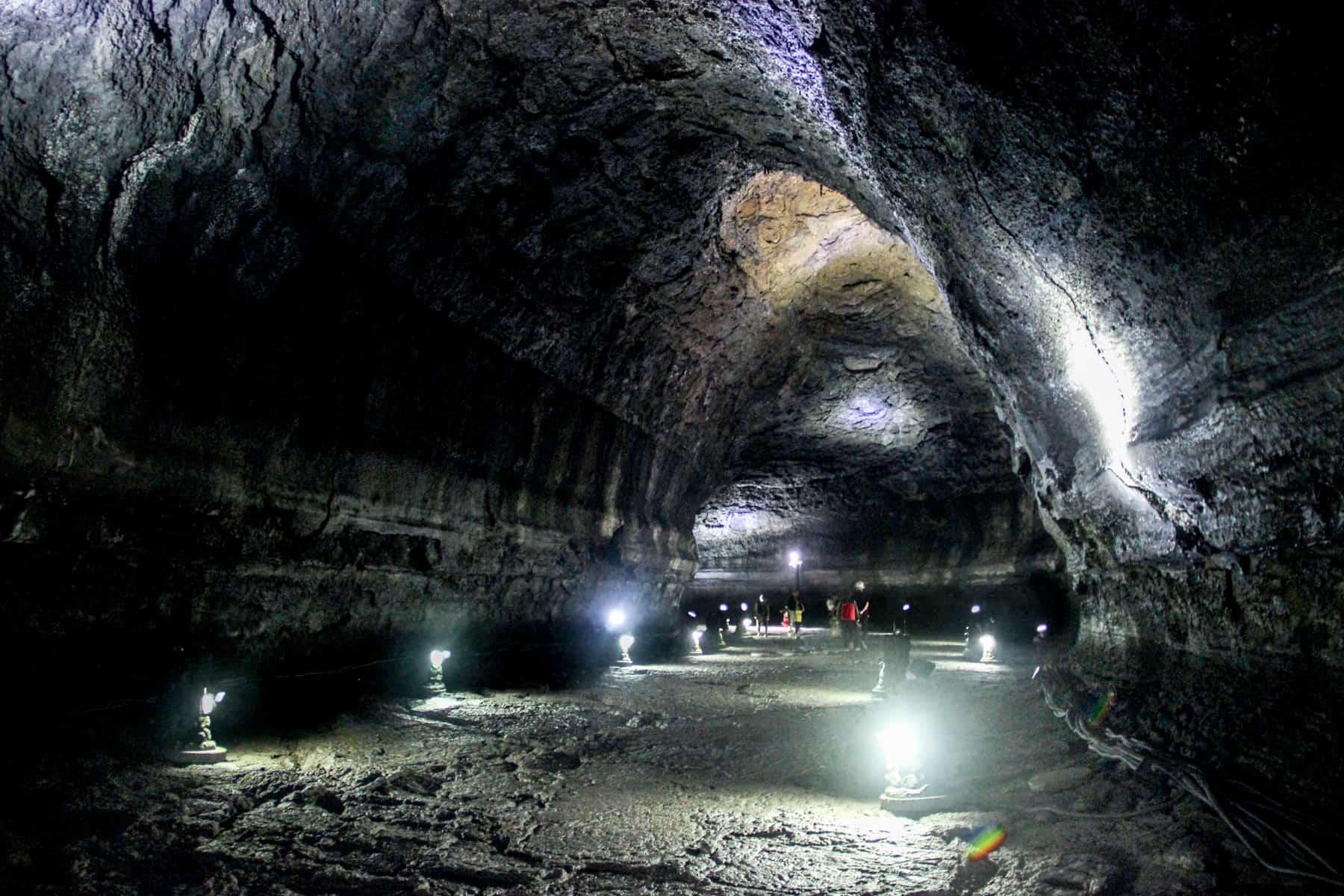 Gotjawal Forests of Volcanic Rock
Another natural Jeju Island attraction, although something for my next visit, are the forests formed from volcanic rock, said to be where people take shade in scorching hot summer days. There are patches of Gotjawal forests all around the island, but the main areas are:
The north of Jeju, beyond Hallasan Mountain, is a recreation area known as Eco Land and home to forest meditation retreats.
The east of Jeju, in the designated Wetland Conservation Area, you can find the forest region of Seunheul-ri Gotjawal.
The south-west of Jeju, where the 1.5 square kilometres Jeju Gotjawal Provincial Park has five walking trails, no more than 2-3 hours long. An observation deck gives an elevated perspective to the volcanic mounds that have formed all across the island.
The Trio of Jeju Island Waterfalls
You can find the island's iconic waterfalls on the Southern seacoast of Jeju. There are three you should visit if you have the time.
Jeongbang Falls stands out because it is the only waterfall on Jeju Island (and in all of Korea) that tumbles directly into the ocean. It's 23 meters scale from the depths of a pine forest and down a black cliff face via two bounding streams, crashing into the sea with a thundering sound and a sensational view.
Sojeongbang Falls are perfectly combined with Jeongbang Falls, just 300 metres east. While it may be a fifth of the size at 5 metres, the sight to behold here is a rocky cove with ten streams. This waterfall site is better known for its sundown beautiful coastal views.
Cheonjiyeon Falls is found when you continue even further east and following the Engai-sen river inland. It's snuggled placement away from the ocean grants it the name meaning "sky connected with the land" and its 22-metre high rock cliff tumble gives a resounding boom, captured by the Natural Monument plants and forest that surround it.
Protected by Dol Hareubang Stone Statues
A quirky thing to look out for across Jeju Island is the Dol Hareubang – rock statues with big eyes and thimble-shaped hates who stand, often in rows, with their hands placed in front, on their stomach. The figures are considered to be gods offering protection; guardians of the island, carved from the volcanic rock from which the island was raised, built and continues to thrive.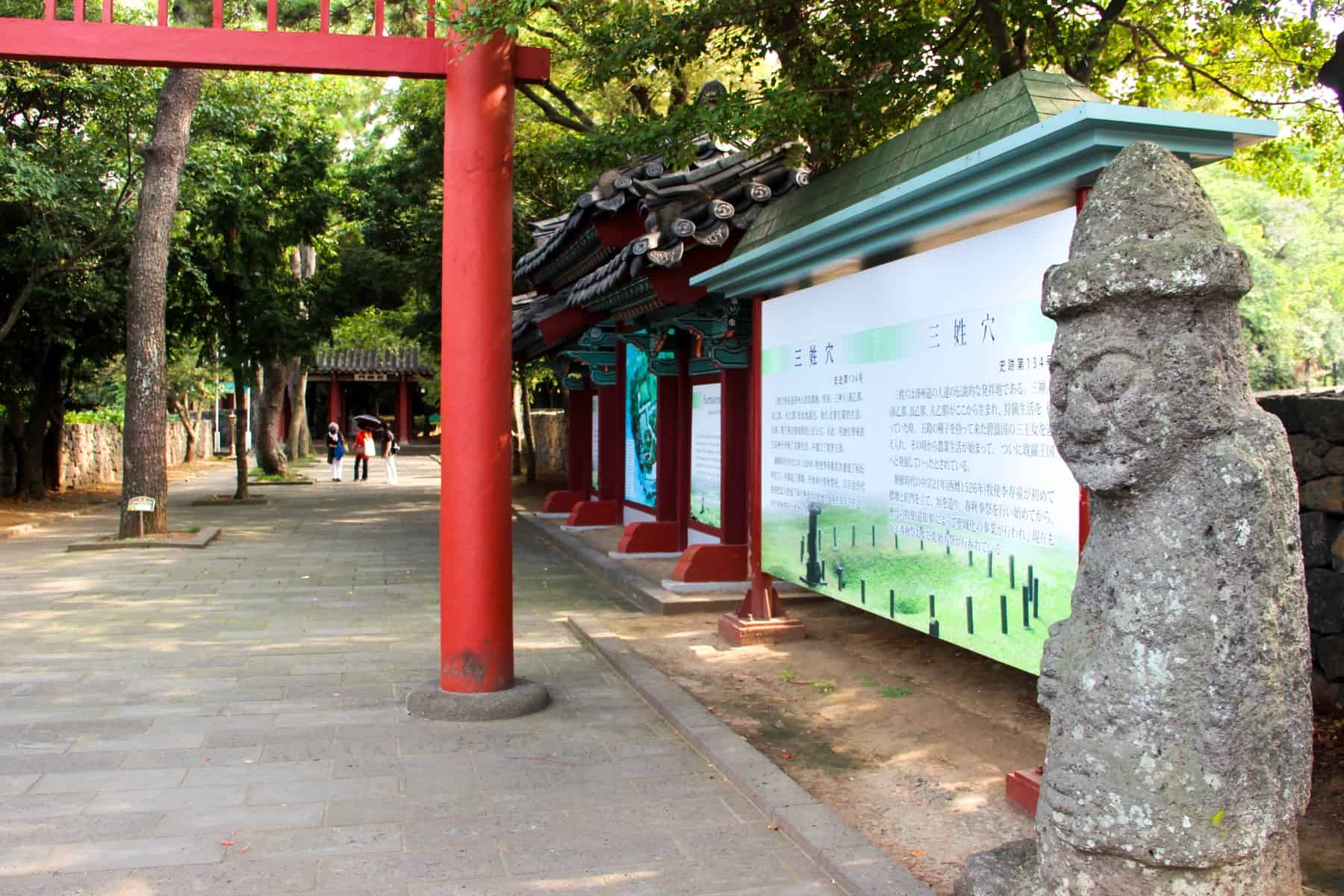 Traditionally warding off evil spirits, they are also found in most tourism hotspot, protecting visitors as well as locals.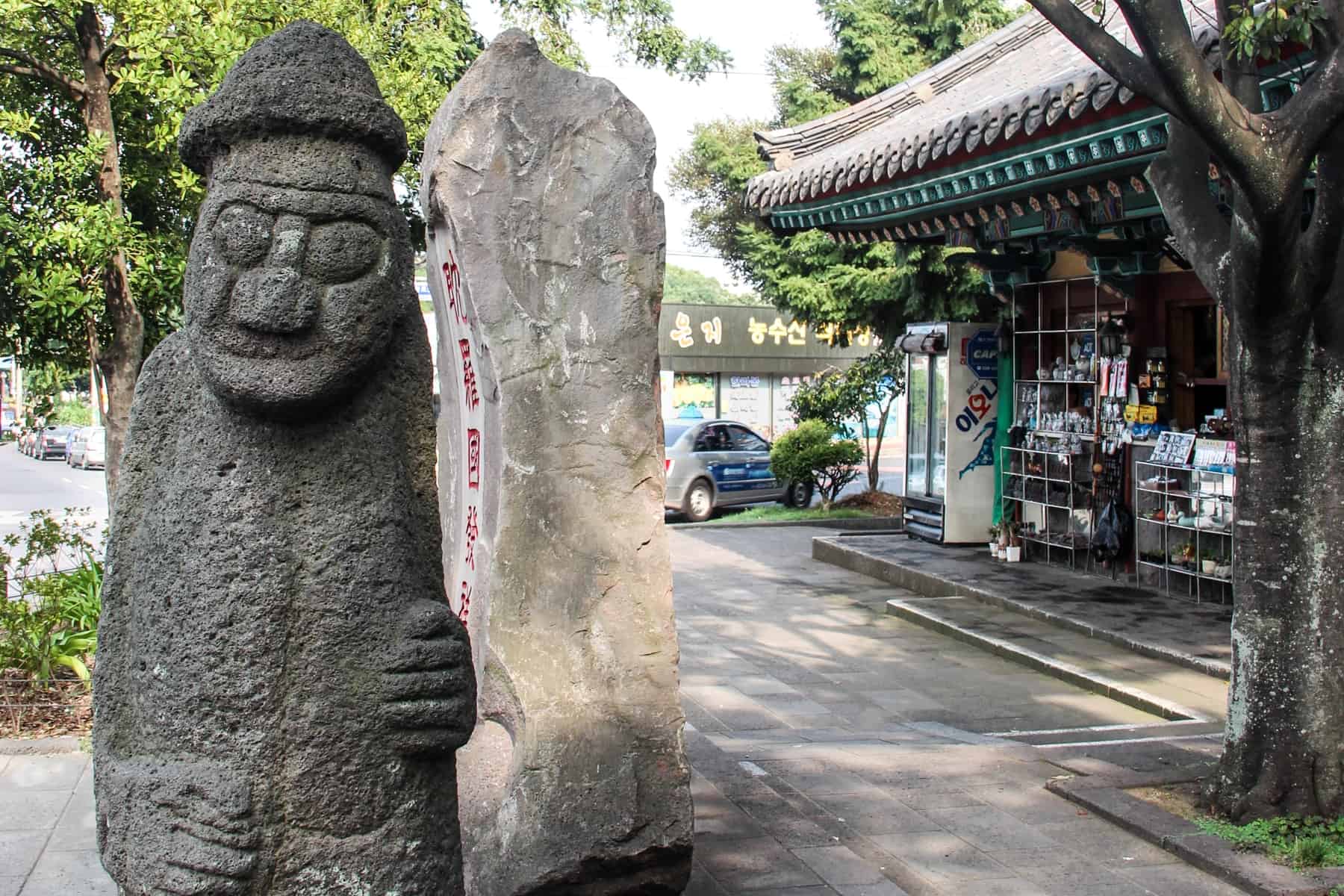 Best Time to Visit – Jeju Island Weather
With a climate that sees cool winters and tropical, humid monsoon summers, the best time to visit Jeju Island is in the Spring season, between March and May. The weather is mild and comfortable and visually, the island is in full bloom. It is, however, the peak season where you may have to grapple with crowds at certain locations.
Summer starts at the end of June and gets more humid through July and August. It also marks the monsoon season, where sites like the caves could be closed.
The next season for optimal Jeju Island weather is Autumn, between September and November. The cooler climate returns and the island foliage once again changes colour.
How to Get to Jeju Island
Taking the Ferry to Jeju Island
I took the ferry to Jeju Island since it was the most budget option available to me at the time. I don't have an aversion to ferry rides, but it was a very bumpy ride and frequently rough. If you are prone to seasickness, this is not your best option.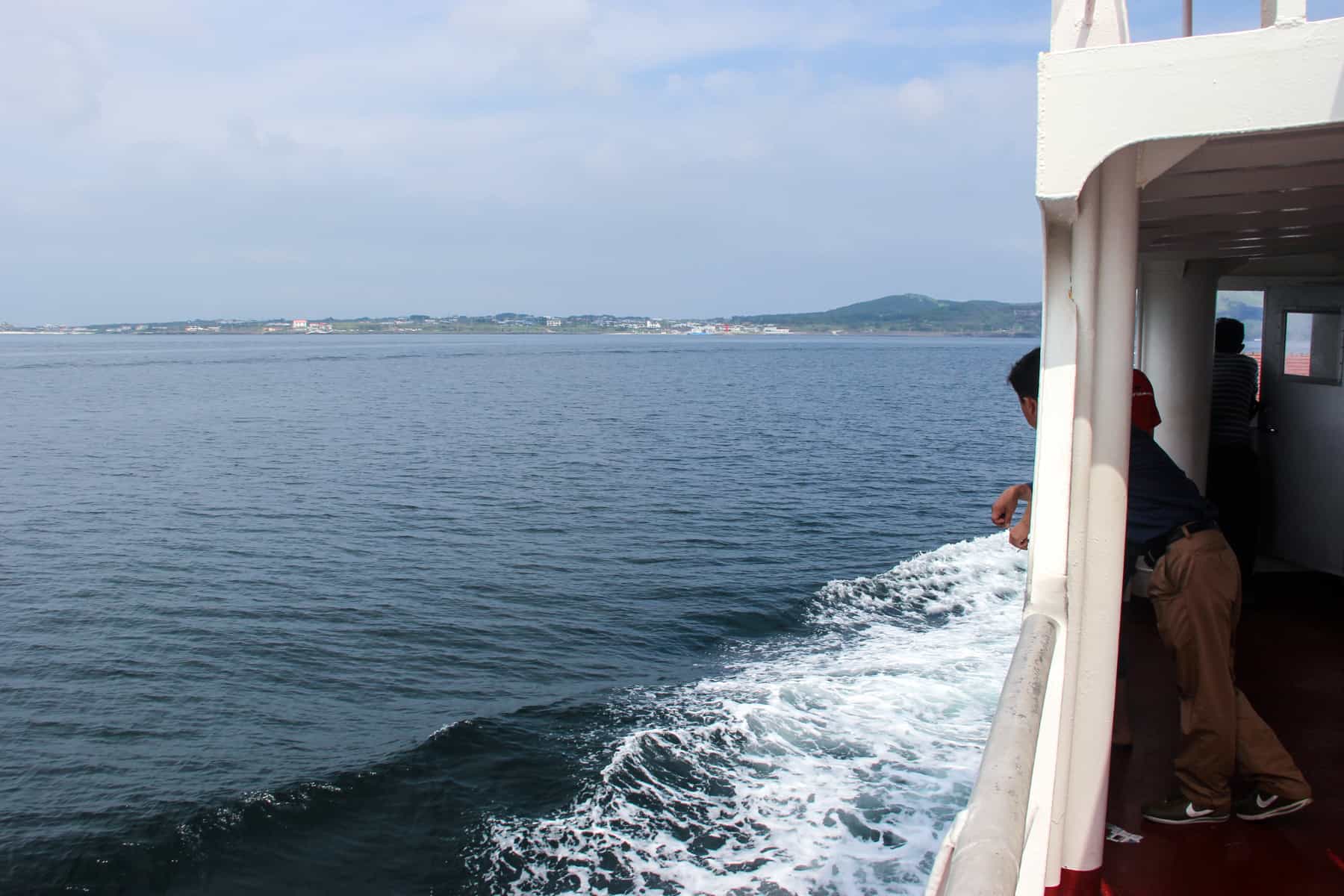 Depending on what port you embark from, the time from the South Korean mainland to Jeju Island can take up to four hours. There are various ports from the southern fringes of mainland Korea with ferries to Jeju Island, each operating via different cruise lines.
Mokpo Port (via Seaworld Express Ferry)
Usuyeong Port (via Seaworld Express Ferry)
Wando Port (via Hanil Express)
Yeosu Port (via Hanil Express)
Busan Port (via MS Ferry)
Nokdong Port (via Namhae Gosok Ferry)
Check and book the mainland port to Jeju do ferry tickets here.
Starting Your Journey in Seoul?
I was already on the south coast of Korea, in Yeosu, before travelling to Jeju, but if you are coming straight from the capital, there is now a KTX bullet train from Seoul to Mokpo that takes around two hours and 30 minutes, where you can then catch the ferry. The next fastest train is to Busan, which takes closer to 3 hours.
There is no direct train to Usuyeong. The train from Seoul to Yeosu takes around 3.5 hours, Nokdong closer to 4, and Wando, 5 hours.
Research and book Seoul to Ferry Port train tickets here.
READ MORE: Travel to South Korea Guide
Flying to Jeju
Jeju Island has an airport, and it's a one-hour flight from Seoul to Jeju International Airport. Flights via Jeju Air and Korean Air are around $40.
Compare and book Seoul to Jeju-do flight tickets here.
Book a private transfer between Jeju Airport and your accommodation.
How Do You Get Around Jeju Island?
Tourist Shuttle Bus
Jeju Island is well connected with local buses. Buses 820-1 (clockwise loop) and 820-2 (counter-clockwise loop) act as a kind of tourist shuttle bus since they pass all major attractions and highlights. You can buy a one-day pass – a cost-effective and budget means of getting around.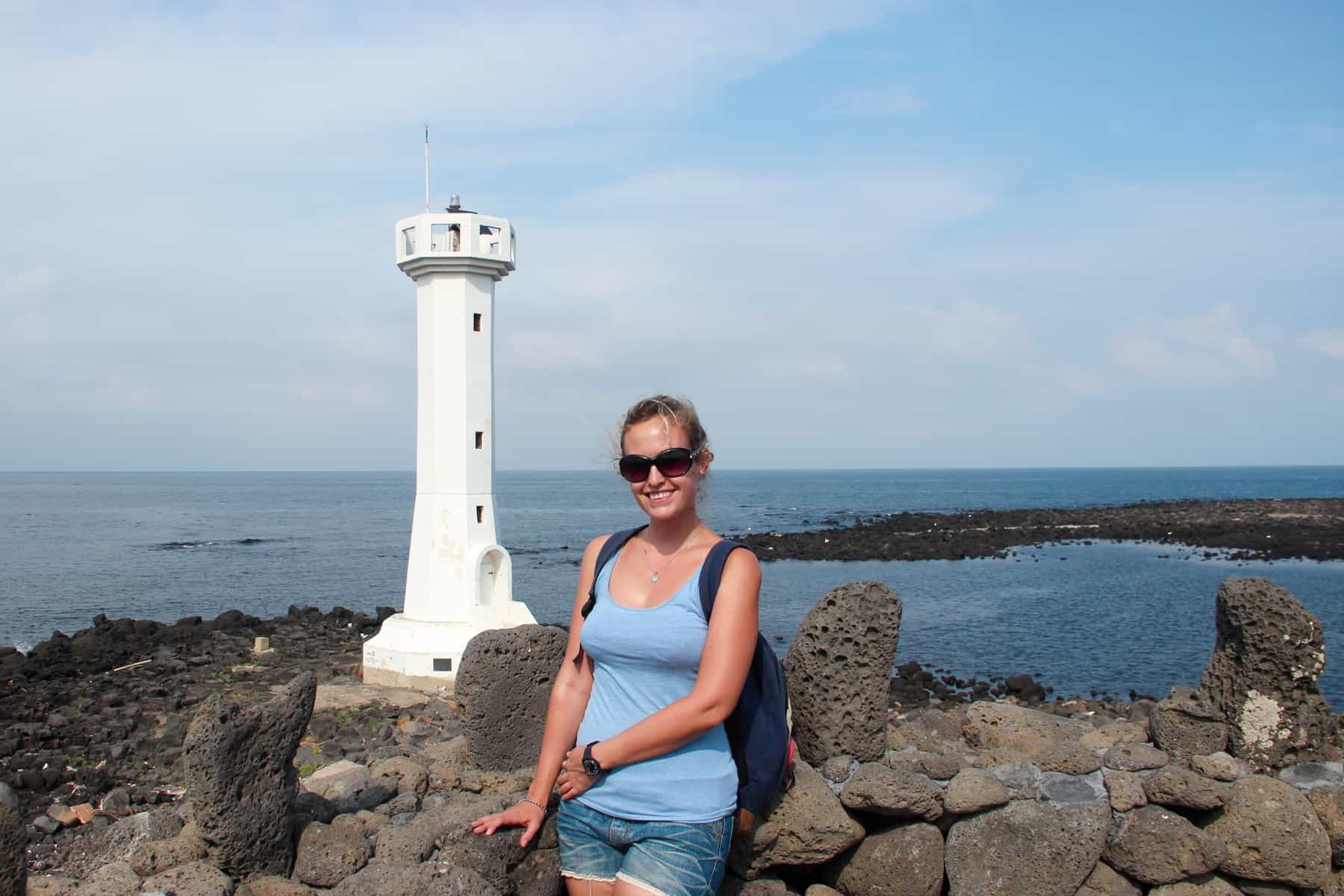 Hire a Driver or Book Day Trips
You can hire drivers or book day trips with included transport, where you might find a good package deal for a full or half-day.
Where to Stay on Jeju Island
Most of the hotels and value offerings can be found in the north, in and around Jeju City, and the surrounding sandy beach coastlines.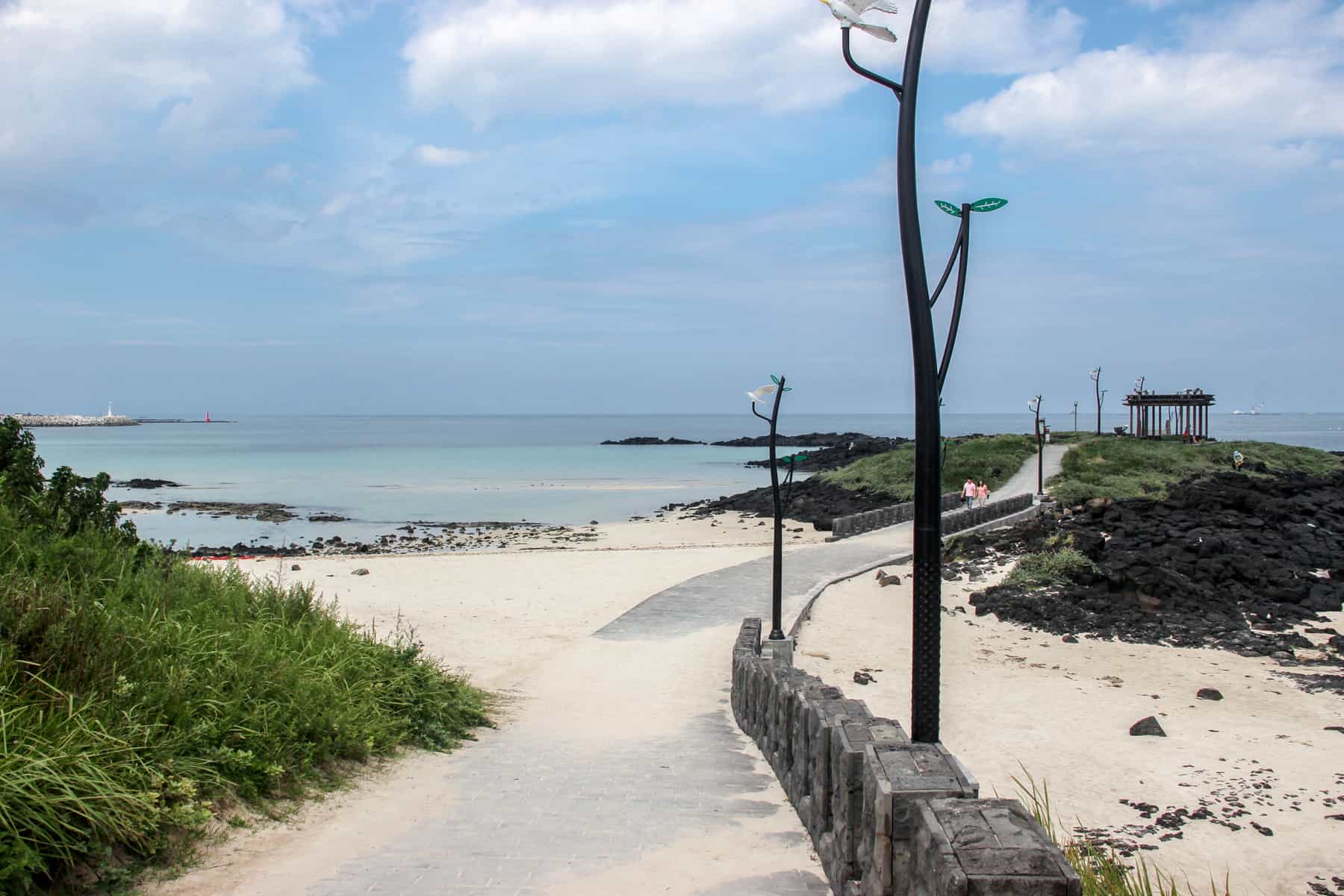 Jeju Marevo Beach Hotel is situated along the northern coastline, east of Jeju City. Mid-range option with ocean, sunset, and ocean views.
Prices are from €80 per night.
Utop Ubless Hotel on the north coast's Hamdeok Beach is located west of Jeju City. The hotel has western and Korean-style rooms and is close to the Gotjawal forest Eco Land Theme Park.
Prices are from €70 per night.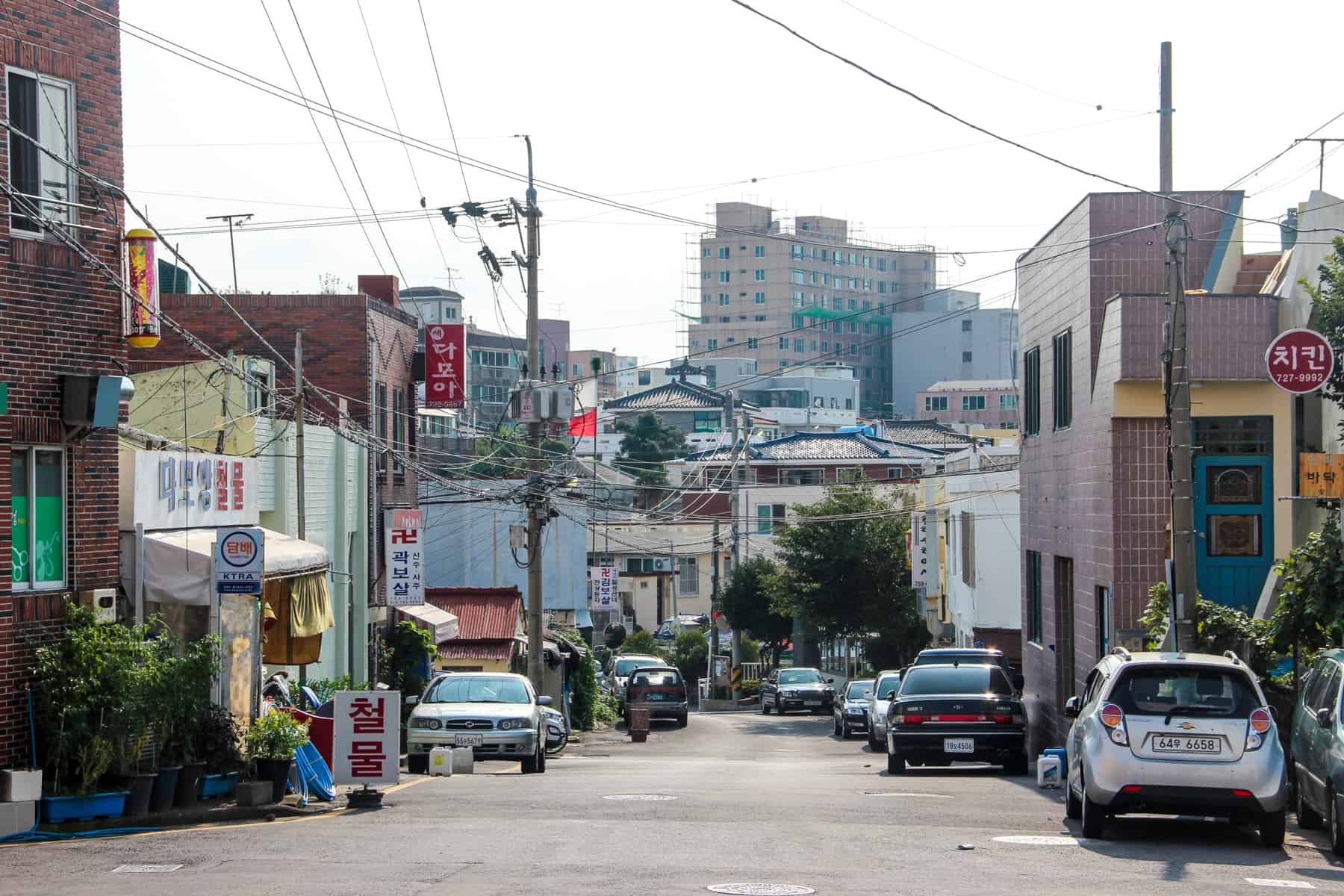 Hotel Sirius is a newly opened (2018) four-star hotel at a mid-range price. Right in the heart of the Juju city cluster, it's undoubtedly one for AV geeks, as there's even a view of Jeju airport's runway.
Prices start from €60 per night.
Mir Guesthouse is a modern hostel with dormitory and private room options. Minimalist décor and smart, no-thrills styling keep the costs low while retaining comfort. A communal kitchen, roof terrace, and library area ensure a sociable atmosphere.
Prices range from €17 per night for a dorm to €40 per night for a private.
While I visited South Korea independently some years ago, this post is in collaboration with the Korean Tourism Organization to highlight the best of Korea for when we can visit again in 2021. Opinions and highlights of Jeju Island remain my own, gathered from my time exploring the Island.