Ancient structures sit amongst a labyrinth of narrow waterways, surrounding them in a protective hug. Stunning bridges connect neighbourhoods and open squares across 118 tiny islands that make up this unique UNESCO World Heritage City. There are a host of things to do in Venice, the capital of the Northeastern Veneto region of Italy, and travelling here is like stepping back in time to an untouched canvas of some of the most stunning architectural and artistic spaces in Europe.
Whether you are here for a long weekend or an entire week, Venice has plenty to keep you occupied. I spent five days in the city, which I found was just enough time to see the main sights, leisurely traverse the city's winding narrow alleyways and tiny doorways and a day trip to the neighbouring islands of the colourful Burano, the glass-making Murano and Lido, home to the Venice Film Festival.
Here's my pick of the top five must-see and local sights, to get you started on your Venice visit.
1. Visit Piazza San Marco for a Day of Exploration
While the Piazza San Marco (St. Mark's Square) is nothing more than a vast open space, it is a buzzing arena that holds some of Venice's greatest architectural structures. From the magnificent mosaic filled church of Basilica di San Marco, the connecting gothic style Doges Palace, the famous limestone Bridge of Sighs (the view from the bridge being the last convicts saw before their imprisonment), and the art collections housed in Museo Correr, Piazza San Marco is the starting point for a day of exploration around some of Venice's top cultural and historical sights.
2. Explore the Opposite Side of Venice Island
One of the best activities I undertook in Venice was to walk in the complete opposite direction to where the main tourist sight hub is based. Within 30 minutes we stumbled across raw, 'local' Venice at its best; where hardly any tourists were roaming; where small shops and grocers lined the quiet narrow waterways; and where the alleyways were older, less touched and eerily inviting. Nothing but the hum of commotion inside peoples' houses and the light trickling of water filled the air. It was like we had just discovered the island and had it all to ourselves.
3. Photograph the Rialto Bridge, Many Times
The infamous and striking Rialto Bridge. It's going to take you about half an hour to get your golden shot on there – It's either a queue system or an elbow war. You might be hard-pressed to get a picture of the Rialto Bridge minus the crowds, but that's because Venice's oldest bridge, out of the main four that line the Grand Canal, really is a must-see.
Picture it from afar as you stand alongside the water, capture it skyward as you pass underneath it on a boat taxi, wander over it while being distracted by all the shopping options, or hide amongst the crowd and capture an alternative shot, just like I did.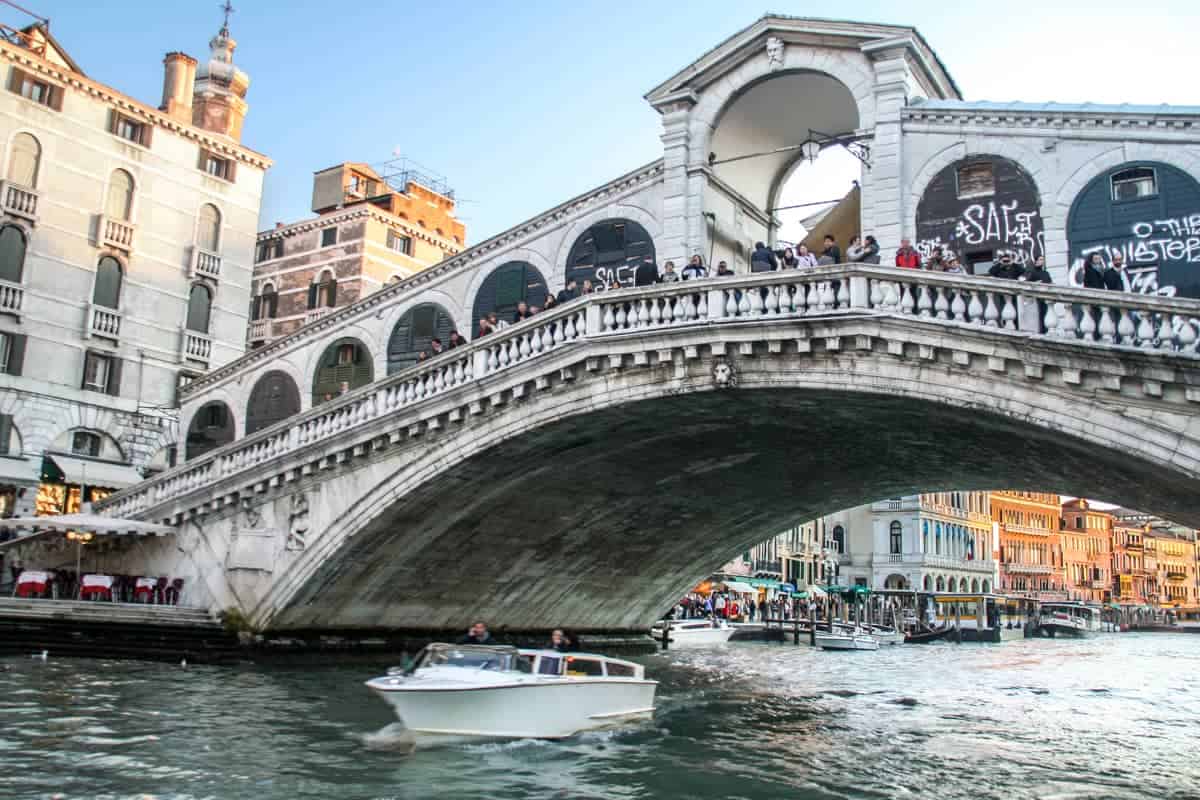 4. Ride on a Gondola, Unromantically
I agonised over the decision to ride a Gondola for days because I wasn't in Venice with a partner, yet it had been a dream for years to experience it. With over 400 in operation today, it really is a rite of tourist passage and something that is at the core of Venetian life.
A 30-minute ride can cost from 80-100 Euros, with the more lavishly designed gondolas and singing gondoliers commanding more, but luckily I managed to gather together four friends to share the experience (and cost) with me.
READ MORE: How much is a Gondola Ride in Venice? Why Paying Less Doesn't Always Pay Off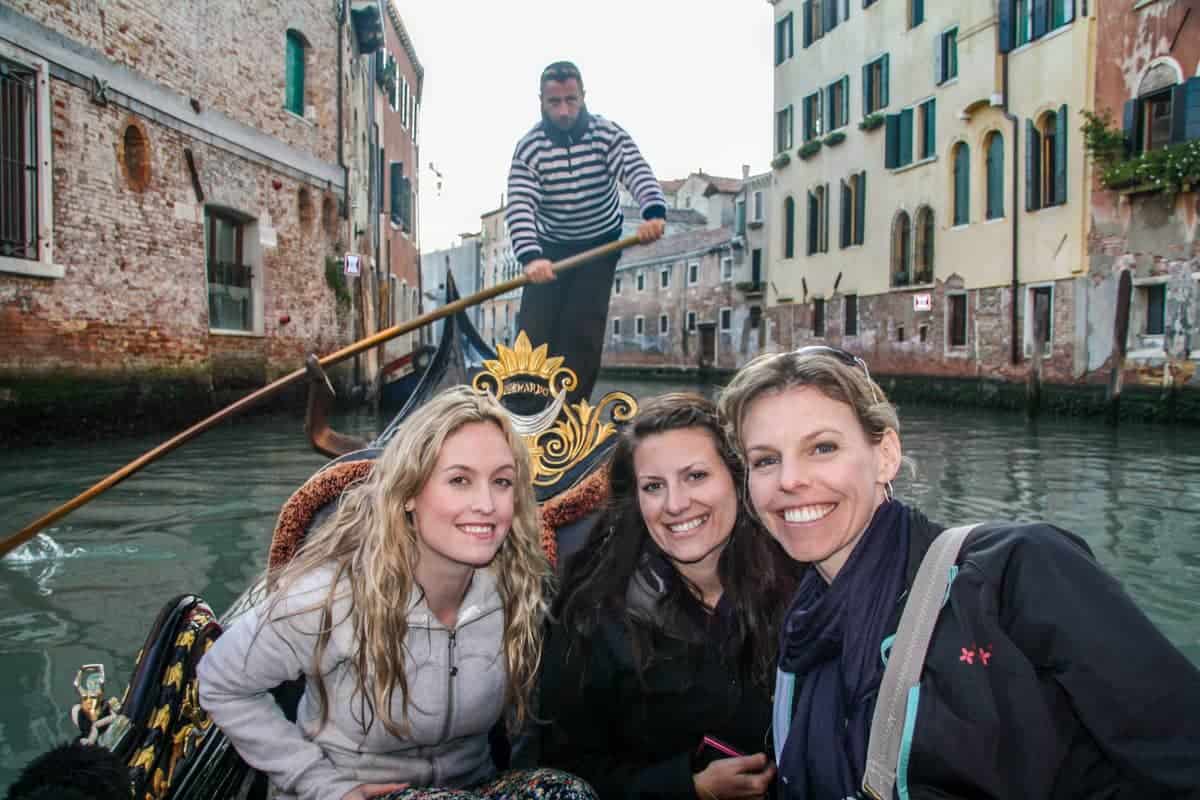 5. Find the Local Wine Stores
Remember you are in Italy and Venice, with all its grand architectural and scenic charms, is of no exception to the great Italian food and drink scene. As well as gorging on incredible pasta dishes and visiting small gelato stores in the late evening, I absolutely loved the local vino stores in Venice – the kind that comes in an unmarked 1.5 litre plastic water bottle from an old man in a store stocked with nothing more than a few old wine barrels, down a random narrow street. A wine store like no other, with delicious vino from three Euros upwards.
Where to Stay in Venice
Although Venice can be pricey with its vast array of luxurious hotels there are more cost-effective options including hostels, B&B's and hotels nested within historical squares, or which were once former old mansions and palaces. If you want a more local experience, think about renting a self-catered apartment in the city or a boutique hotel and experience life just like the Venetians – away from the tourist bustle and hopefully with neighbours who will invite you to dinner!