Disclaimer: This post contains affiliate links to handpicked partners, including tours, gear and booking sites. If you click through or buy something via one of them, I may receive a small commission. This is at no extra cost to you and allows this site to keep running.
Many travel to Iran to experience the delights of the ancient Persian Empire yet are unaware of the limitations faced by the rules and regulations of what is now the strict Islamic Republic.
As travel warnings persist and diplomatic relations with other countries continue with varying degrees of existence, many are confused about how to go about entering Iran and travelling in Iran safely, efficiently, and within the boundaries set by the current regime.
As of September 2022: Due to the volatile situation, with anti-government protests throughout Iran as women fight for their rights, it is not wise to travel there at this time.
However, an Iran trip doesn't have to be difficult at all – tourism is growing as relations develop; hatred of the western world is not as rife as the media likes you to think, and travel in the country is safe. Ancient Persia is within easy grasp, most notably in the central region where key sites have been maintained and the infrastructure linking them is growing, and tourists are not subjected to as heavily enforced rules as the locals.
With enough pre-planning and prior research, you can easily avoid the limitations and stresses of travelling in what is perceived as a closed and tricky country to traverse.
Use this checklist and list of tips for when you visit Iran as a comprehensive guide to help get you started. This Iran travel guide shows you how and is constantly revised with the help of an authorised tour guide on the ground in Tehran, alongside access to regular Iran tourism updates via tourism business partners.
NOTE: Iran Re-Opens its Borders to Tourists
After almost 20 months of the suspension of the Iranian tourist visa, the aerial and land borders opened to tourists by the direct order of the current President. Hence, the visa application has been resumed, and the applications will be processed. According to the new policy for travellers, it is required to present:
A negative PCR test result, no older than 72 hours before arrival.
A completed COVID vaccination document.
As of November 2021, 88 million COVID-19 vaccines have been administered in Iran. Of the people vaccinated, around 80% have received their first dose, and almost 60% their second one. Almost all corona restrictions have been lifted, such as movement among the provinces, limited boarding capacity on trains and airplanes, etc. Tourist attractions are currently open, and national and international tourism has resumed.
However, wearing masks in certain indoor spaces, such as museums, stores, banks, etc is still mandatory.
Check Before you Visit Iran
Inbound bookings for Iran usually change when something has severed particular diplomatic ties, which then reverberates to tourism apprehension and a halt to tourism altogether. Always check the news and the political landscape before travelling to Iran to see if you (and your nationality/country) are affected by visas and entry to Iran. It's always a matter of time and patiently waiting to see how the political landscape plays out following these events. Here are some of the more recent ones.
Prior to this, on 3rd January 2020, it was announced that the Iranian Major-General Qasem Soleimani was killed in a US airstrike, with Iran calling for 'severe revenge'. While the outcome is not yet known, this does ignite fears of a conflict in the Middle East, and it pays to be more aware of travel warnings at this time. American citizens, in particular, may face more restrictions.
Following the Ukrainian Airlines plane crash near Tehran, several flights routes to Iran have been cancelled following the news that the Ukrainian jet was 'unintentionally' shot down. If you have any Iran travel planned, check your airline to see if the service is still running.
The arrest of the UK Ambassador to Iran in Tehran as part of government protests have further sparked an international row between the two countries. UK travellers should be on alert for developments.
Persia and Iran – Are they the same?
Both Iran and Persia are used interchangeably about the country and also while you are on the ground. Reference to Persia is more so in the context of the history and legacy of the ancient kingdom of the Persian Empire; Iran is about the modern-day Islamic Republic of Iran in the Middle East.
READ MORE: About my experience travelling in modern Iran and ancient Persia and what to expect when you are on the ground.
Can Everyone Travel to Iran? Iran Visas and Authorisation Codes
Getting a visa for Iran is quite possibly the most stressful and challenging part of your entire trip. You first need to know if you are eligible and what limitations you may face.
For countries like the UK, which have strained and little to no diplomatic relations with Iran, you may find that you cannot even get an Iran visa in your country because there is no Iranian embassy. British travel to Iran means a little more legwork, where you may also have to travel elsewhere, like Dublin or Paris for example, to obtain the visa since there is no Iran embassy in the UK.
How to Get an Iran Visa on Arrival – 180 Countries
Most airlines flying to Iran will not allow you on a flight unless you show you have an Iran visa, but you can get a visa on arrival. However, sanctions have been lifted, most notably in 2016, with up to 900 Iran visas daily on average granted on arrival, according to the Office of Foreign Affairs. Tourism numbers annually have increased year on year, with 5.2 million foreign visitors entering Iran in 2015, in comparison to 4.7 million in 2013.
On the 14th February 2016, the Ministry of Iran announced that airports could issue 30-day visas for Iran, for nationals of 180 countries.
Non-eligible nationalities for Iran Visa On Arrival:
Afghanistan, Bangladesh, Canada, Colombia, India, Iraq, Jordan, Pakistan, Somalia, USA, UK
A 30-day Tourist Visa Upon Arrival, for those of eligible nationality, can be obtained at the following Iran airports:
IKA: Tehran Imam Khomeini Airport
THR: Tehran Mehrabad Airport
MHD: Mashad Airport
SYZ: Shiraz Airport
TBZ: Tabriz Airport
ISF: Isfahan Airport
Follow the signs that say 'Visa on Arrival' where you will be asked questions about your trip to Iran and asked to present:
Details about your confirmed first night's accommodation in Iran, including the address and phone number (you may also be asked about your travel plans on-going).
Proof of a confirmed return flight ticket.
A copy of your travel insurance policy document and policy number.
Those people I met who were granted an Iran tourist

visa on arrival as part of the tour

were given a special letter from the company that they could present to both the airline and passport control on arrival.
You can be waiting up to 30 minutes before your visa is granted and you can proceed to immigration. You will need:
A passport with at least six months validity
Two passport photos, in which women should be wearing a headscarf
The completed visa form. You can also fill out the form online before arrival in Iran, from which you will receive a visa application reference number, print it off and take it with you.
Cost of Visas for Iran and Cost for Visa on Arrival in Iran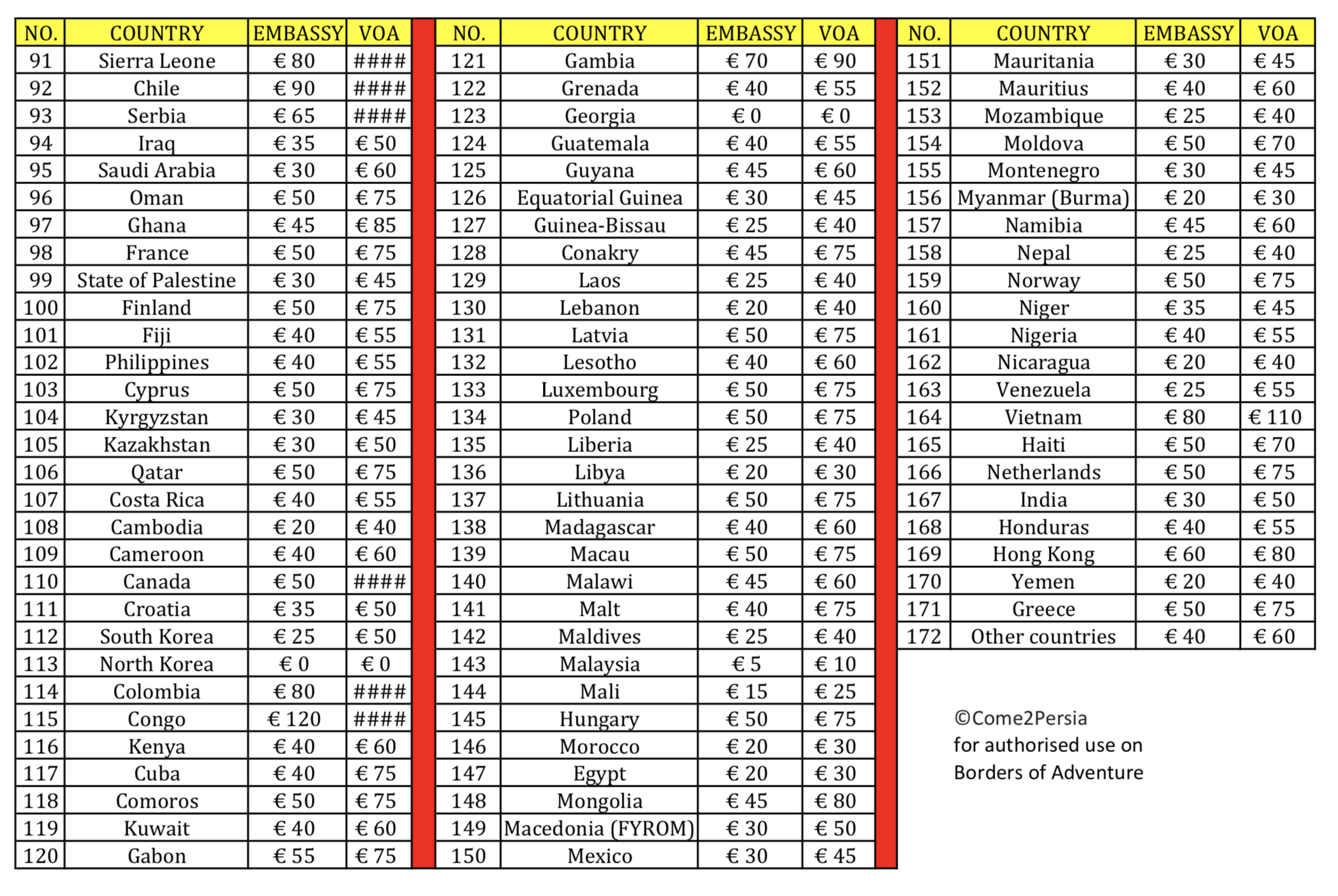 You Must Have Travel Insurance for an Iran Visa Application
Iran Travel insurance is a requirement to obtain your visa for Iran. Without proof of purchase and printed documentation, you cannot pick up your visa from the embassy or secure your visa on arrival at the airport.
Aside from it being a stupid idea not to have travel insurance coverage, check that your current policy (or the one you are thinking of getting) covers Iran. Some do not provide travel insurance for Iran or only cover limited regions of the country and activities.
Getting Your Iran Authorisation Code – Non-Eligible Nationalities
For those not eligible for a visa on arrival, and those wanting to apply for a visa for peace of mind before they arrive, you have to apply for an Authorisation Code. EVERYONE has to have one of these, which will determine if you are granted an application for a visa.
For those who HAVE to travel in a group (see below), this code will generally be processed by your tour company.
For everyone else, you can use 1stQuest which offers essential travel services for Iran travel. Otherwise, source an Iranian travel agency local to you at the time of planning or seek direction from the embassy you wish to get a visa from about where to apply for it.
When applying for the authorisation code, you will need to specify which embassy you will be processing your visa at – a pain for those travelling around with no solid plans. Once the code is released, you cannot change the embassy choice. It's wise to choose an embassy in a city you are likely to fly to Iran from (see also timings below).
Iran Tourist Visa and Authorisation Code Costs
Authorisation codes (if not booking with tour) come with an administration cost of around 35 Euro, which is dependent on the agency you are working with. There is no set price for an Iran Tourist Visa since it is determined by nationality and where you process your visa.
I paid €180 for mine in Tbilisi, Georgia and a British guy on my tour paid a little more to process his in Paris. The Australians in my tour group paid differing amounts between €50-€100, as did the Germans. There's no hard and fast rule – it's more about luck.
Iran Visa Timings with Authorisation Code
If all that wasn't enough, it is highly likely that
1. Your authorisation code will take WEEKS to process
2. It will most likely arrive with only a matter of DAYS to spare before your planned arrival in Iran or tour start date.
This means that before any trip to Iran, especially when travelling on a tour, you will be rushing to the embassy in the hope of getting your authorisation code for Iran processed quickly. You may have to pay extra for fast-tracking and organise your flight ticket to Iran very last minute. This doesn't always guarantee the best price and the idea of getting a cheap ticket to Iran has to be pushed aside.
DON'T book your flights to Iran or any travel arrangements until you know your Iran visa will be processed. Many people travel to Turkey beforehand to process their visas and fly to Iran from there, using the country as a cost-effective flight or train route for entry.
Refusal of Entry to Iran
Proof of Travel to Israel
The main reason for Iranian visa refusal is when there is proof you have travelled to Israel and the government's paranoia based on your career (think journalists, media workers and similar).
Current Diplomatic Relations
Iran tourism issues are not linear, and while anything can happen at any time that would affect a particular nationality entry, the majority of the problems are political-based and beyond our control. Diplomatic relations and any political actions for/against Iran based on historical or current affairs at the time of applying may affect your refusal of entry into the country, or an Iran travel ban put in place.
On 4th January 2020, it was announced that the Iranian Major-General Qasem Soleimani was killed in a US airstrike, with Iran calling for 'severe revenge'. While the outcome is not yet known, this does ignite fears of a conflict in the Middle East, and it pays to be more aware of travel warnings at this time.
On 6th October 2019, it was reported that the two Australians imprisoned in Iran for flying a drone were freed in a political swap. It is suggested that strained relations between the UK and Iran after Britain seized an Iranian oil tanker in Gibraltar are inciting such political moves to detain people breaking the rules.
On 29th August 2018, France informed diplomats to postpone all but non-essential travel to Iran after a foiled bomb plot near Paris. The following day, Iran dismissed such restrictions, proving that it is best to stay aware of any sudden changes.
Solo Travel in Iran vs Tours in Iran
Nationality Restrictions – Americans Traveling to Iran
One of the biggest questions I hear is: Can US citizens / Americans travel to Iran? They absolutely can, but because of the long-standing history of coups, espionage, nuclear sanctions and everything else in between (outside of the control of the average American citizen unconnected to the historical actions of their government), all US passport holders are only allowed into Iran if part of Iran tour packages (or with a tour guide).
Despite restrictions, it is safe for Americans to travel to Iran, so don't be put off by the bureaucracy needed to get there. US travel tips to Iran focus on this red tape. For example, it still stands that Americans must also be escorted from the airport to the hotel, and cannot make their arrangements. This all has to be pre-organised pick-up (a simple addition via the tour company) so do check this before you leave.
READ MORE: Inside The 'Den of Espionage' – Former US Embassy in Tehran.
Nationality Restrictions – British and Canadians Travelling to Iran
As of February 2014, British and Canadian citizens going to Iran became subjected to the same 'tour only' sanction (official Iran tour operator or private Iran guide). As a result, your visa is usually only granted for the exact number of days of your tour, with a couple of days on either side if you list this as part of the arrival and departure options.
British passports holders should also pay attention to Foreign Office updates following strained relations between the two countries after the oil tanker seizure, as listed above in 'Current Diplomatic Relations'.
Nationality Restrictions – Israelis Travelling to Iran
Unfortunately, Israeli citizens cannot enter Iran at all, and this is unlikely to change anytime soon.
Booking the Best Iran Tour
While those booking up Iran holidays might choose a tour package for the fact that everything is taken care of on the ground and for ease of travel, I had no choice since I had a British passport.
There's an overwhelming amount of Iran tour packages, and it can often be hard to know where to start. At the time, I travelled with G Adventures on a Discover Persia tour which operated through the revered Iranian agency AITO. I allowed myself free time to visit Tehran on either side of my trip, so I had a taste of both worlds, albeit on a small scale. Currently this trip is not running.
The upside to a tour, however nomadic and sporadic you usually are, is that these trips pack a real punch in getting you to many sites in 14 days. On the G Adventures Iran tour, I saw places I would not have been able to access easily on my own or with public transport. Plus, my local guide to Iran was the bundle of knowledge that a history and sociology geek like me needed for an ancient civilisation such as Persia. The downside of such holidays in Iran is a lack of free time and lazy resting for an itinerary that would normally, on my terms, take about three weeks, not two.
Being in a tour group when visiting Iran does not mean being chaperoned and watched 24-7. ven while on a small group tour, we were allowed time to ourselves in each destination.
Private Guided Tours of Iran
Generally, under the condition that you must have two people minimum, hiring a private tour guide in Iran is also an option. This is a viable option for those with visa restrictions who do not want to travel in slightly larger groups.
Come2Persia is a certified and reliable Iran travel agency run by a trusted Iranian friend of mine, Ali Reza Nokhostin, who I met and travelled with when in Georgia. He is both passionate about showing off his country and in changing perceptions of Iran. Specialising in incoming tours to Iran, Come2Persia also provides other travel services needed to complete the private tour package, including hotel bookings, visa application, transportation and access to various guides, not just Ali.
Travelling Independently in Iran
Note that while solo / independent travel is moderately easy in Iran (if of a free nationality), Iran is not that well-trodden on the independent travel path. There's little to no hostels and guesthouses, and a dominance of big, expensive hotels (especially in Tehran) and even then it is rare to stumble upon a bunch of solo travellers to join.
However, solo travel in Iran is happening, and it is safe, it's just a little more challenging than usual, which can, in itself, be pretty exhilarating.
Couchsurfing in Iran
Note that Couchsurfing in Iran is officially illegal, but it happens anyway. Nearly all independent travellers I have spoken to have mentioned that they have travelled here via this resource with your local hosts, of course, being the best guides. However, travellers looking to Couchsurf in Iran must be aware that they can not hold the Couchsurfing host responsible if anything goes wrong because there is no official 'filter' in place when it comes to the hosts listed online.
Solo Female Travel in Iran
In a society where women are much more restricted than their male counterparts, to travel Iran as a solo female is a little harder and viewed with surprise/suspicion depending on where you go.
Also in Iran, since public displays of affection between males and females are not allowed, any harassment or inappropriate contact by an Iranian male to a female traveller would be frowned upon and draw attention.
Iran is one of the safest countries in the world based on tourists' feedback. There have been many solo female travellers who have experienced Iranian hospitality and kindness.
However, it is vital to bear in mind that Iran is an Islamic country with traditional values and of course, some types of outfits would send the wrong message, especially in smaller and more conservative cities, such as Yazd, Kashan and Qom.
When is the Best Time to Visit Iran?
Iran is a four-season country, which means in different corners of the country, you can experience various climates at the same time. So, when is the best time to go to Iran, based on the different climates in the country? As a quick guide to Iran and its geographical mix, we can divide the country into three regions:
The Classic Route (Tehran, Qom, Kashan, Isfahan, Yazd and Shiraz) and the Caspian Sea (Mazandaran, Guilan, and Golestan provinces). There are two high seasons:

From early March until late May
From early September until late November

The Northwest and West route along the Zagros mountains (Ardabil, Tabriz, Zanjan, Hamedan, Kermanshah, and Sanandaj)

There is one high season, from mid-April until mid-November

The Southern route and the ski resorts north of Tehran (Ahwaz, Bushehr, Bandar Abbas (Kish, Qeshm, Hormoz and Hengam islands), Chabahar, Dizin, Shemshak and Tuchal ski resorts)

Only one high season, from late November until late March
In between the high seasons from July to September is marked by high temperatures rendering travel on the classic route potentially uncomfortable.
UNESCO World Heritage Sites in Iran
Iranians love to shout about the abundance of UNESCO World Heritage Sites. As my local friend stated, "It gives Iranians a lot of pride to possess such ancient lineage".
Iran has 24 UNESCO World Heritage Sites – 22 cultural and two natural. Each of which is the result of years of investigation and presentation of evidence as to why they should be regarded as world heritage sites. It would take more than one trip to traverse them all.
Dress Code in Iran – Headscarves and Hijabs
Iran does have a strict dress code, and this is one of the biggest concerns for female travellers to Iran. Most importantly – PACK A HEADSCARF IN YOUR HAND LUGGAGE. It's called 'Roosari' in Farsi, and you MUST be wearing it the moment you exit the plane and are officially in Iran.
You must wear a headscarf the entire time you are in Iran (except when in your hotel room), as well as loose clothing that covers your body. But let's get one thing straight – you don't have to wear a burka or anything that completely hides you.
When you arrive, you will soon see that reality is far removed from the stereotype. Iranian women are super stylish and proud of their appearance – fashion being a means to stand out and make a statement.
The 'Morality Police' you hear of do exist in Iran but are not spending their time chasing down foreign visitors, so do not worry too much with that. If anything, you will get a polite mention. Visitors have a bit more flexibility when it comes to the rules.
What should I pack for Iran?
A headscarf is the most immediate essential item, and you can buy more when you are there). If your headscarf falls, don't worry – quickly put it back on again. You won't be in trouble for this, but pay attention at all times. Wearing your hair in a high bun or ponytail helps keep the scarf in place. Many Iranian women wear it a little loose and halfway back on their head, since showing a little hair is granted.
Tops must be loose-fitting, and three-quarter length sleeves are ok – a little more comfortable in the heat. The general rule of thumb is that the body should be covered and arms should not be bare.
It is said that trousers must be baggy, but some local women wear tight, brightly coloured leggings. As long as your legs are covered down to the ankles, it is fine. For tourists, leggings worn with a long, loose-fitting top are acceptable. However, in the more conservative areas such as Isfahan, Mashad and Qum, respect the values and revert to looser fitting trousers.
Colour of clothing. It's a myth that you need to dress in dark colours or black tunics. Embrace fashion the ways the locals do and bring some colour into your Iran packing list!
Open toes sandals are OK. Pack some sports shoes for longer day trips where you might be walking a lot (such as at the Persepolis). You'll soon see how sports shoes are fashionable in Iran, especially in bright colours!
Worried you do not have enough appropriate attire? Fear not, as soon as you arrive in Tehran or even Shiraz (if you fly into the city), hit the bazaars and the local markets. There's plenty to be sought out. Other people on my trip stuck with two outfits and alternately hand-washed them every night.
Strict dress codes do not apply in the same manner when travelling with children. Young boys can wear shorts and t-shirts and girls under ten are not required to wear a headscarf.
For men it's more straightforward – you will be dressing much the same as you do in western countries, except no short shorts, no super short sleeves and no extreme tight-fitting clothing.
READ MORE: Iran Dress Code for Women (What to Wear in Iran)
Is Iran Safe? Is it Safe to Travel to Iran?
You Are Safe in Iran, and Iranian People Are Very Welcoming
Iran's image of being a terrorist-driven, American bashing, nuclear weapon holding, burka-clad society is something that has been highly driven mainly by western media. "Is Iran safe?" "Isn't it dangerous in Iran?" are likely to be some of the first questions you encounter from others when you announce you are travelling here.
In short: Iran is a safe place to visit.
Since the election of the more moderate President, Hassan Rouhani in August 2013 and his re-election in 2017, both international relations and internal rules have become less severe and slightly more open. It won't take long before Iranians give you a warm welcome, ask where you are from or even invite you to dinner or tea.
It is a part of Iranian culture to go out of their way to help you, and it's not uncommon to be given a phone number on a piece of paper or a business card in case you need to call upon someone.
The people of Iran are just as keen to show you they are the opposite of how they are portrayed, just as you should be teaching them that the western world doesn't hate them.
Is it safe to travel to Iran RIGHT NOW?
There's never a right time for those who are worried, anxious or scared. Of course, you need to keep up to date with any significant political changes and your country's diplomatic ties, but avoid listening to the hive of scaremongering out there and those who say don't travel in Iran.
For example, in June 2018, there were protests about the economic situation in Iran, and these took place inside and around the Grand Bazaar in Tehran. It means being aware of any internal demonstrations and staying away from those areas, as you would in any country.
Iran remains as one of the most stable countries in the Middle East. While breaking the rules of Islamic society (including drinking alcohol, taking drugs and engaging in sexual activity with locals) can result in deportation, arrest or worse, general travel here is entirely safe.
Rules in Iran
Don't assume you can break any rules in Iran, play the dumb tourist and get away with it. Iran is a Muslim country where Islamic law is strictly enforced.
An example of harsh punishment is with the case of the two Australians imprisoned in Iran for illegally flying a drone near a military installation, freed in October 2019, but as part of a political swap. It might seem that the punishment doesn't fit the crime, but what is justified in your country can have harsher consequences elsewhere.
This is an Islamic State with a strict system, and if you can't play by Iran rules, don't go.
Is Iran an Arab Country?
Given the location of Iran in the Middle East, the Muslim religion and some similarities in culture and language, the scaremongering of Iran can often revolve around the 'it's Arab' misconception.
Iran is not an Arab country. Iranians are not Arabs. The language spoken is Persian (also known as Farsi) and not Arabic (although there are many languages spoken within Iran including Kurdish and forms of Turkish, Indo-European languages and Khuzi Arabic for example, due to the many ethnic groups that exist within the country).
Not only is the Arab misconception a source of contention generally, but Persians can take offence at these preconceived ideas.
Currency in Iran – Two names, One Currency
Take US Dollars or Euros with you to Iran and change them up into Iranian Rial at the local exchange offices (not the dodgy guys on the street or at the hotels which have the lower government exchange rate). Before you know it, you have millions of Rials, and it all looks easy.
However, while ALL notes state 'Rial' there is another 'currency' or 'super unit' that is used – Toman – which is not listed on any note or coin.
Toman is used by locals and is one-tenth of the Rial total. 1 Toman = 10 Rial.
When I was first presented with a dinner bill of "37,000", I was quietly happy that my food had cost the equivalent of $1.5, but this was, in fact, the price in Toman.
To convert to Rial, you simply add a zero – therefore my dinner was 370,000 Rial.
Lost? It takes a couple of days to get used to, but in the majority of cases, unless stated clearly, all prices are in Toman and not Rial. Hence, the basic equation anywhere in Iran is to add a zero onto printed prices (if 'Rial' is not listed), or ask market vendors and others which 'currency' they are operating in to save the confusion.
Credit and Debit Cards in Iran
A big question is if you can use your credit or debit card in Iran. Sadly not, since there is no network in Iran for the use of international cards. It's always been the best option to carry enough cash with you for your trip to convert to Iranian Rial on the ground.
However, there is now an Iranian prepaid debit card for tourists and temporary visitors called the Mah Card. Like most travel cards, you can instantly add funds to your card in your preferred or home currency, and it will convert it to Iranian Rial. It is more convenient than carrying cash, protects you from unauthorised purchases and is accepted country-wide.
To get 40% off the price of a Mah Card (Full price €19) enter BECKI at the checkout.
Public Transport in Iran – Options, Usage and Cost
When traveling in Iran, you have various options for public transport:
Inner-city transport
Metro
Buses
Taxi
Intercity transport:
Buses
Train
Private car
Domestic flight
Inner-city transport
Metro
The Metro is available in several cities in Iran, mainly in Tehran; alongside Shiraz, Tabriz, Mashhad and Isfahan. It is the best option to get around in Tehran, and the stations are also easily accessible by taxi and buses. The ticket price for one trip is 1000 Tomans (approximately 25 cents). You can also buy a card to pay for the metro trips and even the buses in Tehran. The rush hours are mainly 7-9 a.m. and 5-7 p.m. You can download the Tehran Metro app on Google Play.
Buses
You can find buses in every corner of the country. There are two main types of buses in big cities: regular and BRT. BRT buses are red, and because they have designated stations and paths, they are express buses. You can pay for the buses by your Metro card, and the fares would vary between 500 to 1000 Tomans (12 to 25 cents) per trip. You can find all the bus and BRT stations on Google Maps.
Taxi
There are different types of taxis inside the cities:
Shuttle/shared taxis (khatti): It is a way cheaper way to get around the cities. The two downsides are that they are for fixed destinations and you will have to wait for the taxi to be filled. The fares are also fixed, and you cannot negotiate.
Private taxis (darbast): You can easily hail a taxi and say 'darbast'. It means the driver will not pick any other passengers up and you must negotiate the price before getting on.
Non-registered taxis (shakhsi): These are non-taxi drivers who you would easily spot from the yellow and green cabs. These are people who try to earn some money by giving people a ride. Again you must negotiate the price before getting on.
Uber-like apps: Tap30 and Snapp are the two leading apps that you can easily use on your phone. Unfortunately, they're not available on App Store and Google Play, but you can ask a local to help you with downloading them on your phone. Tap30 is available in many cities including Tehran, Karaj, Isfahan, Shiraz, Tabriz and Mashhad. Snapp is available in the same cities and also in Ahwaz and Qom.
Bisim Taxi: You can also call the numbers 133, 1828 and 1833 in major cities in Iran to call a taxi wherever you are.
Intercity transport
Bus
There are two types of buses between the cities in Iran: regular buses (44 people on board) and VIP buses (25 to 35 people on board). You have more legroom on VIP buses, and you can almost lie down on the seats. You can ask a receptionist at the front desk of the hotel, go to a local travel agency or go directly to the bus terminal to buy a bus ticket in Iran. The prices vary according to the type of bus and the distance. For example, the price for a VIP ticket from Tehran to Shiraz is around 70,000 Tomans ($16).
Train
Using trains is the best and safest option to get around the cities in Iran. There are different types of trains: 4-bed, 6-bed and the so-called 'bus' trains. You can also ask if the train you are trying to take is an express train or a regular train. You can book trains through the hotels, local agencies or go directly to the train station. The price for a ticket from Tehran to Yazd, for example, is between 30,000 to 70,000 Tomans ($8 to $15).
Private car
You have two options to travel in Iran by a private car. You can hire a driver or a licensed driver-guide who can not only drive you from one city to another but show you the sites en route and give you all the information you need in English and other languages. You can find a driver-guide in Iran through TourHQ. You can either go to a taxi company or a local travel agency to hire a driver or a guide. Beware a killing machine in Iran named 'Pride' it's a very low-quality car produced by Saipa company. It's the worst car in Iran. Recommended cars in Iran are Peugeots and Samand by Iran Khodro Co.
Domestic flights
If you do not have much time on your hands and you want to visit the classic route (Tehran, Qom, Kashan, Isfahan, Yazd and Shiraz), it is recommended to take a domestic flight from Tehran to Shiraz. From there, you can continue your journey by other means of public transportation eventually back to Tehran. You can buy flight tickets from local travel agencies. The price of the flight ticket is approximately 180,000 Tomans ($40), and it takes around 80 minutes.
Separate Men's and Women's Carriages on Iran Public Transport
On the Metro: Generally, the cars are mixed gender, but if women need more privacy, they can get on the first and the last car on both sides.
On the Buses: In some buses, the women sit in the back and the men in front. Other times it is the opposite. However, a couple can sit together in the men's section and not vice versa.
Pre-Register With Your Country's Foreign Office
Different countries have different specifications, rules and warnings about travel to Iran – some way more dramatic than others. If you can, register or alert your foreign office about your whereabouts for safety and as a piece of mind measure. As a British citizen, with no embassy representation in Iran, this is more so a good idea.
Not that some travellers cannot secure travel insurance until they have alerted the relevant authorities of their travel plans. Hence, it is worth checking precisely who you need to inform before you depart, to be comprehensively covered.
Internet Access in Iran
Be prepared to take a forced 'Digital Detox' during your time in Iran. Internet in Iran is slow, all social media (except Instagram and What's App) is blocked, and you usually are paying per hour for the privilege of a sluggish connection. While I sporadically got decent internet, which allowed my VPN to work, it was never superb. Want to look up sites in Iran? Super quick. Want to find some decent news in the outside world? Good luck.
Tell your family and friends that they may not hear from you that often, and be prepared to do without the connection, however hard it may be.
Which Sim cards to use in Iran
Irancell is the best phone operator in Iran which offers temporary SIM-cards designed for tourists. They offer a pre-paid 4G internet and credit balance, and when it is used up you can put in a new credit code sold at any supermarket all around Iran to increase your credit and buy internet packages.
Which VPN to use in Iran
You can only have only one VPN app on your phone, so you will need to test which one works best. For Android users, Hi VPN, Psiphon, Hotspot Shield are recommended, and for IOS users Psiphon, Free VPN, VPNProxyMaster and X-VPN are deemed to be the best VPN in Iran that work well at the moment.
Food in Iran (and Vegetarian Difficulties)
I had built up incredible visions of Persian cuisine in my mind before I got to Iran. I thought it would be everywhere – easily accessible and in abundance. Wrong.
Finding Traditional Food Amongst the Fast Food
Traditional Persian food is available, but you have to do some digging on where to go and find it. Try delicious vegetable and pomegranate stews, traditional Dizi (a lamb based strew where the broth is separated from the solids which are then mashed together and eaten separately) or Ash (a thick and tasty soup of lentils, beans, starch noodles, vegetables, fried mint, fried onion and yoghurt).
Other than that, you will realise that Iran's streets are paved with fast food outlets, whose neon lights advertise the norm – kebabs, burgers and pizzas. Try and seek out the falafel places, since these are usually the best choice for a cheap and tasty fix.
Vegetarians have more of an issue. I travelled with a vegetarian and whether at a big buffet or a local teahouse or restaurant, what appeared to be the vegetarian option still had meat in it. It may mean living on aubergine/eggplant-based dishes, which are your safest bet, or begging for meat to be left out of your meal if not already pre-prepared.
Drinking In Iran
There's no alcohol in Iran. No bars, no clubs. Nothing. The best you get is non-alcoholic beer in a variety of fruity flavours like peach, lemon and strawberry which grace most menus.
There's no set of different rules for travellers in Iran and those visiting. A local might be being kind in offering to find you the real deal at some underground gathering, but really, don't take the chance. They might be able to waver the punishment; you won't.
Etiquette in Iran
Like any country, it is crucial to know, understand and adhere to cultural and religious customs and rules that can often be very different from those at home. Here are the main rules for etiquette in Iran and interesting Iranian culture facts:
One of the primary forms of social etiquette is TAROF, which is where Iranians usually insist on offering things to people and sometimes they do not mean it. However, you should not accept the first time.
In Muharram month (the mourning month of Imam Hossein) people DO NOT usually wear bright colours (especially red) to respect the religious values.
In Ramadan month, in which the majority of people keep fast during the day, it is disrespectful to eat and drink in public.
In restaurants in Iran, it is incredibly unpleasant to see anyone clear their nose, especially loudly. In general, restaurant or not, it is also unusual to see somebody break wind.
Shaking hands between men and women is a complicated topic. Generally speaking, it is not okay for men and women who are not related to shake hands. However, it is entirely relative. Usually, it is not advised for female tourists to extend their hand towards men, and it's best to wait and see if the men do so first.
The thumbs-up hand signal a derogatory sign in Iran, and it is best not to use it, especially in the presence of older people.
When it comes to public displays of affection, you'll see that affectionate touching, kissing, and shaking hands between men and women who are relatives are very normal. Iranian dating customs are more complex. You can kiss your significant other on the cheek, but french kissing strictly goes beyond the line. Holding hands is not something one would raise an eyebrow about at all, whereas hugging, on the other hand, would seem to be crossing the line a little. It is relative as to what extent the public display of affection is tolerated. For example, inside holy places and religious cities, it would not be easily tolerated.
Understand the Concept of 'Persian Time'
'Persian Time' is much like 'Asian Time' – things take much longer than you expect. When you travel Iran you'll soon see that service is slower and the times you are given for things, like an arrival at a destination, are not always clear or roundabout correct, like this example:
Guide: "It takes four or five hours. So if we leave at 8 am, we will get there around 4 pm."
Me: "But that's eight hours, not four."
Guide: "Yes, it takes about eight hours. We will stop at x, y and z on the way and arrive around 2 pm."
In short, don't rely on or worry about time, and pack a bit more patience than you would at home, especially when it comes to food, service and paying.
Read More on the History of Iran and Iran Travel
Ancient Persia isn't an easily absorbed history lesson. While your guide (if you choose to have one or if you are a part of a tour group) will spout a level of information that will blow your mind, it is worth reading up on the history of Persia, as well as details on the lead-up to the Iranian Revolution in 1979. This will give a valuable understanding of the basic makeup of the country.
It will mean names like Zoroastrian, Cyrus the Great, the Achaemenid Empire, Reza Shah, Ayatollah Khomeini and Ayatollah Khamenei won't be lost on you when you go to Iran.
Great books to read before you arrive include:
Best for when on the road:
Easy reference for most of us came from the Lonely Planet Iran guide book. While it shouldn't be your sole source of information, this particular Lonely Planet is a quick fix Iran travel guide, especially for historical hotspots. Having this paper guide was a handy resource for the entire trip, especially since quick access to the internet in Iran both at the hotels and while on the road is very limited.
Have you been to Iran? Are there any other pre-departure tips you would add? And if planning a trip there, and what difficulties are you facing, if any?
Want to Travel Iran? – Pin It!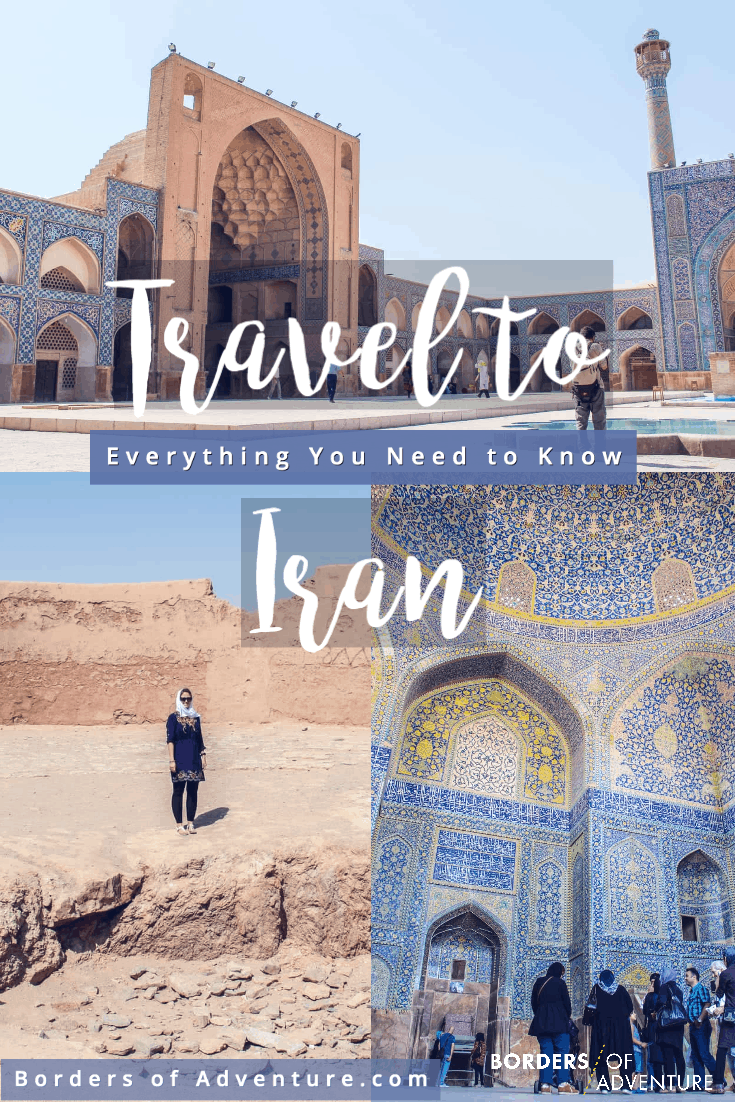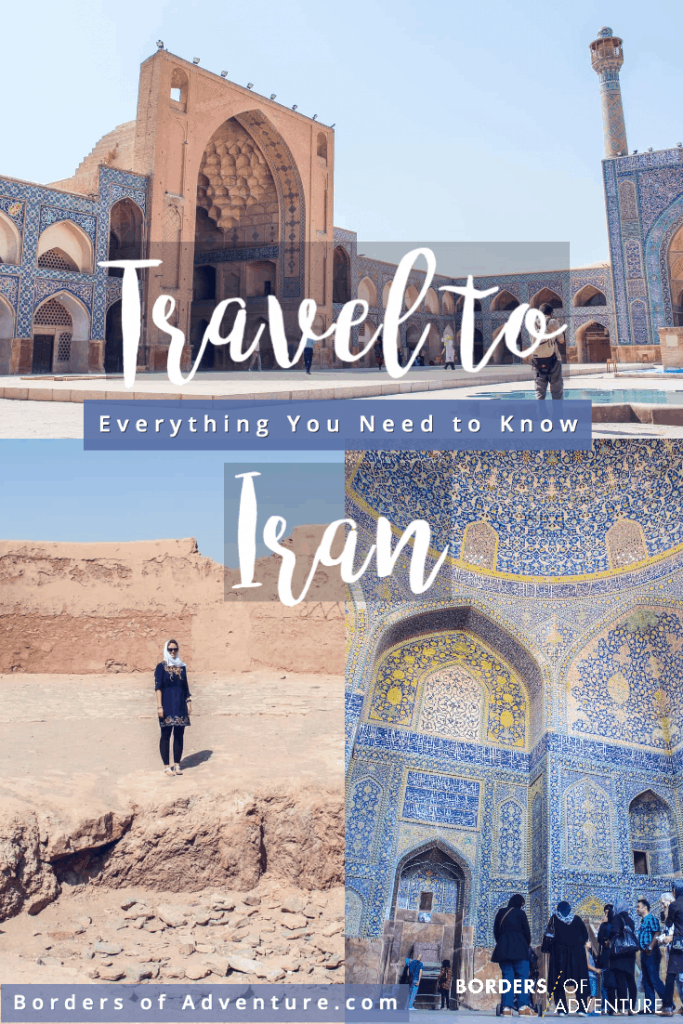 Any plagiarism of this Iran travel blog or any of its descriptions used on other sites and blogs without attribution is not information authorised by myself for use. Know your source.