Disclaimer: This post contains affiliate links to handpicked partners, including tours, gear and booking sites. If you click through or buy something via one of them, I may receive a small commission. This is at no extra cost to you and allows this site to keep running.
One hour from Athens, the Greek Island of Kea remains a local secret – an Athenian weekend hangout and summer hideaway where people mark their patch with a second home and a speedboat.
You can reach the island from the lesser-known port of Lavrio in the very southeast of Attica, Greater Athens – a port that's not as easily accessible or as connected to the scattering of Greece's islands as the popular ferry hub of Piraeus.
The Cyclades Islands are defined by laid-back Naxos and Paros, the more bohemian Mykonos and Ios and the picture-perfect Santorini. So, where is Kea? Not many people have heard of the tiny island, but it is the closest Cyclades getaway to mainland Greece. And one that feels much, much further away.
Maybe this is what gives Kea – known to locals as Tzia Island – its natural charm, coveted by those in the know like a secret garden whose gate is open if you know where to find it.
It sure is deserving of a little more tourism injection, as this Kea travel guide shows.
Visiting Kea Island – Starting in Korissia
You'll make land at the main port of the island of Kea, Korissia – a dainty pebbled beach cove dotted by houses in white and hues of burnt orange and salmon pink interjected by the masts of the resting sailing boats. It's an immediate sense of stillness, of life moving to the slow rhythm of the calm coastal crest.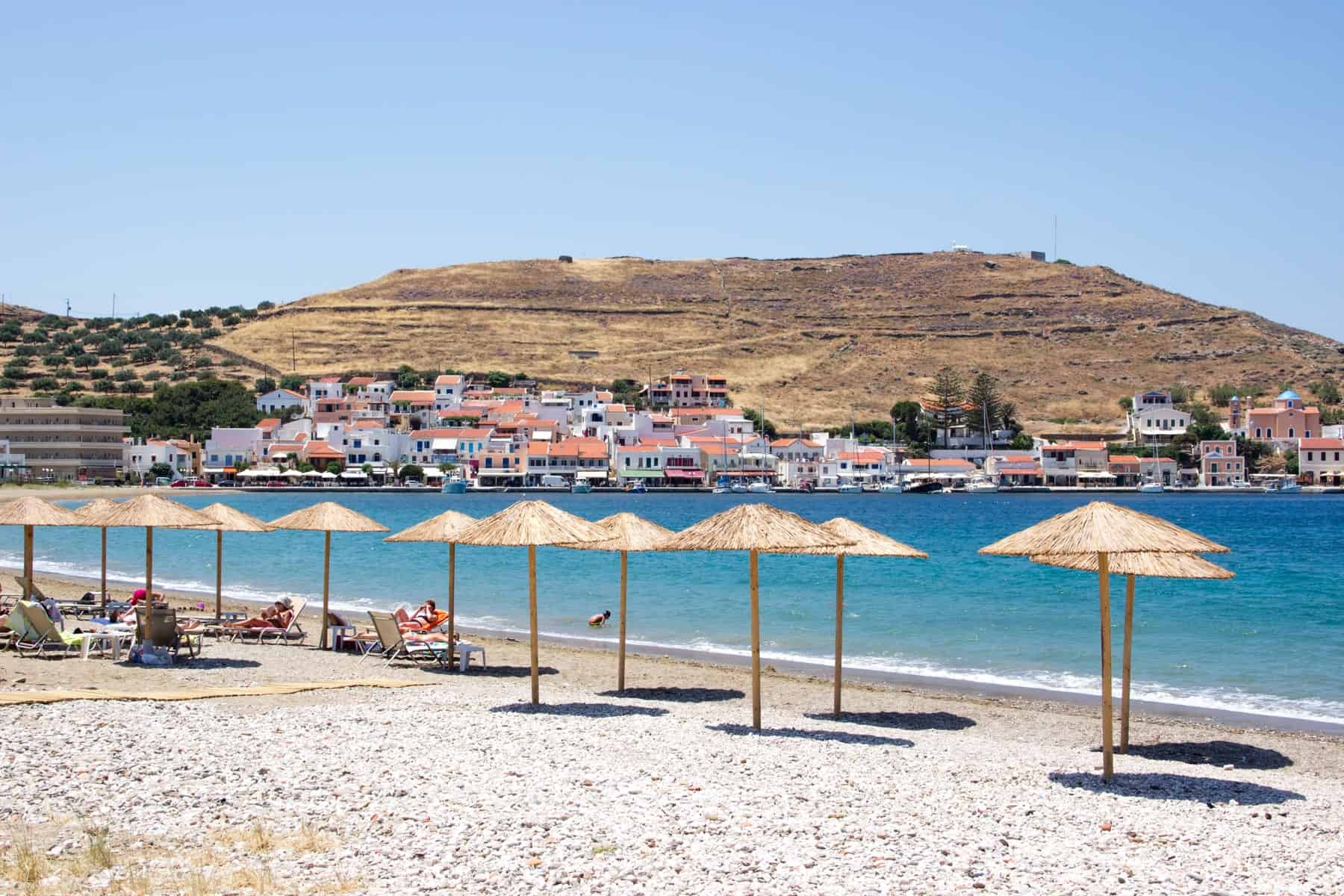 Yet not all seclusion is affirmative. What's a haven for us, is a hardship for the locals.
"Things need to change," said Yiannis, a former ship Captain, now souvenir shop owner who lives in the small town of Korissia, where you will find Tzia harbour. His shop is only metres away up a slight walking slope, yet it's clear these backstreets see very few visitors, many of whom choose to stop in the cafes that line the seafront for the typical Greek Freddo coffee before moving on.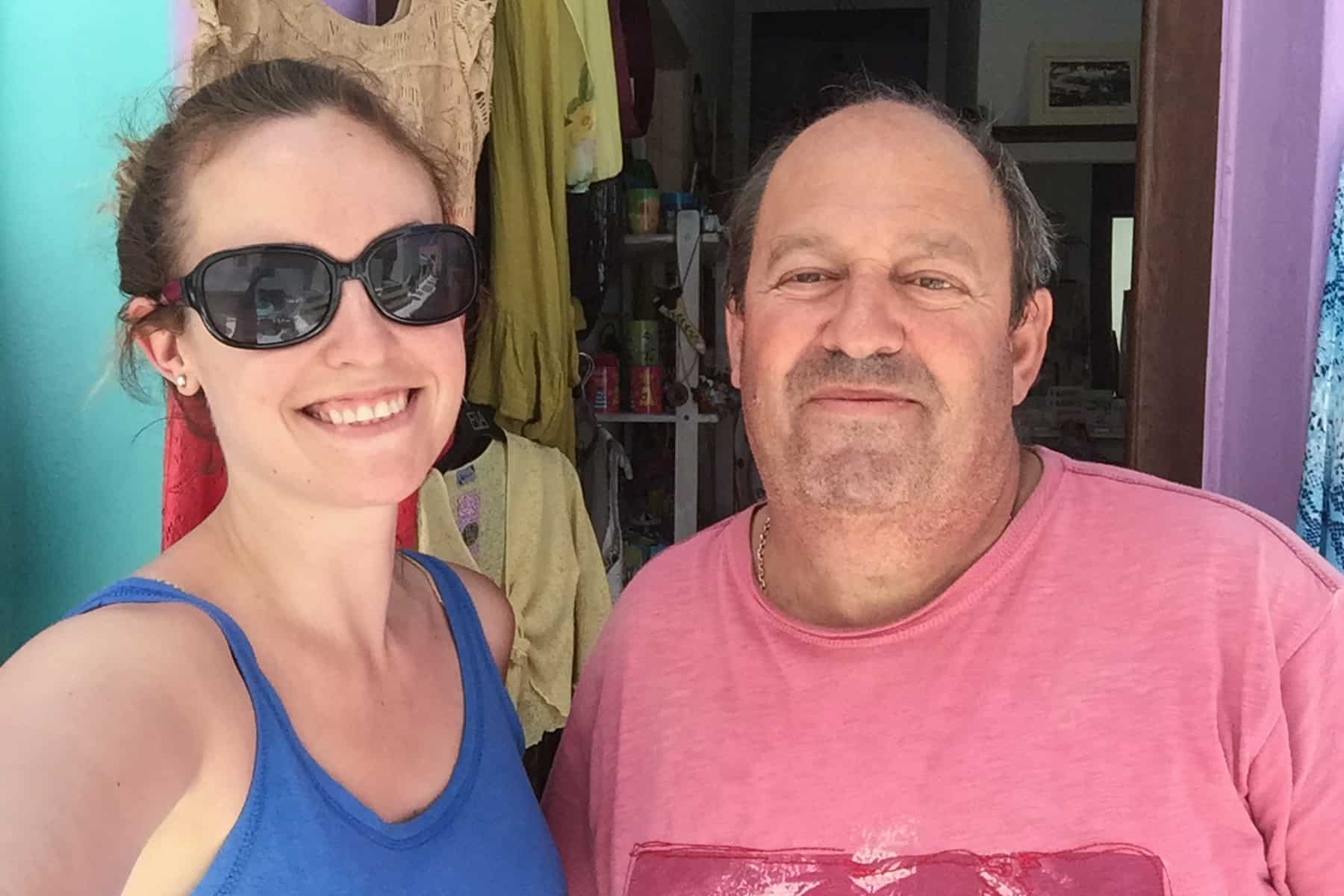 He caught me taking a selfie against a Greek blue door and summoned me over, where I stared at an eclectic mix of souvenirs politely before he pulled up a chair and asked me to join him. Greeks love to talk, sometimes about nothing in particular and other times they have stories.
Stories of the real Greece behind the glossy brochures, or tales of the tiny towns you find yourself in which become less typical as the locals fill it with colourful detail.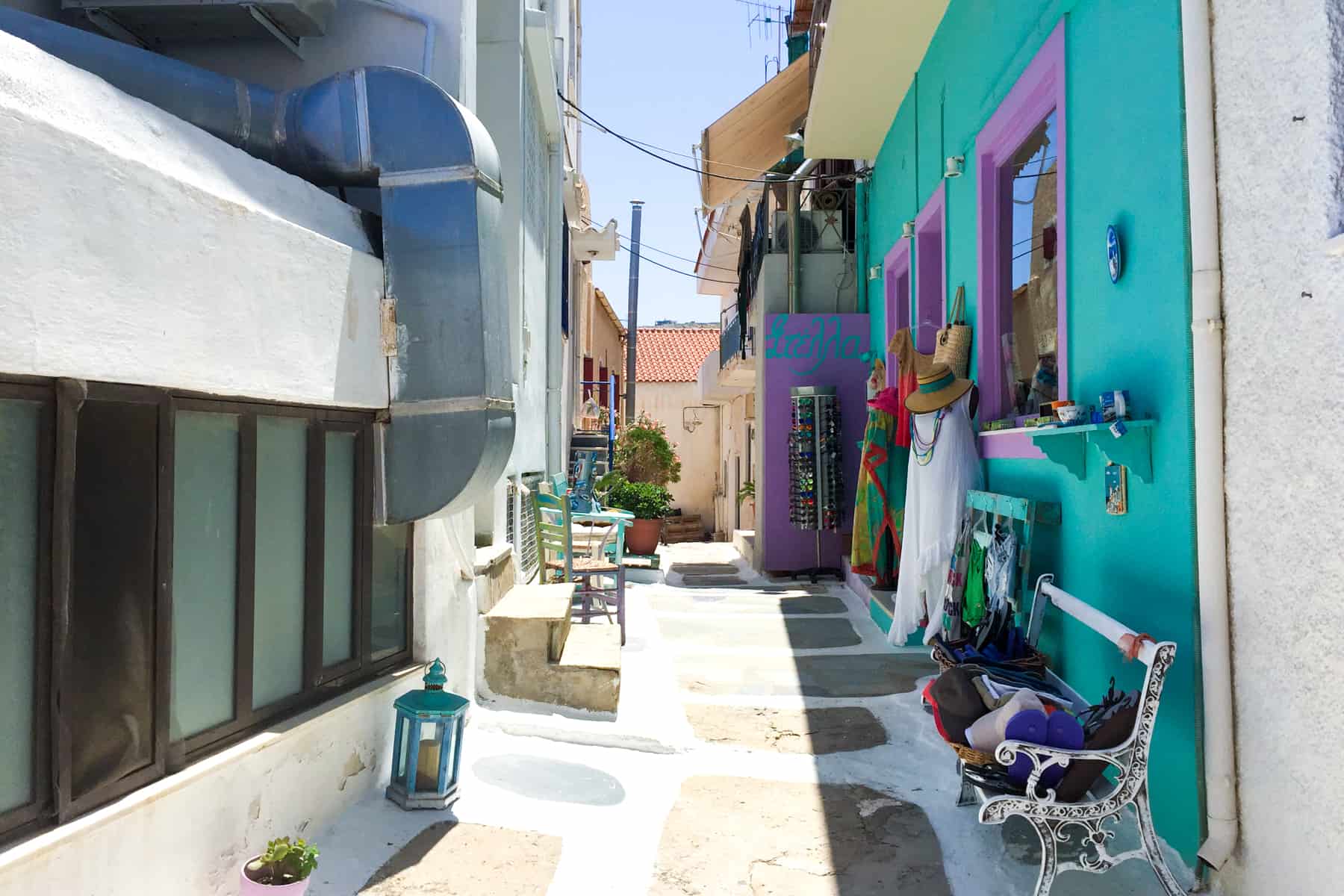 The street was already colourful, and so was Yiannis' life – tales at sea, the sacrifices for his son to have a good education and the material things in life he wanted, and how the time comes to slow down and make another life for yourself. Like running a shop in your hometown that has never quite picked up the pace of neighbouring lands.
And so we talked about why very few tourists come here and what he wants to see happen, the port connection being the main crux of the problem. He showed me a guidebook from the 1990s where the map didn't list this island's name.
No dotted lines marked a route to enter.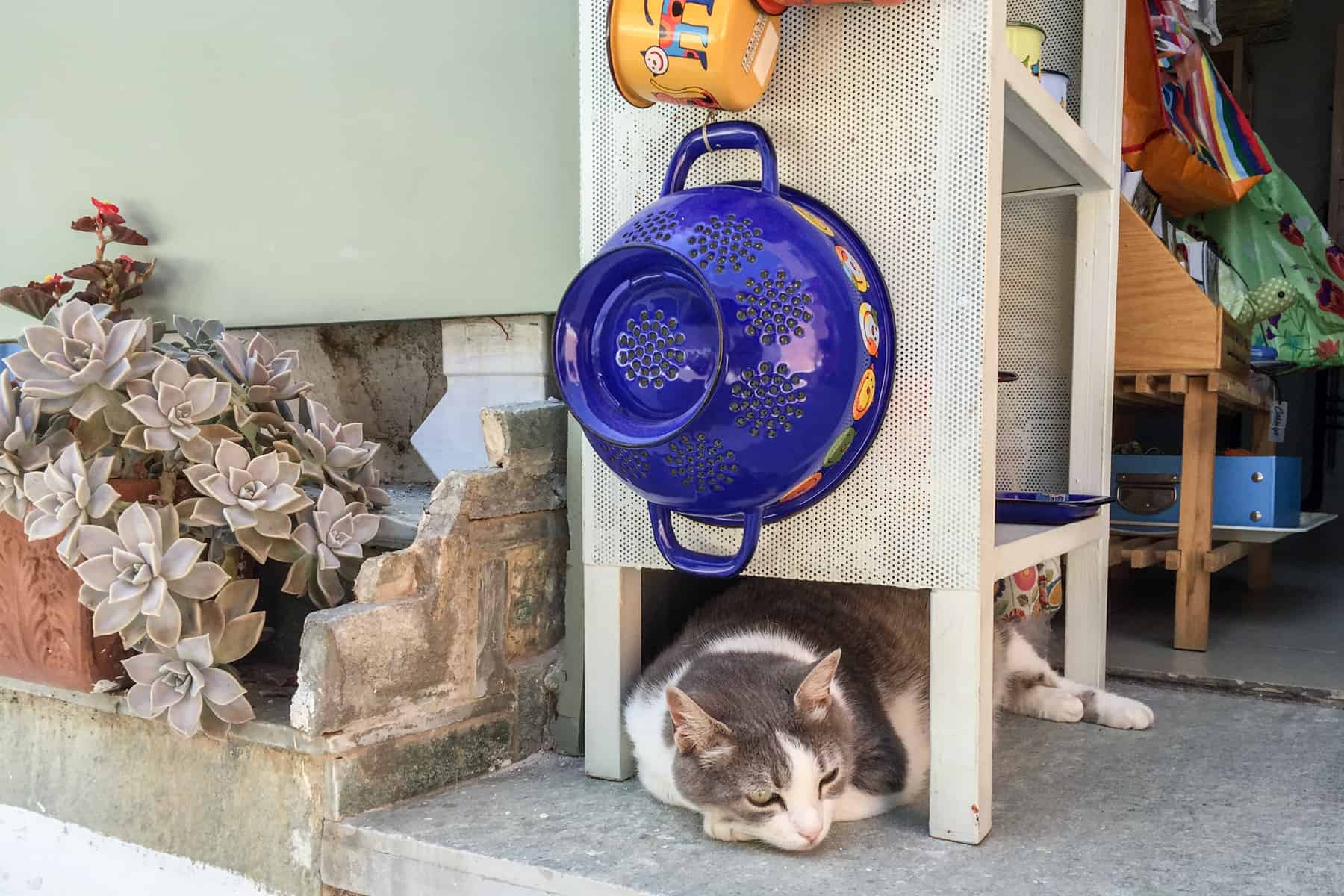 "But," he added, despite the sad face, "I don't want to see it become another Santorini or Mykonos." By that, he meant beautiful but overrun in parts, thriving at the expense of tradition and local life – a hard balance to strike in a country whose accessible natural beauty will always draw in the crowds.
I wanted to visit Kea to take advantage of its unknown and untouched persona. The unknown serves my insatiable curiosity, the untouched being the ideal place for a self-imposed writer's retreat where I would have little distraction and be able to disconnect completely.
Where to Stay on Kea Island to Retreat
My four-day retreat was at the Porto Kea Suites (a Small Luxury Hotels of the World property) just minutes away from the tiny port. The hotel combines individual buildings that blend typical Greek island architecture with a modern twist. Whitewashed and honey-toned buildings with stone features give it a bold touch of luxury while sitting harmoniously with the village surroundings and rugged hilly terrain.
It's the only property like this on the entire island, where you are encouraged to lose yourself for hours in a chic and luxurious space before getting lost in random wanderings on this unstirred and straightforward island.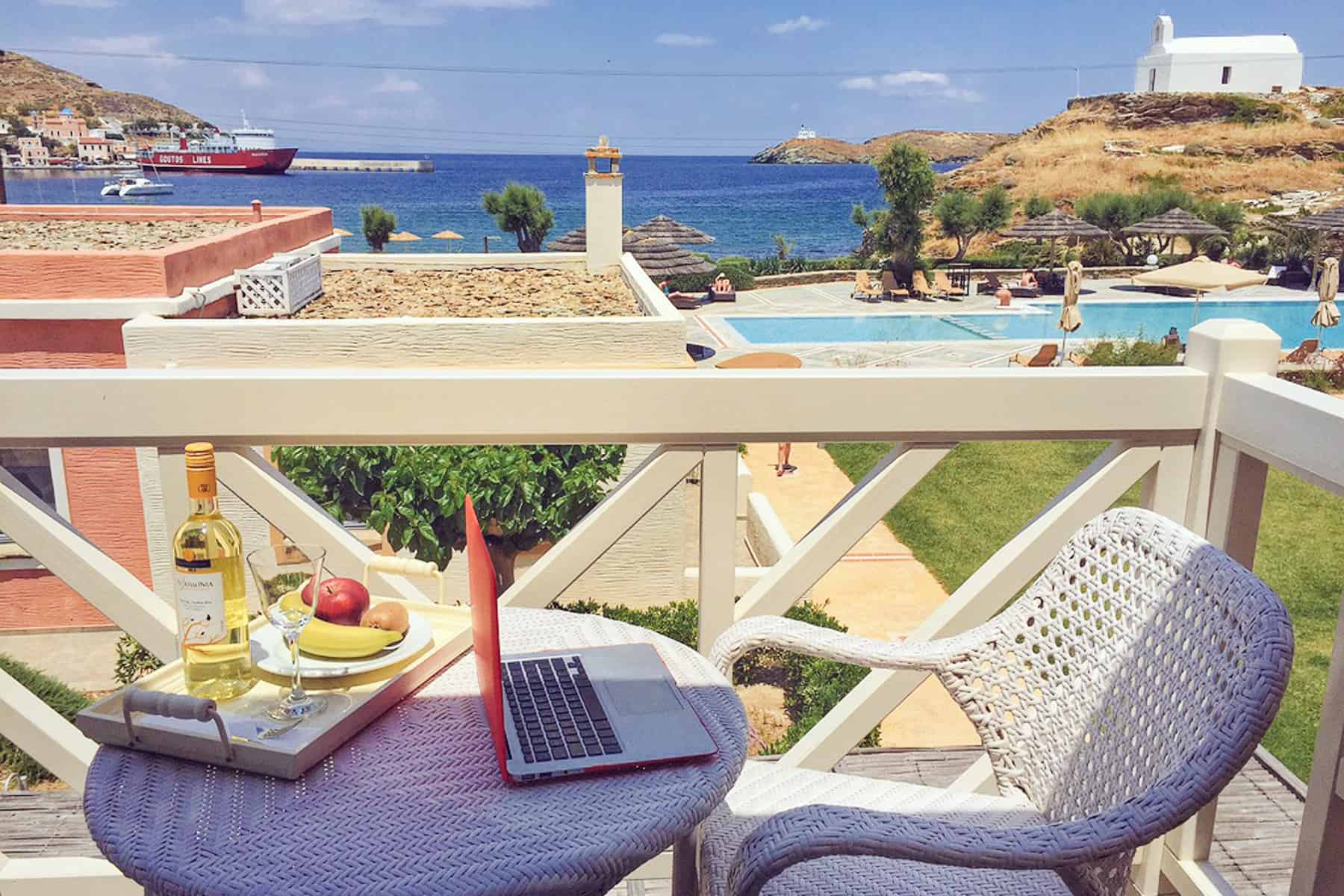 My room was a beautiful studio, classically decorated and complete with enough storage space and a mini-kitchen to call it home. My balcony overlooked the property's gardens, with a sea view to match, and I was soon all too easily swayed by the direct view of the sun-drenched swimming pool. There was always time for a break or a poolside nap in between churning out lines of narrative.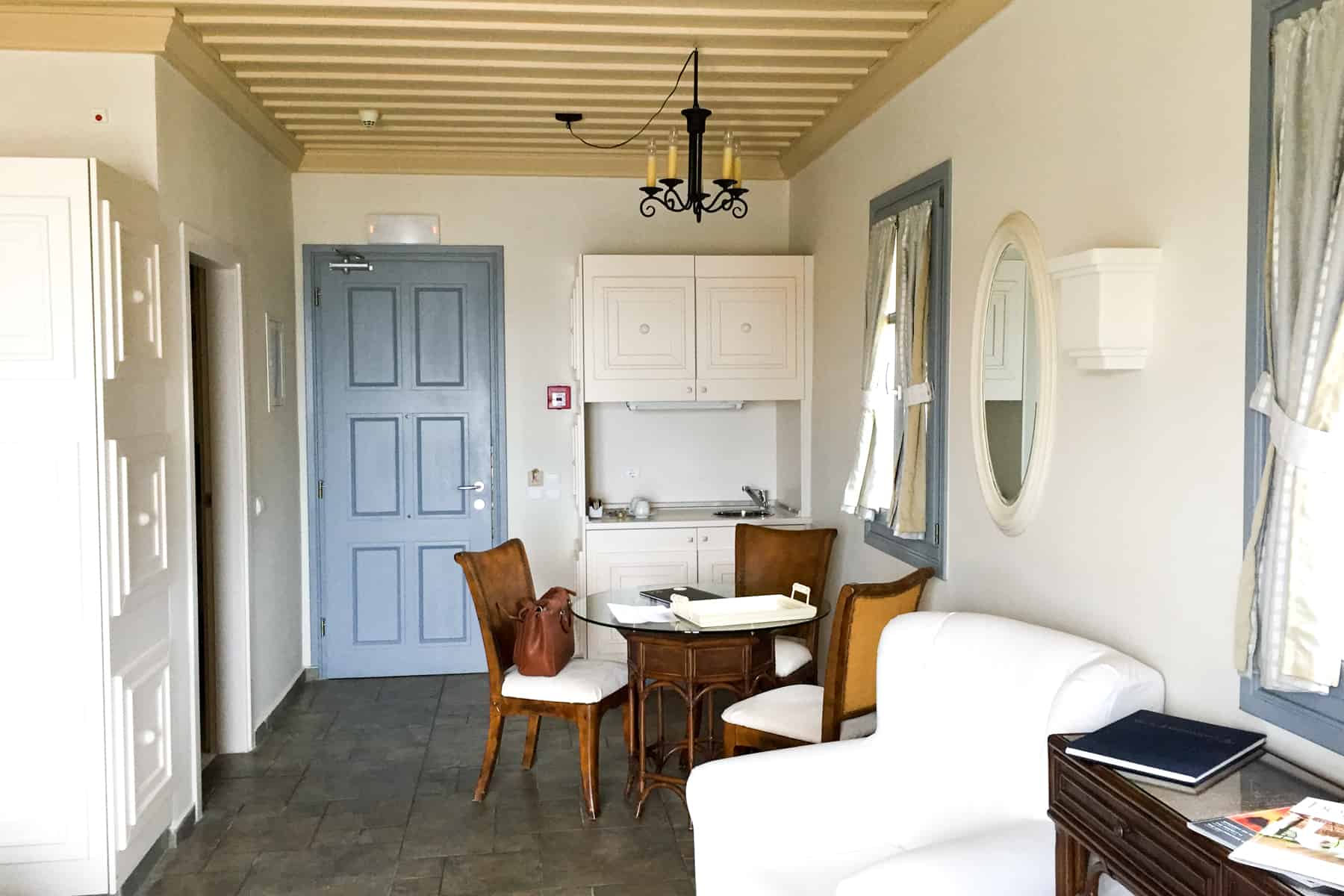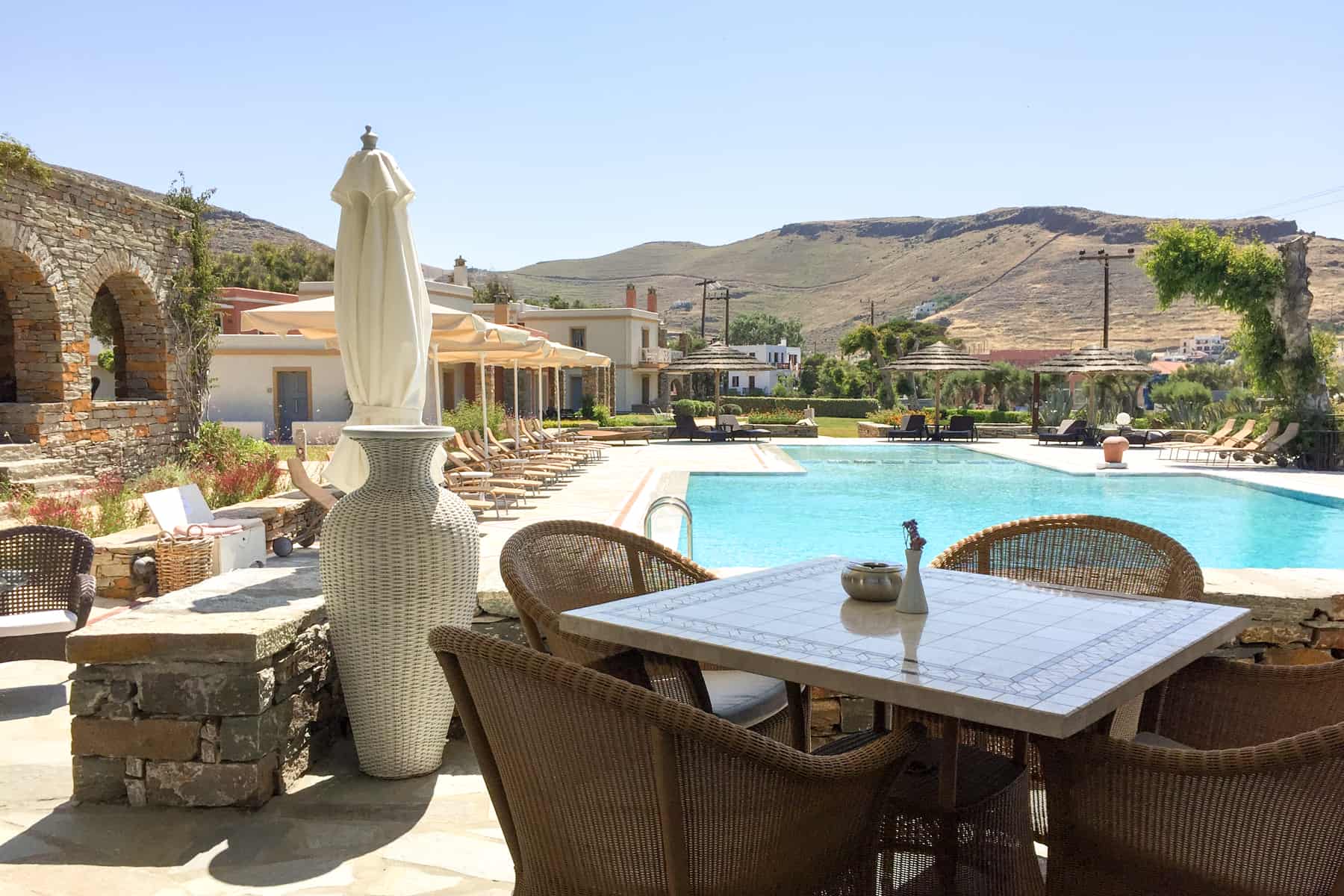 Booking Porto Kea Suites
Prices for a double room at the elegant Porto Kea Suites start from €129 / £93, with choices from superior to presidential suites to family rooms.
You can find more information and book your stay here.
What to do on Kea Island
Kea Sunset Walks
I often went for short walks – to Korissia's tiny coastline or neighbouring towns. All areas are accessible via half-hour walks along the curving roads that followed the dropping cliff faces, dotted with churches for an elevated view and benches, ready for lovers to take the best seat and watch the sunset.
I took in local life when the sun went down, sampling the daytime cafes turned bustling bars and seafood tavernas that line the Vourkari town harbour as glistening yachts pulled in for the evening.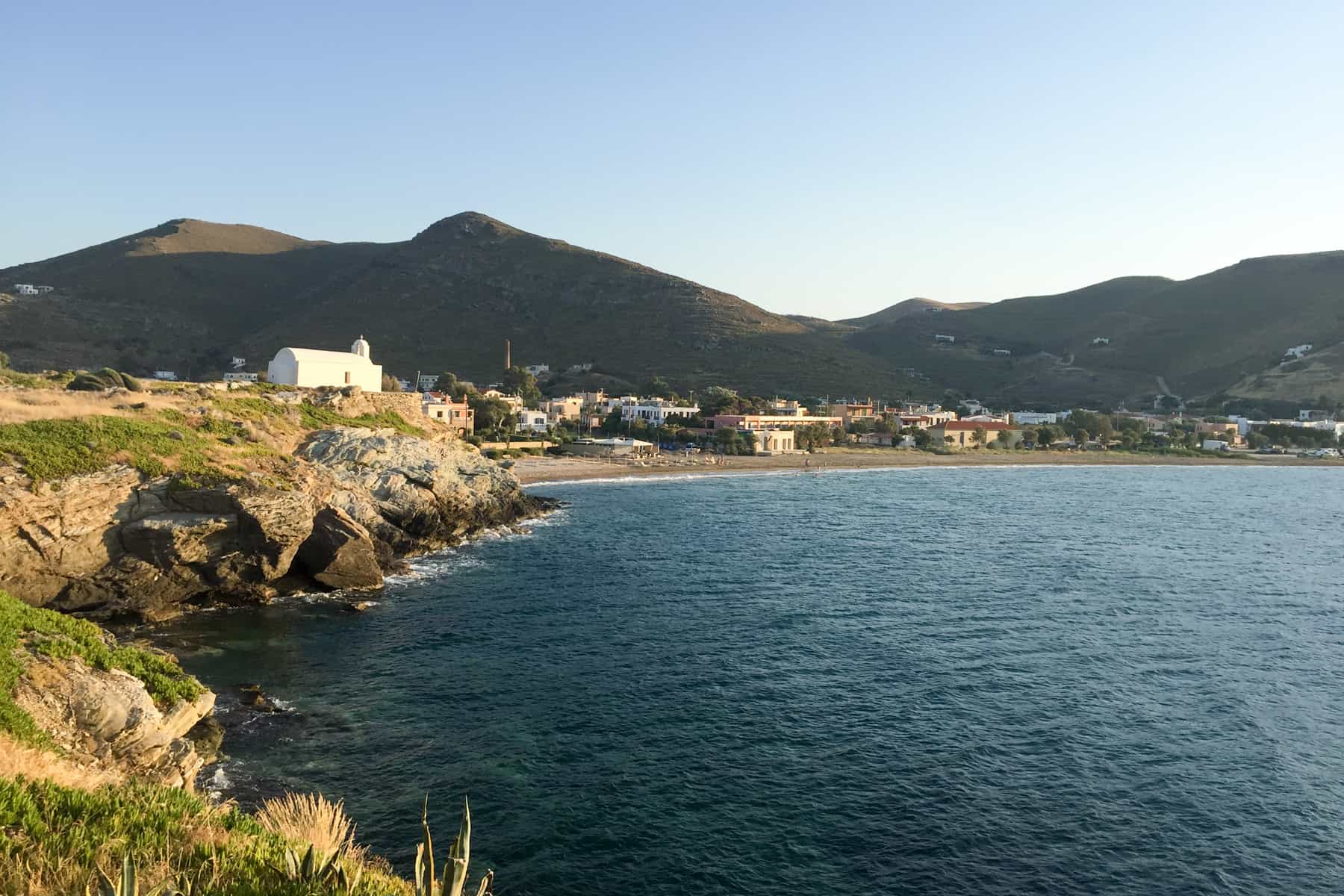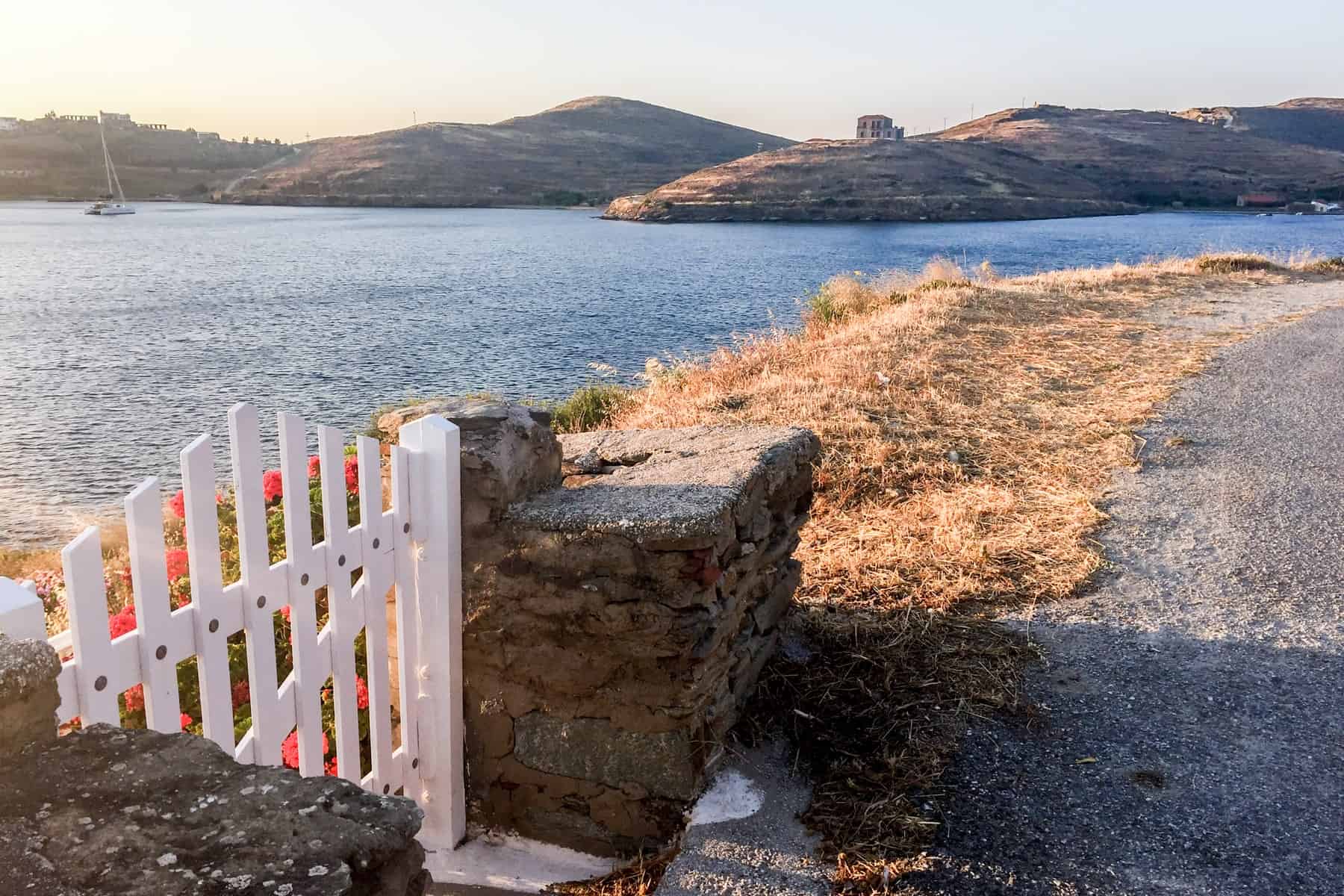 But it wasn't long until the peaceful charm and rugged green landscape of the more expansive island piqued my curiosity. Well off the tourist trail, this would be an island to visit that undoubtedly feels remote and enchanting.
Hiking in Kea – Trails of Ancient Cities
The Manager of Porto kea Suites, Georgia, had agreed to show me around, and my one request was to go hiking in Kea since she was an avid island rambler herself.
The island of Tzia connects via 40km of walking routes – various trails through overgrown woodland that winds around hills and lead you down into valleys. Pathways that bring you from wilderness to the four ancient cities of Ioulida, Karthaia, Koressia, and Poiessa.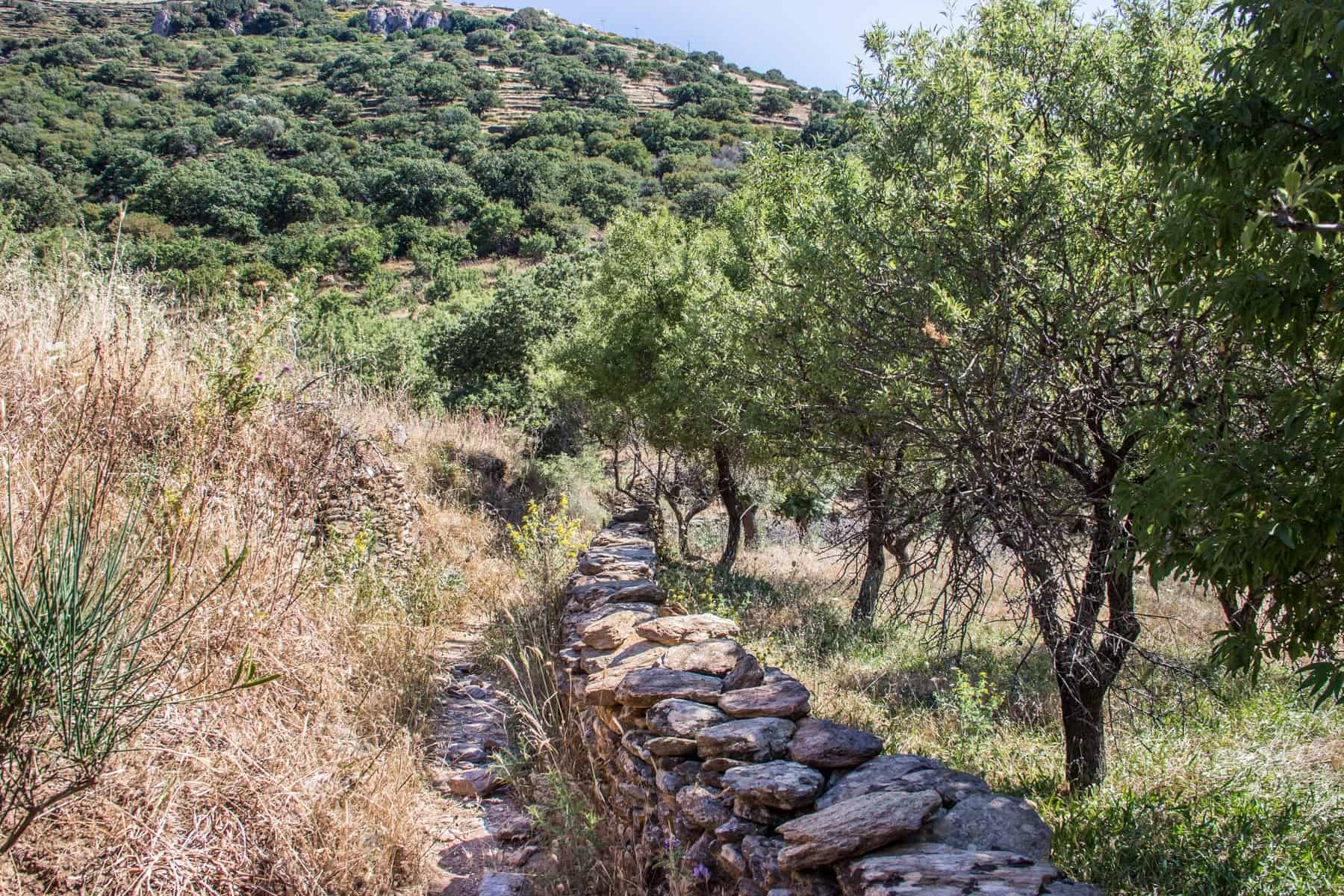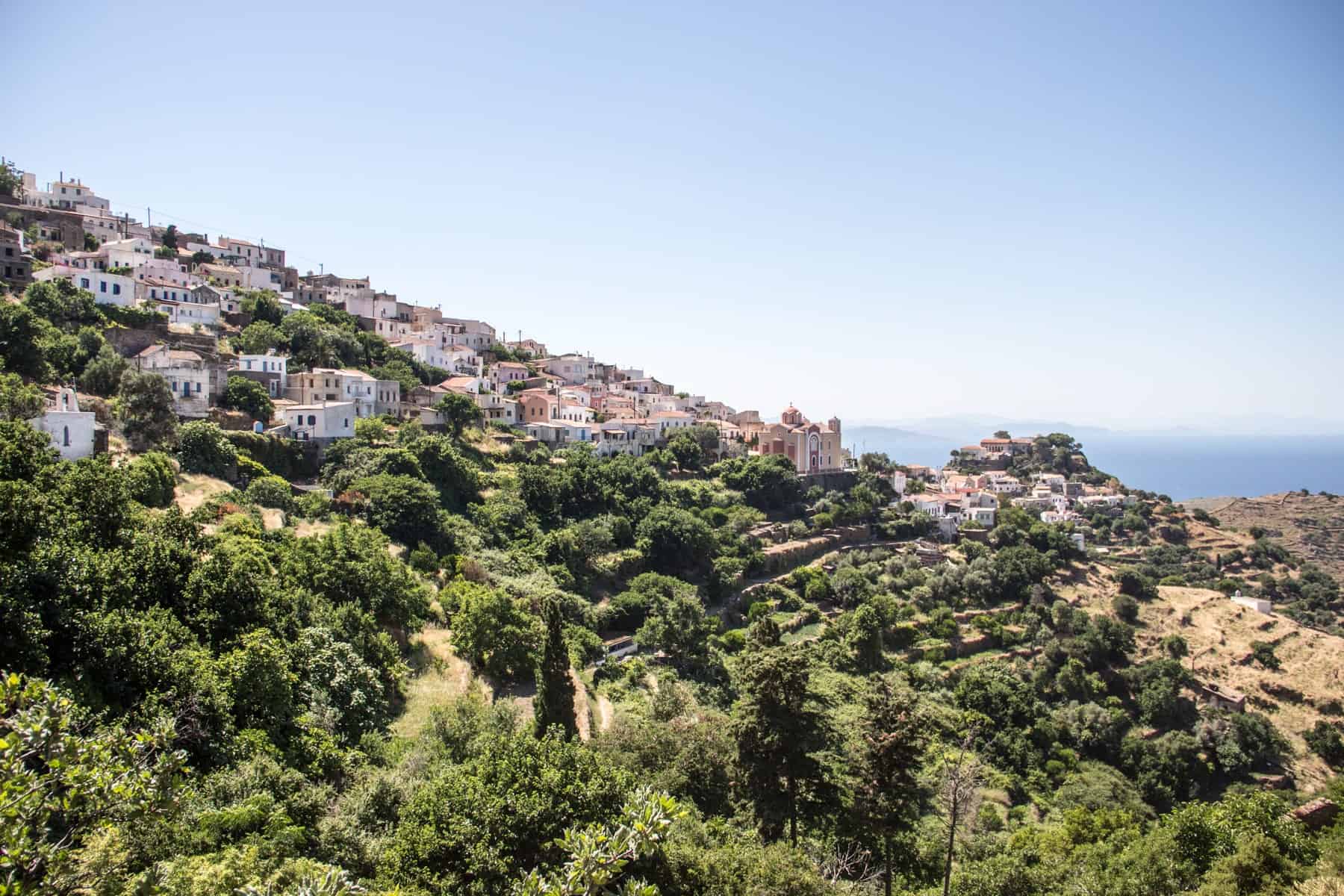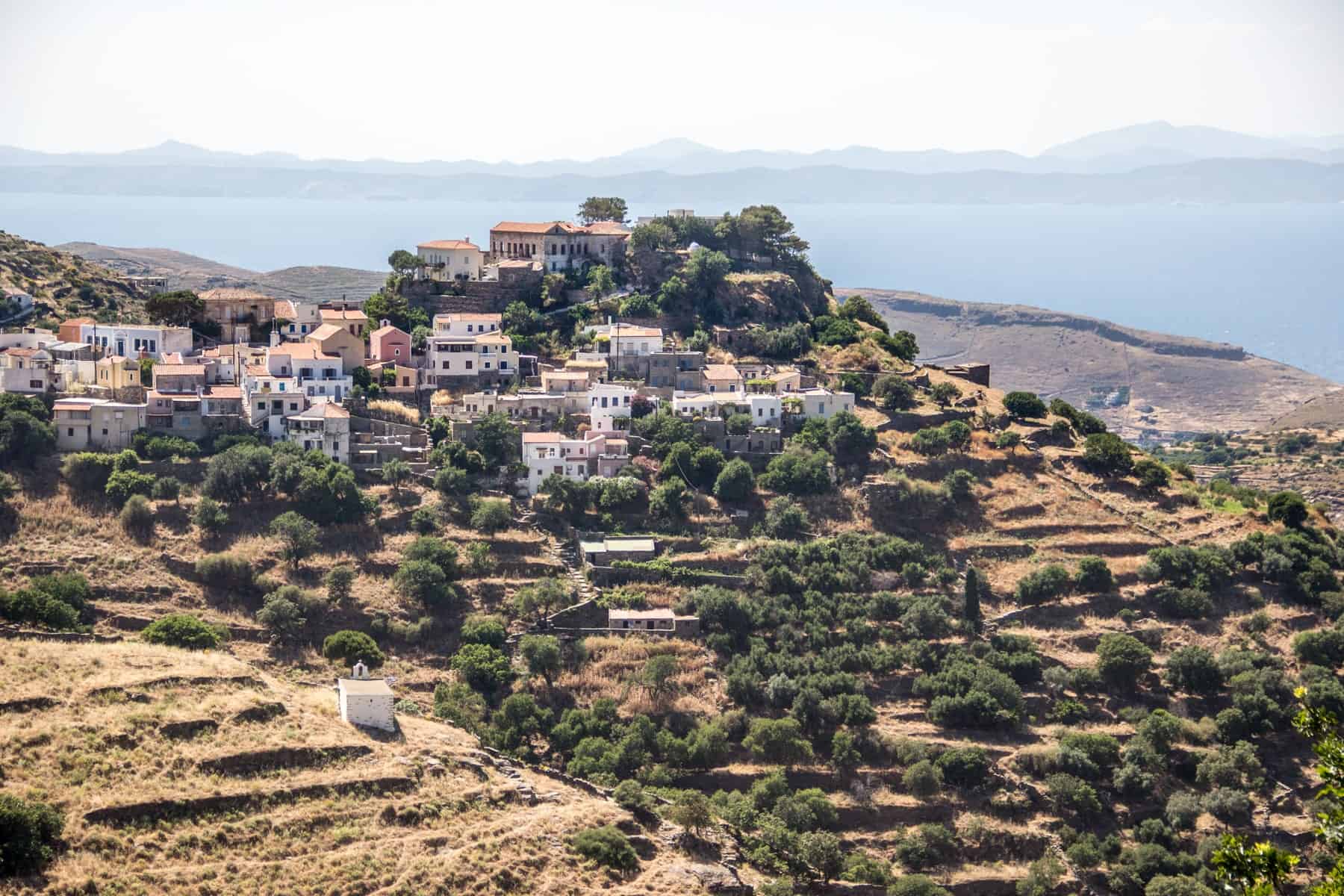 We took trail number one, which starts in the central town of Ioulida (Ioulis). The hamlet is considered one of the island's highlights, whose pretty terracotta rooftops, cobbled steps, narrow winding streets, and old arches were a treasure trove of antiquity.
I climbed rooftops accessible by tiny steps to survey the town and walked archways of flowers to find the perfect square white houses and their blue (sometimes pink) doors.
The pathway eventually led us to an unkempt, rustic countryside that we had all to ourselves, where we followed the wall as a marker and, in other parts, completely off-track with nothing but a dirt trail to mark the way. Wandering the central part of the island, many take this route to head down from Ioulida into small green valleys and past the archaeological site of the Kea Lion – a 6th-century BC sculpture with a cheeky grin. It's well signposted and guarded by the island goats.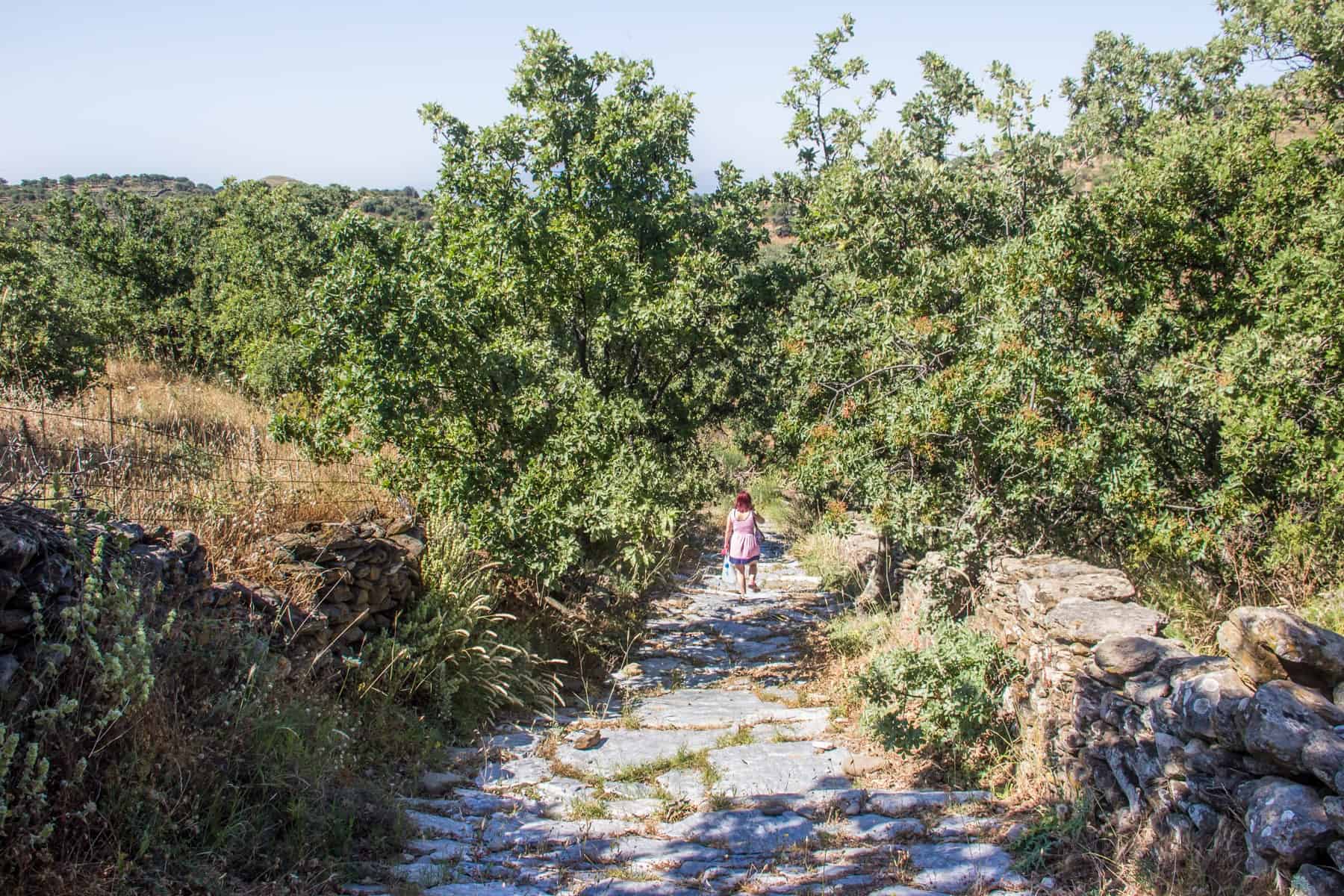 Near the end of our hike, our adventures got really off track via a serendipitous wrong turn. The glistening curving coastline was much further than it appeared, and we eventually called a taxi in defeat. Kea certainly makes for a grand adventure if you want it.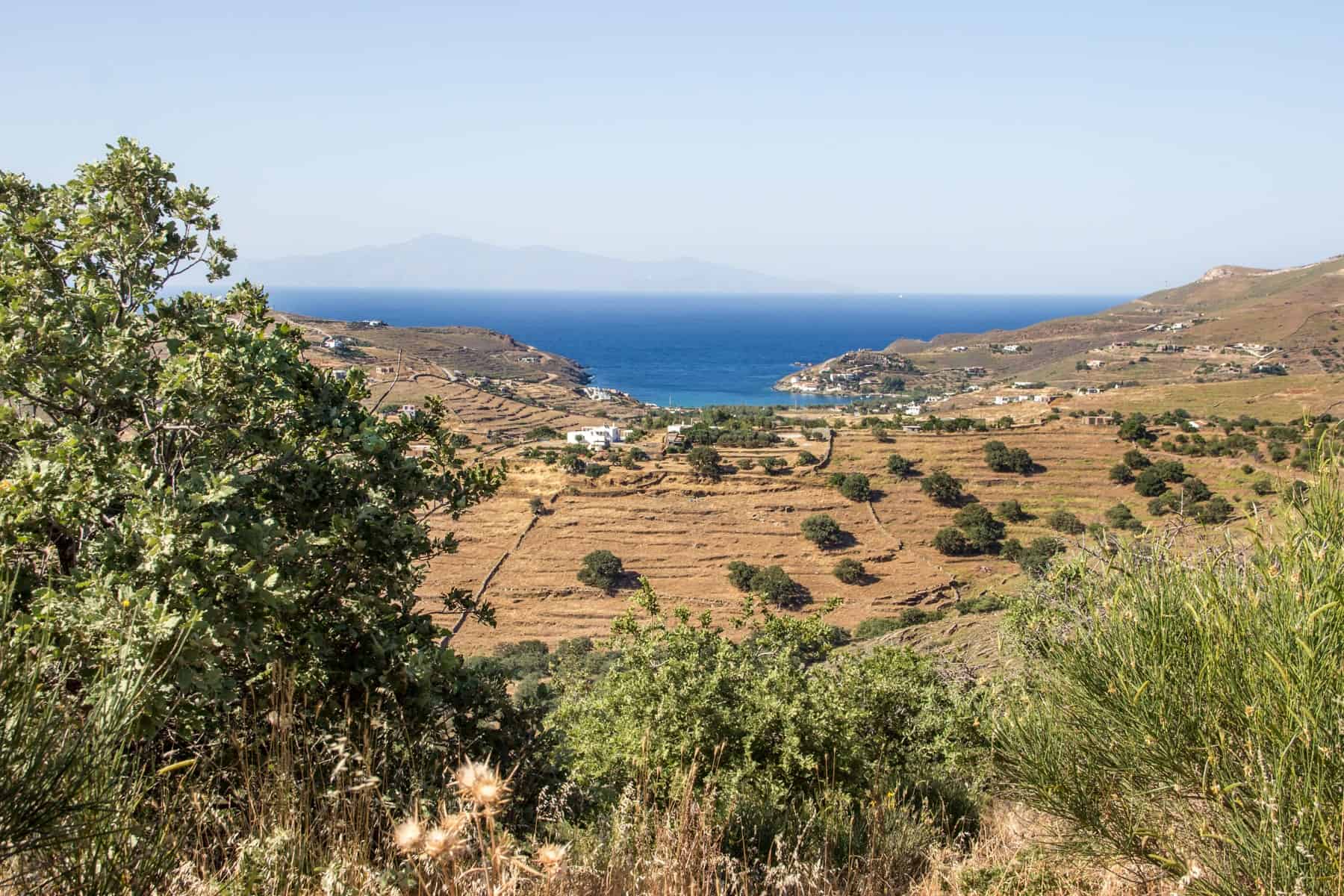 Kea Boat Tour to Ancient Karthea
I ended my time on the island being shown around on a speedboat by Yiannis, the owner of the local boat tour and dive operator Kea Divers, in the company of the hotel's owner and daughter. Athenians are sharing their summer in a home not far from home.
Having shown people around the island for over 20 years, the team behind Kea Divers claims to "know every secret of the water," and so I spent glorious hours bouncing the waves and surveying the island in all its secluded glory.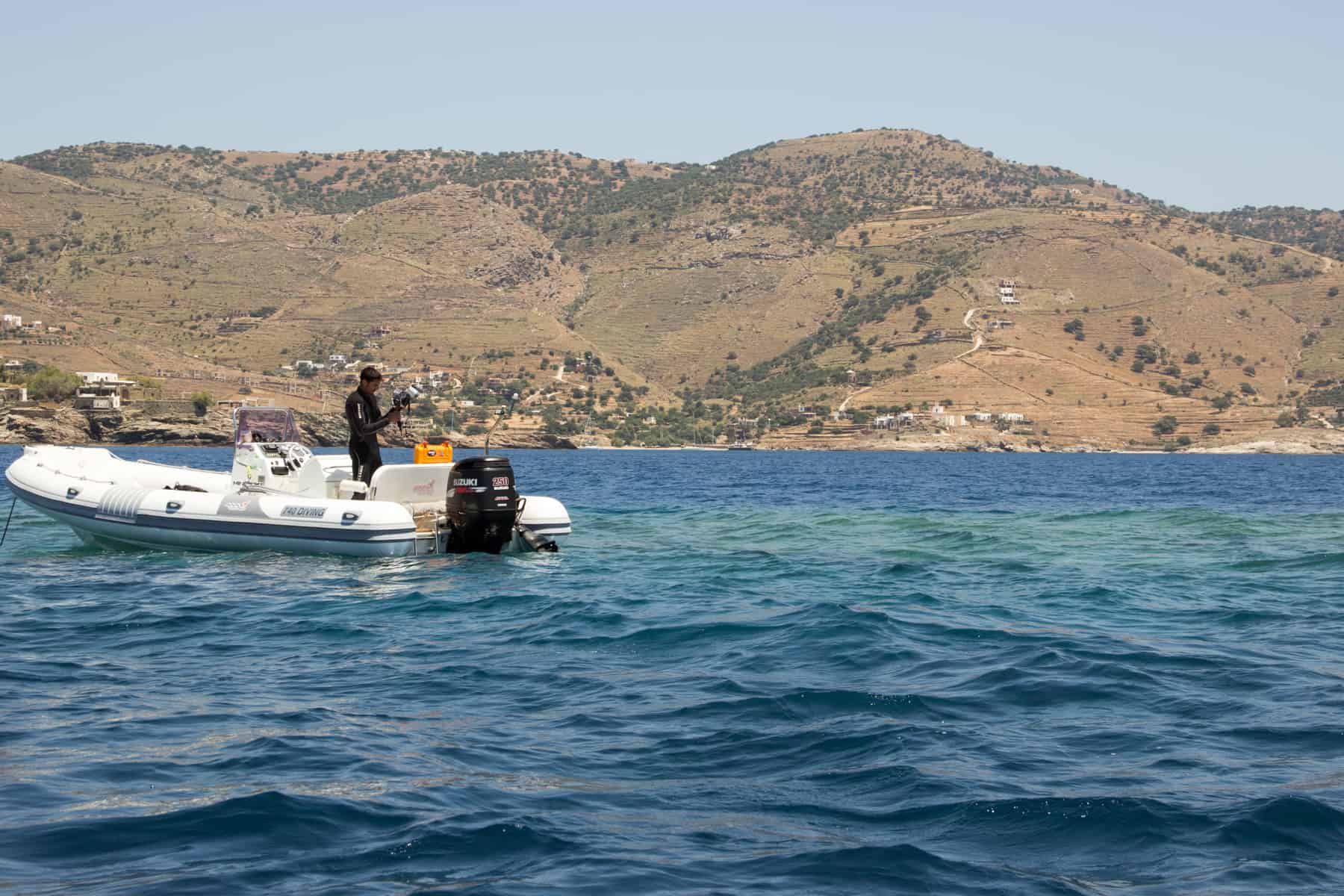 From gorgeous blue and green coves and isolated beaches on every corner we rounded to swimming in the turquoise blue waters, these local boats find the jewels in the island's craggy surface.
One of the most spectacular stops was reaching the sandy cove, where I would climb to the prehistoric settlement of Karthea. Located on the southern side of the island, Karthea was the most important of the four ancient cities of Kea, and while little of it remains, what has survived the elements tempts the historically curious.
You find fragments of the structures, entrances and towers to this walled city. Here, the Doric Temple of Goddess Athena from the 6th century BC is as ancient as the Parthenon in Athens. You can also see the younger temples the Temple of Demetra and the Temple of Pythion Apollo. It's unkempt nature, and its positioning adjacent to the rugged hiking trail exudes a feeling as if you've just stumbled upon it.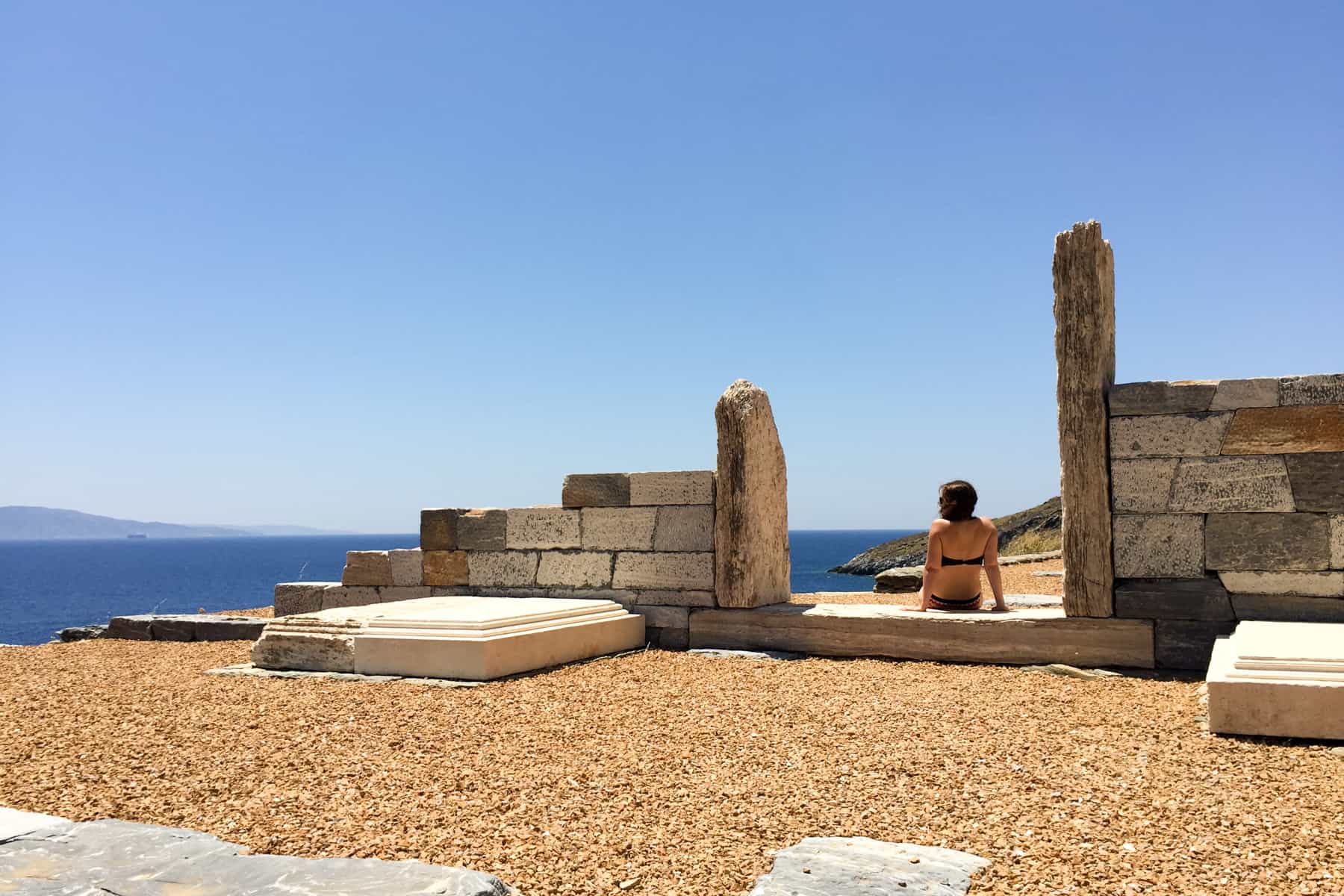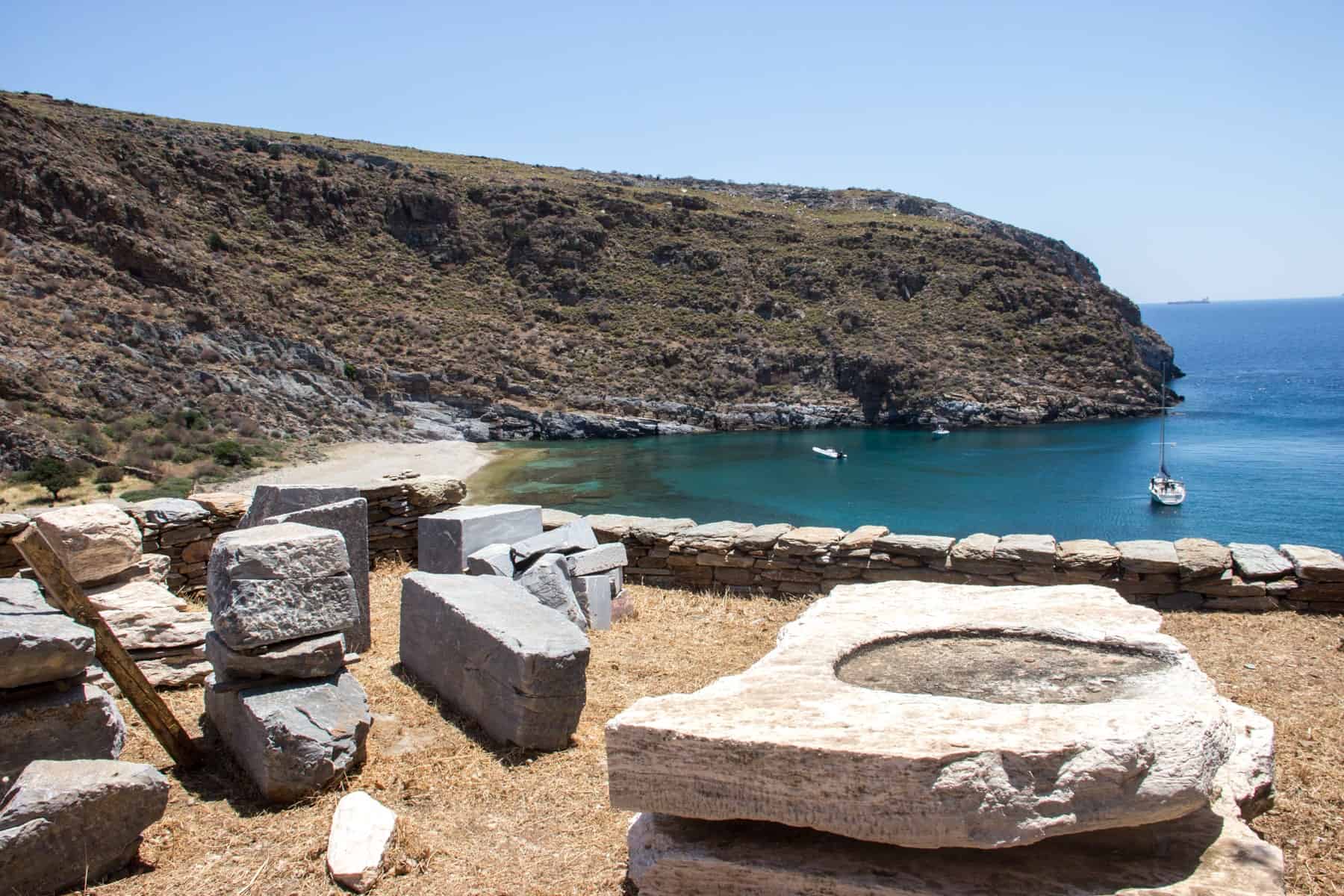 Why You Should Take That Trip to Kea
It's hard to pinpoint what Kea needs to be more established without being ruined since it already attracts particular visitors. Its ruggedness lures in the hikers. Its waters are a magnet for sailing enthusiasts and professionals wanting their badge of honour in passing through what is said to be a difficult passage between the mainland (Attica) and Kea, called Cavo Doro.
Its proximity to the mainland makes it accessible for those who want to spend a few days in Athens and enjoy time on a nearby island. It's often seen as an extension of the city. Its climate makes it a perfect spot for a late sun destination come September.
Kea is a slice of the real Greece, where tourists may come, but locals outnumber them. Where in the words of shopkeeper Yiannis, things need to change to pull in the more discerning traveller. But my hope is… only a little.
Travel Tips for Kea Island Greece
Getting to Kea from Athens
Ferry schedules from Lavrio port, Athens to Kea can be searched and booked on the Discover Greece homepage.
This comprehensive overview and tips about Greek ferry trips includes detailed information on timings, ticket bookings, routes and helpful apps to download.
READ MORE: This is How to Travel to Athens – A City Guide for Greece's Capital
Getting Around Kea
When in doubt, the Port of Kea and the capital, Ioulida are the two major gateways for travel elsewhere on the island.
By Bus
There are public buses in Kea, and all routes around the island are linked via the two major pick-up points of Ioulida and Kea Port.
Buses are more frequent. According to the ferry schedule, a bus takes visitors to Ioulida when a ferry arrives and stops in other areas like Vourkari and Koundouros.
By Taxi
Taxis operate on Kea island, and it was the only way we could get back one day after a long hike.
There are taxis at Kea Port waiting for those who want to transfer to another part of the island.
For those wanting to spend the day in Ioulida or Vourkari, or get dropped off at one of the many beaches, use a taxi. If possible, book one from your hotel as this is often better than waiting a long time for a bus.
Also, consider asking about water taxis, which can allow you to beach-hop on a more scenic route.
Motorbike and Car Rental
You can rent a car in Kea, and you can find one or two rental companies located at the Port of Kea. It's here that you can also arrange a motorbike rental.
Kea Sightseeing and Activities
Hiking is one of the main things to do in Kea, but when surrounded by stunning water and beach coves, its natural beauty is also found off its coastlines. Kea Divers offer scuba dives and snorkelling boat trips all around the island. Contact them directly to customise your plan.
For further information on Tzia, Greece, and general travel throughout the country, visit the portal DiscoverGreece.com which hosted me during my stay in Kea, Cyclades. A comprehensive resource, you can use its iGreece facility to plan your travels in and around the country.
Planning to See Kea, Greece? Pin It!