Disclaimer: This post contains affiliate links to handpicked partners, including tours, gear and booking sites. If you click through or buy something via one of them, I may receive a small commission. This is at no extra cost to you and allows this site to keep running.
Is it worth visiting the Vatican Museum? Out of the things to do in Rome, I felt disappointed by the walled City. Here's why.
Going to Rome and not making a trip to the Vatican Museum would probably raise just as many eyebrows as telling someone that you didn't go and check out the Colosseum.
You can't help but force yourself to go because it's famous and its set-up is intriguing.
It's all kinds of beautiful in an architectural and art sense, but despite being a seat of religion, I was just expecting to see a lot more than a giant museum. Having said that, if you are fully immersed in artistic accomplishment, then you will, without a doubt, love it here.
Preconceptions Before Visiting Vatican City
It probably is a little naïve to think I was going to see a glimpse (however small) of the dark history of the walled city of the Vatican established in 1929 – now classed as the smallest independent state in the world. It's shrouded in such mystery and intrigue (and that in itself sells) but I still went there wanting to witness something of the grittiness that we hear of about this ambiguous walled enclave. I'm too inquisitive for my own good sometimes.
But when you make your way over to the other side of Rome's Tiber River you don't get to view a 'city'.
Sure, it has a population of over 800 people, employs nearly 2000, has its own postal system, currency, police and the infamous Swiss Guards, but you don't really get to witness any of that in operation, so it doesn't really count. It just sounds good.
I made it worse for myself as I walked towards the Vatican City entrance, taking in the tall, imposing, looming walls. The dark and mysterious feeling they generated felt like you were about to walk into something secretive, where you were to be given the privilege to be a little nosy. I loved taking pictures of the wall, it added to a sense of excitement that we were about to start a grand investigative adventure. Sadly not, since your Vatican Museum tickets are not Vatican city tickets. You'll be ushered into a formulated hallway trail before you know it.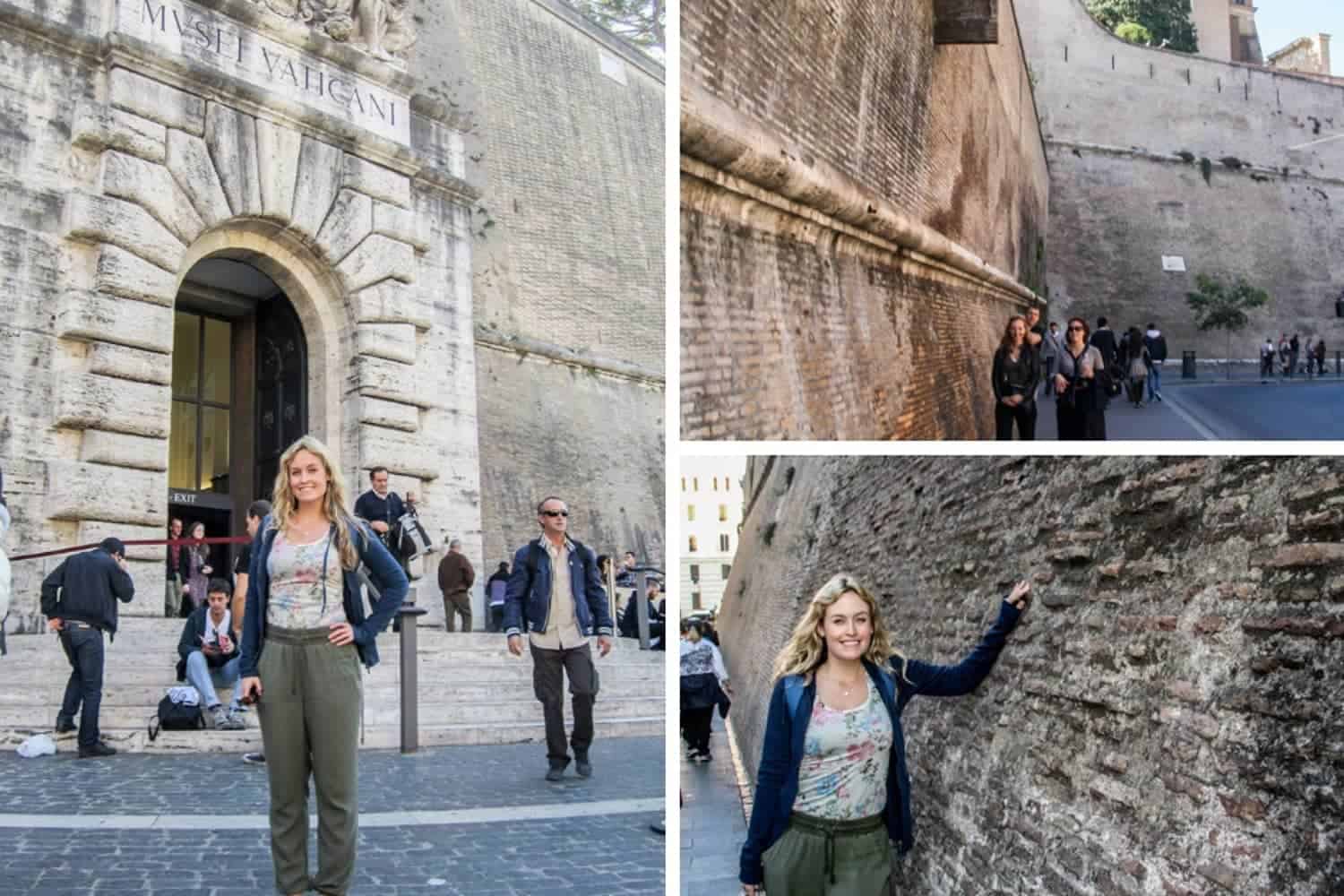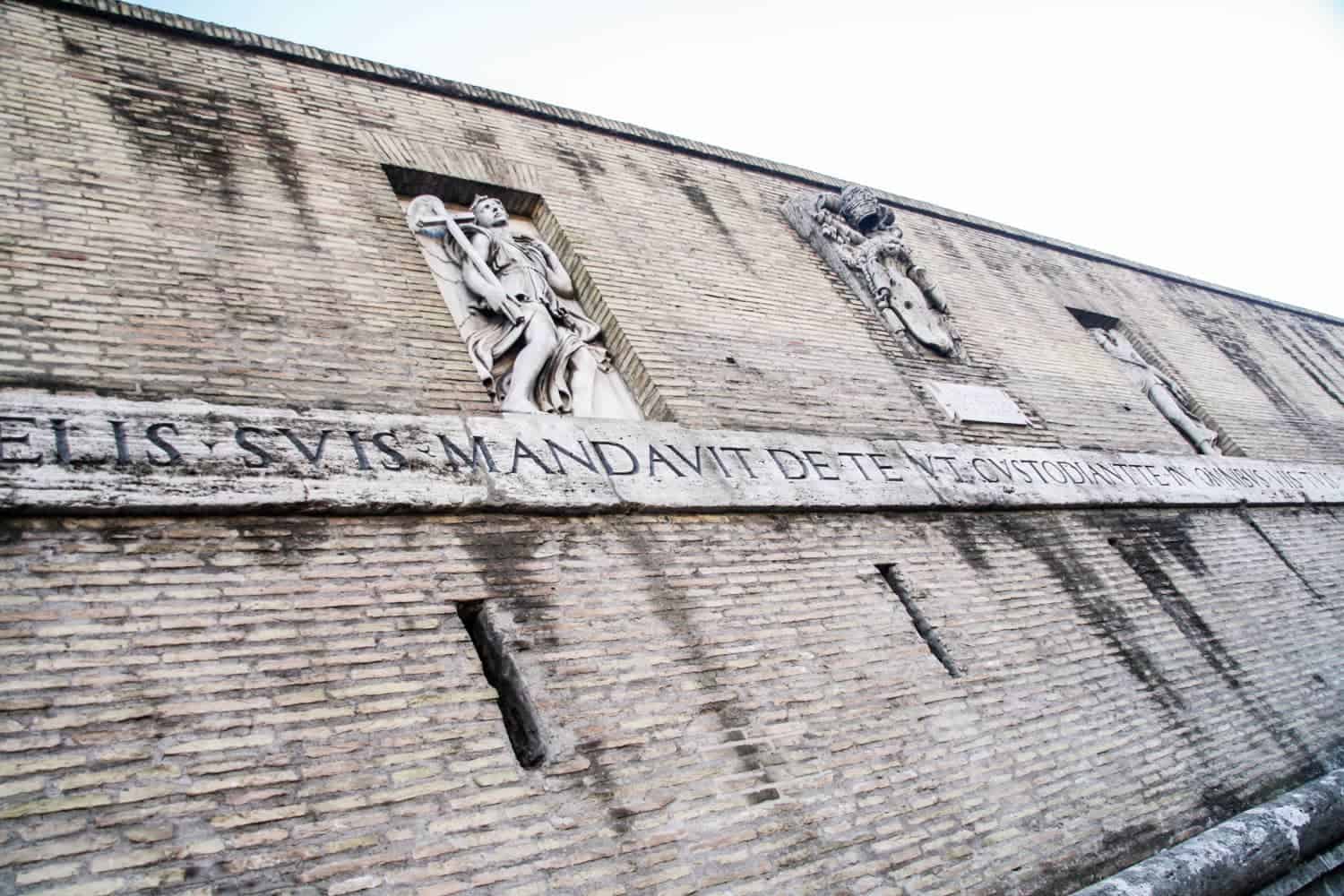 Even without a Vatican Museum tour which could feed you the tiny details for hours of how and when particular artworks were acquired, there is still plenty to see inside. The interior décor of the Vatican is beyond stunning in spectrums of glistening gold, regal reds and the delicate bold paintwork of all the murals. That in itself is a highlight. Neck cranking though it is, you can't get past the beauty of the floor to ceiling designs and their colourful stories.
The statues, carvings and paintings were monumental, intricate and dazzling, although they came thick and fast in overwhelming quantities. It didn't help that we had recently come from Florence having strolled through the beauty of the Uffizi and staring admirably at the Adonis that is the Statue of David in the Accademia. But isn't that all a part of Italy sightseeing?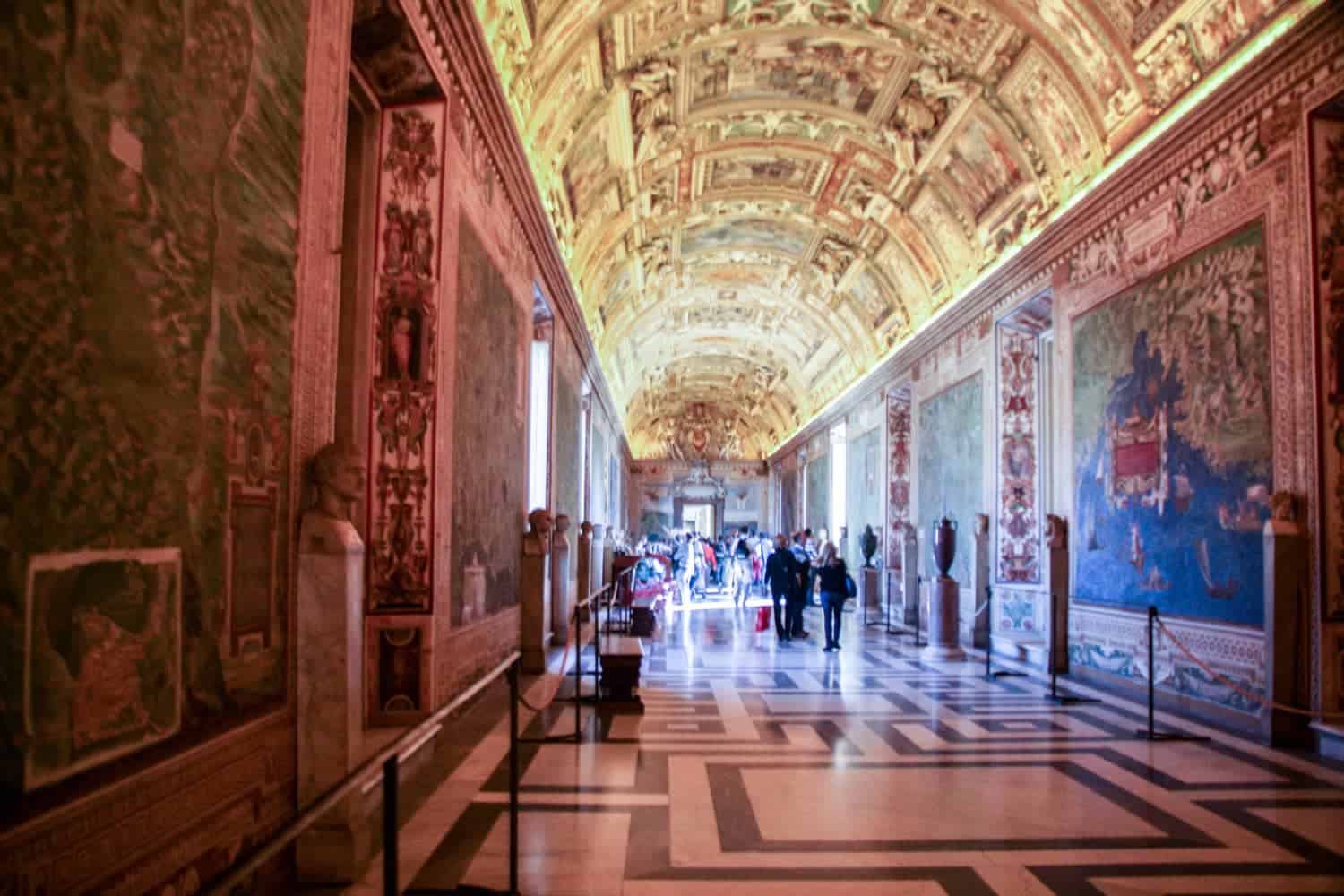 The Bold Truth of a Vatican Museum Visit
In a short amount of time, I began to get annoyed by the entire Vatican set-up.
Corridor after corridor, like a never-ending journey of an extreme cover-up by painting, we were like a herd of cattle wandering from one room to the next and being shoved past groups of crazy tourists on Vatican tours with leaders waving those annoying flags and umbrellas.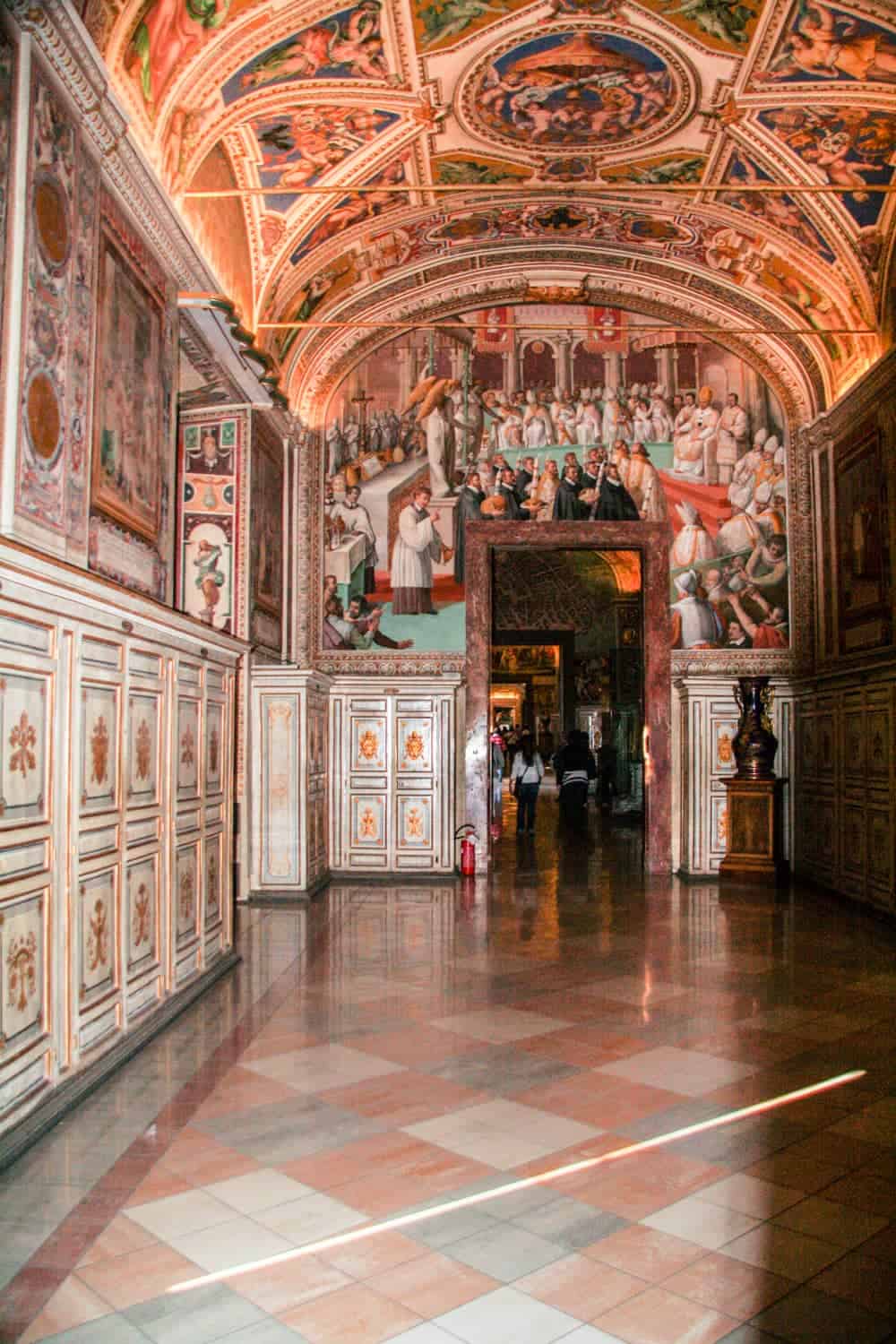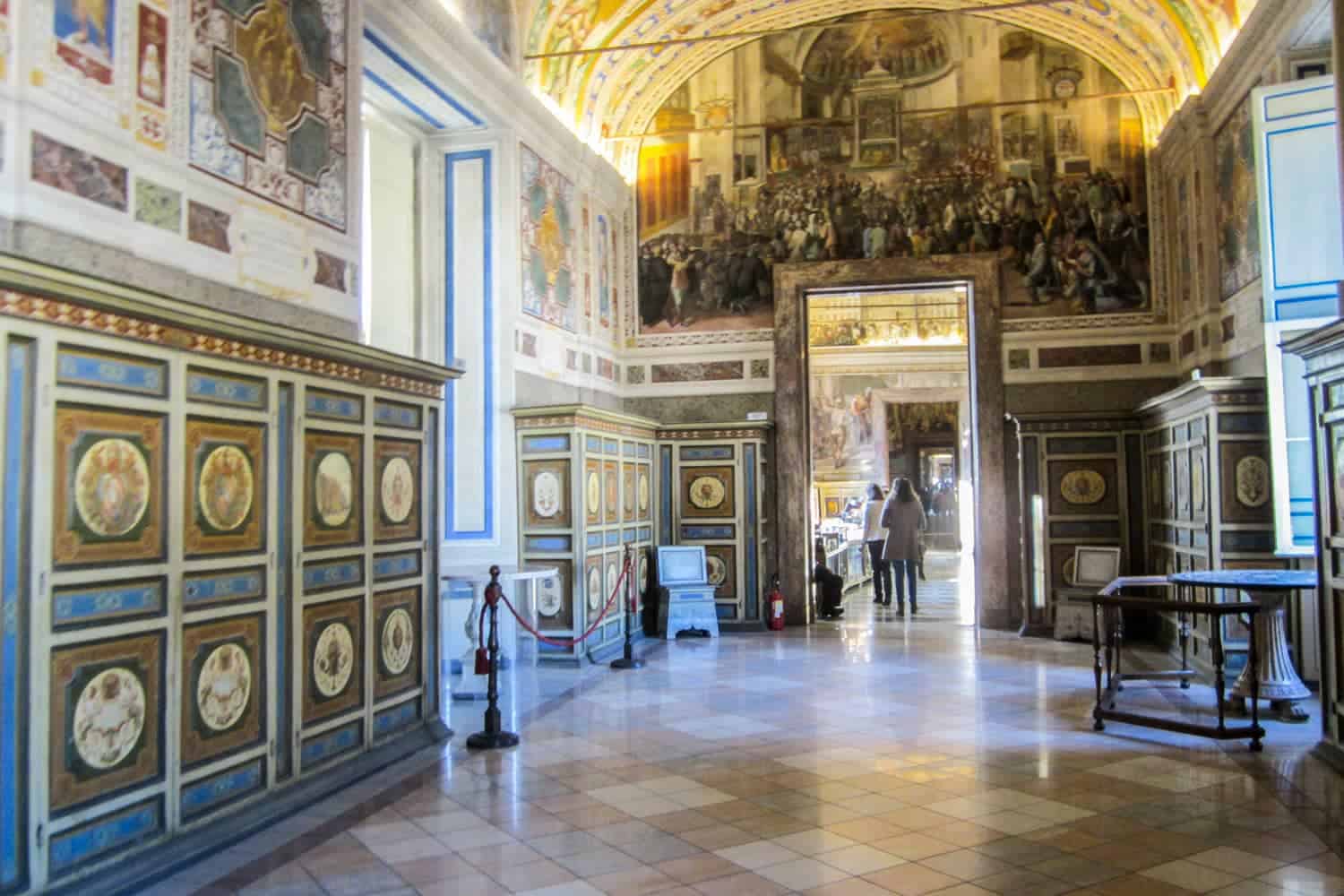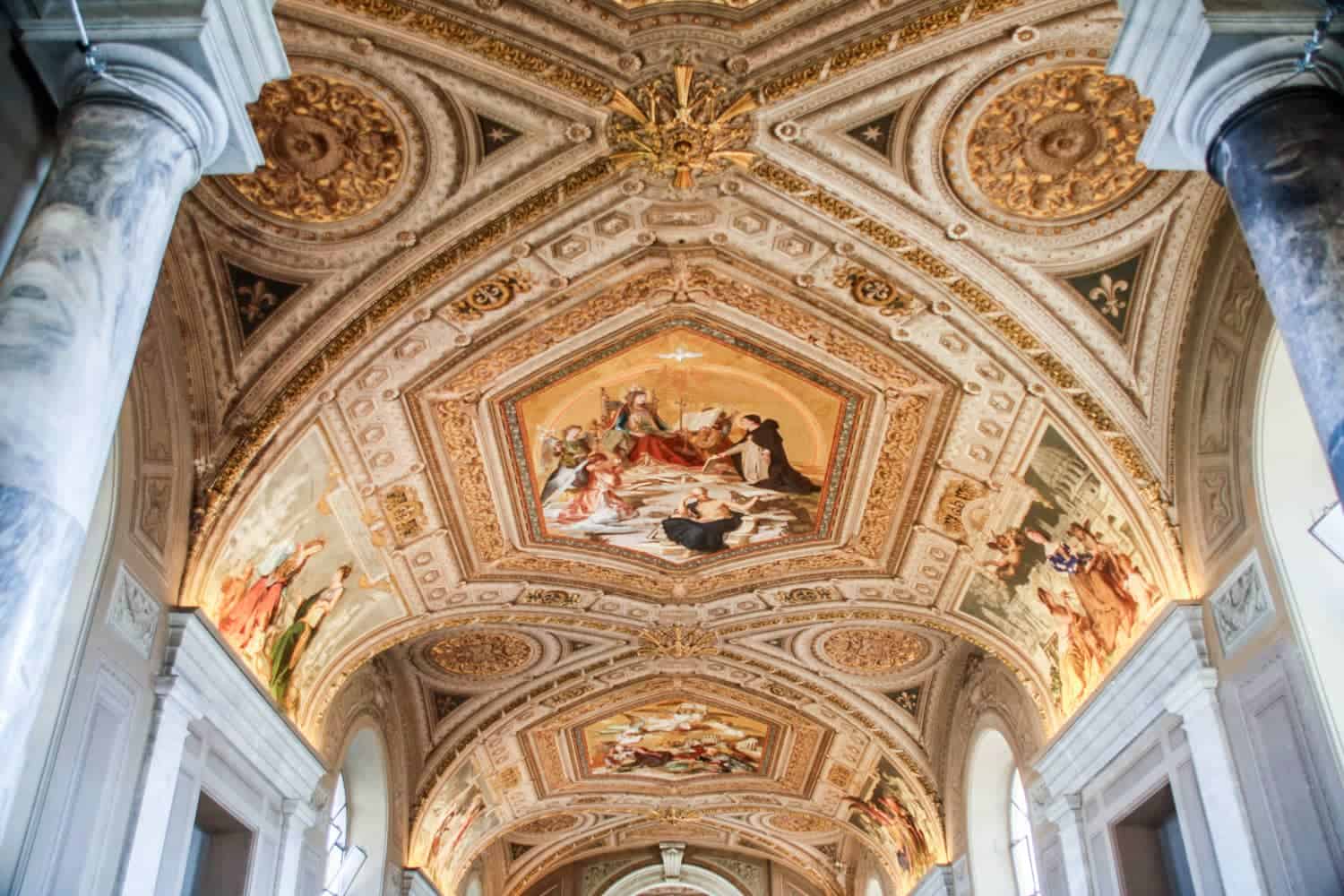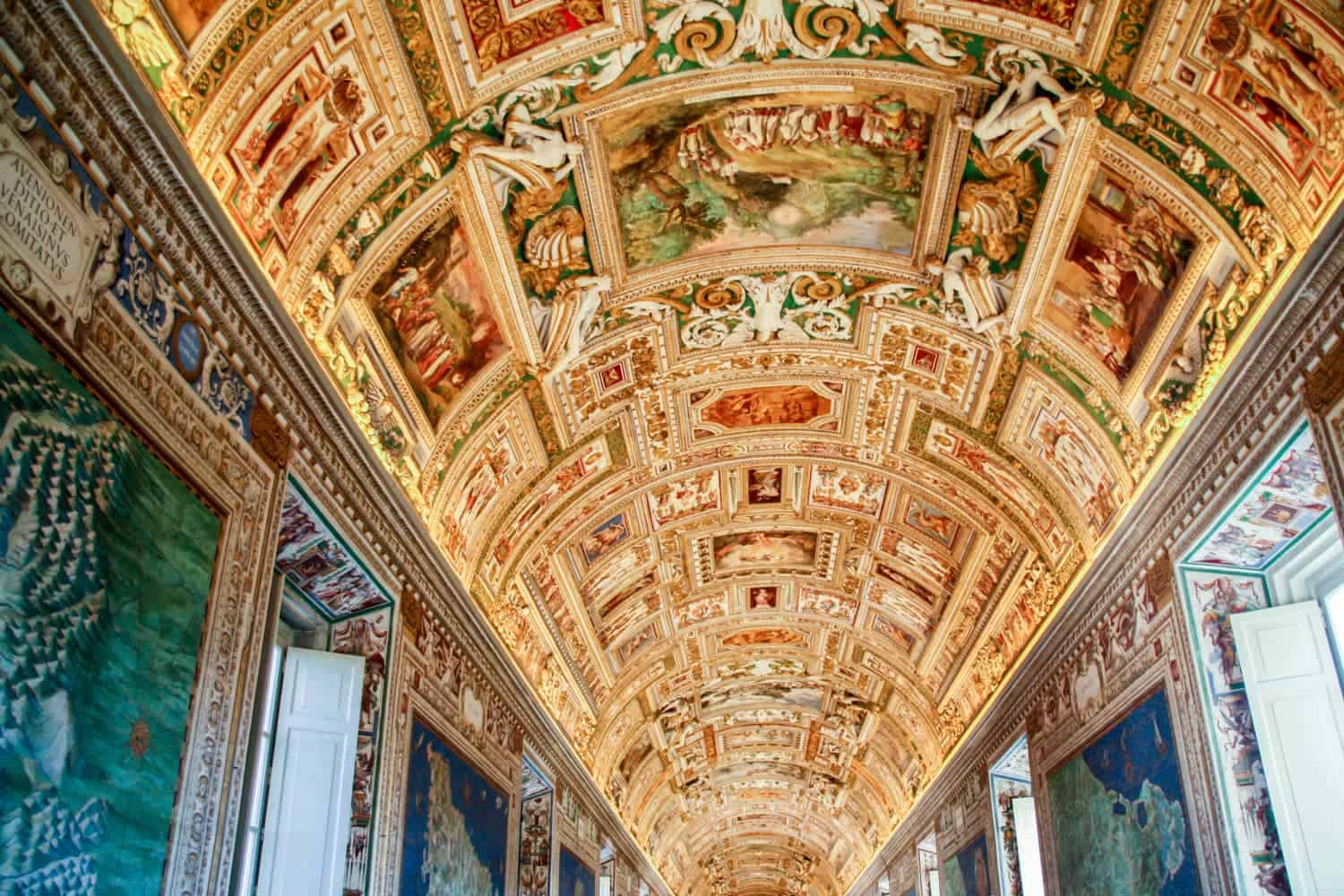 The garden, which features the giant golden globe structure is a nice reprieve, as is the less crowded famous spiral staircase in the Vatican.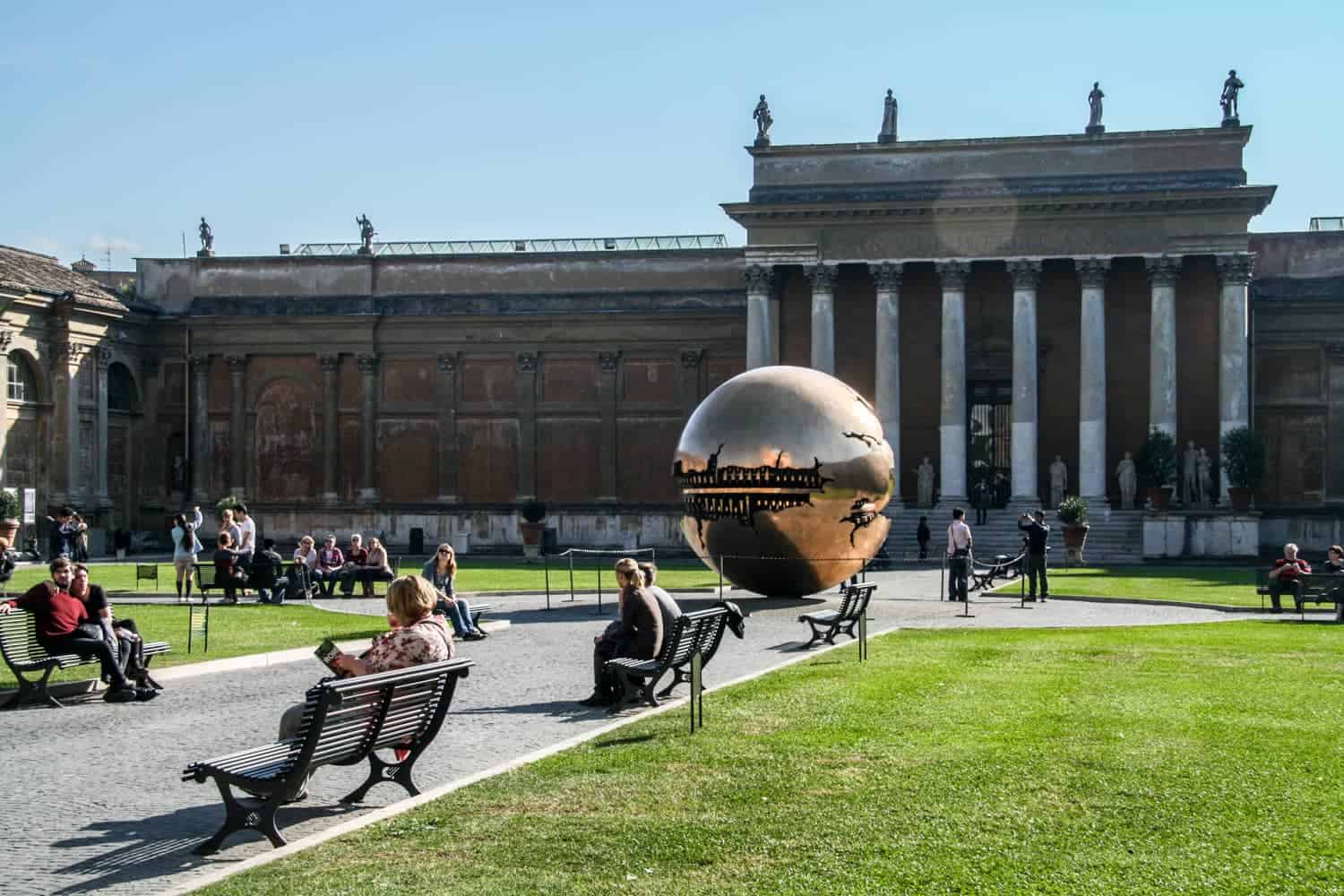 The only salvation was finally arriving at the Sistine Chapel and later out into St. Peter's Square to St. Peter's Basilica, which essentially acts as the endpoint to the crowds where I found Michelangelo's biblical frescoes quite magnificent. It made the colossal herding feel worth it as it is a spectacular sight.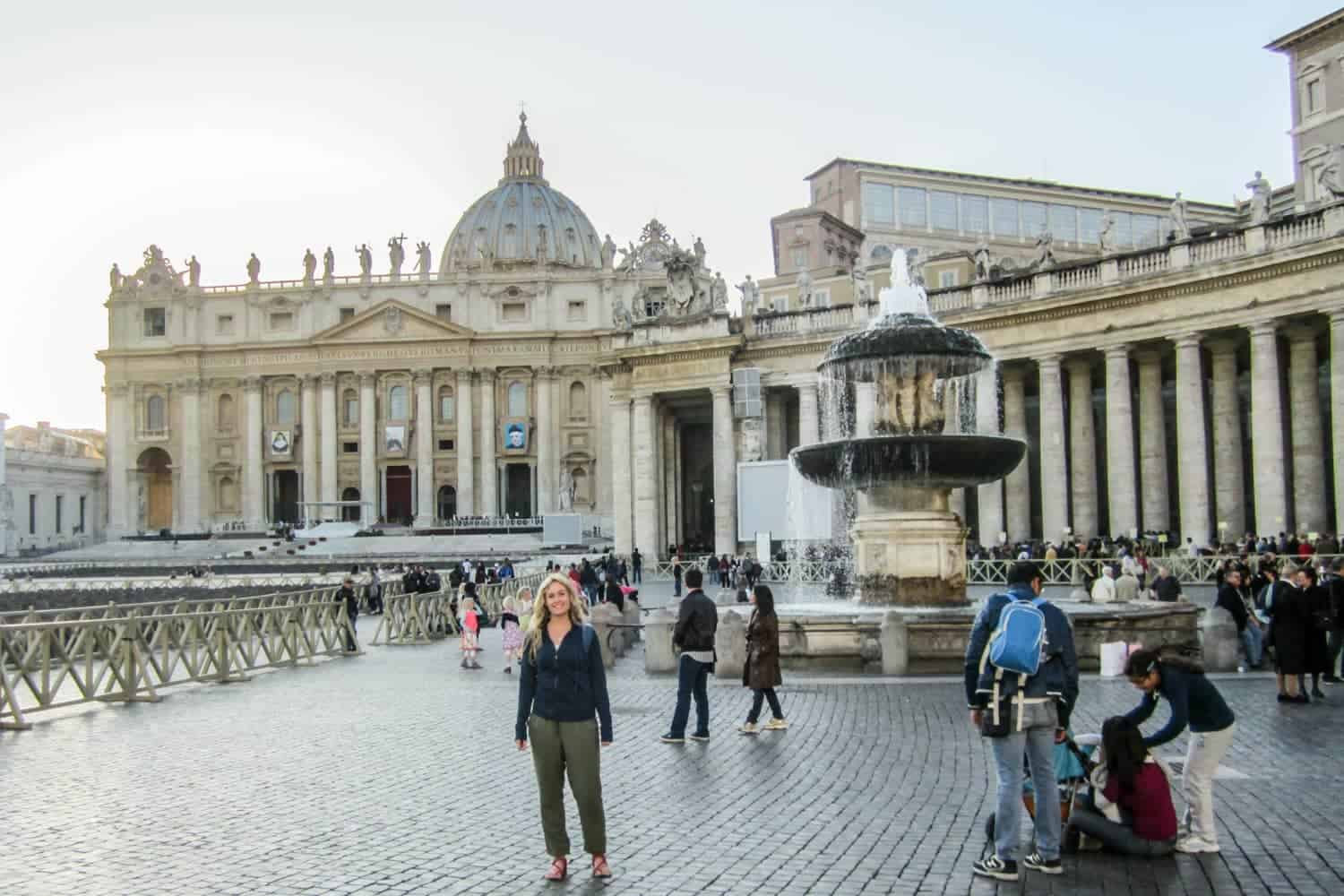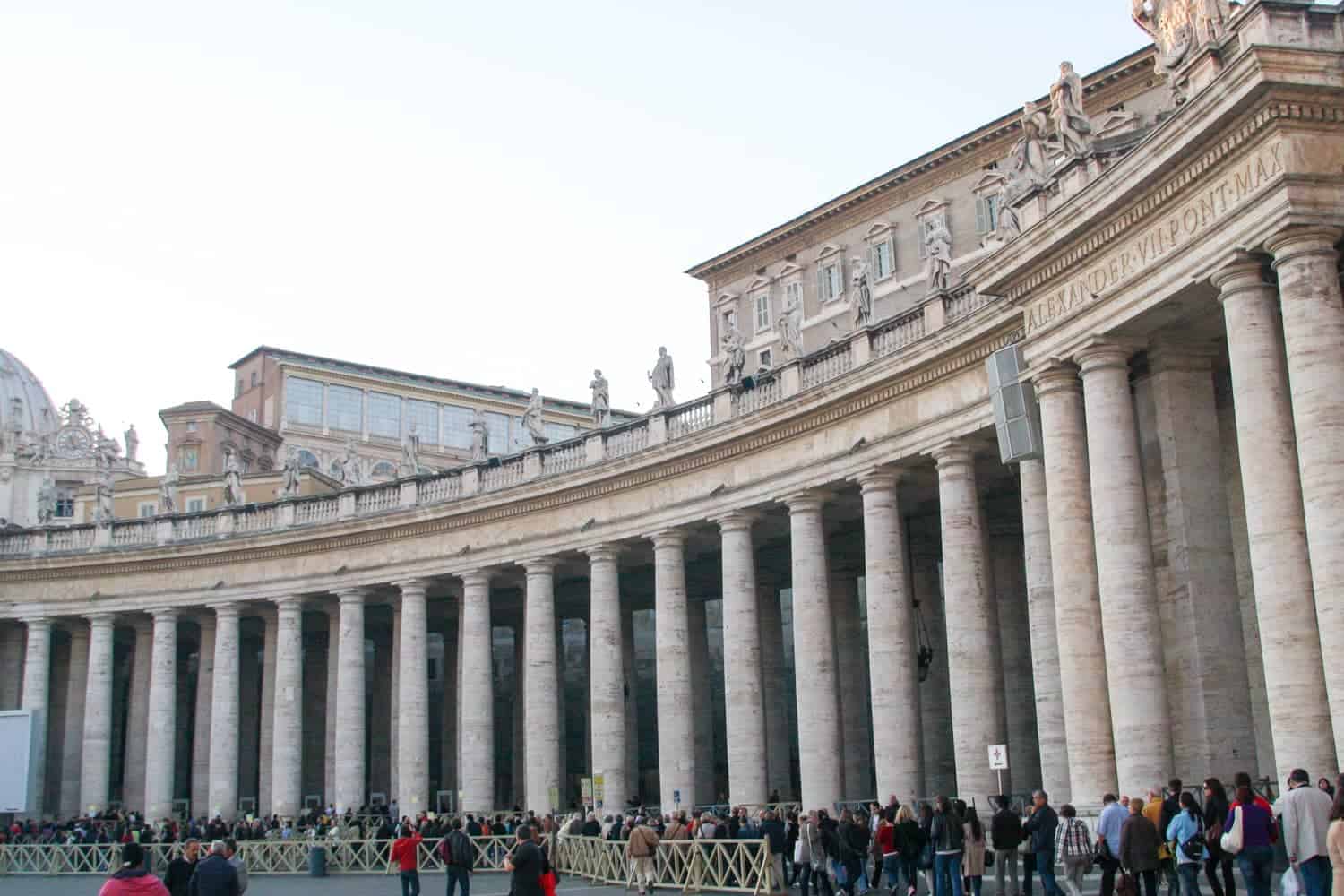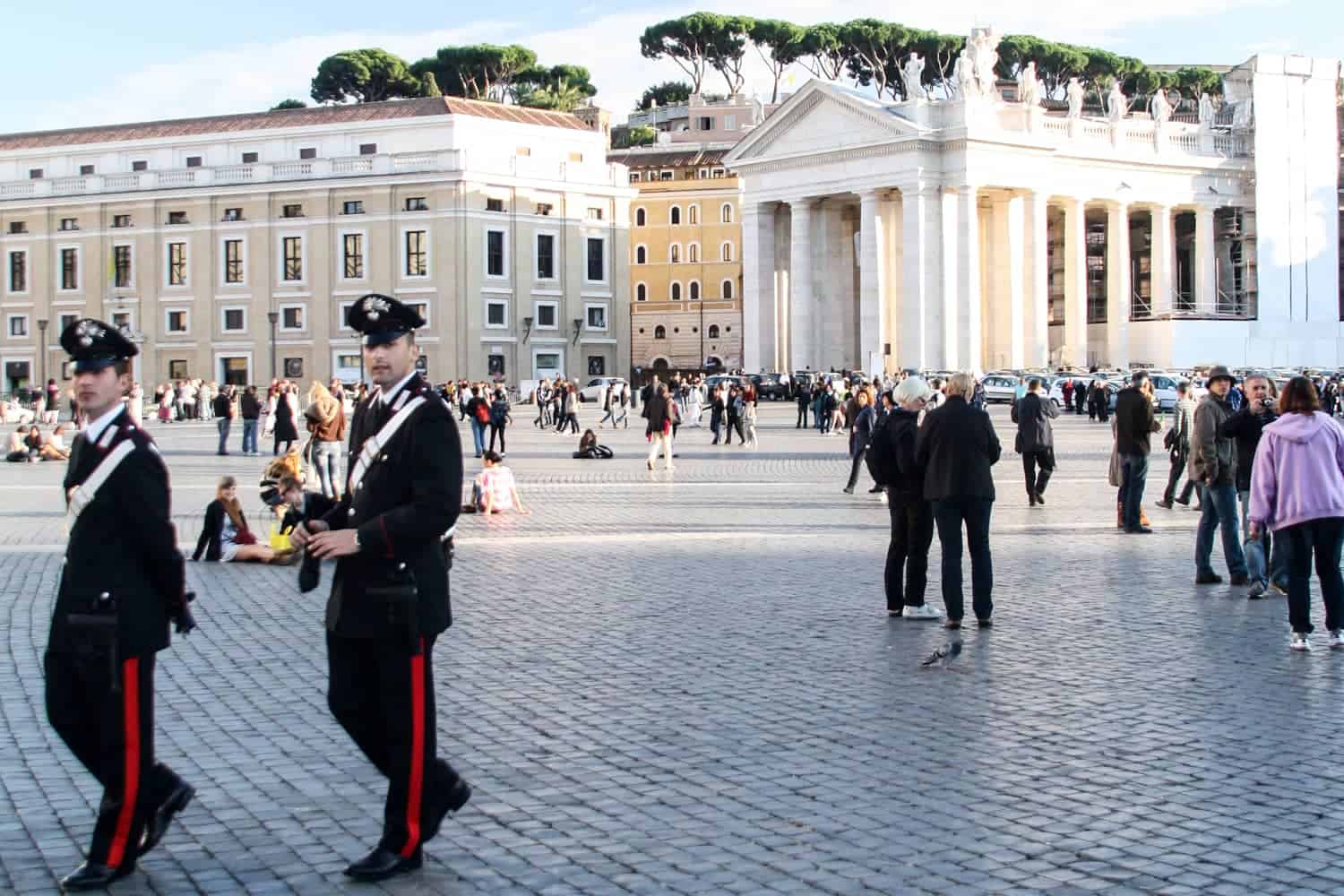 While I don't feel it was time completely wasted, (it is, after all, a UNESCO World Heritage Site), I do feel as though so much of it is off limits that it takes away the edge of being within an independent sovereign state.
That was what I wanted to see just a small part of. Museum buildings and being let outside into a couple of gardens didn't really feel like a very thorough experience.
To me, the museum is not only a big show off of wealth but it feels like artistic brainwashing for all the underground things that take place there so that when you leave it takes you a couple of hours to think: 'Oh, what about the religion thing?'
That's no doubt the point on a visit to the Vatican.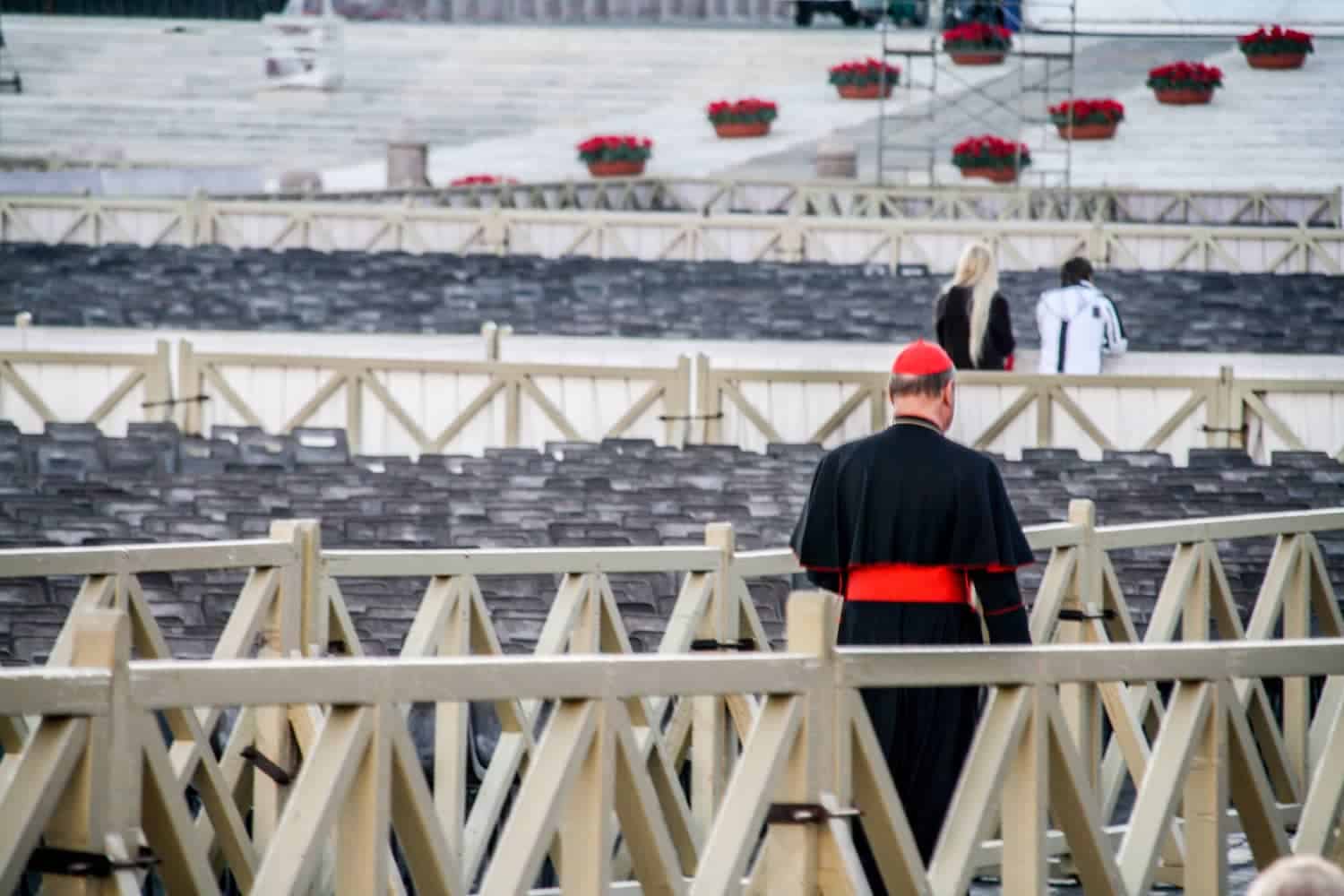 Vatican Museum Tickets and Guided Tours
There are various Vatican Tickets and it is advised to pre-book online and purchase the 'skip the line' ticket to avoid the horrendous queues that amass here quickly. I would recommend the escorted option below where you will be amongst the first people through the door and in the Vatican exhibitions.
Vatican City Tickets: General Admission
Skip the Line Tickets to the Vatican Museums and Sistine Chapel costs €28.
Escorted Skip The Line Tickets to Vatican Museum & Sistine Chapel Ticket costs €35. This ticket gives you access for morning slots (8:00 AM and 8:30 AM) that are not available to those with regular tickets. This also eliminates the intense crowds.
Vatican Tour Tickets
Guided Tour of the Vatican Museums, Sistine Chapel and St. Peter's Basilica ticket costs €56.
Guided Tour of the Vatican Museums and Sistine Chapel ticket costs €39.90.
Vatican Museum Hours
Opening hours of the site both for Vatican guided tours and general entrance are from 9 am until 4 pm.
The Vatican is closed every Sundays.
Vatican Necropolis Tours
The Vatican Scavi Tour visits the Vatican Necropolis below Saint Peter's Basilica where you can see the Tomb of Saint Peter. The guided tour costs €13 Euros and lasts for 90 minutes. There are a limited number of tickets issued daily to ensure this archaeological site remains protected.
Looking for further inspiration for your time in Rome? READ MORE: What to Do in Rome in Two Days