Disclaimer: This post contains affiliate links to handpicked partners, including tours, gear and booking sites. If you click through or buy something via one of them, I may receive a small commission. This is at no extra cost to you and allows this site to keep running.
The marble slab in the centre of the room at the Turkish Hammam is like a sacrificial altar. We, the ceremonial lambs, splayed across its edges ready to be slaughtered with loofahs and bubbles at the hands of burly women.
A Turkish Hamam as it is also spelt (or a Turkish Bath) is a form of public bathing whose origins can be found in the culture of the Ottoman Empire. Today many of these traditional bathing rooms have been turned into spas with an atmosphere of luxury, relaxation and a place of calm. Yet, in reality, the true essence of a public bathing experience is more of a hectic ritual.
It started off with a crooked smile, a talk of price and being ushered into one of the small changing rooms with nothing more than a plastic bowl, a small soap and a cloth to wrap our naked bodies in. My friend and I decided to find a Turkish Hamam on the Asia side of Istanbul – one that was more ancient, local and without the tourist price tag normally granted to those in Sultanahmet on the western side.
Such a unique Turkish massage is quite possibly the most surreal way I've ever spent $20.
We scuttled out still wearing our underwear beneath our new attire, not knowing how long we could relish this opportunity of rebelliousness before being told to strip off later.
The circular room, adorned with individual changing hubs with a sporadic scattering of topless ladies casually waiting outside of them, resembled something similar to the dingy atmosphere of an amphitheatre basement. In this Turkish sauna we, the Gladiators, were waiting to be fed to the tigers after crossing the corridor ahead.
Entering the bathing arena, we waited and pondered our choices. We stared. We followed the actions of other semi-naked women each choosing a foot-level sink, filling it with water and washing with the soap. Then we revelled in using the sauna because that was the only familiar thing.
At a Turkish Hammam, you await your destiny with trepidation and nervous giggles. You simply throw water on the marble slab and lie face down to signal that you are ready.
Here, you will find no lounge chairs and rooms projecting soothing sounds and a spectrum of calming lights. No bathing jet pools or soaking in the water of natural springs.
In Turkey, you pay for a good battering, and it's better known as tradition.
From the corridor, there first emerged a Mediterranean skinned stocky warrior woman. Next up, was someone's grandma. Finally, a woman I just wouldn't want to mess with. Within seconds of elimination, we were spared the caressing embrace of grandma.
At this point of the experience, you have no idea what's going on, instead of leaving your fate in the hands of half-naked, over-bearing, middle-aged Turkish women whose job it is to batter you into a smooth pulp.
You, the unwitting tourist, have no idea when it's going to end.
The onslaught begins when the scrubbing mitt is swiped across your body in long sweeping motions, much like the sheer joy involved in the process of peeling a potato. Body taps signal the move to roll over, where the process begins again, almost EVERYWHERE.
I look up to the domed ceiling, perforated by hexagonal holes that let in glowing strands of sunlight into what is actually a very beautiful room. It's important to note at this point that architectural appreciation will save you from unwillingly recreating those sumo wrestling head and belly interaction scenes. Or feeling awkward for accidentally looking at sacks of rotund melons.
The final round of bubbles is more soothing as your entire body is doused with foamy goodness. Pulled closer, turned over, put on my side and finally made to sit up, I peered at my troll mother in a sleepy daze, almost thankful.
Before she delivered the final blow.
A gruff: "FINISHED", delivered with a bowl of water thrown ungraciously over my head, signalled my shove off the sacrificial altar of self-induced violation which was now ready for the next willing victim.
In the end, my friend took a photo of me in my dishevelled state as we tried to articulate the past hour, but our giggles were soon interjected by the voice of a topless lady behind us shouting at us to stop taking a picture of her. "No, no-no. Don't you worry about that", we assured her. "You are REALLY NOT in it." The images firmly etched in our memories were quite enough, because really, no pictures could ever convey an experience such as this.
Visiting a Turkish Hammam may leave you with profound mental images you will never forget, but it's something you HAVE to try in Istanbul or elsewhere in Turkey. Slightly rough and tumble in approach, you are not left injured and in pain. Instead, you will be surprised by how relaxed and clean you feel afterwards, and how completely impossible it is to find full clarity in this experience, no matter how much you talk and laugh about it.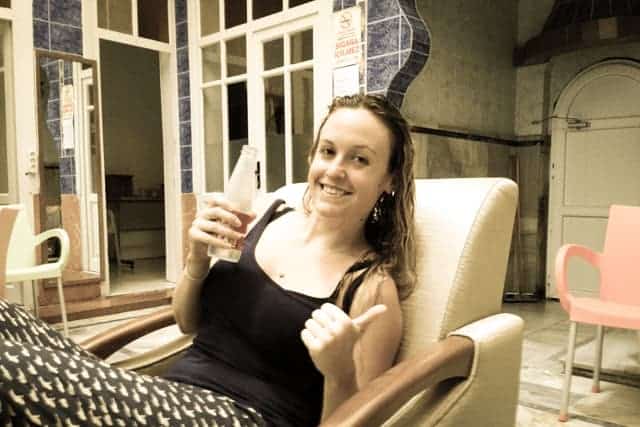 Things to Know About Experiencing a Turkish Bath in Istanbul
Choose a Local Istanbul Hamam
Where: Uskudar Cinili Turkish Bath Hamam
Address: Murat Reis Mah. Çavuşdere, Uskudar
Directions: This is on the Asia side of Istanbul. Take the 12a bus from Kadikoy bus station (right next to the ferry ports) and get off at the "Ilahiyat Fakültesi" stop. It's not more than a 10-minute walk from here, nestled behind the mosque.
Cost: 42 Lire (Approximately $20 / £11)