Disclaimer: This post contains affiliate links to handpicked partners, including tours, gear and booking sites. If you click through or buy something via one of them, I may receive a small commission. This is at no extra cost to you and allows this site to keep running.
Visit a Mongolian ger and experience the nomadic culture and traditions that Mongolia is most known for, with the guidance of a local family.
With over half of the entire Mongolian population living in Gers, it has become a symbol of Mongolia, the concept of community, and an association with a rural lifestyle unfamiliar to us.
Yet, to visit a Ger is to truly understand the unique culture that surrounds it.
A symbol of home and the kindship of family, people are born and raised in a ger, get married, and stay close to their one-ger family or small community for their entire lives.
It is the single, most unifying part of Mongolian family and life and one of my most insightful local moments on my 20-day Mongolia travel adventure.
What is a Mongolian Ger? Or is it a Yurt?
Firstly, names can get confusing as you'll more often than not see these round tent-like structures referred to as a Mongolian Yurt or a Yurt House. However, Ger is the name Mongolian people give to this living space and thus is how it should be properly referred to when here.
Mongolian Gers are around 250kgs in weight, including the wooden walls and one layer of textile felt. It is a structure with no windows and only one door. In the winter two or three layers of felt will be additionally added, as well as a plastic layer to protect from the rain.
Gers are made to be easily assembled within one to three hours, as well as to be quickly broken down and put on one carriage for easy transportation because these nomadic families move approximately four times a year according to the seasons.
As this National Geographic article shows, while more and more of Mongolia's population moves to the capital, Ulaanbaatar for economic reasons and access to better healthcare and other facilities, 90% of the rural community continue to live this way. However, there is also great debate about the impact of Gers in relation to pollution levels, as well as how the culture of Ger living is being affected by climate change as a whole.
Visiting a Ger in Mongolia
Every once in a while you will pass a Ger or two in the distance and wonder about how a family or small community can survive out in the wilderness, hours away from the quick-fix amenities, shops and company that we all take for granted.
READ MORE: How to Travel to Mongolia – Overlanding the Least Densely Populated Country in the World
During my time in the Orkhon Valley, I had the opportunity to visit a local family, who lived half an hour away from our regular ger camp, of which there are many set up for multiple visitors.
This ger visit was in no way a tourist trap or staged set-up with the family taking money from passing visitors regularly. Instead, it was a chance opportunity set up by our Mongolian guide who asked the family if our group could visit to learn more about Mongolian life.
There were times on the trip driving hours through hinterland when the lack of civilisation affected our mindset. Therefore, we were interested to see how a family survives like this daily.
How does a Nomadic Mongolian Community Work?
Considering the nomadic family moves about regularly, one of our first questions was if they own any land. Every Mongolian citizen is allowed to occupy a certain amount of land. Each nomadic family belongs to a village and upon moving, then registers an area of land with that village.
The location of the ger is normally dependent on generations rather than an official plot of land. But the registration is fundamental and the family will either live next to or nearby relatives (including being near to family members who have relocated to the nearest town or city).
Another family, not from your own, can come and set up nearby if they are registered with the same village. This means that the notion of private property doesn't exist in the countryside, only in towns and cities.
Inside a Mongolian Ger – Rules, Customs and Traditions to Follow
We were careful not to step on or touch anything when we entered the ger until we were told exactly what to do.
It's important to follow custom and treat the homestead with the utmost respect. If you ever get the chance to go to a Mongolian ger, here are the general rules to abide by:
Customs on Entering the Ger
Don't step on the ger threshold when you enter the main door.
The bag hanging just inside the front door is a religious symbol to ward off bad spirits.
Segregated Areas of the Mongolian Ger
Women sit on the left-hand side of the ger (which is also where the kitchen area is) and men sit on the right.
The back of the ger is considered to be the place of honour, where the most respected guests sit and this area usually contains the family's most precious things, alongside a religious alter corner.
Be Mindful of the Central Poles
Don't pass or walk through the two central poles of the ger. This is based on a superstition that these poles support the ger and should, therefore, be protected.
Don't Point at Objects or People
Pointing is considered a rude gesture in Mongolia, so use an open palm and a flat hand to guide direction.
Ger Life Rules About Animals
Never ask how many animals a family has, it is seen an impolite. Instead, you can ask how many different types of animals they have.
A little animal hair and wool can be found hanging inside the Ger – this is an indication of what particular produce the family sells, but it can also indicate their favourite or most expensive animal. They like to keep some of it within the family.
If milk or any dairy produce is spilt, then a Mongolian will touch the said dairy product and then touch their head as a means of saying 'sorry'. Food wastage is seen as a negative thing.
Income and Survival of Nomadic Mongolian People
Dairy Farming and Fermented Mare's Milk
Intrigued as to how a nomadic Mongolian family can make money when so far removed from everything, we were informed that a typical family's income results from selling dairy products, alongside wool and cashmere from their animals.
We were invited to try fermented mare's milk – also known locally as airag. I kept hearing about fermented mare's milk before I went to Mongolia; the negative description being met with a disgusted facial expression. I found it drinkable – it's like milk with a slight fizz and has around 2% alcohol. To make this local brew, the mares are milked every two hours and the milk is churned as many times as possible to ferment it.
We also had the opportunity to try the curd (ghee) and butter.
The curd is unique and, for some, quite hard to stomach. It was hard to keep a straight face out of politeness and try and crunch down and swallow something that tasted slightly rank. So much so, that the only thing you had to wash it down with was… fermented mare's milk!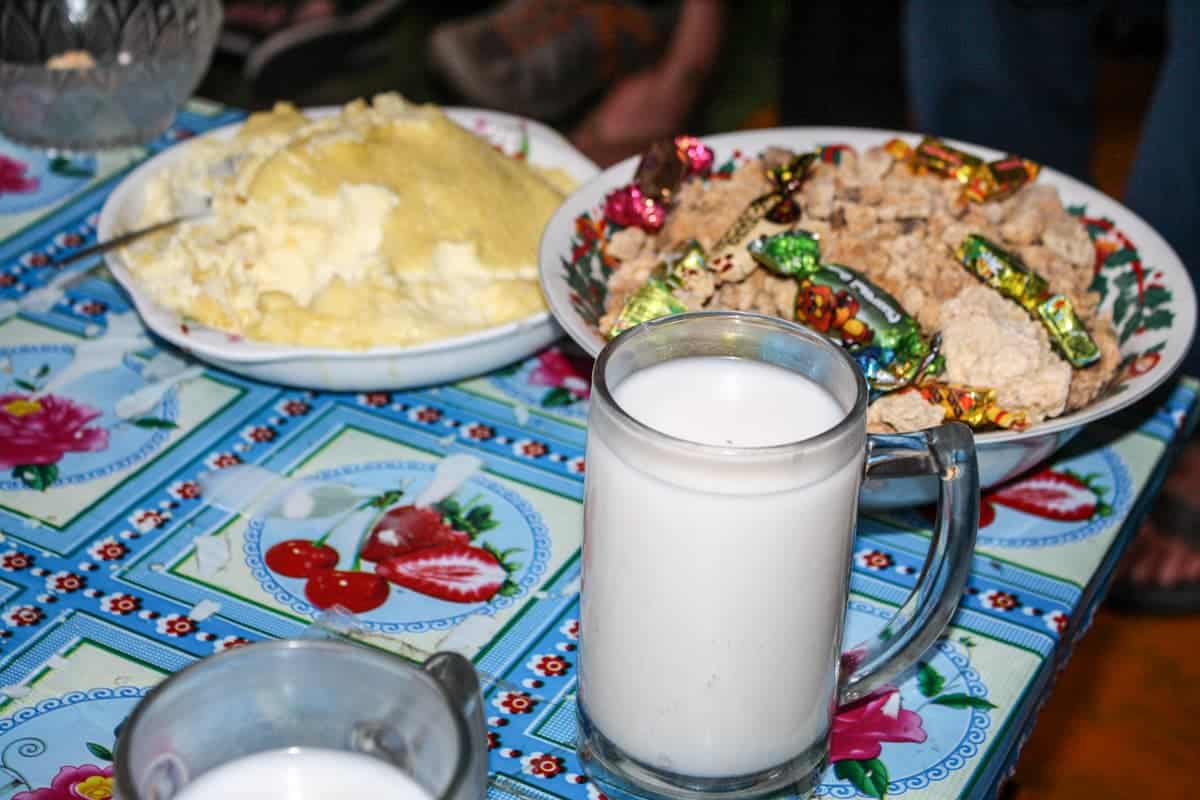 When eating at a Mongolian ger you may find yourself in a vicious cycle of trying to be polite and getting stuck in a rut. Still, they let us try a bit of the local vodka which made the palate confusion a little easier.
Nomadic Family Living
The family consumes their dairy products, alongside selling them. In Autumn, meat is prepared and stored for the harsh winter: an amount that can normally last until Spring.
In the Summer, the family will live on dairy products and vegetables, topping up with supplies from the nearest town if needed.
Everyday Life and Access to Facilities
Nomadic Mongolian families have access to all modern facilities. Being isolated isn't so deserted as you may think and nor do the nomadic communities deliberately cut themselves off from everything.
Children go to school in the local town, where they either live with relatives in the town or, when older, stay in the school dormitories.
There is also a good medical system in place within each village. Each village has a hospital service, catering for around 10 families with regular check-ups taking place. When it comes to childbirth, the woman will give birth in a hospital in the nearest town or city.
After much talking and translation, we all went outside. The men began to wrestle, the children jumped on their horses to show off their skills and the ger mother opened up a cupboard full of traditional Mongolian clothing she had handmade and invited us to try them on.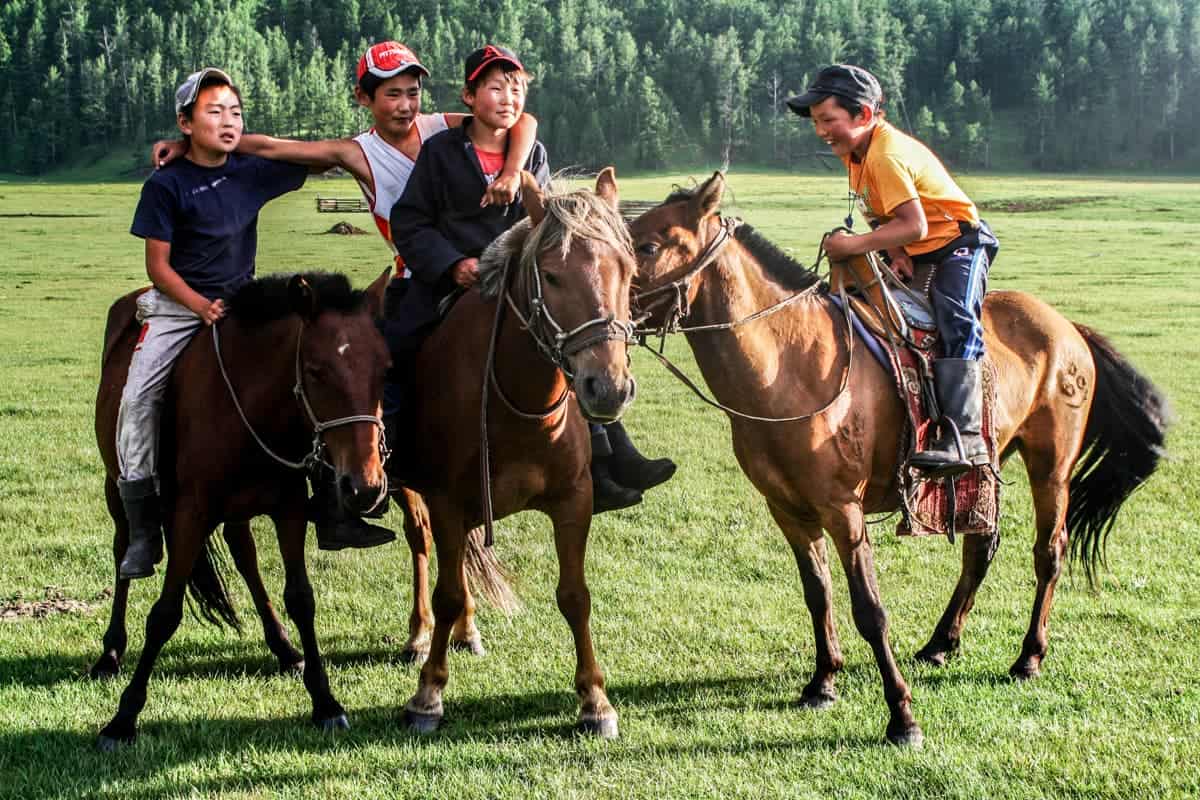 We might not have been able to communicate directly, but we all shared something – the serenity of rural life. One that I could only imagine for a short moment, but which is their only, and much-loved, daily reality.
Sleeping in a Mongolian Ger – Where to Stay
While there are many family-run homestay programmes that your local Mongolian guide could facilitate, there are also small ger camps which allow you to sleep in a ger with a little more comfort.
You'll find them in all major stop points on a typical Mongolian journey a few kilometres on the outskirts of Ulaanbaatar and the Gobi desert, and it's not hard to miss the cluster of white mounds within an otherwise stark setting.
Ger Camps in Mongolia
My Mongolia Eco Ger Camp, 54 km south-east from Ulaanbaatar, is in a rural area called Nalayh that is effectively one of the city's outer provinces. It's comfy, with towels and linens provided, and place where you can adventure by horseback, bike, driving tour or on foot via the many hiking routes.
Enjoy the downtime on-site, in serene nature and with modern facilities where you can also enjoy a cooked dinner. This ger camp is also 70km from Chinggis Khaan International Airport if you are short on time and want to fit in this experience either side of your trip. Magic Rock Tourist Camp, also in Nalayh, also has a similar setup.
The Terelj Star Resort is set within the low valley hills of the Terelj National Park. A beautiful and peaceful setting from which to explore one of Mongolia's much-loved nature havens, the campsite includes a restaurant and bar, alongside a garden and terrace if the view from your room isn't enough. Towels are linen are for an extra charge here.
For a family-run homestay, also listed as a 'farm stay' check out the Mongolian Nomadic Family offering. Less than 5km from the city centre and 5km from the famous Chinggis Khan Statue this family-run home is great for those who are not travelling far but want to experience the rural life and nomadic traditions.