Disclaimer: This post contains affiliate links to handpicked partners, including tours, gear and booking sites. If you click through or buy something via one of them, I may receive a small commission. This is at no extra cost to you and allows this site to keep running.
What is Berlin like and what is Berlin known for? Once divided, now united in freedom and creativity, how do distinct markers of former East and West Berlin merge 30 years on from the fall of the wall in 1989?
Berlin is not a city you can visit just the once – fascinating and difficult to define, a visitor will always be chasing after the answer to what Berlin is, trying to untangle its complex history, unravel its dark secrets and pinpoint its persona. Like me, you may be forever at the mercy of its ever-changing personality and enjoy the conundrum of its difference.
Evolving and progressing from a past of east and west division into a present of multi-layered uniqueness, Berlin's continuous reinvention of its dark past is exactly what defines it. It thrives on change.
Berlin stands out from the rest of Germany, where once it was enclosed within it, let loose to be its own entity after being so encroached upon. What was once walled up and carved in half is now a united playground of freedom, expression and creativity since the wall came down.
Today Berlin city stands divided only by levels of urban cool. People no longer stand on towers to peer into the static east; instead, they want to be in the east. The west still shines in richer glory, maintaining itself as the commercial centre of the city; the west becoming half of the city trying to catch up.
What is Berlin Like? East and West After the Fall of the Wall.
East is East and West is West. Shall the Twain Ever Meet?
Berlin has changed dramatically since the fall of the Wall and German reunification. Historic buildings have been restored, new districts have emerged and the stagnant and grey concrete buildings left by the Soviets are swathed in the colour of street art, graffiti and 'urban stickering'.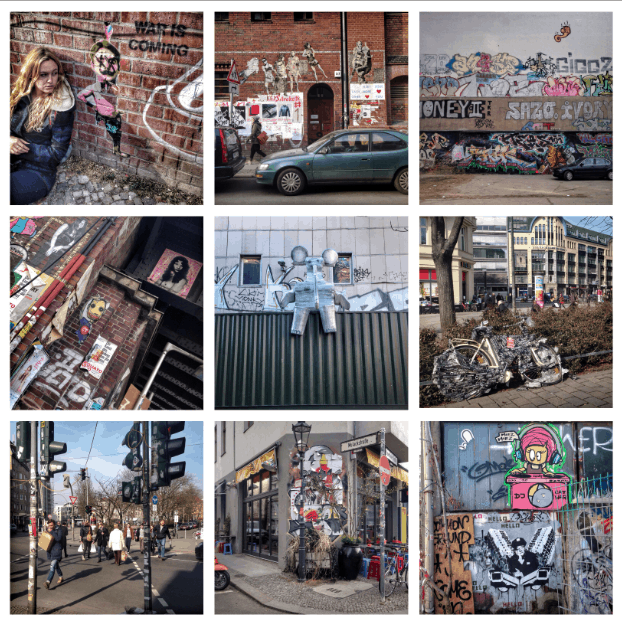 Yet, as time moves on, the old lines of East and West seem to be becoming blurred.
What Berlin Neighbourhoods to Explore – The Strongholds
Charlottenburg in the west remains the affluent area of Berlin, marked by its beautiful and spacious residential buildings, open parks and the royal palace, and Freidrichstein and Mitte in the east maintain their urban edge as the much-favoured neighbourhoods. You quickly learn that much.
Choosing to live in apartments in the former east areas during both my visits to Berlin, it's clear I'm biased. The west may have prospered, but people moved over to the east after the fall of the wall to snap up cheap property, turn factories into clubs and warehouses into theatres. As a result of gentrification, the east gained in character what it never had in money, and that became the attraction.
I look at Friedrichshain as beige but burgeoning. The old 'soviet workers' residences and prestigious architecture stretch along Karl-Marx-Alee and Frankfurter Allee and standard concrete apartment blocks fill the rest of the space, reinvented by the young and hip who moved in, opening creative businesses, cafes and bars. It's a place where ugly and retro is cool; where buildings have been restored or refined by fresh paint and graffiti.
Mitte is the centre of Berlin that houses many of the must-see sites representing the past and future of Berlin including the modern political centre of Potsdamer Platz, the restored Reichstag and Museum Island, Alexanderplatz, the Brandenberg Gate, the Memorial to the Murdered Jews of Europe and Checkpoint Charlie – Mitte once being surrounded by the Berlin Wall to its north, south and west.
Mitte, to live in, was just as dynamic as its Friedrichshain neighbour. Although more cleaned-up, it's still buzzing with new enterprises, boutique stores and edgy hangouts.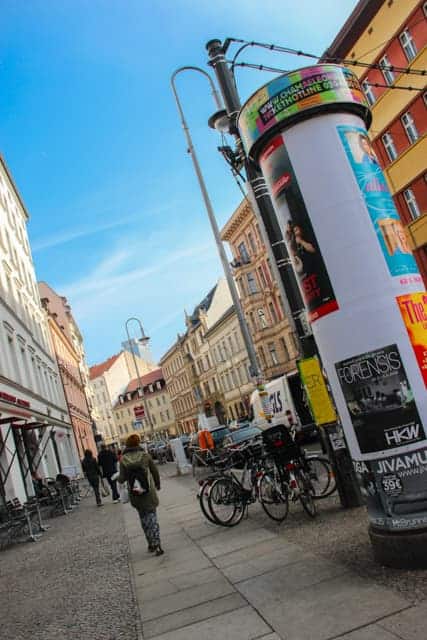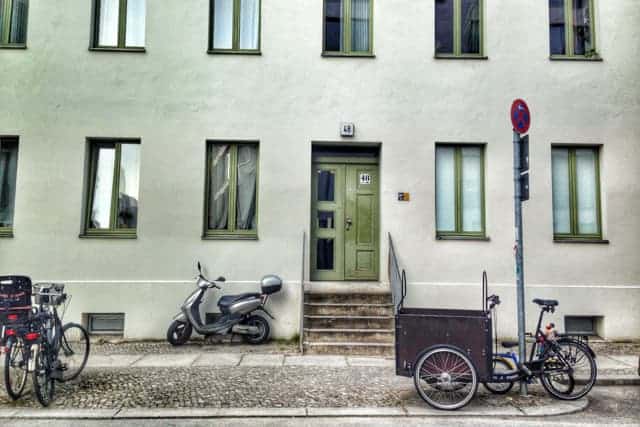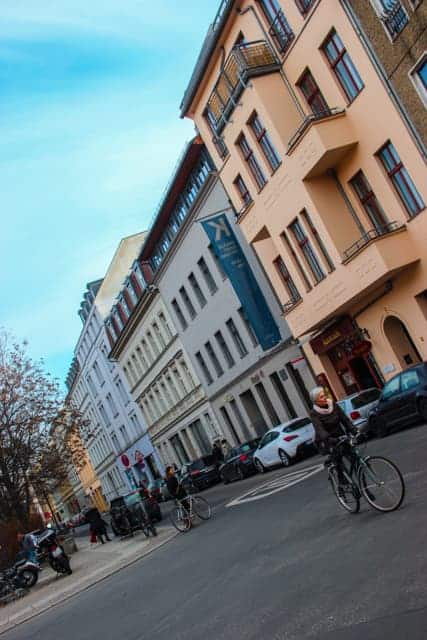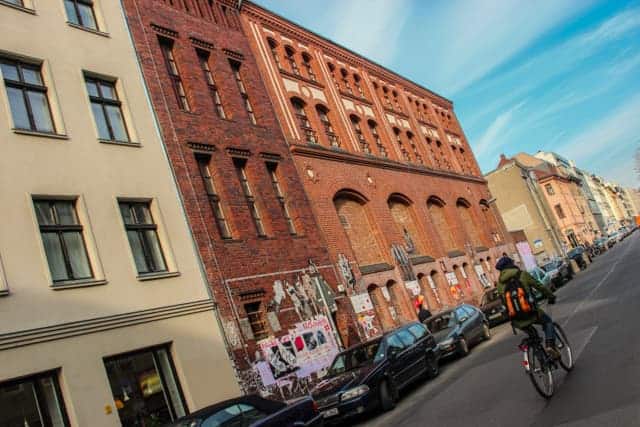 The Blurred Lines of Modern Berlin
Prenzlauer Berg in the east is so upmarket that you might have to second-guess which side of the city you are in. It's affluent in a trendy way, pretty and aspiring, quiet but full of character, and more bohemian and chic than the typical grittiness that defines the east. Yet its history lingers.
The hillside water towers, part of the grounds used by the Nazi's to torture their victims, are now luxury apartments; outdoor table tennis tables, once fitted with the surveillance chips of the Stasi secret police, remain for recreation.
The Rykestrasse Synagogue, which survived the "Kristallnacht" (Night of Broken Glass) burning because of top-ranking Nazi's living in the adjacent residential buildings, is surrounded by alfresco diners and café culture vultures. An old squat building remains in on the main thoroughfare, adorned with an artistic "Capitalism kills and destroys" slogan.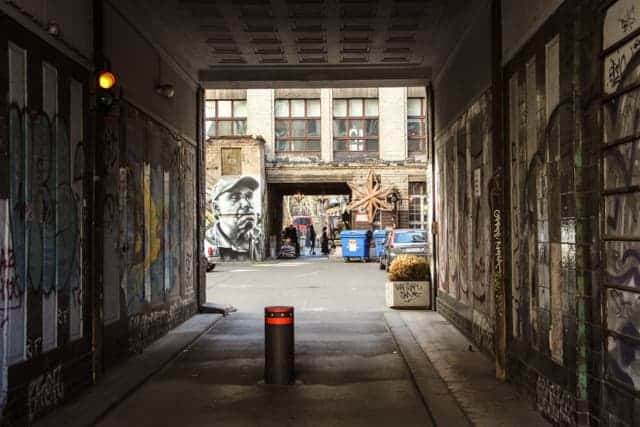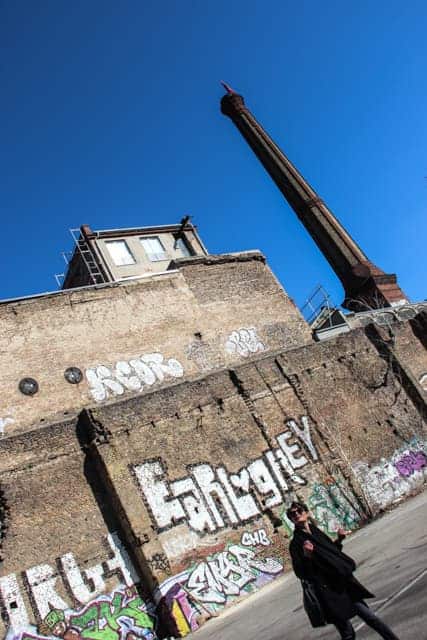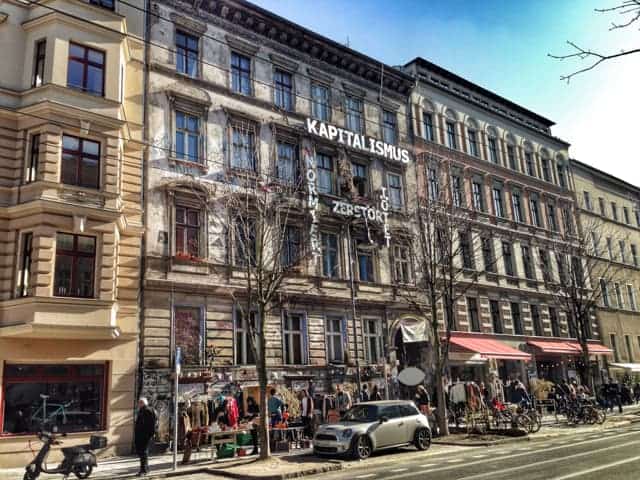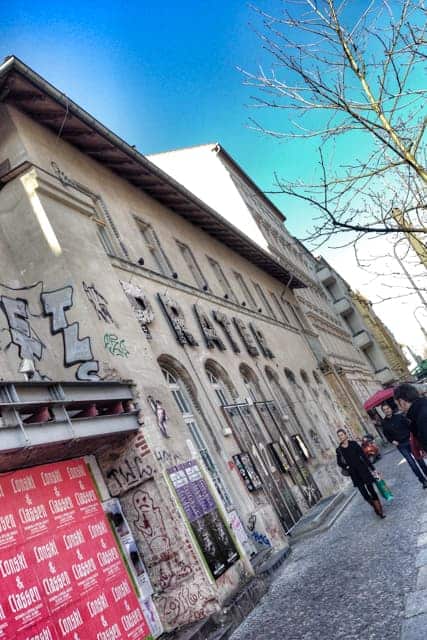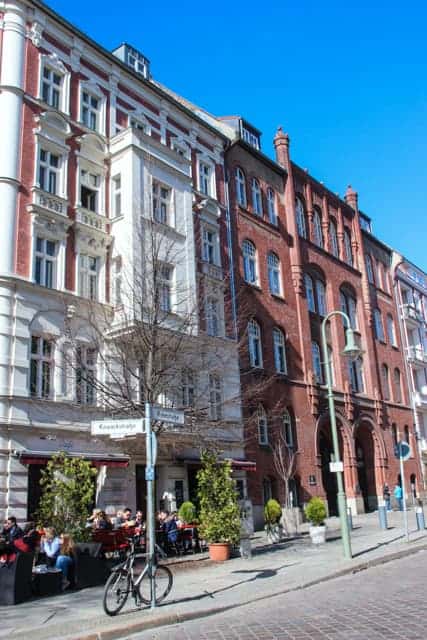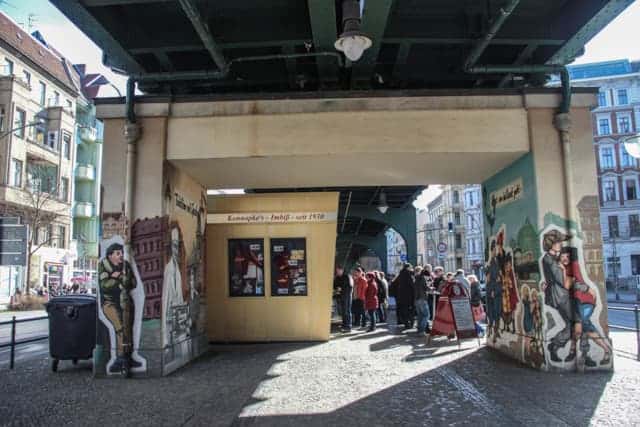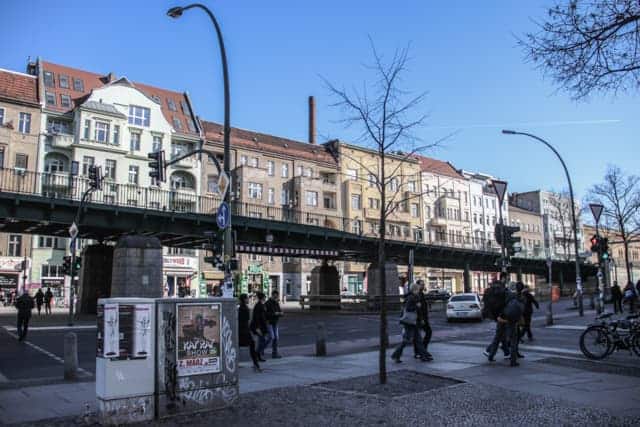 Kreuzberg, in the former west, is now the latest ultra-cool space. It screams 'former' east – the ugly buildings at Kottbusser Tor being some of the ones you will first come across as you exit the metro station – but was in fact the poorest part of the west.
Sealed from neighbouring Friedrichshain by the Berlin Wall, Kreuzberg was itself divided into east (postcode SO36 and the most 'blocked-in area' because of the wall) and west (postcode SO61).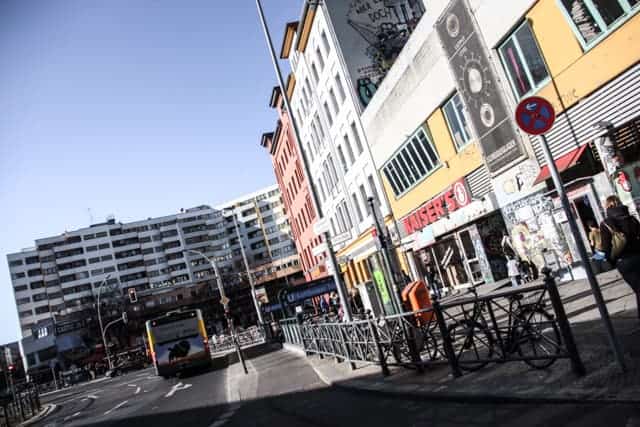 Before the wall came down, Kreuzberg brewed with an anti-capitalist and anti-establishment sentiment. With Berlin being the only place in Germany where National Service wasn't compulsory (because of its 'occupied' status), east Kreuzberg became the area that attracted 'service dodgers' who fled here to take advantage of squatting opportunities.
While squatting is no longer a huge problem here, the movement did save some of Berlin's old architecture, much of which is covered in street art and graffiti depicting '36'. The area does retain its anti-capitalist feeling, with no Starbucks, H&M or Burger King to be found, although McDonald's staked its claim. In Berlin, politics is cool.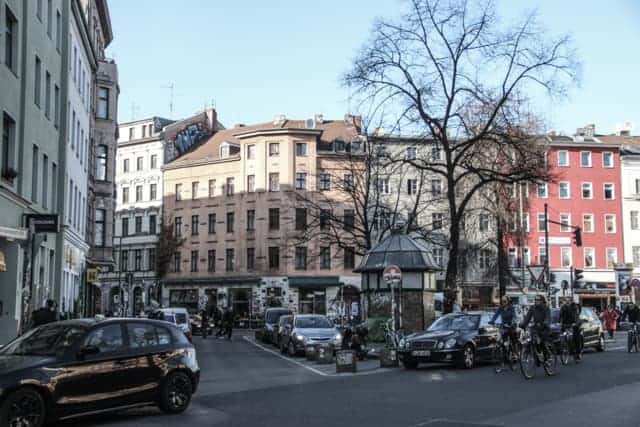 Berlin – The Modern Additions
In the east, hasty property developers are quick to move in to stamp a modern mark on a treasured area of ultra-urban.
The graffiti that is seen on the building alongside the river Spree stating: "F**k Off Media Spree" highlights Berlin's response to the planned development over its reinvented past and its feelings towards Media Spree, whose job it is to pull down all the old buildings that house the bars and clubs and turn them into media and communications buildings. The institution that is the Yaam Bar is already scheduled to move a few doors down from its current location.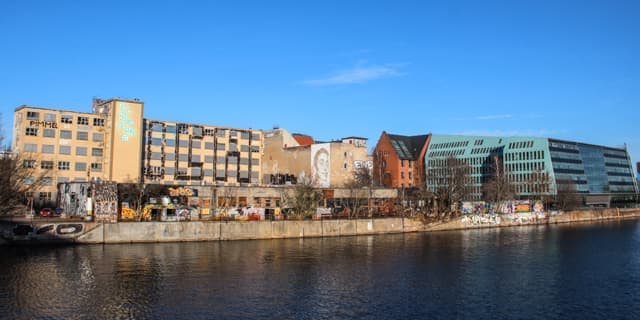 In the west, development now includes the cool additions of refurbished post-war buildings such as the 25hours Hotel Bikini, an old high-rise turned swanky rooftop bar that overlooks the zoo and Tiergarten park. Elsewhere, scaffolding and piping line the skies and paths as the west thinks of its next commercially viable move.
What area will be the next big thing or reveal a new addition to its landscape is anyone's guess – reinvention seems fast-moving here.
It's all change in Berlin and I think time will slowly blend the halves, as each side slowly mirrors the best parts of one another.
But one thing remains certain – Berlin is a city in constant rejuvenation, yet reluctant to ever forget the past that first defined it.
How to Better Understand Berlin
Where to Stay in Berlin
Over the years I found a variety of apartments in Berlin on platforms like Airbnb and Booking.com choosing ones in Mitte and neighbouring areas because of their central location and ease of transport links. It's the perfect opportunity to live like a local and be right in the heart of a trendy neighbourhood.
There are numerous hostels in Berlin, and quite possibly too many to choose from. I stayed at the modern Pfefferbett Hostel because it offered something different, especially on the design front. It's located on the historic grounds of the industrial monument and brewery "Pfefferberg" in Berlin's trendy Prenzlauer Berg district and it has a cool vibe. There is also a U-Bahn (metro) right outside of the too for ultimate convenience. For those wanting to be based very centrally in the Mitte area, I recommend Wombats, Circus and Generator, which I have spent a lot of time in (although have never stayed overnight). The Circus Hostel is another prime Berlin accommodation, which also has a great cellar bar and David Hasselhoff shrine.
Getting Around Berlin
Berlin is a huge city, and while particular neighbourhoods can be combined and explored on foot, you really need to get to grips with the city's transport network. You'll mainly be using the Berlin metro (Ubahn) and intercity rail system (Sbhan) to be able to explore it in its entirety, and it takes a bit of getting used to. I've been to Berlin many times and I still have to pack a little patience and master the best route.
This article on how to get around Berlin goes deeper into the different zones of Berlin, as well as tips for using the trams and buses.
Top tip: Always validate your ticket before boarding.
Extra Things to Do in Berlin
Walking Tours in Berlin
The best way to explore Berlin is with locals and on walking tours. I always look out for off the beaten path and street art led tours. One of my favourites is the 'Real Berlin Experience' walk with Alternative Berlin, which took me through most of the neighbourhoods listed in this article. This is a great opportunity to learn about Berlin away from the tourist trail – it doesn't take you to any of the main tourist sites, which you can easily seek out in your own time.
See Alternative Berlin
Berlin is the centre of everything alternative – from urban revival to hidden places, to cafe culture and nightlife. There is always something changing in Berlin, or being made. No two visits are ever the same, which is why you might want to branch out after seeing the main highlights. This great list of 'alternative' things to do in Berlin includes urban exploration sites and creative cafes and restaurants.
One of my top choices is to take one of the Berlin Underground tours where you can learn about secret city war bunkers, escape tunnels, abandoned metro stations and more.
For an overview of the best photo spots in Berlin and how to capture its myriad of personas, check out this guide by local photographers here.
Thinking of Visiting Berlin? Save This for Later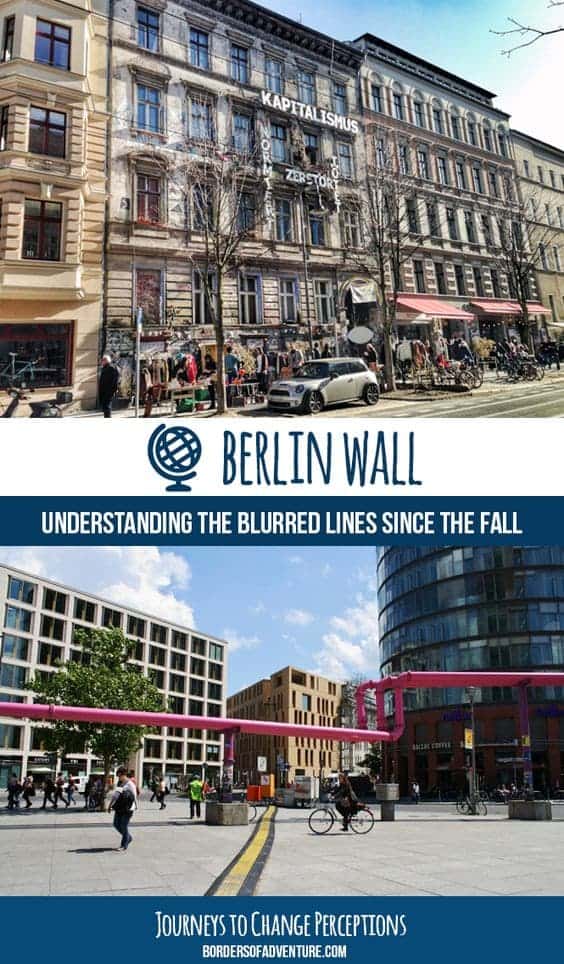 Berlin was the starting point for my 'Fall of the Wall' trip to former east Germany towns and cities in conjunction with the German National Tourist Office, to look at modern Germany and how it's changed since reunification. All opinions remain my own, including my extreme love of this incredible city which I will forever be trying to unravel as I visit each year.