Disclaimer: This post contains affiliate links to handpicked partners, including tours, gear and booking sites. If you click through or buy something via one of them, I may receive a small commission. This is at no extra cost to you and allows this site to keep running.
Want to know what to do in Kuching, Borneo? Sarawak's capital is where history remains, traditions thrive, and timeworn streets retain stories of the era of The White Rajahs. Here's where to find it all.
Kuching holds onto its past even as it rises into modernity, and there's good reason for that.
"I remember when this all looked so very different," said my guide, Rose as we drove through the city of Kuching – the capital of the western Borneo state of Sarawak where she was born and raised.
Her moment of reminiscence came after my declaration that my first impressions of what makes up Kuching attractions were completely the opposite of the lush green landscape I had come to expect of Borneo.
I admit I was a little disappointed. Evening in knowing there wasn't an abundance of things to do in Kuching beyond slow exploration in Borneo's world-renowned nature, I wasn't expecting a city scattered with unsightly concrete buildings, modern hotels and varying washed-out colours of beige. Kuching on first sight looked a lot like the pictures you drew as a child where you sketched buildings first and then filled the last remaining spaces with a large tree or two in an attempt to make it look pretty.
Everyone imagines Borneo to be one giant landmass of the rainforest. Yet, it is inevitable that in certain areas an administrative hub emerges as a result of either imperialist or continuous development, or both.
I felt saddened Kuching had lost a lot of its rural roots that other areas of South East Asia still manage to retain, with flora and fauna stripped in place of the bustle of business and wildlife displaced in the throes of more and more people. However, I did come to see a different side to it after two days.
You can find it in the crumbling layers of architecture and empire and in the streets and villages that hold stories of generations. When you visit Kuching, you need to do some exploratory digging, backed up with a historical timeline.
What to Do in Kuching – Attractions that Change Perceptions
Know the Brooke Era History of Kuching
In Kuching, you will hear and see multiple mentions of the British Brookes family, or more specifically, Sir James Brooke, who was rewarded the area of Sarawak in 1841 by the Sultan of Brunei after quelling a rebellion peacefully.
Sarawak was once a part of the Sultanate of Brunei (Brunei now wedged between the two sides of Sarawak and Sabah of Malaysian Borneo). It became a British family sovereign empire for over 100 years until the Japanese occupied Sarawak in 1941. James Brooke was succeeded by his nephew Charles Brooke, followed by Charles' son, Charles Vyner – who surrendered to the Japanese.
The Indian born Brookes rulers came to be known as the White Rajahs and through urban development, made the region into the thriving area it has become today. These Brooke Era buildings, comprising colonial-baroque, and neo-classical Greco-Roman design, poke out in between the city's more recently constructed simplistic yet colourful dwellings.
"Kuching people treasure these old buildings," Rose added, and Kuching tourism is reliant on the preservation of this history.
Where to Find Brooke Heritage Sites
The Kuching Old Court House built in 1871 was once the governmental seat of Sarawak, with a Roman courtyard design and colonial-baroque Clock Tower with eight Corinthian pillars, alongside the Rajah Charles Brooke Memorial pilar. In preserving the architectural and historical details, The Old Courthouse is used today for concerts and exhibitions as Kuching's dedicated culture and arts space.
The buildings such as the Main Kuching Post Office on Jalan Tun Haji Openg street show a change in styles between the White Rajahs. This modernised neo-classical style building was built in 1931 when Charles Vyner (the last White Rajah) ruled, with larger, multiple archways since it was once the site of the Rajah's Stables.
These buildings stand close to The Square Tower, the 1879-constructed miniature fortress structure on the Sarawak River esplanade. It was once used as a jail (part of its original intended use) and as an administrative office.
Today it is a fine-dining restaurant, facing Fort Margherita and The Astana – the once grand palace, in English manor house style, of the White Rajahs – on the other side. The Astana was constructed in 1870 by Charles Brooke as a wedding gift to his wife, Margaret and is the last residence built in the time of Brooke family rule. Fort Margherita, made nine years later, was never needed for its original purpose – to defend Kuching from pirates.
The Old Fire Station was built in Kuching in 1917 for the city's first coal-powered fire engine delivered from Britain and demolished with the construction of city's new fire station. All that remains in the yellow Drying Tower – a landmark structure of the city's history – and a bustling food court that has opened around it.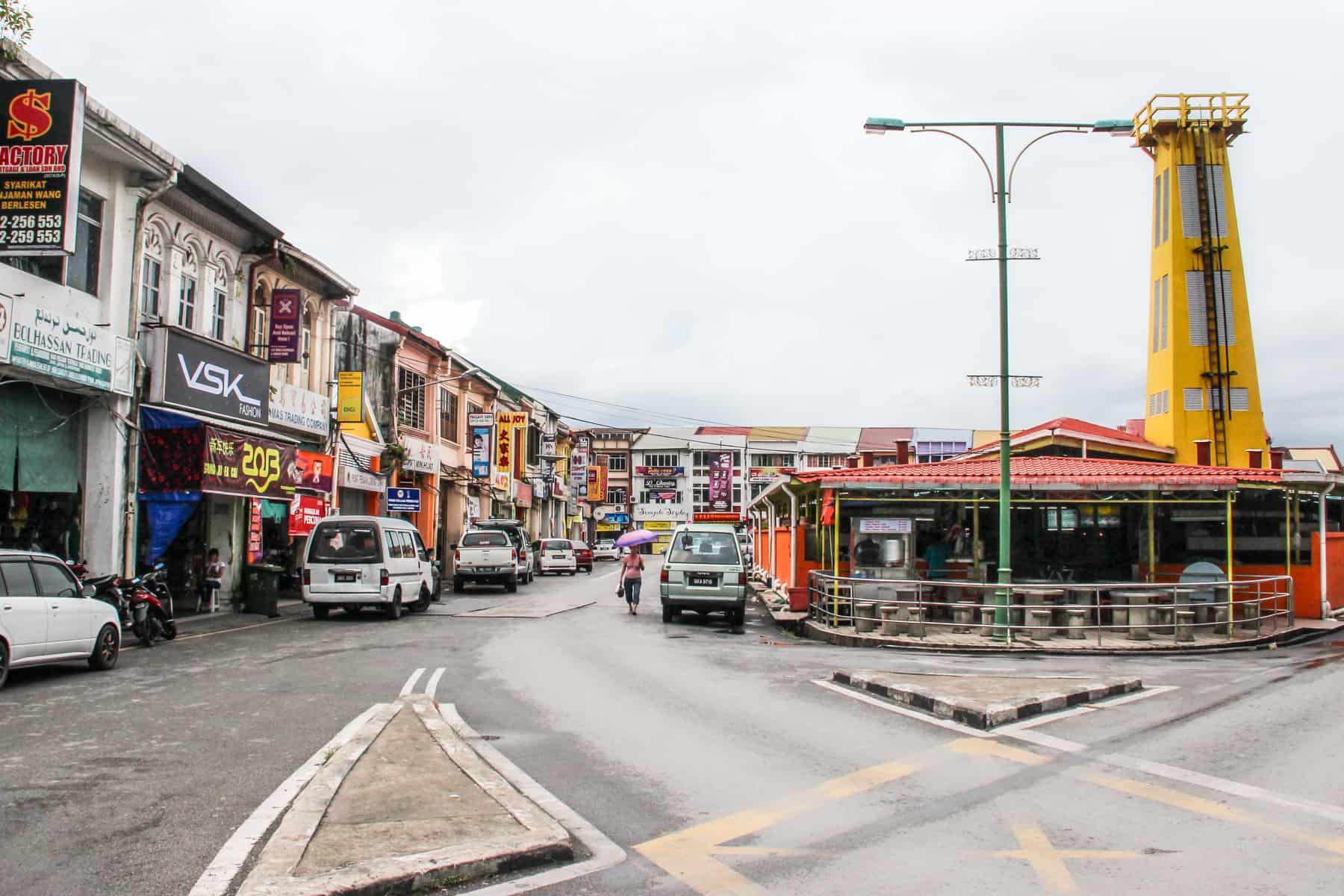 The Old Brookes Dockyard marks a time where the river trademarked the new dawn of prosperity, and on the outskirts of the city sits the Sarawak State Museum, opened in 1891 and serving as a reminder of the British explorers who came to catalogue a landscape and natural history of land so unlike their own.
Modern Kuching Culture and Construction
Kuching sightseeing is about witnessing the stacking of historical periods alongside cultural and religious interlacing. The classic and beautiful Brooke era architecture, all in varying shades of fading sovereign white, are now overshadowed by the distinctive golden umbrella roofed structure of New Sarawak State Legislative Assembly Building. Opened in 2009, it marks a new age of modernity, rule and the passing of laws.
In a meeting of grand Mosques, Chinese temples and kitsch cat statues (Kuching means cat, with quirky sculptures placed all over the city), Kuching is the peaceful merging of Indians, Chinese, and Malay people in its modern-day formation. An eclectic mix of history, culture, tradition and community.
Kuching Streets Hold Stories of Generations
Not all streets in Kuching are modern in their making. Kuching's 19th-century old town is the preservation of ancient traditions introduced to the city during the Brooke era. Overlooking the river, the city's oldest street – the Main Bazaar – marks a row of Chinese shop fronts and little private stalls selling everything from souvenirs to the region's sugar-coated charm – the multi-coloured Kek Lapis cake.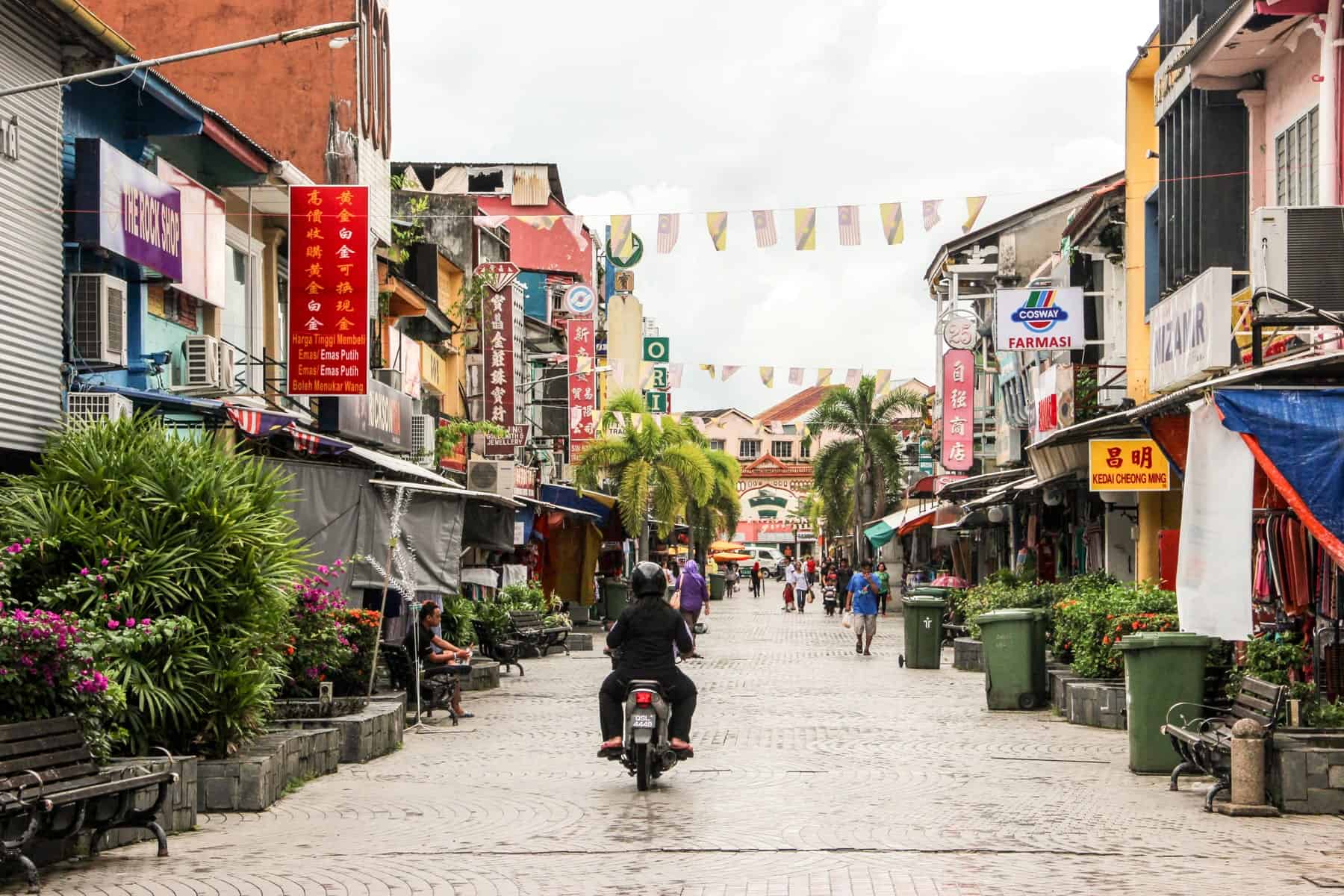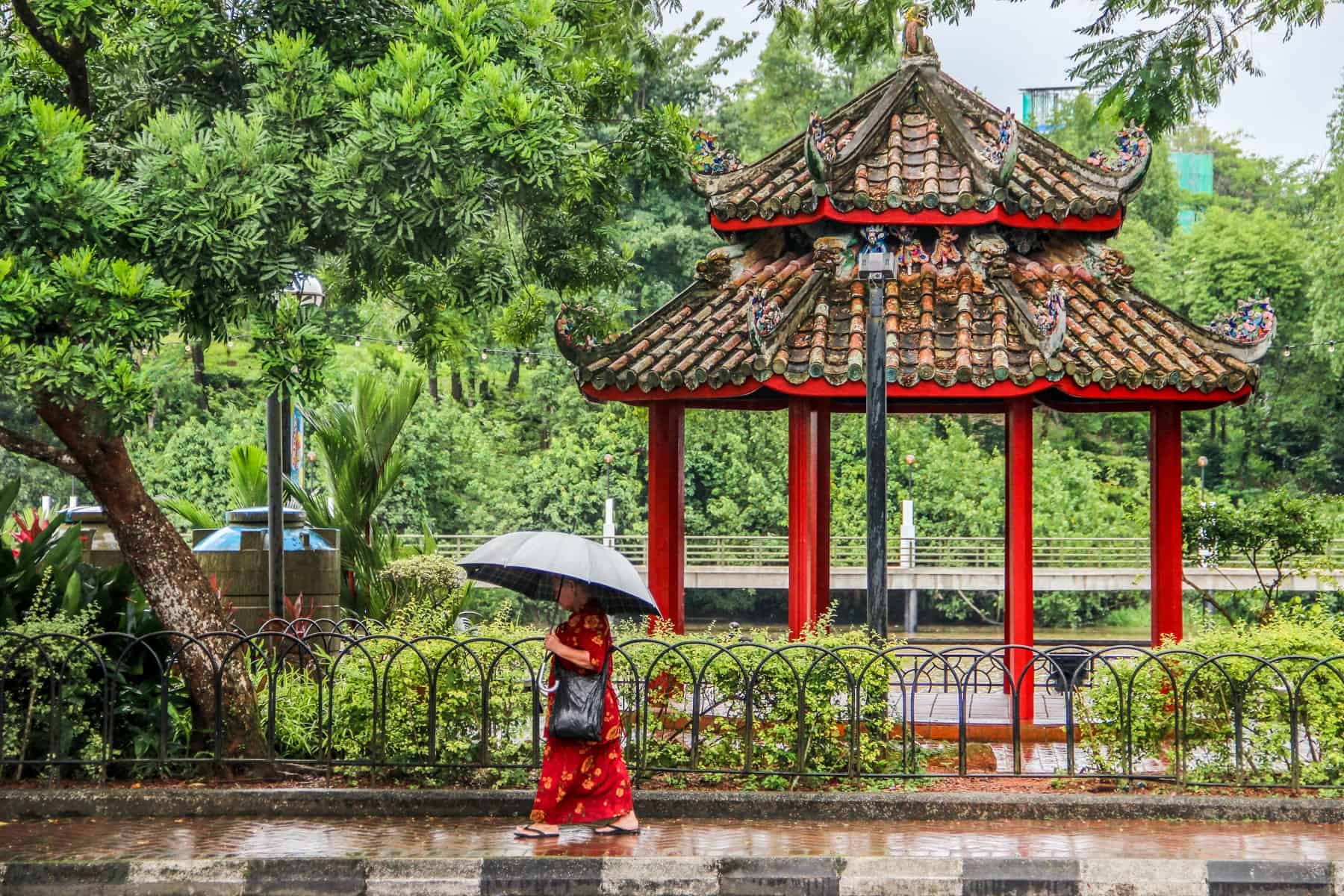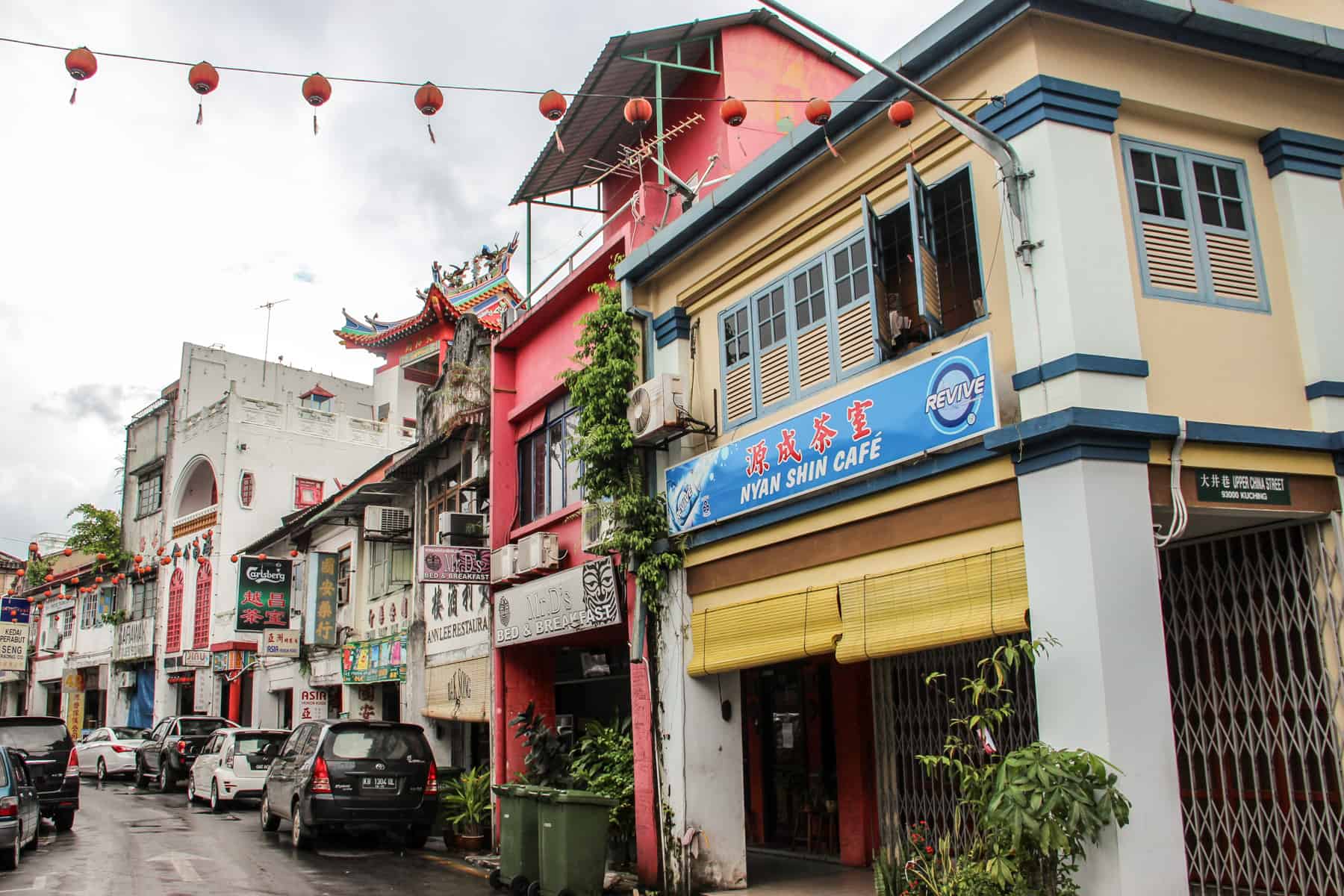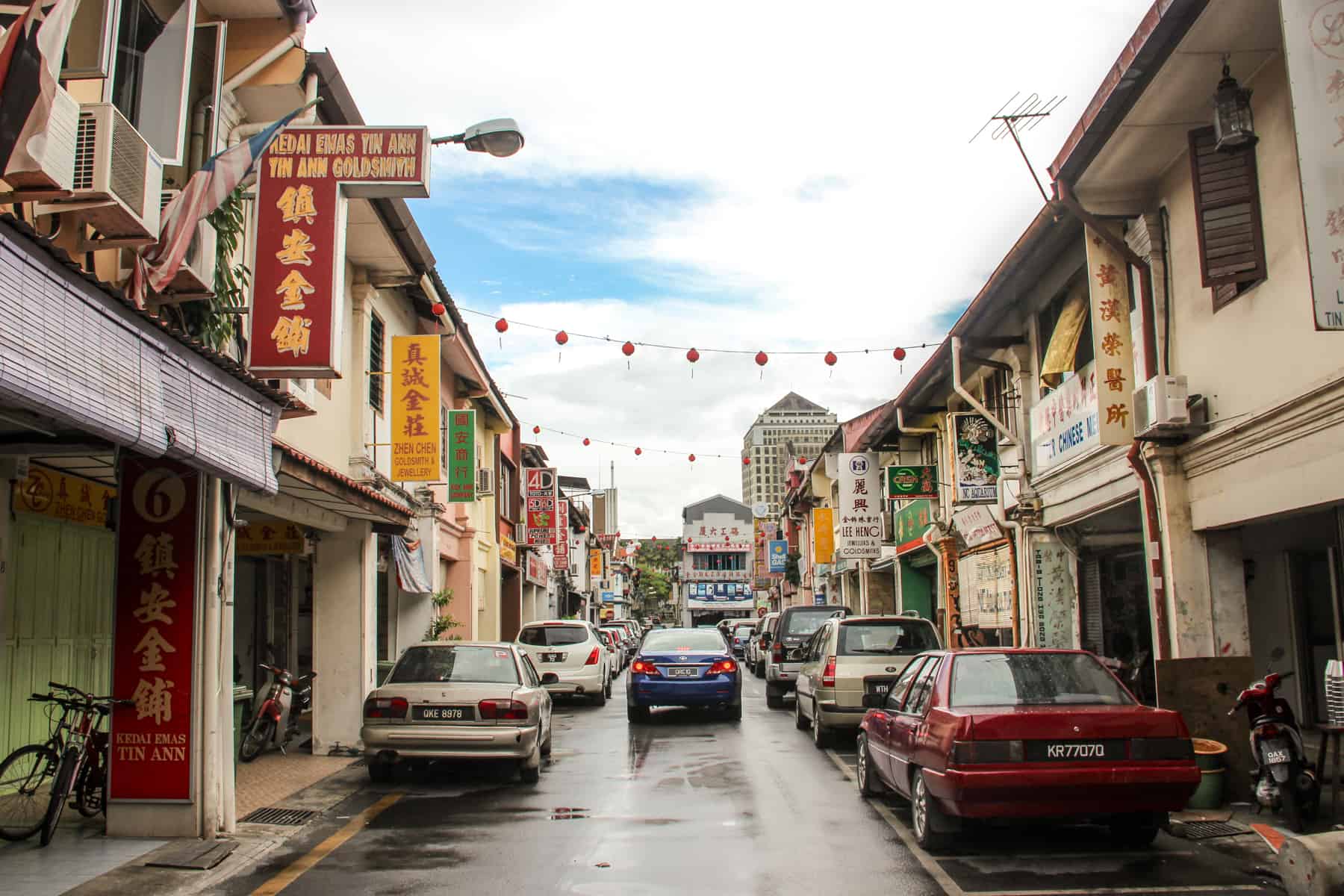 The well-known India Street and famous Carpenter Street sit just behind here, where antique dealers, goldsmiths, coffee, tin and furniture makers have been in business for generations. It's here where you cross between the sounds of craftsmanship to the peaceful atmosphere of shopkeepers waiting for their next passing customer.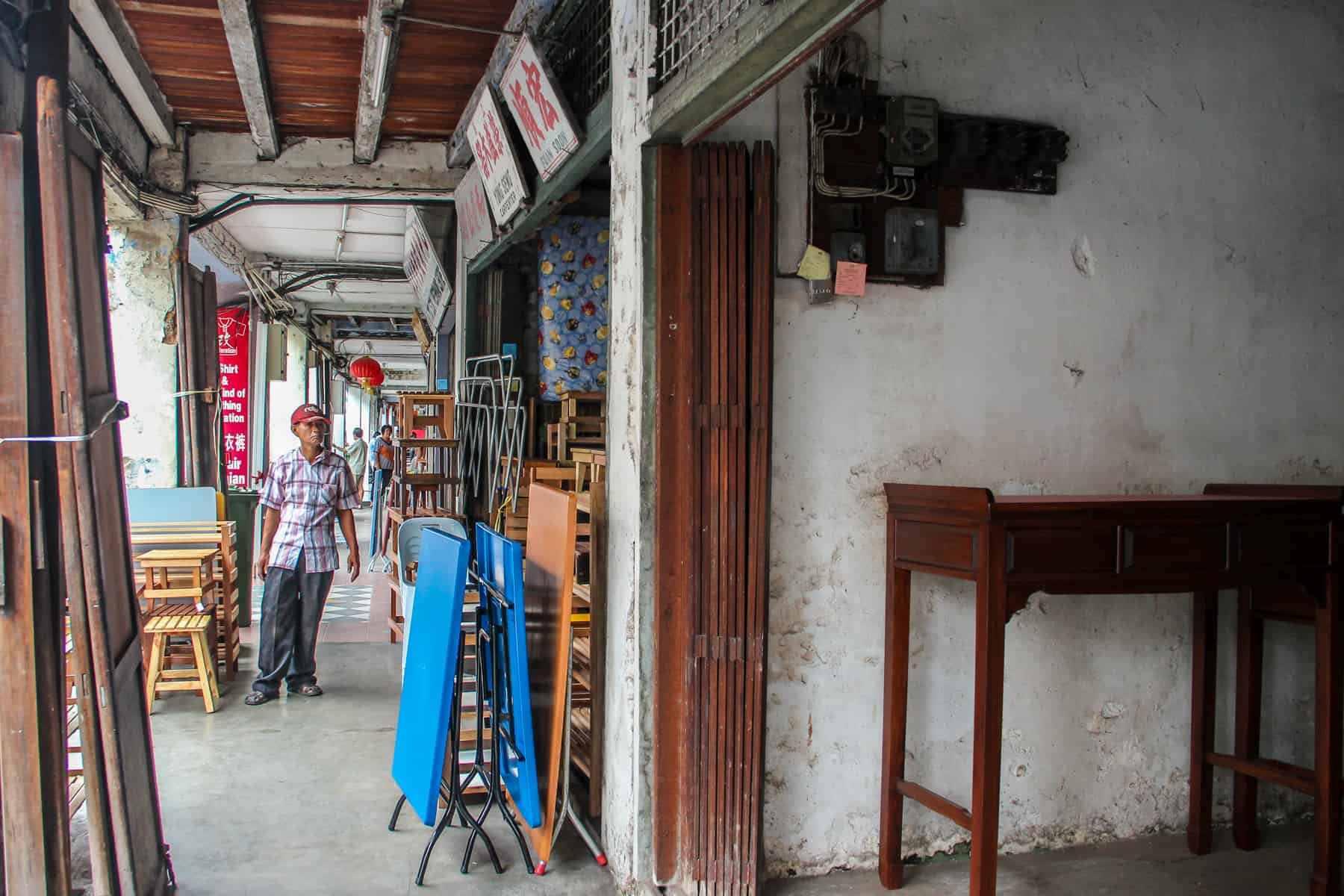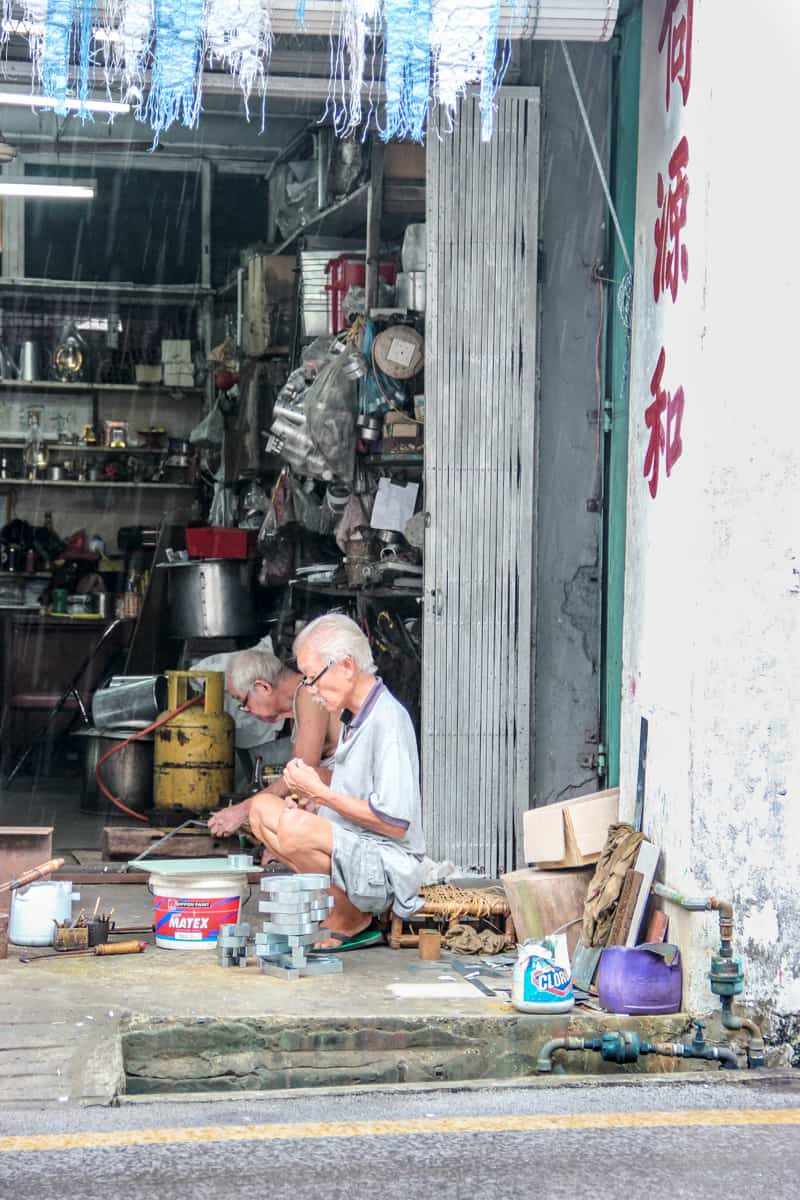 Preserving the Perahu Tambang River Crossing
I crossed the river via the Perahu Tambang motorised boats for a 40 sen per trip per passenger fee (amounting to approximately 10 cents) to arrive at a sprawling suburb coated with candy colour houses and smiling locals eager to greet you. These boats and those who operate them are as much a symbol of Kuching as the structures themselves.
At the time, not many tourists left the city side and made their way over here, although the construction of the Darul Hana Bridge in 2017 changed that. The modern bridge that whirls in white across the Sarawak River bend opens to the Pengkalan Sapi park next to the State Legislative Building and leads to Fort Margarita and The Astana.
The Perahu Tambang operators naturally feared for their business, so continue to support them during your visit and take a boat to the quieter neighbourhoods away from those sites or hire the boat for an hour for a scenic cruise. For me, this was a chance to absorb local life. A rainbow of beautifully decorated houses and watch as locals relax in cooling shade of doorways smiling as they look out into the window of life and children ride motos up and down the streets – a picture of Sarawak where community spirit still lives on and the environment is less tainted.
Some of the boats, known locally as 'Penambang' (mini ferry) got upgraded and given a new lease of life by University students as part of one of the state-funded Old Heritage Project.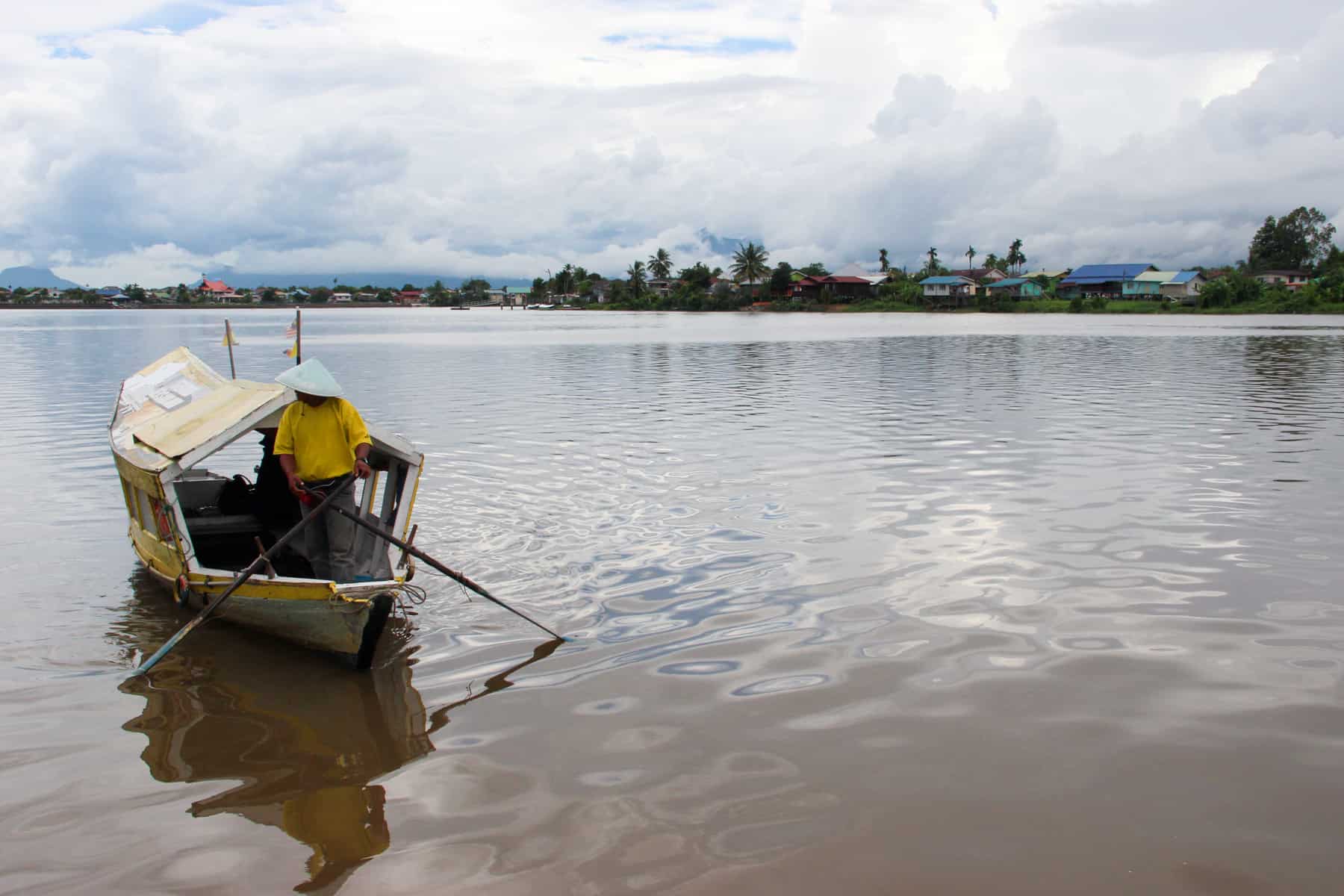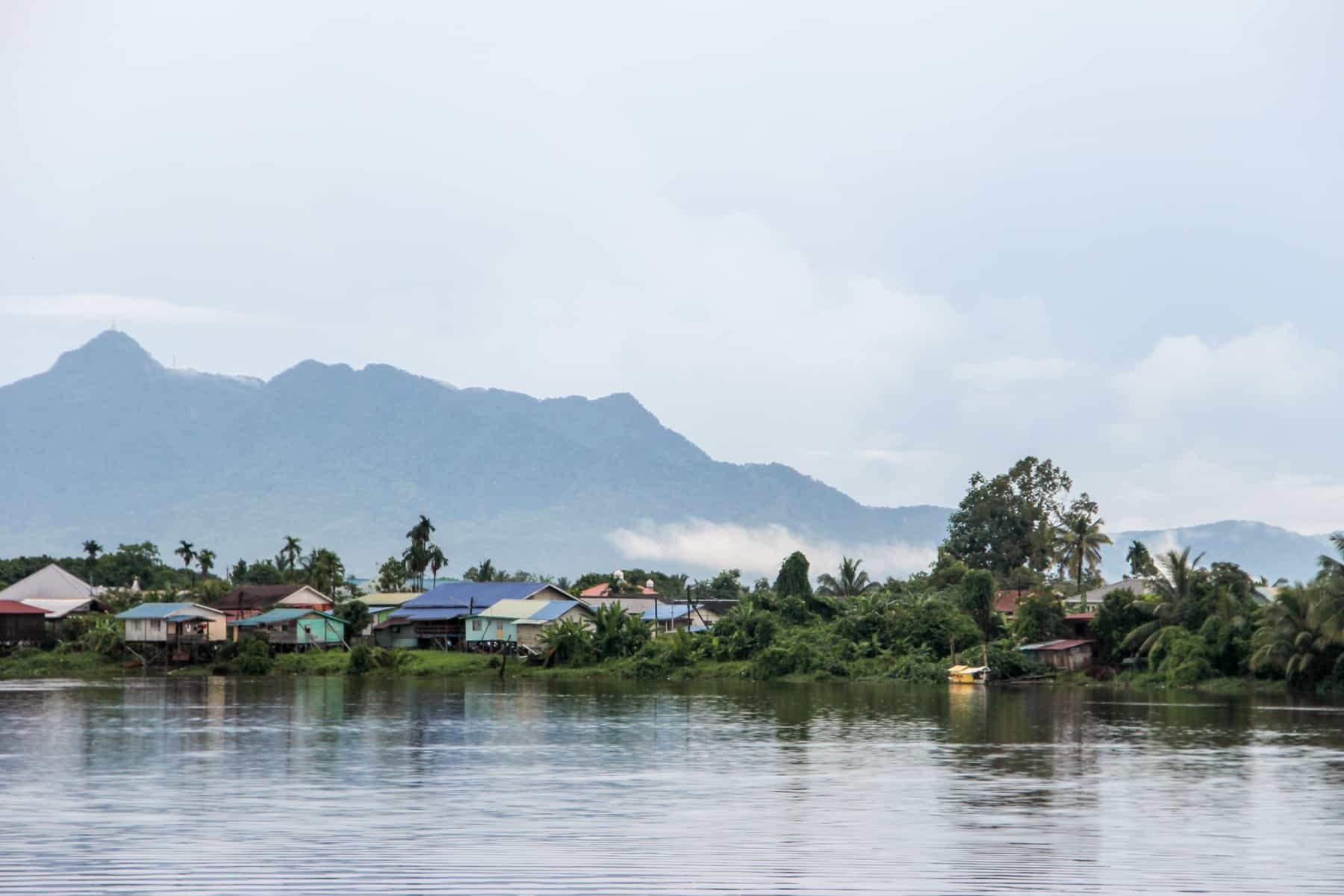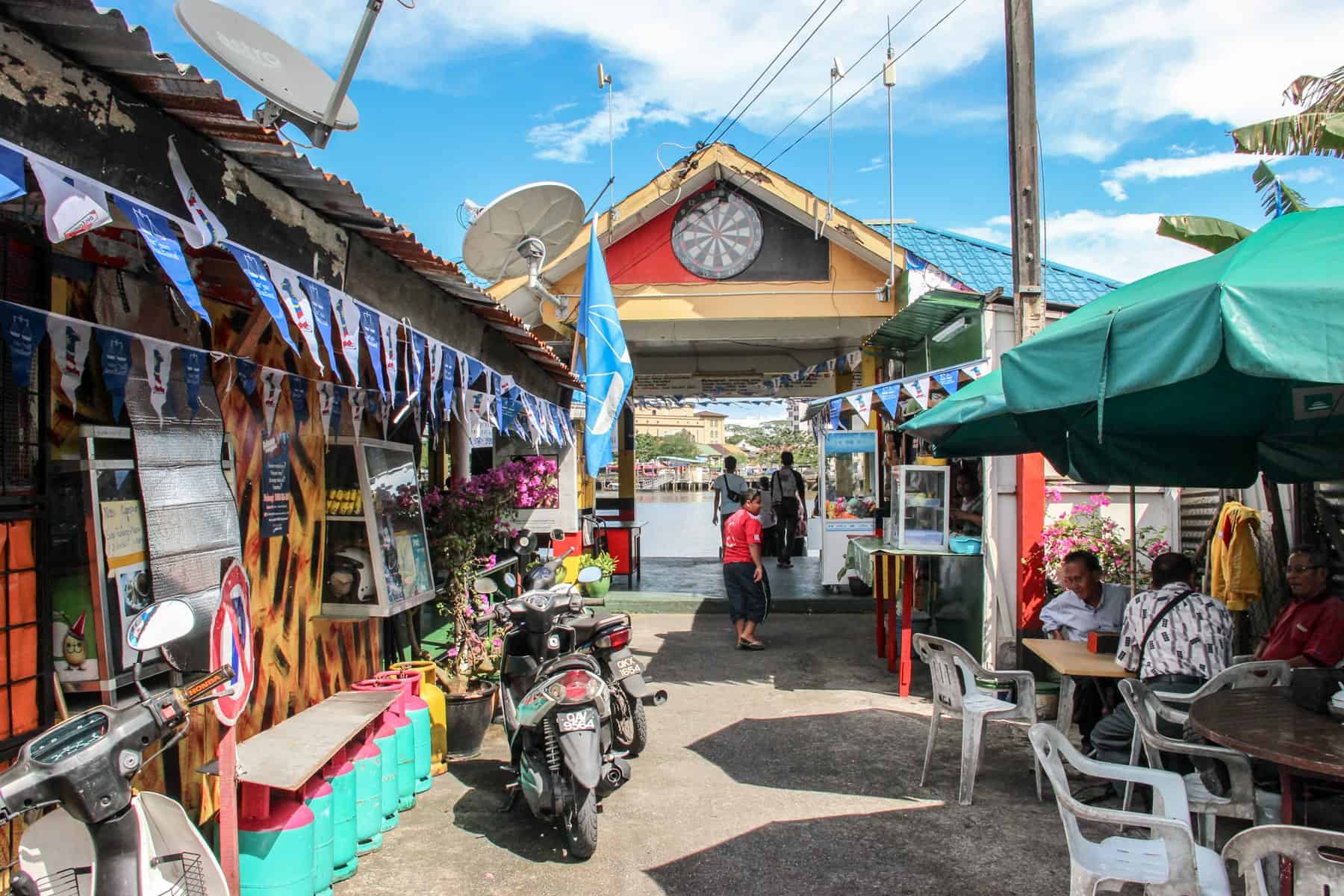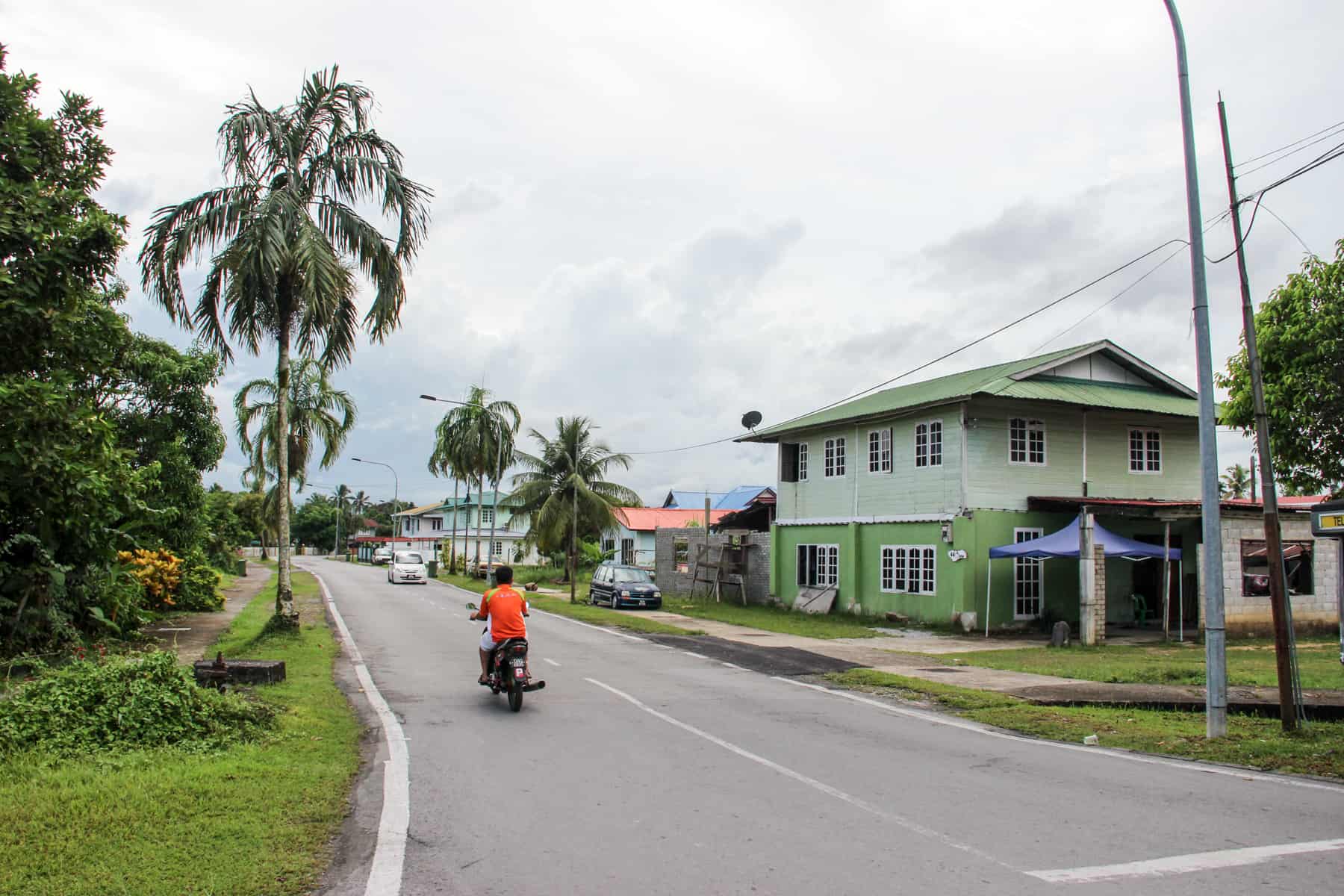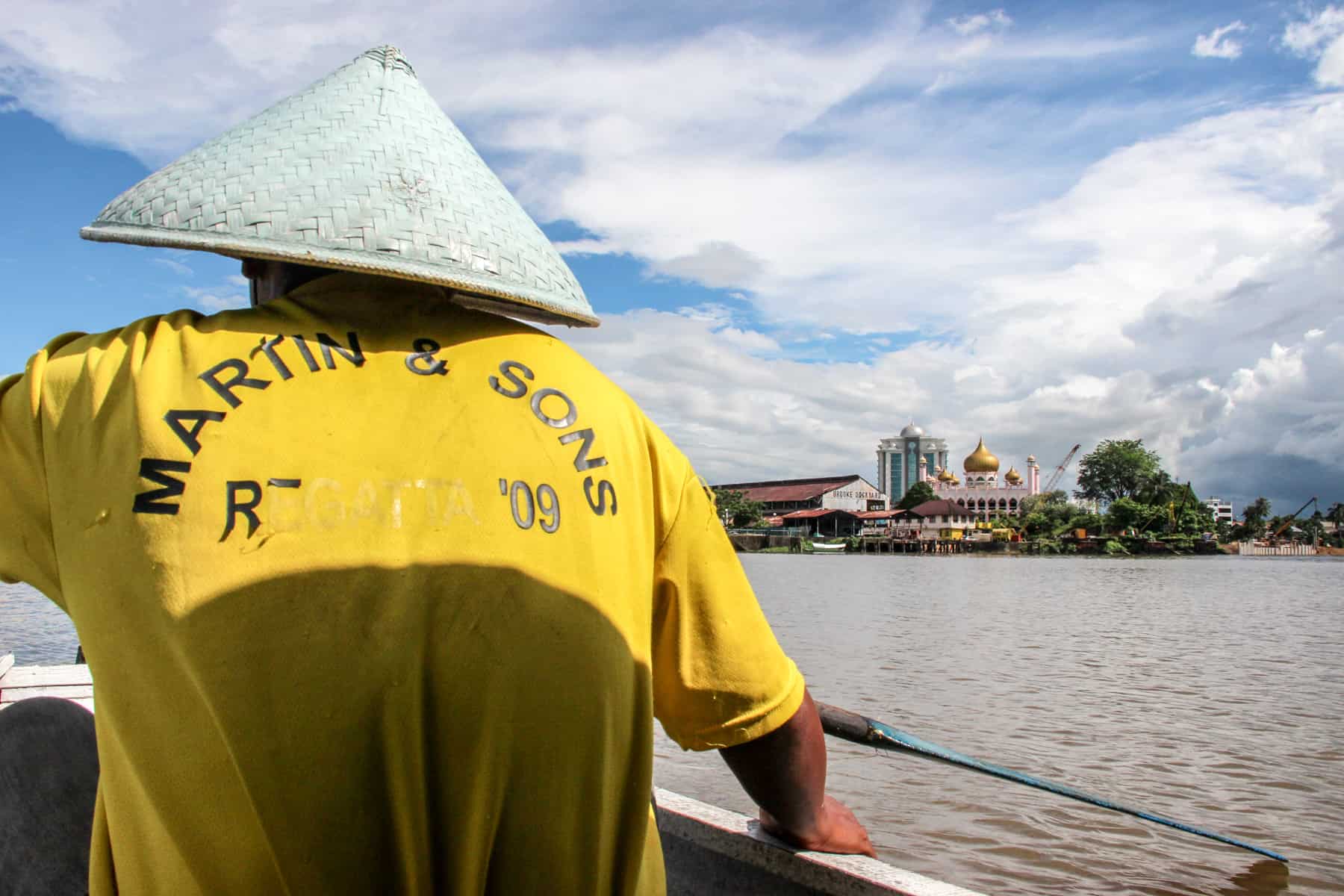 "These parts of the city can never be lost. It would never be the same," said Rose. It wouldn't be Kuching anymore – just another sprawling capital city with no culture.
Looking out, I saw the picture of Borneo I had imagined. In the distance was the never-ending green landscape I couldn't wait to explore that held national parks, rainforests and species of animals, discovered only in this region of the world.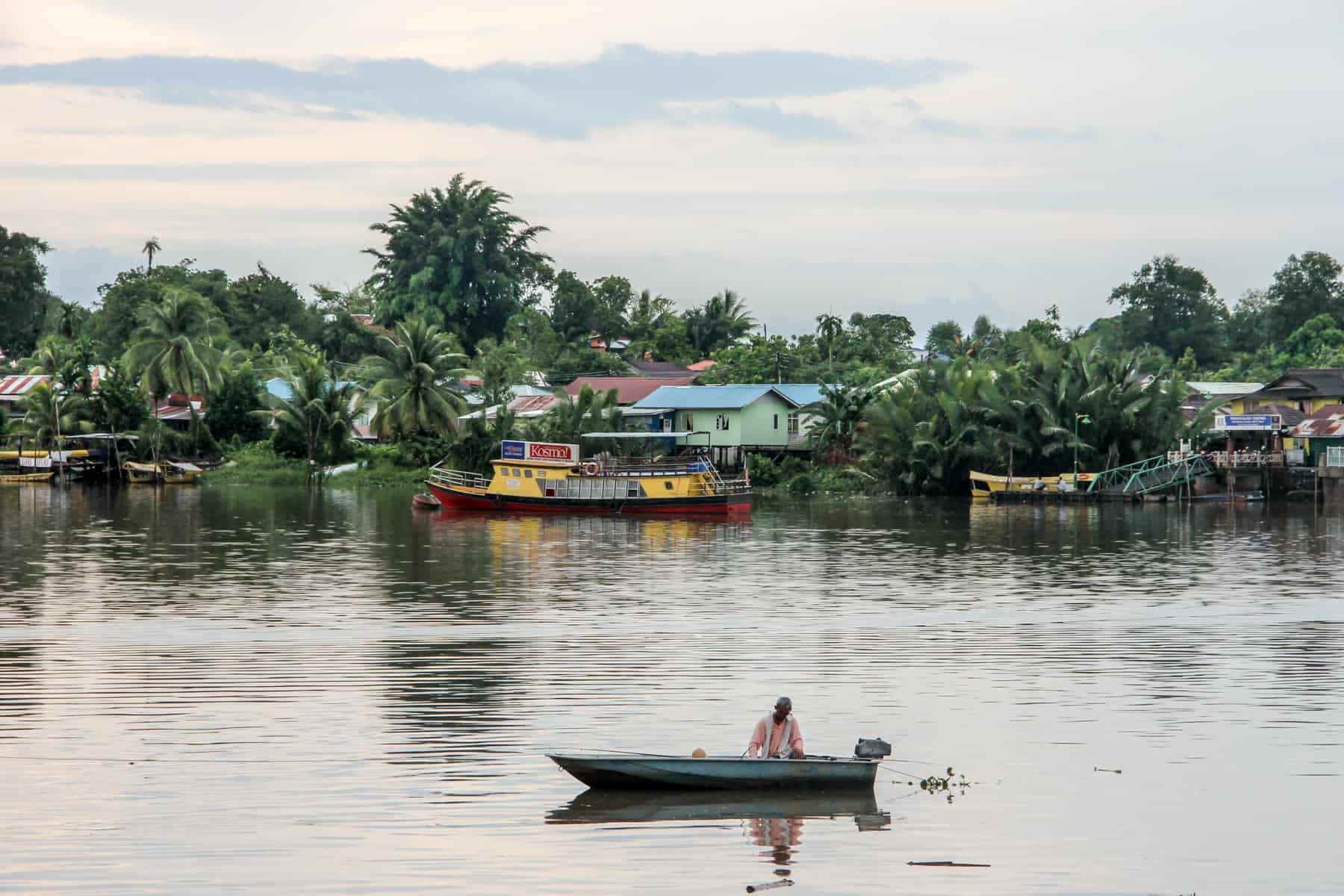 Out there was a land of local tradition and natural beauty – an area that, while being partly destroyed for the profitable gain of its natural resources and the slow adaption to the needs of the modern world, was waiting to be explored.
And from that came the realisation that Kuching, while not initially living up to my expectations, was the perfect exploratory start of my grand Borneo adventure.
How to Get to Kuching, Borneo
The easiest and usually cheapest way to get to Kuching is to fly from Kuala Lumpur or Singapore. Kuching International Airport (KCH) is 10 km from Kuching city centre, which you can reach via taxi on a 15-minute journey.
The fixed price taxi costs around RM30, and you don't pay the driver directly. It works by getting a voucher from the taxi stand found on the lower ground floor of the airport, which you hand over to the driver at the taxi stand outside the arrivals lobby.
Sarawak to Sabah
I flew to Kuching also because it fitted with my plans to travel Borneo overland. I started in the western state of Sarawak and made my way to the eastern state of Sabah via Brunei overland by bus, returning the same way in a round trip.
However, there are regular flight connections from Kuching to Kota Kinabalu – the capital of Sabah.
Where to Stay in Kuching
Budget
QuiikCat is a welcoming travellers hub, offering private rooms and dormitories in the centre of Kuching Old Town. Major sites are all within a 15-minute walking radius and the property is a short stroll from the Sungai Santubong riverfront.
Mid-Range
I stayed at the Grand Margherita Hotel – a long-standing hotel in the city marked by one of the city's famous cat statues. Don't be fooled by the worn exterior. This hotel is popular because it is situated on the quieter waterfront with beautiful views, including a pool that overlooks the Sarawak River. The heart of the city centre in 10 minutes by foot.
Luxury
The Waterfront Hotel Kuching is located on the main Kuching Waterfront, and around the corner from central Carpenter Street. Modern guest rooms and an exclusive lounge are complemented by a rooftop infinity pool.
Kuching Travel and Sarawak Exploration
Deserving of its own time, Kuching is also a starting point for wider Sarawak adventures.
READ MORE: About visiting in a Longhouse in Borneo and living with the indigenous Iban people. A popular day trip from Kuching, I found a Longhouse where I was able to stay overnight – a raw and honest insight into the remote tribal traditions that still exist on the island.
READ MORE: Seeing Orangutans in Borneo is on the list of many. Here I highlight how to view these animals responsibly at the Semenggoh Wildlife Centre in Sarawak and best tourism practices to ensure their survival.