Disclaimer: This post contains affiliate links to handpicked partners, including tours, gear and booking sites. If you click through or buy something via one of them, I may receive a small commission. This is at no extra cost to you and allows this site to keep running.
Are you planning on visiting Canada during the winter season? Winter in Quebec province is unique. In Montreal, Quebec City & Mont Tremblant, winter isn't a season, it's a festival-filled celebration. Here's how and where to find it all.
Canadians often express how tough winter can get, dealing with the crisp, chilly winds, the icy roads and the daily shovelling of heavy snow. Yet, it's also a time to embrace the minus temperatures and join the cultural festivities and traditions that mark the season.
Intrigued, I set about visiting the Québec province of Canada in the wintertime to experience a host of celebrations and unique activities in its main destinations – Montreal, Québec City and Mont Tremblant. I found a trio of destinations with considerable snowfall and an abundance of good times.
Montreal Winter Activities
Montreal is the largest city in the Québec province, and while a city to visit year-round, its classic beauty is magical in winter. Whether you catch glimpses of the old stone architecture through the misty air of snow blizzards or find yourself guided by the dazzling festive lights, wandering the grid streets of Old Montreal is a winter highlight.
The season's snowfall also brings some particular offerings to this great city, especially on the adventure front. From the ground of the Old Port to the skies of the city mountain of Mont Royal, there are plenty of attractions in and around the city.
Book a tour
► 90-minute winter walk in Old Montréal. A guided walk around the city's decorated highlights and a chance to learn about its festive traditions.
Mont Royal Winter Sports Park
Mont Royal Park in winter is a treat for those looking for some arctic style adventure. Here, you can ice-skate on the huge frozen lake and go snowshoeing in the surrounding woodland and pathways that make up this picturesque plain and reach panoramic viewpoints on a biking tour on the mountain's perimeter.
For a quick adrenalin fix, try tubing, where you sit in an inflatable ring as you spin and whirl down a snow slide, racing your friends to the bottom. Generally, it's a quiet and serene space for a stroll with spectacular views out across the city – which in winter is like looking at a cityscape dusted with icing sugar.
Book a trip
► Two-hour electric fat-tire biking tour on Mont Royal. Fat-biking is a popular winter sport, with the bike's chunky tire perfect for gripping the snow – an ideal way to cover more ground on Montreal's beloved hillside.
Sucrerie de la Montagne – Sugar Shack
A core part of Quebec's identity, you can't visit without heading to a Sugar Shack. In this forested maple syrup grove, the maple tree sap is extracted in early spring and turned into maple syrup via a wood-fired evaporator.
Sucrerie de la Montagne is one of the oldest (established in 1978) and most authentic Sugar Shacks. The founder Pierre Faucher and his co-owner son Stefan continue their maple syrup harvest "the old-fashioned way" – that is, in line with traditional methods that continue a decades-long heritage. It's just 45 minutes from Montréal.
A guided tour starts from $30 CAD and includes carriage rides around the site and a chance to see old maple syrup production methods in action. Visit the on-site restaurant and bakery and warm up with wintery stews and soups before indulging in desserts drenched in oodles of maple syrup.
The ultimate Quebec maple tradition? Try maple syrup taffy, where the hot sap is poured into the snow and rolled up via a wooden stick to form a bite-sized treat.
Igloofest Montreal
A festival with a difference, the famed and annually anticipated Igloofest brings Montreal's finest kids of cool to come and display their retro and fancy dress outfits while dancing to electronic music within the various stages of its Igloo Village. It's a staple of the city's winter events listing, now in its 15th year.
You can't miss the bright lights of the set up on the Old Port when the sun goes down, and the party continues until midnight. Igloofest is where you dance in the cold. It's like Glastonbury, but without the mud and where willies are swapped for vintage snowsuits and bobble hats knitted in neon colours.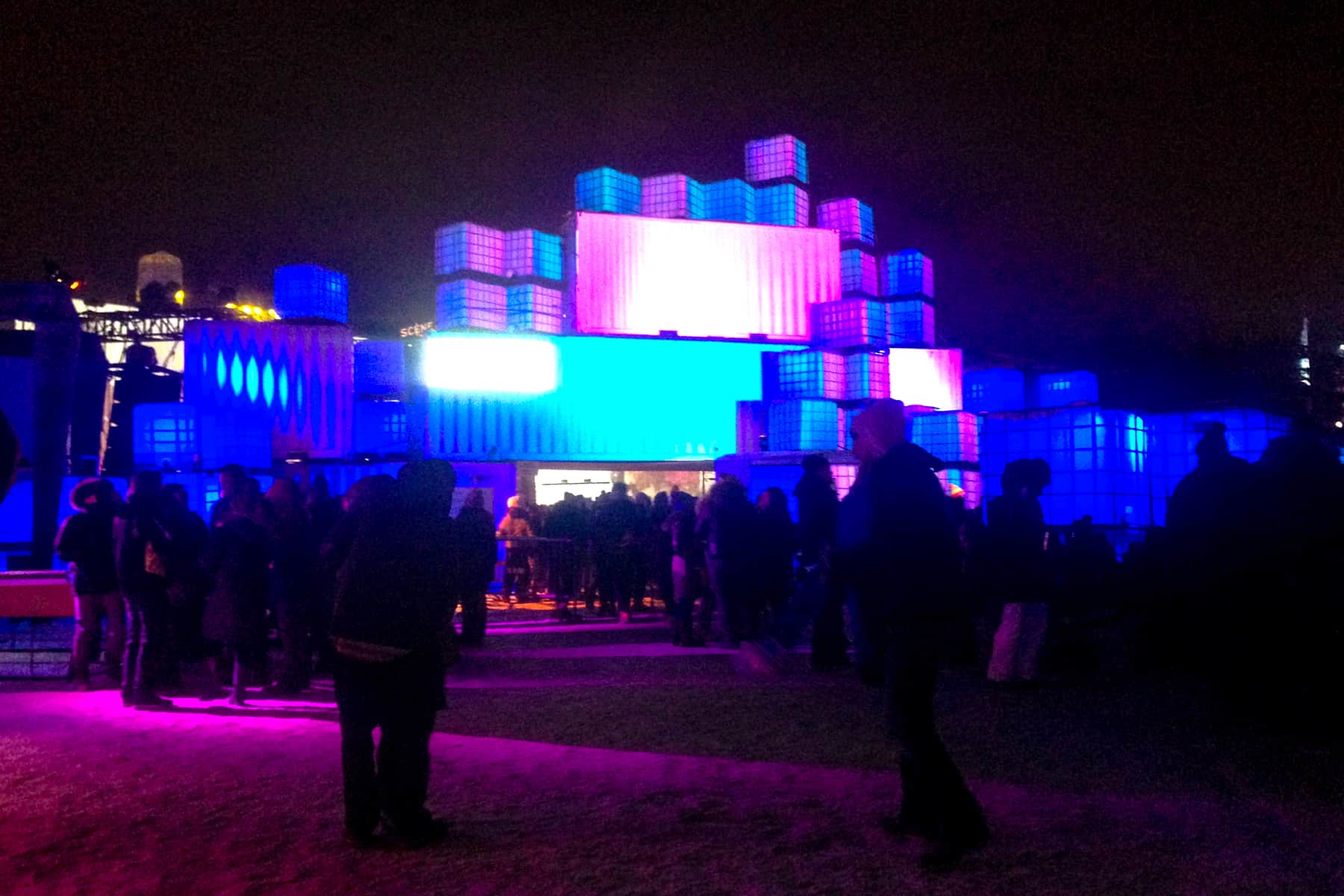 Montreal Ice Fishing
Pêche Vieux-Montréal is Montréal's first urban Ice Fishing Village located on the Quays of the Old Port. It's a unique insight into how fishing continues during the winter when rivers and lakes freeze over with solid inches of ice.
Expert local fishermen will show you how they drill holes into the ice, set up the rods and the best practice for securing a catch. These guys brave the cold, drilling in the open air, but visitors can ice fish within the comfort of a wooden hut with electric heaters.
Quebec City in Winter
The UNESCO World Heritage site of Quebec City – the provincial capital – is just as beautiful as its sister city of Montreal, where stonewall legacy buildings line the streets.
During January and February, Quebec City is home to two winter wonders, most notably the annual Quebec Carnival, where decorations and celebrations fill the pretty cobbled streets, and the Quebec Ice Hotel opens its doors for those looking for alternative accommodation.
Book a tour
► Private walking tour of Quebec city with a local. Get to know the history of Quebec city and its french influence, and its hidden corners with a resident expert.
The Carnival de Quebec
The largest winter festival in the world and third on the list of Top Carnivals after the famous Rio and New Orleans, the Carnival de Quebec is something you must time your visit to include. The festival continues a centuries-old tradition, and I was lucky to be a part of the 60th year of celebrations.
On Quebec City's Plains of Abraham sits a fun 'Snow Village' filled with tubing slides, ice slides, snow sculptures and dog sledding, and nearby sits the Ice Palace of the carnival's much-loved ambassador, Bonhomme (meaning 'good man'), 40 feet tall and made from over 300 tons of ice.
We got to meet Bonhomme, but one of my friends got to participate in the annual 'Snow Bath', which he has been attempting to get into for the past seven years. This event is quite possibly the most memorable and enjoyable part of the festival, where groups of people revel in the snow wearing nothing more than their swimsuits and snow boots.
The magical night street parade and outdoor party on the site of Bonhomme's Palace concludes the series of events that make up this incredible celebration of winter.
Hôtel de Glace Quebec (Ice Hotel)
Now in its 20th year, Quebec City's famed Ice Hotel, Hôtel de Glace, returns annually with a new design and themed interior. It might cost $250 CAD+ to stay here, but visitors can sample its icy delights on a day visit, where you can wander around the 44 bedrooms, visit the wedding chapel, and dance and drink in the ice bar.
Book tickets
► Skip the line Quebec Ice Hotel entrance ticket, including the 45-minute return shuttle bus from and to Quebec city centre.
Book a tour
► Full-day Ice hotel and Quebec city tour. Learn about the ice hotel and see Quebec city's historical highlights with a local guide.
Mont Tremblant
Mont Tremblant's offering speaks for itself in being a ski resort – the most apparent yet favourite pastime of winter enthusiasts.
Skiing in Mont Tremblant
With 70 tree-lined slopes and an 18-acre park, Mont Tremblant captures the attention of many avid snow adventurers who can also enjoy après ski in the European style pedestrian village. With the season seeing around 160 cm or more snowfall, Mont Tremblant has fresh powder runs guaranteed.
Other ski resorts in the province include Stoneham (home to the largest night skiing network in Canada), Mont-Sainte-Anne and Le Massif de Charlevoix (the highest peak in Eastern North America). However, Mont Tremblant is the prime spot to experience winter in Quebec.
Fire Man Snowshoe Tour
At the foot of the highest peak in the Laurentian mountains, Mont Tremblant is an ideal base for winter activities, including tubing, ice-skating and fat biking.
One of the most well-known and loved trips is to go snowshoeing in Mont Tremblant on the Fire Man Tour – an opportunity to experience trekking in a different climate whilst learning about cultural traditions. Wander the forest trails, spot wildlife and immerse yourself in the dense woodland on this two-hour tour, all while learning about the environment and basic survival in these conditions, like how to start a fire in the snow.
Why Spend Winter in Quebec?
Quebec in winter is a gateway to the festive and seasonal celebrations of year-end, making the most of the great outdoors despite the chilly climate. It's a place where winter isn't just known as a season, but a playground of fun, adventure and sporting activity set within beautiful historical cities and picturesque landscapes.
Even if you are not crazy about the winter, you'll soon feel the Québécoise charm pulling you in, and you'll find yourself celebrating it instinctively.
My visit to Mont Tremblant and Montreal was a part of the 'Love Winter' campaign in partnership with the Canadian Tourism Commission, Tourism Montreal and Tourism Quebec. I maintain all editorial control over the content produced as a result of this trip, and all opinions remain my own.