Disclaimer: This post contains affiliate links to handpicked partners, including tours, gear and booking sites. If you click through or buy something via one of them, I may receive a small commission. This is at no extra cost to you and allows this site to keep running.
Away from crisis and media frenzy, see Athens differently with a local guide who'll want to show you their city differently. Here are the best Athens walking tours covering food, philosophy, wine, and history.
The gritty streetscape of Athens may dominate the scattering of golden classical sites, but its history is rich, its neighbourhoods varied, and its soul thriving in both tradition and a unique modern-day cultural regeneration.
The things to do in Athens go far beyond its Acropolis fame; a city that is easy to walk around and big on experiences. One of the best ways to understand these complex layers is to engage in the variety of themed Athens walking tours, in the company of locals who can take you through this diverse metropolis and show you a very different side.
Athens Like a Local
If there's one consistent thing in travel, it is this: locals are always eager to impart their knowledge of a place. Those with a deeply entrenched passion for the place they call home want nothing more than to show you why. There's a pride in the way a Greek shows off their hometown – knowing it is both a mixture of a glorious past and a present battered by negative news headlines that overshadow what people know of the reviving bustling metropolis.
Having lived in Greece's capital for nearly a year and dedicating a lot of time and genuine love to promoting the city, I was always striving to find something new. I had taken so many incredible walking tours with locals and spent so much time reading, researching, and writing, that I often found myself eagerly showing people around.
But with Athens being a city in constant regeneration, one can never proclaim to have seen everything. The ancient and classical sites may remain the crowd-drawing constant, but the contemporary city is always reshaping around it.
Best Walking Tours in Athens By Theme
Introduction to Athens Attractions: Highlights
It is possible to take in the highlights of Athens sightseeing in just a few short hours with an Athenian who will guide you through the ancient and ottoman parts of the city and walk the neo-classical 'triangle' from Syntagma to Omonia to Kerameikos.
The Alternative Athens City Walk combines easy-to-digest historical highlights with hidden city quirks, such as hidden streets with character and modern clothing stores showcasing ancient ruins.
READ MORE ABOUT ATHENS: How to Travel to Athens – Travel Guide for Greece's Capital
Free Walking Tour of Athens: Greeter Programme
"Ah, yes, I know this place!" I would often say to Vicky – an Athenian who often volunteers her time showing tourists around as part of the 'This is My Athens' free greeter programme where you can hang out with a local who matches your interests and organises a tailored walk.
We had met at Monastiraki Square, a starting point for a walking tour that would take me through the adjacent neighbourhood of Psirri and eventually end in Plaka on the opposite side. Former French teacher, now Acropolis guide, Vicky pointed out everything from Lord Byron's decaying residence to Psirri's secret neighbourhood restaurant, the famous artistry of sandal maker Stavros Melissinos, to the meaning of some of the best street art murals that line almost every available wall space.
I was shown secluded corners, quirky stores, local hangouts, and the oldest Koulouri (round sesame bread rings) store in the area. The 'This is My Athens' free greeter programme means being sporadic and letting the locals show you their favourite sites outside the guidebook.
Despite being a free programme guided with passion, tip your guide – they will appreciate it.
Book your local guide via the This is my Athens platform.
Athens Wine Tasting Tour: Vino in the City
If you don't know your Nemea from your Nauossa (two of Greece's main wine-producing regions) or that Santorini's volcanic soil is known as the best terroir in the country, then it's time to brush up on your Hellenic vino knowledge and get to grips with the unknown Greek wine scene.
While Greece isn't known for its wine, the scene in Athens has grown over the past two years in an attempt to highlight homegrown varieties to international wine lovers. During Ottoman rule in Greece, wine production was halted, and vineyards were neglected. France and Italy's production soared.
Over the years, small vineyards emerged, with every village touting a different grape variety – a much wider choice but less concentration on mass production and export.
So you shouldn't leave Greece without trying its best selection on home soil. Sommelier Yiannis from Athens Insiders takes you to three of the most well-established wine bars in central Athens.
You'll not only learn basic tasting techniques, but you'll also be able to pick out regional attributes and Greece's very distinct blends as you savour some of the finest by the glass.
From the sauvignon-like Nemea, the pinot noir-like Naoussa and fruity moschofileros, to the wild fermented assirtikos and the distinct flavours of Santorini and Crete, the real test is if you can pronounce the names of them all at the very end.
Athens Street Art Tour: Political Expression
Looking to dig deeper into the political expressions of Greece? Street Art has become the modern voice of creative Athens – a city that is said to have the largest collection of street art in the world.
While unsightly tagging is common, some of the ultra-creative pieces on show here will catch your eye on every corner. Shop shutter covers and buildings whose entire façade is covered; abandoned spaces and hidden finds – each artwork has its own story, sometimes about the particular building or area itself.
Join urban artists from the city who will give detailed insight into the street art scene, emerging in the early 1990s as a social-political voice – a sentiment that continues today. You can learn about the designs, techniques and messages found mainly within the central Exarchia, Monastiraki and Psirri neighbourhoods with Manolis (aka "rtmone") and in the lesser-known and grittier Gazi and Metataxourgio neighbourhoods with Achilles from Alternative Athens. Each has their own distinct style and personal highlights to share.
READ MORE: Street Art in Athens – Visual Expressions of a Political and Troubled Greece
Athens Architecture Walking Tour: Design Through the Ages
The birthplace of democracy and a city that changed with Roman and Ottoman occupation, to the more modern wave of Neo-Classicism and the practical yet non-descript re-build of the 1960s, Athens has been destroyed, conquered and rebuilt many times over.
This is most apparent in the varied architecture of the city that showcases the history of occupation and re-build.
While the Renaissance was happening elsewhere in Europe, the Ottoman Turks didn't follow. In the 19th century, countries including Germany, France, and Britain injected classicism into the city as a way of bringing back the ancient Greek identity. With Greece besieged by seven wars over the centuries, Athens in particular always lagged very far behind in its engineered beauty.
Your architectural journey, in the company of scholar Vasillis from Context Travel, starts in 1935 at Syntagma Square and jumps back and forth through the ages as you walk through the Omonia, Monastiraki and Plaka areas.
You'll soon notice the triangular pediments and classical column designs of the neo-classical era, learn why Plaka's buildings are dotted with beautiful balconies, see the oldest standing preserved Ottoman building, find one of the only art-nouveau buildings in the city, and pass through Athens' secret island-like village.
Athens Food Tour: Try Traditional Greek Eats
To not sample traditional Greek eats is quite possibly one of the biggest sacrilegious acts of travel here. Even the least discerning of food aficionados will learn to love the Greek cuisine, based on the most simple and fresh of ingredients. Especially when you are in the hands of the passionate local guide, Carolina.
With Culinary Backstreets, you go beyond the taverna and explore the tasty secrets of downtown Athens. Think northern Greece style Souvlaki, moussaka, Greek salads, generations-old recipes of feta cheese, yoghurt and honey served in old dairy bars, olives fresh from the market, Armenian cold cuts, Cretan cuisine and sweet treats like the loukoumades Greek doughnuts.
The morning starts with coffee and sweet treats at one of the oldest dairy shops in Greece, once based at the port but relocated to the city centre after being bombed during the war, before learning about the production of feta at a family-run cheese shop that's been around since 1916.
Then it's time to sample cold cuts from the Armenian restaurants and stores (many Armenians came to Greece during the tragic genocide) and indulge in one of the city's best souvlaki at a third-generation family-run stand, established in 1950 and currently run by the original owner's grandson.
And if that wasn't enough, you also get to sample olives and meats at the frantic but fun on the senses, fish-market and sweet honey and cinnamon laden loukoumades doughnuts at one of the oldest local favourites in town.
This tour is a full day of food tasting in the city, which combines history, sightseeing, and a very full stomach, as you hop between third-generation food stores, restaurants offering traditional foods, and places only locals know. Skip breakfast, you will need the space.
Athens Philosophy Walking Tour: On the Trail of Plato
In the eastern reaches of the city, outside of the central confines, is a park known as Plato's Academy. If you stumbled across it, it would look like nothing more than a slightly abandoned space with a scattering of ruins. Yet this was an important space from the 4th Century – a time of power, intellectual growth, and literary and philosophical activity.
The 'Socrates, Plato and the Pursuit of happiness' walk will bring to life the history behind this simple patch of land where Plato lived and worked. Wander the ruins of the gymnasium where it is said Plato met the young men he would later educate, and stand within the school (Academy) he founded (albeit with Byzantine additions). This is a scenic and thoughtful walk through the importance of Plato's teaching in early Greek civilisation and where his ideas of temperance, wisdom, virtue, and piety were practised.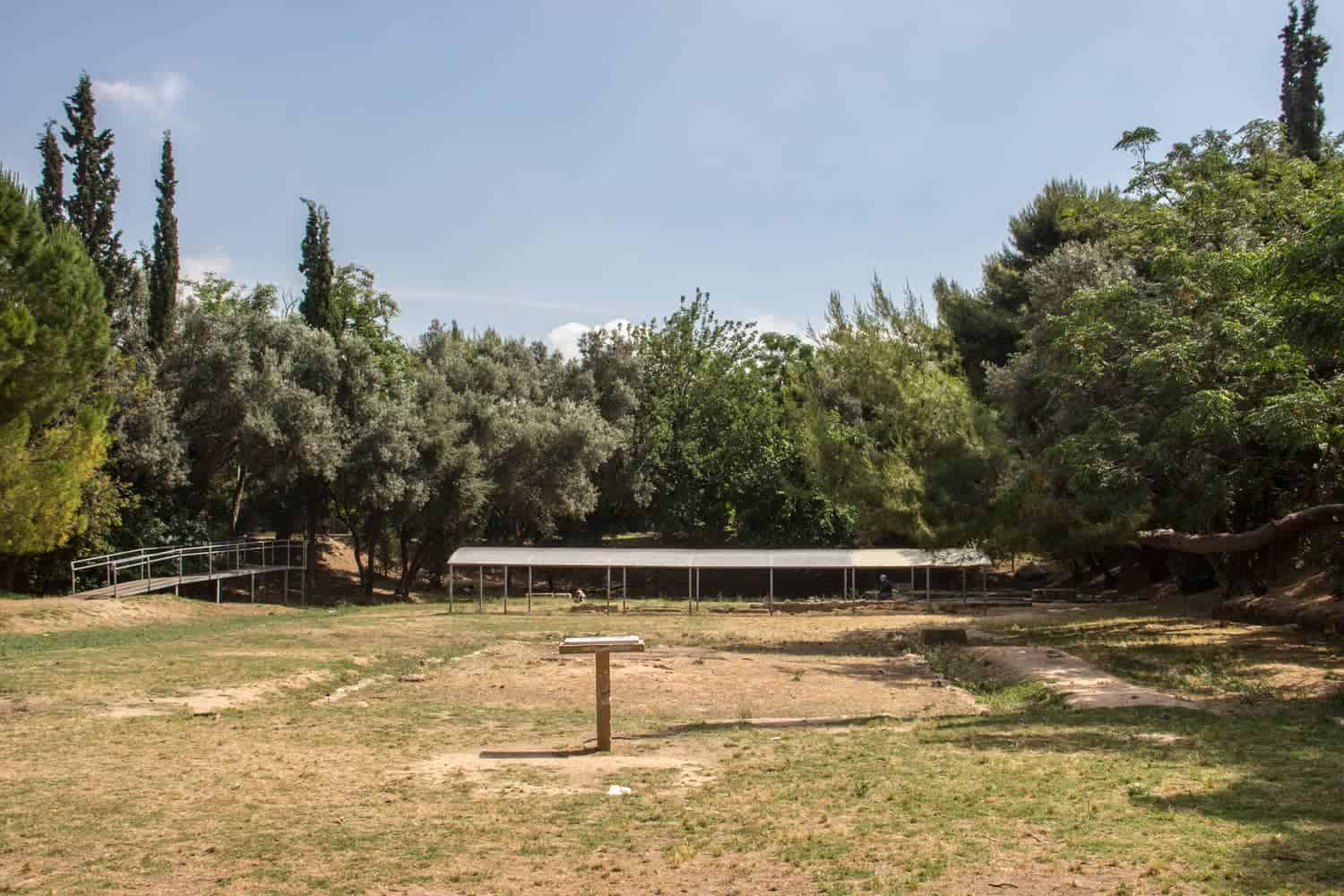 City Walks in Athens – Are They Worth It?
Connect with a local guide and experience life through their eyes on one of many Athens walking tours. It really is the best way to break through the misconceptions surrounding the identity of the city, dig deeper into its past, understand its present-day persona and indulge in the unique culture that thrives here in this bustling Greek capital.
I was a guest of all the walking tour companies listed, and I took the walks over a period of three months during one summer. All opinions on this Athens walks blog remain my own.