Disclaimer: This post contains affiliate links to handpicked partners, including tours, gear and booking sites. If you click through or buy something via one of them, I may receive a small commission. This is at no extra cost to you and allows this site to keep running.
This guide to the best neighbourhoods in Athens highlights the different areas of Greece's capital beyond only touring the ancient sites.
"I didn't like Athens" is something I hear all too often, but I soon worked out why people couldn't summon up much love for it – they hadn't spent enough time getting to know it, especially since the average time spent here is 24 hours on the way to an island. Or because people stay in the heart of the tourist area of Monastiraki without straying far from it, not knowing that just a few streets away is the allure of an emerging, changing city.
Athens is also not your typical enchanting city and can be hard to grasp immediately and love. Its ancient ambience is the main draw, and yet the interlacing of modern grittiness confuses people, so it pays to lower your expectations and know this city commands curiosity. What some find rough around the edges, others find trendy and genuine. Confining yourself to a small area doesn't represent the whole, and you can't formulate a strong opinion.
The best neighbourhoods in Athens and their multi-personas are what add to the city's complexity – from the upmarket Kolonaki to the socially outspoken Exarchia that sit side-by-side, or the oldest neighbourhood of Plaka and its secret village of Anafiotica, to the more modern former gas works area and lively student hub of Gazi and the formerly run-down and avoided Metaxourgeio now in regeneration.
Ready to take a deep dive into what are the safest, hippest and cool neighbourhoods of Athens? This guide takes you around the city and its many faces.
READ MORE: Athens Travel Guide to sightseeing, getting around, and where to stay.
Monastiraki – Athens Neighbourhood of Landmarks
Monastiraki is the pivotal point for the landmarks of Ancient Greece. From here you'll get great views of the Acropolis standing mighty on the hill, and wander the buzzing Adrianou street to access the ground-level ruins. It's historical blasphemy not to do so, regardless of the intense crowds they draw.
But you don't always have to go completely off-grid in Athens to see its true persona. Go beyond a coffee chain bar, falafel shop and the tourist shopping street, and wander the crowded streets approaching the Acropolis. Deliberately shoot off into the side streets that line the main market thoroughfares, even if they look nondescript. You'll soon find yourself in quieter, local spots; alleyways with local restaurants and hangouts, and family-run stores with not a tourist t-shirt insight.
Greeks are very welcoming and will appreciate your curiosity, and you will get to see Athenian life away from those bound to the heaviest tourist traffic in the city.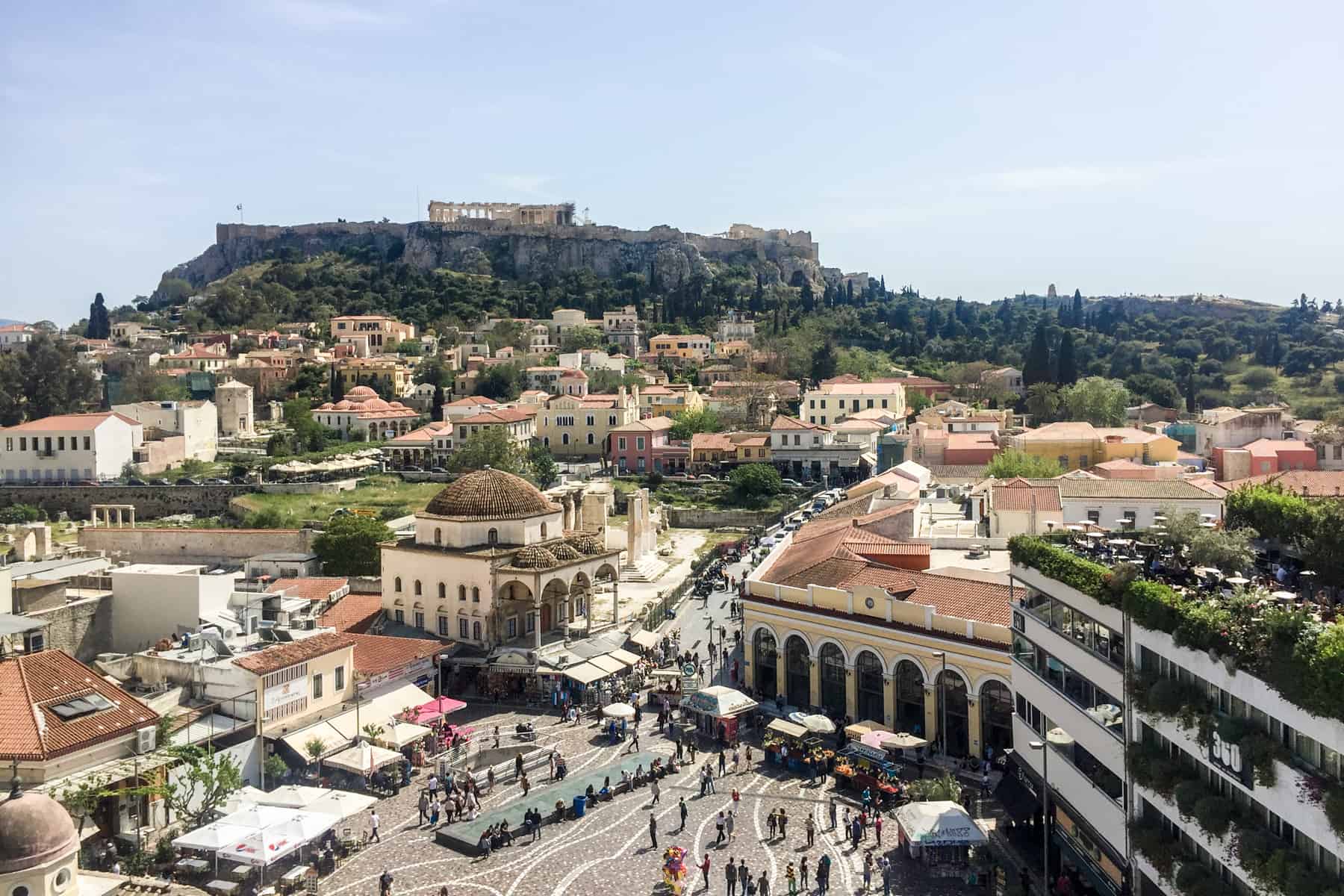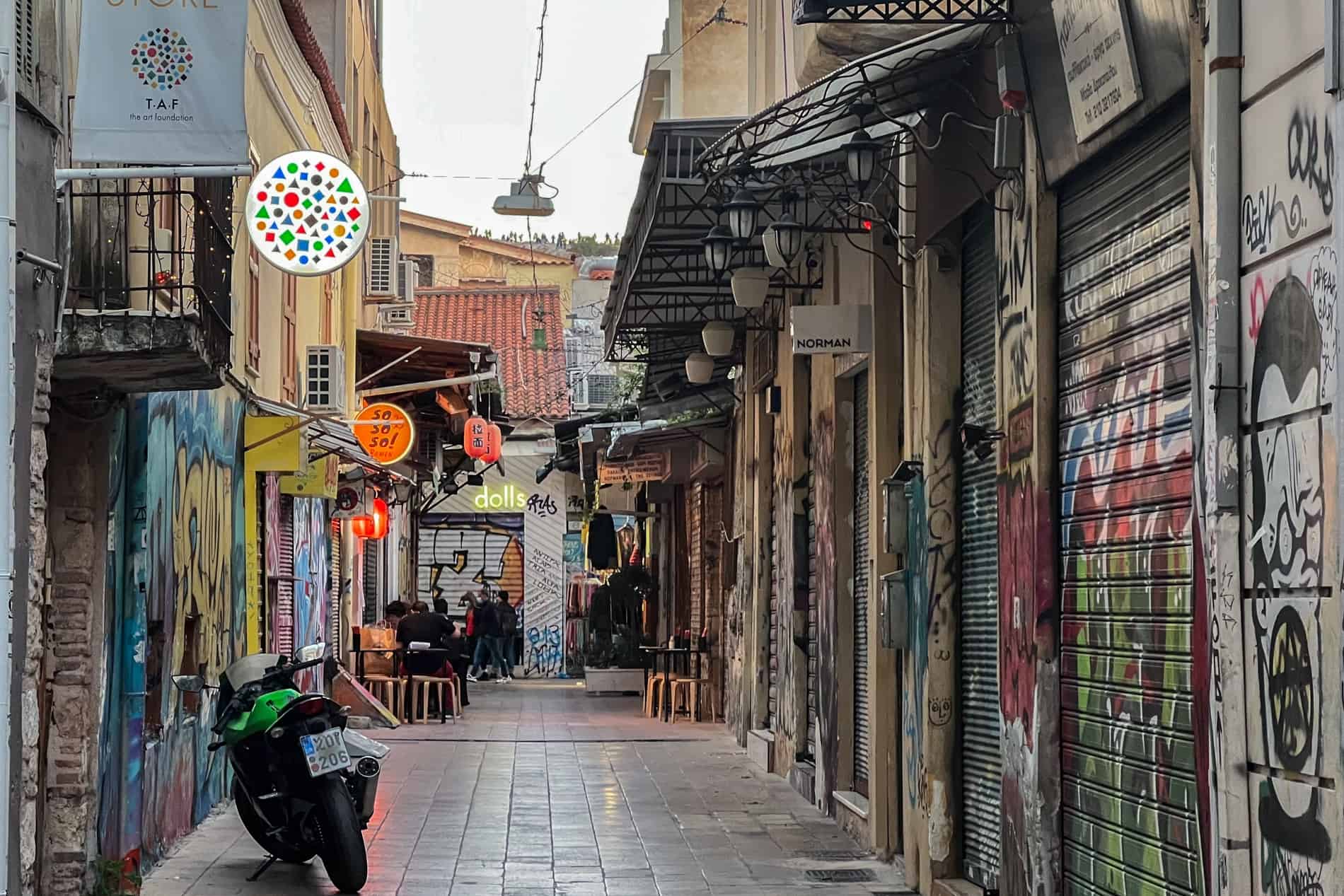 How to Get to Monastiraki
Metro: Monastiraki (Line 1 and 3)
Where to Eat and Drink in Monastiraki
Kωστας /Kostas
The hole-in-the-wall institution and cult classic souvlaki. (Pl. Agias Irinis 2)
Krinos
The most historical sweet treats shop. This place opened in 1923 and has excellent loukoumades (dough with honey and cinnamon), but the traditional Thessaloniki bougatsa (filo pastry custard pie) will leave you with a difficult choice. Just take both. (87 Aiolou street)
Mama Roux
The weekends are made for crunching. The streets fill with those eager to dine for hours in the most cosy of establishments, especially at the ever-popular and much-loved Mama Roux in the very centre of the city. It's worth waiting for a seat.
LUKUMAΔΕS (Loukoumades)
A modern, more hip sweet shop. Bold and funky, you won't miss it as you walk past. (21 Aiolou street)
Six D.O.G.S
A trendy garden bar tucked away on an arty side street. Open all day as a coffee and cocktail bar, the atmosphere is electric at night as locals gather to hang out in this large open space – a hidden paradise in the centre of the city. (Avramiotou 6-8)
The ART Foundation (TAF)
The concealed courtyard in Monastiraki is not only a hidden architectural treasure, tucked away in an alley off bustling Ermou street, but also a café-bar intertwined with a co-working space for artists, whose open exhibition space is free to explore. (Normanou 5)
Cine Paris
Athens' first outdoor cinema (a trend that caught on quickly elsewhere) and a rooftop garden with an incredible Acropolis backdrop. Open in the summer for popular movie showings. (Kidathineon 22)
Thissio – Flea Market to Filopappos Hill
Neighbouring Monastiraki, don't jump on a Metro to Thissio, walk there on the Adrianou road. You then have two options.
Walk south towards Filopappos Hill, where you will pass through local neighbourhoods and some of the old stone houses of the city that sit alongside and are factored into the modern apartment buildings or venture North toward the Southwest of the Keramikos neighbourhood.
I found some great murals here, more on the graffiti side of the street art spectrum, as well as quirky old houses, where I found some older people chilling one Saturday afternoon selling every old piece of junk imaginable. But interesting junk nonetheless.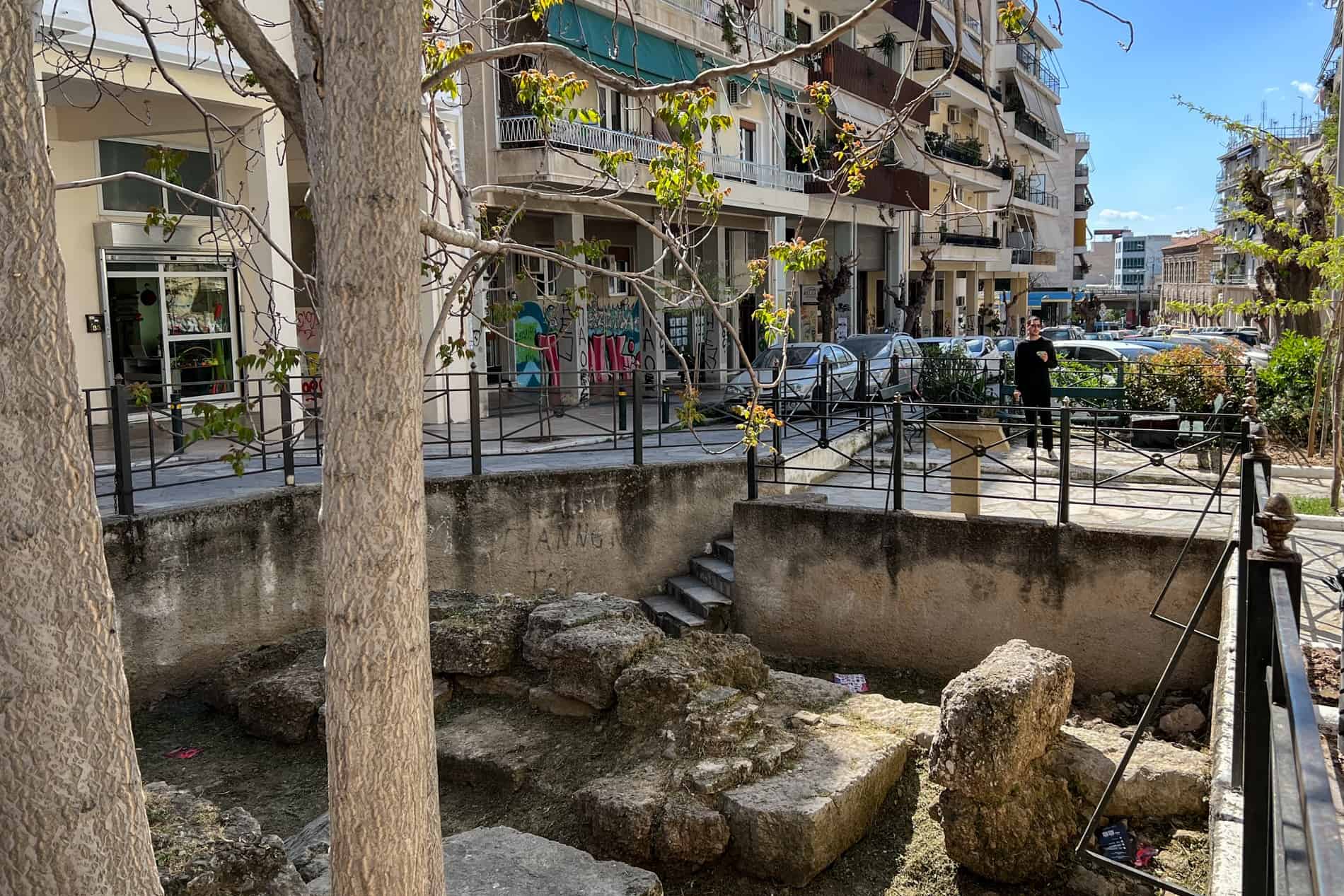 How to Get to Thissio
Metro: Thesseio (Line 1)
Where to Eat and Drink in Thissio
Cabezon
For good coffee, delicious food and drinks set within a wonderful green courtyard. (Kerameikou 110)
Cantina Social
A funky bar within an arcade that is home to many alternative music DJs. (Leokoriou 6)
Kerameio
A quirky former pottery shop made of stone and wood with a huge backyard you can lounge in while the loud music plays. (Plateon 26)
Psirri – Athens Neighbourhood of Eats
Psirri or Psyri – the Athens street art haven with long streets and busy squares of restaurants and cafes. Psirri has a unique buzz, but it isn't a secret. It's likely you'll find yourself gravitating straight towards an al fresco venue and dining for hours.
Head away from the main squares and find old stores with retro signage, local bakeries, stairways leading down to funky boutiques and giant artworks hidden around corners. There's a lot to uncover here in such a short space; a good excuse to work up an appetite.
Don't miss out on a visit to the sensory overload that is the Central Market on Athinas Street and the surrounding speciality food stores and restaurants.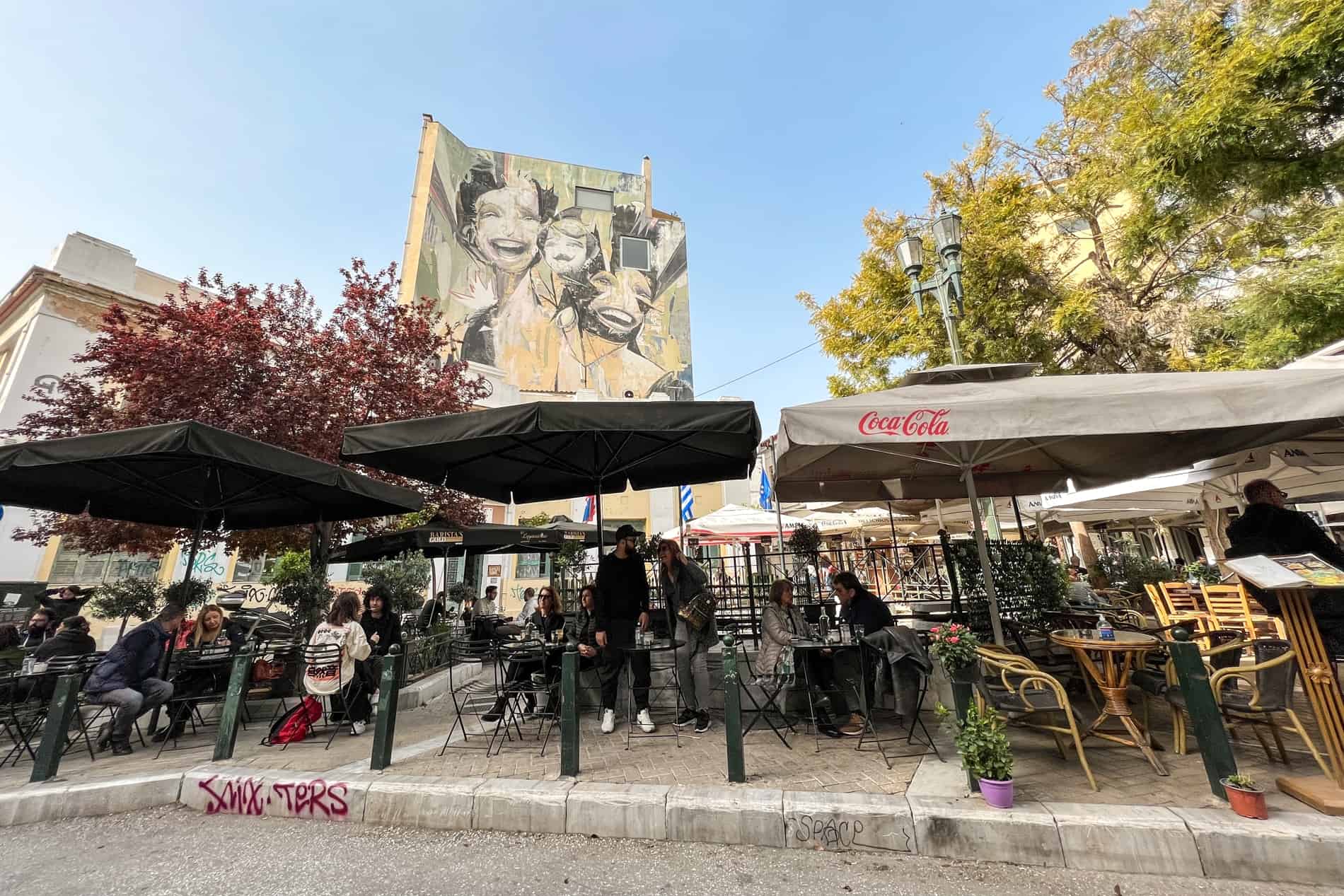 How to Get to Psirri
Metro: Thesseio, Monastiraki and Omonia (Line 1)
Where to Eat and Drink in Psirri
Nikitas Tavern
A traditional tavern since 1967 with good prices, fast service and welcoming locals. (Agion Anargiron 19)
Serbetospito
A delightful sweet shop favourite in the area, where the profiteroles and ice cream feature heavily in reviews. (Heroes Square 1 & Karaiskaki St)
Koulouri Tou Psirri
An old-time tasty bakery and coffee shop next to the quirky Kook set-up, best known for those who like indulging in tasty traditional 'Koulouri' (Greek Sesame Bread rings). (Agias Theklas 23)
Plaka – The Oldest Neighbourhood in Athens
A historical district Northeast of the Acropolis and wedged between the built-up Syntagma Square and Monastiraki, Plaka retains its traditional charm, with neoclassical architecture, and old winding streets.
Adrianou Street runs all the way through here, so it's easy to navigate from Monastiraki, but cut away from this main lane and climb the sloping streets and hidden alleys. Voulis street, in particular, is easy to find and hosts some great wine bars like Oinoscent, alongside hip cafés and restaurants.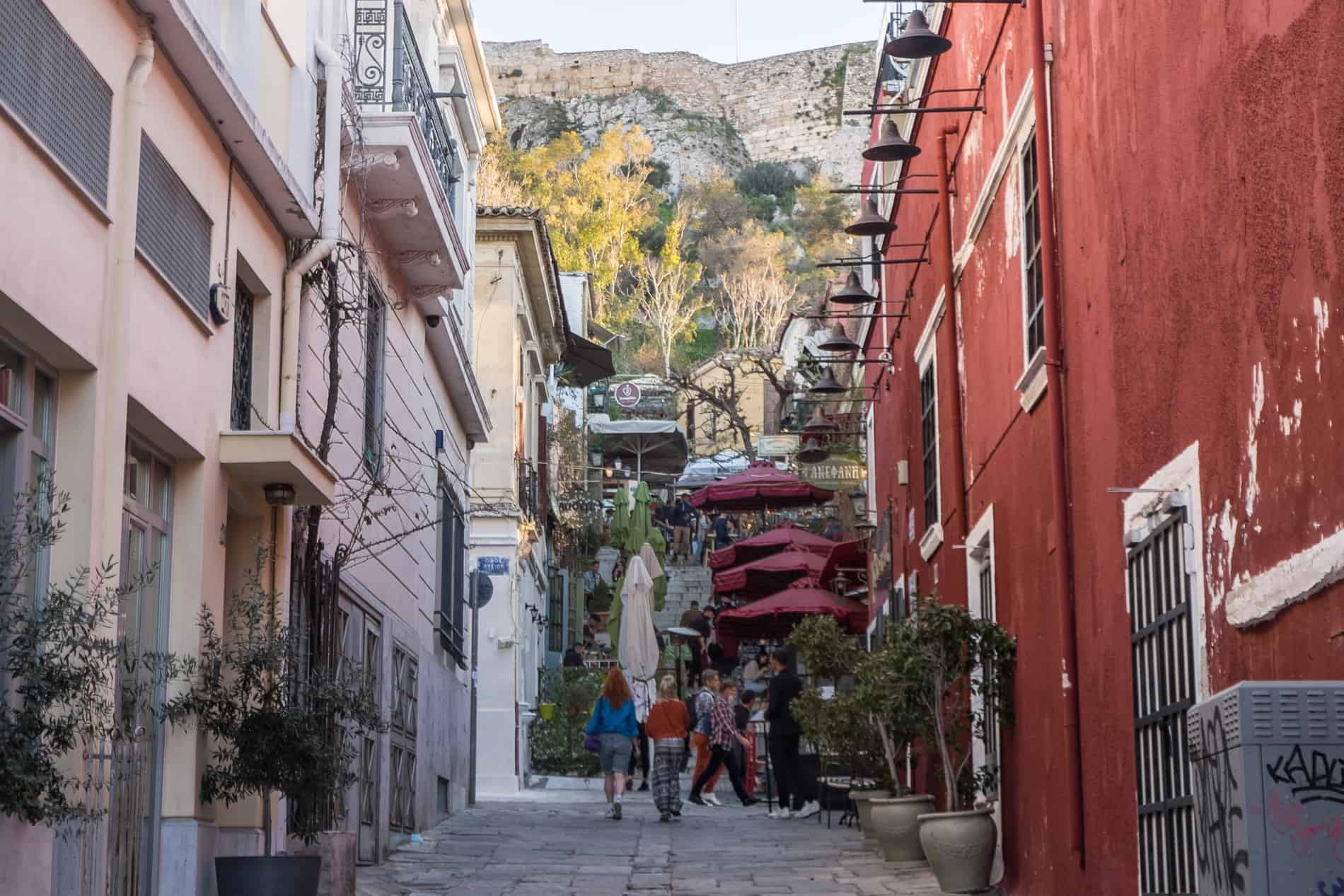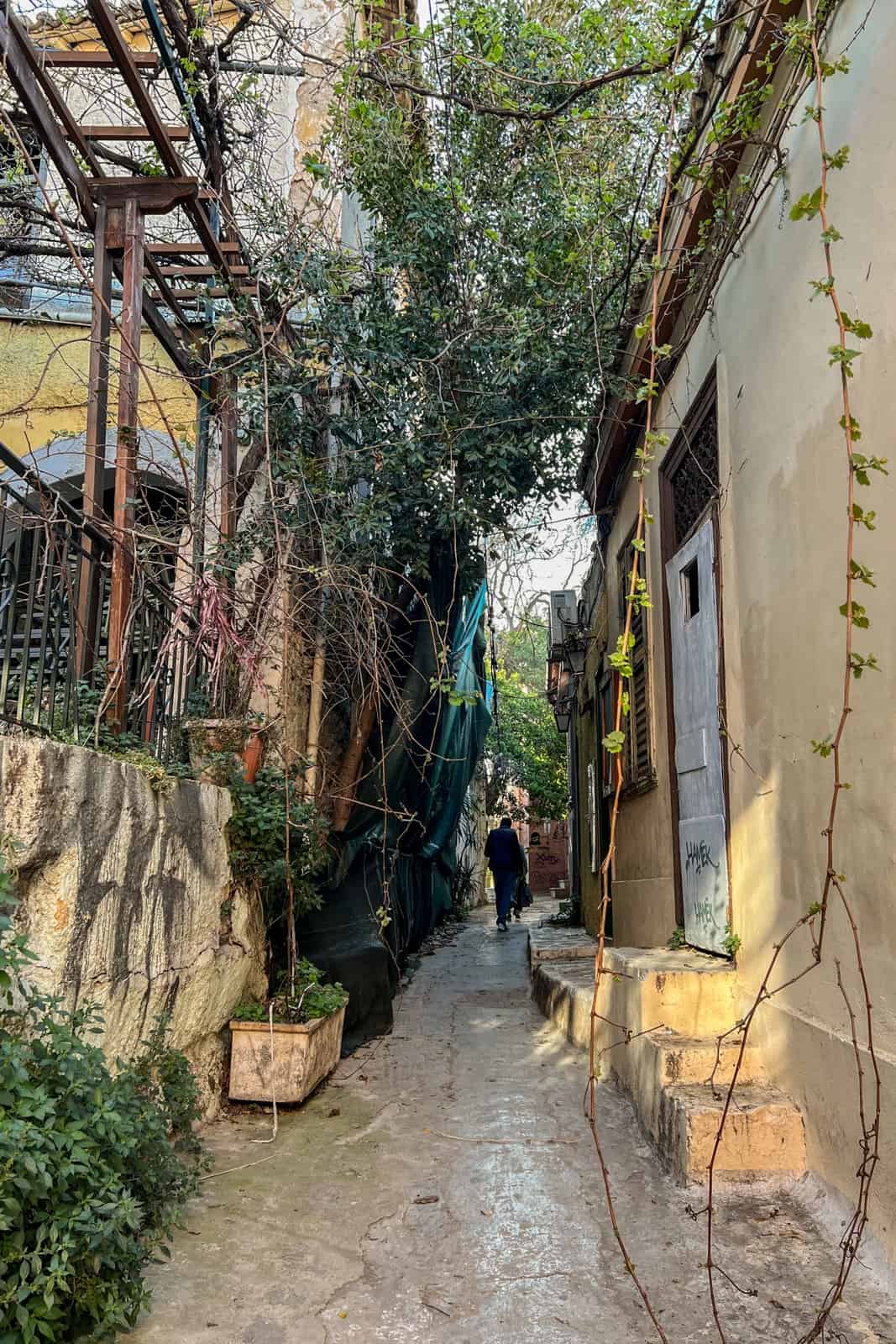 How to Get to Plaka
Metro: Syntagma and Monastiraki (Line 3)
Where to Eat and Drink in Plaka
Oinoscent
A stunning wine bar right in the centre of Athens, and popular for wine tastings. (Voulis street)
Ipitou Street
This street is known for its collection of really cool bars.
Anafiotika – The Village of Athens
Still technically part of Plaka, head into the southern to the edge of the Acropolis area, and you will find a small and scenic 'village within the city'. Known as Anafiotika, this secluded, scenic hideout was built by masons from the island of Anafi who came over to Athens as construction workers back in the 1800s. Standing there, looking up at the Acropolis, feels like stepping back in time.
Over 40 houses remain and once you wind up through the floral terraces, small corridors and narrow staircases, you are rewarded with one of the most spectacular views of Athens.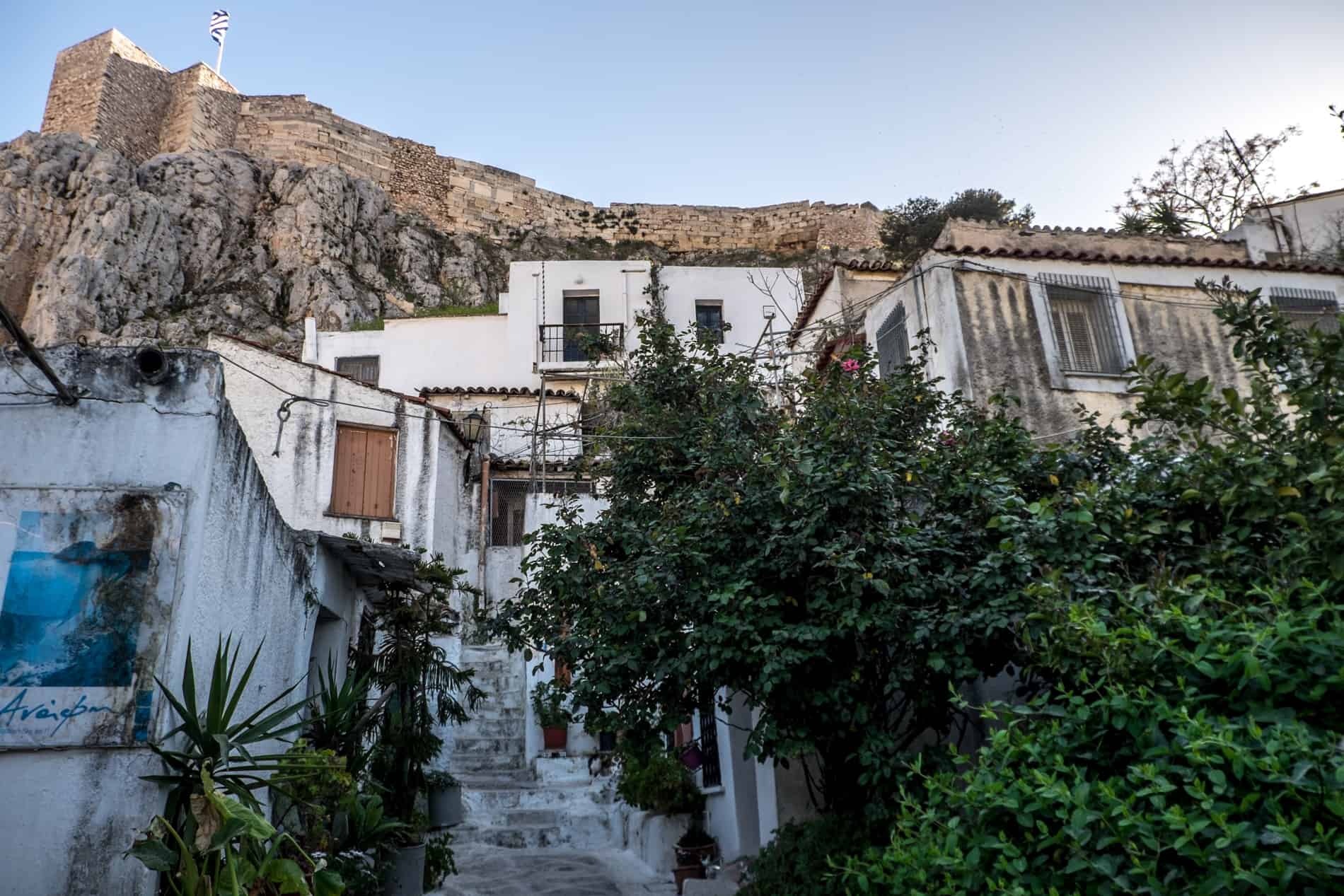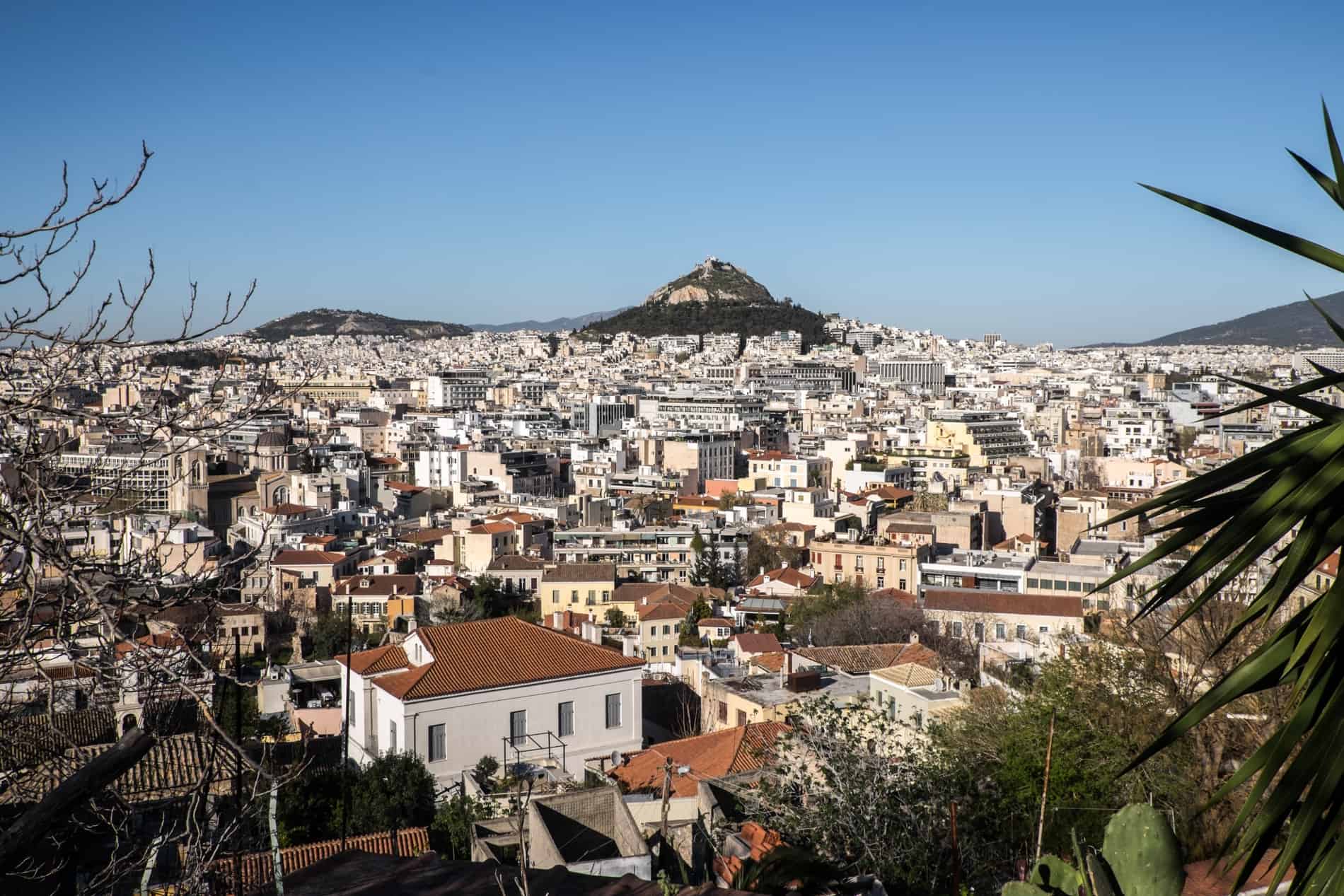 How to Find Anafiotica
Metro: Akropoli (Line 2)
Gazi – The Nightlife Neighbourhood of Athens
Gazi is a new neighbourhood, lined with funky restaurants and bars, yet dominated by the old gasworks, now a cultural centre, better known as the Technopolis. You can walk through it (it is also a museum about the old gas industry in Athens) and admire the old architecture, which has now given a modern and edgy makeover. It's particularly impressive at night when the gas chimneys shine with a red glow and the streets are heaving with busy bars.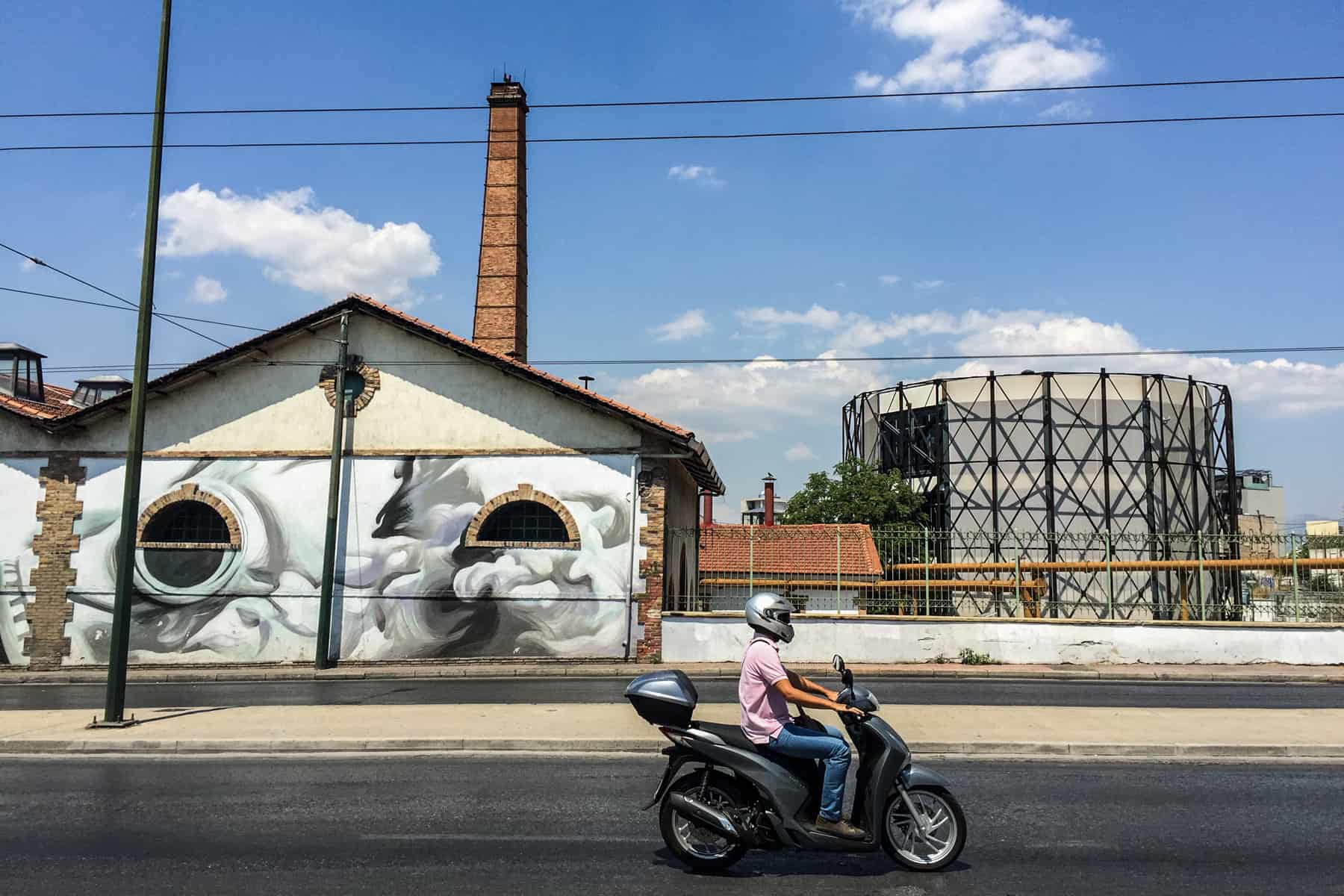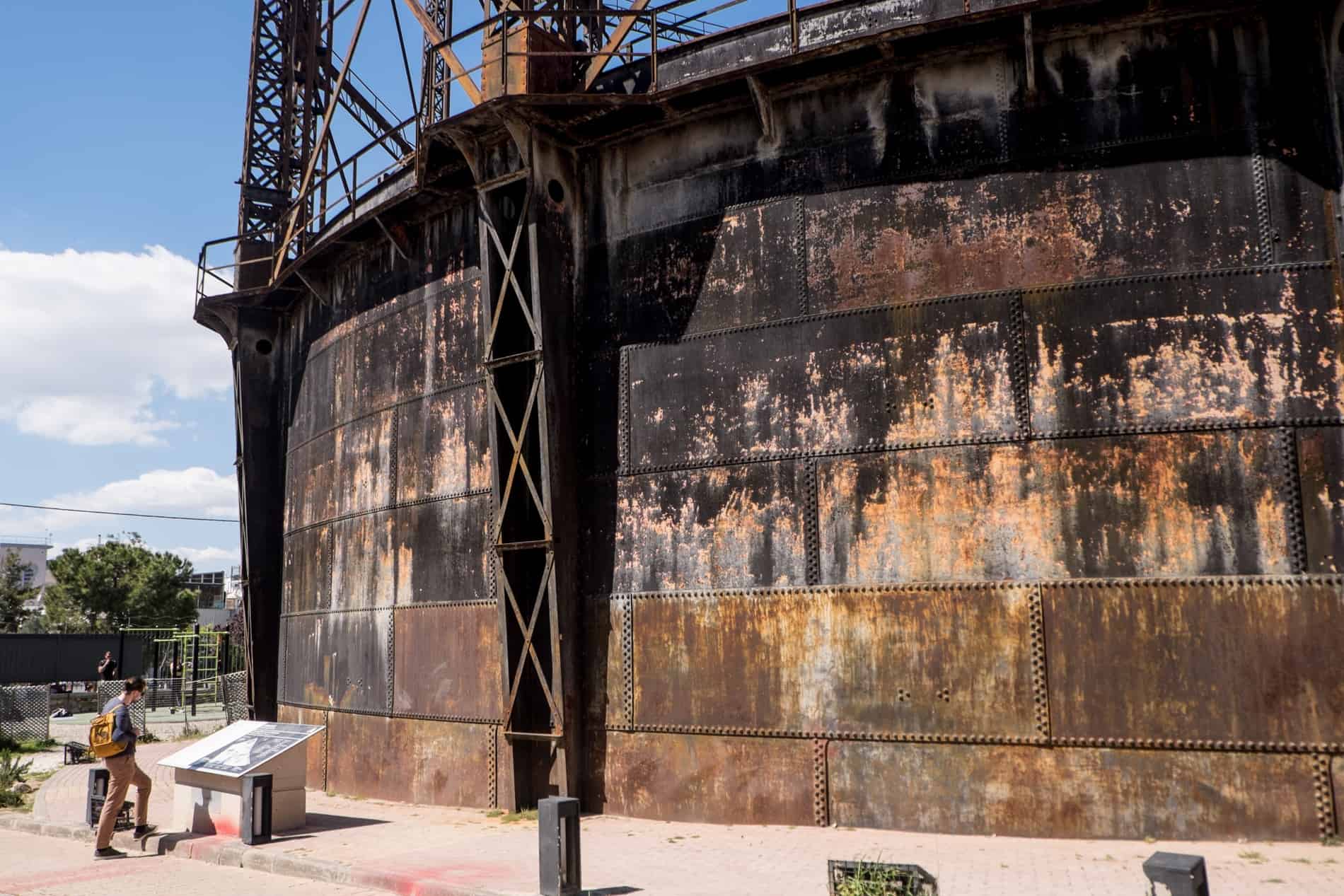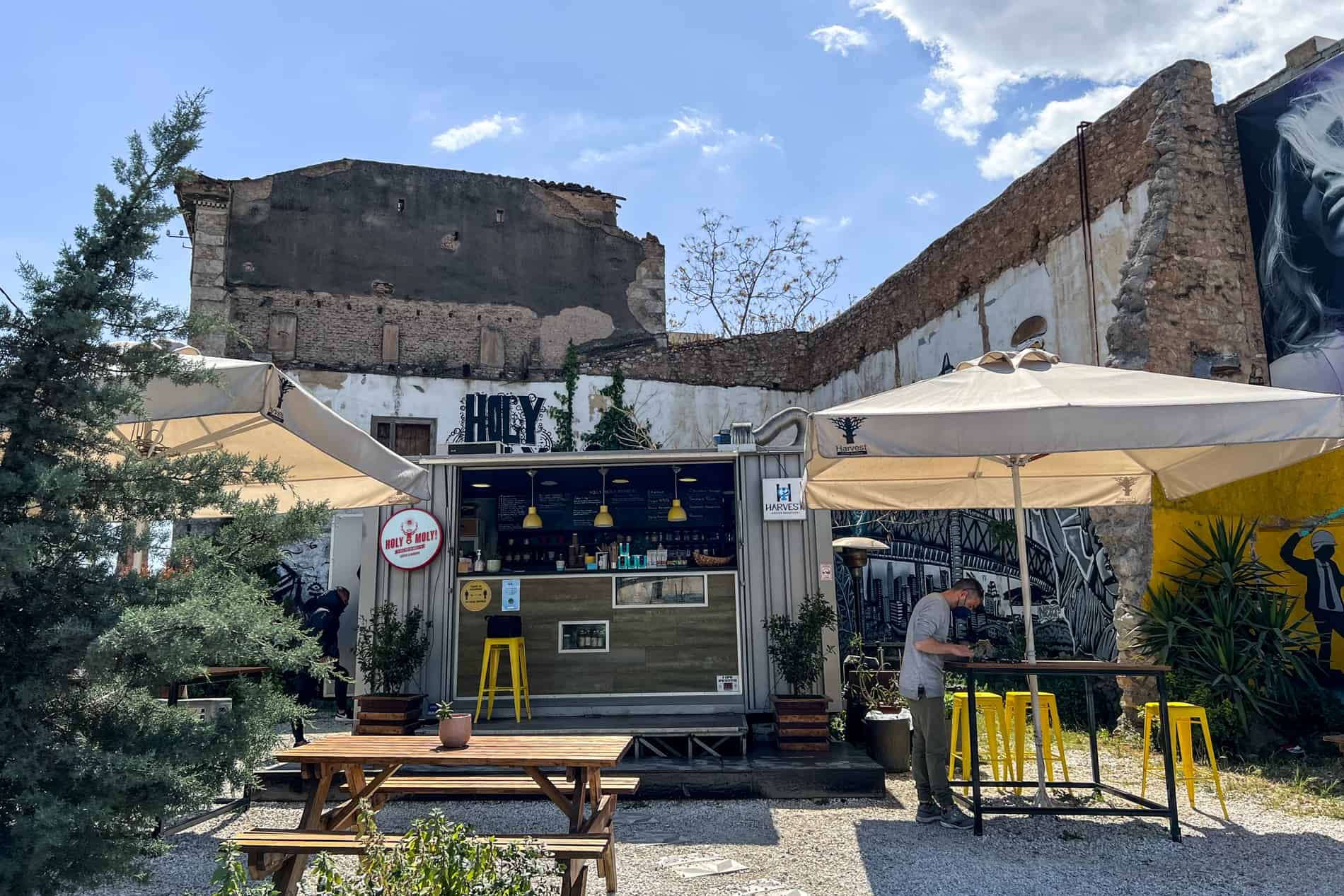 How to Get to Gazi
Metro: Keramikos (Line 3)
Petralona – The Tranquil Neighbourhood of Athens
Petralona is a tranquil and beautiful hideout over in the West of the city and is split, (roughly by the metro train line that runs through it) into Kato Petralona and Ano Petralona.
The former is the quieter of the two, which is great to lose yourself in and have conversations with locals, and the latter (head over the rail bridge) is a little more hip and happening, with local tavernas, which soon fill up in the evenings (Greeks dine for HOURS and I love it) and bohemian café hangouts. Mercouri Square (Platia Mercouri) is said to be the place to be.
How to Get to Petralona
Nearest Metro: Petralona (Line 1)
Where to Eat and Drink in Petralona
Kafeneio Perivolaki
A beautiful café with plenty of outdoor space right in the heart of a local neighbourhood. A collective of six people (now eight) pooled together their resources after the crisis to form this new business – a real local success story. (7 Athineou St & Ious Square)
Aster
A cute and cosy taverna that served some of the best Greek food I've had here so far. It fills up quickly, so get here early to land yourself a good table and wine and dine for hours, just as the Greeks do. (48 Troon St)
Kolonaki – The Upmarket Athens Neighbourhood
Upmarket and with an air of discreet snobbery, Kolonaki is as far removed from the general 'rough' vision of Athens as you can possibly imagine. Here's where the rich have got richer (while the poor got poorer), and you only have to walk past or through some of the alfresco coffee shops to see a different class of Athenian, mainly older and rather more… refined.
It's the area where the designer stores are concentrated and buildings are more classical. It reminds me of a cross between LA's Rhodo Drive and London's Mayfair, with the typical Athens neighbourhood layout thrown in.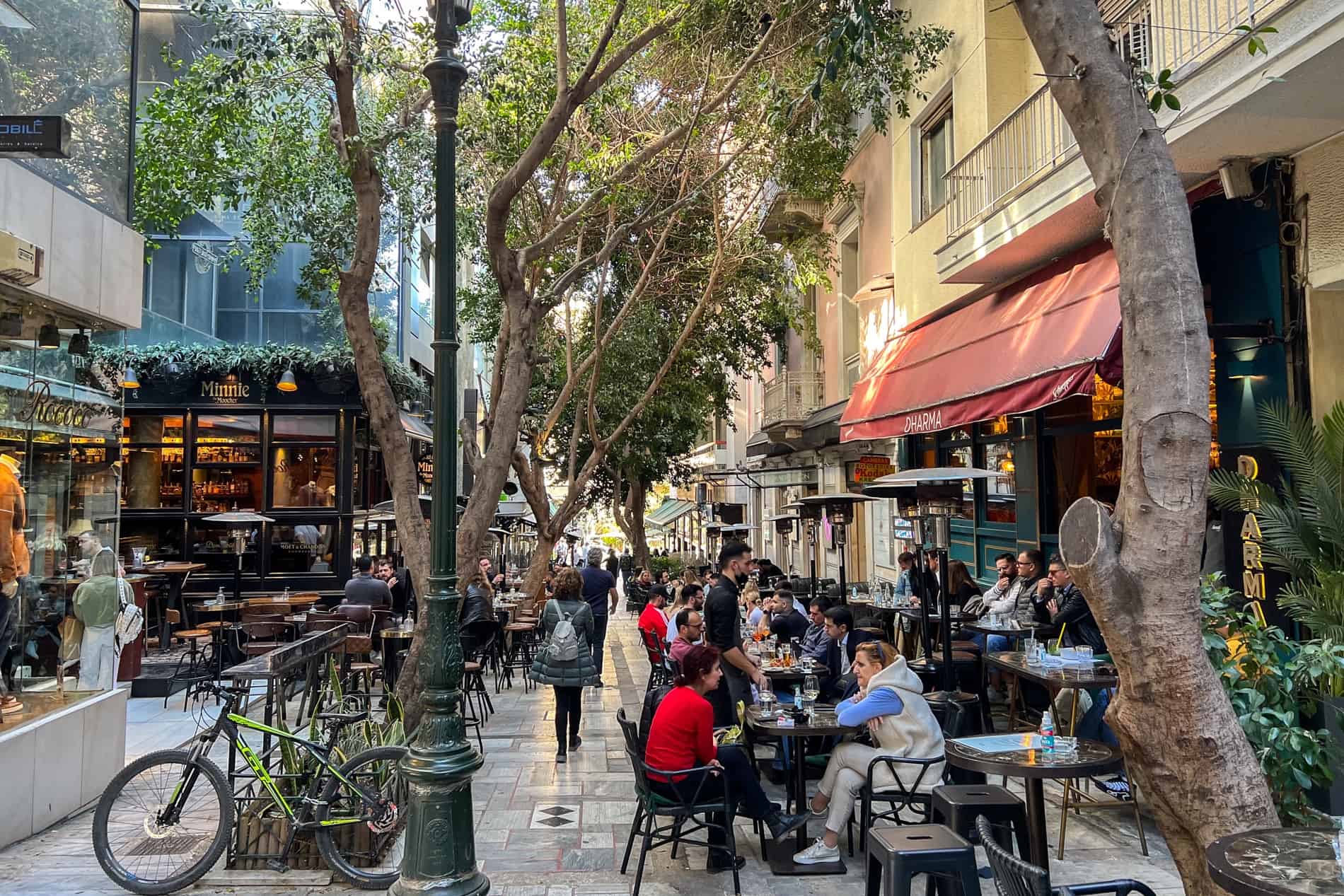 How to Get to Kolonaki
Nearest Metro: Syntagma (Line 2) and Evangelismos (Line 3)
Exarchia – Athens Activist Neighbourhood
Expressive Exarchia, the centre of anarchy and political outspokenness, can be quick to put people off with its edgy grime and assertive artistic messages. When there's a riot or a face-off with the police, it normally starts here, and its residents are proud to fight for their rights.
Yet this area is said to have changed a lot over the years, where local residents called upon their more rebellious neighbours to help clean up its image, make it more enjoyable to live in and be accessible to all. Now a student hub, lively evening hangout, and a space for the alternative 'cool', it still remains at the core of everything 'anti', which I find more fascinating than fearful.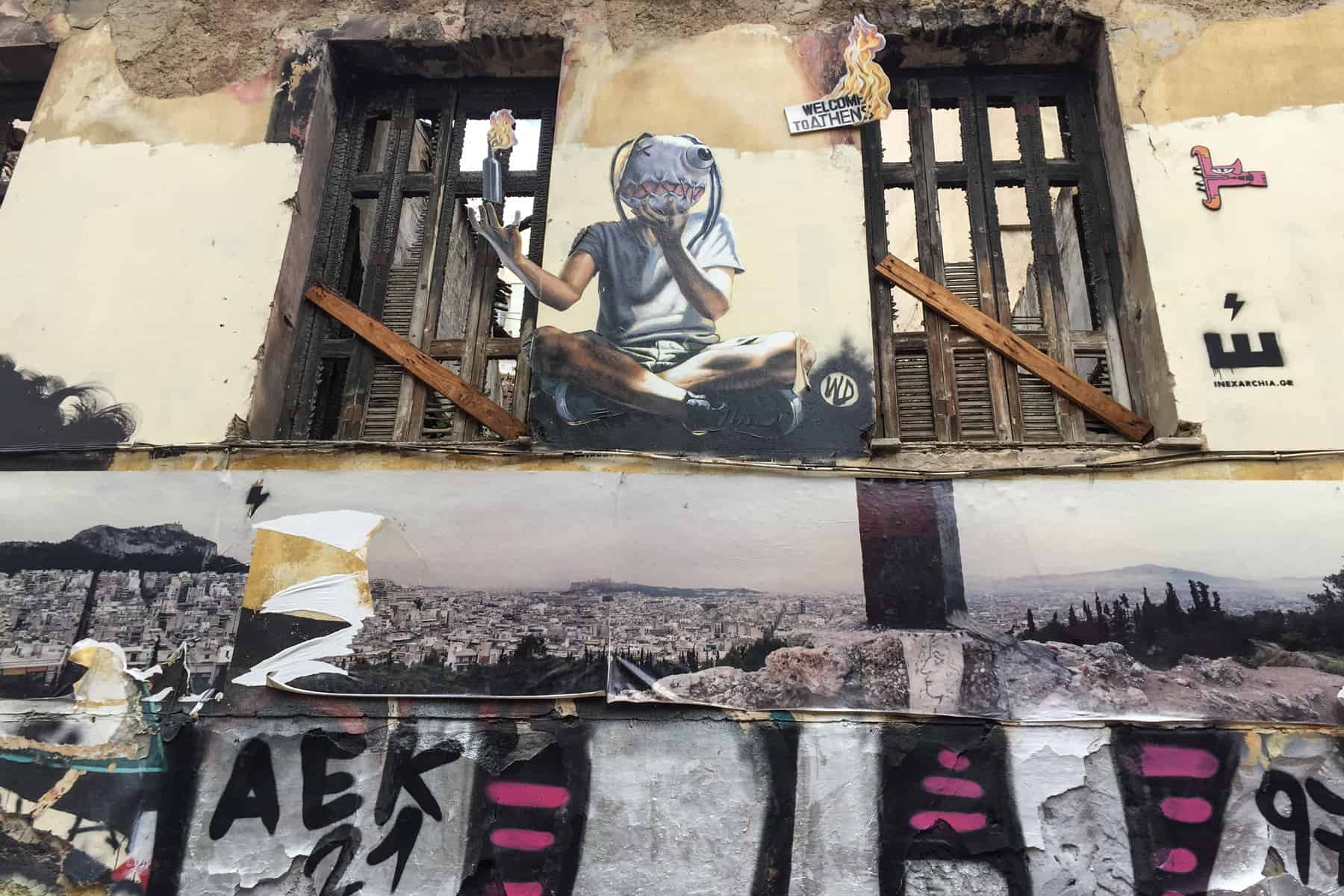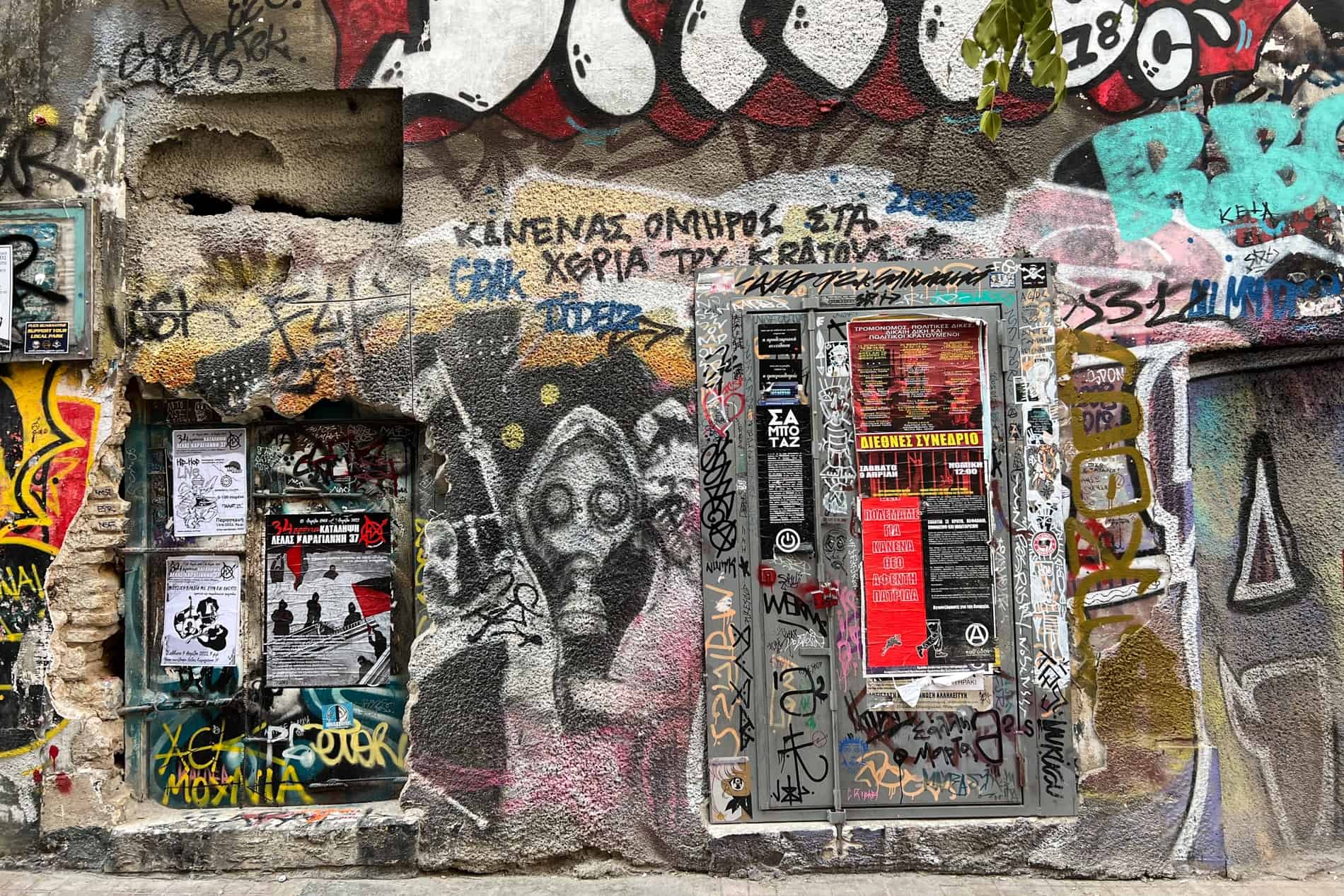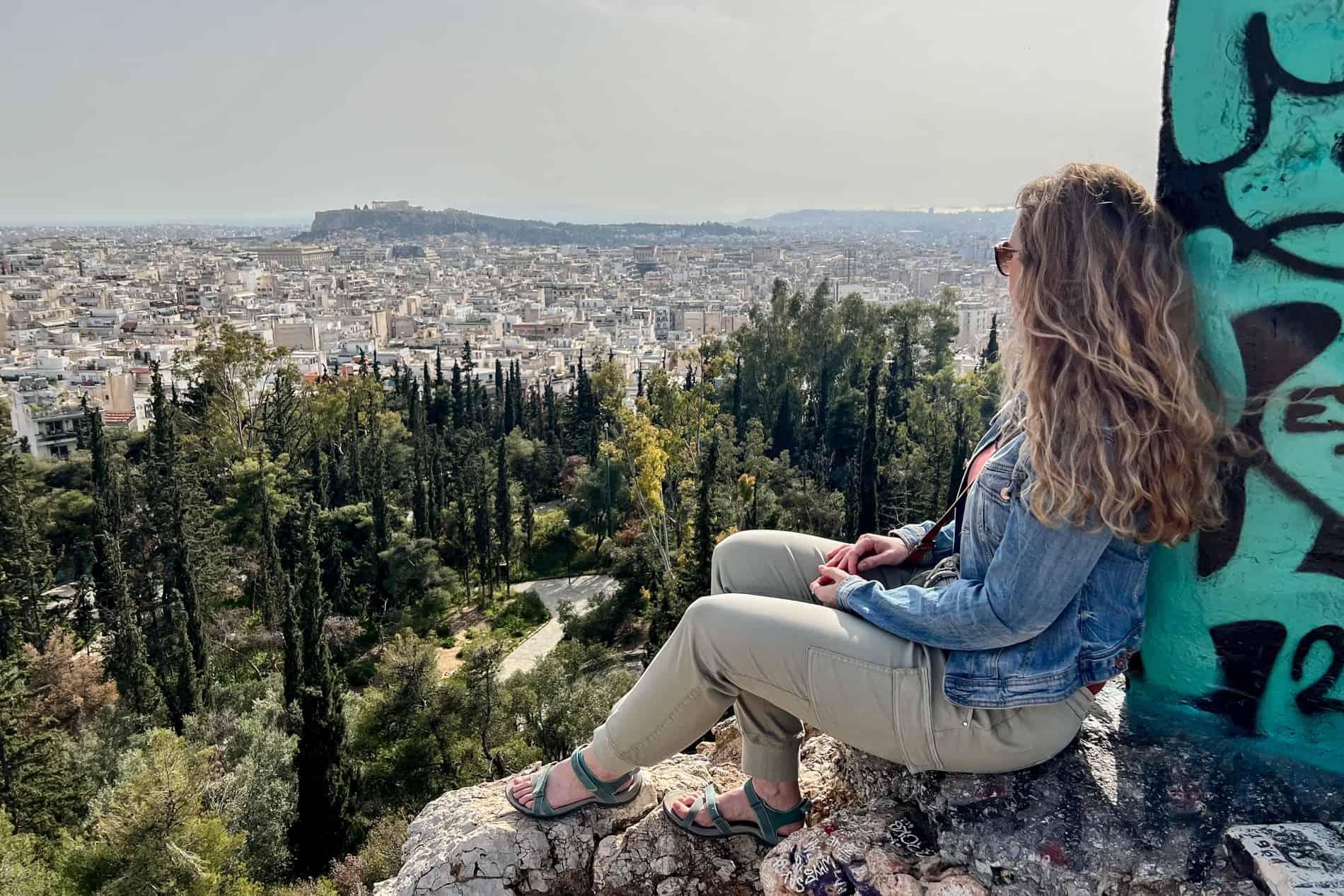 How to Get to Exarchia
Nearest Metro: Panepistimio and Omonia (Line 2)
Where to Eat and Drink in Exarchia
Kimatothrafstis
A small but colourful self-service tavern where you can choose from a number of Greek dishes and salads. Great prices, with a small plate at 3 Euro and a large at 6 Euro. (Char. Trikoupi 49 & Baltetsioy Streets)
Gizi – The Multicultural Athenian Neighbourhood
I ended up living in Gizi through an apartment rental and found myself enjoying local living, with my own balcony overlooking the sloping street. Like many other neighbourhoods, it has a main square, super cheap coffee shops, all the local amenities you need and random boutique stores where you can find yourself some bargains.
The most interesting thing here is the run-down but graffiti-covered residential building blocks on Alexandras Avenue.
The eight blocks of Bauhaus style apartments were constructed back in the 1930s to house refugees from Asia Minor – those residents gaining rights to the property and passing down to their children. As generations moved out, the properties soon became abandoned and the state planned to demolish them in 2001, before declaring that they should be preserved because of their historical legacy.
However, since then, nothing much has been done to restore the properties, which are now said to be home to original owners, political asylum seekers from the Middle East, squatters and those who came here in need following the economic crisis. They may be rotting, but there really is a distinct vibe and character to this area, which immediately catches your eye when you walk past it. You'll find them just minutes away from the sport's stadium outside the Metro.
How to Get to Gizi
Nearest Metro: Ambelokkipi
Pangrati and Mets – Athens Suburbia
Through further rentals in Athens, I lived south of the Mets area that sits right behind the original Olympic Stadium (Panathinaikon Stadium) and right in the heart of up-and-coming Pangrati, behind the Megaro Moussikis metro station in a leafy neighbourhood.
There's nothing of significant interest here, except being a picturesque area full of lovely properties where you can escape it all (or hang out in a cafe) and find a cheap rental within walking distance to the historical sites – if you like living locally.
Just North of Pangrati is the lively inner-city suburb of Mavili Square – a small but buzzing area, especially in the evenings with alfresco dining spots and a couple of cosy local bars, including lesser-known underground places. There's also a big food truck that's parked right next to the main road, which commanded a big queue every night that I walked past it on my way home.
Just further down the road in The Athens Concert Hall (Megaron Mousikis) which attracts a hip crowd. The Megaron Plus programme features Sunday Morning Events and an annual series of lectures delivered by renowned architects, writers and other individuals, for which admission is free. Behind that you have a beautiful park and the highest hill in Athens to climb and stand upon – Lycabettus Hill.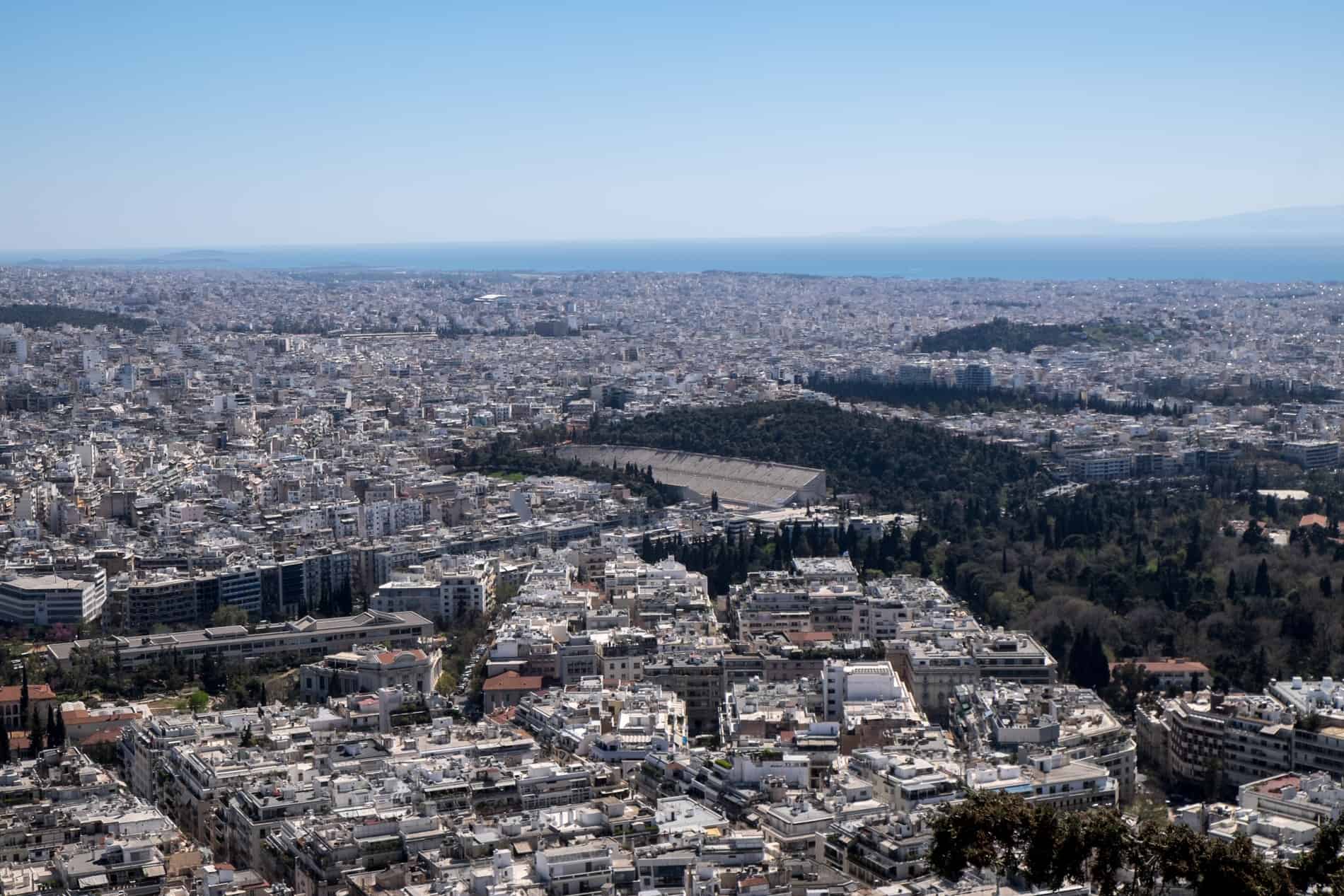 How to get to Pangrati and Mets
Nearest Metro: Megaro Moussikis and Evangelismos (Line 3)
Where to Eat and Drink in Pangrati
Look out for the random house next to the Alexandros Hotel on Mavili Square featuring a dog logo. A local informed me that the owner cooks for people in the early hours after a heavy night out.
Pangrati Hotels
I stayed in the Alexandros Hotel which is located on a quieter side street right next to all the Square's action. For an elegant hotel so centrally located (without being right in the touristic hub), it's great value for money with spacious rooms starting from 75 Euros (including a large breakfast buffet). It's also only a five-minute walk to the metro station, which is one of the handiest additions for travel here.
Visiting Neighbourhoods in Athens – Understanding the City
Neighbourhoods that are frenetic, neighbourhoods in flux and neighbourhoods that constantly surprise or offer something new. For me, this sums up Athens – a place where creativity and a determination not to falter in the face of adversity and where the generational well-healed areas stand side-by-side with the regenerated, giving the city a new and unique layout.
See for yourself, spend more than 24 hours in the city, and dig a little further, with the guarantee of seeing the real Athens.